Infographics are a unique style of design that combine text with visual elements to pack a lot of information into a simple, easy-to-understand graphic. They're attention-grabbing because they simplify complex information into a form that is easy to skim through and understand. But they aren't just attractive, they also help you convey a large amount of information or tell a complete story in a visually interesting way. 
Most of the time, creating high-quality infographics can be quite tricky, especially if you want them to appear professional. Not only does it require a lot of time to actually put the design together, it also requires design skills and an artistic sense to guide you with the layout, colors, and other design aspects of the graphic. 
Thankfully, this is not the only way! We have found a couple of useful online DIY design tools that allow you to create beautiful infographics in a fraction of the time and cost. Of these, the tool that we most highly recommend is the PosterMyWall infographic maker tool and here's why.
Why PosterMyWall Is the Right Tool for You
The best part about PosterMyWall is that with it, anyone can create stunning graphics even without any design skills or unlimited resources. Here's why you should use this tool to create your infographics:
Designing is entirely free.
One major constraint with creating infographics is how expensive it can get especially if you need to hire a professional to do the job for you. With PosterMyWall, you can create unique and beautiful infographics and download them for free.
Diverse template and formats.
But the issue of lack of skill still remains. Can you do what you were hiring a professional designer to do? Absolutely. With the numerous infographic templates available on the website, you can select any design you like and simply tweak the details such as text, logo, brand colors, etc. and get an infographic with all the polish and none of the hassle.
Unlike working with a designer, PosterMyWall does not make you wait long hours of feedback and reworking before you can get your designs. You can create them in a few minutes whenever you need them and download them right away. 
How to Create Infographics Designs on PosterMyWall
Designing on PosterMyWall is straightforward. You can choose any design you like from the various customizable design templates in the infographics section and customize it according to your needs in the user-friendly editor.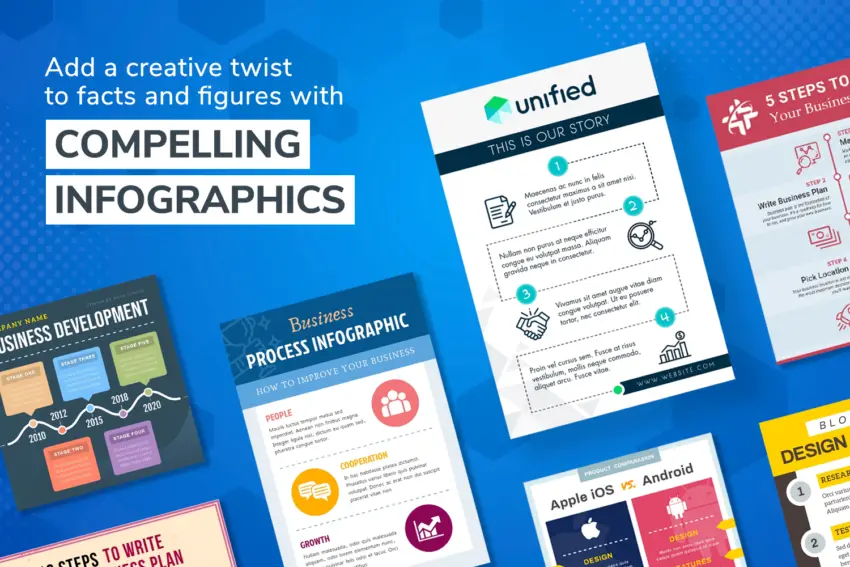 After deciding what template works for you, see what you need to change. You can select and move around any design elements, edit the text according to your needs, and much more. 
Here's what you'll need in the following basic editor to finish an infographic design properly.
Although all templates come with a preset background, you can change your background to whatever you wish. You have the following options:
Solid colors

Gradient backgrounds – with two-colors, you can set a linear or radial gradient background. You can use your brand colors for this.
Transparent backgrounds
Custom uploaded background
Stock photo background. Browse stock photos in the editor from Storyblocks, GettyImages, Pixabay, or PosterMyWall's library.
You may need to add menus, tables or schedules to your infographic to create the specific layout needed for your purpose. PosterMyWall allows you to do that by clicking on Layout in the left menu. You get the following options:
Schedule – choose from various schedule layouts.
Menu – choose from various menu layouts and add your own menu items.
Tear-off Tabs – add tear-off tabs with contact information to make it easy for people to contact you.
Tables – you can create tables with different styles, colors and opacity to suit the need on ground.
If you want to make your infographics more dynamic, you can add video or audio to your design. You can add from any of the following options:
Upload a video or audio from your device to use
Browse through and pick a video or audio from the stock resources to use in your design.
To make your design more attractive, you can add photos to your design from your photo uploads, stock photos, Facebook, Google Drive or Dropbox account. 
Infographics will need short pieces of text to optimize your designs and communicate key pieces of information to the viewer. You can use the Text option to add text boxes. Here are the choices you have;
Plain text – Since you can hardly have an infographic without text, this option is an important one. When you select your text box, you'll find a range of font options. You can also change the font size, color, alignment, line height, and kerning. 
Fancy text – this is for your extra vibrant, and texture-heavy text needs.
Animation – you can animate your text with this option to make it more eye-catching. 
You can add solid shapes with the clipart option. This selection gives you two options:
Add shape – to add geometric shapes, such as squares, triangles, and circles, and other shapes such as arrows and price tags.
Add clipart – to add stock clipart from Pixabay and Storyblocks. 
Together, these tools can help you create a powerful infographic that relays information to the viewer effectively with the help of both text and visuals.
Summing up
People's attention spans have decreased drastically over the years. On the average web page, users will read at most 28% of the words during a visit, with 20% a more likely expectation. Infographics are helpful because they don't ask too much from the reader – just a quick scan. And that's all that is needed to disseminate information quicker, better, and more stylishly. 
To make the most of this powerful communication tool, you can follow our simple guide to creating beautiful, free infographics with PosterMyWall and start seeing more engagement from your followers.