Spiritual poems are the expressions of souls who are striving on the upward path, encountering the hurdles that we all face and looking within to find answers.
I have chosen this selection of poetry as a means for you to explore your own feelings towards similar challenges in your life, and to strengthen your resolve to climb higher.
Spiritual poetry can be an enlightening way to understand spiritual teachings more fully and to start thinking 'outside the box'.
Here you'll find spiritual poems about life, love, inspiration and happiness. Whether you're a spiritual person or not, this is where you can present, through poetry, your beliefs about if and what exists outside of our own physical world experiences.
Help us to spread encouragement around the world. Share us:
Nothing glows brighter than the heart awakened to the light of love that lives within it.
God never said that the journey would be easy, but He did say that the arrival would be worthwhile.
When we lose one blessing, another is often most unexpectedly given in its place. C.S. Lewis
There will come a time when you believe everything is finished. That will be the beginning. Louis L'Amour
Here are spiritual poems with images: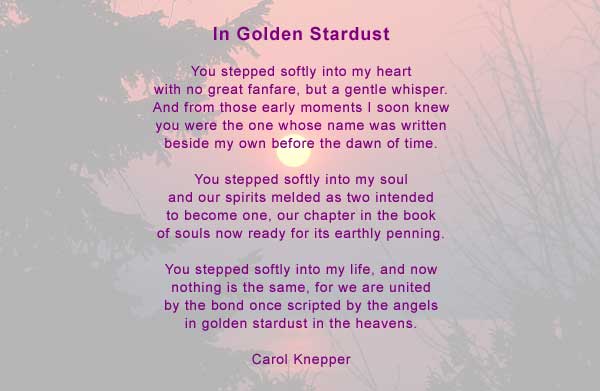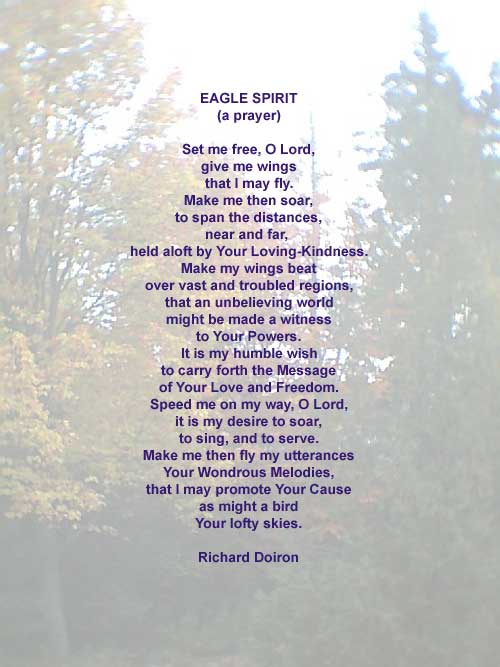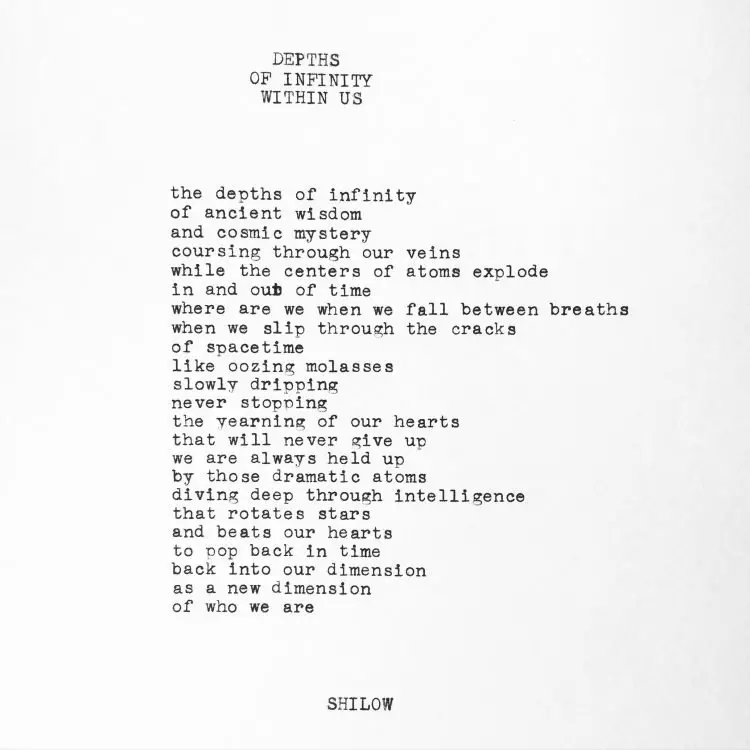 14 Beautiful Spiritual Poems That Will Lift Your Spirit
1
I will not die an unlived life.
I will not live in fear
of falling or catching fire.
I choose to inhabit my days,
to allow my living to open me,
to make me less afraid,
more accessible,
to loosen my heart
until it becomes a wing,
a torch, a promise.
I choose to risk my significance;
to live so that which came to me as seed
goes to the next as blossom
and that which came to me as blossom,
goes on as fruit.
~ Dawna markova
2
No matter what is going on
Never give up
Develop the heart
Too much energy in your country
Is spent developing the mind
Instead of the heart
Be compassionate
Not just to your friends
But to everyone
Be compassionate
Work for peace
In your heart and in the world
Work for peace
And I say again
Never give up
No matter what is going on around you
Never give up
~Dalai Lama XIV
3
This moment can be
A New Dawn,
A New Day….
Forgive, Forget,
and move on
Ask your self;
Do I wish to keep repeating the pattern?
Perhaps it's time for something NEW
~ Julie Stuart
4
Take time to work, it is the price of success.
Take time to think, it is the source of power.
Take time to play, it is the secret of perpetual youth.
Take tie to read, it is the fountain of wisdom.
Take time to be friendly, it is the road to happiness.
Take tie to dream, it is hitching your wagon to a star.
Take time to look around, it is too short a day to be selfish.
Take time to laugh, it is the music of the soul.
~ Old English Prayer
5
May you always have enough happiness to keep you sweet,
Enough trials to keep you strong,
Enough success to keep you eager,
Enough faith to give you courage,
And enough determination to make each day a good day.
~ Anonymous
6
Intoxicated by the Wine of Love.
From each a mystic silence Love demands.
What do all seek so earnestly? 'Tis Love.
What do they whisper to each other? Love.
Love is the subject of their inmost thoughts.
In Love no longer 'thou' and 'I' exist,
For Self has passed away in the Beloved.
Now will I draw aside the veil from Love,
And in the temple of mine inmost soul,
Behold the Friend; Incomparable Love.
He who would know the secret of both worlds,
Will find the secret of them both, is Love.
~ Farid ud Din Attar
7
A smile costs nothing, but gives much-
It takes but a moment, but the memory of it usually lasts forever.
None are so rich that can get along without it-
And none are so poor but that can be made rich by it.
It enriches those who receive,
without making poor those who give-
It creates sunshine in the home,
Fosters good will in business,
And is the best antidote for trouble-
And yet it cannot be begged, borrowed, or stolen,
for it is of no value
Unless it is given away.
Some people are too busy to give you a smile-
Give them one of yours-
For the good Lord knows that no one needs a smile so badly
As he or she who has no more smiles left to give.
~ Author Unknown
8
Although the wind
blows terribly here,
the moonlight also leaks
between the roof planks
of this ruined house.
~ Izumi Shikibu
9
The Props assist the House
Until the House is built
And then the Props withdraw
And adequate, erect,
The House support itself
And cease to recollect
The Auger and the Carpenter—
Just such a retrospect
Hath the perfected Life—
A past of Plank and Nail
And slowness—then the Scaffolds drop
Affirming it a Soul.
~ Emily Dickinson
10
You who want
knowledge,
see the Oneness
within.
There you
will find
the clear mirror
already waiting.
~ Hadewijch II
11
On a branch
floating downriver
a cricket, singing.
~ Issa
12
Leucon, no one's allowed to know his fate,
Not you, not me: don't ask, don't hunt for answers
In tea leaves or palms. Be patient with whatever comes.
This could be our last winter, it could be many
More, pounding the Tuscan Sea on these rocks:
Do what you must, be wise, cut your vines
And forget about hope. Time goes running, even
As we talk. Take the present, the future's no one's affair.
~ Horace
13
I was passionate,
filled with longing,
I searched
far and wide.
But the day
that the Truthful One
found me,
I was at home.
~ Lal Ded
14
Mountains, a moment's earth-waves rising and hollowing; the earth too's an ephemerid; the stars—
Short-lived as grass the stars quicken in the nebula and dry in their summer, they spiral
Blind up space, scattered black seeds of a future; nothing lives long, the whole sky's
Recurrences tick the seconds of the hours of the ages of the gulf before birth, and the gulf
After death is like dated: to labor eighty years in a notch of eternity is nothing too tiresome,
Enormous repose after, enormous repose before, the flash of activity.
Surely you never have dreamed the incredible depths were prologue and epilogue merely
To the surface play in the sun, the instant of life, what is called life? I fancy
That silence is the thing, this noise a found word for it; interjection, a jump of the breath at that silence;
Stars burn, grass grows, men breathe: as a man finding treasure says "Ah!" but the treasure's the essence:
Before the man spoke it was there, and after he has spoken he gathers it,
inexhaustible treasure.
~ Robinson Jeffers
Here are 5 Famous Recovery Poetry: A Message of Hope to Overcome Addiction.
6 Spiritual Poems about Life
These Spiritual Inspiration Poems are all wonderful words of wisdom and love. Reading best poems about life will make you rethink about spirituality and enlightenment.
Make Me A Channel Of Your Peace by St Francis of Assisi
Make me a channel of your peace
Where there is hatred let me bring your love
Where there is injury, your pardon Lord
And where there's doubt, true faith in You.
Make me a channel of your peace
Where there's despair in life let me bring hope
Where there is darkness, only light
And where there's sadness only joy.
O Master grant that I may never seek
So much to be consoled as to console
To be understood as to understand
To be loved as to love with all my soul.
Make me a channel of your peace
It is in pardoning that we are pardoned
It is in giving to all men that we receive
And in dying that we are born to eternal life.
From Robert Bloomfield
I love to mark the floweret's eye
To rest where pebbles form my bed
Where shapes and colours scattered lie
In varying millions round my head
The soul rejoices when alone
And feels her glorious empire free
Sees God in every shining stone
And revels in variety
The Small Beautitudes by Joseph Folliet
Blessed are those who can laugh at themselves;
they will have no end of fun.
Blessed are those who can tell a mountain from a molehill;
they will be saved a lot of bother.
Blessed are those who know how to relax
without looking for excuses;
they are on their way to becoming wise.
Blessed are those who are sane enough
not to take themselves too seriously;
they will be valued most by those about them.
Happy are you if you can take small things seriously
and face serious things calmly;
you will go far in life.
Happy are you if you can appreciate a smile and forget a frown;
you will walk on the sunny side of the street.
Happy are you if you can be kind in
understanding the attitudes of others
even when the signs are unfavourable;
you may be taken for a fool, but this is the price of charity.
Blessed are those who think before acting and pray before thinking;
they will avoid many blunders.
Happy are you if you know how to hold your tongue and smile,
even when people interrupt and contradict you or tread on your toes;
the Gospel has begun to seep into your heart.
Above all,
blessed are you who recognise the Lord in all whom you meet;
the light of truth shines in your life
for you have found true wisdom.
From Mahatma Gandhi
I offer you peace.
I offer you Love.
I offer you Friendship.
I see your Beauty.
I hear your need.
I feel your feelings.
My wisdom flows from the Highest Source.
I salute that Source in you.
Let us work together for unity and love.
A to Zen of Life by Dalai Lama
Avoid negative sources, people, places and habits.
Believe in yourself.
Consider things from every angle.
Don't give up and don't give in.
Everything you're looking for lies behind the mask you wear.
Family and friends are hidden treasures, seek them and enjoy their riches.
Give more than you planned to.
Hang onto your dreams.
If opportunity doesn't knock, build a door.
Judge your success by what you had to give up in order to get it.
Keep trying no matter how hard it seems.
Love yourself.
Make it happen.
Never lie, steal or cheat.
Open your arms to change, but don't let go of your values.
Practice makes perfect.
Quality not quantity in anything you do.
Remember that silence is sometimes the best answer.
Stop procrastinating.
Take control of your own destiny.
Understand yourself in order to better understand others.
Visualize it.
When you lose, don't lose the lesson.
Xcellence in all your efforts.
You are unique, nothing can replace you.
Zero in on your target, and go for it.
Decide To Dream by Robert Muller
Decide to widely open the gates
Of your wonderful Mind, Heart and Soul
Let flow in the dreams of God
Of the Angels, Saints, Prophets and Sages
Give birth and let out into the world the dreams
Of your own unique, unrepeatable Cosmic Being.
If not born for any other purpose..
Be born to dream, be born to love
Be born to fashion a better world
Dreams and dreamers never die
From Heaven you will see your dreams come true
You will reincarnate, inspire and energize new dreamers
The dreams of our beautiful Planet of Dreams will never die
Until we become the paradise we were always meant to be
And are about to joyfully become
6 Spiritual Poems about Love
There is no better way to express feelings of love, than with beautiful short love poems. Below, we've collected some of the best spiritual love poems to help get your creative juices flowing.
Love Never Fails
Love is patient, Love is kind
Through Jesus Christ, love you will find.
Love does not envy, It is not puffed up
Seek Him with your heart, He will fill your cup.
Love does not behave rudely, does not seek its own
Be kind to others, for this God has shown.
Love bears, believes, hopes and endures all things,
Give love to all and blessings God brings.
Love Never Fails.
Here are 8 Incredibly Powerful Prayers for Money To Try Right Now.
True Love
Love can always conquer
Whatever discord brings
and love can also cover
a multitude of things.
Don't you underestimate
what love can ever do,
for love is God eternal
and His love can renew.
What is cold and lifeless,
now lost all hope and died,
for love can breathe new meaning
and give it back new life.
Please don't give up on love
when it seems that all is lost,
for there is always hope
if we're prepared to pay the cost.
For love is always worth it
no matter how much the price,
for love will be much stronger
when we trust in Jesus Christ.
So let God have full reign,
let Him live within your heart
then you will know true love,
for this He will impart.
For God So Loved
We love because He first loved us,
On that we can depend
A verse of the Bible near and dear
To the broken hearted His love He does send.
For God so loved the world
That the greatest sacrifice
Was His one and only son
Who paid the ultimate price.
The Words to Say I Love You
I was there, yet you did not see Me
the times you did cry
I wrapped you in My loving arms
and wiped the tears from your eyes.
Every prayer – I heard, and answered
every cry for help – I came
I cast down all your enemies
and brought them all to shame.
You are My beloved son
whom I have set free
I removed your chains of darkness
because you believed in Me.
I am in you and you in Me
Non can take us apart
Where are the words to express my love?
They are written on your heart.
Jennifer Kulp
Do Everything In Love
In everything you do,
Do it in love
For the Father is watching
In Heaven above.
At work or at play
Offer words of kindness to others
To the cashier, the barber
The bus driver and new mothers.
Jesus is the example
That we all should follow
Love is the ultimate gift
To give those in good times and sorrow.
Recipe for a House of Love
A home made from love
Is what God intends
Filled with all of our family
Love is not blind nor pretends.
The recipe is simple
The ingredients are clear
Keeping God close is essential
For love to be near.
Start with some laughter,
Don't forget to pray,
Mix in a few smiles
And God will make clear the way.
6 Inspiring Spiritual Poems of Encouragement
These motivational poems and stories are all positive words of wisdom to uplift your spirit and give guidance to living a life of love, peace and happiness.
Believe In Yourself
Believe in yourself and in your dream
Though impossible things may seem
Someday, somehow you'll get through
To the goal you have in view
Mountains fall and seas divide
Before the one who in his stride
Takes a hard road day by day
Sweeping obstacles away
Believe in yourself and in your plan
Say not – I cannot – but, I can
The prizes of life we fail to win
Because we doubt the power within
Blessed Are They
Blessed are they who understand
My faltering step and shaking hand.
Blessed are they who know my ears today
Must strain to catch the things they say.
Blessed are they who seem to know
My eyes are dim, my mind is slow.
Blessed are they with cheery smile
Who stop to chat for a little while.
Blessed are they who make it known
I'm loved, respected and not alone.
The World Is Mine
Today upon a bus I saw a lovely girl with golden hair;
I envied her… she seemed so gay… and wished I were as fair.
When suddenly she rose to leave, I saw her hobble down the aisle;
She had one foot and wore a crutch, but as she passed a smile.
Oh God, forgive me when I whine;
I have two feet… the world is mine.
And then I stopped to buy some sweets.
The lad who served them had such charm, I talked with him.
He said to me: "It's nice to talk to folks like you.
You see," he said, "I'm blind."
Oh God, forgive me when I whine;
I have two eyes… the world is mine.
Then walking down the street, I saw a child with eyes of blue.
He stood and watched the others play;
It seemed he knew not what to do.
I stopped for a moment,
then I said, "Why don't you join the others, dear?"
He looked ahead without a word,
and then I knew he could not hear.
Oh God, forgive me when I whine;
I have two ears… and the world is mine.
With feet to take me where I'd go.
With eyes to see the sunset's glow.
With ears to hear what I would know.
Oh God, forgive me when I whine;
I'm blessed indeed…The world is mine.
You'll Find When You Smile
You'll find when you smile
Your day will be brighter
And all of your burdens
Will seem so much lighter.
For each time you smile
You will find it is true
Somebody, somewhere will
Smile back at you.
And nothing on earth
Can make life more worthwhile
Than the sunshine and warmth
Of a beautiful smile.
The Absolute
No mind, no form, I only exist;
Now ceased all will and thought;
The final end of Nature's dance,
I am it whom I have sought.
A realm of Bliss bare, ultimate;
Beyond both knower and known;
A rest immense I enjoy at last;
I face the One alone.
I have crossed the secret ways of life,
I have become the Goal.
The Truth immutable is revealed;
I am the way, the God-Soul.
My spirit aware of all the heights,
I am mute in the core of the Sun.
I barter nothing with time and deeds;
My cosmic play is done. by Sri Chinmoy
Che Fece… Il Gran Refiuto
For some people the day comes
when they have to declare the great Yes
or the great No. It's clear at once who has the Yes
ready within him; and saying it,
he goes from honor to honor, strong in his conviction.
He who refuses does not repent. Asked again,
he'd still say no. Yet that no—the right no—
drags him down all his life. by C.P. Cavafy
10 Spiritual Poems on Death
Poetry has a way of expressing things that we often find difficult. I hope you enjoy this collection of some of poems about loved ones who have passed away.
Another Leaf Has Fallen
Another leaf has fallen,
another soul has gone.
But still we have God's promises,
in every robin's song.
For he is in His heaven,
and though He takes away, He always leaves to mortals,
the bright sun's kindly ray.
He leaves the fragrant blossoms,
and lovely forest, green.
And gives us new found comfort,
when we on Him will lean.
Unknown
Life
Life is just a stepping-stone
A pause before we make it home
A simple place to rest and be,
Until we reach eternity.
Everyone has a life journey,
A path to take with lots to see
God guides our steps along the way,
But we were never meant to stay.
Our final destination is a place
Filled with love, His majesty and grace.
Today we celebrate the life of a loved one
Who has gone before us, the race he has won.
His journey has now ended,
His spirit has ascended
Claiming the great reward
With Jesus, our Lord.
A Place Called Heaven
I have a place that waits for me
A place I love, called Calvary
Where angels sing and rejoice all day
And children laugh, run and play.
Here the Masters holds my hand
As we walk through Heaven's land.
This is the place I've dreamed of for so long
So beautiful, so heavenly like the angel's song.
Death Be Not Proud (Holy Sonnet X)
Death, be not proud, though some have called thee
Mighty and dreadful, for thou are not so;
For those whom thou think'st thou dost overthrow
Die not, poor Death, nor yet canst thou kill me.
From rest and sleep, which but thy pictures be,
Much pleasure; then from thee much more must flow,
And soonest our best men with thee do go,
Rest of their bones, and soul's delivery.
Thou'art slave to fate, chance, kings, and desperate men,
And dost with poison, war, and sickness dwell,
And poppy'or charms can make us sleep as well
And better than thy stroke; why swell'st thou then?
One short sleep past, we wake eternally,
And death shall be no more; Death, thou shalt die.
John Donne
The Blessing of St. Francis of Assisi
The Lord bless you
and keep you.
May He show His face
to you and have mercy.
May He turn His countenance
to you and give you peace.
The Lord bless you!
Don't Weep For Me
Don't weep for me
For I've made it home
Through Heaven's gates
There I may roam.
Wipe your tears
And dry your eyes
I'm in a better place
With Heaven as my prize.
Don't weep for me
No tears and no sorrow
Live life for Jesus
He promises tomorrow.
Hero
A man of integrity, courage and love
The life of an American Hero
Now resides up above
He lived to protect
And served with compassion
Years of fighting
To his death, was his passion.
One day we will see him again
Unknowing of that day,
Only God knows when.
A Child's Funeral Poem
He passed away so innocent and true
So brief was his time, we hardly knew.
A baby so sweet with a precious smile
The time we had with him was so worthwhile.
An early arrival in Heaven that day
Met by the angels in all their array
A comforting thought as they welcomed him there
So much to see and so much to share.
Love And Go On
You can shed tears that she is gone
or you can smile because she has lived.
You can close your eyes and pray that she'll come back
or you can open your eyes and see all she's left.
Your heart can be empty because you can't see her
or you can be full of the love you shared.
You can turn your back on tomorrow and live yesterday
or you can be happy for tomorrow because of yesterday.
You can remember her and only that she's gone
or you can cherish her memory and let it live on.
You can cry and close your mind,
be empty and turn your back
or you can do what she'd want:
smile, open your eyes, love and go on.
David Harkins
In Pastures Green
In pastures green? Not always; sometimes He
Who knoweth best, in kindness leadeth me
In weary ways, where heavy shadows be.
And by still waters? No, not always so;
Oftimes the heavy tempests round me blow,
And o'er my soul the waves and billows go.
But when the storms beat loudest, and I cry
Aloud for help, the Master standeth by,
And whispers to my soul, "Lo, it is I."
So where He leads me I can safely go,
And in the blest hereafter I shall know
Why in His wisdom He hath led me so.
by H. H. Barry
You may use apology poems as a unique way of saying sorry to someone who deserve a sincere apology.