A poem is first and foremost an expression of emotion and speaks to the soul in a way everyday conversation cannot. Poems have the power to change the way we look at and listened to the world. The experience of reading a poem itself is as likely to turn us off, intellectually or emotionally, as it is to move us.
20+ Of The Most Famous Poems Ever Written
Love Poems
These love poems for him and her, are the perfect way to say I love you. These poems include many from famous poets around the world.
Poem for My Love BY JUNE JORDAN
How do we come to be here next to each other
in the night
Where are the stars that show us to our love
inevitable
Outside the leaves flame usual in darkness
and the rain
falls cool and blessed on the holy flesh
the black men waiting on the corner for
a womanly mirage
I am amazed by peace
It is this possibility of you
asleep
and breathing in the quiet air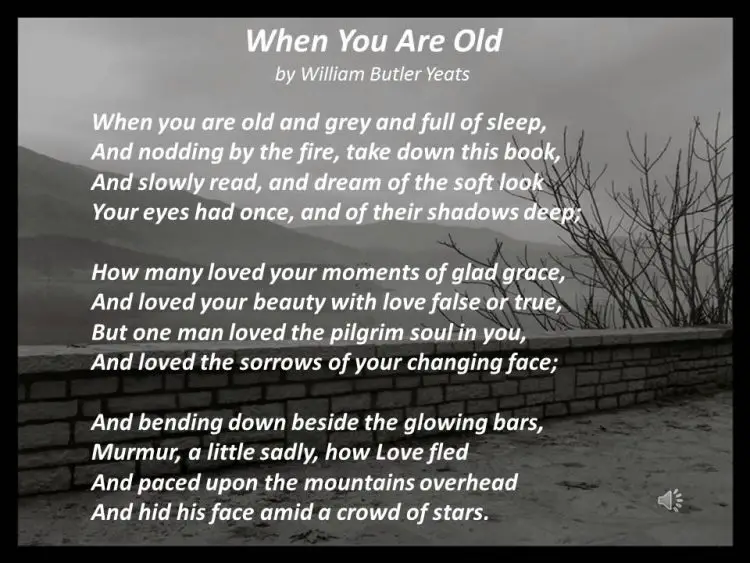 "Bright Star," by John Keats
Bright star, would I were stedfast as thou art—
Not in lone splendour hung aloft the night
And watching, with eternal lids apart,
Like nature's patient, sleepless Eremite,
The moving waters at their priestlike task
Of pure ablution round earth's human shores,
Or gazing on the new soft-fallen mask
Of snow upon the mountains and the moors—
No—yet still stedfast, still unchangeable,
Pillow'd upon my fair love's ripening breast,
To feel for ever its soft fall and swell,
Awake for ever in a sweet unrest,
Still, still to hear her tender-taken breath,
And so live ever—or else swoon to death.
Love — Samuel Taylor Coleridge
And in Life's noisiest hour,
There whispers still the ceaseless Love of Thee,
The heart's Self-solace and soliloquy.
You mould my Hopes, you fashion me within ;
And to the leading Love-throb in the Heart
Thro' all my Being, thro' my pulse's beat ;
You lie in all my many Thoughts, like Light,
Like the fair light of Dawn, or summer Eve
On rippling Stream, or cloud-reflecting Lake.
And looking to the Heaven, that bends above you,
How oft! I bless the Lot that made me love
Love One Another By Khalil Gibran (aka Kahlil Jubran)
Love one another, but make not a bond of love.
Let it rather be a moving sea between the shores of your souls.
Fill each other's cup, but drink not from one cup.
Give one another of your bread, but eat not from the same loaf.
Sing and dance together and be joyous, but let each one of you be alone.
Even as the strings of a lute are alone though they quiver with the same music.
Give your hearts, but not into each other's keeping.
For only the hand of life can contain your hearts.
And stand together, yet not too near together.
For the pillars of the temple stand apart.
And the oak tree and the cypress grow not in each other's shadow.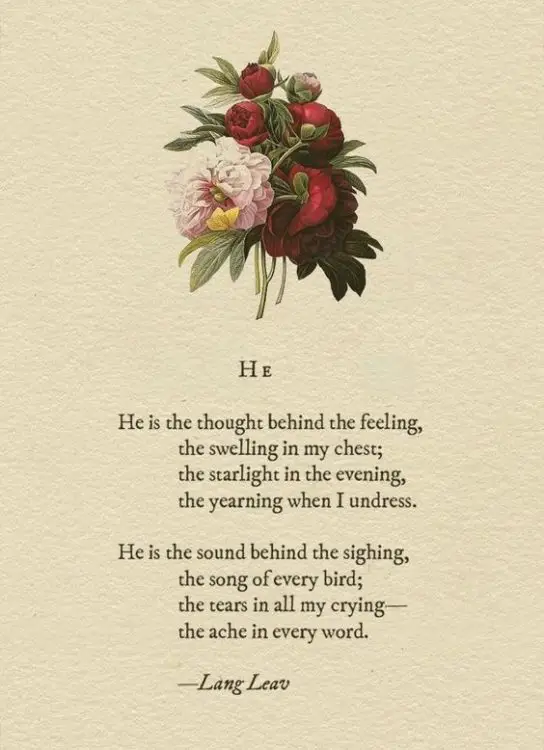 She Walks in Beauty by Lord Byron
She walks in beauty, like the night
Of cloudless climes and starry skies;
And all that's best of dark and bright
Meet in her aspect and her eyes;
Thus mellowed to that tender light
Which heaven to gaudy day denies.
One shade the more, one ray the less,
Had half impaired the nameless grace
Which waves in every raven tress,
Or softly lightens o'er her face;
Where thoughts serenely sweet express,
How pure, how dear their dwelling-place.
And on that cheek, and o'er that brow,
So soft, so calm, yet eloquent,
The smiles that win, the tints that glow,
But tell of days in goodness spent,
A mind at peace with all below,
A heart whose love is innocent!
Are You Going to Stay? – Thomas Meyer
What was it I was going to say?
Slipped away probably because
it needn't be said. At that edge
almost not knowing but second
guessing the gain, loss, or effect
of an otherwise hesitant remark.
Slant of light on a brass box. The way
a passing thought knots the heart.
There's nothing, nothing to say.
At Ease by Walter de la Mare
Most wounds can Time repair;
But some are mortal — these:
For a broken heart there is no balm,
No cure for a heart at ease —
At ease, but cold as stone,
Though the intellect spin on,
And the feat and practiced face may show
Nought of the life that is gone;
But smiles, as by habit taught;
And sighs, as by custom led;
And the soul within is safe from damnation,
Since it is dead.
Famous Poems on Life
This is a list of the most famous and popular inspirational poems on life, happiness and many more.
No matter what is going on
Never give up
Develop the heart
Too much energy in your country
Is spent developing the mind
Instead of the heart
Be compassionate
Not just to your friends
But to everyone
Be compassionate
Work for peace
In your heart and in the world
Work for peace
And I say again
Never give up
No matter what is going on around you
Never give up
~Dalai Lama XIV
One of the best things we can do in our lives is
Begin again
Begin to see yourself as you were when you were the happiest
Begin to remember what worked for you and what worked against you
Begin to try and re-capture the magic that is life
Begin to live a lifetime each day as you did when you were a child
Begin to forget your baggage, the problems that don't matter anymore, the tears that cried themselves away, and the worries that are going to wash away on the shore of tomorrow's new beginning
Tomorrow tells us it will be here every new day of our lives
If we are wise, we will turn away from the problems of the past
And give the future and ourselves a chance to become the best of friends
Sometimes all it takes is a wish in the heart to let yourself
Begin again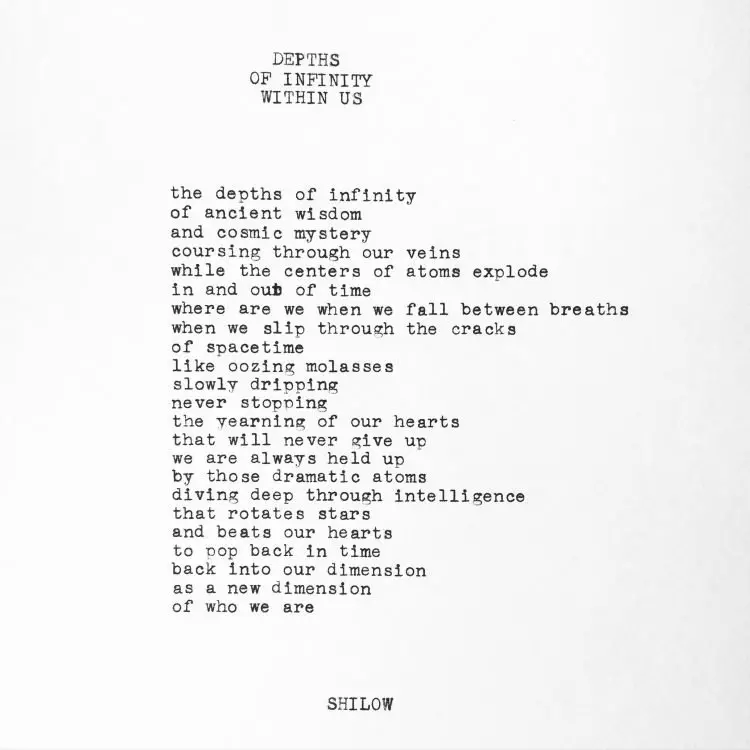 The Haiku's Sorry by Sukasah Syahdan
the haiku's sorry
life's not rosy
as the master's fairy story
The Lesson by Maya Angelou
I keep on dying again.
Veins collapse, opening like the
Small fists of sleeping
Children.
Memory of old tombs,
Rotting flesh and worms do
Not convince me against
The challenge.
The years
And cold defeat live deep in
Lines along my face.
They dull my eyes, yet
I keep on dying,
Because I love to live.
Hope is the thing with feathers (254) by Emily Dickinson
Hope is the thing with feathers
That perches in the soul,
And sings the tune without the words,
And never stops at all,
And sweetest in the gale is heard;
And sore must be the storm
That could abash the little bird
That kept so many warm.
I've heard it in the chillest land,
And on the strangest sea;
Yet, never, in extremity,
It asked a crumb of me.
Forgiveness by George William Russell
My heart was heavy, for its trust had been
Abused, its kindness answered with foul wrong;
So, turning gloomily from my fellow-men,
One summer Sabbath day I strolled among
The green mounds of the village burial-place;
Where, pondering how all human love and hate
Find one sad level; and how, soon or late,
Wronged and wrongdoer, each with meekened face,
And cold hands folded over a still heart,
Pass the green threshold of our common grave,
Whither all footsteps tend, whence none depart,
Awed for myself, and pitying my race,
Our common sorrow, like a mighty wave,
Swept all my pride away, and trembling I forgave!
To be one with each other
What greater thing is there for two human souls
than to feel that they are joined together to strengthen
each other in all labor, to minister to each other in all sorrow,
to share with each other in all gladness,
to be one with each other in the
silent unspoken memories?
~ George Eliot
Do Not Go Gentle Into That Good Night – Dylan Thomas
Do not go gentle into that good night,
Old age should burn and rave at close of day;
Rage, rage against the dying of the light.
Though wise men at their end know dark is right,
Because their words had forked no lightning they
Do not go gentle into that good night.
Good men, the last wave by, crying how bright
Their frail deeds might have danced in a green bay,
Rage, rage against the dying of the light.
Wild men who caught and sang the sun in flight,
And learn, too late, they grieved it on its way,
Do not go gentle into that good night.
Grave men, near death, who see with blinding sight
Blind eyes could blaze like meteors and be gay,
Rage, rage against the dying of the light.
And you, my father, there on that sad height,
Curse, bless, me now with your fierce tears, I pray.
Do not go gentle into that good night.
Rage, rage against the dying of the light.