Unique, handpicked collection of short poems about life, love, and friendship that have, literally, changed my life, because they have changed the way I looked at and listened to the world. 
Since the dawn of civilization, artists of all forms have sought to express the essence of the human condition and the full range of human experience. Poetry has been one of the most common forms of this expression from the ancients until now.
These words have an ability to capture the abstract emotions and concrete experiences that have been part of our humanity throughout the ages. Turning to the words of poems can help us to clarify and understand our own experiences better by connecting us to those others who have sought to do the same.
Sometimes inspirational poems can help us renew ourselves and be filled with strength to fulfill our life's purpose.
I would like to be the air that inhabits you for a moment only. I would like to be that unnoticed and that necessary 'Variation on the Word Sleep', Margaret Atwood
O Captain! my Captain! our fearful trip is done; The ship has weather'd every rack, the prize we sought is won 'O Captain! My Captain!', Walt Whitman
They dull my eyes, yet I keep on dying, Because I love to live. Maya Angelou
21 Best Short Poems About Life
Poetry is a method of expression that uses specific words, their meaning or interpretation and rhythm to deliver exciting and imaginative ideas as well as evoke emotional actions and reactions.
Poetry has the potential to provide you with insightful advice as well as encourage you, strengthen your resolve, motivate you to succeed, and even give you direction and clarity when your hope is shaken.
Some of these famous short poems you have heard before, but others may be new. Either way, we hope you love them!
"Hope is the thing with feathers That perches in the soul, And sings the tune without the words, And never stops at all," Emily Dickinson
The Lesson by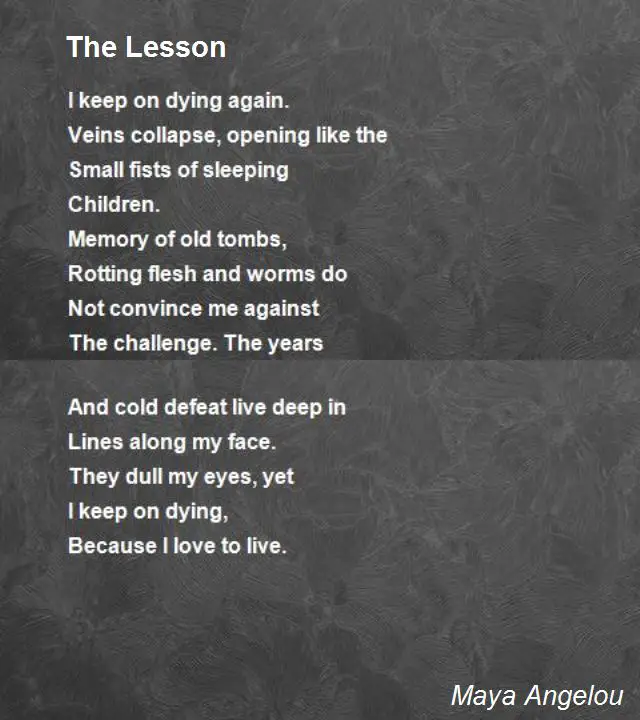 I keep on dying again.
Veins collapse, opening like the
Small fists of sleeping
Children.
Memory of old tombs,
Rotting flesh and worms do
Not convince me against
The challenge.
The years
And cold defeat live deep in
Lines along my face.
They dull my eyes, yet
I keep on dying,
Because I love to live.
Life Through My Eyes by Tupac Shakur
Life through my bloodshot eyes
would scare a square 2 death
poverty, murder, violence
and never a moment 2 rest
Fun and games are few
but treasured like gold 2 me
cuz I realize that I must return
2 my spot in poverty
But mock my words when I say
my heart will not exist
unless my destiny comes through
and puts an end 2 all of this
Happiness by Carl Sandburg
I ASKED the professors who teach the meaning of life to tell
me what is happiness.
And I went to famous executives who boss the work of
thousands of men.
They all shook their heads and gave me a smile as though
I was trying to fool with them
And then one Sunday afternoon I wandered out along
the Desplaines river
And I saw a crowd of Hungarians under the trees with
their women and children
and a keg of beer and an
accordion.
i shall imagine life by Edward Estlin (E E) Cummings
i shall imagine life
is not worth dying if
(and when)roses complain
their beauties are in vain
but though mankind persuades
itself that every weed's
a rose roses(you feel
certain)will only smile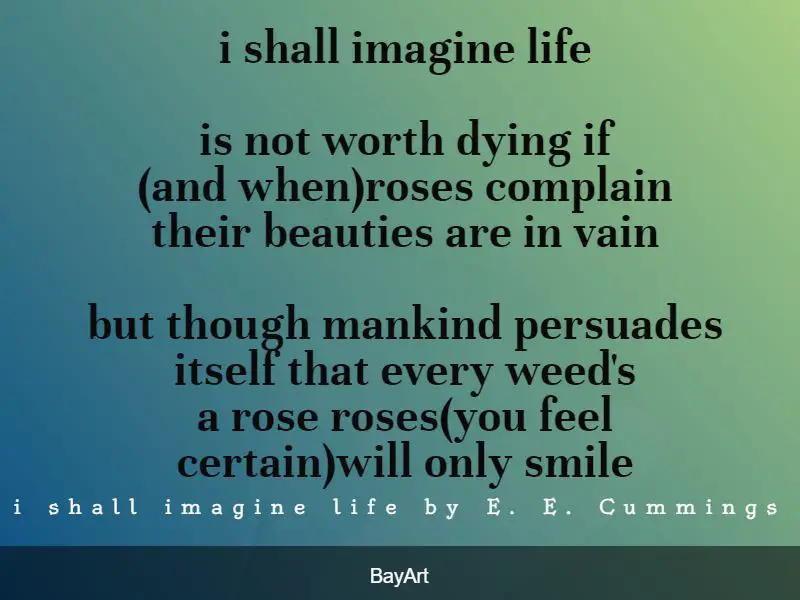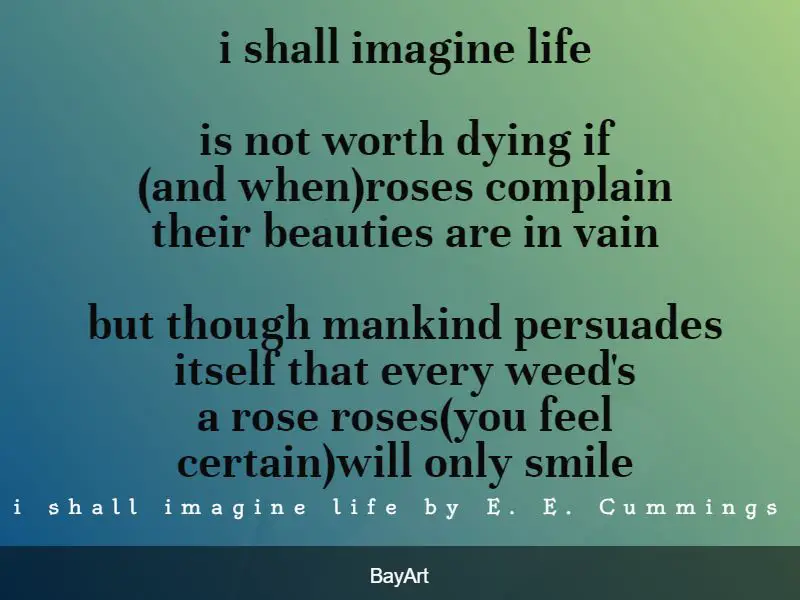 Hope is the thing with feathers by Emily Dickinson
Hope is the thing with feathers
That perches in the soul,
And sings the tune without the words,
And never stops at all,
And sweetest in the gale is heard;
And sore must be the storm
That could abash the little bird
That kept so many warm.
I've heard it in the chillest land,
And on the strangest sea;
Yet, never, in extremity,
It asked a crumb of me.
Our Deepest Fear by Marianne Williamson
Our deepest fear is not that we are inadequate.
Our deepest fear is that we are powerful beyond measure.
It is our light, not our darkness
That most frightens us.
We ask ourselves
Who am I to be brilliant, gorgeous, talented, fabulous?
Actually, who are you not to be?
You are a child of God.
Your playing small
Does not serve the world.
There's nothing enlightened about shrinking
So that other people won't feel insecure around you.
We are all meant to shine,
As children do.
We were born to make manifest
The glory of God that is within us.
It's not just in some of us;
It's in everyone.
And as we let our own light shine,
We unconsciously give other people permission to do the same.
As we're liberated from our own fear,
Our presence automatically liberates others.
The Man Who Thinks He Can by Walter D. Wintle
If you think you are beaten, you are;
If you think you dare not, you don't;
If you'd like to win, but think you can't,
It's almost a cinch you won't.
If you think you'll lose, you're lost,
For out in the word we find
Success begins with a fellow's will,
It's all in the state of mind.
If you think you're outcasted, you are;
You've got to think high to rise.
You've got to be sure of yourself before
You can ever win a prize.
Life's battles don't always go
To the stronger or faster man;
But soon or late the man who wins
Is the man who thinks he can.
Help Yourself to Happiness By Helen Steiner Rice
Everybody, everywhere seeks happiness, it's true,
But finding it and keeping it seem difficult to do.
Difficult because we think that happiness is found
Only in the places where wealth and fame abound.And so we go on searching in palaces of pleasure
Seeking recognition and monetary treasure,
Unaware that happiness is just a state of mind
Within the reach of everyone who takes time to be kind.
For in making others happy we will be happy, too.
For the happiness you give away returns to shine on you.
Dreams By Langston Hughes
Hold fast to dreams
For if dreams die
Life is a broken-winged bird
That cannot fly.
Hold fast to dreams
For when dreams go
Life is a barren field
Frozen with snow.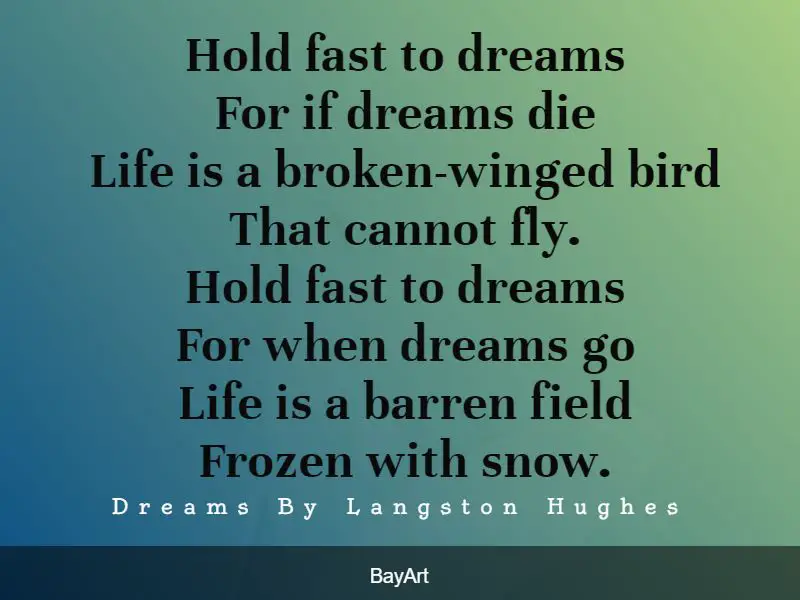 I Am By Ella Wheeler Wilcox
I Know not whence I came,
I know not whither I go;
But the fact stands clear that I am here
In this world of pleasure and woe.
And out of the mist and murk
Another truth shines plain –
It is my power each day and hour
To add to its joy or its pain.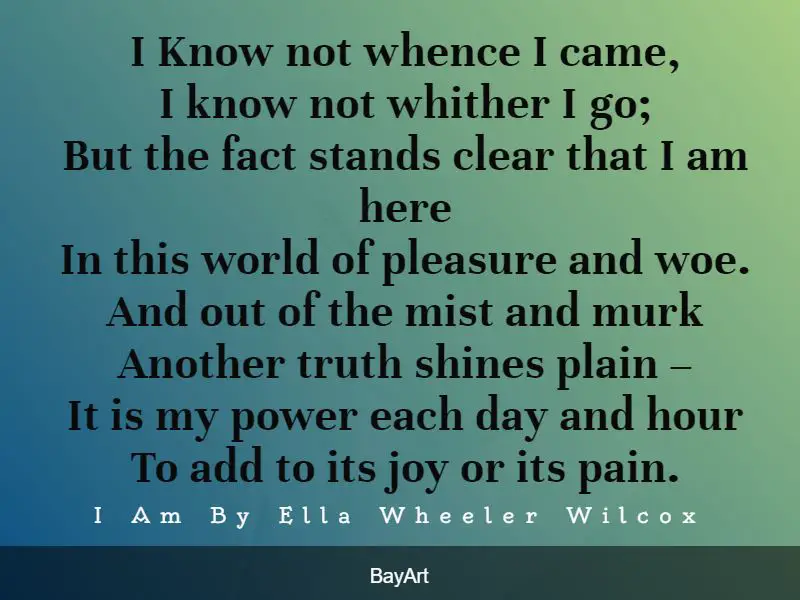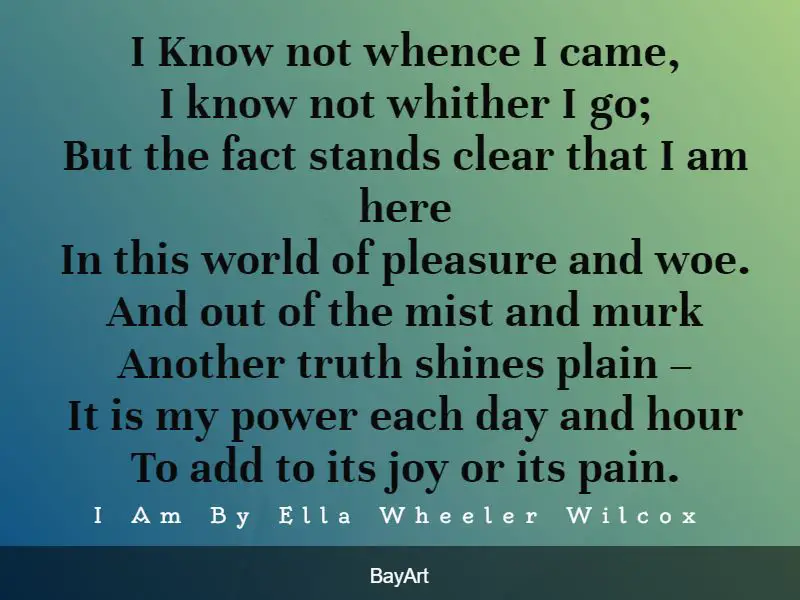 The Small Claim Of Bones by Cindy Williams Gutiérrez
what my body knows
a lie i tell you it is not
it's nothing short of truth
and nothing larger
my past lodges
in my marrow and if
i wanted a transplant
there'd be no match
others' sorrows dwarf
my petty traumas still
these bones are mine
when they creak
when they moan
when they whine
there's only one thing
i can claim these bones
are mine i tell you
they are mine and kind
to abandon no thing
that makes this pulse
no one but me
The Street by Octavio Paz
It's a long and silent street.
I walk in the dark and trip and fall
and get up and step blindly
on the mute stones and dry leaves
and someone behind me is also walking:
if I stop, he stops;
if I run, he runs. I turn around: no one.
Everything is black, there is no exit,
and I turn and turn corners
that always lead to the street
where no one waits for me, no one follows,
where I follow a man who trips
and gets up and says when he sees me: no one.
Life Is Fine By Langston Hughes
I went down to the river,
I set down on the bank.
I tried to think but couldn't,
So I jumped in and sank.
I came up once and hollered!
I came up twice and cried!
If that water hadn't a-been so cold
I might've sunk and died.
But it was Cold in that water! It was cold!
I took the elevator
Sixteen floors above the ground.
I thought about my baby
And thought I would jump down.
I stood there and I hollered!
I stood there and I cried!
If it hadn't a-been so high
I might've jumped and died.
But it was High up there! It was high!
So since I'm still here livin',
I guess I will live on.
I could've died for love—
But for livin' I was born
Though you may hear me holler,
And you may see me cry—
I'll be dogged, sweet baby,
If you gonna see me die.
Life is fine! Fine as wine! Life is fine!
I Took My Power In My Hand by Emily Dickinson
I took my Power in my Hand—
And went against the World—
'Twas not so much as David—had—
But I—was twice as bold—
I aimed by Pebble—but Myself
Was all the one that fell—
Was it Goliath—was too large—
Or was myself—too small?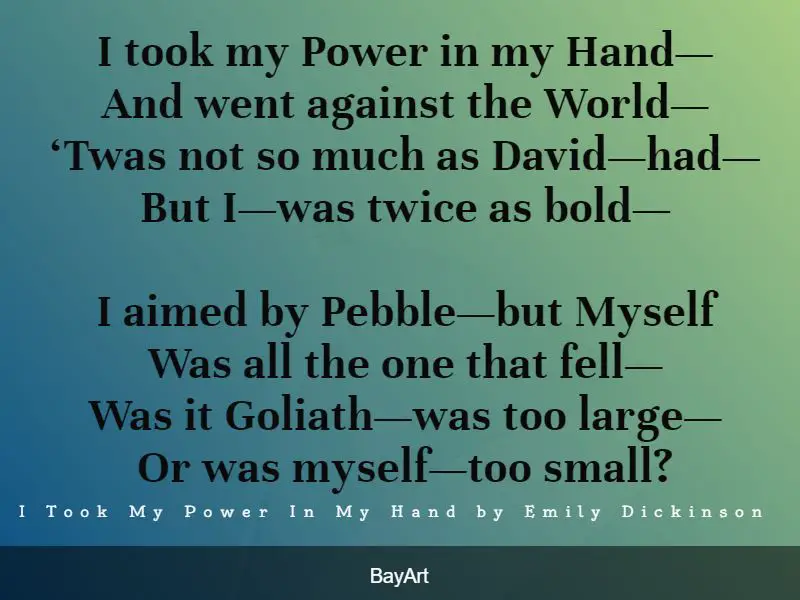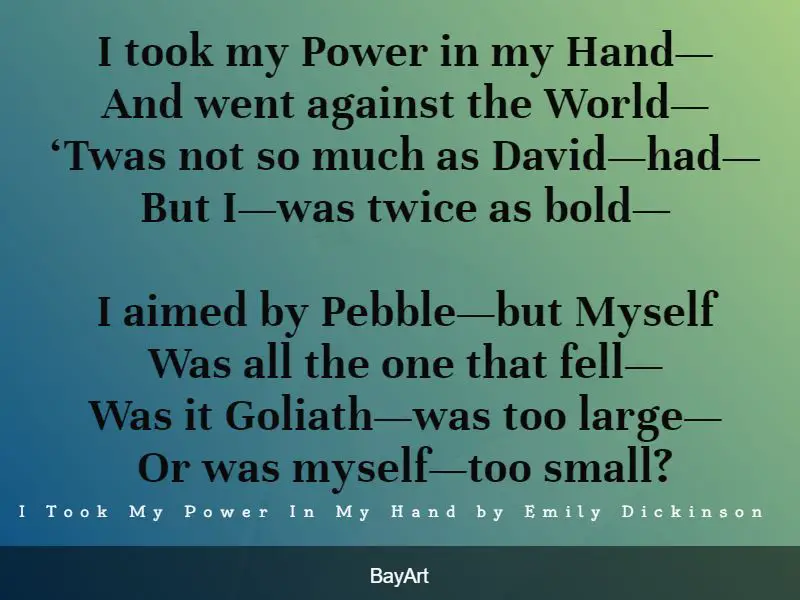 Late Fragment by Raymond Carver
And did you get what
you wanted from this life, even so?
I did.
And what did you want?
To call myself beloved, to feel myself
beloved on the earth.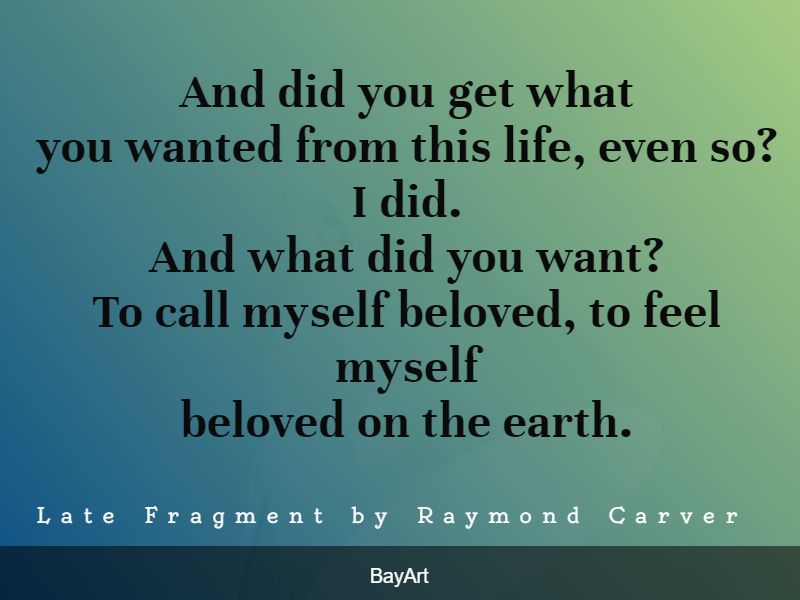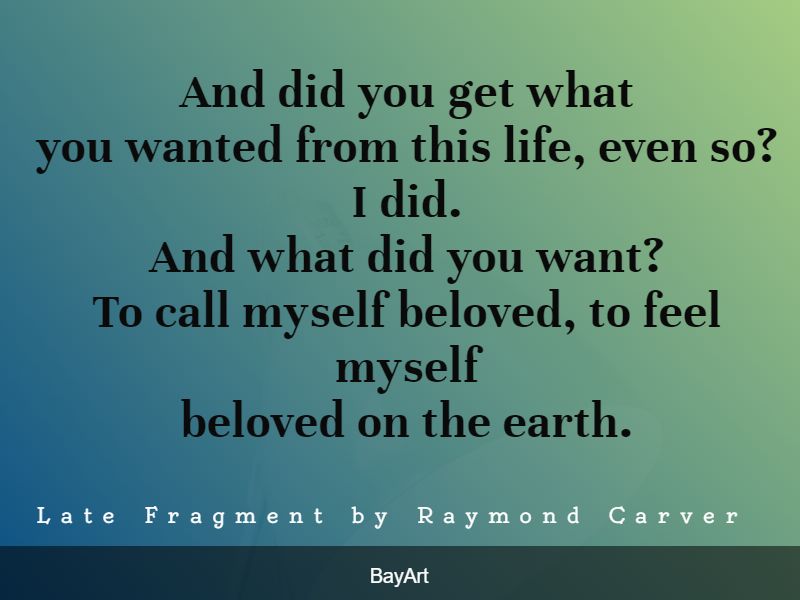 The Parent's Tao Te Ching by William Martin
Do not ask your children
to strive for extraordinary lives.
Such striving may seem admirable,
but it is the way of foolishness.
Help them instead to find the wonder
and the marvel of an ordinary life.
Show them the joy of tasting
tomatoes, apples and pears.
Show them how to cry
when pets and people die.
Show them the infinite pleasure
in the touch of a hand.
And make the ordinary come alive for them.
The extraordinary will take care of itself.
My Symphony by William Henry Channing
To live content with small means;
to seek elegance rather than luxury,
and refinement rather than fashion,
to be worthy, not respectable,
and wealthy, not rich;
to study hard, think quietly,
talk gently, act frankly,
to listen to stars and birds,
to babes and sages,
with open heart,
to bear all cheerfully,
to all bravely await occasions,
hurry never.
In a word, to let the spiritual unbidden
and unconscious grow up through the common.
This is to be my symphony.
Still Here by Langston Hughes
I been scarred and battered.
My hopes the wind done scattered.
Snow has friz me,
Sun has baked me,
Looks like between 'em they done
Tried to make me
Stop laughin', stop lovin', stop livin'–
But I don't care!
I'm still here!
Stopping by Woods On a Snowy Evening by Robert Frost
Whose woods these are I think I know.
His house is in the village though;
He will not see me stopping here
To watch his woods fill up with snow.
My little horse must think it queer
To stop without a farmhouse near
Between the woods and frozen lake
The darkest evening of the year.
He gives his harness bells a shake
To ask if there is some mistake.
The only other sound's the sweep
Of easy wind and downy flake.
The woods are lovely, dark and deep,
But I have promises to keep,
And miles to go before I sleep,
And miles to go before I sleep.
Risk by Anais Nin
And then the day came,
when the risk
to remain tight
in a bud
was more painful
than the risk
it took
to blossom.
It's all I have to bring today by Emily Dickinson
It's all I have to bring today—
This, and my heart beside—
This, and my heart, and all the fields—
And all the meadows wide—
Be sure you count—should I forget
Some one the sum could tell—
This, and my heart, and all the Bees
Which in the Clover dwell.
Also see Sorry Poems That Will Touche the Heart.
Short Famous Classic Poems About Life
No Man Is An Island by John Donne
No man is an island entire of itself; every man
is a piece of the continent, a part of the main;
if a clod be washed away by the sea, Europe
is the less, as well as if a promontory were, as
well as any manner of thy friends or of thine
own were; any man's death diminishes me,
because I am involved in mankind.
And therefore never send to know for whom
the bell tolls; it tolls for thee.
Ozymandias by Percy Shelley
I met a traveller from an antique land
Who said: 'Two vast and trunkless legs of stone
Stand in the desert. Near them, on the sand,
Half sunk, a shattered visage lies, whose frown,
And wrinkled lip, and sneer of cold command,
Tell that its sculptor well those passions read
Which yet survive, stamped on these lifeless things,
The hand that mocked them and the heart that fed.
And on the pedestal these words appear —
"My name is Ozymandias, king of kings:
Look on my works, ye Mighty, and despair!"
Nothing beside remains. Round the decay
Of that colossal wreck, boundless and bare
The lone and level sands stretch far away.'
Fire & Ice by Robert Frost
Some say the world will end in fire,
Some say in ice.
From what I've tasted of desire
I hold with those who favour fire.
But if it had to perish twice,
I think I know enough of hate
To say that for destruction ice
Is also great
And would suffice.
I heard a fly buzz – when I died by Emily Dickinson
I heard a Fly buzz – when I died –
The Stillness in the Room
Was like the Stillness in the Air –
Between the Heaves of Storm –
The Eyes around – had wrung them dry –
And Breaths were gathering firm
For that last Onset – when the King
Be witnessed – in the Room –
I willed my Keepsakes – Signed away
What portion of me be
Assignable – and then it was
There interposed a Fly –
With Blue – uncertain – stumbling Buzz –
Between the light – and me –
And then the Windows failed – and then
I could not see to see –
Shall I Compare Thee To A Summer's Day? by William Shakespeare
Shall I compare thee to a summer's day?
Thou art more lovely and more temperate.
Rough winds do shake the darling buds of May,
And summer's lease hath all too short a date.
Sometime too hot the eye of heaven shines,
And often is his gold complexion dimmed;
And every fair from fair sometime declines,
By chance, or nature's changing course, untrimmed;
But thy eternal summer shall not fade,
Nor lose possession of that fair thou ow'st,
Nor shall death brag thou wand'rest in his shade,
When in eternal lines to Time thou grow'st.
So long as men can breathe, or eyes can see,
So long lives this, and this gives life to thee.
Jabberwocky by Lewis Carroll
'Twas brillig, and the slithy toves
Did gyre and gimble in the wabe:
All mimsy were the borogoves,
And the mome raths outgrabe.
"Beware the Jabberwock, my son!
The jaws that bite, the claws that catch!
Beware the Jubjub bird, and shun
The frumious Bandersnatch!"
He took his vorpal sword in hand;
Long time the manxome foe he sought—
So rested he by the Tumtum tree
And stood awhile in thought.
And, as in uffish thought he stood,
The Jabberwock, with eyes of flame,
Came whiffling through the tulgey wood,
And burbled as it came!
One, two! One, two! And through and through
The vorpal blade went snicker-snack!
He left it dead, and with its head
He went galumphing back.
"And hast thou slain the Jabberwock?
Come to my arms, my beamish boy!
O frabjous day! Callooh! Callay!"
He chortled in his joy.
'Twas brillig, and the slithy toves
Did gyre and gimble in the wabe:
All mimsy were the borogoves,
And the mome raths outgrabe.
7 Short Poems About Friendship
Friends can share your interests, be your closest confidantes, and know you better than anyone else—that's why poems that revolve around friendship can be especially deep and significant.
A Poison Tree By William Blake
I was angry with my friend:
I told my wrath, my wrath did end.
I was angry with my foe:
I told it not, my wrath did grow.
And I waterd it in fears
Night & morning with my tears;
And I sunned it with smiles,
And with soft deceitful wiles.
And it grew both day and night,
Till it bore an apple bright.
And my foe beheld it shine,
And he knew that it was mine,
And into my garden stole,
When the night had veiled the pole;
In the morning glad I see
My foe outstretchd beneath the tree.
A Time to Talk By Robert Frost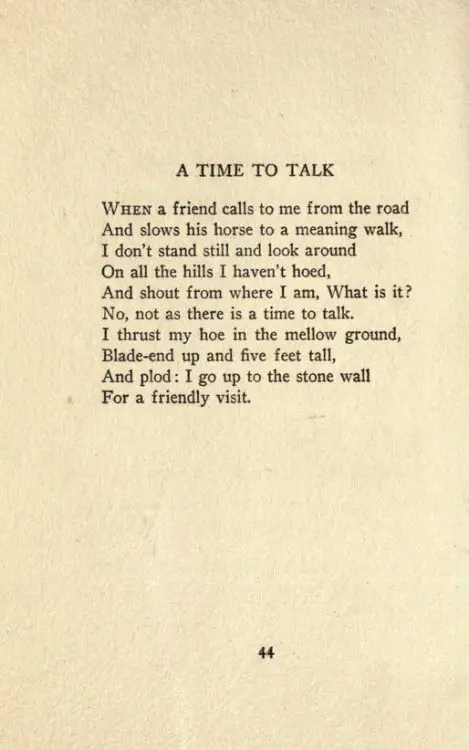 When a friend calls to me from the road
And slows his horse to a meaning walk,
I don't stand still and look around
On all the hills I haven't hoed,
And shout from where I am, 'What is it?'
No, not as there is a time to talk.
I thrust my hoe in the mellow ground,
Blade-end up and five feet tall,
And plod: I go up to the stone wall
For a friendly visit.
Friendship by Alexander Pushkin
What's friendship? The hangover's faction,
The gratis talk of outrage,
Exchange by vanity, inaction,
Or bitter shame of patronage.
The Lover Pleads with His Friend for Old Friends by W. B. Yeats
Though you are in your shining days,
Voices among the crowd
And new friends busy with your praise,
Be not unkind or proud,
But think about old friends the most:
Time's bitter flood will rise,
Your beauty perish and be lost
For all eyes but these eyes.
To A Friend by Matthew Arnold
Who prop, thou ask'st in these bad days, my mind?–
He much, the old man, who, clearest-souled of men,
Saw The Wide Prospect, and the Asian Fen,
And Tmolus hill, and Smyrna bay, though blind.
Much he, whose friendship I not long since won,
That halting slave, who in Nicopolis
Taught Arrian, when Vespasian's brutal son
Cleared Rome of what most shamed him.
But be his
My special thanks, whose even-balanced soul,
From first youth tested up to extreme old age,
Business could not make dull, nor passion wild;
Who saw life steadily, and saw it whole;
The mellow glory of the Attic stage,
Singer of sweet Colonus, and its child.
Life by Henry Van Dyke
Let me but live my life from year to year,
With forward face and unreluctant soul;
Not hurrying to, nor turning from the goal;
Not mourning for the things that disappear
In the dim past, nor holding back in fear
From what the future veils; but with a whole
And happy heart, that pays its toll
To Youth and Age, and travels on with cheer.
So let the way wind up the hill or down,
O'er rough or smooth, the journey will be joy:
Still seeking what I sought when but a boy,
New friendship, high adventure, and a crown,
My heart will keep the courage of the quest,
And hope the road's last turn will be the best.
Friendship IXX by Kahlil Gibran
And a youth said, "Speak to us of Friendship."
Your friend is your needs answered.
He is your field which you sow with love and reap with thanksgiving.
And he is your board and your fireside.
For you come to him with your hunger, and you seek him for peace.
When your friend speaks his mind you fear not the "nay" in your own mind, nor do you withhold the "ay."
And when he is silent your heart ceases not to listen to his heart;
For without words, in friendship, all thoughts, all desires, all expectations are born and shared, with joy that is unacclaimed.
When you part from your friend, you grieve not;
For that which you love most in him may be clearer in his absence, as the mountain to the climber is clearer from the plain.
And let there be no purpose in friendship save the deepening of the spirit.
For love that seeks aught but the disclosure of its own mystery is not love but a net cast forth: and only the unprofitable is caught.
And let your best be for your friend.
If he must know the ebb of your tide, let him know its flood also.
For what is your friend that you should seek him with hours to kill?
Seek him always with hours to live.
For it is his to fill your need, but not your emptiness.
And in the sweetness of friendship let there be laughter, and sharing of pleasures.
For in the dew of little things the heart finds its morning and is refreshed.
8 Short Poems About Love
Classic and contemporary short love poems. Also, here the greatest cute love poems ever written.
I love you as certain dark things are to be loved in secret, between the shadow and the soul. 'Sonnet XVII', Neruda
Sonnet 40 by William Shakespeare
Take all my loves, my love, yea, take them all:
What hast thou then more than thou hadst before?
No love, my love, that thou mayst true love call—
All mine was thine before thou hadst this more.
Then if for my love thou my love receivest,
I cannot blame thee for my love thou usest;
But yet be blamed if thou this self deceivest
By wilful taste of what thyself refusest.
I do forgive thy robb'ry, gentle thief,
Although thou steal thee all my poverty;
And yet love knows it is a greater grief
To bear love's wrong than hate's known injury.
Lascivious grace, in whom all ill well shows,
Kill me with spites, yet we must not be foes.
Song: to Celia by Ben Jonson
Come, my Celia, let us prove,
While we can, the sports of love;
Time will not be ours forever;
He at length our good will sever.
Spend not then his gifts in vain.
Suns that set may rise again;
But if once we lose this light,
'Tis with us perpetual night.
Why should we defer our joys?
Fame and rumor are but toys.
Cannot we delude the eyes
Of a few poor household spies,
Or his easier ears beguile,
So removèd by our wile?
'Tis no sin love's fruit to steal;
But the sweet thefts to reveal,
To be taken, to be seen,
These have crimes accounted been.
"I loved you first: but afterwards your love" by Christina Rossetti
Poca favilla gran fiamma seconda. – Dante
Ogni altra cosa, ogni pensier va fore,
E sol ivi con voi rimansi amore. – Petrarca
I loved you first: but afterwards your love
Outsoaring mine, sang such a loftier song
As drowned the friendly cooings of my dove.
Which owes the other most? my love was long,
And yours one moment seemed to wax more strong;
I loved and guessed at you, you construed me
And loved me for what might or might not be –
Nay, weights and measures do us both a wrong.
For verily love knows not 'mine' or 'thine;'
With separate 'I' and 'thou' free love has done,
For one is both and both are one in love:
Rich love knows nought of 'thine that is not mine;'
Both have the strength and both the length thereof,
Both of us, of the love which makes us one.
Lines Depicting Simple Happiness by Peter Gizzi
The shine on her buckle took precedence in sun
Her shine, I should say, could take me anywhere
It feels right to be up this close in tight wind
It feels right to notice all the shiny things about you
About you there is nothing I wouldn't want to know
With you nothing is simple yet nothing is simpler
About you many good things come into relation
I think of proofs and grammar, vowel sounds, like
A is for knee socks, E for panties
I is for buttondown, O the blouse you wear
U is for hair clip, and Y your tight skirt
The music picks up again, I am the man I hope to be
The bright air hangs freely near your newly cut hair
It is so easy now to see gravity at work in your face
Easy to understand time, that dark process
To accept it as a beautiful process, your face
I Carry Your Heart With Me By E. E. Cummings
i carry your heart with me(i carry it in
my heart)i am never without it(anywhere
i go you go,my dear; and whatever is done
by only me is your doing,my darling)
i fear
no fate(for you are my fate,my sweet)i want
no world(for beautiful you are my world,my true)
and it's you are whatever a moon has always meant
and whatever a sun will always sing is you
here is the deepest secret nobody knows
(here is the root of the root and the bud of the bud
and the sky of the sky of a tree called life;which grows
higher than the soul can hope or mind can hide)
and this is the wonder that's keeping the stars apart
i carry your heart(i carry it in my heart)
Separation by W.S. Merwin
Your absence has gone through me
Like thread through a needle.
Everything I do is stitched with its color.
You Fit Into Me by Margaret Atwood
you fit into me
like a hook into an eye
a fish hook
an open eye
One Hundred Love Sonnets: XVII by Pablo Neruda
I don't love you as if you were a rose of salt, topaz,
or arrow of carnations that propagate fire:
I love you as one loves certain obscure things,
secretly, between the shadow and the soul.
I love you as the plant that doesn't bloom but carries
the light of those flowers, hidden, within itself,
and thanks to your love the tight aroma that arose
from the earth lives dimly in my body.
I love you without knowing how, or when, or from where,
I love you directly without problems or pride:
I love you like this because I don't know any other way to love,
except in this form in which I am not nor are you,
so close that your hand upon my chest is mine,
so close that your eyes close with my dreams.
In a Station of the Metro by Ezra Pound
The apparition of these faces in the crowd;
Petals on a wet, black bough.
I Wandered Lonely as a Cloud by William Wordsworth
I wandered lonely as a cloud
That floats on high o'er vales and hills,
When all at once I saw a crowd,
A host, of golden daffodils;
Beside the lake, beneath the trees,
Fluttering and dancing in the breeze.
Continuous as the stars that shine
And twinkle on the milky way,
They stretched in never-ending line
Along the margin of a bay:
Ten thousand saw I at a glance,
Tossing their heads in sprightly dance.
The waves beside them danced; but they
Out-did the sparkling waves in glee:
A poet could not but be gay,
In such a jocund company:
I gazed—and gazed—but little thought
What wealth the show to me had brought:
For oft, when on my couch I lie
In vacant or in pensive mood,
They flash upon that inward eye
Which is the bliss of solitude;
And then my heart with pleasure fills,
And dances with the daffodils.
Best Poems About Life
My Life Was the Size of My Life by Jane Hirshfield
My life was the size of my life.
Its rooms were room-sized,
its soul was the size of a soul.
In its background, mitochondria hummed,
above it sun, clouds, snow,
the transit of stars and planets.
It rode elevators, bullet trains,
various airplanes, a donkey.
It wore socks, shirts, its own ears and nose.
It ate, it slept, it opened
and closed its hands, its windows.
Others, I know, had lives larger.
Others, I know, had lives shorter.
The depth of lives, too, is different.
There were times my life and I made jokes together.
There were times we made bread.
Once, I grew moody and distant.
I told my life I would like some time,
I would like to try seeing others.
In a week, my empty suitcase and I returned.
I was hungry, then, and my life,
my life, too, was hungry, we could not keep
our hands off our clothes on
our tongues from
A Psalm of Life by Henry Wadsworth Longfellow
Tell me not, in mournful numbers,
Life is but an empty dream!
For the soul is dead that slumbers,
And things are not what they seem.
Life is real! Life is earnest!
And the grave is not its goal;
Dust thou art, to dust returnest,
Was not spoken of the soul.
Not enjoyment, and not sorrow,
Is our destined end or way;
But to act, that each to-morrow
Find us farther than to-day.
Art is long, and Time is fleeting,
And our hearts, though stout and brave,
Still, like muffled drums, are beating
Funeral marches to the grave.
In the world's broad field of battle,
In the bivouac of Life,
Be not like dumb, driven cattle!
Be a hero in the strife!
Trust no Future, howe'er pleasant!
Let the dead Past bury its dead!
Act,—act in the living Present!
Heart within, and God o'erhead!
Lives of great men all remind us
We can make our lives sublime,
And, departing, leave behind us
Footprints on the sands of time;
Footprints, that perhaps another,
Sailing o'er life's solemn main,
A forlorn and shipwrecked brother,
Seeing, shall take heart again.
Let us, then, be up and doing,
With a heart for any fate;
Still achieving, still pursuing,
Learn to labor and to wait.
What Is This Life by Sir Walter Raleigh
What is our life? A play of passion;
Our mirth the music of division;
Our mothers' wombs the tiring-houses be,
Where we are dressed for this short comedy.
Heaven the judicious sharp spectator is,
That sits and marks still who doth act amiss;
Our graves that hide us from the searching sun
Are like drawn curtains when the play is done.
Thus march we, playing, to our latest rest,
Only we die in earnest – that's no jest.
Life by Sarojini Naidu
CHILDREN, ye have not lived, to you it seems
Life is a lovely stalactite of dreams,
Or carnival of careless joys that leap
About your hearts like billows on the deep
In flames of amber and of amethyst.
Children, ye have not lived, ye but exist
Till some resistless hour shall rise and move
Your hearts to wake and hunger after love,
And thirst with passionate longing for the things
That burn your brows with blood-red sufferings.
Till ye have battled with great grief and fears,
And borne the conflict of dream-shattering years,
Wounded with fierce desire and worn with strife,
Children, ye have not lived: for this is life.
The Rose That Grew From Concrete by Tupac Shakur
Did you hear about the rose that grew
from a crack in the concrete?
Proving nature's law is wrong it
learned to walk with out having feet.
Funny it seems, but by keeping it's dreams,
it learned to breathe fresh air.
Long live the rose that grew from concrete
when no one else ever cared.
Life by Charlotte Brontë
Life, believe, is not a dream
So dark as sages say;
Oft a little morning rain
Foretells a pleasant day.
Sometimes there are clouds of gloom,
But these are transient all;
If the shower will make the roses bloom,
O why lament its fall?
Rapidly, merrily,
Life's sunny hours flit by,
Gratefully, cheerily
Enjoy them as they fly!
What though Death at times steps in,
And calls our Best away?
What though sorrow seems to win,
O'er hope, a heavy sway?
Yet Hope again elastic springs,
Unconquered, though she fell;
Still buoyant are her golden wings,
Still strong to bear us well.
Manfully, fearlessly,
The day of trial bear,
For gloriously, victoriously,
Can courage quell despair!
Later Life by Christina Rossetti
Something this foggy day, a something which
Is neither of this fog nor of today,
Has set me dreaming of the winds that play
Past certain cliffs, along one certain beach,
And turn the topmost edge of waves to spray:
Ah pleasant pebbly strand so far away,
So out of reach while quite within my reach,
As out of reach as India or Cathay!
I am sick of where I am and where I am not,
I am sick of foresight and of memory,
I am sick of all I have and all I see,
I am sick of self, and there is nothing new;
Oh weary impatient patience of my lot!
Thus with myself: how fares it, Friends, with you?
Dockery and Son by Philip Larkin
'Dockery was junior to you,
Wasn't he?' said the Dean. 'His son's here now.'
Death-suited, visitant, I nod. 'And do
You keep in touch with—' Or remember how
Black-gowned, unbreakfasted, and still half-tight
We used to stand before that desk, to give
'Our version' of 'these incidents last night'?
I try the door of where I used to live:
Locked. The lawn spreads dazzlingly wide.
A known bell chimes. I catch my train, ignored.
Canal and clouds and colleges subside
Slowly from view. But Dockery, good Lord,
Anyone up today must have been born
In '43, when I was twenty-one.
If he was younger, did he get this son
At nineteen, twenty? Was he that withdrawn
High-collared public-schoolboy, sharing rooms
With Cartwright who was killed? Well, it just shows
How much … How little … Yawning, I suppose
I fell asleep, waking at the fumes
And furnace-glares of Sheffield, where I changed,
And ate an awful pie, and walked along
The platform to its end to see the ranged
Joining and parting lines reflect a strong
Unhindered moon. To have no son, no wife,
No house or land still seemed quite natural.
Only a numbness registered the shock
Of finding out how much had gone of life,
How widely from the others. Dockery, now:
Only nineteen, he must have taken stock
Of what he wanted, and been capable
Of … No, that's not the difference: rather, how
Convinced he was he should be added to!
Why did he think adding meant increase?
To me it was dilution. Where do these
Innate assumptions come from? Not from what
We think truest, or most want to do:
Those warp tight-shut, like doors. They're more a style
Our lives bring with them: habit for a while,
Suddenly they harden into all we've got
And how we got it; looked back on, they rear
Like sand-clouds, thick and close, embodying
For Dockery a son, for me nothing,
Nothing with all a son's harsh patronage.
Life is first boredom, then fear.
Whether or not we use it, it goes,
And leaves what something hidden from us chose,
And age, and then the only end of age.
Beautiful Poems About Life
Against Dying by Kaveh Akbar
if the body is just a parable
about the body if breath
is a leash to hold the mind
then staying alive should be
easier than it is most sick
things become dead things
at twenty-four my liver was
already covered in fatty
rot my mother filled a tiny
coffin with picture frames
I spent the year drinking
from test tubes weeping
wherever I went somehow
it happened wellness crept
into me like a roach nibbling
through an eardrum for
a time the half minutes
of fire in my brainstem
made me want to pull out
my spine but even those
have become bearable so
how shall I live now
in the unexpected present
I spent so long in a lover's
quarrel with my flesh
the peace seems over-
cautious too-polite I say
stop being cold or make
that blue bluer and it does
we speak to each other
in this code where every word
means obey I sit under
a poplar tree with a thermos
of chamomile feeling
useless as an oath against
dying I put a sugar cube
on my tongue and
swallow it like a pill
Each Life Converges to some Centre by Emily Dickinson
Each Life Converges to some Centre —
Expressed — or still —
Exists in every Human Nature
A Goal —
Embodied scarcely to itself — it may be —
Too fair
For Credibility's presumption
To mar —
Adored with caution — as a Brittle Heaven —
To reach
Were hopeless, as the Rainbow's Raiment
To touch —
Yet persevered toward — sure — for the Distance —
How high —
Unto the Saint's slow diligence —
The Sky —
Ungained — it may be — by a Life's low Venture —
But then —
Eternity enable the endeavoring
Again.
Faith and Courage in Life by Angie M Flores
In life there are people that will hurt us and cause us pain,
but we must learn to forgive and forget and not hold grudges.
In life there are mistakes we will make,
but we must learn from our wrongs and grow from them.
In life there are regrets we will have to live with,
but we must learn to leave the past behind and realize it is something we can't change.
In life there are people we will loose forever and can't have back,
but we must learn to let go and move on.
In life there are going to be obstacles that will cause interference,
but we must learn to overcome these challenges and grow stronger.
In life there are fears that will hold us back from what we want,
but we must learn to fight them with the courage from within.
God holds our lives in his hands. He holds the key to our future.
Only he knows our fate.
He sees everything and knows everything.
Everything in life really does happen for a reason: "God's Reason"
Daisy Cutter by Camille T. Dungy
Pause here at the flower stand—mums
and gladiolas, purple carnations
dark as my heart. We are engaged
in a war, and I want to drag home
any distraction I can carry. Tonight
children will wake to bouquets of fire
that will take their breath away. Still,
I think of my life. The way you hold me,
sometimes, you could choke me.
There is no way to protect myself,
except by some brilliant defense. I want
the black iris with their sabered blooms.
I want the flame throwers: the peonies,
the sunflowers. I will cut down the beautiful ones
and let their nectared sweetness bleed
into the careless air. This is not the world
I'd hoped it could be. It is horrible,
the way we carry on. Last night, you catalogued
our arsenal. You taught me devastation
is a goal we announce in a celebration
of shrapnel. Our bombs shower
in anticipation of their marks. You said this
is to assure damage will be widely distributed.
What gruesome genius invents our brutal hearts?
When you touch me I am a stalk of green panic
and desire. Wait here while I decide which
of these sprigs of blossoming heartbreak I can afford
to bring into my home. Tonight dreams will erupt
in chaotic buds of flame. This is the world we have
arranged. It is horrible, this way we carry on.
The Room of My Life by Anne Sexton
Here,
in the room of my life
the objects keep changing.
Ashtrays to cry into,
the suffering brother of the wood walls,
the forty-eight keys of the typewriter
each an eyeball that is never shut,
the books, each a contestant in a beauty contest,
the black chair, a dog coffin made of Naugahyde,
the sockets on the wall
waiting like a cave of bees,
the gold rug
a conversation of heels and toes,
the fireplace
a knife waiting for someone to pick it up,
the sofa, exhausted with the exertion of a whore.
the phone
two flowers taking root in its crotch,
the doors
opening and closing like sea clams,
the lights
poking at me,
lighting up both the soil and the laugh.
The windows,
the starving windows
that drive the trees like nails into my heart.
Each day I feed the world out there
although birds explode
right and left.
I feed the world in here too,
offering the desk puppy biscuits.
However, nothing is just what it seems to be.
My objects dream and wear new costumes,
compelled to, it seems, by all the words in my hands
and the sea that bangs in my throat.
Each Moment Is Precious by Pat A. Fleming
Live in the moment,
Just take it all in.
Pay attention to everything,
Right there and right then.
Don't let your mind wander
To what's coming next.
Cherish this moment
And give it your best.
Don't let tomorrow
Make you rush through today,
Or too many great moments
Will just go to waste.
And the person you're with,
In that moment you share,
Give them all of your focus;
Be totally there.
Laugh till it hurts,
Let the tears drop.
Fill up each moment
With all that you've got.
Don't miss the details;
The lesson is there.
Don't get complacent;
Stay sharp and aware.
It can take but a moment
To change your life's path.
And once it ticks by,
There is no going back.
In just 60 seconds,
You may make a new friend.
Find your true love,
Or see a life start or end.
You become who you are
In those moments you live.
And the growth's not in taking
But in how much you give.
Life is just moments,
So precious and few.
Whether valued or squandered,
It's all up to you!
Do not go gentle into that good night by Dylan Thomas
Do not go gentle into that good night,
Old age should burn and rave at close of day;
Rage, rage against the dying of the light.
Though wise men at their end know dark is right,
Because their words had forked no lightning they
Do not go gentle into that good night.
Good men, the last wave by, crying how bright
Their frail deeds might have danced in a green bay,
Rage, rage against the dying of the light.
Wild men who caught and sang the sun in flight,
And learn, too late, they grieved it on its way,
Do not go gentle into that good night.
Grave men, near death, who see with blinding sight
Blind eyes could blaze like meteors and be gay,
Rage, rage against the dying of the light.
And you, my father, there on the sad height,
Curse, bless, me now with your fierce tears, I pray.
Do not go gentle into that good night.
Rage, rage against the dying of the light.
Deep Meaningful Poems About Life
Monologue for an Onion by Suji Kwock Kim
I don't mean to make you cry.
I mean nothing, but this has not kept you
From peeling away my body, layer by layer,
The tears clouding your eyes as the table fills
With husks, cut flesh, all the debris of pursuit.
Poor deluded human: you seek my heart.
Hunt all you want. Beneath each skin of mine
Lies another skin: I am pure onion–pure union
Of outside and in, surface and secret core.
Look at you, chopping and weeping. Idiot.
Is this the way you go through life, your mind
A stopless knife, driven by your fantasy of truth,
Of lasting union–slashing away skin after skin
From things, ruin and tears your only signs
Of progress? Enough is enough.
You must not grieve that the world is glimpsed
Through veils. How else can it be seen?
How will you rip away the veil of the eye, the veil
That you are, you who want to grasp the heart
Of things, hungry to know where meaning
Lies. Taste what you hold in your hands: onion-juice,
Yellow peels, my stinging shreds. You are the one
In pieces. Whatever you meant to love, in meaning to
You changed yourself: you are not who you are,
Your soul cut moment to moment by a blade
Of fresh desire, the ground sown with abandoned skins.
And at your inmost circle, what? A core that is
Not one. Poor fool, you are divided at the heart,
Lost in its maze of chambers, blood, and love,
A heart that will one day beat you to death.
Life Doesn't Frighten Me by Maya Angelou
Shadows on the wall
Noises down the hall
Life doesn't frighten me at all
Bad dogs barking loud
Big ghosts in a cloud
Life doesn't frighten me at all
Mean old Mother Goose
Lions on the loose
They don't frighten me at all
Dragons breathing flame
On my counterpane
That doesn't frighten me at all.
I go boo
Make them shoo
I make fun
Way they run
I won't cry
So they fly
I just smile
They go wild
Life doesn't frighten me at all.
Tough guys fight
All alone at night
Life doesn't frighten me at all.
Panthers in the park
Strangers in the dark
No, they don't frighten me at all.
That new classroom where
Boys all pull my hair
(Kissy little girls
With their hair in curls)
They don't frighten me at all.
Don't show me frogs and snakes
And listen for my scream,
If I'm afraid at all
It's only in my dreams.
I've got a magic charm
That I keep up my sleeve
I can walk the ocean floor
And never have to breathe.
Life doesn't frighten me at all
Not at all
Not at all.
Life doesn't frighten me at all.
Life Is a Privilege by Ella Wheeler Wilcox
Life is a privilege. Its youthful days
Shine with the radiance of continuous Mays.
To live, to breathe, to wonder and desire,
To feed with dreams the heart's perpetual fire,
To thrill with virtuous passions, and to glow
With great ambitions – in one hour to know
The depths and heights of feeling – God! in truth,
How beautiful, how beautiful is youth!
Life is a privilege. Like some rare rose
The mysteries of the human mind unclose.
What marvels lie in the earth, and air, and sea!
What stores of knowledge wait our opening key!
What sunny roads of happiness lead out
Beyond the realms of indolence and doubt!
And what large pleasures smile upon and bless
The busy avenues of usefulness!
Life is a privilege. Thought the noontide fades
And shadows fall along the winding glades,
Though joy-blooms wither in the autumn air,
Yet the sweet scent of sympathy is there.
Pale sorrow leads us closer to our kind,
And in the serious hours of life we find
Depths in the souls of men which lend new worth
And majesty to this brief span of earth.
Life is a privilege. If some sad fate
Sends us alone to seek the exit gate,
If men forsake us and as shadows fall,
Still does the supreme privilege of all
Come in that reaching upward of the soul
To find the welcoming Presence at the goal,
And in the Knowledge that our feet have trod
Paths that led from, and must wind back, to God.
Ode To Broken Things by Pablo Neruda
Things get broken
at home
like they were pushed
by an invisible, deliberate smasher.
It's not my hands
or yours
It wasn't the girls
with their hard fingernails
or the motion of the planet.
It wasn't anything or anybody
It wasn't the wind
It wasn't the orange-colored noontime
Or night over the earth
It wasn't even the nose or the elbow
Or the hips getting bigger
or the ankle
or the air.
The plate broke, the lamp fell
All the flower pots tumbled over
one by one. That pot
which overflowed with scarlet
in the middle of October,
it got tired from all the violets
and another empty one
rolled round and round and round
all through winter
until it was only the powder
of a flowerpot,
a broken memory, shining dust.
And that clock
whose sound
was
the voice of our lives,
the secret
thread of our weeks,
which released
one by one, so many hours
for honey and silence
for so many births and jobs,
that clock also
fell
and its delicate blue guts
vibrated
among the broken glass
its wide heart
unsprung.
Life goes on grinding up
glass, wearing out clothes
making fragments
breaking down
forms
and what lasts through time
is like an island on a ship in the sea,
perishable
surrounded by dangerous fragility
by merciless waters and threats.
Let's put all our treasures together
— the clocks, plates, cups cracked by the cold —
into a sack and carry them
to the sea
and let our possessions sink
into one alarming breaker
that sounds like a river.
May whatever breaks
be reconstructed by the sea
with the long labor of its tides.
So many useless things
which nobody broke
but which got broken anyway
Desiderata by Max Ehrmann
Go placidly amid the noise and haste,
and remember what peace there may be in silence.
As far as possible without surrender
be on good terms with all persons.
Speak your truth quietly and clearly;
and listen to others,
even the dull and the ignorant;
they too have their story.
Avoid loud and aggressive persons,
they are vexations to the spirit.
If you compare yourself with others,
you may become vain and bitter;
for always there will be greater and lesser persons than yourself.
Enjoy your achievements as well as your plans.
Keep interested in your own career, however humble;
it is a real possession in the changing fortunes of time.
Exercise caution in your business affairs;
for the world is full of trickery.
But let this not blind you to what virtue there is;
many persons strive for high ideals;
and everywhere life is full of heroism.
Be yourself.
Especially, do not feign affection.
Neither be cynical about love;
for in the face of all aridity and disenchantment
it is as perennial as the grass.
Take kindly the counsel of the years,
gracefully surrendering the things of youth.
Nurture strength of spirit to shield you in sudden misfortune.
But do not distress yourself with dark imaginings.
Many fears are born of fatigue and loneliness.
Beyond a wholesome discipline,
be gentle with yourself.
You are a child of the universe,
no less than the trees and the stars;
you have a right to be here.
And whether or not it is clear to you,
no doubt the universe is unfolding as it should.
Therefore be at peace with God,
whatever you conceive Him to be,
and whatever your labors and aspirations,
in the noisy confusion of life keep peace with your soul.
With all its sham, drudgery, and broken dreams,
it is still a beautiful world.
Be cheerful.
Strive to be happy.
Still I Rise by Maya Angelou
You may write me down in history
With your bitter, twisted lies,
You may trod me in the very dirt
But still, like dust, I'll rise.
Does my sassiness upset you?
Why are you beset with gloom?
'Cause I walk like I've got oil wells
Pumping in my living room.
Just like moons and like suns,
With the certainty of tides,
Just like hopes springing high,
Still I'll rise.
Did you want to see me broken?
Bowed head and lowered eyes?
Shoulders falling down like teardrops,
Weakened by my soulful cries?
Does my haughtiness offend you?
Don't you take it awful hard
'Cause I laugh like I've got gold mines
Diggin' in my own backyard.
Famous Poems about Life
The Dust of Snow by Robert Frost
The way a crow
Shook down on me
The dust of snow
From a hemlock tree
Has given my heart
A change of mood
And saved some part
Of a day I had rued.
The Peace of Wild Things by Wendell Berry
When despair for the world grows in me
and I wake in the night at the least sound
in fear of what my life and my children's lives may be,
I go and lie down where the wood drake
rests in his beauty on the water, and the great heron feeds.
I come into the peace of wild things
who do not tax their lives with forethought
of grief. I come into the presence of still water.
And I feel above me the day-blind stars
waiting with their light. For a time
I rest in the grace of the world, and am free.
The Guest House by Rumi
This being human is a guest house.
Every morning a new arrival.
A joy, a depression, a meanness,
some momentary awareness comes
as an unexpected visitor.
Welcome and entertain them all!
Even if they are a crowd of sorrows,
who violently sweep your house
empty of its furniture,
still, treat each guest honorably.
He may be clearing you out
for some new delight.
The dark thought, the shame, the malice.
meet them at the door laughing and invite them in.
Be grateful for whatever comes.
because each has been sent
as a guide from beyond.
The Road Not Taken by Robert Frost
Two roads diverged in a yellow wood,
And sorry I could not travel both
And be one traveler, long I stood
And looked down one as far as I could
To where it bent in the undergrowth;
Then took the other, as just as fair,
And having perhaps the better claim,
Because it was grassy and wanted wear;
Though as for that the passing there
Had worn them really about the same,
And both that morning equally lay
In leaves no step had trodden black.
Oh, I kept the first for another day!
Yet knowing how way leads on to way,
I doubted if I should ever come back.
I shall be telling this with a sigh
Somewhere ages and ages hence:
Two roads diverged in a wood, and I—
I took the one less traveled by,
And that has made all the difference.
Stream Of Life Poem by Rabindranath Tagore
The same stream of life that runs through my veins night and day
runs through the world and dances in rhythmic measures.
It is the same life that shoots in joy through the dust of the earth
in numberless blades of grass
and breaks into tumultuous waves of leaves and flowers.
It is the same life that is rocked in the ocean-cradle of birth
and of death, in ebb and in flow.
I feel my limbs are made glorious by the touch of this world of life.
And my pride is from the life-throb of ages dancing in my blood this moment.
The Summer Day by Mary Oliver
Who made the world?
Who made the swan, and the black bear?
Who made the grasshopper?
this grasshopper, I mean—
the one who has flung herself out of the grass,
the one who is eating sugar out of my hand,
who is moving her jaws back and forth instead of up and down—
who is gazing around with her enormous and complicated eyes.
Now she lifts her pale forearms and thoroughly washes her face.
Now she snaps her wings open, and floats away.
I don't know exactly what a prayer is.
I do know how to pay attention, how to fall down
into the grass, how to kneel down in the grass,
how to be idle and blessed, how to stroll through the fields,
which is what I have been doing all day.
Tell me, what else should I have done?
Doesn't everything die at last, and too soon?
Tell me, what is it you plan to do
with your one wild and precious life?