Unique, handpicked collection of short poems about life, love, and friendship that have, literally, changed my life, because they have changed the way I looked at and listened to the world. 
Since the dawn of civilization, artists of all forms have sought to express the essence of the human condition and the full range of human experience. Poetry has been one of the most common forms of this expression from the ancients until now.
These words have an ability to capture the abstract emotions and concrete experiences that have been part of our humanity throughout the ages. Turning to the words of poems can help us to clarify and understand our own experiences better by connecting us to those others who have sought to do the same.
Sometimes inspirational poems can help us renew ourselves and be filled with strength to fulfill our life's purpose.
I would like to be the air that inhabits you for a moment only. I would like to be that unnoticed and that necessary 'Variation on the Word Sleep', Margaret Atwood
O Captain! my Captain! our fearful trip is done; The ship has weather'd every rack, the prize we sought is won 'O Captain! My Captain!', Walt Whitman
They dull my eyes, yet I keep on dying, Because I love to live. Maya Angelou
21 Best Short Poems About Life
Poetry is a method of expression that uses specific words, their meaning or interpretation and rhythm to deliver exciting and imaginative ideas as well as evoke emotional actions and reactions.
Poetry has the potential to provide you with insightful advice as well as encourage you, strengthen your resolve, motivate you to succeed, and even give you direction and clarity when your hope is shaken.
Some of these famous short poems you have heard before, but others may be new. Either way, we hope you love them!
"Hope is the thing with feathers That perches in the soul, And sings the tune without the words, And never stops at all," Emily Dickinson
The Lesson by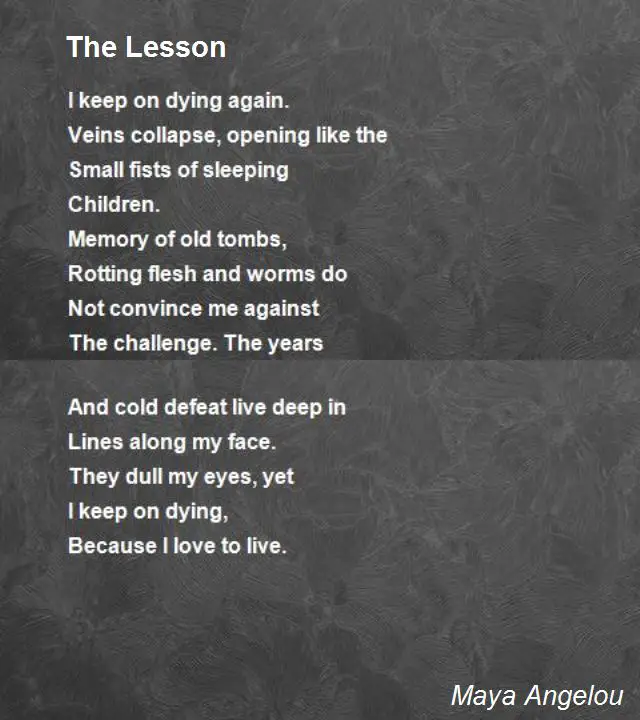 I keep on dying again.
Veins collapse, opening like the
Small fists of sleeping
Children.
Memory of old tombs,
Rotting flesh and worms do
Not convince me against
The challenge.
The years
And cold defeat live deep in
Lines along my face.
They dull my eyes, yet
I keep on dying,
Because I love to live.
Life Through My Eyes by Tupac Shakur
Life through my bloodshot eyes
would scare a square 2 death
poverty, murder, violence
and never a moment 2 rest
Fun and games are few
but treasured like gold 2 me
cuz I realize that I must return
2 my spot in poverty
But mock my words when I say
my heart will not exist
unless my destiny comes through
and puts an end 2 all of this
Happiness by Carl Sandburg
I ASKED the professors who teach the meaning of life to tell
me what is happiness.
And I went to famous executives who boss the work of
thousands of men.
They all shook their heads and gave me a smile as though
I was trying to fool with them
And then one Sunday afternoon I wandered out along
the Desplaines river
And I saw a crowd of Hungarians under the trees with
their women and children
and a keg of beer and an
accordion.
i shall imagine life by Edward Estlin (E E) Cummings
i shall imagine life
is not worth dying if
(and when)roses complain
their beauties are in vain
but though mankind persuades
itself that every weed's
a rose roses(you feel
certain)will only smile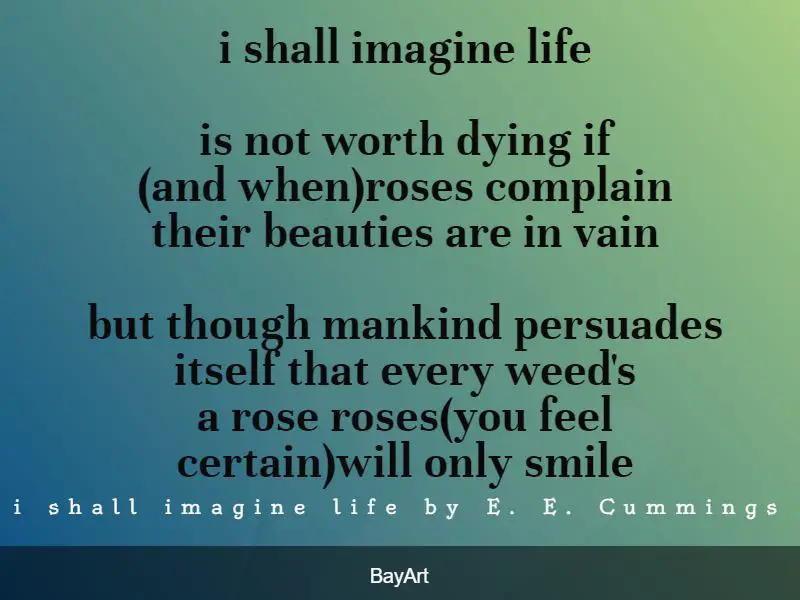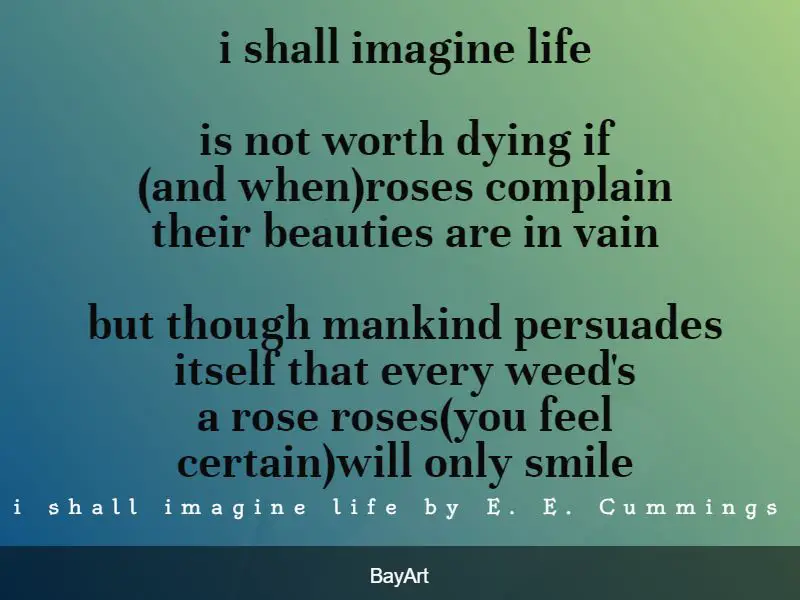 Hope is the thing with feathers by Emily Dickinson
Hope is the thing with feathers
That perches in the soul,
And sings the tune without the words,
And never stops at all,
And sweetest in the gale is heard;
And sore must be the storm
That could abash the little bird
That kept so many warm.
I've heard it in the chillest land,
And on the strangest sea;
Yet, never, in extremity,
It asked a crumb of me.
Our Deepest Fear by Marianne Williamson
Our deepest fear is not that we are inadequate.
Our deepest fear is that we are powerful beyond measure.
It is our light, not our darkness
That most frightens us.
We ask ourselves
Who am I to be brilliant, gorgeous, talented, fabulous?
Actually, who are you not to be?
You are a child of God.
Your playing small
Does not serve the world.
There's nothing enlightened about shrinking
So that other people won't feel insecure around you.
We are all meant to shine,
As children do.
We were born to make manifest
The glory of God that is within us.
It's not just in some of us;
It's in everyone.
And as we let our own light shine,
We unconsciously give other people permission to do the same.
As we're liberated from our own fear,
Our presence automatically liberates others.
The Man Who Thinks He Can by Walter D. Wintle
If you think you are beaten, you are;
If you think you dare not, you don't;
If you'd like to win, but think you can't,
It's almost a cinch you won't.
If you think you'll lose, you're lost,
For out in the word we find
Success begins with a fellow's will,
It's all in the state of mind.
If you think you're outcasted, you are;
You've got to think high to rise.
You've got to be sure of yourself before
You can ever win a prize.
Life's battles don't always go
To the stronger or faster man;
But soon or late the man who wins
Is the man who thinks he can.
Help Yourself to Happiness By Helen Steiner Rice
Everybody, everywhere seeks happiness, it's true,
But finding it and keeping it seem difficult to do.
Difficult because we think that happiness is found
Only in the places where wealth and fame abound.And so we go on searching in palaces of pleasure
Seeking recognition and monetary treasure,
Unaware that happiness is just a state of mind
Within the reach of everyone who takes time to be kind.
For in making others happy we will be happy, too.
For the happiness you give away returns to shine on you.
Dreams By Langston Hughes
Hold fast to dreams
For if dreams die
Life is a broken-winged bird
That cannot fly.
Hold fast to dreams
For when dreams go
Life is a barren field
Frozen with snow.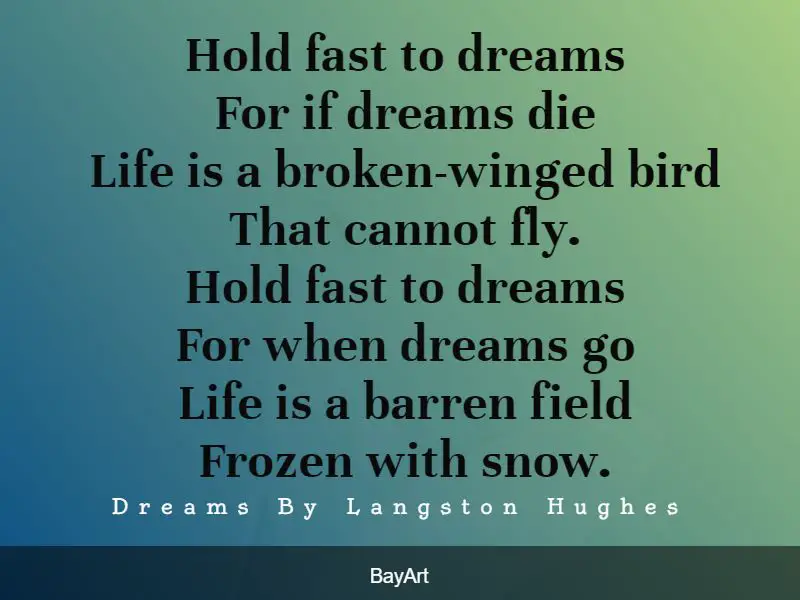 I Am By Ella Wheeler Wilcox
I Know not whence I came,
I know not whither I go;
But the fact stands clear that I am here
In this world of pleasure and woe.
And out of the mist and murk
Another truth shines plain –
It is my power each day and hour
To add to its joy or its pain.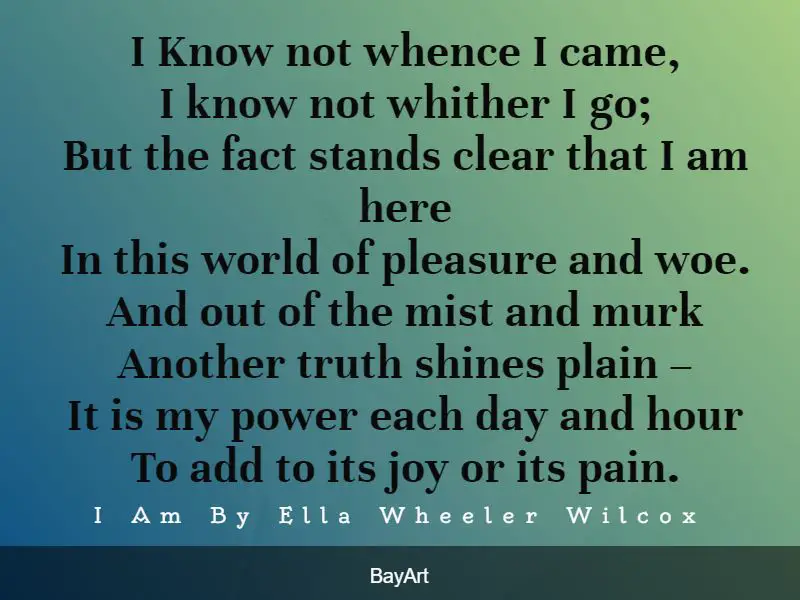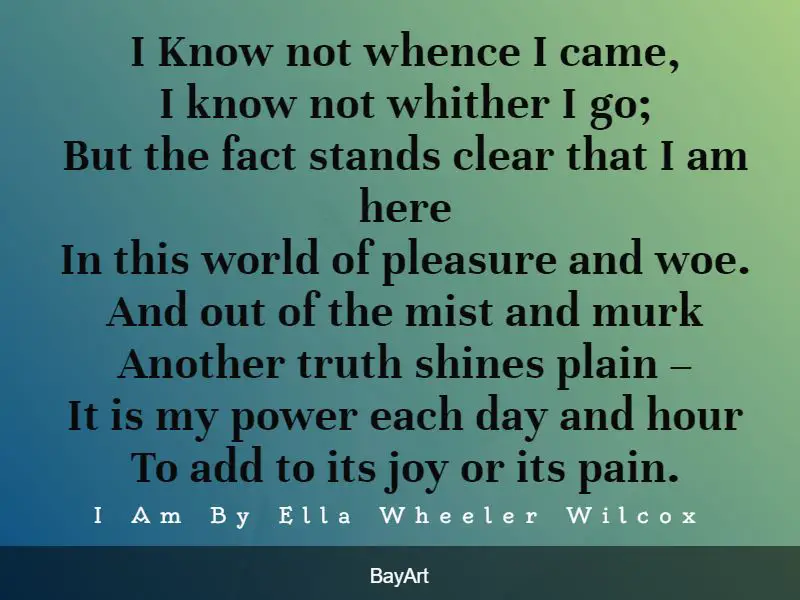 The Small Claim Of Bones by Cindy Williams Gutiérrez
what my body knows
a lie i tell you it is not
it's nothing short of truth
and nothing larger
my past lodges
in my marrow and if
i wanted a transplant
there'd be no match
others' sorrows dwarf
my petty traumas still
these bones are mine
when they creak
when they moan
when they whine
there's only one thing
i can claim these bones
are mine i tell you
they are mine and kind
to abandon no thing
that makes this pulse
no one but me
The Street by Octavio Paz
It's a long and silent street.
I walk in the dark and trip and fall
and get up and step blindly
on the mute stones and dry leaves
and someone behind me is also walking:
if I stop, he stops;
if I run, he runs. I turn around: no one.
Everything is black, there is no exit,
and I turn and turn corners
that always lead to the street
where no one waits for me, no one follows,
where I follow a man who trips
and gets up and says when he sees me: no one.
Life Is Fine By Langston Hughes
I went down to the river,
I set down on the bank.
I tried to think but couldn't,
So I jumped in and sank.
I came up once and hollered!
I came up twice and cried!
If that water hadn't a-been so cold
I might've sunk and died.
But it was Cold in that water! It was cold!
I took the elevator
Sixteen floors above the ground.
I thought about my baby
And thought I would jump down.
I stood there and I hollered!
I stood there and I cried!
If it hadn't a-been so high
I might've jumped and died.
But it was High up there! It was high!
So since I'm still here livin',
I guess I will live on.
I could've died for love—
But for livin' I was born
Though you may hear me holler,
And you may see me cry—
I'll be dogged, sweet baby,
If you gonna see me die.
Life is fine! Fine as wine! Life is fine!
I Took My Power In My Hand by Emily Dickinson
I took my Power in my Hand—
And went against the World—
'Twas not so much as David—had—
But I—was twice as bold—
I aimed by Pebble—but Myself
Was all the one that fell—
Was it Goliath—was too large—
Or was myself—too small?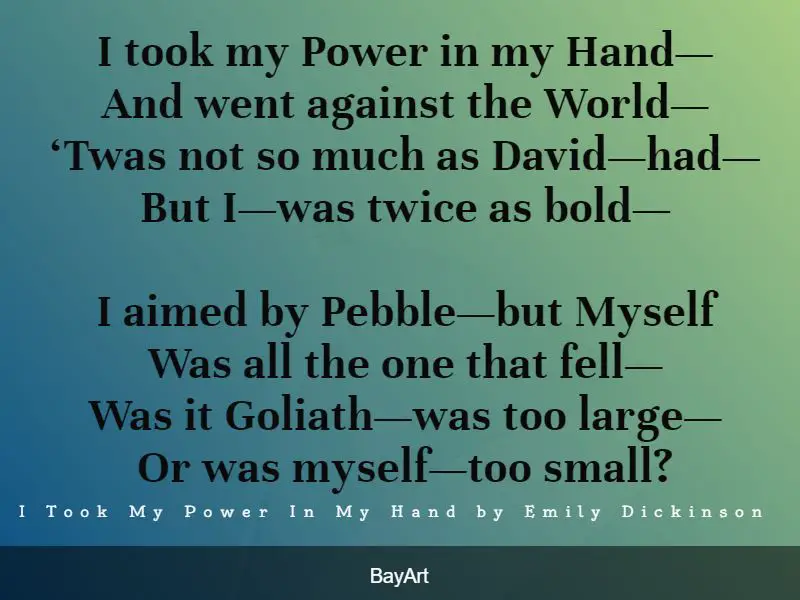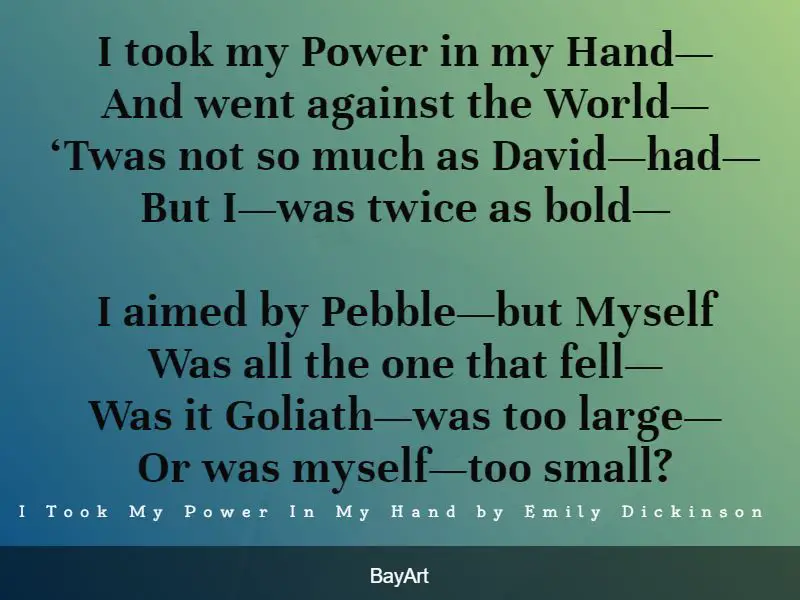 Late Fragment by Raymond Carver
And did you get what
you wanted from this life, even so?
I did.
And what did you want?
To call myself beloved, to feel myself
beloved on the earth.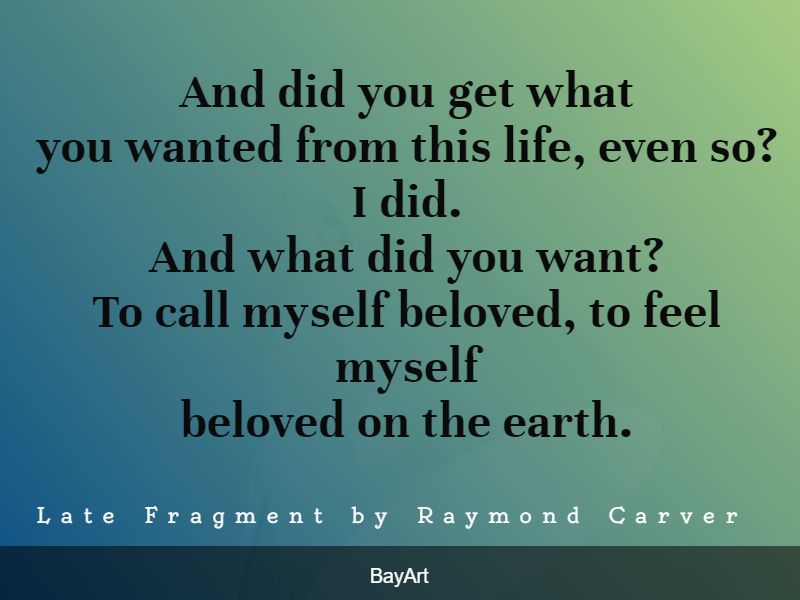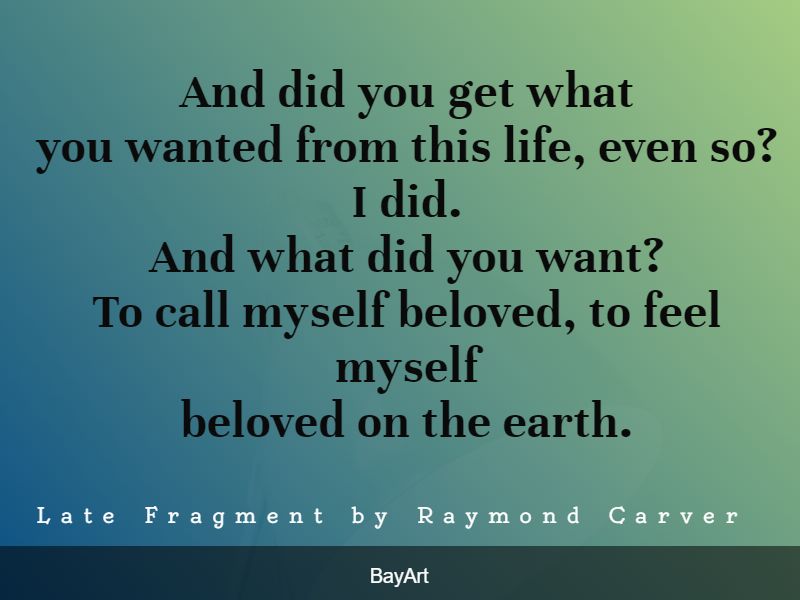 The Parent's Tao Te Ching by William Martin
Do not ask your children
to strive for extraordinary lives.
Such striving may seem admirable,
but it is the way of foolishness.
Help them instead to find the wonder
and the marvel of an ordinary life.
Show them the joy of tasting
tomatoes, apples and pears.
Show them how to cry
when pets and people die.
Show them the infinite pleasure
in the touch of a hand.
And make the ordinary come alive for them.
The extraordinary will take care of itself.
My Symphony by William Henry Channing
To live content with small means;
to seek elegance rather than luxury,
and refinement rather than fashion,
to be worthy, not respectable,
and wealthy, not rich;
to study hard, think quietly,
talk gently, act frankly,
to listen to stars and birds,
to babes and sages,
with open heart,
to bear all cheerfully,
to all bravely await occasions,
hurry never.
In a word, to let the spiritual unbidden
and unconscious grow up through the common.
This is to be my symphony.
Still Here by Langston Hughes
I been scarred and battered.
My hopes the wind done scattered.
Snow has friz me,
Sun has baked me,
Looks like between 'em they done
Tried to make me
Stop laughin', stop lovin', stop livin'–
But I don't care!
I'm still here!
Stopping by Woods On a Snowy Evening by Robert Frost
Whose woods these are I think I know.
His house is in the village though;
He will not see me stopping here
To watch his woods fill up with snow.
My little horse must think it queer
To stop without a farmhouse near
Between the woods and frozen lake
The darkest evening of the year.
He gives his harness bells a shake
To ask if there is some mistake.
The only other sound's the sweep
Of easy wind and downy flake.
The woods are lovely, dark and deep,
But I have promises to keep,
And miles to go before I sleep,
And miles to go before I sleep.
Risk by Anais Nin
And then the day came,
when the risk
to remain tight
in a bud
was more painful
than the risk
it took
to blossom.
It's all I have to bring today by Emily Dickinson
It's all I have to bring today—
This, and my heart beside—
This, and my heart, and all the fields—
And all the meadows wide—
Be sure you count—should I forget
Some one the sum could tell—
This, and my heart, and all the Bees
Which in the Clover dwell.
Also see Sorry Poems That Will Touche the Heart.
7 Short Poems About Friendship
Friends can share your interests, be your closest confidantes, and know you better than anyone else—that's why poems that revolve around friendship can be especially deep and significant.
A Poison Tree By William Blake
I was angry with my friend:
I told my wrath, my wrath did end.
I was angry with my foe:
I told it not, my wrath did grow.
And I waterd it in fears
Night & morning with my tears;
And I sunned it with smiles,
And with soft deceitful wiles.
And it grew both day and night,
Till it bore an apple bright.
And my foe beheld it shine,
And he knew that it was mine,
And into my garden stole,
When the night had veiled the pole;
In the morning glad I see
My foe outstretchd beneath the tree.
A Time to Talk By Robert Frost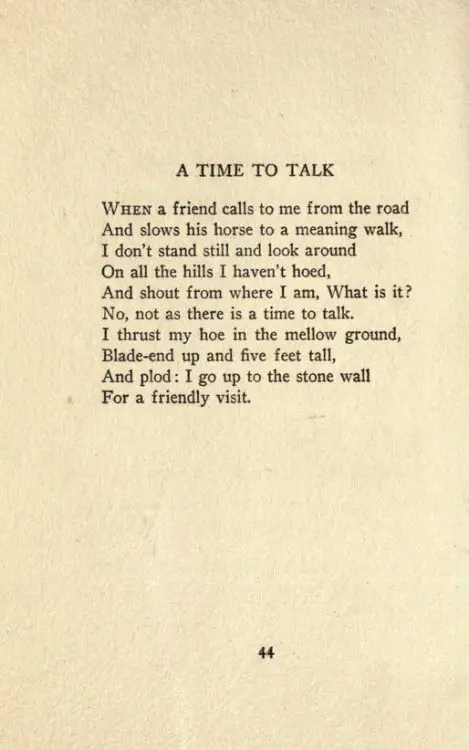 When a friend calls to me from the road
And slows his horse to a meaning walk,
I don't stand still and look around
On all the hills I haven't hoed,
And shout from where I am, 'What is it?'
No, not as there is a time to talk.
I thrust my hoe in the mellow ground,
Blade-end up and five feet tall,
And plod: I go up to the stone wall
For a friendly visit.
Friendship by Alexander Pushkin
What's friendship? The hangover's faction,
The gratis talk of outrage,
Exchange by vanity, inaction,
Or bitter shame of patronage.
The Lover Pleads with His Friend for Old Friends by W. B. Yeats
Though you are in your shining days,
Voices among the crowd
And new friends busy with your praise,
Be not unkind or proud,
But think about old friends the most:
Time's bitter flood will rise,
Your beauty perish and be lost
For all eyes but these eyes.
To A Friend by Matthew Arnold
Who prop, thou ask'st in these bad days, my mind?–
He much, the old man, who, clearest-souled of men,
Saw The Wide Prospect, and the Asian Fen,
And Tmolus hill, and Smyrna bay, though blind.
Much he, whose friendship I not long since won,
That halting slave, who in Nicopolis
Taught Arrian, when Vespasian's brutal son
Cleared Rome of what most shamed him.
But be his
My special thanks, whose even-balanced soul,
From first youth tested up to extreme old age,
Business could not make dull, nor passion wild;
Who saw life steadily, and saw it whole;
The mellow glory of the Attic stage,
Singer of sweet Colonus, and its child.
Life by Henry Van Dyke
Let me but live my life from year to year,
With forward face and unreluctant soul;
Not hurrying to, nor turning from the goal;
Not mourning for the things that disappear
In the dim past, nor holding back in fear
From what the future veils; but with a whole
And happy heart, that pays its toll
To Youth and Age, and travels on with cheer.
So let the way wind up the hill or down,
O'er rough or smooth, the journey will be joy:
Still seeking what I sought when but a boy,
New friendship, high adventure, and a crown,
My heart will keep the courage of the quest,
And hope the road's last turn will be the best.
Friendship IXX by Kahlil Gibran
And a youth said, "Speak to us of Friendship."
Your friend is your needs answered.
He is your field which you sow with love and reap with thanksgiving.
And he is your board and your fireside.
For you come to him with your hunger, and you seek him for peace.
When your friend speaks his mind you fear not the "nay" in your own mind, nor do you withhold the "ay."
And when he is silent your heart ceases not to listen to his heart;
For without words, in friendship, all thoughts, all desires, all expectations are born and shared, with joy that is unacclaimed.
When you part from your friend, you grieve not;
For that which you love most in him may be clearer in his absence, as the mountain to the climber is clearer from the plain.
And let there be no purpose in friendship save the deepening of the spirit.
For love that seeks aught but the disclosure of its own mystery is not love but a net cast forth: and only the unprofitable is caught.
And let your best be for your friend.
If he must know the ebb of your tide, let him know its flood also.
For what is your friend that you should seek him with hours to kill?
Seek him always with hours to live.
For it is his to fill your need, but not your emptiness.
And in the sweetness of friendship let there be laughter, and sharing of pleasures.
For in the dew of little things the heart finds its morning and is refreshed.
8 Short Poems About Love
Classic and contemporary short love poems. Also, here the greatest cute love poems ever written.
I love you as certain dark things are to be loved in secret, between the shadow and the soul. 'Sonnet XVII', Neruda
Sonnet 40 by William Shakespeare
Take all my loves, my love, yea, take them all:
What hast thou then more than thou hadst before?
No love, my love, that thou mayst true love call—
All mine was thine before thou hadst this more.
Then if for my love thou my love receivest,
I cannot blame thee for my love thou usest;
But yet be blamed if thou this self deceivest
By wilful taste of what thyself refusest.
I do forgive thy robb'ry, gentle thief,
Although thou steal thee all my poverty;
And yet love knows it is a greater grief
To bear love's wrong than hate's known injury.
Lascivious grace, in whom all ill well shows,
Kill me with spites, yet we must not be foes.
Song: to Celia by Ben Jonson
Come, my Celia, let us prove,
While we can, the sports of love;
Time will not be ours forever;
He at length our good will sever.
Spend not then his gifts in vain.
Suns that set may rise again;
But if once we lose this light,
'Tis with us perpetual night.
Why should we defer our joys?
Fame and rumor are but toys.
Cannot we delude the eyes
Of a few poor household spies,
Or his easier ears beguile,
So removèd by our wile?
'Tis no sin love's fruit to steal;
But the sweet thefts to reveal,
To be taken, to be seen,
These have crimes accounted been.
"I loved you first: but afterwards your love" by Christina Rossetti
Poca favilla gran fiamma seconda. – Dante
Ogni altra cosa, ogni pensier va fore,
E sol ivi con voi rimansi amore. – Petrarca
I loved you first: but afterwards your love
Outsoaring mine, sang such a loftier song
As drowned the friendly cooings of my dove.
Which owes the other most? my love was long,
And yours one moment seemed to wax more strong;
I loved and guessed at you, you construed me
And loved me for what might or might not be –
Nay, weights and measures do us both a wrong.
For verily love knows not 'mine' or 'thine;'
With separate 'I' and 'thou' free love has done,
For one is both and both are one in love:
Rich love knows nought of 'thine that is not mine;'
Both have the strength and both the length thereof,
Both of us, of the love which makes us one.
Lines Depicting Simple Happiness by Peter Gizzi
The shine on her buckle took precedence in sun
Her shine, I should say, could take me anywhere
It feels right to be up this close in tight wind
It feels right to notice all the shiny things about you
About you there is nothing I wouldn't want to know
With you nothing is simple yet nothing is simpler
About you many good things come into relation
I think of proofs and grammar, vowel sounds, like
A is for knee socks, E for panties
I is for buttondown, O the blouse you wear
U is for hair clip, and Y your tight skirt
The music picks up again, I am the man I hope to be
The bright air hangs freely near your newly cut hair
It is so easy now to see gravity at work in your face
Easy to understand time, that dark process
To accept it as a beautiful process, your face
I Carry Your Heart With Me By E. E. Cummings
i carry your heart with me(i carry it in
my heart)i am never without it(anywhere
i go you go,my dear; and whatever is done
by only me is your doing,my darling)
i fear
no fate(for you are my fate,my sweet)i want
no world(for beautiful you are my world,my true)
and it's you are whatever a moon has always meant
and whatever a sun will always sing is you
here is the deepest secret nobody knows
(here is the root of the root and the bud of the bud
and the sky of the sky of a tree called life;which grows
higher than the soul can hope or mind can hide)
and this is the wonder that's keeping the stars apart
i carry your heart(i carry it in my heart)
Separation by W.S. Merwin
Your absence has gone through me
Like thread through a needle.
Everything I do is stitched with its color.
You Fit Into Me by Margaret Atwood
you fit into me
like a hook into an eye
a fish hook
an open eye
One Hundred Love Sonnets: XVII by Pablo Neruda
I don't love you as if you were a rose of salt, topaz,
or arrow of carnations that propagate fire:
I love you as one loves certain obscure things,
secretly, between the shadow and the soul.
I love you as the plant that doesn't bloom but carries
the light of those flowers, hidden, within itself,
and thanks to your love the tight aroma that arose
from the earth lives dimly in my body.
I love you without knowing how, or when, or from where,
I love you directly without problems or pride:
I love you like this because I don't know any other way to love,
except in this form in which I am not nor are you,
so close that your hand upon my chest is mine,
so close that your eyes close with my dreams.