You've just found the most comprehensive and thoughtful collection of famous deep love poems and poetry by famous classical and contemporary poets.
Love is one of the most profound emotions known to human beings and guys also have very deep thoughts in their minds. They usually do not express the depth of their love but show you by doing everything to make you happy. If you want to return your smile to him or want to read some beautiful words, then here the deep love poems to your boyfriend or husband. Little cautation: These famous poetry would make him cry and make him so emotional.
If you're in search of cute things to say your boyfriend to win his heart, there are simply so many excellent love quotes for him and affectionate husband quotes to help you express your amour.
"Love is a promise; love is a souvenir, once given never forgotten, never let it disappear." – John Lennon
"All, everything that I understand, I only understand because I love." — Leo Tolstoy
"I swear I couldn't love you more than I do right now, and yet I know I will tomorrow." — Leo Christopher
"At the touch of love everyone becomes a poet." ― Plato
Deep Meaningful Love Poems For Him
Here you will find meaningful love poems for him by famous classical and contemporary poets. Also, nothing gets you feeling romantic quite like a little poetry. The greatest love poetry of all time and famous love poems for him help you express your emotions.
Romantic love poems for your boyfriend from the heart:
Love One Another By Khalil Gibran (aka Kahlil Jubran)
How Do I Love Thee by Elizabeth Barrett Browning
A Drinking Song by W.B. Yeats
Another Valentine by Wendy Cope
Bright Star by John Keats
Meeting at Night by Robert Browning

My River by Emily Dickinson
Love's Philosophy by Percy Bysshe Shelley

Wild Nights

 by Emily Dickinson
Poem to an Unnameable Man by Dorothea Lasky
To My Dear and Loving Husband by Anne Bradstreet
Poem for My Love by June Jordan
I Love You by Ella Wheeler Wilcox
Maud by Alfred, Lord Tennyson
Remember by Christina Rossetti
Love And Friendship by Emily Bronte

Love by Margaret Atwood
The Meeting by Katherine Mansfield
The Kis' by Sara Teasdale
At Las' by Elizabeth Akers Allen
When You Are Old by William Butler Yeats

[i carry your heart with me(i carry it in] by e.e. cummings
Come, and Be My Baby by Maya Angelou
A Red, Red Rose by Robert Burns
Shall I compare thee to a summer's day? by William Shakespeare
Echo by Carol Ann Duffy
I Loved You First: But Afterwards Your Love by Christina Rossetti
Lines Depicting Simple Happiness by Peter Gizzi
Dear One Absent This Long While by Lisa Olstein
Mad Girl's Love Song by Sylvia Plath
To Be In Love by Gwendolyn Brooks
The Good-Morrow by John Donne
Sonnet 11 by William Shakespeare
The Passionate Shepherd to His Love by Christopher Marlowe
You can enjoy our powerful inspirational poems from famous poets.
Love One Another By Khalil Gibran (aka Kahlil Jubran)
Love one another, but make not a bond of love.
Let it rather be a moving sea between the shores of your souls.
Fill each other's cup, but drink not from one cup.
Give one another of your bread, but eat not from the same loaf.
Sing and dance together and be joyous, but let each one of you be alone.
Even as the strings of a lute are alone though they quiver with the same music.
Give your hearts, but not into each other's keeping.
For only the hand of life can contain your hearts.
And stand together, yet not too near together.
For the pillars of the temple stand apart.
And the oak tree and the cypress grow not in each other's shadow.
How Do I Love Thee by Elizabeth Barrett Browning
How do I love thee? Let me count the ways.
I love thee to the depth and breadth and height
My soul can reach, when feeling out of sight
For the ends of being and ideal grace.
I love thee to the level of every day's
Most quiet need, by sun and candle-light.
I love thee freely, as men strive for right.
I love thee purely, as they turn from praise.
I love thee with the passion put to use
In my old griefs, and with my childhood's faith.
I love thee with a love I seemed to lose
With my lost saints. I love thee with the breath,
Smiles, tears, of all my life; and, if God choose,
I shall but love thee better after death.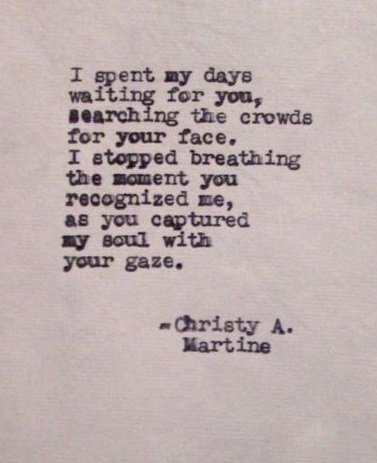 A Drinking Song by W.B. Yeats
Wine comes in at the mouth
And love comes in at the eye;
That's all we shall know for truth
Before we grow old and die.
I lift the glass to my mouth,
I look at you, and I sigh.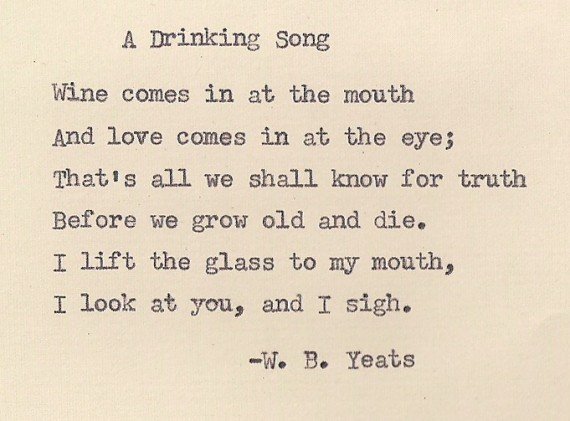 Another Valentine by Wendy Cope
Today we are obliged to be romantic
And think of yet another valentine.
We know the rules and we are both pedantic:
Today's the day we have to be romantic.
Our love is old and sure, not new and frantic.
You know I'm yours and I know you are mine.
And saying that has made me feel romantic,
My dearest love, my darling valentine.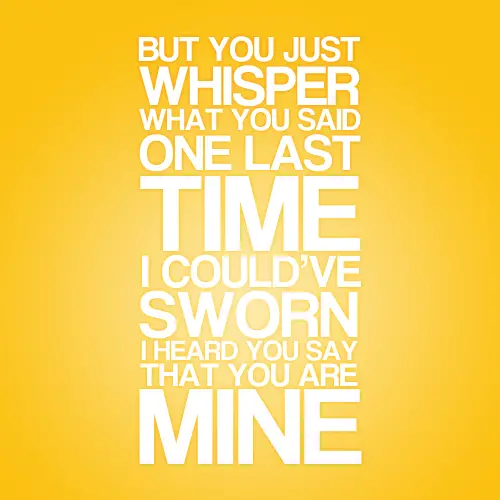 Bright Star by John Keats
Bright star, would I were stedfast as thou art–
Not in lone splendour hung aloft the night
And watching, with eternal lids apart,
Like nature's patient, sleepless Eremite,
The moving waters at their priestlike task
Of pure ablution round earth's human shores,
Or gazing on the new soft-fallen mask
Of snow upon the mountains and the moors–
No–yet still stedfast, still unchangeable,
Pillow'd upon my fair love's ripening breast,
To feel for ever its soft fall and swell,
Awake for ever in a sweet unrest,
Still, still to hear her tender-taken breath,
And so live ever–or else swoon to death.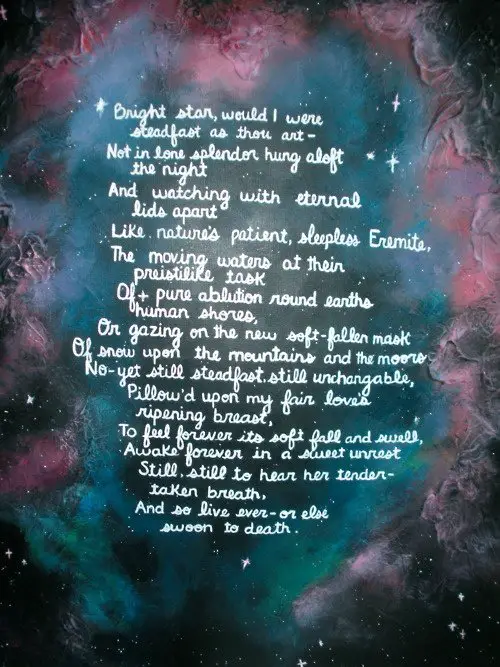 Meeting at Night by Robert Browning
The gray sea and the long black land;
And the yellow half-moon large and low:
And the startled little waves that leap
In fiery ringlets from their sleep,
As I gain the cove with pushing prow,
And quench its speed i' the slushy sand.
Then a mile of warm sea-scented beach;
Three fields to cross till a farm appears;
A tap at the pane, the quick sharp scratch
And blue spurt of a lighted match,
And a voice less loud, through joys and fears,
Than the two hearts beating each to each!
My River by Emily Dickinson
My river runs to thee.
Blue sea, wilt thou welcome me?
My river awaits reply.
Oh! sea, look graciously.
I'll fetch thee brooks
from spotted nooks.
Say, sea, Take me!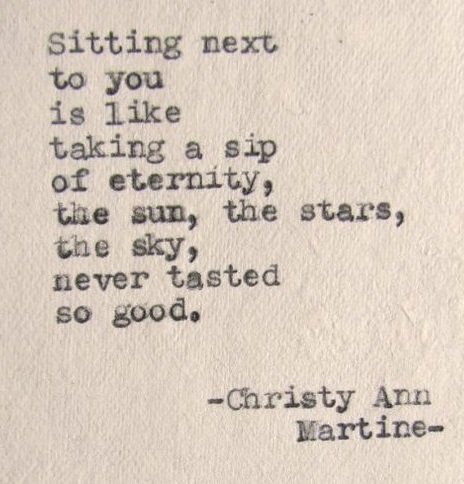 Love's Philosophy by Percy Bysshe Shelley
The fountains mingle with the river
And the rivers with the ocean,
The winds of heaven mix for ever
With a sweet emotion;
Nothing in the world is single;
All things by a law divine
In one spirit meet and mingle.
Why not I with thine?—
See the mountains kiss high heaven
And the waves clasp one another;
No sister-flower would be forgiven
If it disdained its brother;
And the sunlight clasps the earth
And the moonbeams kiss the sea:
What is all this sweet work worth
If thou kiss not me?
You might enjoy the selection of amazing love poems for her.
Wild Nights

 by Emily Dickinson

Wild Nights – Wild Nights!
Were I with thee
Wild Nights should be
Our luxury!

Futile – the winds –
To a heart in port –
Done with the compass –
Done with the chart!

Rowing in Eden –
Ah, the sea!
Might I moor – Tonight –
In thee!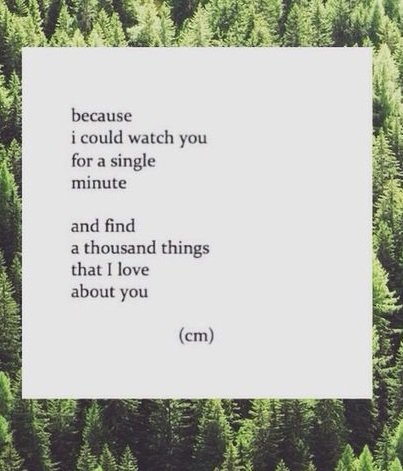 Poem to an Unnameable Man by Dorothea Lasky
You have changed me already. I am a fireball
That is hurtling towards the sky to where you are
You can choose not to look up but I am a giant orange ball
That is throwing sparks upon your face
Oh look at them shake
Upon you like a great planet that has been murdered by change
O too this is so dramatic this shaking
Of my great planet that is bigger than you thought it would be
So you ran and hid
Under a large tree. She was graceful, I think
That tree although soon she will wither
Into ten black snakes upon your throat
And when she does I will be wandering as I always am
A graceful lady that is part museum
Of the voices of the universe everyone else forgets
I will hold your voice in a little box
And when you come upon me I won't look back at you
You will feel a hand upon your heart while I place your voice back
Into the heart from where it came from
And I will not cry also
Although you will expect me to
I was wiser too than you had expected
For I knew all along you were mine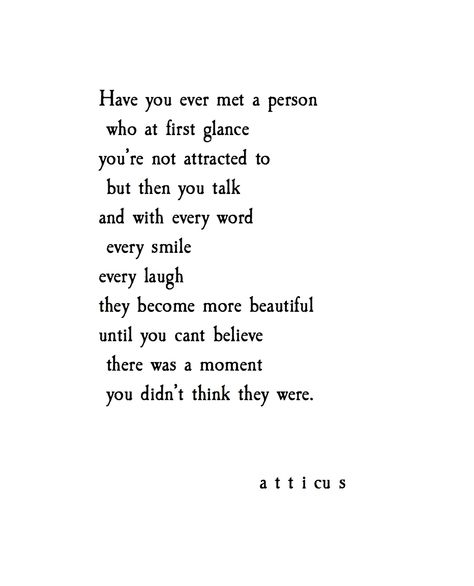 To My Dear and Loving Husband by Anne Bradstreet
If ever two were one, then surely we.
If ever man were loved by wife, then thee.
If ever wife was happy in a man,
Compare with me, ye women, if you can.
I prize thy love more than whole mines of gold,
Or all the riches that the East doth hold.
My love is such that rivers cannot quench,
Nor ought but love from thee give recompense.
Thy love is such I can no way repay;
The heavens reward thee manifold, I pray.
Then while we live, in love let's so persever,
That when we live no more, we may live ever.
Did you see Poems about Missing You collection?
Poem for My Love by June Jordan
How do we come to be here next to each other
in the night
Where are the stars that show us to our love
inevitable
Outside the leaves flame usual in darkness
and the rain
falls cool and blessed on the holy flesh
the black men waiting on the corner for
a womanly mirage
I am amazed by peace
It is this possibility of you
asleep
and breathing in the quiet air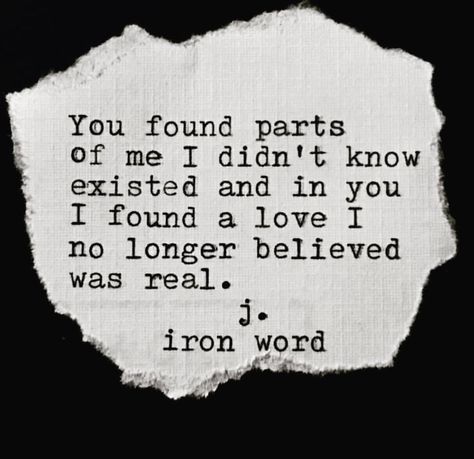 I Love You by Ella Wheeler Wilcox
I love your lips when they're wet with wine
And red with a wild desire;
I love your eyes when the lovelight lies
Lit with a passionate fire.
I love your arms when the warm white flesh
Touches mine in a fond embrace;
I love your hair when the strands enmesh
Your kisses against my face.
Not for me the cold, calm kiss
Of a virgin's bloodless love;
Not for me the saint's white bliss,
Nor the heart of a spotless dove.
But give me the love that so freely gives
And laughs at the whole world's blame,
With your body so young and warm in my arms,
It sets my poor heart aflame.
So kiss me sweet with your warm wet mouth,
Still fragrant with ruby wine,
And say with a fervor born of the South
That your body and soul are mine.
Clasp me close in your warm young arms,
While the pale stars shine above,
And we'll live our whole young lives away
In the joys of a living love.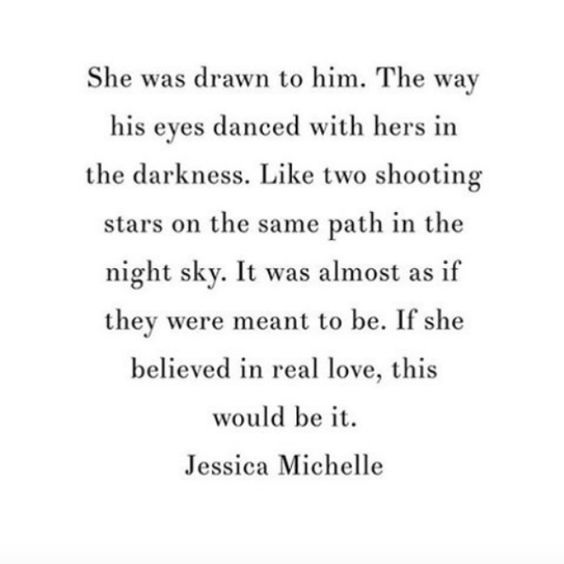 Remember by Christina Rossetti
Remember me when I am gone away,
Gone far away into the silent land;
When you can no more hold me by the hand,
Nor I half turn to go yet turning stay.
Remember me when no more day by day
You tell me of our future that you plann'd:
Only remember me; you understand
It will be late to counsel then or pray.
Yet if you should forget me for a while
And afterwards remember, do not grieve:
For if the darkness and corruption leave
A vestige of the thoughts that once I had,
Better by far you should forget and smile
Than that you should remember and be sad.
When You Come by Maya Angelou
When you come to me, unbidden,
Beckoning me
To long-ago rooms,
Where memories lie.
Offering me, as to a child, an attic,
Gatherings of days too few.
Trinkets of borrowed loves.
Trunks of secret words,
Love And Friendship by Emily Bronte
Love is like the wild rose-briar,
Friendship like the holly-tree—
The holly is dark when the rose-briar blooms
But which will bloom most constantly?
The wild rose-briar is sweet in spring,
Its summer blossoms scent the air;
Yet wait till winter comes again
And who will call the wild-briar fair?
Then scorn the silly rose-wreath now
And deck thee with the holly's sheen,
That when December blights thy brow
He still may leave thy garland green.
Love by Margaret Atwood
This is a word we use to plug
holes with. It's the right size for those warm
blanks in speech, for those red heart-
shaped vacancies on the page that look nothing
like real hearts. Add lace
and you can sell
it. We insert it also in the one empty
space on the printed form
that comes with no instructions. There are whole
magazines with not much in them
but the word love, you can
rub it all over your body and you
can cook with it too. How do we know
it isn't what goes on at the cool
debaucheries of slugs under damp
pieces of cardboard? As for the weed-
seedlings nosing their tough snouts up
among the lettuces, they shout it.
Love! Love! sing the soldiers, raising
their glittering knives in salute.
Then there's the two
of us. This word
is far too short for us, it has only
four letters, too sparse
to fill those deep bare
vacuums between the stars
that press on us with their deafness.
It's not love we don't wish
to fall into, but that fear.
this word is not enough but it will
have to do. It's a single
vowel in this metallic
silence, a mouth that says
O again and again in wonder
and pain, a breath, a finger
grip on a cliffside. You can
hold on or let go.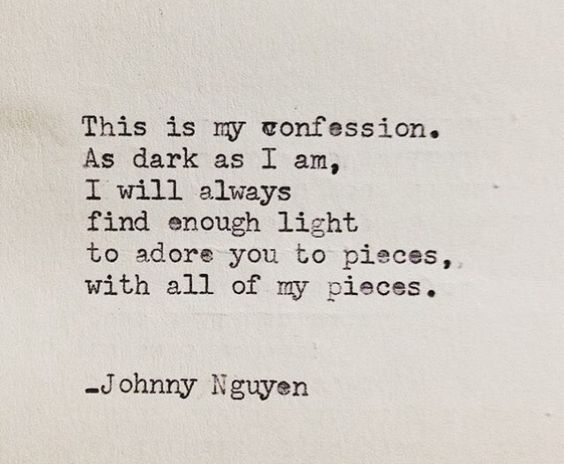 The Meeting by Katherine Mansfield
We started speaking,
Looked at each other, then turned away.
The tears kept rising to my eyes.
But I could not weep.
I wanted to take your hand
But my hand trembled.
You kept counting the days
Before we should meet again.
But both of us felt in our hearts
That we parted for ever and ever.
The ticking of the little clock filled the quiet room.
"Listen," I said. "It is so loud,
Like a horse galloping on a lonely road,
As loud as a horse galloping past in the night."
You shut me up in your arms.
But the sound of the clock stifled our hearts' beating.
You said, "I cannot go: all that is living of me
Is here for ever and ever."
Then you went.
The world changed. The sound of the clock grew fainter,
Dwindled away, became a minute thing.
I whispered in the darkness. "If it stops, I shall die."
The Kiss by Sara Teasdale
I hoped that he would love me,
And he has kissed my mouth,
But I am like a stricken bird
That cannot reach the south.
For though I know he loves me,
To-night my heart is sad;
His kiss was not so wonderful
As all the dreams I had.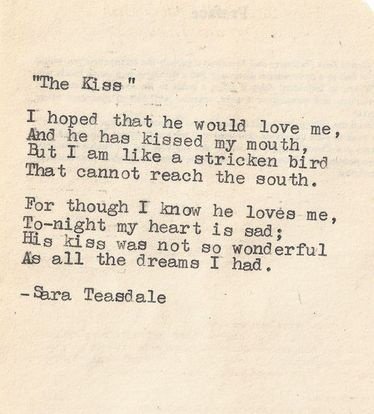 At Last by Elizabeth Akers Allen
At last, when all the summer shine
That warmed life's early hours is past,
Your loving fingers seek for mine
And hold them close–at last–at last!
Not oft the robin comes to build
Its nest upon the leafless bough
By autumn robbed, by winter chilled,–
But you, dear heart, you love me now.
Though there are shadows on my brow
And furrows on my cheek, in truth,–
The marks where Time's remorseless plough
Broke up the blooming sward of Youth,–
Though fled is every girlish grace
Might win or hold a lover's vow,
Despite my sad and faded face,
And darkened heart, you love me now!
I count no more my wasted tears;
They left no echo of their fall;
I mourn no more my lonesome years;
This blessed hour atones for all.
I fear not all that Time or Fate
May bring to burden heart or brow,–
Strong in the love that came so late,
Our souls shall keep it always now!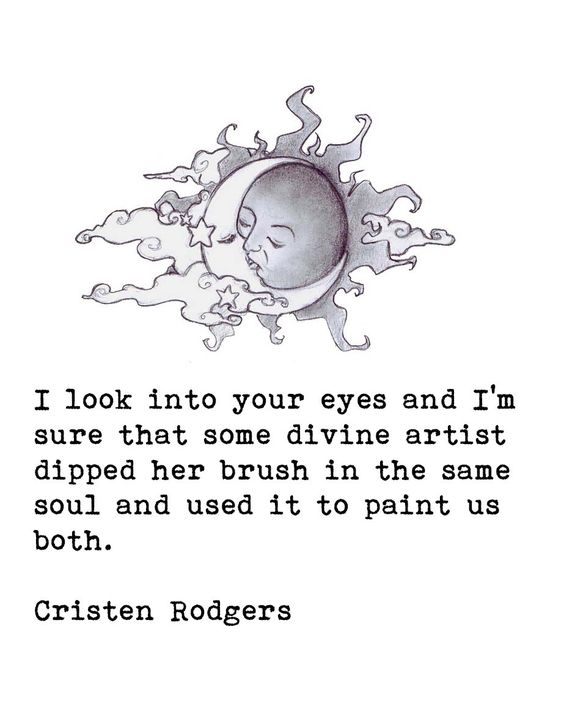 Maud by Alfred, Lord Tennyson
A Monodrama
Come into the garden, Maud,
For the black bat, night, has flown,
Come into the garden, Maud,
I am here at the gate alone;
And the woodbine spices are wafted abroad,
And the musk of the rose is blown.
For a breeze of morning moves,
And the planet of Love is on high,
Beginning to faint in the light that she loves
In a bed of daffodil sky,
To faint in the light of the sun she loves,
To faint in his light, and to die.
All night have the roses heard
The flute, violin, bassoon;
All night has the casement jessamine stirr'd
To the dancers dancing in tune;
Till a silence fell with the waking bird,
And a hush with the setting moon.
I said to the lily, "There is but one
With whom she has heart to be gay.
When will the dancers leave her alone?
She is weary of dance and play."
Now half to the setting moon are gone,
And half to the rising day;
Low on the sand and loud on the stone
The last wheel echoes away.
I said to the rose, "The brief night goes
In babble and revel and wine.
O young lord-lover, what sighs are those,
For one that will never be thine?
But mine, but mine," so I sware to the rose,
"For ever and ever, mine."
And the soul of the rose went into my blood,
As the music clash'd in the hall;
And long by the garden lake I stood,
For I heard your rivulet fall
From the lake to the meadow and on to the wood,
Our wood, that is dearer than all;
From the meadow your walks have left so sweet
That whenever a March-wind sighs
He sets the jewel-print of your feet
In violets blue as your eyes,
To the woody hollows in which we meet
And the valleys of Paradise.
The slender acacia would not shake
One long milk-bloom on the tree;
The white lake-blossom fell into the lake
As the pimpernel dozed on the lea;
But the rose was awake all night for your sake,
Knowing your promise to me;
The lilies and roses were all awake,
They sigh'd for the dawn and thee.
Queen rose of the rosebud garden of girls,
Come hither, the dances are done,
In gloss of satin and glimmer of pearls,
Queen lily and rose in one;
Shine out, little head, sunning over with curls,
To the flowers, and be their sun.
There has fallen a splendid tear
From the passion-flower at the gate.
She is coming, my dove, my dear;
She is coming, my life, my fate;
The red rose cries, "She is near, she is near;"
And the white rose weeps, "She is late;"
The larkspur listens, "I hear, I hear;"
And the lily whispers, "I wait."
She is coming, my own, my sweet;
Were it ever so airy a tread,
My heart would hear her and beat,
Were it earth in an earthy bed;
My dust would hear her and beat,
Had I lain for a century dead,
Would start and tremble under her feet,
And blossom in purple and red.
When You Are Old by William Butler Yeats
When you are old and grey and full of sleep,
And nodding by the fire, take down this book,
And slowly read, and dream of the soft look
Your eyes had once, and of their shadows deep;
How many loved your moments of glad grace,
And loved your beauty with love false or true,
But one man loved the pilgrim soul in you,
And loved the sorrows of your changing face;
And bending down beside the glowing bars,
Murmur, a little sadly, how Love fled
And paced upon the mountains overhead
And hid his face amid a crowd of stars.
Love Poems for Your Boyfriend That Will Make Him Cry
[i carry your heart with me(i carry it in]" by e.e. cummings
i carry your heart with me(i carry it in
my heart)i am never without it(anywhere
i go you go,my dear;and whatever is done
by only me is your doing,my darling)
i fear
no fate(for you are my fate,my sweet)i want
no world(for beautiful you are my world,my true)
and it's you are whatever a moon has always meant
and whatever a sun will always sing is you
here is the deepest secret nobody knows
(here is the root of the root and the bud of the bud
and the sky of the sky of a tree called life;which grows
higher than soul can hope or mind can hide)
and this is the wonder that's keeping the stars apart
i carry your heart(i carry it in my heart)
Come, and Be My Baby by Maya Angelou
The highway is full of big cars going nowhere fast
And folks is smoking anything that'll burn
Some people wrap their lives around a cocktail glass
And you sit wondering
where you're going to turn.
I got it.
Come. And be my baby.
Some prophets say the world is gonna end tomorrow
But others say we've got a week or two
The paper is full of every kind of blooming horror
And you sit wondering
what you're gonna do.
I got it.
Come. And be my baby.
A Red, Red Rose by Robert Burns
O my Luve is like a red, red rose
That's newly sprung in June;
O my Luve is like the melody
That's sweetly played in tune.
So fair art thou, my bonnie lass,
So deep in luve am I;
And I will luve thee still, my dear,
Till a' the seas gang dry.
Till a' the seas gang dry, my dear,
And the rocks melt wi' the sun;
I will love thee still, my dear,
While the sands o' life shall run.
And fare thee weel, my only luve!
And fare thee weel awhile!
And I will come again, my luve,
Though it were ten thousand mile.
Shall I compare thee to a summer's day? by William Shakespeare
Shall I compare thee to a summer's day?
Thou art more lovely and more temperate:
Rough winds do shake the darling buds of May,
And summer's lease hath all too short a date;
Sometime too hot the eye of heaven shines,
And often is his gold complexion dimm'd;
And every fair from fair sometime declines,
By chance or nature's changing course untrimm'd;
But thy eternal summer shall not fade,
Nor lose possession of that fair thou ow'st;
Nor shall death brag thou wander'st in his shade,
When in eternal lines to time thou grow'st:
So long as men can breathe or eyes can see,
So long lives this, and this gives life to thee.
Echo by Carol Ann Duffy
I think I was searching for treasures or stones
in the clearest of pools
when your face…
when your face,
like the moon in a well
where I might wish…
might well wish
for the iced fire of your kiss;
only on water my lips, where your face…
where your face was reflected, lovely,
not really there when I turned
to look behind at the emptying air…
the emptying air.
I Loved You First: But Afterwards Your Love by Christina Rossetti
I loved you first: but afterwards your love
Outsoaring mine, sang such a loftier song
As drowned the friendly cooings of my dove.
Which owes the other most? my love was long,
And yours one moment seemed to wax more strong;
I loved and guessed at you, you construed me
And loved me for what might or might not be –
Nay, weights and measures do us both a wrong.
For verily love knows not 'mine' or 'thine;'
With separate 'I' and 'thou' free love has done,
For one is both and both are one in love:
Rich love knows nought of 'thine that is not mine;'
Both have the strength and both the length thereof,
Both of us, of the love which makes us one.
Lines Depicting Simple Happiness by Peter Gizzi
The shine on her buckle took precedence in sun
Her shine, I should say, could take me anywhere
It feels right to be up this close in tight wind
It feels right to notice all the shiny things about you
About you there is nothing I wouldn't want to know
With you nothing is simple yet nothing is simpler
About you many good things come into relation
I think of proofs and grammar, vowel sounds, like
A is for knee socks, E for panties
I is for buttondown, O the blouse you wear
U is for hair clip, and Y your tight skirt
The music picks up again, I am the man I hope to be
The bright air hangs freely near your newly cut hair
It is so easy now to see gravity at work in your face
Easy to understand time, that dark process
To accept it as a beautiful process, your face
It Is Here by Harold Pinter
(for A)
What sound was that?
I turn away, into the shaking room.
What was that sound that came on in the dark?
What is this maze of light it leaves us in?
What is this stance we take,
To turn away and then turn back?
What did we hear?
It was the breath we took when we first met.
Listen. It is here.
Dear One Absent This Long While by Lisa Olstein
It has been so wet stones glaze in moss;
everything blooms coldly.
I expect you. I thought one night it was you
at the base of the drive, you at the foot of the stairs,
you in a shiver of light, but each time
leaves in wind revealed themselves,
the retreating shadow of a fox, daybreak.
We expect you, cat and I, bluebirds and I, the stove.
In May we dreamed of wreaths burning on bonfires
over which young men and women leapt.
June efforts quietly.
I've planted vegetables along each garden wall
so even if spring continues to disappoint
we can say at least the lettuce loved the rain.
I have new gloves and a new hoe.
I practice eulogies. He was a hawk
with white feathered legs. She had the quiet ribs
of a salamander crossing the old pony post road.
Yours is the name the leaves chatter
at the edge of the unrabbited woods.
Mad Girl's Love Song by Sylvia Plath
"I shut my eyes and all the world drops dead;
I lift my lids and all is born again.
(I think I made you up inside my head.)
The stars go waltzing out in blue and red,
And arbitrary blackness gallops in:
I shut my eyes and all the world drops dead.
I dreamed that you bewitched me into bed
And sung me moon-struck, kissed me quite insane.
(I think I made you up inside my head.)
God topples from the sky, hell's fires fade:
Exit seraphim and Satan's men:
I shut my eyes and all the world drops dead.
I fancied you'd return the way you said,
But I grow old and I forget your name.
(I think I made you up inside my head.)
I should have loved a thunderbird instead;
At least when spring comes they roar back again.
I shut my eyes and all the world drops dead.
(I think I made you up inside my head.)"
To Be In Love by Gwendolyn Brooks
To be in love
Is to touch with a lighter hand.
In yourself you stretch, you are well.
You look at things
Through his eyes.
A cardinal is red.
A sky is blue.
Suddenly you know he knows too.
He is not there but
You know you are tasting together
The winter, or a light spring weather.
His hand to take your hand is overmuch.
Too much to bear.
You cannot look in his eyes
Because your pulse must not say
What must not be said.
When he
Shuts a door-
Is not there_
Your arms are water.
And you are free
With a ghastly freedom.
You are the beautiful half
Of a golden hurt.
You remember and covet his mouth
To touch, to whisper on.
Oh when to declare
Is certain Death!
Oh when to apprize
Is to mesmerize,
To see fall down, the Column of Gold,
Into the commonest ash.
The Good-Morrow by John Donne
I wonder, by my troth, what thou and I
Did, till we loved? Were we not weaned till then?
But sucked on country pleasures, childishly?
Or snorted we in the Seven Sleepers' den?
'Twas so; but this, all pleasures fancies be.
If ever any beauty I did see,
Which I desired, and got, 'twas but a dream of thee.
And now good-morrow to our waking souls,
Which watch not one another out of fear;
For love, all love of other sights controls,
And makes one little room an everywhere.
Let sea-discoverers to new worlds have gone,
Let maps to other, worlds on worlds have shown,
Let us possess one world, each hath one, and is one.
My face in thine eye, thine in mine appears,
And true plain hearts do in the faces rest;
Where can we find two better hemispheres,
Without sharp north, without declining west?
Whatever dies, was not mixed equally;
If our two loves be one, or, thou and I
Love so alike, that none do slacken, none can die.
Sonnet 11 by William Shakespeare
As fast as thou shalt wane, so fast thou grow'st
In one of thine, from that which thou departest;
And that fresh blood which youngly thou bestow'st,
Thou mayst call thine when thou from youth convertest.
Herein lives wisdom, beauty, and increase;
Without this folly, age, and cold decay:
If all were minded so, the times should cease
And threescore year would make the world away.
Let those whom nature hath not made for store,
Harsh, featureless, and rude, barrenly perish:
Look whom she best endowed, she gave the more;
Which bounteous gift thou shouldst in bounty cherish:
She carved thee for her seal, and meant thereby,
Thou shouldst print more, not let that copy die.
The Passionate Shepherd to His Love by Christopher Marlowe
Come live with me and be my love,
And we will all the pleasures prove,
That Valleys, groves, hills, and fields,
Woods, or steepy mountain yields.
And we will sit upon the Rocks,
Seeing the Shepherds feed their flocks,
By shallow Rivers to whose falls
Melodious birds sing Madrigals.
And I will make thee beds of Roses
And a thousand fragrant posies,
A cap of flowers, and a kirtle
Embroidered all with leaves of Myrtle;
A gown made of the finest wool
Which from our pretty Lambs we pull;
Fair lined slippers for the cold,
With buckles of the purest gold;
A belt of straw and Ivy buds,
With Coral clasps and Amber studs:
And if these pleasures may thee move,
Come live with me, and be my love.
The Shepherds' Swains shall dance and sing
For thy delight each May-morning:
If these delights thy mind may move,
Then live with me, and be my love.
Love Poems For Him From The Heart
The roses smell sweet and we unravel the day
I hold your body closely, as my heart melts away
In your strong arms I feel safe
More safe than other think
So charming and witty
Heart pure of gold as you start to wink
You look down at me as I look at you
My heart is full of love, all the love for you
True love is measured by how deep you fall
And judged by how low you are willing to crawl
Just to save it and make it last
It is determined by how willing you are to open up and offer your trust.
It is hospitable, amazing at all times, and always kind.
It is never prejudiced, it is color blind.
There is a place of peace
There is a place of joy
A place away from loneliness
A place away from pain
That place is next to you
A secret garden
Where black and white becomes a colorful place
Of loving, kisses, touching, caressing,
There with you and only you
Cares of the world melting away
Anger and fear are not allowed
Prejudice cannot enter
A place where two hearts beat as one
A place where two souls are interwoven,
Touching the inner-place of one another
A place that I long to come back to again and again
A place of sweet abandon
A place next to you
Do you remember the day?
The day that we meet
You made me giggle and laugh
As others over heard and became upset
I started to blush, my feelings I couldn't hide
I think you already knew, how I was feeling inside
I never really knew you
You were just another friend
But when I got to know you,
I let my heart unbend.
I couldn't help past memories
that would only make me cry
I had to forget my first love
and give love another try
So I've fallen in love with you
and I'll never let you go
I love you more than anyone
I just had to let you know
And if you ever wonder why
I don't know what I'll say
But I'll never stop loving you
each and every day
My feelings for you will never change
Just know my feelings are true
Just remember one thing
I love you.
What sound was that?
I turn away, into the shaking room.
What was that sound that came in on the dark?
What is this maze of light it leaves us in?
What is this stance we take,
To turn away and then turn back?
What did we hear?
It was the breath we took when we first met.
Listen. It is here.
You're my sunny day
When the sun won't shine
You give me strength
More than I can ever deny
I love your heart
So honest and pure
Your handsome smile
To which you have lured
I can't always express
What I feel in my heart
I'll continue to say I love you
At least this will be the start
To live with you is what I want all my life.
I pray for the day when we would be husband and wife,
Making love to you all night long kissing,
Letting our love to flow within.
The sweet taste of your tender lips
I would never want to miss.
I feel so safe when you hug me tight,
Everything seems to be perfectly alright.
I feel lucky in life that I have you
Never thought we would go so far when our love was so new.
You gave light to my soul
You helped me to be whole
I have felt love for you before
And it will be more and more,
You are mine, my dear
You are the angel from above
Who taught me how to love.
Please, forever keep me near.
Deep Love Poems For Him
You are the sun that shines brightly throughout my day.
You are the gravity that holds me down in every way.
You are the moon that shimmers throughout my night.
You are the stars that glimmer oh so bright.
You are the oxygen that keeps me alive.
You are my heart that beats inside.
You are the blood that flows through me.
You are the only guy I can see.
You have the voice of when a mockingbird sings.
You are my everything.
You are my one and only.
You stop me from being so lonely.
We plan our future as if we have a clue.
I never want to lose you.
I want you to be my husband, and I want to be your wife.
I want to be with you for the rest of my life.
Though the sun sets and finalizes another day,
It leaves us with an array of color and hope,
Hope that a new day will come,
Hope that life with you will continue to be as beautiful
As it is now.
It fills my heart with gladness knowing that
Though the sun is being replaced with night,
When I lay my head to rest,
You will be by my side,
Comforting me tonight. — Aaron Stone
You are a beautiful part of life
I love you more than words can ever show
You give meaning to my life
Something no one else can
You make my life complete
And I feel lost without you
I love every moment we spend
I pray they never end
The moon is bright, as I look your way
Not much is being said, not much is there to say
Your hands so strong, as you pull me closer to you
I began to look up your way, to mouth the words, I love you
I can only hope for this loving grace,
To continue and never end.
You are more than I have ever deserved,
I cannot even comprehend.
I love you more than I probably share,
May you understand and see this truth.
I always have and always will,
Now in my prime, started in my youth.
I love you from the bottom of my heart
I loved you from the very start
I worship every inch of your soul
I'll help you reach your highest goal
And when you need me I'll be there
To help you breathe in your last air
A stranger came to the door at eve,
And he spoke the bridegroom fair.
He bore a green-white stick in his hand,
And, for all burden, care.
He asked with the eyes more than the lips
For a shelter for the night,
And he turned and looked at the road afar
Without a window light.
The bridegroom came forth into the porch
With, 'Let us look at the sky,
And question what of the night to be,
Stranger, you and I.'
The woodbine leaves littered the yard,
The woodbine berries were blue,
Autumn, yes, winter was in the wind;
'Stranger, I wish I knew.'
Within, the bride in the dusk alone
Bent over the open fire,
Her face rose-red with the glowing coal
And the thought of the heart's desire.
The bridegroom looked at the weary road,
Yet saw but her within,
And wished her heart in a case of gold
And pinned with a silver pin.
The bridegroom thought it little to give
A dole of bread, a purse,
A heartfelt prayer for the poor of God,
Or for the rich a curse;
But whether or not a man was asked
To mar the love of two
By harboring woe in the bridal house,
The bridegroom wished he knew. — Robert Frost
I never knew about happiness;
I didn't think that dreams came true;
I couldn't really believe in love
Until I finally met you.
Boyfriend Poems
I don't think you realize,
How much you've done for me.
You fill me with a light,
As bright as can be.
I feel your love,
As I stand here by your side.
You wrap your arms around me,
And hold me safe and tight.
I never realized,
That love could be this right.
I can only see a future,
With you by my side.
Hi baby, I just wanted to say
I hope your happy, hope you're having a good day
There is a little secret that I have been keeping from you
The clues will be so simple, in nine months the colors will either be pink or blue
Life feels worth living with you around,
You make me laugh even without a sound.
You make me smile when my eyes are filled with tears,
You love me like no other and help me overcome all my fears.
Every day I spend with you, teaches me something new,
How you manage to be so perfect, I really have no clue.
Thank you my darling for entering my life,
I just can't wait to be called your beloved wife.
The grey sea and the long black land;
And the yellow half-moon large and low;
And the startled little waves that leap
In fiery ringlets from their sleep,
As I gain the cove with pushing prow,
And quench its speed i' the slushy sand.
Then a mile of warm sea-scented beach;
Three fields to cross till a farm appears;
A tap at the pane, the quick sharp scratch
And blue spurt of a lighted match,
And a voice less loud, through its joys and fears,
Than the two hearts beating each to each! — Robert Browning
Again and again, however we know the landscape of love
and the little churchyard there, with its sorrowing names,
and the frighteningly silent abyss into which the others
fall: again and again the two of us walk out together
under the ancient trees, lie down again and again
among the flowers, face to face with the sky. — Rainer Maria Rilke
Broken promises made him weep.
Promises that she failed to keep.
She promised to always be loving and true.
And that she would never do anything to make him blue.
But she was lying. Like the others, she made him feel like dying.
His heart was left in pieces, but that didn't stop him from making new wishes.
My love is as a fever, longing still
For that which longer nurseth the disease,
Feeding on that which doth preserve the ill,
Th' uncertain sickly appetite to please.
My reason, the physician to my love,
Angry that his prescriptions are not kept,
Hath left me, and I desperate now approve
Desire is death, which physic did except.
Past cure I am, now reason is past care,
And frantic-mad with evermore unrest;
My thoughts and my discourse as madmen's are,
At random from the truth vainly expressed:
For I have sworn thee fair, and thought thee bright,
Who art as black as hell, as dark as night. — William Shakespeare
You'll always be in my heart.
Can't bear the pain when we are apart.
Nobody is as special as you are to me.
I hope you are beginning to see.
I can't describe how much I care.
But when you need me, I'll be there.
To wipe those tears when you are sad,
To make you happy when you are mad.
All these things I can really do.
Just remember I'm thinking of you!
I have always made mistakes in my life
But I have always known that you will never be one of them
I have seen some rainy days in my lifetime
But all the good memories I have are with you
You have turned my hell into a paradise
I love you and I want you to stay forever
Short Love Poems For Him
L is for "laughter" we had along the way.
O is for "optimism" you gave me every day.
V is for "value" of being my best friend.
E is for "eternity" a love that has no end.
I am yours as the summer air at evening is
Possessed by the scent of linden blossoms,
As the snowcap gleams with light
Lent it by the brimming moon.
Without you I'd be an unleafed tree
Blasted in a bleakness with no Spring.
Your love is the weather of my being.
What is an island without the sea?
— Daniel Hoffman
I miss you so deeply,
My heart struggles to beat,
I cannot breathe fully,
I can't wait till we meet,
When we are apart,
All I can do,
Is sit here and long to be close to you.
I love you with all my heart, I love you with my soul,
Perhaps you don't believe me, but trust me because I know.
My love is deep, my love is pure, my love is so very true,
Now please my heart aches to know, do you love me too?
When I'm down, you lift me up.
When I'm hurting, you make me well.
Your love is over the top, and
I'm forever under your spell.
If time could ease its relentless march when we're together,
and hasten its plodding pace when we're apart,
I could spend an eternity in your arms,
to savor love everlasting in my heart.
I'll plant a row of daisy seeds,
In the space below each eye,
So they'll remind you of your beauty,
When they bloom each time you cry.
To feel your hands warm on my face,
To hold you close in a loving embrace,
To kiss your lips with passion and peace,
I'd give everything and ask time to cease.