Love is a magical feeling, indeed. If you have Mr. Right by your side, life's journey simply becomes more enjoyable, exciting and fulfilling. Romantic love quotes for him will help you show your affection towards your partner and express your emotions to your beloved.
If you're searching for the best sayings and love notes for him to express your feelings and how much you care… look no further! From the I miss you quotes for him, I love you so much quotes, and cute nicknames for boyfriend, we've got you covered.
Why not share with him one of thinking about you quotes each day and good night message for him each night until he is overflowing with your love? You can also send good morning quotes for him that will brighten his day and make him smile.
Top 10 Love Quotes for Him
If I know what love is, it is because of you. – Hermann Hesse
I love you more than I have ever found a way to say to you. – Ben Folds
You are the source of my joy, the center of my world and the whole of my heart.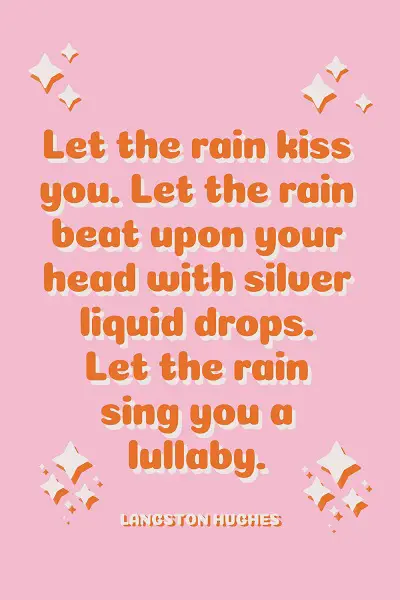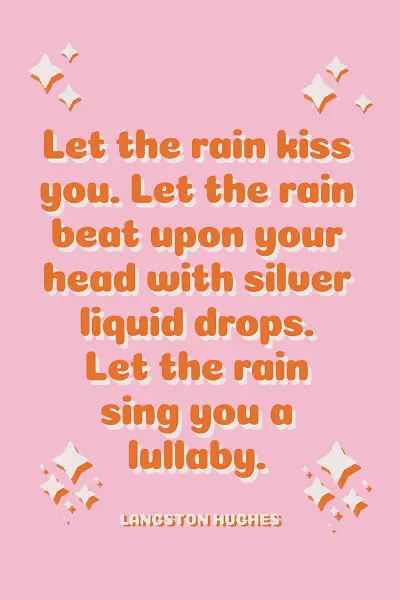 I want to be with you till my last page. – A.R. Asher
Everywhere I look I am reminded of your love. You are my world.
You are my today and all of my tomorows. – Leo Christopher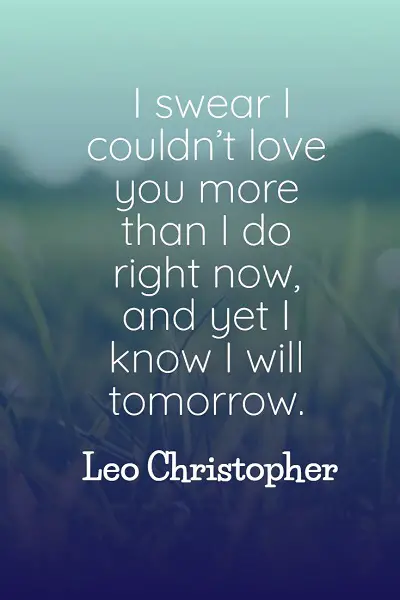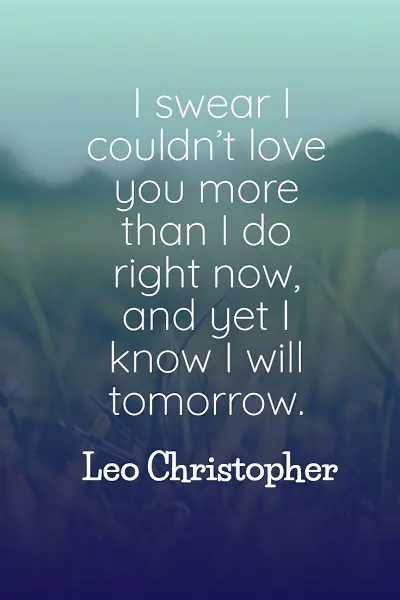 A flower cannot blossom without sunshine, and man cannot live without love. – Max Muller
Your love shines in my heart as the sun that shines upon the earth. – Eleanor Di Guillo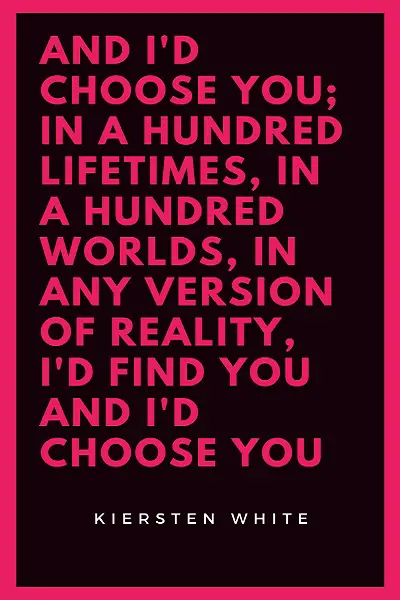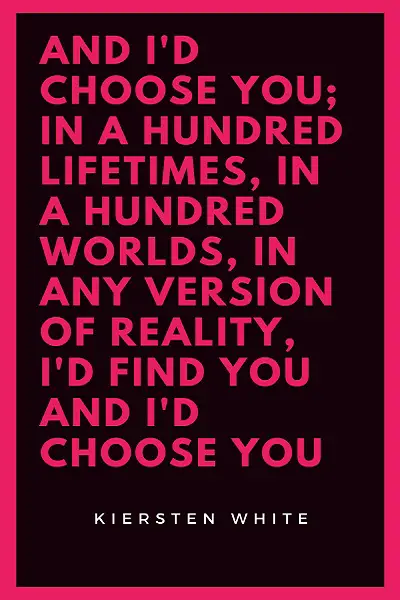 And I'd choose you; in a hundred lifetimes, in a hundred worlds, in any version of reality, I'd find you and I'd choose you. – Kiersten White
I seem to have loved you in numberless forms, numberless times, in life after life, in age after age forever. – Rabindranath Tagore
Best Love Quotes For Him To Bring You Both Closer
My angel, my life, my entire world, you're the one that I want, the one that I need, let me be with you always, my love, my everything.
You might not have been my first love, but you were the love that made all the other loves irrelevant. – Rupi Kaur
A sea of whiskey couldn't intoxicate me as much as a drop of you. – JS Parker
To be your friend was all I ever wanted; to be your lover was all I ever dreamed. – Valerie Lombardo
There are a lot of reasons I love you, my sweetheart. If you were cheese, I would be a mouse so I can nibble you bit by bit. If you were milk, I would be a cat so I can drink you sip by sip. But if you were a mouse, I would still be a cat so I can devour you piece by piece. I love you.
I may not be your first date, kiss or love…but I want to be your last everything.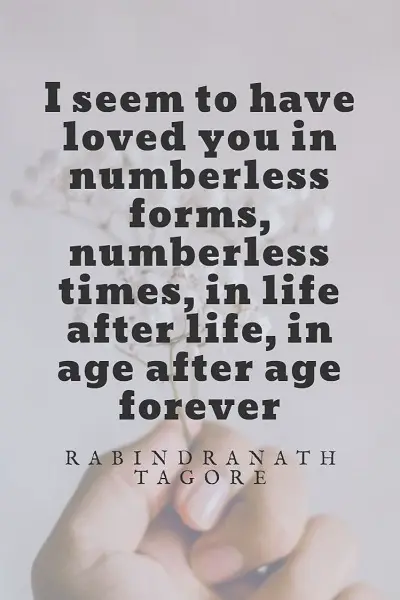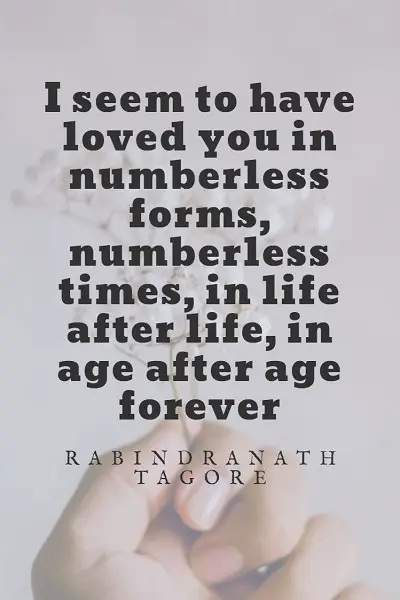 In all the world there is no heart for me like yours. In all the world there is no love for you like mine. – Maya Angelou
My love for you has no depth, its boundaries are ever-expanding. – Christina White
When I look at you I see a lot of things; best friend, my boyfriend, my secret holder, my tear stopper, my future.
Being in your arms is my happy place. I don't want to be anywhere else.
It's been said that you only truly fall in love once, but I don't believe it. Every time I see you, I fall in love all over again!
When you are missing someone, time seems to move slower, and when I'm falling in love with someone, time seems to be moving faster. – Taylor Swift
Each day I love you more, today more than yesterday and less than tomorrow. – Rosemonde Gerard
Thank you for your sweet, sweet love. You'll never truly know just how happy you make me and how much I love you so.
I love you without knowing how, or when, or from where. I love you simply, without problems or pride. – Pablo Neruda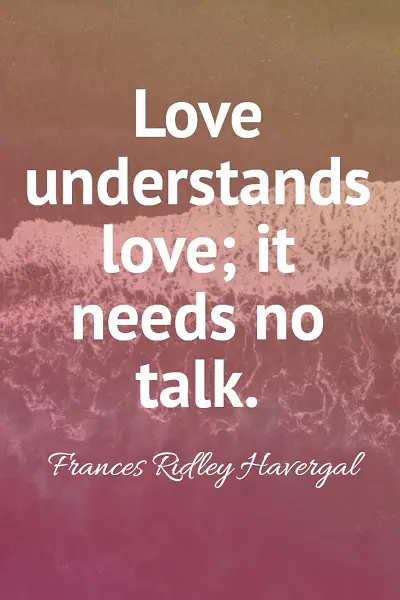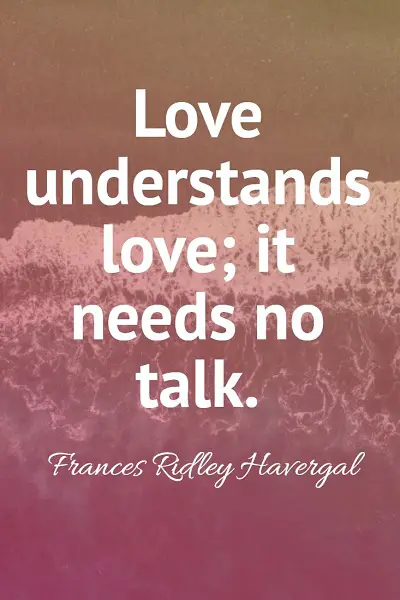 Being in love with you makes every morning worth getting up for.
I find the most beautiful moment's of life aren't just with you but because of you. – Leo Christopher
I love you as one loves certain dark things, secretly, between the shadow and the soul. – Pablo Neruda
The minute I heard my first love story I started looking for you, not knowing how blind that was. Lovers don't finally meet meet somewhere. They're in each other all along. – Rumi
To be brave is to love someone unconditionally, without expecting anything in return. – Madonna
Your voice is my favorite sound.
You take my breath away. I can't imagine living my life without you by my side. Thanks for making the journey so amazing!
If I had to choose between breathing and loving you I would use my last breath to tell you I love you. – DeAnna Anderson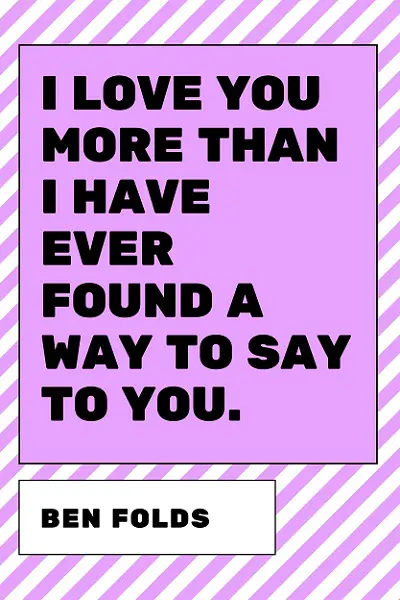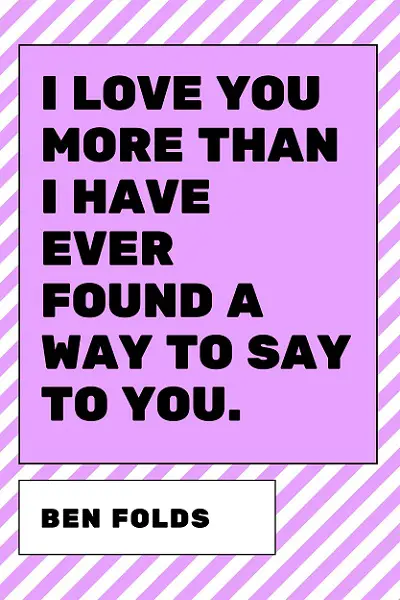 You're that part of me I'll always need.
You're always the first and the last thing on this heart of mine. No matter where I go, or what I do, I'm thinking of you. – Dierks Bentley
I fell in love with the way you touched me without using your hands.
If love was a storybook we'd meet on the very first page.
I don't wanna close my eyes, I don't wanna fall asleep, cuz I'd miss you babe and I don't wanna miss a thing. – Aerosmith
I love you every step of the way.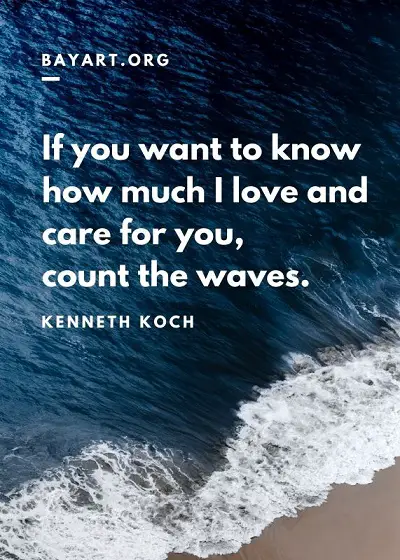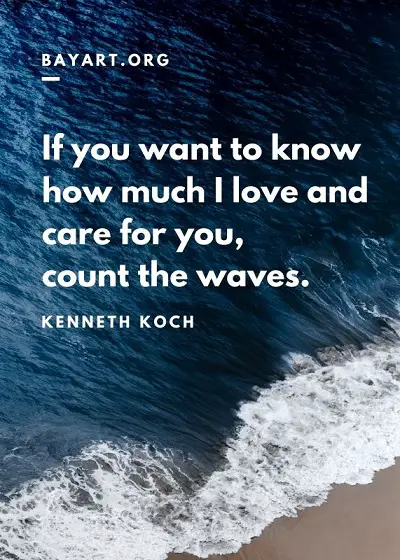 Before you came into my life, I never knew what true love felt like.
Come live with me, and be my love, and we will some new pleasures prove, of golden sands, and crystal brooks, with silken lines and silver hooks. – John Donne
My love for you is past the mind, beyond my heart, and into my soul. – Boris Kodjoe
I love it when you send me those texts that make me smile no matter how many times I read them.
My heart is and always will be yours. – Jane Austen
What I do and what I dream include thee, as the wine must taste of its own grapes. – Elizabeth Browning
Sweet Love Quotes For Him
Here are some romantic love quotes for husband you may want to include in your message. This is only one way to make him smile and feel loved. I think you can also enjoy relationship quotes and cute flirty questions to ask your boyfriend, too!
In short, I will part with anything for you, but you. – Mary Wortley Montagu
I am who I am because of you. – Nicholas Sparks
The best and most beautiful things in the world cannot be seen or even touched. They must be felt with the heart. – Helen Keller
This is a thank you for every hour we have spent together, for every kiss, for every embrace and for every tear shed for one another.
Love is the emblem of eternity: it confounds all notion of time: effaces all memory of a beginning, all fear of an end. – Germaine De Stael
You're nothing short of my everything. – Ralph Block
I just want you to know that you're very special… and the only reason I'm telling you is that I don't know if anyone else ever has. – Stephen Chbosky
Do I love you? My god, if your love were a grain of sand, mine would be a universe of beaches. – William Goldman
You never fail to amaze me. Every day there is something new that makes me love you even more than the day before.
If I loved you less, I might be able to talk about it more. – Jane Austen
I love you the more in that I believe you had liked me for my own sake and for nothing else. – John Keats
I just want to lay on your chest and listen to your heartbeat.
You should be kissed and often, and by someone who knows how. – Rhett Butler
I miss you even more than I could have believed; and I was prepared to miss you a good deal. – Vita Sackville-West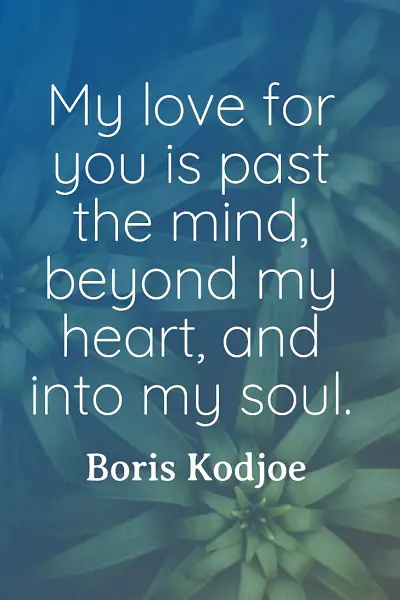 Your love shines in my heart as sun that shines upon the earth. – Eleanor Di Guillo
You are my paradise and I would happily get stranded on you for a lifetime.
When I tell you I love you, I am not saying it out of habit, I am reminding you that you are my life.
Love understands love; it needs no talk. – Frances Ridley Havergal
I will share all your sadness and all your joy. We share one love between two hearts.
You are my heart, my life, my one and only thought. – Arthur Conan Doyle
I've fallen in love many times…always with you.
The brightness of my day doesn't depend on the amount of sunshine. Everything depends on your smile. Love stretches your heart and makes you big inside. – Margaret Walker
I'll allow you to appear in my dreams every night if I`ll be allowed to be in yours.
Just open your eyes, and you'll be able to see that my love is everywhere: in the sun, clouds, air and… in you!
Love brings to life whatever is dead around us. – Franz Rosenzweig
I still fall in love with you every day!
I know you, and I can openly say how love looks like.
I love you more today than yesterday, but not as much as tomorrow.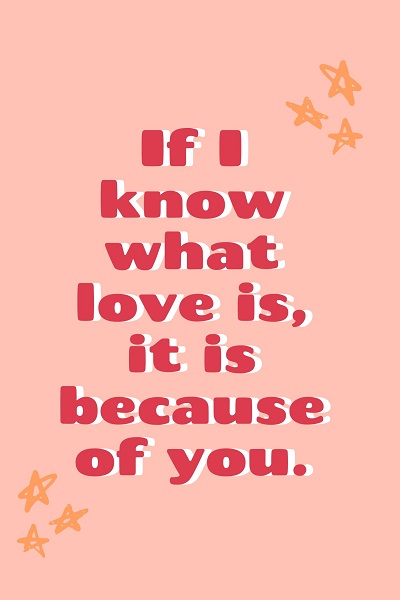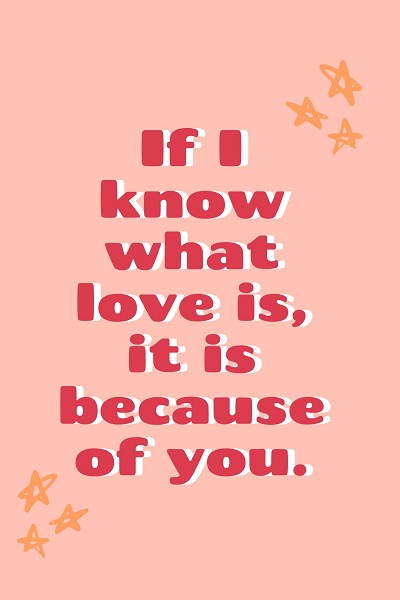 In your smile I see something more beautiful than the stars. – Beth Revis
Some people search their whole lives to find what I found in you.
I always dreamt of meeting a man like you. I'm so glad that dreams do come true.
You are my heart, my life, my entire existence. – Julie Kagawa
Nothing in this world can trade the love I have for you. The sun, the moon and not even the ocean can separate us.
I wanna live, sleep, and wake up by your side.
I want to remain in your warm embrace for as long as I can remember.
It was a million tiny little things that, when you added them all up, they meant we were supposed to be together… and I knew it. – Tom Hanks, Sleepless In Seattle
When we find someone whose weirdness is compatible with ours, we join up with them and fall into mutually satisfying weirdness – and call it love – true love. – Robert Fulghum
Happiness for me is you. Love for me is you. Future for me is you. Home for me is you.
I'm done. I don't need anything more out of life. I have you, and that's enough. – Alessandra Torre
Why can't you just magically pop into my room with me and just cuddle for the rest of the night and kiss my head when I start to fall asleep?
The real lover is the man who can thrill you by kissing your forehead or smiling into your eyes or just staring into space. – Marilyn Monroe
I am very indecisive and always have trouble picking my favorite anything. But, without a doubt, you are my favorite everything.
Love knows no distance; it hath no continent; its eyes are for the stars. – Gilbert Parker
I am the luckiest girl alive to have such a rare gem in my life. I love you baby.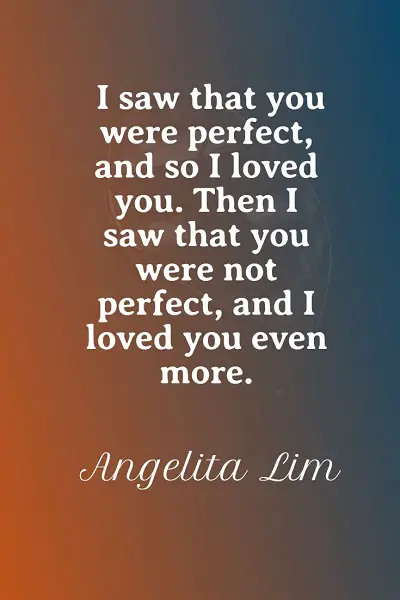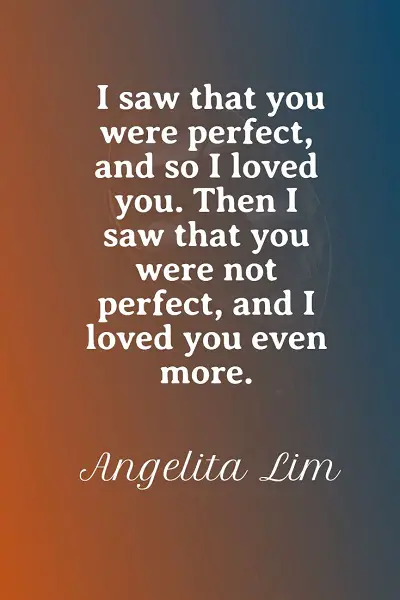 The best love is the kind that awakens the soul; that makes us reach for more, that plants the fire in our hearts and brings peace to our minds. – Nicholas Sparks
I love my eyes when you look into them. I love my name when you say it. I love my heart when you touch it. I love my life when you are in it.
You are the finest, loveliest, tenderest, and most beautiful person I have ever known and even that is an understatement. – F. Scott Fitzgerald
Infinity is forever, and that is what you are to me, you are my forever. – Sandi Lynn
To love is nothing. To be loved is something. But to love and be loved, that's everything. – T. Tolis
Since the invention of the kiss, there have been only five kisses that were rated the most passionate, the most pure. This one left them all behind. – The Princess Bride
I don't need paradise because I found you. I don't need dreams because I already have you.
I swear I couldn't love you more than I do right now, and yet I know I will tomorrow. – Leo Christopher
I can't stop thinking about you, today… tomorrow… always.
Can't you see? Every step I have taken, since I was that child on the bridge, has been to bring myself closer to you. – Arthur Golden
How lucky I am to have something that makes saying goodbye so hard. – A.A. Milne
I feel like a part of my soul has loved you since the beginning of everything. Maybe we're from the same star. – Emery Allen
The lord has given me a wonderful gift in the form of you, my hubby. I thank him every single day for this invaluable gift in my life.
If my heart was a canvas, every square inch of it would be painted over with you. – Cassandra Clare
I would rather spend one lifetime with you, than face all the ages of this world alone. – J.K.K. Tolken
You play the keys of my heart, gently yet sensually, setting my soul on fire. – Dina Al-Hidiq Zebib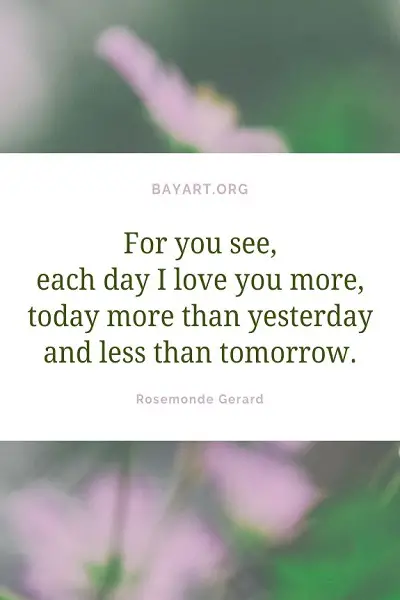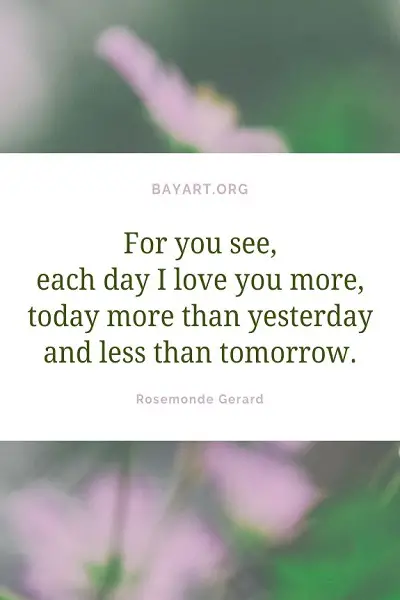 Thank you for always being my rainbow after the storm.
I saw that you were perfect, and so I loved you. Then I saw that you were not perfect, and I loved you even more. – Angelita Lim
You showed me what true love is and I can never get enough of you.
The best feeling is when you look at him…and he is already staring.
Everything changes, but my love for you never will. I've loved you since I met you and I will love you for all of eternity. – Angela Corbett
Whatever our souls are made of, his and mine are the same. – Emily Brontë
Thank you, my love, for always making me feel like the most beautiful woman in the world.
You know you're in love when you can't fall asleep because reality is finally better than your dreams. – Dr. Seuss
I was reborn when I met you. You gave me new meaning and direction in my life.
Everything I needed to feel happy was love. I met you, and now I need nothing.
We loved with a love that was more than love – Edgar Allan Poe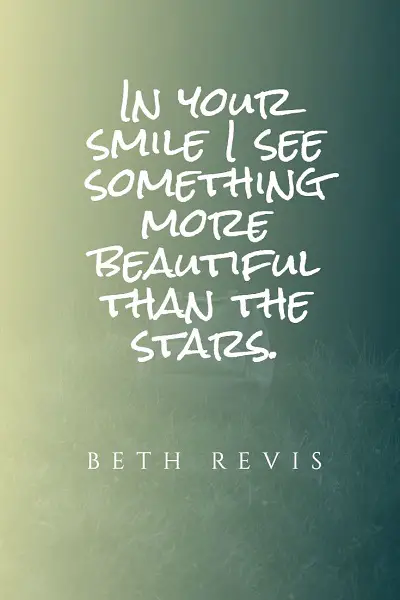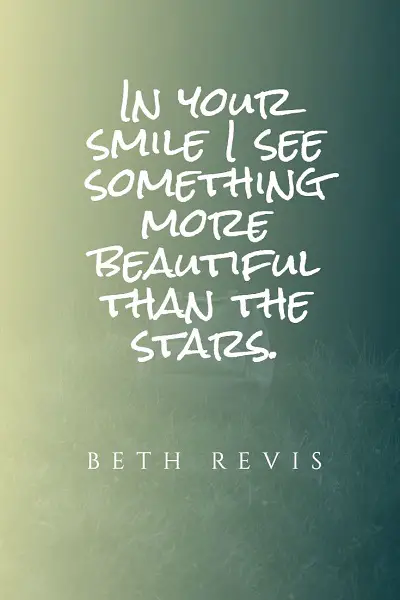 Thank God someone threw me away so you could pick me up and love me.
Yours is the light by which my spirit's born – you are my sun, my moon, and all my stars. – E. E. Cummings
There is always some madness in love. But there is also always some reason in madness. – Friedrich Nietzsche
You're in the very core of my heart. I hold you there like a jewel. – L.M. Montgomery
I would rather feel your breath on the back of my neck than have all the riches in the world.
Love is friendship that has caught fire. – Ann Landers
No one matters when you are with me. You are the most important thing in the world.
I love the sunrise because each morning it's a reminder that I have another day to spend with the man of my dreams.
Sometimes the heart sees what is invisible to the eye. – H. Jackson Brown, Jr.
I'd rather spend one moment holding you than a lifetime knowing I never could.
For it was not into my ear you whispered, but into my heart. It was not my lips you kissed, but my soul. – Judy Garland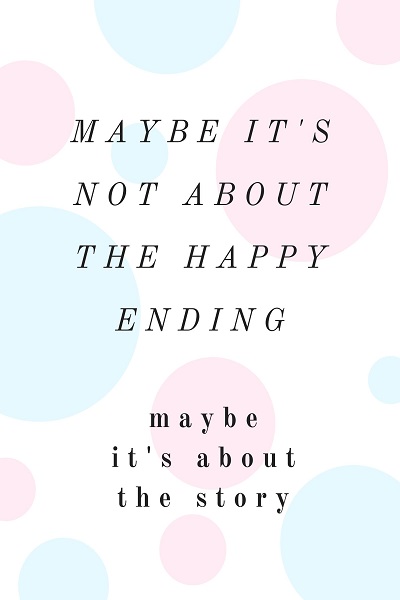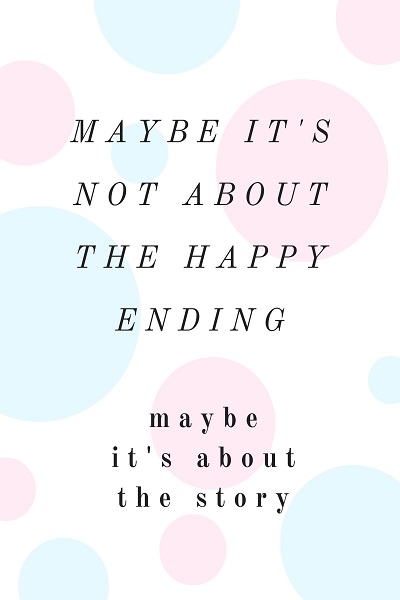 Let us always meet each other with smile, for the smile is the beginning of love. – Mother Teresa
No matter where I went, I always knew my way back to you. You are my compass star. – Diana Peterfreund
Immature love says: 'I love you because I need you.' Mature love says 'I need you because I love you.' – Erich Fromm
I want to be with you for only two times. NOW AND FOREVER.
Sometimes my eyes get jealous of my heart. Because you always remain close to my heart and far from my eyes.
The best thing to hold onto in life is each other. – Audrey Hepburn
Our love is a special bond and it can not be broken, it will get stronger no matter how many hurdles and struggles we face.
Because I could watch you for a single minute and find a thousand things that I love about you.
Being deeply loved by someone gives you strength, while loving someone deeply gives you courage. – Lao Tzu
Beautiful Love Quotes for Him to Have Him All Over You
Romantic gestures are priceless in romance. So if you want to have a perfect relationship with your boyfriend, learn to be appreciative of his sweet gestures by saying the right things to say to your boyfriend, such as you are the love of my life quotes or write paragraphs for him. He'll be ecstatic to know that he's able to impress you.
Loved you yesterday, love you still, always have, always will. – Elaine Davis
To love and be loved is to feel the sun from both sides. – David Viscott
Morning without you is a dwindled dawn. – Emily Dickinson
I wanna be the reason behind your smile because surely you are the reason behind mine.
Where there is love there is life. – Mahatma Gandhi
Love doesn't make the world go 'round. Love is what makes the ride worthwhile. – Franklin P. Jones
One day, I caught myself smiling without no reason, then I realized I was thinking of you.
All I know about love is just because of you. Please always be with me and do love me this way the whole life.
Your love is the best part of my life. There is nobody except you I love to spend time with.
As soon go kindle fire with snow, as seek to quench the fire of love with words. – Shakespeare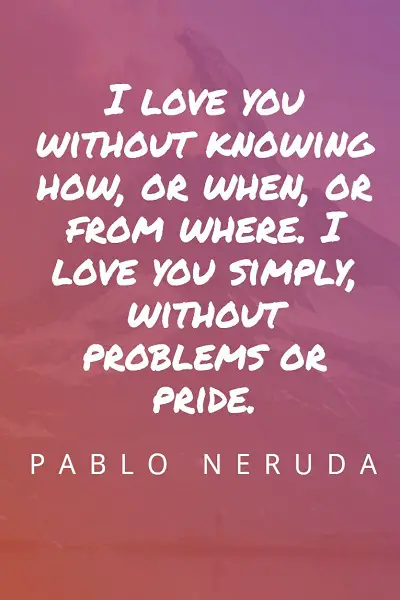 Absence is to love as wind is to fire; it extinguishes the small and kindles the great. – Roger de Bussy-Rabutin
If you wish to be loved, show more of your faults than your virtues. – Edward G. Bulwer-Lytton
It doesn't matter where I am. I'm yours.
Love is an irresistible desire to be irresistibly desired. – Robert Frost
The scariest thing about distance is you don't know if they'll miss you or forget about you. – Nicholas Sparks
A kiss is a lovely trick designed by nature to stop speech when words become superfluous. – Ingrid Bergman
I like the way you make me feel even when I'm nowhere near.
Love is the wisdom of the fool and the folly of the wise. – Samuel Johnson
When you are with me, you make me perfect. I love you.
I'd rather see you one day a year than someone else seven days a week.
He's more myself than I am. – Emily Bronte
Your absence has not taught me how to be alone; it has merely shown me that when together we cast a single shadow on the wall. – Doug Fetherling
The most powerful weapon on earth is the human soul on fire. – Ferdinand Foch
I miss you so much more than the miles between us.
You have made my heart brighter than the brightest candle. Thank you for being in my heart and completing me.
Love is when he gives you a piece of your soul, that you never knew was missing. – Torquato Tasso
This is the sad bed of chosen chastity because you are miles and mountains away. – Erica Jong
I love that feeling of being in love, the effect of having butterflies when you wake up in the morning. That is special. – Jennifer Aniston
Where you are is where I want to be.
Love is the flower you've got to let grow. – John Lennon
The first thing I imagined when I saw the word 'love' is you.
Love is missing someone when you're apart, but somehow feeling warm inside because you're close in the heart. – Kay Knudsen
The hunger for love is much more difficult to remove than the hunger for bread. – Mother Teresa
Our time together is just never quite enough.
I saw that you were perfect, and so I loved you. Then I saw that you were not perfect, and I loved you even more. – Angelita Lim
A woman knows the face of the man she loves as a sailor knows the open sea. – Honore de Balzac
I realized I was thinking of you, and I began to wonder how long you'd been on my mind. Then it occurred to me: Since I met you, you've never left.
Since the day first when we met, you have changed me. I cry less, laugh harder and this is just because of you my dear.
If your life is hundred, I wish to be a hundred minus one day, so that I never live without you.
Love knows not distance; it hath no continent; its eyes are for the stars. – Gilbert Parker
Promise me you'll never forget me because if I thought you would, I'd never leave. ― A.A. Milne
So, I love you because the entire universe conspired to help me find you. ― Paulo Coelho
Love does not begin and end the way we seem to think it does. Love is a battle; love is a war; love is a growing up. – James A. Baldwin
In vain have I struggled. It will not do. My feelings will not be repressed. You must allow me to tell you how ardently I admire and love you. – Jane Austen
The art of love is largely the art of persistence. – Albert Ellis
Then I realize what it is. It's him. Something about him makes me feel like I am about to fall. Or turn to liquid. Or burst into flames. ― Veronica Roth
There is no remedy for love but to love more. – Henry David Thoreau
I am absolutely, definitely, positively, unquestionably, beyond any doubt, in love with you.
I don't like to sleep at nights. Minutes with you are much more precious than hours of dreams.
Love does not consist in gazing at each other, but in looking outward together in the same direction. – Antoine de Saint-Exupery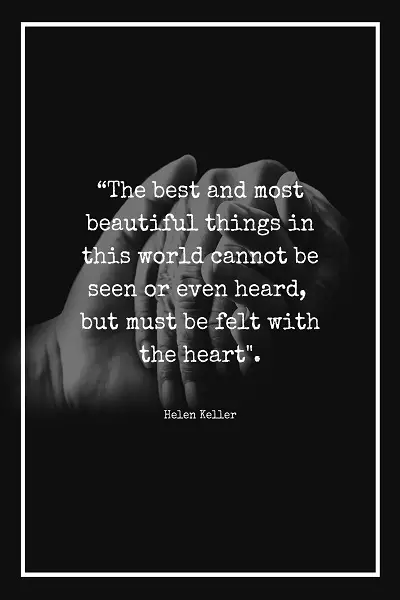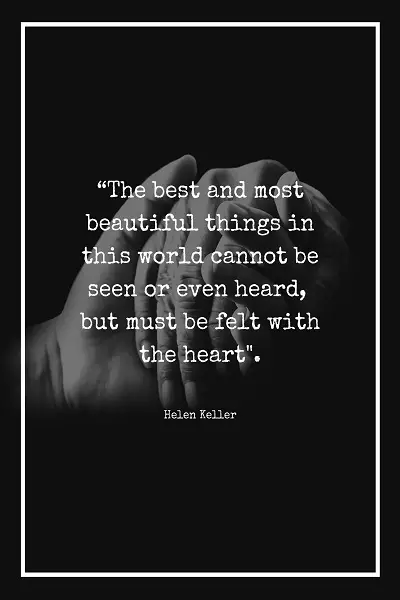 I would rather spend one lifetime with you, than face all the ages of this world alone. – J.R.R. Tolkien
If you find someone you love in your life, then hang on to that love. – Princess Diana
I love gazing in your eyes and my favorite place in the world is lying in your arms.
Love is of all passions the strongest, for it attacks simultaneously the head, the heart and the senses. – Lao Tzu
Every love story is beautiful, but ours is my favorite.
Touch seems to be as essential as sunlight. – Diane Ackerman
I like not only to be loved, but also to be told I am loved. – George Eliot
To love is nothing. To be loved is something. But to love and be loved, that's everything. – T. Tolis
Most Romantic Love Quotes for Him to Express Your Feelings
Are you in love? Then, love poems for him will give you the perfect words to express how much he means to you. And also, deep love text messages for him help you show your appreciation for him while making him feel special.
The first duty of love is to listen. – Paul Tillich
Every day I fall in love with you more and more. Well, not yesterday. Yesterday you were pretty annoying.
We can only learn to love by loving. – Iris Murdoch
You lift me up to new levels and make me feel things I have never felt before.
Do not urge me to leave you or turn back from you. Where you go, I will go. Where you stay, I will stay. – Shelby Mahurin
There can be no deep disappointment where there is not deep love. – Martin Luther King, Jr.
You are my blue crayon, the one I never have enough of, the one I use to color my sky.
Love is a force more formidable than any other. -Barbara de Angelis
Sometimes I can't see myself when I'm with you. I can only just see you.
Love is not only something you feel, it is something you do. – David Wilkerson
You are my favorite notification.
When we are in love, we seem to ourselves quite different from what we were before. – Blaise Pascal
You are my life and the only thing that would hurt to lose. I love you more than anything else.
For small creatures such as we the vastness is bearable only through love. – Carl Sagan
In a sea of people, my eyes will always be searching for you.
You stole my heart, but I'll let you keep it.
Only divine love bestows the keys of knowledge. – Arthur Rimbaud
When I listen to my heart, it whispers your name.
A part of kindness consists in loving people more than they deserve. – Joseph Joubert
Forget the butterflies, I feel the whole zoo when I am with you.
I would rather have you for a little time than no time at all. I will remember you perfectly. My memory will touch your skin, your lips. The memory will hurt, but it will be mine. – Marie Rutkoski
I know I am in love with you because my reality is finally better than my dreams. – Dr. Seuss
You may hold my hand for a while, but you hold my heart forever.
If you want to be loved, be lovable. – Ovid
Love is the attempt to form a friendship inspired by beauty. – Marcus Tullius Cicero
Love is a friendship set to music. – Joseph Campbell
I will love you and hold you like there's no tomorrow.
The inner reality of love can be recognized only by love. – Hans Urs von Balthasar
I need you like a heart needs a beat. – One Republic
Love is energy of life. – Robert Browning
Your love is all I need to feel complete.
The ear is the avenue to the heart. – Voltaire
To love is to burn, to be on fire. – Jane Austen
Stolen kisses are always sweetest. – Leigh Hunt
Love is a great master. It teaches us to be what we never were. – Moliere
Love can be unselfish, in the sense of being benevolent and generous, without being selfless. – Mortimer Adler
"I want this more than I've ever wanted anything. I want everything with you," he said. "I want all of it with you. I want you. I want this forever." – Tahereh Mafi
The most important thing in life is to learn how to give out love, and to let it come in. – Morrie Schwartz
The highest function of love is that it makes the loved one a unique and irreplaceable being. – Tom Robbins
I'll never stop loving you. And no matter what is happening, my heart is always with you!
Love is love's reward. – John Dryden
I will love you until the stars go out, and the tides no longer turn.
You are my song. You are my song of love.
The degree of loving is measured by the degree of giving. – Edwin Louis Cole
Our Relationship is meant to be. Something that was written in the stars and drawn into our destiny.
More than kisses, letters mingle souls. – John Donne
My heart skips and sings whenever you are near.
The first time you touched me, I knew I was born to be yours.
If it is your time, love will track you down like a cruise missile. – Lynda Barry
Come live in my heart and pay no rent. – Samuel Lover
You are my dream, my life, my rock, my everything.
Love possesses not nor will it be possessed, for love is sufficient unto love. – Khalil Gibran
Every time I see you, I fall in love all over again. Every time I read one of your sweet pick up lines, I smile.
Love is metaphysical gravity. – R. Buckminster Fuller
Break my heart. Break it a thousand times if you like. It was only ever yours to break. – Kiera Cass
To lose balance sometimes for love is part of living a balanced life. – Elizabeth Gilbert
To love is to admire with the heart; to admire is to love with the mind. – Theophile Gautier
One word frees us of all the weight and pain of life: that word is love. – Sophocles
Right beside you is where I belong, right beside you I am home.
Love is always being given where it is not required. – E. M. Forster
You call it madness, but I call it love. – Don Byas
I Promised to always find you. I promised you and you promised me. I came here for you because of it; I am here because of it. – Sarah J. Maas
There is no limit to the power of loving. – John Morton
Life without love is like a tree without blossoms or fruit. – Khalil Gibran
All love shifts and changes. I don't know if you can be wholeheartedly in love all the time. – Julie Andrews
Cute Love Quotes for Him to Make Him Feel Special
Don't walk in front of me, I may not follow. Don't walk behind me, I may not lead. – George Sand
The richest love is that which submits to the arbitration of time. – Lawrence Durrell
Down on your knees, and thank heaven, fasting, for a good man's love. – Euripides
Pains of love be sweeter far than all other pleasures are. – John Dryden
If longing is madness, then none of us are sane. – Nina Varela
Love, having no geography, knows no boundaries. – Truman Capote
I believe in the compelling power of love. I do not understand it. I believe it to be the most fragrant blossom of all this thorny existence. – Theodore Dreiser
People happy in love have an air of intensity. – Stendhal
Your flaws are perfect for the heart that is meant to love you.
Love is an energy which exists of itself. It is its own value. – Thornton Wilder
I love that you are my person and I am yours, that whatever door we come to, we will open it together. – A.R. Asher
Love is a game that two can play and both win. – Eva Gabor
I got lost in him, and it was the kind of lost that's exactly like being found. – Claire LaZebnik
Love is space and time measured by the heart. – Marcel Proust
You're the first one I think of when I wake up and last one, I think of before I go to sleep.
Love is the greatest gift that God has given us. It's free. – Taraji P. Henson
It was love at first sight, at last sight, at ever and ever sight. – Vladimir Nabokov
Faith makes all things possible… love makes all things easy. – Dwight L. Moody
Because of you I have a reason to be thankful every day.
You are my temple. You are my priest. You are my prayer. You are my release. – Sabaa Tahir
When I saw you, I fell in love, and you smiled because you knew. – Arrigo Boito
There isn't any formula or method. You learn to love by loving – by paying attention and doing what one thereby discovers has to be done. – Aldous Huxley
My dream wouldn't be complete without you in it. – The Princess and the Frog
Your words are my food, your breath my wine. You are everything to me. – Sarah Bernhardt
Grow old with me. The best is yet to come.
The quarrels of lovers are the renewal of love. – Jean Racine
Better than I was, more than I am, and all of this happened by taking your hand. – Tim McGraw
If I could have anyone in the world, it would still be you.
I might not be a perfect person, but that's okay, because I found the perfect partner in you.
I swear I couldn't love you more than I do right now, and yet I know I will tomorrow. – Leo Christopher
Falling in love consists merely in uncorking the imagination and bottling the common sense. – Helen Rowland
Lost with you, in you, and without you. – K. Towne Jr.
Love is the greatest refreshment in life. – Pablo Picasso
I may not get to see you as often as I like. I may not get to hold you in my arms all through the night. But deep in my heart I truly know, you're the one that I love, and can't let go.
Love is the power to see similarity in the dissimilar. – Theodor Adorno
There is my heart, and then there is you, and I'm not sure there is a difference. – A.R. Asher
Love cures people – both the ones who give it and the ones who receive it. – Karl A. Menninger
I still haven't figured out how to sit across from you, and not be madly in love with everything you do. – William C. Hannan
No matter what happens, I will never, not in a thousand tragic outcomes, ever regret loving you. – Sara Raasch
Love is but the discovery of ourselves in others, and the delight in the recognition. – Alexander Smith
I want to wake up at 2 a.m., roll over, see your face, and know that I'm right where I'm supposed to be.
Love is a sacred reserve of energy; it is like the blood of spiritual evolution. – Pierre Teilhard de Chardin
To the world, you may be one person, but to one person you are the world. – Dr. Seuss
I fell in love the way you fall asleep. Slowly, and then all at once. – John Green
We love because it's the only true adventure. – Nikki Giovanni
I could start fires with what I feel for you. – David Ramirez
Never ever change because I love you just the way you are.
Love makes your soul crawl out from its hiding place. – Zora Neale Hurston
A view of the ocean, mountains and the sunset. But yet, he was still looking at me. – Aly Aubrey
Love is a canvas furnished by nature and embroidered by imagination. – Voltaire
Distance means so little when someone means so much. – Tom McNeal
Love is being stupid together. – Paul Valery
You make me complete. I love you so much, I didn't know what love meant until I met you. Right now, I am thinking about to write love message for my husband.
I love how you take care of me. How you keep working to be a better man. Even on days, I fail to be a better woman.
If forever does exist, please let it be you… – A.R Asher
My six-word love story: I can't imagine life without you. – Anonymous
You are my love story, and I write you into everything I do, everything I see, everything I touch and everything I dream, you are the words that fill my pages. – A.R Asher
I'm not going far. I'll always be here. Just an inch away. I promise. – Rachael Lippincott
You're my favorite place to go when my mind searches for peace.
There is a madness in loving you, a lack of reason that makes it feel so flawless. – Leo Christopher
He's more myself than I am. Whatever our souls are made of, his and mine are the same. – Emily Brante
I never want to stop making memories with you. – Pierre Jeanty
The only thing we never get enough of is love; and the only thing we never give enough of is love. – Henry Miller
I have a crush on your mind, I fell for your personality, and your looks are just a big bonus. – The Notebook
Love takes off masks that we fear we cannot live without and know we cannot live within. – James Baldwin
I think we take it for granted that if you are with your husband after 30 years, then he is the love of your life. – Sue Townsend
You are nothing short of my everything.
Every day I discover that I love you even more, and in this infinite universe I will love you till the ends. –Alicia N Green
You are the last thought in my mind before I drift off to sleep and the first thought when I wake up each morning.
See, the thing about the falling in love montage is that when it's over, the characters have fallen in love. – Ciara Smyth
The minute I heard my first love story I started looking for you, not knowing how blind that was. Lovers don't finally meet somewhere. They're in each other all along. – Rumi
I love you begins by I, but it ends up by you. ― Charles de Leusse
I never had a moment's doubt that I loved you. I believe in you completely. You are my dearest one, my reason for life. – Ian McEwan