The Holy Spirit is your helper. John 16:7 "Nevertheless, I tell you the truth: it is to your advantage that I go away, for if I do not go away, the Helper will not come to you. But if I go, I will send him to you,"
The Holy Spirit sanctifies you. 1 Corinthians 6:11 "But you were washed, you were sanctified, you were justified in the name of the Lord Jesus Christ and by the Spirit of our God,"
The Holy Spirit gives hope. Romans 15:13 "May the God of hope fill you with all joy and peace in believing, so that by the power of the Holy Spirit you may abound in hope,"
The Holy Spirit teaches and gives insight. John 14:26 "But the Helper, the Holy Spirit, whom the Father will send in my name, he will teach you all things and bring to your remembrance all that I have said to you,"
Powerful collection of profoundly inspirational daily prayers to the Holy Spirit for miracle and healing will fill the hearts with faith, hope and peace.
Self-Love: The Journey to Embrace Your Essence, Discover Intrinsic Worth, and Build Authentic Self-Esteem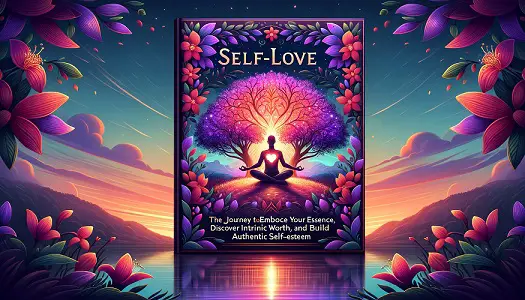 Your journey to self-discovery and enriched relationships starts here. Begin a Life-Changing Journey with this eBook to embrace your true worth and see how it reshapes every aspect of your life, from personal growth to enriching your relationships.
Get Your Copy on Amazon and Start Transforming Today!
If you're searching for selected prayers to quickly find a prayer for your specific need or circumstance, browse through an amazing collection of uplifting guardian angel prayers, beautiful prayers for courage, and inspiring prayers for encouragement.
Holy Spirit Prayers
Pray to the Holy Spirit
Breathe in me O Holy Spirit, that my thoughts may all be holy.
Act in me O Holy Spirit, that my work, too, may be holy.
Draw my heart O Holy Spirit, that I love but what is holy.
Strengthen me O Holy Spirit, to defend all that is holy.
Guard me, then, O Holy Spirit, that I always may be holy. Amen.
Saint Augustine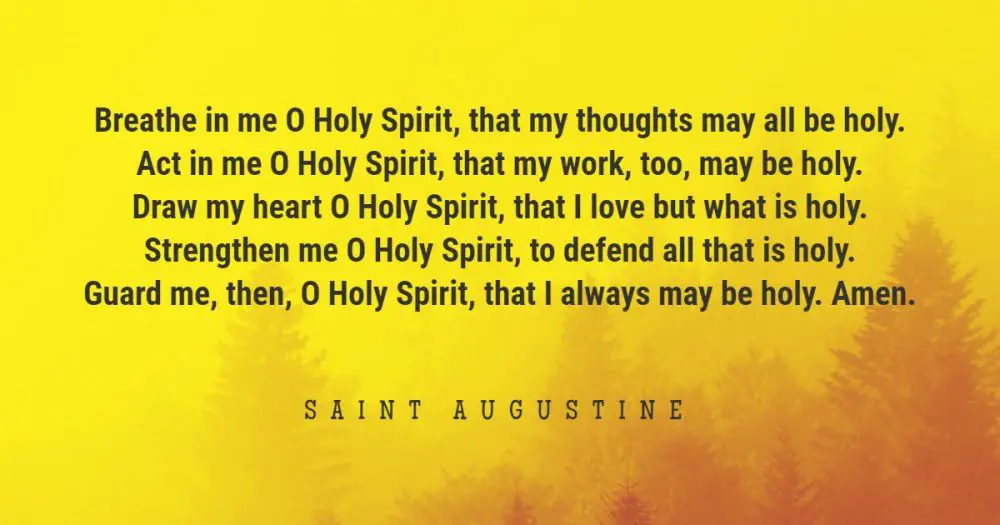 Prayer To The Holy Spirit for Wisdom, Courage and Strength
Through the Holy Spirit we are restored to paradise, led back to the Kingdom of heaven, and adopted as children, given confidence to call God "Father" and to share in Christ's grace, called children of light and given a share in eternal glory.
St. Basil, De Spiritu Sancto
Healing Prayer To The Holy Spirit
Holy Spirit, I want to thank you for dwelling in me. I pray that you will comfort me in my suffering, lend skill to the hands of my healers, and bless the means used for my cure. Holy Spirit of God let your miraculous power of healing take over my body. Give me such confidence in the power of your grace, that even when I am afraid, I may put my whole trust in you. Cause healing to manifest right now in Jesus' name. Thank you for answering my prayers, Amen.
Cardinal Mercier's Prayer To The Holy Spirit
O Holy Spirit
soul of my soul
I adore you.
Enlighten
guide,
strengthen and console me.
Tell me what I ought to do
and command me to do it.
I promise to submit to everything
that you ask of me
and to accept all
that you allow to happen to me.
Just show me what is your will.
Veni Creator
Come, O Creator Spirit blest! And in our souls take up Thy rest; Come with Thy grace and heavenly aid, To fill the hearts which Thou hast made. Great Paraclete! To Thee we cry, O highest gift of God most high! O font of life! O fire of love! And sweet anointing from above.
Thou in Thy sevenfold gifts art known, The finger of God's hand we own; The promise of the Father, Thou! Who dost the tongue with power endow.
Kindle our senses from above, And make our hearts overflow with love; With patience firm and virtue high The weakness of our flesh supply.
Far from us drive the foe we dread, And grant us Thy true peace instead; So shall we not, with Thee for guide, Turn from the path of life aside.
Oh, may Thy grace on us bestow The Father and the Son to know, And Thee, through endless times confessed, Of both, the eternal Spirit blest.
All glory while the ages run Be to the Father and the Son Who rose from death; the same to Thee, O Holy Ghost, eternally.
Amen.
Invocation to the Holy Spirit
Come, true light.
Come, life eternal.
Come, hidden mystery.
Come, treasure without name.
Come, reality beyond all words.
Come, person beyond all understanding.
Come, rejoicing without end.
Come, light that knows no evening.
Come, unfailing expectation of the saved.
Come, raising of the fallen.
Come, resurrection of the dead.
Come, all-powerful, for unceasingly you create, refashion and change all things by your will alone.
Come, for your name fills our hearts with longing, and is ever on our lips.
Come, for you are yourself the desire that is within me.
Come, my breath and my life.
Come, the consolation of my humble soul.
Self-Love: The Journey to Embrace Your Essence, Discover Intrinsic Worth, and Build Authentic Self-Esteem
Unlock Your Full Potential with Self-Love! Dive into this e-book and learn how to cultivate a deep, nurturing love for yourself that radiates outwards, improving your connections with others and bringing joy and fulfillment to your life.
Find Your Path to Self-Love on Amazon Today!
Come, my joy, my glory, my endless delight.