When you are humble, you are free from pride and arrogance. You can walk humbly in the power of the Holy Spirit. Humility and meekness are righteous traits for serving the will of God. Best Bible verses about humility remind you to trust in the wisdom and salvation of God which will lead us in the best way to live.
If you're searching for famous Bible passages as daily reminder that God is with you or just want to feel inspired yourself, browse through an amazing collection of scriptures on respect, Bible quotes about pride, and Bible verses about giving.
Bible Verses about Being Humble
1 Peter 5:6 Humble yourselves, therefore, under the mighty hand of God so that at the proper time he may exalt you,
Ephesians 4:2 Be completely humble and gentle; be patient, bearing with one another in love.
James 4:6 But he giveth more grace. Wherefore he saith, God resisteth the proud, but giveth grace unto the humble.
James 4:10 Humble yourselves in the presence of the Lord, and He will exalt you.
Philippians 2: 3-11 Do nothing from rivalry or conceit, but in humility count others more significant than yourselves. Let each of you look not only to his own interests, but also to the interests of others. Have this mind among yourselves, which is yours in Christ Jesus, who, though he was in the form of God, did not count equality with God a thing to be grasped, but made himself nothing, taking the form of a servant, being born in the likeness of men…
Proverbs 11:2 When pride comes, then comes disgrace, but with humility comes wisdom.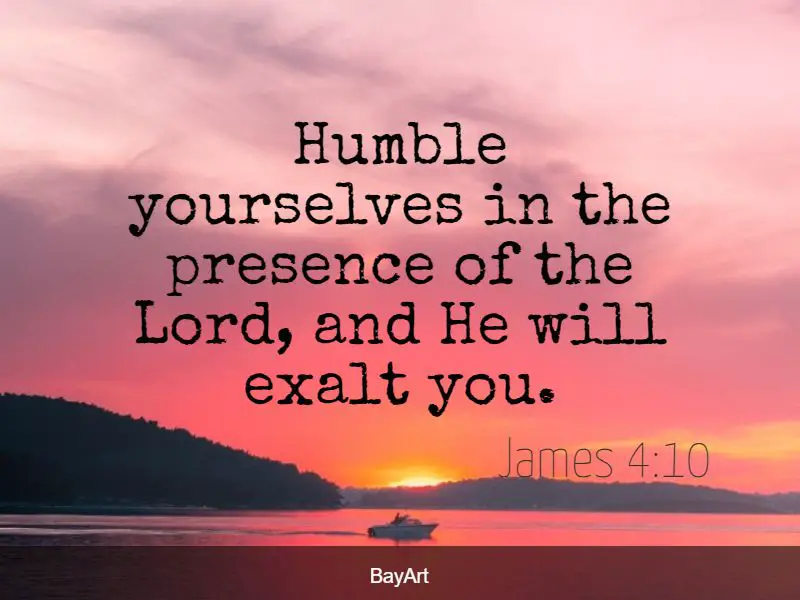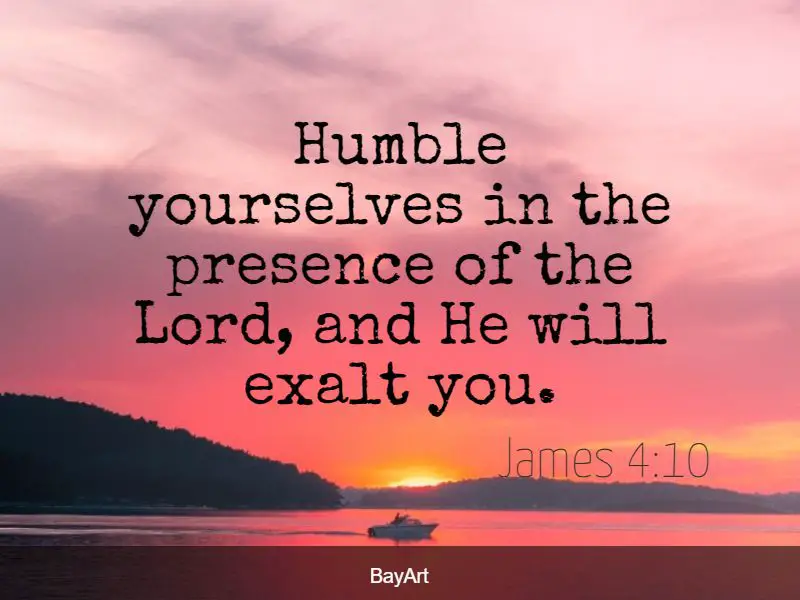 Luke 14: 11 For everyone who exalts himself will be humbled, and he who humbles himself will be exalted.
Romans 12:16 Live in harmony with one another. Do not be proud, but be willing to associate with people of low position. Do not be conceited.
Matthew 23:12 Whoever exalts himself will be humbled, and whoever humbles himself will be exalted.
Proverbs 22:4 The reward for humility and fear of the Lord is riches and honor and life.
1 Peter 3:3-4 Your beauty should not come from outward adornment, such as elaborate hairstyles and the wearing of gold jewelry or fine clothes. Rather, it should be that of your inner self, the unfading beauty of a gentle and quiet spirit, which is of great worth in God's sight.
Romans 12:3 For by the grace given to me I say to everyone among you not to think of himself more highly than he ought to think, but to think with sober judgment, each according to the measure of faith that God has assigned.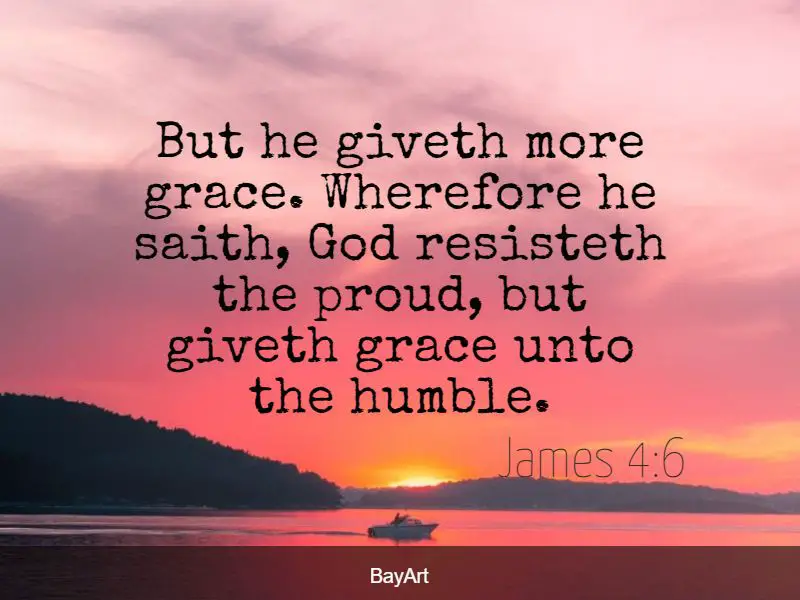 Colossians 3:12 Therefore, as God's chosen people, holy and dearly loved, clothe yourselves with compassion, kindness, humility, gentleness and patience.
Proverbs 29:23 Humility is the fear of the Lord; its wages are riches and honor and life.
Proverbs 11:12 When pride comes, then comes disgrace, but with the humble is wisdom.
2 Chronicles 7:14 If my people, who are called by my name, will humble themselves and pray and seek my face and turn from their wicked ways, then I will hear from heaven, and I will forgive their sin and will heal their land.
2 Corinthians 11:30 If I must boast, I will boast of the things that show my weakness.
James 3:13 Who is wise and understanding among you? Let them show it by their good life, by deeds done in the humility that comes from wisdom.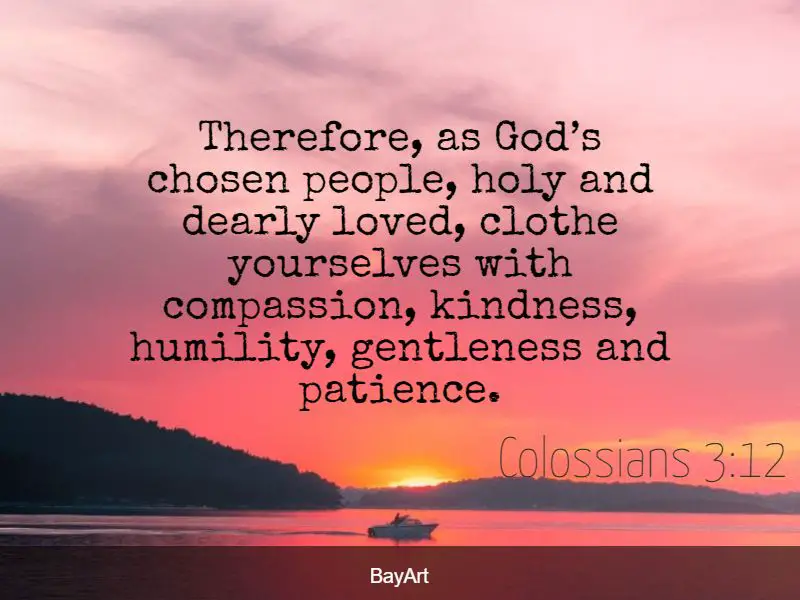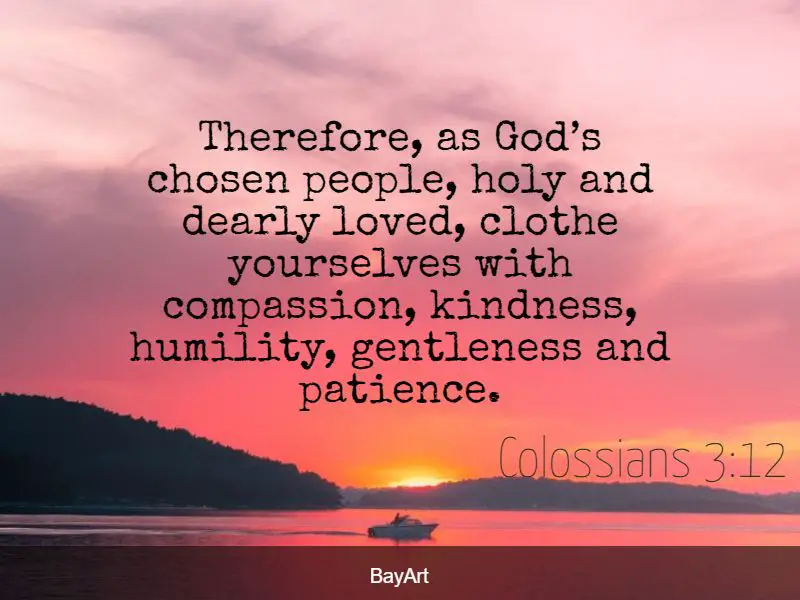 Matthew 11:29-30 Take my yoke upon you and learn from me, for I am gentle and humble in heart, and you will find rest for your souls. For my yoke is easy and my burden is light.
Proverbs 18:12 Before a downfall the heart is haughty, but humility comes before honor.
1 Peter 5:5 Likewise, you who are younger, be subject to the elders. Clothe yourselves, all of you, with humility toward one another, for "God opposes the proud but gives grace to the humble."
Jeremiah 9:23 Thus says the Lord: "Let not the wise man boast in his wisdom, let not the mighty man boast in his might, let not the rich man boast in his riches,
1 Peter 3:8 Finally, all of you, be like-minded, be sympathetic, love one another, be compassionate and humble.
Luke 18:9-14 He also told this parable to some who trusted in themselves that they were righteous, and treated others with contempt: "Two men went up into the temple to pray, one a Pharisee and the other a tax collector. The Pharisee, standing by himself, prayed thus: 'God, I thank you that I am not like other men, extortioners, unjust, adulterers, or even like this tax collector. I fast twice a week; I give tithes of all that I get.' But the tax collector, standing far off, would not even lift up his eyes to heaven, but beat his breast, saying, 'God, be merciful to me, a sinner!' …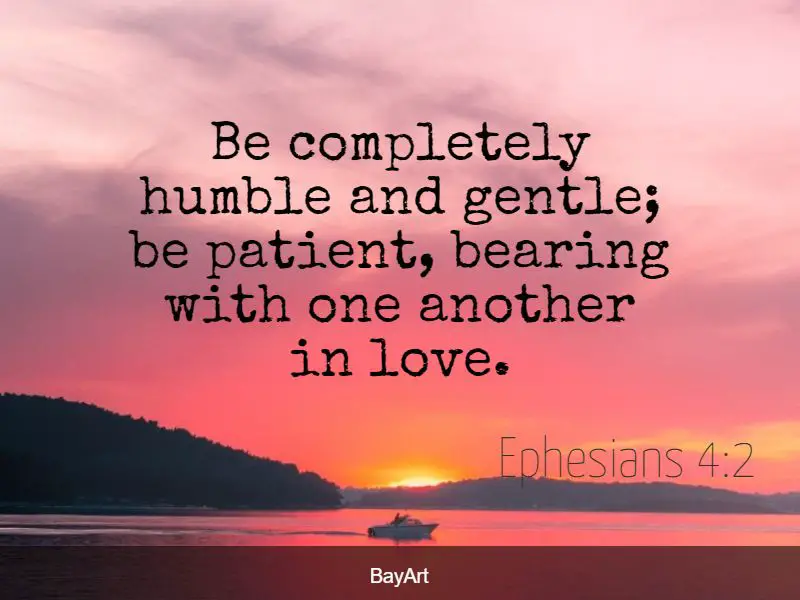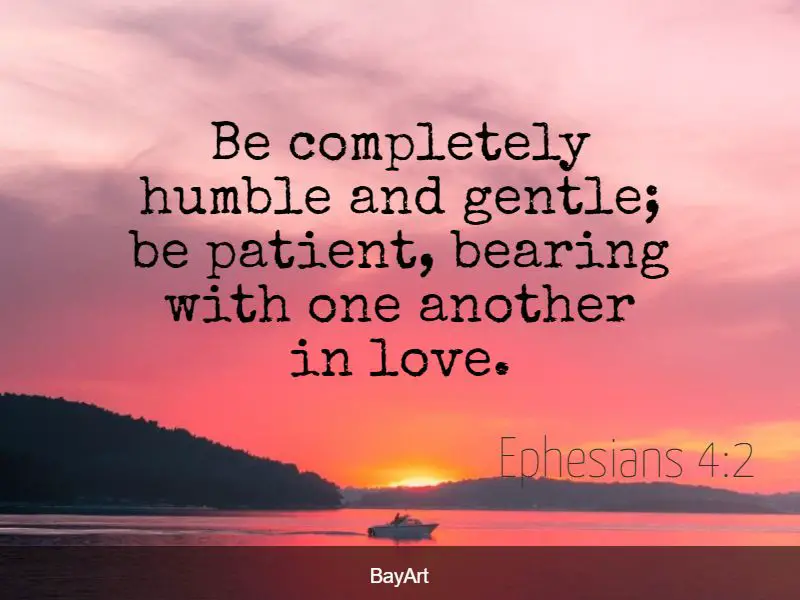 Mark 9:35 Sitting down, Jesus called the Twelve and said, "Anyone who wants to be first must be the very last, and the servant of all."
1 Corinthians 1:28-29 God chose the lowly things of this world and the despised things—and the things that are not—to nullify the things that are, so that no one may boast before him.
Ephesians 2:8-9 For by grace you have been saved through faith. And this is not your own doing; it is the gift of God, not a result of works, so that no one may boast.
Matthew 6:2 So when you give to the needy, do not announce it with trumpets, as the hypocrites do in the synagogues and on the streets, to be honored by others. Truly I tell you, they have received their reward in full.
Micah 6:8 He has shown you, O mortal, what is good. And what does the Lord require of you? To act justly and to love mercy and to walk humbly with your God.
Ephesians 4:31-32 Let all bitterness and wrath and anger and clamor and slander be put away from you, along with all malice. Be kind to one another, tenderhearted, forgiving one another, as God in Christ forgave you.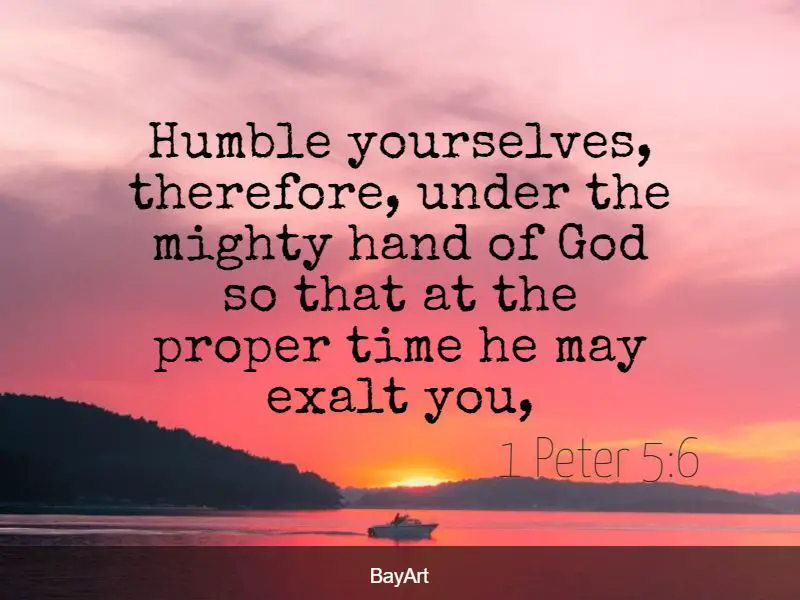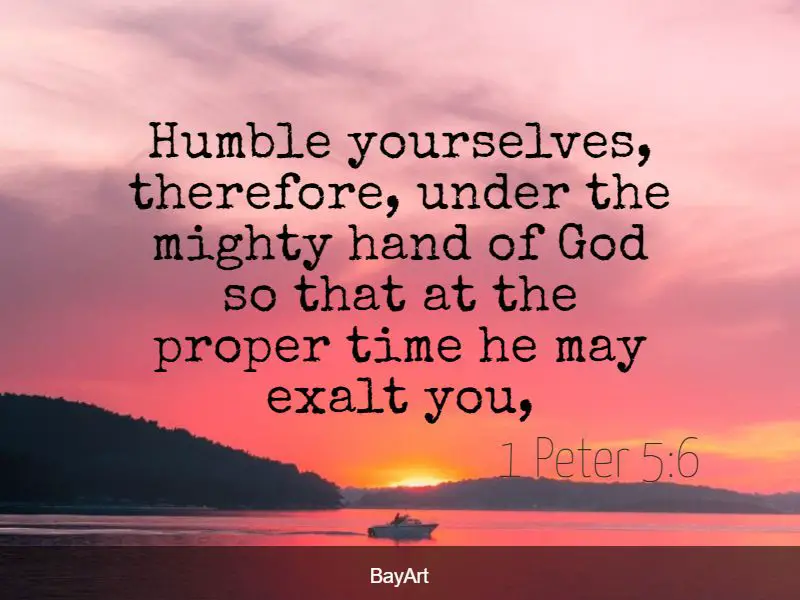 Colossians 3:18-19 Wives, submit yourselves to your husbands, as is fitting in the Lord. Husbands, love your wives and do not be harsh with them.
Deuteronomy 8:2 And you shall remember the whole way that the Lord your God has led you these forty years in the wilderness, that he might humble you, testing you to know what was in your heart, whether you would keep his commandments or not.
Proverbs 15:33 Wisdom's instruction is to fear the Lord, and humility comes before honor.
Proverbs 16:18 Pride goes before destruction, and a haughty spirit before a fall.
Isaiah 66:2 All these things my hand has made, and so all these things came to be, declares the Lord. But this is the one to whom I will look: he who is humble and contrite in spirit and trembles at my word.
Psalm 25:8-9 Good and upright is the Lord; therefore he instructs sinners in his ways. He guides the humble in what is right and teaches them his way.
Psalm 149:4 For the Lord takes pleasure in his people; he adorns the humble with salvation.
Galatians 5:13 You, my brothers and sisters, were called to be free. But do not use your freedom to indulge the flesh; rather, serve one another humbly in love.
Proverbs 3:34 Toward the scorners he is scornful, but to the humble he gives favor.
Luke 9:48 Then he said to them, "Whoever welcomes this little child in my name welcomes me; and whoever welcomes me welcomes the one who sent me. For it is the one who is least among you all who is the greatest."
2 Chronicles 12:7 When the Lord saw that they humbled themselves, the word of the Lord came to Shemaiah: "They have humbled themselves. I will not destroy them, but I will grant them some deliverance, and my wrath shall not be poured out on Jerusalem by the hand of Shishak.
Psalm 18:27 For you save a humble people, but the haughty eyes you bring down.
Philippians 4:20 To our God and Father be glory for ever and ever. Amen.
Exodus 10:3 So Moses and Aaron went in to Pharaoh and said to him, "Thus says the Lord, the God of the Hebrews, 'How long will you refuse to humble yourself before me? Let my people go, that they may serve me.
Zechariah 9:9 Rejoice greatly, O daughter of Zion! Shout aloud, O daughter of Jerusalem! Behold, your king is coming to you; righteous and having salvation is he, humble and mounted on a donkey, on a colt, the foal of a donkey.
1 Kings 21:29 "Have you seen how Ahab has humbled himself before me? Because he has humbled himself before me, I will not bring the disaster in his days; but in his son's days I will bring the disaster upon his house."
Matthew 18:4 Whoever humbles himself like this child is the greatest in the kingdom of heaven.
Job 22:29 For when they are humbled you say, 'It is because of pride'; but he saves the lowly.
Daniel 4:37 Now I, Nebuchadnezzar, praise and extol and honor the King of heaven, for all his works are right and his ways are just; and those who walk in pride he is able to humble.
2 Chronicles 34:27 Because your heart was tender and you humbled yourself before God when you heard his words against this place and its inhabitants, and you have humbled yourself before me and have torn your clothes and wept before me, I also have heard you, declares the Lord.
Zephaniah 2:3 Seek the Lord, all you humble of the land, who do his just commands; seek righteousness; seek humility; perhaps you may be hidden on the day of the anger of the Lord.