Basically goodbye is the wishing of farewell to someone, but it's not an easy experience for anyone. At the end, people move and life events place them in different roles. Famous goodbye quotes and farewell sayings might get you through a difficult time in your life, and help you to express your deep feelings.
If you're searching for famous love quotes to share with the people you love or just want to feel inspired yourself, browse through an amazing collection of beautiful women quotes, sweet love notes and quotes about long distance relationships.
Top 10 Goodbye Quotes & Farewell Sayings
Goodbyes are only for those who love with their eyes. Because for those who love with heart and soul there is no such thing as separation. Rumi
What we call the beginning is often the end. And to make an end is to make a beginning. The end is where we start from. T.S. Eliot
The two hardest things to say in life are hello for the first time and goodbye for the last. Moira Rogers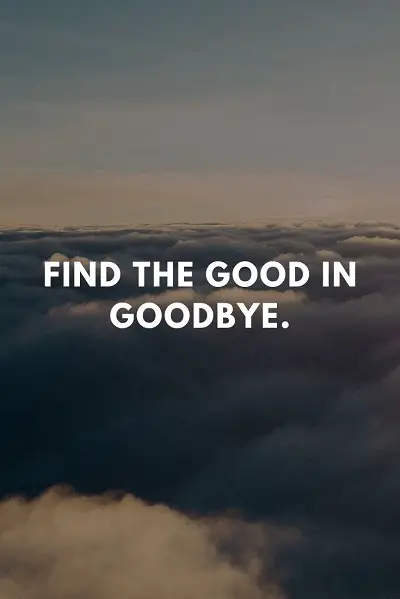 If you're brave enough to say goodbye, life will reward you with a new hello. Paulo Coelho
Don't be dismayed at goodbyes. A farewell is necessary before you can meet again. And meeting again, after moments or lifetimes, is certain for those who are friends. Richard Bach
They must often change, who would be constant in happiness or wisdom. Confucius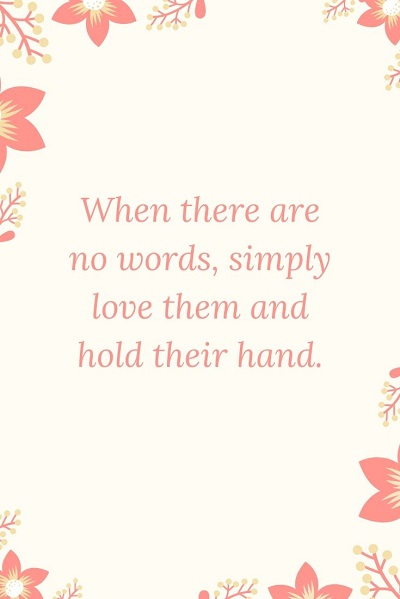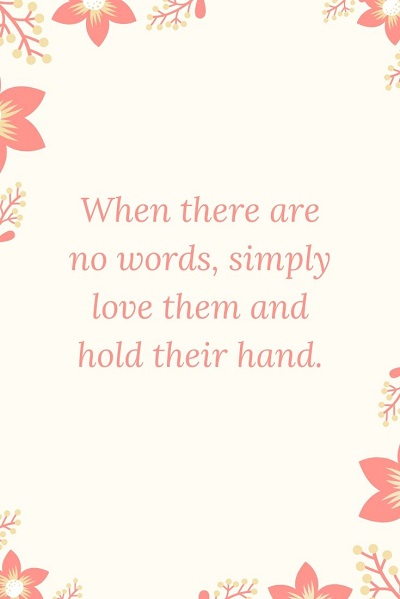 Every new beginning comes from some other beginning's end. Semisonic
It is so hard to leave—until you leave. And then it is the easiest thing in the world. John Green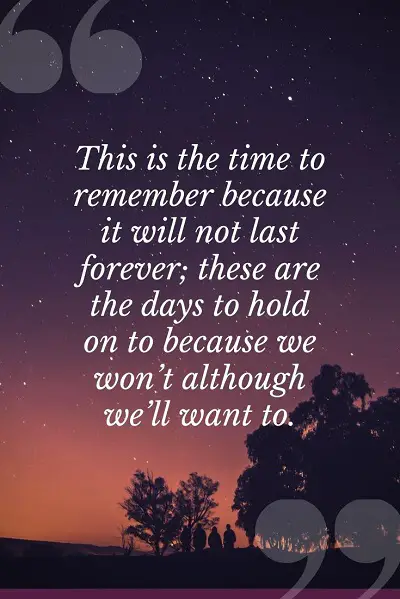 This is not a goodbye, my darling, this is a thank you. Nicholas Sparks
Goodbyes make you think. They make you realize what you've had, what you've lost, and what you've taken for granted. Ritu Ghatourey
Best Goodbye Quotes And Farewell Sayings
Don't cry because it's over, smile because it happened. Dr. Seuss
How lucky I am to have something that makes saying goodbye so hard. Winnie The Pooh
The story of life is quicker than the wink of an eye, the story of love is hello and goodbye…until we meet again. Jimi Hendrix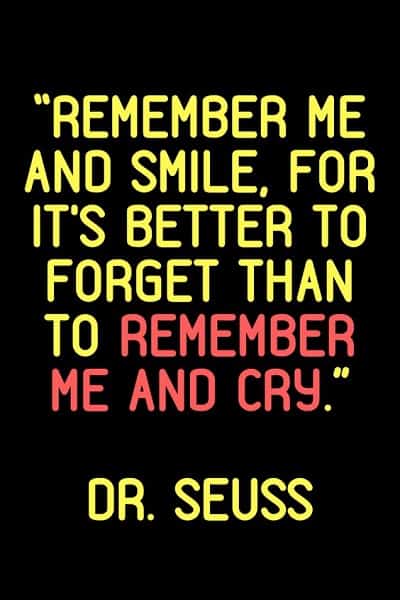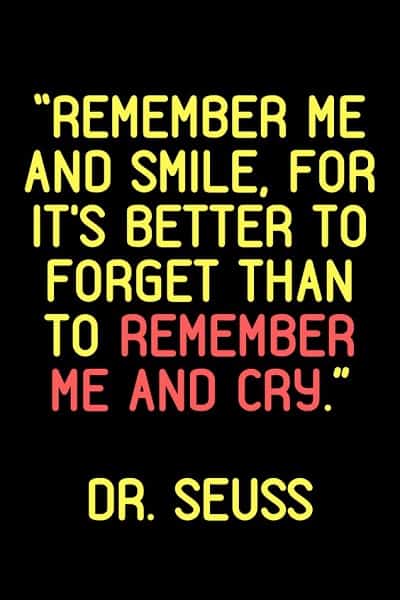 Never say goodbye because goodbye means going away and going away means forgetting. J.M. Barrie
You've changed me forever. And I'll never forget you. Kiera Cass
There are no goodbyes for us. Wherever you are, you will always be in my heart. Mahatma Gandhi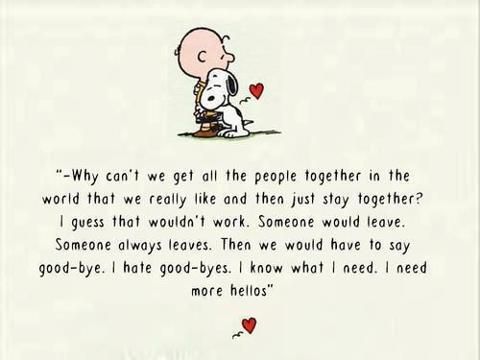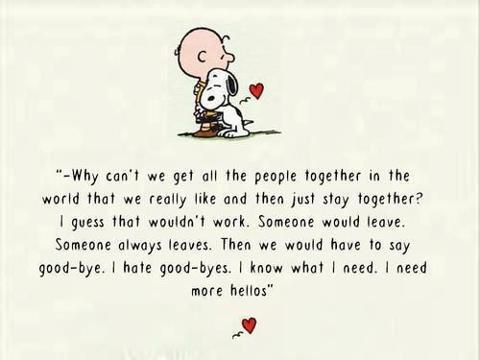 Goodbye is the hardest thing to say to someone who means the world to you, especially when goodbye isn't what you want.
Adieu! I have too grieved a heart to take a tedious leave. William Shakespeare
My breaking heart and I agree, that you and I could never be, so with my best…my very best, I set you free Rachel Yamagata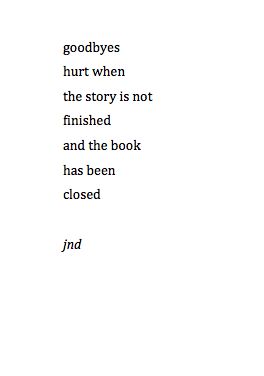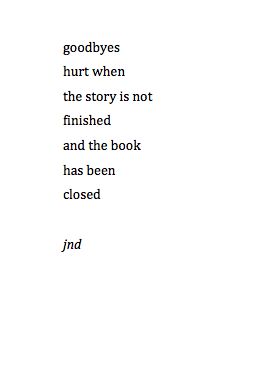 You have been my friend. That in itself is a tremendous thing. E.B. White
We started with a simple hello but ended with a complicated goodbye.
It's the emptiest and yet the fullest of all human messages: 'Good-bye.' Kurt Vonnegut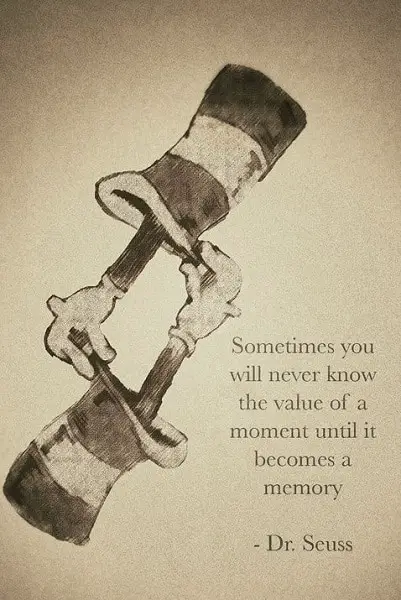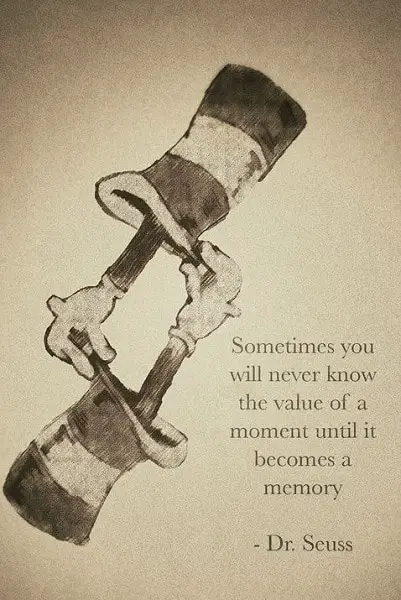 Even if we can't be together in the end, I'm glad that you were a part of my life.
Farewell! For in that word that fatal word however We promise, hope, believe there breathes despair. Lord Byron
When I am brave enough to say goodbye, I'll use the wings you gave me and away I'll fly. Celia McMahon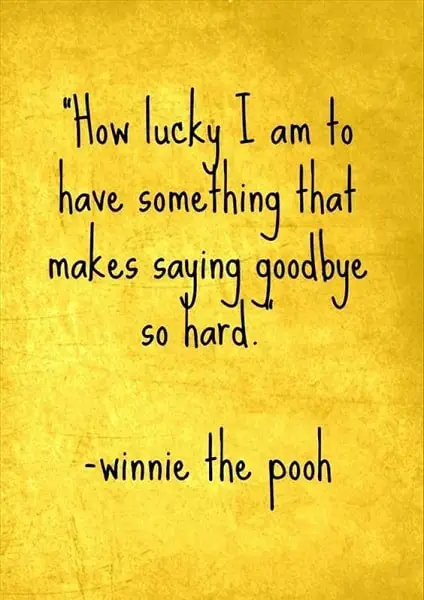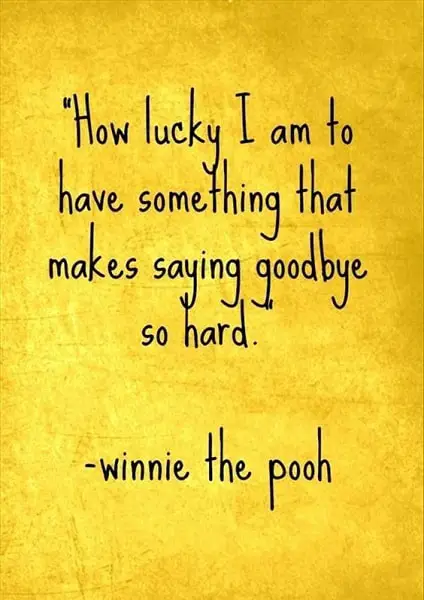 Good bye may seem forever. Farewell is like the end, but in my heart is the memory and there you will always be.
Farewell! God knows when we shall meet again. William Shakespeare
I hate the feeling when you have to say goodbye to someone you want to spend every minute with.
I didn't think saying good-bye would be so hard. And with everything that's to come—We'll face it together. To whatever end. Sarah J. Maas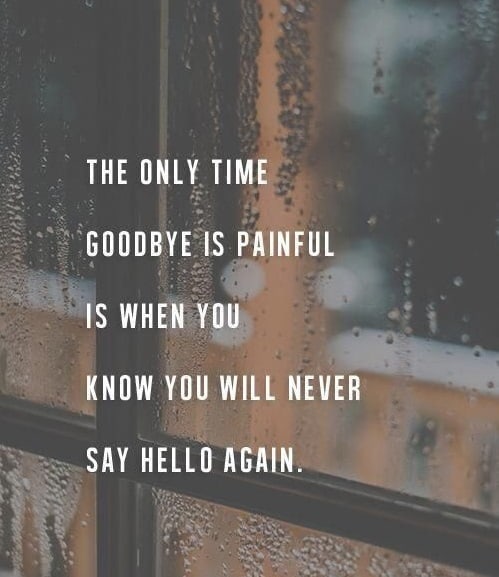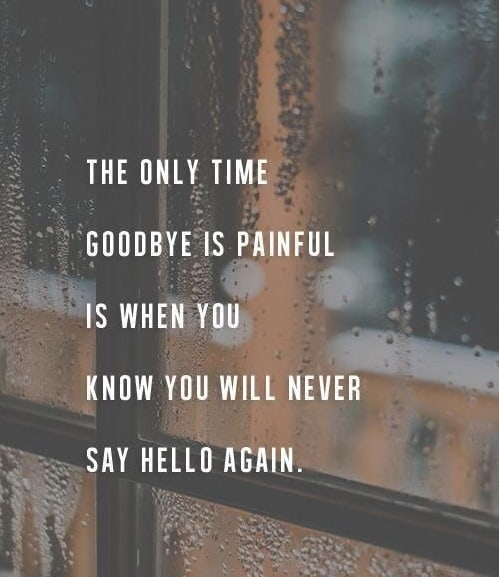 Man's feelings are always purest and most glowing in the hour of meeting and of farewell. Jean Paul Richter
Thanks for the memories.
From all my dreams where you felt everlasting to all my clothes your words used to wear, to the old end, to the new beginning, you have lost me everywhere. Khadija Rupa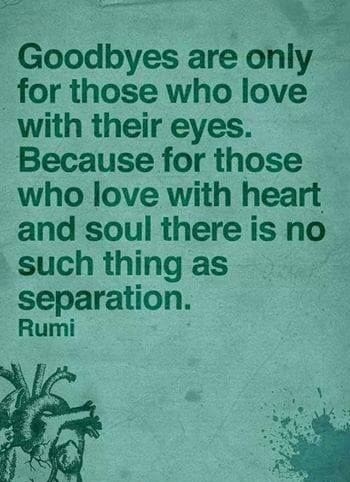 Great is the art of beginning, but greater is the art of ending. Henry Wadsworth Longfellow
Oftentimes we say goodbye to the person we love without wanting to. Though that doesn't mean that we've stopped loving them or we've stopped to care. Sometimes goodbye is a painful way to say I love you.
I don't think that I could ever say goodbye to you… Not even if you said it to me. Jaimie Roberts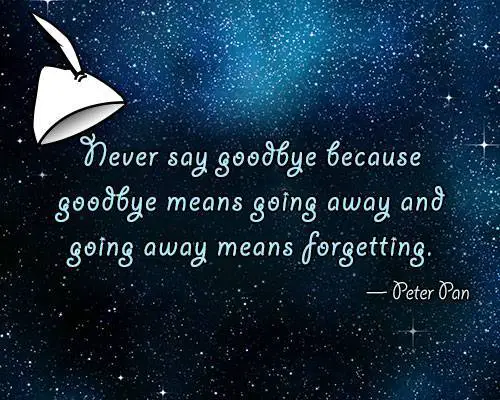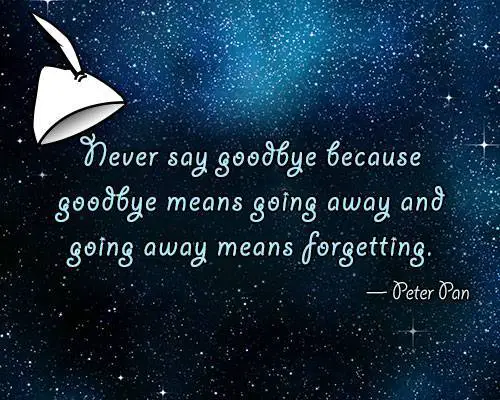 I wanted to see him again, to say goodbye the way that I wanted. Then I realized if I got my way, I'd never say goodbye.
By and by we shall say goodbye. Ernest Agyemang Yeboah
I'm floating. I'm flowing. I'm loving, but I'm going. Dominic Riccitello
It's time to say goodbye, but I think goodbyes are sad and I'd much rather say hello. Hello to a new adventure. Ernie Harwell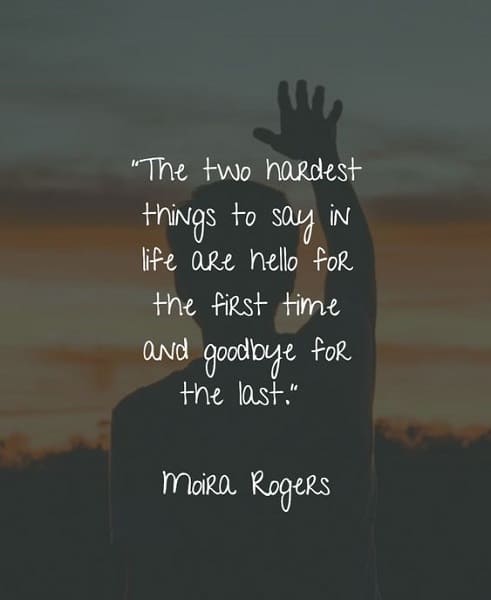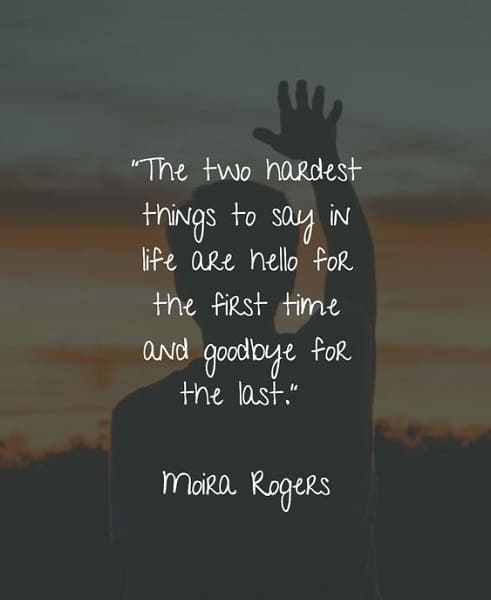 Saying goodbye is the painful way of solving a problem.
Before you leave me again, tell me, so I can let you know if I'm ready to watch you go… Donna M. Zadunajsky
All changes, even the most longed for, have their melancholy; for what we leave behind us is a part of ourselves; we must die to one life before we can enter another. Anatole France
You were my hardest goodbye.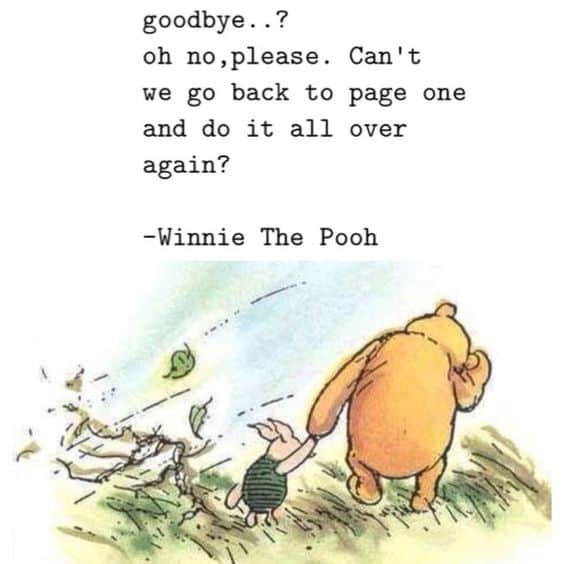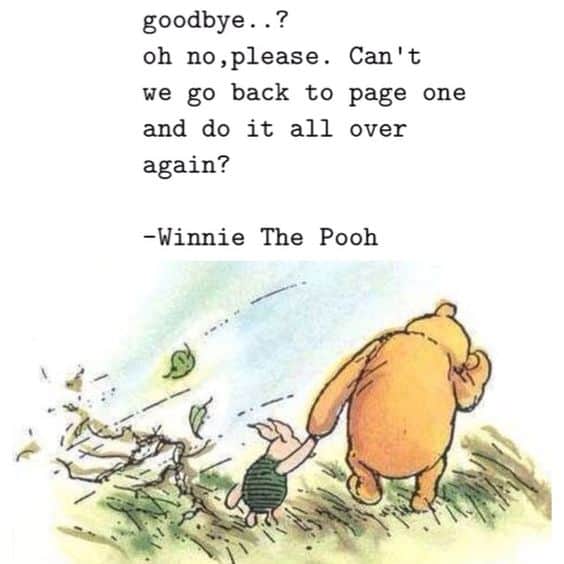 We started here together and now we're leaving the same way. The funny thing is you never appreciate what you had yesterday until it is gone today.
Goodbye always makes my throat hurt. Charlie Brown
We'll meet again. Don't know where, don't know when, but I know we'll meet again, some sunny day. Vera Lynn
At some point, you have to realize that some people can stay in your heart but not in your life.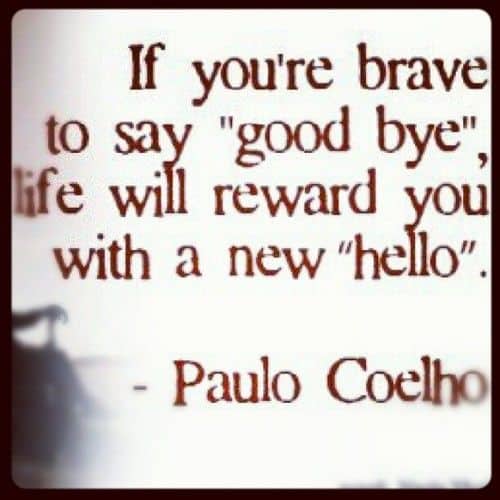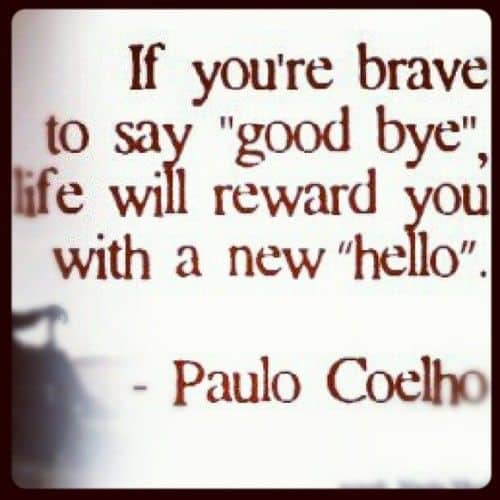 When I had to say goodbye to you, my love, it was like saying goodbye to my life.
Only in the agony of parting do we look into the depths of love. George Eliot
There's a 'hell' in hello, 'good' in goodbye, 'lie' in believe, 'over' in lover, 'end' in friend, 'if' in life.
It's not the goodbye that hurts it's the flashbacks that follow.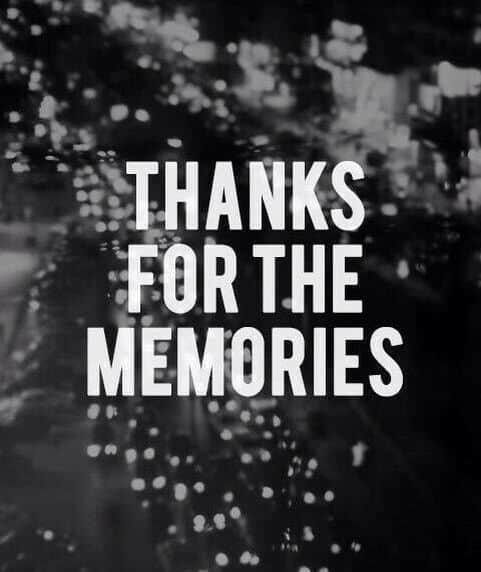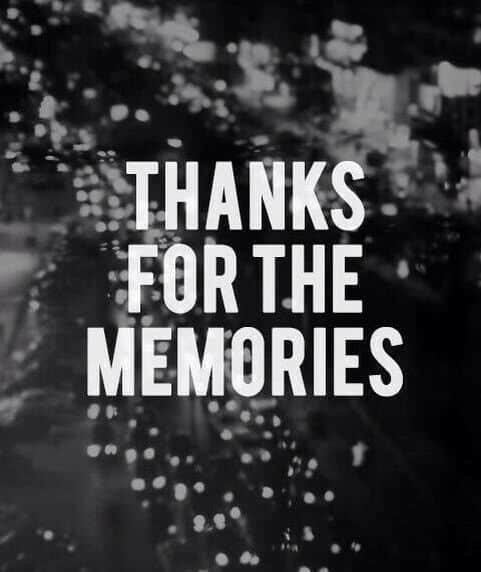 Remember me and smile, for it's better to forget than to remember me and cry. Dr. Suess
Goodbyes are not forever, are not the end; it simply means I'll miss you until we meet again.
So long as the memory of certain beloved friends lives in my heart, I shall say that life is good. Helen Keller
So, for now I say goodbye to this chapter of my life, and I look forward to what comes next. Brooke Davis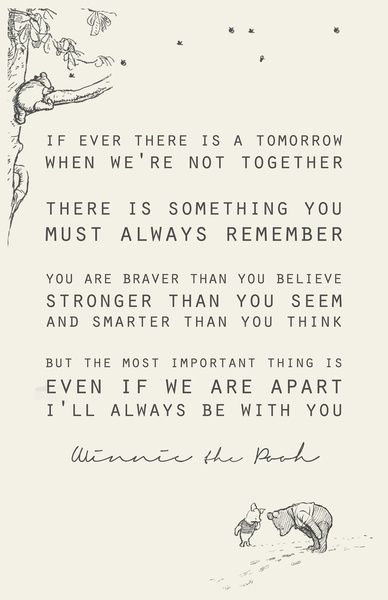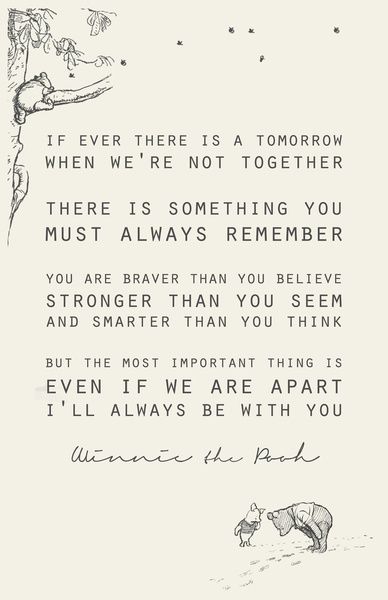 Yesterday brought the beginning, tomorrow brings the end, though somewhere in the middle we became the best of friends.
Good friends never say goodbye. They simply say See you soon.
This is the beginning of anything you want.
Goodbye, goodbye, I hate the word. Solitude has long since turned brown and withered, sitting bitter in my mouth and heavy in my veins. R. M. Grenon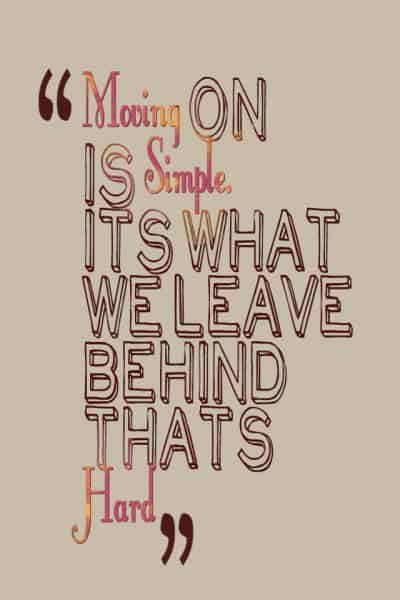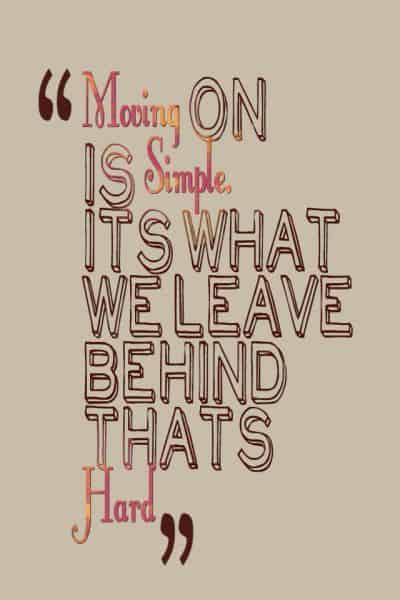 Moving on, is a simple thing, what it leaves behind is hard. Dave Mustaine
The only time goodbye is painful is when you know you'll never say hello again.
Nothing lasts forever. Forever is a lie. All we have is what's in between hello and goodbye.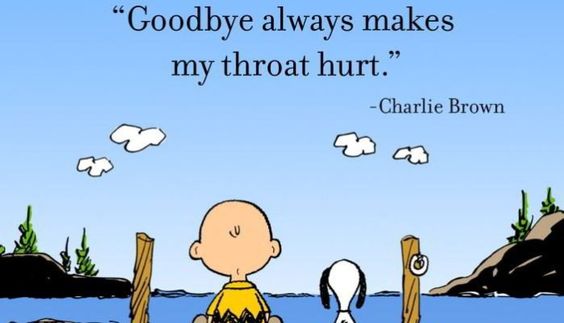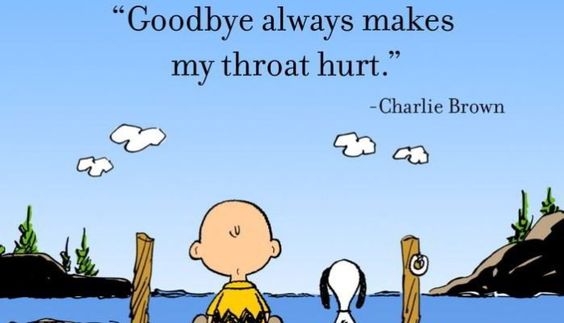 The pain of parting is nothing to the joy of meeting again. Charles Dickens
Life is a journey, not a destination. Ralph Waldo Emerson
Memories may be beautiful and yet what's too painful to remember we simply choose to forget. So, it's the laughter we'll remember when we remember the way we were.
It feels right. But it's emotional. Saying goodbye to anything you've done that long is hard. Angela Ruggiero
Farewell Quotes That Describe The Meaning Of Saying Goodbye
Why can't we get all the people together in the world that we really like and then just stay together? I guess that wouldn't work. Someone would leave. Someone always leaves. Then we would have to say good-bye. I hate good-byes. I know what I need. I need more hellos. Charles M. Schulz
To part is the lot of all mankind. The world is a scene of constant leave-taking, and the hands that grasp in cordial greeting today, are doomed ere long to unite for the last time, when the quivering lips pronounce the word – Farewell. R.M. Ballantyne
The reason it hurts so much to separate is because our souls are connected. Maybe they always have been and will be. Maybe we've lived a thousand lives before this one and in each of them we've found each other. And maybe each time, we've been forced apart for the same reasons. That means that this goodbye is both a goodbye for the past ten thousand years and a prelude to what will come. Nicholas Sparks
Our friendship is the best thing that has ever happened to me. Talking to you made me smile and meeting you set me free. I can't believe that fate is taking you away and ripping us apart. I just want to say that I will miss you from the bottom of my heart. Goodbye my friend, see you soon.
In a language containing a quarter of a million words, we can say the same thing many ways – farewell, see ya, bye-bye, catch you later, ta-ta, goodbye. … On the other hand, just one word – goodbye – can mean many things. Julie Rember
As long as we loved until our last goodbye, then our love had been whole and true.
I did not realize that saying good-bye would be the most difficult thing I had to do in my life. Kay Duncan
When I look back now, that summer seemed to last forever, and if I had the choice, I'd always want to be there, those were the best days of my life.
It's the emptiest and yet the fullest of all human messages: 'Goodbye'. Kurt Vonnegut
You should never have to say hello or goodbye. Even at work sometimes, and I know this is very unpopular, is that if I'm going to work every single day, I don't think you should have to hug people and say hello every single day when you come to work.
The most painful goodbyes are the ones that are never said and never explained.
Farewell has a sweet sound of reluctance. Good-bye is short and final, a word with teeth sharp to bite through the string that ties past to the future. John Steinbeck
Goodbyes hurt when the story is not finished, and the book has been closed.
May the road rise to meet you, may the wind be ever at your back. May the sun shine warm upon your face, and the rains fall soft upon your fields. And until we meet again, may God hold you in the palm of his hand. Irish Blessing
It's always difficult to say goodbye, especially when one has spent a long time – literally years, in the case of a series – inside a character or two, suffering and celebrating with them.
Saying goodbye doesn't mean anything. It's the time we spent together that matters, not how we left it. Trey Parker
The hardest goodbyes are the ones that were never said and never explained, the ones where the story wasn't over. Virginia Brown
A man never knows how to say goodbye; a woman never knows when to say it. Helen Rowland
One day at a time, this is enough. Don't look back and grieve over the past for it is gone. Do not be troubled about the future, for it has yet to come. Live in the present and make it so beautiful that it will be worth remembering.
If I knew this is your final goodbye; I'd have told you that still I've a lot of things to say. I'd have told you how you changed my life, how you made me close to Me, how you made me realize the beauty of the world. Crestless Wave
I actually thought this time was going to be different.
Sometimes good-bye is a second chance. Clears your head. Anyway… missing someone makes you remember why you loved that person in the first place. Jamie McGuire
Nothing makes the earth seem so spacious as to have friends at a distance; they make the latitudes and longitudes.
Someday you'll see the reason why, there's good in goodbye.
I really don't want to say goodbye to any of you people. Christa McAuliffe
At the end of the day I have always seen the end of my relationships as a personal failure. There is nothing ever pretty in saying goodbye. Elisabetta Canalis
Sadly enough, the most painful goodbyes are the ones that are left unsaid and never explained. Jonathan Harnisch
When I say goodbye, promise me you won't cry, 'cause the day I'll be saying that would be the day I die.
Whenever I have bid a hasty goodbye to a loved one, I've always made sure that my record collection was safely stored away in the boot of the car. Robert Plant
Even if you know what's coming, you're never prepared for how it feels.
You will always be my favorite hello and hardest goodbye.
Good-bye doesn't have to be forever. Jenny Han
Remember me with smiles and laughter, for that's how I'll remember you. If you can only remember me in sadness and tears, then don't remember me at all.
No one knows the exact moment when a friendship is formed, but it is this silent forgotten moment that causes the pain when we must say goodbye.
And the relationships that happen become so intense, deep, involved and complex and really hard to say goodbye to. The hardest part of the show is saying goodbye when it's all done. It really breaks you. Genevieve Gorder
I wonder how people say goodbye to someone forever?
I know we'll be friends for life, sharing our dreams together. As we walk down the road, we'll never think twice, these memories are made forever.
We have known each other our whole lives and now we will go our separate ways. Some will remember and some will forget each other, but we will always have a part of each other inside us.
And all at once, you look across a crowded room, you see an old pal of yours, but suddenly you feel like you're seeing him for the first time, and that's when you realize that you will never be the same again.
Not to understand a treasure's worth till time has stolen away the slighted good, is cause of half the poverty we feel, and makes the world the wilderness it is.
If you cry when we part, we'll never see each other again, but if we do not cry we'll remember forever the days of sunlight and laughter, and be brought together in our memories.
It's hard to say how certain stories just punch us in the heart and the brain at the same time at the end. I suppose that's what we're all looking for. But each story has its own valence, its own way of saying goodbye to you. T. C. Boyle
Goodbye may seem forever. Farewell is like the end, but in my heart is the memory and there you will always be.
Every goodbye always makes the next hello closer.
It's hard to say goodbye to the streets. It's all how you do it. You can pass by and say, 'What's happening?' and keep it moving, but it's a certain element that'll never be able to roll with you once you get to this level, because that's the separation of it all. Snoop Dogg
You and I will meet again, when we're least expecting it, one day in some far off place, I will recognize your face, I won't say goodbye my friend, For you and I will meet again. Tom Petty
It doesn't matter if you have five friends or five hundred friends. When it all comes down to it, popularity means nothing. All that matters is that you know those five will be there holding your hand, as the five Hundred walk by.
Painful though parting be, I bow to you as I see you off to distant clouds. Emperor Saga
Enjoy the beauty of a sunset and enjoy nature's farewell kiss for the night.
We will put no impediment in your way, and we will be at dockside bidding you a farewell as you set off into the sunset. Charles Lichenstein
This is the time to remember because it will not last forever; these are the days to hold on to because we won't although we'll want to.
Imagine feeling like every kiss goodbye to your loved ones each day might be your last kiss. Police officers and their families feel this way every single day. Karen Salmansohn
Nothing hurts like a hostile farewell. Regina Jennings
The last thing I say on most phone calls is not, 'Goodbye,' but, 'Thank you.' Marshall Goldsmith
Find the good in goodbye.
Forever, and forever, farewell, Cassius! If we do meet again, why, we shall smile; If not, why then this parting was well made. William Shakespeare
A farewell is necessary before we can meet again, and meeting again after moments or a lifetime is certain for those who are friends.
True friends don't say good-bye, they just take extended leaves of absences from each other.
I really don't want to say goodbye to any of you people. Christa McAuliffe
There should have been a better farewell. But in the end, there never is. And we take what meagre scraps we can find. Richard K. Morgan
Love your parents and treat them with loving care, for you will only know their value when you see their empty chair.
Not for everyone a darkest night is bid farewell by a bright sunrise. Saud khan
It's funny. No matter how hard you try, you can't close your heart forever. And the minute you open it up, you never know what's going to come in. But when it does, you've just got to go for it, cause if you don't, there's no point in being here.
It's always difficult to say goodbye, especially when one has spent a long time – literally years, in the case of a series – inside a character or two, suffering and celebrating with them. Lilith Saintcrow
With your resignation, your employment in this company may finish but the sweet memories will always remain.
Today, I close the door to my past… Open the door to the future, take a deep breath and step on through to start the next chapter in my life.
Some people come into our lives and quickly go. Some stay for a while, leave footprints on our hearts, and we are never, ever the same. Flavia Weedn
It's been an incredible ride. Mission accomplished. With that, I have to bid farewell. I'm the happiest person in the world right now. It's better than I ever thought it would be. Jerome Bettis
That bitter word, which closed all earthly friendships and finished every feast of love farewell! Robert Pollok
When there are no words, simply love them and hold their hand.
Good-byes breed a sort of distaste for whomever you say good-bye to; this hurts, you feel, this must not happen again. Elizabeth Bowen
What is that feeling when you're driving away from people and they recede on the plain till you see their specks dispersing? – it's the too-huge world vaulting us, and it's good-bye. But we lean forward to the next crazy venture beneath the skies.
No more words. We know them all, all the words that should not be said. But you have made my world more perfect. Terry Pratchett
We've shared our happiness and we've shared our fears. We've shared so many things throughout the years. And when the times were hard, we were by each other's side. You were there to make me laugh when I cried. Missy Ulbrich
When we adopt a dog or any pet, we know it is going to end with us having to say goodbye, but we still do it. And we do it for a very good reason: They bring so much joy and optimism and happiness. They attack every moment of every day with that attitude. W. Bruce Cameron
This is not a goodbye, my darling, this is a thank you. Thank you for coming into my life and giving me joy, thank you for loving me and receiving my love in return. Thank you for the memories I will cherish forever. But most of all, thank you for showing me that there will come a time when I can eventually let you go. Hussein Nishah
We need to say goodbye to the traditional methodologies of corporate universities. Marcus Buckingham
Every meeting led to a parting, and so it would, as long as life was mortal. In every meeting, there was some of the sorrow of parting, but in everything partying there was some of the joy of meeting as well.
We may not know what each day has in store for us. We could be gone tomorrow. Any minute could truly be our goodbye. But we do have this moment. This time. Today. Right now. It takes way more effort to shell out hate then it does to allow love to flow freely in our lives. After all, it's what we were born to do. Grace Gealey
We laughed until we had to cry; we loved right down to our last goodbye; we were the best. St. Elmo's Fire
Promise me you'll never forget me because if I thought you would I'd never leave. A.A. Milne
I have had a happy life and thank the Lord. Goodbye and may God bless all! Christopher McCandless
Why are the words goodbye, I'm sorry and I love you, so easily pronounced, but so hard to say?
Everyone can have their heart broken. Even if you know the relationship isn't working, it's still sad. Even in a bad relationship, they're part of your life for a long time, and saying goodbye to that can be difficult. James Marsden
Why does it take a minute to say hello and forever to say goodbye?
History never really says goodbye. History says, 'See you later.' Eduardo Galeano
You know that you are in love when the hardest thing to do is say goodbye!
A memory lasts forever, never will it die… true friends stay together and never say goodbye…
I was trying to feel some kind of good-bye. I mean I've left schools and places I didn't even know I was leaving them. I hate that. I don't care if it's a sad good-bye or a bad good-bye, but when I leave a place, I like to know I'm leaving it. If you don't you feel even worse. ― J.D. Salinger
The Facts About Farewell Sayings & Goodbye
What do you write in a farewell card?
Good luck on your journey!
It's been so great working with you all these years
So sorry to see you go.
Thank you for everything you've done for me so far
Best of luck with your new job
Congratulations on your new adventure!
How do you say goodbye in slang?
(formal): adieu, farewell.
(informal): catch you later, bye, bye-bye, see ya, see you, so long, mind how you go
(slang): later, laters, keep it real, peace, take it easy; cya.