Since retirement is a major life-changing decision, it's often celebrated and marked by friends and family as a special occasion.
How do you wish someone a happy retirement?
Since retirement is an important milestone in life, you can make retiree feel appreciated professionally and personally by putting some thought into words. Inspirational retirement quotes can help the retiree make a positive transition into the next stage of life.
So, use famous retirement quotes to inspire a fabulous time on their new adventures. Whether it's a friend or family member, one of these happy retirement quotes is certainly going to cheer them up.
If you're searching for inspired quotes that perfectly capture what you'd like to say or just want to feel inspired yourself, browse through an amazing collection of famous new day quotes, wise quotes about change, and best positive quotes.
Top 10 Retirement Quotes
Retirement is not the end of the road. It is the beginning of the open highway.
Retirement means doing whatever I want to do. It means choice. —Dianne Nahirny
"There's never enough time to do all the nothing you want." – Bill Waterson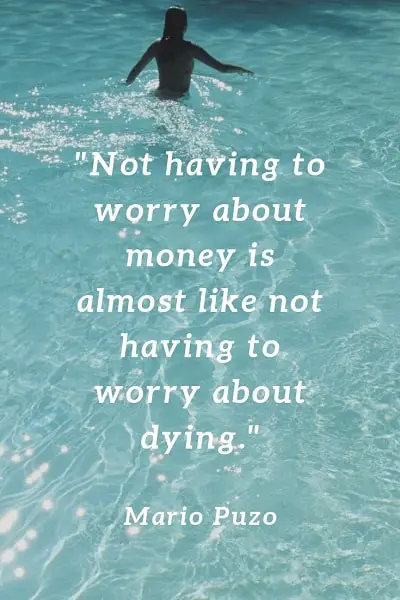 "A thriving new beginning can be and should be a time for amazing engagement, growth, connections, contributions, and amazing possibilities." – Lee M. Brower
Don't act your age in retirement. Act like the inner young person you have always been. —J. A. West
Stay young at heart, kind in spirit, and enjoy retirement living. —Danielle Duckery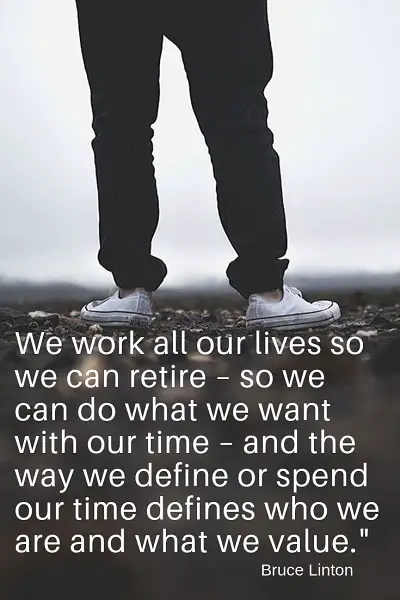 "A retired husband is often a wife's full-time job." – Ella Harris
The best time to start thinking about your retirement is before the boss does.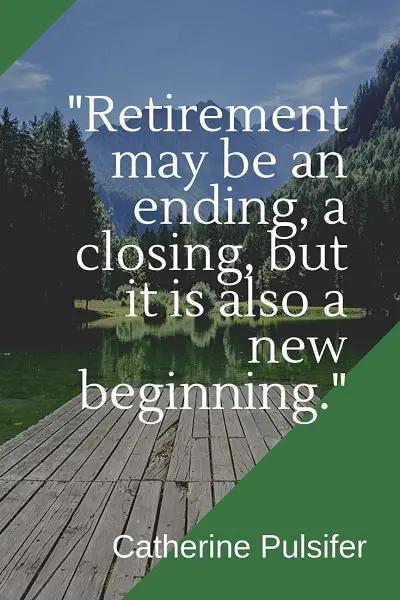 The harder you work, the harder it is to surrender. —Vince Lombardi
"It is better to live rich than to die rich." – Samuel Johnson
List of Best Retirement Quotes and Sayings
"The trouble with retirement is that you never get a day off." – Abe Lemons
"Rest is not idleness, and to lie sometimes on the grass under trees on a summer's day, listening to the murmur of the water, or watching the clouds float across the sky, is by no means a waste of time." – J. Lubbock
"Planning to retire? Before you do find your hidden passion, do the thing that you have always wanted to do." – Catherine Pulsifer
"Retirement is wonderful. It's doing nothing without worrying about getting caught at it" – Gene Perret
"Retirement is like a long vacation in Las Vegas. The goal is to enjoy it the fullest, but not so fully that you run out of money." – Jonathan Clements
"Our life, exempt from public haunt, finds tongues in trees, books in the running brooks, sermons in stones, and good in everything." – William Shakespeare
"Retirement is supposed to be the great escape from the stresses inherent in most jobs, a time to experience a fulfilling life derived from many enjoyable and rewarding activities." – Ernie J. Zelinski

"Retirement, a time to do what you want to do, when you want to do it, where you want to do it, and, how you want to do it." – Catherine Pulsifer
"It's time to say goodbye, but I think goodbyes are sad and I'd much rather say hello. Hello to a new adventure." – Ernie Harwell
"Preparation for old age should begin not later than one's teens. A life which is empty of purpose until 65 will not suddenly become filled on retirement." – Arthur E. Morgan
"Half our life is spent trying to find something to do with the time we have rushed through life trying to save." – Will Rogers
"Fear no more the heat o the sun, nor the furious winter's rages. Thou thy worldly task hast has done, home art is gone and taken thy wages." – William Shakespeare
"Before you speak, listen. Before you write, think. Before you spend, earn. Before you invest, investigate. Before you criticize, wait. Before you pray, forgive. Before you quit, try. Before you retire, save. Before you die, give." – William A. Ward
"Retirement may be looked upon either as a prolonged holiday or as a rejection, a being thrown on to the scrap-heap." – Simone De Beauvoir
"I have fulfilled my dreams and aspirations in competitive skating, and it is now time to move on to new challenges and opportunities." – Patrick Chan

"You know that retirement is coming. It isn't as though it just shows up one day and takes you by surprise, so you need to get ready for it." – Batya Shevich
"Something pretty…that's just the surface. People worry so much about aging, but you look younger if you don't worry about it." – Jeanne Moreau
"Another good thing about being poor is that when you are seventy your children will not have declared you legally insane in order to gain control of your estate." – Woody Allen

"Retirement has been a discovery of beauty for me. I never had the time before to notice the beauty of my grandkids, my wife, the tree outside my very own front door. And, the beauty of time itself." – Hartman Jule
"Establishing new schedules and routines is a great way to make the transition into retirement easier and help seniors find a new path forward." – Samantha Westwood
"Happy days are here, at last, the days of nine to five are passed, you've worked your life and paid your dues, now you can do just what you choose!" – Anon
"There is a fountain of youth: it is your mind, your talents, the creativity you bring to your life and the lives of people you love. When you learn to tap this source, you will truly have defeated age." – Sophia Loren
"I advise you to go on living solely to enrage those who are paying your annuities. It is the only pleasure I have left." – Voltaire

"Retirement may be an ending, a closing, but it is also a new beginning." – Catherine Pulsifer
"Retirement is still a perfectly good word, but we need to rein in its usage now that its original meaning is no longer all that relevant because people are living longer, healthier, more active lives." – Mike Drak
"If you start thinking about retirement in six months' time, you're already there." – Brian O'Driscoll
"You don't stop laughing when you grow old, you grow old when you stop laughing." – George Bernard Shaw
"People may live as much retired from the world as they like, but sooner or later they find themselves debtor or creditor to someone." – Johann Wolfgang Von Goethe
"The joy of retirement comes in those everyday pursuits that embrace the joy of life; to experience daily the freedom to invest one's life-long knowledge for the betterment of others; and, to allocate time to pursuits that only received, in years of working, a fleeting moment." – Byron Pulsifer
"Planning to retire? Before you do, find your hidden passion. Do the thing that you have always wanted to do." – Catherine Pulsifer
"Living each day as if it were your last doesn't mean your last day of retirement on a remote island. It means to live fully, authentically and spontaneously with nothing being held back." – Jack Canfield

"Not having to worry about money is almost like not having to worry about dying." – Mario Puzo
"Once the mindless myths associated with aging are dispelled, people of traditional retirement age must learn to identify the purpose they can pursue with a passion." – Helen L. Harkness
"Retirement from Job does not mean retirement from life! It is the beginning, not an end!" – Ravi Samuel
"Retirement's the most wonderful thing. I get to enjoy all the things I never stopped to notice on the way up. After an extraordinary life, it's time to enjoy my retirement." – Patrick Macnee
"You can be young without money but you can't be old without it." – Tennessee Williams
"Retirement life is different because there is no set routine. You are able to let the day unfold as it should. Enjoy, be happy and live each day." – Suzanne Steel
"In retirement, every day is Boss Day and every day is Employee Appreciation Day." – Terri Guillemets

"We work all our lives so we can retire – so we can do what we want with our time – and the way we define or spend our time defines who we are and what we value." – Bruce Linton

"Creating your semi-retirement can be the best thing you ever do for yourself. Start by envisioning what you'd like your life to be like if you only had more time." – Robert Clyatt
"You can compare a person's retirement partly to that of an automobile's or any other device. There comes a time when you have to slow down or completely stop doing what you've been doing for the past 20 or 30 years and take a well-deserved break." – Adrian J.Williams
"I'm not just retiring from the company, I'm also retiring from my stress, my commute, my alarm clock, and my iron." – Hartman Jule
"Something pretty… that's just the surface. People worry so much about aging, but you look younger if you don't worry about it." – Jeanne Moreau
"I'm not retiring. I am graduating. Today is my graduation day. Retirement means that you'll just go ahead and live on your laurels and surf all day in Oceanside. It ain't going to happen." – Junior Seau
"Retirement to me doesn't mean nothing to do but the realization of the decisions I made in the past. That I made in my life." – Jack Bowman
"As your life changes, it takes time to recalibrate, to find your values again. You might also find that retirement is the time when you stretch out and find your potential." – Sid Miramontes

"Voluntary early retirement gives you a chance to pursue new areas of study… It's a great opportunity to pursue your goals and dreams while you are still young, energetic, and healthy enough to enjoy them. In addition, retirement may be your last shot at being the person you would like to be." – Ernie Zelinski

"When you 'retire,' you're on your own. No longer is most of your life ahead. You don't have forever to fulfill promises. But there's also good news: Now, going forward can be the most important part of your life, when it all comes together – your experience, wisdom, and successes." – Michael Jeans
"Age is only a number, a cipher for the records. A man can't retire his experience. He must use it. Experience achieves more with less energy and time." – Bernard Baruch
"Retirement, a time to do what you want to do, when you want to do it, where you want to do it and how you want to do it," – Catherine Pulsifer
"Men and women approaching retirement age should be recycled for public service work, and their companies should foot the bill. We can no longer afford to scrap-pile people." – Maggie Kuhn
"On the positive side, retirement can be an opportunity to enjoy life in a new way, the right to stop work and do the 1,001 things you've always wanted to do but never had time for, and a chance to give yourself over to new challenges and adventures." – Sara Yogev
"Often when you think you're at the end of something, you're at the beginning of something else." – Fred Rogers
"For many, retirement is a time for personal growth, which becomes the path to greater freedom." – Robert Delamontague

"Don't think of retiring from the world until the world will be sorry that you retire. I hate a fellow whom pride or cowardice or laziness drives into a corner, and who does nothing when he is there but sits and growl. Let him come out as I do, and bark." – Samuel Johnson
"No doubt excellent health is an important asset. Nonetheless, many retirees with health problems are still able to enjoy their leisure time and life in general." – Ernie J. Zelinski
"There is a whole new kind of life ahead, full of experiences just waiting to happen. Some call it 'retirement.' I call it 'bliss.'" – Betty Sullivan

"Age is an issue of mind over matter. If you don't mind, it doesn't matter." – Mark Twain
"Maybe the word 'retirement' makes you think of old age, boredom, and laziness, but I'd rather have you try to think of it as freedom to do what you want, freedom to be as active as you'd like, and even freedom to work the job that you like – to be in a place where money doesn't dictate your choices." – Rex Dalen
"Are you ready to retire? Only one person can answer that question – YOU! Please don't leave that important decision to your spouse, your co-workers, or your family … it is your choice when to retire and how to travel down that retirement path." – Wendy S. Fisher
"If we had no winter, the spring would not be so pleasant; if we did not sometimes taste of adversity, prosperity would not be so welcome." – Anne Bradstreet
"You know you're getting old when you stoop to tie your shoelaces and wonder what else you could do while you're down there." – George Burns
"Retired workers can now expect to live much longer than they did in earlier generations. In 1900, the average length of retirement was just one year, and it was usually accompanied by physical debility and decline." – Margaret Hovanec

"Retirement is wonderful. It's doing nothing without worrying about getting caught at it." – Gene Perret
"Just because you are getting older and have retired doesn't mean that you should have less confidence in your abilities. Think about the experience and knowledge that you have gained by all the years you have worked!" – Theodore W. Higginsworth
"Retirement: It's nice to get out of the rat race, but you have to learn to get along with less cheese." – Gene Perret
"One loses, as one grows older, something of the lightness of one's dreams; one begins to take life up in both hands and to care more for the fruit than the flower, and that is no great loss perhaps." – W.B. Yeats

"The old notion of retirement is dead. It is no longer a day in the distant future when, on reaching your sixty-fifth birthday, you hang up your suit and never return to the office again." – Martin Bamford
"At age 20, we worry about what others think of us. At age 40, we don't care what they think of us. At age 60, we discover they haven't been thinking of us at all." – Ann Landers
"Retire the word 'retirement' from your vocabulary. Look it up: it means to 'withdraw' or 'retreat.' Words can shape reality, and it's time for this one to go. Doesn't 'renaissance' or 'graduation' or 'transition' better describe your post-career life?" – Marika Stone
"The question isn't at what age I want to retire, it's at what income." – George Foreman
"A time of retirement is the realization that pleasure comes from doing what I enjoy, while meaning comes from doing what is important to me. My purpose in retirement completely shifts to that which is meaningful to others while partaking in what provides satisfaction provides its reward." – Theodore W. Higginsworth
"Retirement is when you switch bosses from the one who hired you to the one who married you." – Gene Perret
If you want to find new passions that leave you feeling fulfilled even without a paycheck and create stronger bonds with the people around you, then it is time to challenge your body and mind with new and exciting activities.
Retirement Facts
What to say to someone who is retiring?
Acknowledge how hard they've worked and congratulate the retiree on the beginning of new journey.
How do you know when I can retire?
Use a calculator to estimate Social Security benefits, then subtract number from expected annual expenses and divide by 4%
What age do the police retire?
Police Officers retire between age 55 and 60
At what age do most people retire?
The average retirement age is 62