Bittersweet is being at once bitter and sweet especially: pleasant but including or marked by elements of suffering or regret a bittersweet ballad bittersweet memories. Inspirational bittersweet quotes help you to discover emotional feelings that you can't possibly explain.
If you're searching for sweet happy quotes and powerful laughter quotes that perfectly capture what you'd like to say or just want to feel inspired yourself, browse through an amazing collection of best memories quotes, quotes on blur and touching sad quotes.
Best Bittersweet Quotes
Memories, even bittersweet ones, are better than nothing. ― Jennifer Armentrout
Life at best is bittersweet. ― Jack Kirby
When life is sweet, say thank you and celebrate. And when life is bitter, say thank you and grow. ― Shauna Niequist
There's always a bittersweet kind of thing, but I feel like everything had to work out the way it is. Everything that had to happen, happened. ― Bruno Mars
To be running breathlessly, but not yet arrived, is itself delightful, a suspended moment of living hope. ― Anne Carson
I'll fight it. I'll fight it for you. Don't you worry about me, Hazel Grace. I'm okay. I'll find a way to hang around and annoy you for a long time. ― John Green
I'm profoundly changed. There's a bittersweet emotion that I feel from playing this role… I want the world to be different because I was here. However lofty or crazy or delusional that may sound, I want people's lives to be better because I was here. ― Will Smith
You are the illness I will never cure. You are the poem I will never write. You are the thought I will never finish. You are the text I will never read. ― Maria Elena
Happiness. Simple as a glass of chocolate or tortuous as the heart. Bitter. Sweet. Alive. ― Joanne Harris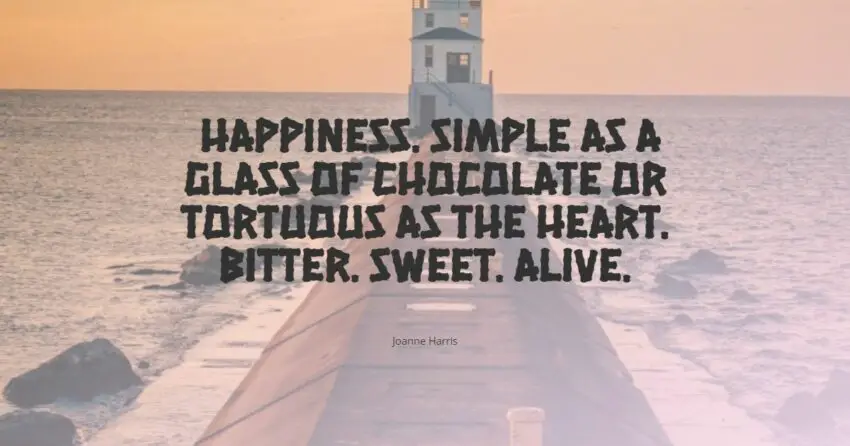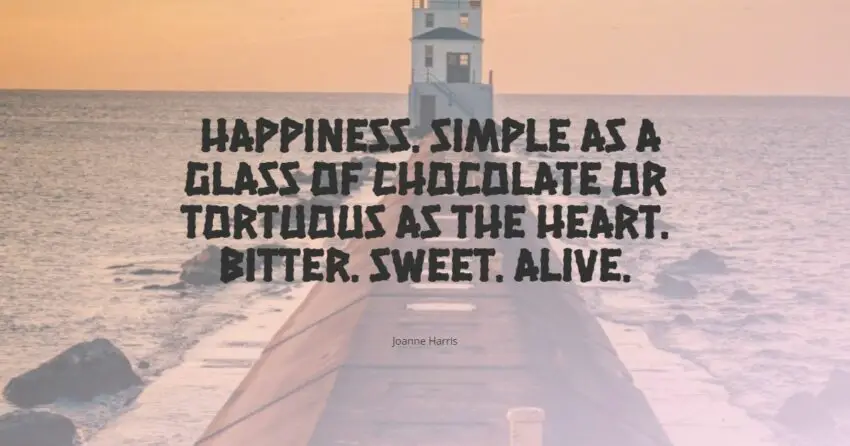 Don't want to just go to the playoffs, I don't want to go to the playoffs and win the first round, second round, and not win the whole thing because it's bittersweet. ― Allen Iverson
Waiting is painful. Forgetting is painful. But not knowing which to do is the worst kind of suffering. ― Paulo Coelho
Would 'sorry' have made any difference? Does it ever? It's just a word. One word against a thousand actions. ― Sarah Ockler
We are nothing but shadows. Fading away trying to hold on to this bittersweet life that we call our own. ― Ricky Mears
I feel extremely lucky, extremely grateful, and a little bittersweet, too. ― Wentworth Miller
So, it really does have a sort of bittersweet quality. Kids like to have adventures and to believe they can fly, but there's also that fear about people leaving you. ― Cathy Rigby
I do not think I responded immediately, for it took me a moment or two to fully digest these words of Miss Kenton. Moreover, as you might appreciate, their implications were such as to provoke a certain degree of sorrow within me. Indeed- why should I not admit it? – at that moment, my heart was breaking. ― Kazuo Ishiguro
It's kind of bittersweet. The human spirit is not measured by the size of the act, but by the size of the heart. ― Yakov Smirnoff
Once again love drives me on, that loosener of limbs, bittersweet creature against which nothing can be done. ― Sappho
There's that horrible-beautiful moment, that bitter-sweet impasse where you know that somebody is bullshitting you but they're doing it with such panache and conviction…no, it's because they say exactly what you want to hear, at that point in time. ― Irvine Welsh
It's quite highly possible that I have peaked. I mean, I just can't imagine what else I could do beyond this. It's really a bittersweet kind of feeling. ― Will Smith
We are afraid to care too much, for fear that the other person does not care at all. ― Eleanor Roosevelt
But once in a while, you pick the right thing, the exact best thing. Every day, the moment you open your eyes and pull off your blankets, that's what you hope for. The sunshine on your face, warm enough to make you heart sing. ― Sarah Ockler
We weren't that different after all, our souls laden with the same ache of loss, our hearts bursting with the same longing to save what remained of all we loved. ― Rachel L. Schade
Finishing a book is bittersweet. You spend days getting to know the characters. Learning their nuances, their faults, their loves, their lives. They become your friends, acquaintances, enemies. And after the story ends, you miss them. You look for them in your own life, wonder where they've gone, you forget that they aren't real. You fall in love with the hero and dream of him at night. The strange girl becomes your best friend. Their heartaches become your heartaches. You laugh when they laugh. And cry when they die. Eventually you realize they aren't a part of your world; you were just briefly visiting theirs. ― Whimsical Enlightenment
In life, there are those relationships where you really love someone, but they're just not right for you and there's a little bittersweet feel to it. ― Jennifer Morrison
This is a good sign, having a broken heart. It means we have tried for something. ― Elizabeth Gilbert
Halfway down the aisle, Jamie suddenly seemed to tire, and they stopped while she caught her breath…It was, I remembered thinking, the most difficult walk anyone ever had to make. In every way, a walk to remember. ― Nicholas Sparks
Poetry is no more a narcotic than a stimulant; it is a universal bittersweet mixture for all possible household emergencies and its action varies accordingly as it is taken in a wineglass or a tablespoon, inhaled, gargled or rubbed on the chest by hard fingers covered with rings. ― Robert Graves
A penny for my thoughts, oh no, I'll sell them for a dollar. They're worth so much more after I'm a goner. And maybe then you'll hear the words I been singin'. Funny when you're dead how people start listenin. ― Kimberly Perry
I would stay away from him and leave him to go his own road where there would be other women, countless other women, who would probably give him as much physical pleasure as he had had with me. I wouldn't care, or at least I told myself that I wouldn't care, because none of them would ever own him—own any larger piece of him than I now did. ― Ian Fleming
As time passes, the day will come when everything will fade to memories. But those miraculous days, when you and I, along with everyone else, searched together for just that one thing, will continue revolving forever somewhere deep in my heart, as my bittersweet memory. ― Chica Umino
I must indeed abide the Doom of Men whether I will or nill: the loss and the silence. But I say to you, King of the Numenoreans, not till now have I understood the tale of your people and their fall. As wicked fools I scorned them, but I pity them at last. For if this is indeed, as the Elves say, the gift of the One to Men, it is bitter to receive. ― J.R R. Tolkien
Let me tell you what I do know: I am more than one thing, and not all of those things are good. The truth is complicated. It's two-toned, multi-vocal, bittersweet. I used to think that if I dug deep enough to discover something sad and ugly, I'd know it was something true. Now I'm trying to dig deeper. I didn't want to write these pages until there were no hard feelings, no sharp ones. I do not have that luxury. I am sad and angry, and I want everyone to be alive again. I want more landmarks, less landmines. I want to be grateful but I'm having a hard time with it. ― Richard Siken
Short Bittersweet Quotes
Love comes unseen; we only see it go. ― Austin Dobson
If this is victory, then our hands are too small to hold it. ― J.R.R. Tolkien
When things fall apart, the broken pieces allow all sorts of things to enter, and one of them is the presence of God. ― Shauna Niequist
Sometimes the happiest ending isn't the one you keep longing for, but something you absolutely cannot see from where you are. ― Shauna Niequist
Was it always to be like this? she wondered. A moment of joy followed by a new sorrow? ― Soheir Khashoggi
The life, when we're aware of beauty, is kind of a bittersweet thing, it's a transient reminder of eternal beauty, which someday we will be face to face with. ― Jon Foreman
Victory is always bittersweet. ― Nadia Scrieva
If you begin to face your fears, something bittersweet is going to happen to you: You'll grow up. ― Martha Beck
People are lonely because they build walls instead of bridges. ― Joseph F. Newton Men
Sometimes it takes a heartbreak to shake us awake & help us see we are worth so much more than we're settling for. ― Mandy Hale
You are the beautiful half of a golden hurt. ― Gwendolyn Brooks
We thought humble and proud at the same time, all at once in love again with this painful bittersweet lovely thing called flight. ― Richard Bach
Never settle for less than your dreams. Somewhere, sometime, someday, somehow, you'll find them. ― Danielle Steel
The reason it hurts so much to separate is because our souls are connected. ― Nicholas Sparks
…the remembrance even of joy having its bitterness, and the memories of pleasure their pain. ― Oscar Wilde
This ravishing world. This achingly bittersweet, ravishing world. ― Justin Cronin
If you begin to face your fears, something bittersweet is going to happen to you: You'll grow up. ― Martha Beck
I was bitter. He was sweet. And in a parallel universe, we were bittersweet. ― Dominic Riccitello
Bittersweet is kind of my own favorite style because I want to be able to cry to the same song that I also can laugh to. ― Aino Jawo
With his venom irresistible and bittersweet that loosener of limbs, Love reptile-like strikes me down. ― Sappho
Pure good soon grows insipid, wants variety and spirit. Pain is a bittersweet, which never surfeits. Love turns, with a little indulgence, to indifference or disgust. Hatred alone is immortal. ― William Hazlitt
You don't love someone because they're perfect, you love them in spite of the fact that they're not. ― Jodi Picoult
We feel a kind of bittersweet pricking of malicious delight in contemplating the misfortunes of others. ― Michel de Montaigne
One day I won't be in love with you, I'll just love you and the occasional thought of you might cross my mind, but it'll be bittersweet. ― Dominic Riccitello
There are some bittersweet feelings about leaving the people here [in the White House]. 'Cause even though all the team you assemble, you know, you're going to stay in touch with 'em, it's not the same, you know? The band kind of breaks up. ― Barack Obama
But one day, when Toby is old enough, I will take down a shoe box from a shelf where it is kept, and I will tell him again the story of his sister, Isabel Margaret Cavendish, the girl who came before. ― J.P. Delaney
Life is bittersweet. Inside our heads, if we're lucky, we're the same kids as we were when we were young. ― Hugh Hefner
A guy and a girl can be just friends, but at one point or another, they will fall for each other. Maybe temporarily, maybe at the wrong time, maybe too late, or maybe forever. ― Dave Matthews Band
I love that feeling of when it's touching, and it makes you happy but there's a melancholy or bittersweet glaze to it. ― Sofia Coppola
Truth is, everybody is going to hurt you; you just gotta find the ones worth suffering for. ― Bob Marley
And you find some way to survive. And you find out you don't have to be happy at all. To be happy you're alive. ― Brian Yorkey
…the sweetness of grace and freedom comes hand in hand with the uncomfortable, bitter rawness of honest emotions and grief. ― Natalie Brenne
Some of the most life-shaping decisions you make in this season will be about walking away from good-enough, in search of can't-live-without. ― Shauna Niequist
She said that everything that disappeared from our side went over to theirs, where they kept living normal lives, waiting for the things still lingering with us to join them, and make the world whole once more. ― Alexandra Kleeman
Now that I have opened that bottle of memories they're pouring out like wine, crimson and bittersweet. ― Ellen Hopkins
People are not rain or snow or autumn leaves; they do not look beautiful when they fall. ― Naveed A. Khan
I can tell you this: there will be other girls, other disasters. And there will be nights to come, his life mostly behind him, when he will long to hurt like that again. ― Michael Knight
I'm not bitter, I'm bittersweet. ― Eric Burdon
Sometimes, in a relationship, we fail to put two and two together because we want so much to keep one and one together. ― Robert Brault
Isn't there enough misery in the world? Do I really have to spend my leisure time absorbing more of it? ― Katherine Center
Bittersweet Moment Quotes
Time never touched you. It touched me and then I seemed to regret everything. Your hair in my face, eyes in my mind, a darkness I found in you. But you don't regret. You hold within. You feel in memory because love lost is still a love once had. You remember passion, conversations over dinner, moments interwoven before each other. We die to live, not die to cry over memories which don't last our expected timeframe. ― Dominic Riccitello
Just the other day, I was in my neighborhood Starbucks, waiting for the post office to open. I was enjoying a chocolatey cafe mocha when it occurred to me that to drink a mocha is to gulp down the entire history of the New World. From the Spanish exportation of Aztec cacao, and the Dutch invention of the chemical process for making cocoa, on down to the capitalist empire of Hershey, PA, and the lifestyle marketing of Seattle's Starbucks, the modern mocha is a bittersweet concoction of imperialism, genocide, invention, and consumerism served with whipped cream on top. ― Sarah Vowell
Their gazes locked, and together they saw the squandered mirages slain beneath their feet, cemeteries of lonesome dreamers who gave up their wings under the name of love, salt-soaked kisses half-forgotten and twice-remembered. ― Grace Curley
I am sitting at my kitchen table waiting for my lover to arrive with lettuce and tomatoes and rum and sherry wine and a big floury loaf of bread in the fading sunlight. Coffee is percolating gently, and my mood is mellow. I have been very happy lately, just wallowing in it selfishly, knowing it will not last very long, which is all the more reason to enjoy it now. I suppose life always ends badly for almost everybody. We must have long fingers and catch at whatever we can while it is passing near us. ― Tennessee Williams
Beware, Morgane. You thought I wasn't dangerous? That chocolate was too sweet, too soft to rival your ink and your needles? Chocolate is an ancient art. It comes from very far away. And under the softness, the sweetness- it waits. And it is bitter. ― Joanne Harris
I'm thinking of how unexpected and yet oddly preordained life can be. Events are upon you in an instant, unforeseen and without warning, and often times marked with disappointment and tragedy, but equally often leading to a better understanding of the bittersweet truth of life. ― Rob Lowe
If I lived forever, who knows what I would do?" he continues. "I would certainly get better at the piano. I would try to learn how to paint. I think I would try to read all the books I haven't read. When I was a child, the house was full of books — the walls were lined with bookshelves — and I remember looking up at them once and thinking, 'I wonder if I'll ever be able to read all those books?' and my mother said, 'It's all right; you've got loads of time.' But actually, we don't have that much time — I know I won't. There will be things I'll miss out on. ― Tom Hiddleston
Our individuality is all, all, that we have. There are those who barter it for security, those who repress it for what they believe is the betterment of the whole society, but blessed in the twinkle of the morning star is the one who nurtures it and rides it in, in grace and love and wit, from peculiar station to peculiar station along life's bittersweet route. ― Tom Robbins
I stood in my garden as the rain poured down, eyes closed, and when I opened them, I thought to myself how I'd never seen anything more beautiful. Green flashed before my eyes; trees, leaves and grass, glittering with raindrops, the tears of angels weeping with sadness and joy; green, the colour of love, to remind me why I'm here. ― Sarah Brownlee
I guess bittersweet is probably my favorite tone, as a lover of Woody Allen and Federico Fellini and the French New Wave. You know, old Hollywood, sad movies. I guess it's my picture of suburban life, a lot of it being very, very lonely. I wanted to have that infused into the feeling of it. ― Greg Mottola
I knew beauty for me would only ever be derived from loss. ― Hannah Lillith Assadi
But lives were long, and people changed. ― Paige Elwood
A part of my appreciation for the good which moments bring has come from awareness and recognition. But it has also come from a correspnding sadness which arises from their passing. When something that can never quite be reenacted comes to an end (and all moments are that way), I feel a pensiveness within. This pensiveness gives my life a quality that might be best described as bittersweet. And those moments take on double meaning and richness – because they are here now – and because they will not always be. ― Bob Benson
You expect certain things to always be there, like the bakery on the corner, or the boy you grew up with. But when the very ground can eat you alive without warning, what's to say the ocean won't dry up? Or the stars won't suddenly shut off? Nothing is forever. ― Stacey Lee
Momentary happiness is worse than permanent misery. ― Ahmed Mostafa
Every reader should ask himself periodically Toward what end, toward what end?—but do not ask it too often lest you pass up the fun of programming for the constipation of bittersweet philosophy. ― Alan Perlis
To me, the human experience does involve a great deal of anguish. It's joyful, but it's bittersweet. I just think that's life. ― Amy Grant
Each kiss was nearer to the last one of all. ― Philip Pullman
How bittersweet it is, on winter's night,
To listen, by the sputtering, smoking fire,
As distant memories, through the fog-dimmed light,
Rise, to the muffled chime of churchbell choir. ― Charles Baudelaire
The most painful thing is losing yourself in the process of loving someone too much and forgetting that you are special too. ― Ernest Hemingway
It was hard to understand a little and then walk away. ― Rachel Joyce
I feel this very bittersweet moment so well, and so clearly, and so fondly, especially since to feel the bittersweet moments of life is to feel the best of it all. ― Michael Whone
I don't believe he deserves the thousands of poems I've written about him, but life doesn't follow rules. We do things for people who don't necessarily deserve it. But we liked it, we loved it and fell in love enough to write about it. ― Dominic Riccitello
As a child, I remember my dad would sometimes drive me into town with him to play pinball machines together. It's a bittersweet memory but also a favorite. ― Iggy Azalea
It is strange how often a heart must be broken before the years can make it wise. ― Sara Teasdale
The hope in her voice now made me think of a flower growing in shadow. ― Gene Wolfe
I ain't scared to lend a hand
I ain't scared to clench it either ― Mie Hansson
Grief, unresisted, is grace. It doesn't mean it doesn't hurt anymore; it doesn't mean it doesn't rip your heart out…. In great grief, there's an incredible love in it. In love there's a tinge of bitter. In true love. My teacher used to say, 'all love is bittersweet'. All things experienced fully, reveal their opposite. ― Adyash
Our sweetest songs are those of saddest thought. ― Percy Bysshe Shelley
Time makes fools of us all. Our only comfort is that greater shall come after us. ― Eric Temple Bell
He grabbed my hand and that's when I felt my heartbeat for the very first time. ― Dominic Riccitello
I never expected to fall in love. I never expected to float or fall a thousand feet and create the crevice I called my life. But the thing with crevices, there's always a top and always a bottom. And the feeling of appreciation when you look from the top and understand how fast it can all come crashing down — it's more than beautiful and more than words could ever explain. ― Dominic Riccitello
Rueful, bittersweet, funny, written with tenderness and bite, Merrill Feitell's stories, like so many classic short stories, are made from the plain and painful stuff of this world, and haunted by the possibility, and the impossibility, of a better one. ― Michael Chabon
I finally understood what true love meant. Love meant that you care for another person's happiness more than your own, no matter how painful the choices you face might be. ― Nicholas Sparks
I told you I loved you, but I said it a little too late. You move in time and sometimes our timing is against one another. ― Dominic Riccitello
Sentimental outbreaks are like liquorice; when first you suck it, it's not bad, but afterwards it leaves a very nasty taste in the mouth. ― Ivan Turgenev
We were both smiling, in that bittersweet way one does when imagining something the heart longs for and the head would dread. ― Robin Hobb
When we are fully mindful of the transience of things – an impending return home from an overseas adventure, a graduation, our child boarding the school bus for the first day of kindergarten, a close colleague changing jobs, a move to a new city – we are more likely to appreciate [be grateful for] and savor the remaining time that we do have. Although bittersweet experiences also make us sad, it is this sadness that prompts us, instead of taking it for granted, to come to appreciate the positive aspects of our vacation, colleague, or hometown; it's 'now or never. ― Sonja Lyubomirsky
One of the hardest things in life is having words in your heart that you can't utter. ― James Earl Jones
I wasn't alive until it was over and that's when I realized sometimes love isn't forever. It's forever instilled in a moment for us to become alive. ― Dominic Riccitello
I realized I loved him after everything went wrong so I wallowed in self-pity and prayed I could wake up. ― Dominic Riccitello
At my age, you not only have bittersweet memories, you make bittersweet plans. ― Robert Breault
Every heart sings a song, incomplete, until another heart whispers back. Those who wish to sing
We looked into one another's eyes, and I think we both knew in that instant that the past was behind us. We could never be to each other what we had been once. ― Ashley Weaver
I found it not inappropriate that the years of frustration and grief and loss, of work and conflict and painful resurrection, should have led me through their dark and devious ways to this new beginning. ― Vera Brittain
There's a strange sensation – you recall it from childhood – about sleeping in the afternoon. You rise into a different world from the one in which you lay down. The shadows have been rearranged. There's a sensation of sad sweetness, as if something has been overlooked. I used to feel it coming out of the movies just before dinnertime, after the matinee. How, I wondered, did Broadway actors face it, this bittersweet sense of time's slipping past. ― Jacquelyn Mitchard
Always find a song. At the touch of a lover, everyone becomes a poet. ― Plato
Even though we're no longer dating and haven't spoken in a while, I still look him up to make sure he's doing alright. ― Dominic Riccitello
Here and there one sees the blush of wild rose haws or the warmth of orange fruit on the bittersweet, and back in the woods is the occasional twinkle of partridgeberries. But they are the gemstones, the rare decorations which make the grays, the browns and the greens seem even more quiet, more completely at rest. ― Hal Borland
There is always some madness in love. But there is also always some reason in madness. ― Friedrich Nietzsche
It's called a culling song. In some ancient culture, they sang it to children during famines or droughts, anytime the tribe had outgrown its land. It was sung to warriors injured in accidents or the very old or anyone dying. It was used to end misery and pain. It's a lullaby. ― Chuck Palahniuk
And the flavor of Pippa's kiss–bittersweet and strange–stayed with me all the way back uptown, swaying and sleepy as I sailed home on the bus, melting with sorrow and loveliness, a starry ache that lifted me up above the windswept city like a kite: my head in the rainclouds, my heart in the sky. ― Donna Tartt
Giggles gave way to gasps when his face split into a grin, never mind that he was looking right at her. When he strode across the room and slumped languidly into the seat next to her, the whole room went silent. ― Tyffani Clark Kemp
You cannot drink the nectar of love without bleeding for its thorns. ― Amit Howard
I believe love is bittersweet, especially young love. ― Aurora Guerrero
The heart is the only broken instrument that works. ― T. E. Kalem
I'm sorry!" Piggy cried, knowing for certain now that he could never return. That he had a promise to keep in the freezing current below. And swerving away from his advancing father, from his mother, from Charlie Volchek too, all of whose cries he imagined he heard carried on the wind, he shouted to Sam to wait for him, that he was coming.
Then, in one soaring swoop, he flew out after her through empty space and thought with blinding clarity as he fell: So, this is what love comes to. ― Diana Henstell
I miss the thrill of your self-destructive heart that melts in the sun like chocolate, bittersweet and incandescent. ― Maria Elena
It tore my heart out, because I heard his voice. The wolves sang slowly behind him, bittersweet harmony, but all I heard was Sam. His howl trembled, rose, fell in anguish. I listened for a long time. I prayed for them to stop, to leave me alone, but at the same time I was desperately afraid they would. Long after the other voices had dropped away, Sam kept howling, very soft and slow. When he finally fell silent, the night felt dead. ― Maggie Stiefvater
I loved everything to anything to everyone who surrounded him. He was perfect. A delusion with a sweet melancholy taste. He was crazy, but he was my crazy and inside, everything felt right. ― Dominic Riccitello
I envy the music lovers hear. I see them walking hand in hand, standing close to each other in a queue at a theater or subway station, heads touching while they sit on a park bench, and I ache to hear the song that plays between them: The stirring chords of romance's first bloom, the stately airs that whisper between a couple long in love. You can see it in the way they look at each other… you can almost hear it. Almost, but not quite, because the music belongs to them and all you can have of it is a vague echo that rises up from the bittersweet murmur and shuffle of your own memories. ― Charles de Lint
Bittersweet Life Quote
Clearly it is not the lovelorn sufferer who seeks solace in chocolate, but rather the chocolate-deprived individual, who, desperate, seeks in mere love a pale approximation of bittersweet euphoria.
To be running breathlessly, but not yet arrived, is itself delightful, a suspended moment of living hope.
Love – bittersweet, irrepressible – loosens my limbs and I tremble.
With his venom irresistible and bittersweet that loosener of limbs, Love reptile-like strikes me down
You are the illness I will never cure. You are the poem I will never write. You are the thought I will never finish. You are the text I will never read.
… love born of the worst kind of loss, of knowing you could lose, and of the sobering knowledge that these cherished moments they chose to grasp this night were stolen from the hands of time.
So it really does have a sort of bittersweet quality. Kids like to have adventures and to believe they can fly, but there's also that fear about people leaving you.
There is always a reason behind actions, and there is always a reason behind the bitter or better actions we take each moment of time! No matter how bitter or better the past has been or the present is becoming, there is a reason for action! Awake and take action!
Love comes unseen; we only see it go.
The most painful thing is losing yourself in the process of loving someone too much, and forgetting that you are special too.