Not only in the hard times, angels are working for us to protect us, guide us, and help us anytime. Beautiful angel quotes will touch your heart, lift your spirits up, and bring the best out of you.
If you're searching for top quotes and quotes about religion that perfectly capture what you'd like to say or just want to feel inspired yourself, browse through an amazing collection of bible quotes, spiritual motivational quotes, and amazing faith quotes.
Famous Angel Quotes
Insight is better than eyesight when it comes to seeing an angel. ― Eileen Elias Freeman
I've had an angel on my shoulder all my life. ― Barbara Hale
When angels visit us, we do not hear the rustle of wings, nor feel the feathery touch of the breast of a dove; but we know their presence by the love they create in our hearts. ― Mary Baker Eddy
Ever felt an angel's breath in the gentle breeze? A teardrop in the falling rain? Hear a whisper amongst the rustle of leaves? Or been kissed by a lone snowflake? Nature is an angel's favorite hiding place. ― Carrie Latet
Olsteen preaches that one should always take the time to witness to friends, family, neighbors, or even strangers because one should always remember they may indeed be entertaining angels. ― Chris Johnston
No, I never saw an angel, but it is irrelevant whether I saw one or not. I feel their presence around me. ― Paulo Coelho
An angel of God never has wings. ― Joseph Smith, Jr.
Angels mend our patchwork hearts with threads of love. ― Terri Guillemets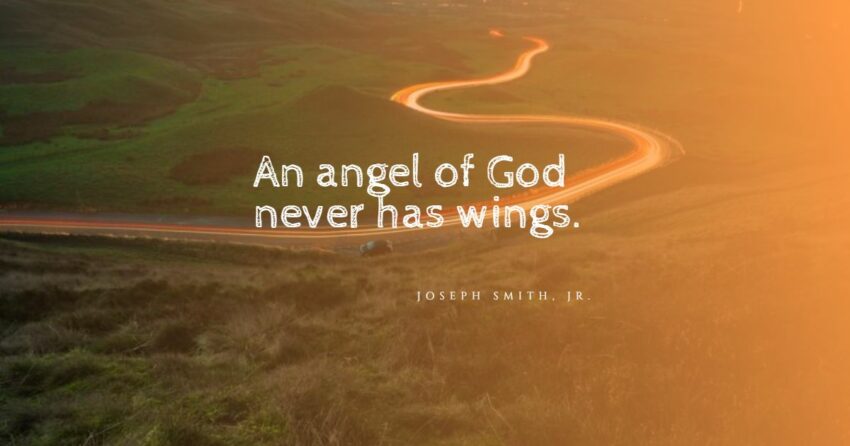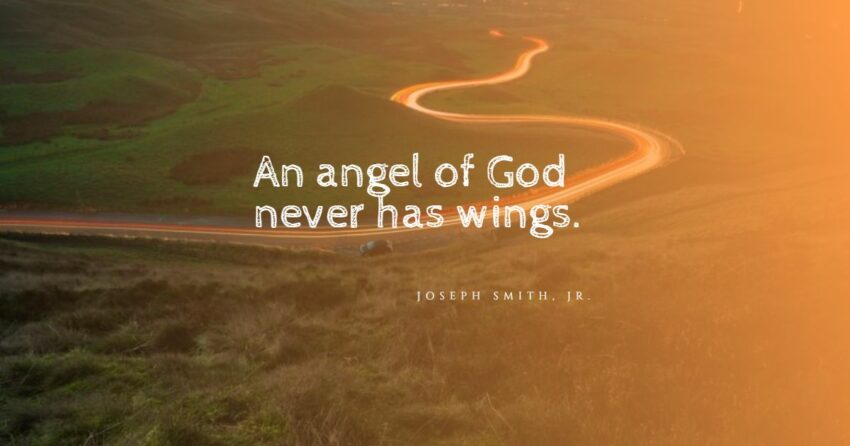 When feathers appear, angels are near
Not only has our Heavenly Father given us an Advocate, the Holy Spirit, who will never leave us, but He has sent us our own personal honor guard of angels to guard us wherever we go. ― Priscilla Doremus
For every angel fluttering through the skies, there is a divine counterpart here on Earth. Each of us has a golden celestial self just waiting to be awakened. ― Sue K
Angels remind you that you are infinitely loved.
When we are touched by something it's as if we're being brushed by an angel's wings. ― Rita Dove
Angels shine light into all areas of life… Helping you to see the light within all! ― Melanie Beckler
Beautiful Angel Quotes
Every night and every morning thank your own Guardian Angel for peace and for the regeneration of all the cells in your body, and for joy. ― Dorie D' Angelo
You may see me as huge, or imagine me as small, I am right by your side, and will hear when you call, I am loyal and true, you can trust me to care, I'm your Guardian Angel, I will always be there!
Angels are all around us, all the time, in the very air we breathe. ― Eileen Elias Freeman
I could not have made it this far had there not been angels along the way. ― Della Reese
An angel in the house they say will guard your family night & day.
To find your angels… Start trusting your inner voice and intuition. ― Melanie Beckler
Angels represent God's personal care for each one of us. ― Andrew Greeley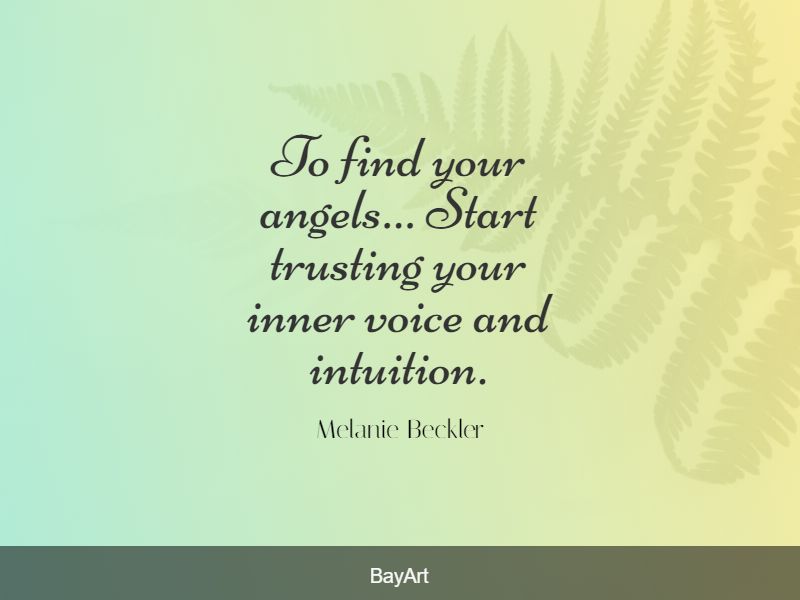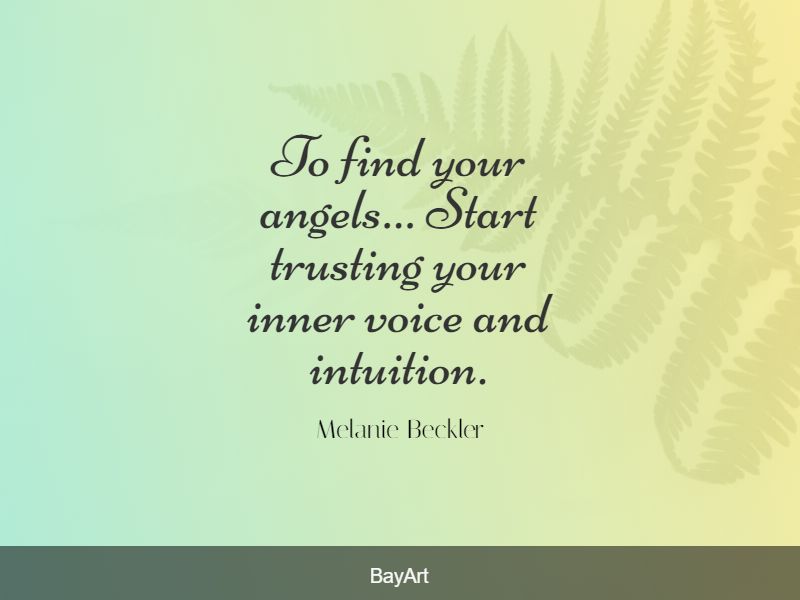 Silently one by one, in the infinite meadows of Heaven, blossomed the lovely stars, the forget-me-nots of the Angels. ― H.W. Longfellow
Flowers have spoken to me more than I can tell in written words. They are the hieroglyphics of angels, loved by all men for the beauty of the character, though few can decipher even fragments of their meaning. ― Lydia M. Child
Angels are heralds of eternity sent to help mankind break through when they cannot break out. ― Graham
I'm absolutely convinced that nothing- nothing living or dead, angelic or demonic, today or tomorrow, high or low, thinkable or unthinkable – absolutely nothing can get between us and God's love because of the way that Jesus our Master has embraced us. ― Mary DeMuth Cooke
I Believe Friends are Quiet Angels who lift us to our Feet when our Wings have Trouble Remembering how to Fly. ― Lorraine K. Mitchell
The reason angels can fly is because they take themselves lightly. ― G.K. Chesterton
I receive a blessing every time the missionaries we support report progress in their ministry, and when they count the new believers, I rejoice joining with the legions of angels. ― Pat Gelsinger
To love for the sake of being loved is human, but to love for the sake of loving is angelic. ― Alphonse de Lamartine
I feel that there is nothing more truly artistic than to love people. ― Vincent Van Gogh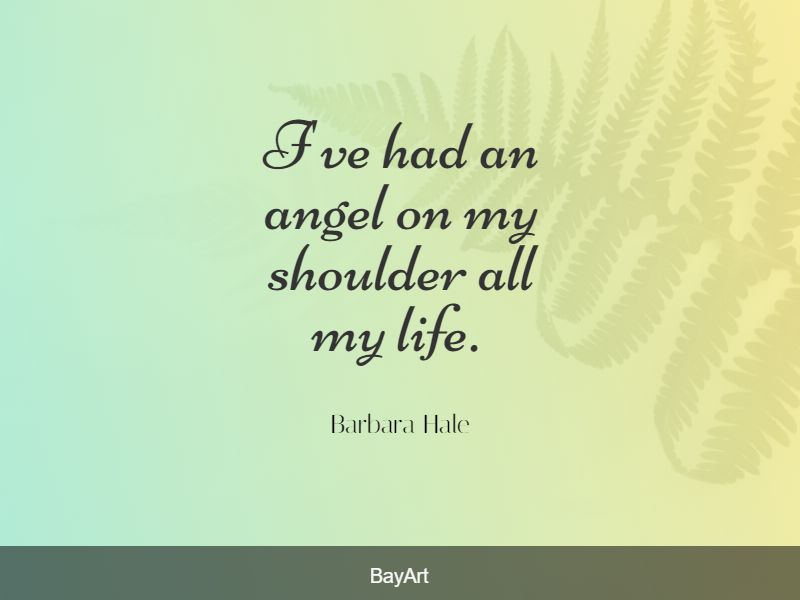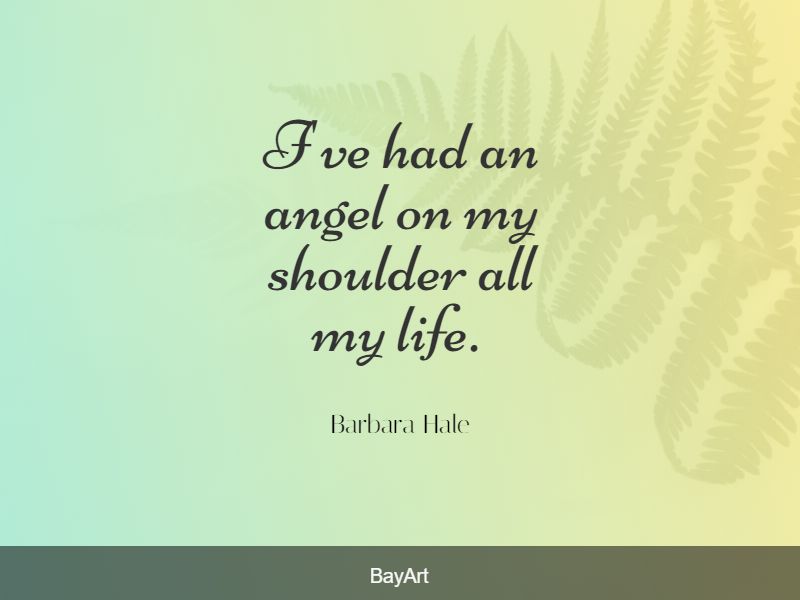 Outside the open window, the morning air is all awash with angels. ― Richard Purdy Wilbur
We've got this gift of love, but love is like a precious plant. You can't just accept it and leave it in the cupboard or just think it's going to get on by itself. You've got to keep watering it. You've got to really look after it and nurture it. ― John Lennon
Be kind to strangers, because it's the loving thing to do. Also, you never know – they could be angels. ― Scott Curran
Angels come to help and guide us in as many guises as there are people who need their assistance. Sometimes we see their ethereal, heavenly shadow, bright with light and radiance. Sometimes we only feel their nearness or hear their whisper. And sometimes they look no different from ourselves. ― Eileen Elias Freeman
Love is how you earn your wings. ― Karen Goldman
Where there is great love there are always miracles. ― Willa Cather
I saw the angel in the marble and carved until I set him free. ― Michelangelo
Angels have no philosophy but love. ― Terri Guillemets
Inspirational Angel Quotes
A gathering of angels can enlighten the whole world.
Children often have imaginary playmates. I suspect that half of them are really their guardian angels. ― Eileen Elias Freeman
The golden moments in the stream of life rush past us and we see nothing but sand; the angels come to visit us, and we only know them when they are gone. ― George Elliot
For he shall give his angels charge over thee, to keep thee in all thy ways. God's invisible army is at your service, and God can see you through. Warren W. WiersbeFor he shall give his angels charge over thee, to keep thee in all thy ways. God's invisible army is at your service, and God can see you through. ― Warren W. Wiersbe
Angels speak to those who silence their minds long enough to hear. ― Proverb
If you have trouble hearing an angel's song with your ears, try listening with your heart. ― Terri Guillemets
The more that you trust and believe in angels, the more they will pour their blessings upon you. ― Denise Linn
May you hear the gentle whisper of your angel's guidance… Nudging you in the direction of greater love, joy and abundance. ― Melanie Beckler
If instead of a gem, or even a flower, we should cast the gift of a loving thought into the heart of a friend, that would be giving as the angels give. ― George MacDonald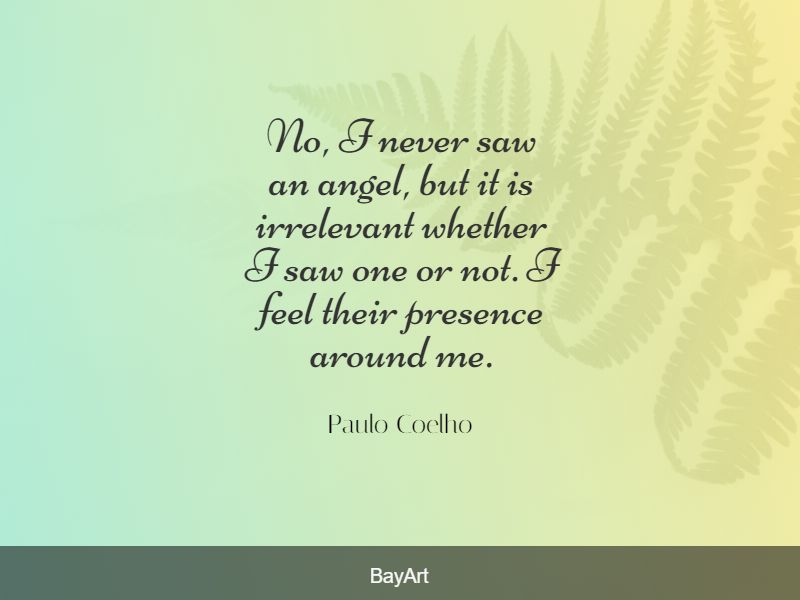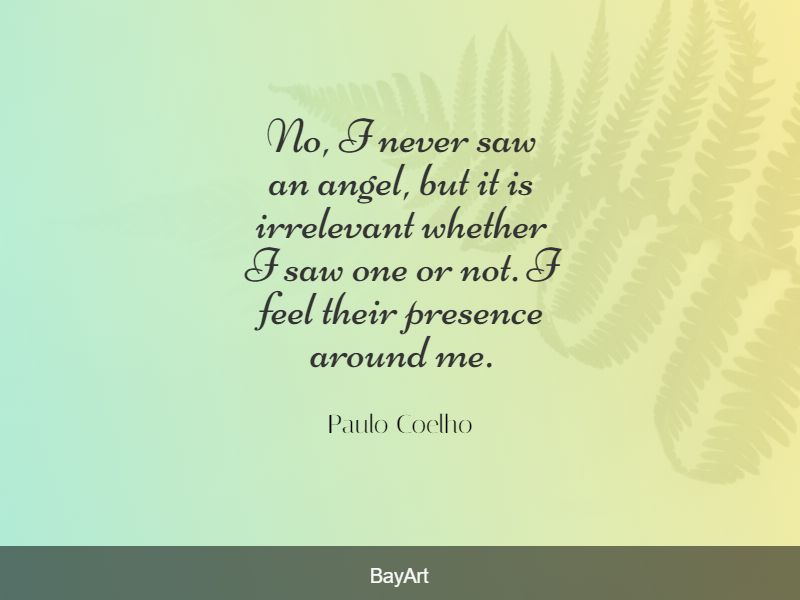 Dear Angels above I know you're here, and sense how I am feeling, please bless me with your strength and love to bring me peace and healing. ― Mary Jac
Calling upon the angels when we are in need, helps the angels fulfill their heavenly mission. We are truly co-creators with them. ― Eileen Anglin
The very word "angel" means messenger… Angels are messengers of love and of the Divine. ― Melanie Beckler
I suspect that most of the time we are speaking the language of angels when we pray in tongues to edify ourselves and to pray out the mysteries of God's plan for our lives. ― Dave Roberson
An angel can illumine the thought and mind of man by strengthening the power of vision and by bringing within his reach some truth which the angel himself contemplates. ― St. Thomas Aquinas
Open your mind to listen and your eyes to see and let your Angels guide you to where you should be. ― Mary Jac
Guardian Angel pure and bright, guard me while I sleep tonight. ― Angel Prayer
Angels have so much power that if I were to tell you everything I have seen; it would exceed belief. ― Emanuel Swedenborg
May your Guardian Angel wrap you in love, protect, heal, and guide you from high above. ― Mary Jac
Friendship is the sort of love one can imagine between angels. ― C.S. Lewis
Make friends with the angels, who though invisible, are always with you. ― St. Francis de Sales
You can do something to change your life. Ask your Angels to help. ― Karen Borga
Every blade of grass has its Angel that bends over it and whispers, Grow, grow. ― The Talmud
While angels and other heavenly beings were magnificently created, they were not created in God's image. ― Henk Kruger
Be an Angel to someone else whenever you can, as a way of thanking God for the help your Angel has given You. ― Eileen Elias Freeman
I accept the fact that angels are great heavenly beings, and I think some people give me the feeling that I'm with an angel. ― Benjamin Clementine
Every visible thing in this world is put in the charge of an Angel. ― Saint Augustine
All God's angels come to us disguised. ― James Russell Lowell
Sometimes the most productive thing you can do is rest and let your angels wrap you in their loving wings. They've got you covered. ― Anna Taylor
Angel of God, my guardian dear, to whom God's love commits me here. Ever this night/day be at my side to light and guard, to rule and guide. ― Catholic prayer
When God calls, he may take some one dear to you – but that is because needs a new angel – God is always there to help you through earthly concerns, pain and anguish. ― Byron Pulsifer
Do not forget to entertain strangers, for by so doing some people have entertained angels without knowing it. ― Hebrews 13:2
These things I wish for you; someone to love, some work to do, a bit o' sun, a bit o' cheer and, a Guardian Angel always near. ― Irish Blessing
Our guardian angels are closer to us than anything except the love of God. ― Eileen Elias Freeman
Angels are principally the guardians of our spirits. Their function is not to do our work for us, but to help us do it ourselves, by God's grace. ― Eileen Elias Freeman
Are not all angels ministering spirits sent to serve those who will inherit salvation? ― Hebrews 1:14
God not only sends special angels into our lives, but sometimes He even sends them back again if we forget to take notes the first time! ― Eileen Elias Freeman
Make yourself familiar with the angels and behold them frequently in spirit; for without being seen, they are present with you. ― St. Francis de Sales
… the problem for people today is not simply believing that angels exist, but being able to distinguish between angels and demons… personal faith in Jesus Christ will allow you to experience the dynamic presence of angels in your daily life, along with unprecedented peace, fulfillment, and power. ― Billy Graham
Angels are sent to bring us messages from God's heart. ― Charles Hunter
The Lord has many ways to comfort those who are broken hearted. God has comforted some by His word, by His presence, by angels, and by friends. ― Stanford Murrell
If you wish success in life, make perseverance your bosom friend, experience your wise counselor, caution your elder brother and, hope your Guardian Angel. ― Joseph Addison
I believe most at-home accidents happen in bathroom because our Guardian Angels give us privacy. Cathy L. Poulin
Where loved ones failed you, guardian angels stand ready to catch your fall. ― Shannon L. Alder
No evil shall befall you, nor shall affliction come near your tent, for His Angels God has given command about you, that they guard you in all your ways. ― The Bible
Guardian Angel Quotes
Everyone was born with a guardian angel. Guardian Angels brighten our journey of life with divine love, protection, peace, healing, grace, strength and, miracles. ― Liliah Gifty Akita
The guardian angels of life fly so high as to be beyond our sight, but they are always looking down upon us. ― Jean Paul Richter
The soul at its highest is found like God, but an angel gives a closer idea of him. That is all an angel is: an idea of God. ― Meister Eckhart
Angels are inseparable friends, who bring strength and consolation to those who include them in their lives. In truth, Angels are our best friends. ― Janice T. Connell
Thorns and stings and those such things, just make stronger our angel wings. ― Emme Woodhull
I wear a coat of Angel's breath and warm myself with His love. ― Emme Woodhull
Sleep my child, and peace attend thee, all through night. Guardian Angels God will send thee, all through the night. ― Harold Boulton
Angels are spirits, flames of fire; they are higher than man, they have wider connections. ― Matthew Simpson
We feel isolated and lonely and it's not necessary. Each of us has a Guardian Angel who works with us as much as we will allow. ― Eileen Elias Freeman
A Guardian Angel walks with us sent from above, their loving wings surround us and enfold us with love.
You should never feel alone there's always someone to turn to, it is the Guardian Angel who is watching over you. ― K. Sue
Angels are intelligent reflections of light, that original light which has no beginning. They can illuminate. They do not need tongues or ears, for they can communicate without speech, in thought. ― John Of Damascus
I love my Guardian Angel he gives me hope, protects me when I'm fearful, sends courage to help me cope. He stands with me when I'm lonely and lifts me when I'm low, holds my hand when I am poorly – when I need him, he just knows. I thank my Guardian Angel for being forever my side, my friend, my rock, my comfort, my hero and my guide. ― Mary Jac
I am your Guardian Angel. I am a part of you. I am here to guide you, love you and protect you. You need not hide your feelings from me, for they are my feelings also. ― Michelle Gordon
Short Angel Quotes
Into the joy of the Lord, thence confessing Death in disguise is His Angel of Blessing. ― Author Unknown
Angels encourage us by guiding us onto a path that will lead to happiness and hope. ― Andy Lakey
For every soul there is a guardian watching it. ― The Koran
Sit down, focus, and ask your guardian angel to help other people, and then ask a help for yourself. ― Diana Cooper
Your guardian angel is by you to be assertive and stand tall despite the stresses in your life! ― Tanja Christine Jaeger
Your guardian angel loves you and you are precious to them ― you are the most important person in the world to them and, they have to do everything they can for you. ― Lorna Byrne
O passing angel, speed me with a song, a melody of heaven to reach my heart and rouse me to the race and make me strong. ― Christina Georgina Rossetti
Angels are messengers, but sometimes we misunderstand their language. ― Linda Solegato
Angels shine from without because their spirits are lit from within by the light of God. ― Eileen Elias Freeman
The Lord will command his angels to take good care of you. They will lift you up in their hands. Then you won't trip over a stone. ― The Bible
It is not because angels are holier than men or devils that makes them angels, but because they do not expect holiness from one another, but from God alone. ― William Blake
Angels descending, bring from above, echoes of mercy, whispers of love. ― Fanny J. Crosby
Pride ruined the angels. ― Ralph Waldo Emerson
An angel is a spiritual creature created by God for the service of Christendom and the church. ― Martin Luther King
The angels are the dispensers and administrators of the divine beneficence toward us; they regard our safety, undertake our defense, direct our ways, and exercise a constant solicitude that no evil befall us. ― John Calvin
Music is well said to be the speech of angels. ― Thomas Carlyle
Adam was placed in Paradise in perfect estate, and in the company of God's angels; God walked and did talk with him. He heard the voice, and beheld the presence of God. ― John Jewel
But if these beings guard you, they do so because they have been summoned by your prayers. ― Saint Ambrose
Fools rush in where angels fear to tread. ― Alexander Pope