Living a blissful life is a journey which is about emotional state of joy, personal fulfillment and happiness. Best bliss quotes will help you to find a sense of pure fulfillment and brighten your day to put on a smile on your face.
If you're searching for best happiness quotes that perfectly capture what you'd like to say or just want to feel inspired yourself, browse through an amazing collection of famous feel better quotes, inspiring enjoying life quotes, and bohemian sayings.
Famous Bliss Quotes
Bliss needs to be shared. It exists only in sharing. — Rajneesh
I believe in karma, and I believe if you put out positive vibes to everybody, that's all you're going to get back. — Kesha
Follow your bliss and the universe will open doors where there were only walls. — Joseph Campbell
Happiness that comes and never leaves; it is called the bliss of the Soul. — Dada Bhagwan
Everything about you is how I wanna be;
Your freedom comes naturally;
Everything about you resonates happiness;
Now I won't settle for less… — Matthew Bellamy
Wake up all the desire and pleasure that your body is capable of experiencing, let your past go, and follow your bliss just for the health of it. — Dr. Christiane Northrup
If you do follow your bliss you put yourself on a kind of track that has been there all the while, waiting for you, and the life that you ought to be living is the one you are living… Follow your bliss and don't be afraid, and doors will open where you didn't know they were going to be. — Joseph Campbell
Only laughter makes a man rich, but the laughter has to be blissful. — Rajneesh
What greater bliss than to look back on days spent in usefulness, in doing good to those around us. — Dorothea Dix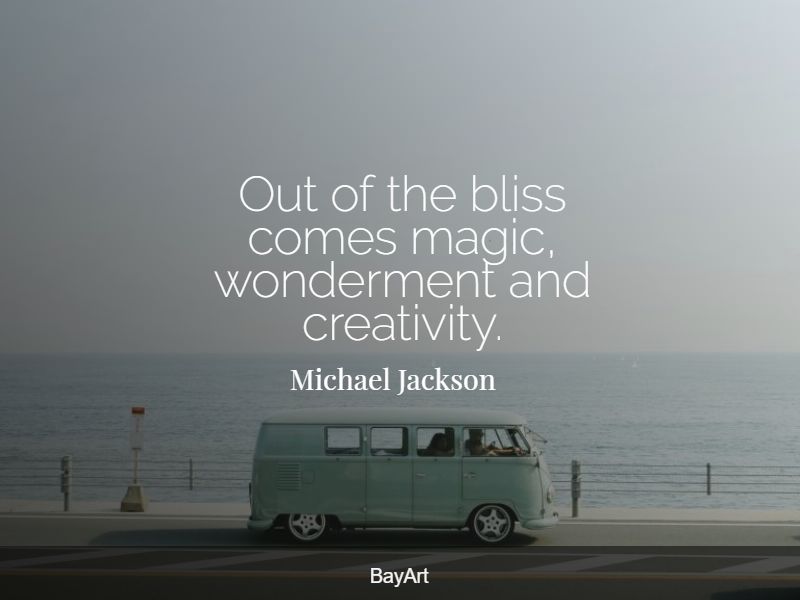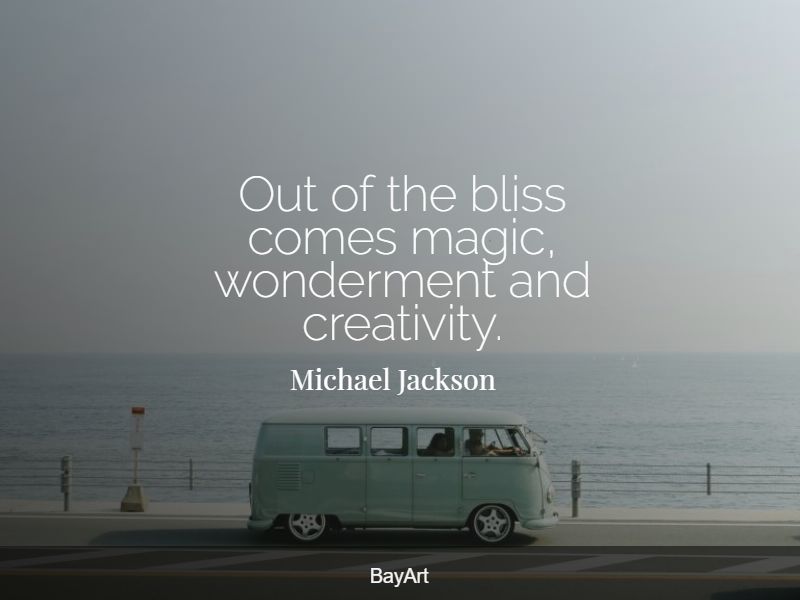 Strong emotions such as passion and bliss are indications that you're connected to Spirit, or 'inspired,' if you will. When you're inspired, you activate dormant forces, and the abundance you seek in any form comes streaming into your life. — Wayne Dyer
Nothing is more important than reconnecting with your bliss. Nothing is as rich. Nothing is more real. — Deepak Chopra
Everything else is irrelevant after the bliss of giving a perfect shot. — Prabhas
Out of the bliss comes magic, wonderment and creativity. — Michael Jackson
Now may every living thing, young or old, weak or strong, living near or far, known or unknown, living or departed or yet unborn, may every living thing be full of bliss. — Anonymous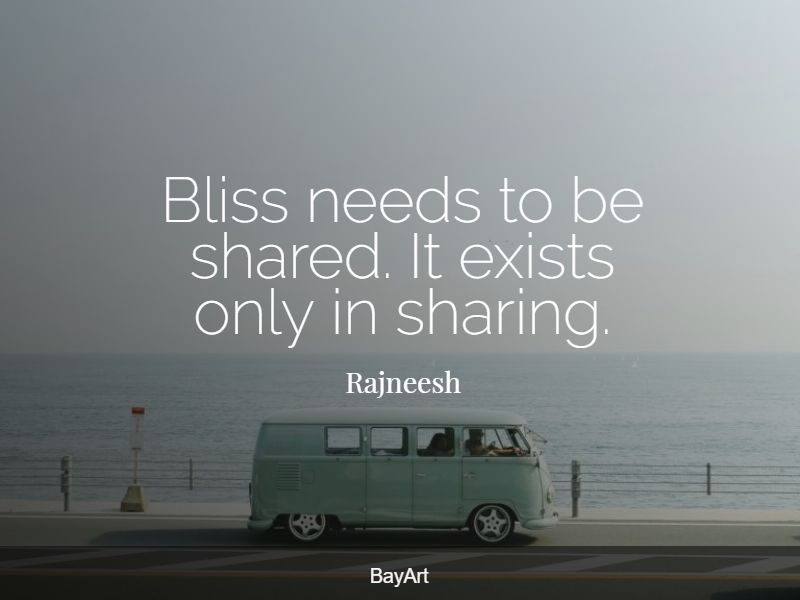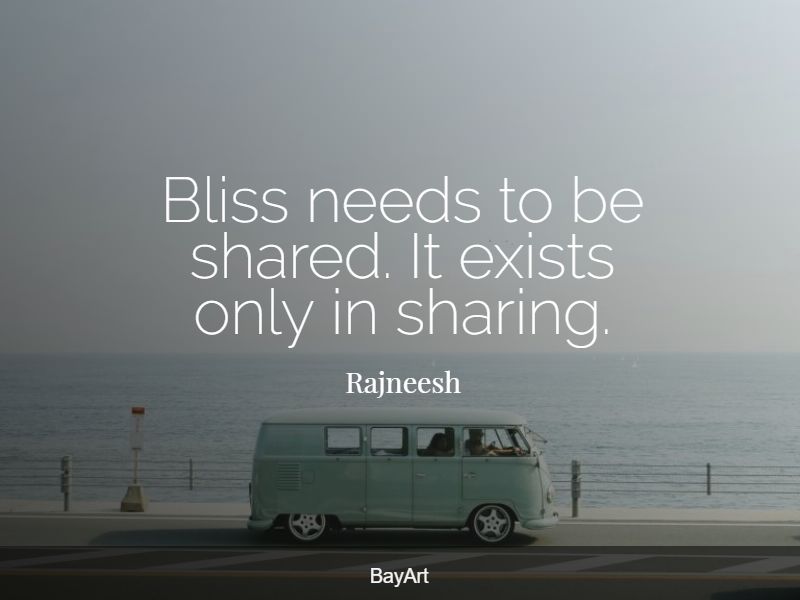 The philosophy of life is this: Life is not a struggle, not a tension… Life is bliss. It is eternal wisdom, eternal existence. — Maharishi Mahesh Yogi
Happiness is a continuation of happenings which are not resisted. — Deepak Chopra
Romance and novel paint beauty in colors more charming than nature, and describe a happiness that humans never taste. How deceptive and destructive are those pictures of consummate bliss! — Oliver Goldsmith
Perfect happiness is a beautiful sunset, the giggle of a grandchild, the first snowfall. It's the little things that make happy moments, not the grand events. Joy comes in sips, not gulps. — Sharon Draper
If time is not real, then the dividing line between this world and eternity, between suffering and bliss, between good and evil, is also an illusion. — Hermann Hesse
Let me go to hell, that's all I ask, and go on cursing them there, and them look down and hear me, that might take some of the shine off their bliss. — Samuel Beckett
Blissful Quotes
A person whom refuses to grow will never attain bliss. — Kilroy J. Oldster
Find ecstasy in life; the mere sense of living is joy enough. — Emily Dickinson
Where ignorance is bliss, 'Tis folly to be wise. — Thomas Gray
From tiny, tiny waves of joy, one gets to the ocean of happiness, which is called bliss. — Maharishi Mahesh Yogi
Be aware of the high notes, of the blissful faces and their soft messages, and listen for the silent message of a highly decorated gift. — Dejan Stojanovic
Is happiness a sort of blissful state of mind or just a kind of surreal propensity? It may be hard to recognize its very nature, if we remain guilelessly confined in a state of woeful unawareness or in a no-man's-land of emotions. In their dogged and obstinate quest for the zenith of happiness, many forget to take pleasure in the small things of everyday and, thus, become disgruntled and depressed instead, which leads them to a mire of gloom. — Erik Pevernagie
Among the many problems with taking the Bible literally is it reduces the most mysterious and complex of realities to simple – even simplistic – terms. Yes, scripture speaks of fire and damnation and eternal bliss, but the Bible is the product of human hands and hearts, and much of the imagery is allegorical, not meteorological. — Jon Meacham
There's only one reason why you're not experiencing bliss at this present moment, and it's because you're thinking or focusing on what you don't have…But, right now you have everything you need to be in bliss. — Anthony de Mello
Happiness cannot be far behind a grateful mind heart and a peaceful mind. — Anonymous
Beauty is whatever gives joy. — Edna St. Vincent Millay
Now a soft kiss – Aye, by that kiss, I vow an endless bliss. — John Keats
Happiness is not something you postpone for the future; it is something you design for the present. — Jim Rohn
Bliss is the ocean, a towel on the sand, the sun out, the chance to swim in waves or walk dragging a stick behind you, a good book, a cold drink. — Deb Caletti
Happiness comes to us by Itself, and It envelops our whole being when the mind becomes humble and silent, as it has understood its inability to encounter the Unknown. — Ilie Cioara
That perfect bliss and sole felicity, the sweet fruition of an earthly crown. — Christopher Marlowe
Live with integrity, respect the rights of other people, and follow your own bliss. — Nathaniel Branden
All happiness comes from awareness. The more we are conscious the deeper the joy. Acceptance of pain, non-resistance, courage and endurance – these open deep and perennial sources of real happiness, true bliss. — Sri Nisargadatta Maharaj
Creation is a sustained period of bliss, even though the subject can still be very sad. Because there's the triumph of coming through and understanding that you have, and that you did it the way only you could do it. You didn't do it the way somebody told you to do it. — Alice Walker
Pure Bliss Quotes
Joy is a sustained sense of well-being and internal peace—a connection to what matters. — Oprah Winfrey
Life in itself is an empty canvas; it becomes whatsoever you paint on it. You can paint misery, you can paint bliss. This freedom is your glory. — Rajneesh
Of course I expected to rise so quickly. I know what I'm capable of. Even though other people didn't know, I was going to make sure they knew exactly who Alexa Bliss was, and I was going to make sure they never forgot it. — Alexa Bliss
The experience of not forgetting consciousness alone is the state of devotion which is the relationship of unfading real love, because the real knowledge of Self, which shines as the undivided supreme bliss itself, surges up as the nature of love. Love itself is the actual form of God. That is pure bliss. Call it pure bliss, God, Self, or what you will. That is devotion, that is realization and that is everything. — Ramana Maharshi
Joy is the infallible sign of the presence of God. — Pierre Teilhard de Chardin
Paradise is open to all kind hearts. — Pierre Jean de Beranger
Pull love closely around you and snuggle into its bliss. — Hemat Malak
Little Red Riding Hood was my first love. I felt that if I could have married Little Red Riding Hood, I should have known perfect bliss. — Charles Dickens
You get everything you could have ever wished for if you're willing to give that eternal bliss away to somebody else, to give it back. — Michael Franti
As you live your values, your sense of identity, integrity, control, and inner-directedness will infuse you with both exhilaration and peace. — Stephen Covey
I'm not going to lie. I've done the 'Twisted Bliss' off of Braun Strowman's shoulders before, but that's not nothing to be on top of an Elimination Chamber pod. — Alexa Bliss
Achieving your heart's desires is the key to living a life of bliss. — Steven Redhead
Your dear baby has died innocent and blameless, and has been called away by an all wise and merciful Creator, most probably from a life to misery and misfortune, and most certainly to one of happiness and bliss. — George Mason
When you are aligned with the truth of who you truly are, then you experience bliss. — Vivian Amis
Never forget the importance of living with unbridled exhilaration. — Robin Sharma
If I could learn to treat triumph and disaster the same, then I would find bliss. — Kathie Lee Gifford
Follow your bliss and let the magic of life happen. — Janelle Jalbert
Ignorance is bliss, or so we're told. Personally, I find ignorance is also destiny. — Gayle Lynds
Beautiful Bliss Quotes
If you want to be happy, be. — Leo Tolstoy
Blessings are what make life beautiful; if you have a hopeful eye and a light soul, you can see everything in life as a blessing.
To live in infinite bliss, practice mindfulness and live in the moment. — Debasish Mridha
Be happy for this moment. This moment is your life. — Omar Khayyam
Follow life's bliss. — A.D. Posey
Film can't just be a long line of bliss. There's something we all like about the human struggle. — David Lynch
The foolish man seeks happiness in the distance; the wise grows it under his feet. — James Openheim
My day job may be exhausting, but cooking is my peace. My dream is to have a big family with lots of grandkids. And we'll get together every Sunday for a hearty dinner at our house, and we'll all live in flavorful bliss, happily ever after. — Chrissy Teigen
Blake & Murphy and I used to be best friends. They helped me discover who I am. They taught me that Bliss was good, but bad is better. Because of the boys, I was able to really express who I am instead of being the pixie princess I was pretending to be. — Alexa Bliss
Joy is the holy fire that keeps our purpose warm and our intelligence aglow. — Helen Keller
Rules for Happiness: something to do, someone to love, something to hope for. — Immanuel Kant
The weak have remedies, the wise have joys; superior wisdom is superior bliss. — Edward Young
Music is a lot more like solving an intricate puzzle with moments of pure, random creative bliss… whereas painting is much more purely random creative bliss with moments of problem solving. — Brandon Boyd
I've always thought that when they say ignorance is bliss, the converse to that is that knowledge is hell. The more you know, the bleaker things can get. — Terence Winter
Happiness is there when you express kindness, compassion, and unconditional love and fill yourself with bliss and joy. — Debasish Mridha
Spiritual Bliss Quotes
Always follow your bliss; bliss is heavenly. Life will be divinely beautiful and grow spiritually. Life will be beautiful, peaceful, blissful, and divine. — Debasish Mridha
There is no way to happiness. Happiness is the way. — Thich Nhat Hanh
I tell you, deep inside you is a fountain of bliss, a fountain of joy. Deep inside your center core is truth, light, love, there is no guilt there, there is no fear there. Psychologists have never looked deep enough. — Sri Sri Ravi Shankar
Happiness cannot be traveled to, owned, earned, worn or consumed. Happiness is the spiritual experience of living every minute with love, grace, and gratitude. — Denis Waitley
True and profound happiness can be realized only in the breakthrough of the limitations of the self. Bliss, the uninterrupted happiness, is to be located only in the deeper layers of consciousness, beyond the grasp of the separated self with all its wants and needs. — Shai Tubali
Sometimes your joy is the source of your smile, but sometimes your smile can be the source of your joy. — Nhat Hanh
Joy does not simply happen to us. We have to choose joy and keep choosing it every day. — Henri Nouwen
You can only have bliss if you don't chase it. — Bhante Henepola Gunaratana
Joy is what happens when we allow ourselves to recognize how good things really are. — Marianne Williamson
There is only one basic desire that motivates the spiritual seeker-to make the experience of God, of divine bliss and joy, the center of the life experience. We are spiritual beings living in a material universe, and as such, our first priority is to nurture that eternal part of us. The eleventh step of AA's twelve-step program states it beautifully: "Sought through prayer and meditation to improve our conscious contact with God as we understood him, praying only for knowledge of his will for us and the power to carry that out. — Douglas Bloch
The supreme happiness of life is the conviction that we are loved-loved for ourselves, or rather, loved in spite of ourselves. — Victor Hugo
My recipe for bliss on a Friday night consists of a 'New York Times' crossword puzzle and a new episode of 'Homicide;' Saturdays and Sundays are oriented around walks in the woods with the dog, human companion in tow some of the time but not always. — Caroline Knapp
Bliss is doing that which fulfills you. Action that touches you deeply and fully. Bliss is active. Bliss is…following your dreams, desires, or heart. Bliss is that deep, fulfilling, sustainable, driving need you have. That thing that is the true "you." Your bliss is your life's purpose. Your bliss gives your otherwise meaningless life meaning. When you are following your bliss you are powerful and empowered. You are focused and the universe is waiting to help you. — Angie karan
The current of emotion, which was formerly directed to gaining eternal bliss, is turned in socialism – in the same degree as the latter is permeated by evolutionism – towards the perfecting of earthly life. — Ellen Key
Bliss is terribly private. — Elizabeth Rees
I envy people with dreams and passions, but I don't think that way. I still don't have a 'bliss' to follow. For people like me – I suspect that's most people – holding out for a 'dream' or a 'passion' is paralyzing. I just like having work I enjoy that feels meaningful. That's hard enough… but it's enough. — Jane Pauley
It's funny when you follow your own sort of bliss, then other people tend to respond in kind, meaning audiences. It's really weird how that works, but it does seem to apply to 'Nancy & Beth' especially. — Megan Mullally
Sometimes bliss can only be found in the serenity of darkness. — Saim .A. Cheeda
By mere burial man arrives not at bliss; and in the future life, throughout its whole infinite range, they will seek for happiness as vainly as they sought it here, who seek it in aught else than that which so closely surrounds them here – the Infinite. Johann Gottlieb Fichte
Blissful Life Quotes
Happiness is a choice, a repetitive one. — Akilnathan Logeswaran
Bliss is not a feeling but a state of being. In the state of bliss, everything is loved. — Deepak Chopra
Ignorance might be bliss. But self-forgetfulness is pure ecstasy. — Kamand Kojouri
Happiness is a mysterious thing, to be found somewhere between too little and too much. — Ruskin Bond
Just think of any negativity that comes at you as a raindrop falling into the ocean of your bliss. Maharishi Mahesh Yogi
It is not how much we have, but how much we enjoy, that makes happiness. — Charles H. Spurgeon
Follow your bliss and don't be afraid, and door will open where you didn't know they were going to be. — Joseph Campbell
For the bliss of the deep abode is not lightly abandoned in favor of the self-scattering of the wakened state, — Joseph Campbell
Bliss can only come through gratitude, only through enlarging your heart with gratitude. Bliss is the reward of gratitude – the gratitude which is not just wordly or just spoken lip service, but is from the heart – the gratitude of the heart. — Nirmala Srivastava
It's ever so much more satisfying to get into a blissful place and attract a blissful person and live blissfully hereafter than to be in a negative place and attract a negative partner and then try to get happy from that negative place. — Esther Hicks
Know your real Self, beyond who you think you are. — Vivian Amis
The supreme attainment of human life is divine bliss. Divine bliss is the nature of the Self. — Gurumayi Chidvilasananda
And the idea of just wandering off to a cafe with a notebook and writing and seeing where that takes me for awhile is just bliss. — J. K. Rowling
When realized people come out of their state of realization to do worldly chores, they get even better feeling which is called Bliss. — Shunya
I don't know about changing my perspective, because motherhood is such a glorious blessing and I am very thankful for that. It's such a beautiful experience. I so strongly recommend it. It's bliss, love and fulfillment of another level. Aishwarya Rai Bachchan
Inspirational Bliss Quotes
Get in touch with your inner most desire and aspirations, then utilise the power of your heart to create a life of bliss. — Steven Redhead
Happiness without reason is bliss. — Tapan Ghosh
Just as a mountain of snow is nothing but water, so also the whole universe is nothing but bliss. — Maharishi Mahesh Yogi
Health is the vital principle of bliss, and exercise, of health. — James Thomson
True happiness ensues indirectly. It always appears in a state of non-search. — Ilie Cioara
Happiness is as exclusive as a butterfly, and you must never pursue it. If you stay very still, it may come and settle on your hand. But only briefly. Savour those moments, for they will not come in your way very often. — Ruskin Bond
Life is a pilgrimage. The wise man does not rest by the roadside inns. He marches direct to the illimitable domain of eternal bliss, his ultimate destination. Swami Sivananda
Happiness is not in things; it is in you. — Robert Holden
When we go closer to the divine, bliss is growing. — Swami Dhyan Giten
Once bliss becomes normal it's no longer bliss, it's just peace. — Eckhart Tolle
The secret of being happy is not longing for it! — Ramana Pemmaraju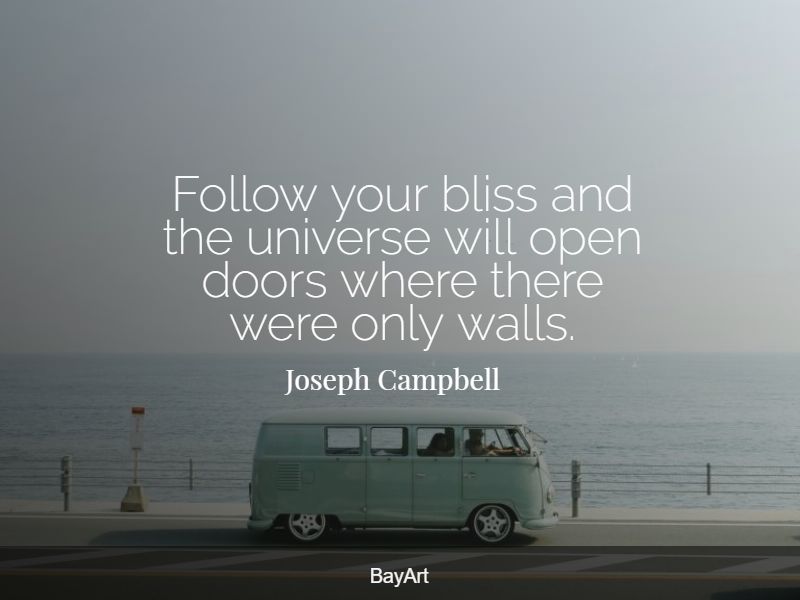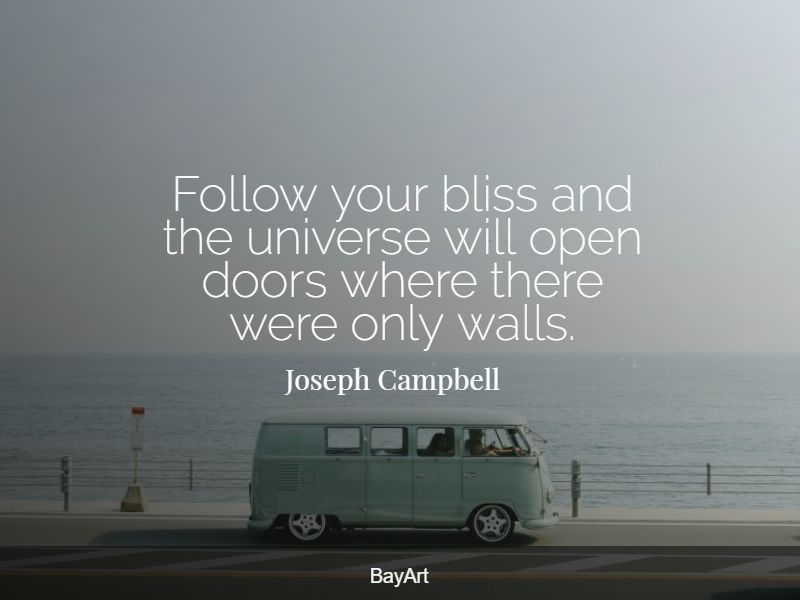 When your mind is fully withdrawn in superconsciousness, it becomes centered in the bliss of the spine. You are then in your ideational, or causal, body. That is the level of the soul. — Paramahansa Yogananda
Meditation is painful in the beginning but it bestows immortal Bliss and supreme joy in the end. — Swami Sivananda
Inner bliss is ultimate happiness. — Debasish Mridha
Do you think that you shall enter the Garden of Bliss without such trials as came to those who passed before you? — Scott Reed
Offspring, the due performance on religious rites, faithful service, highest conjugal happiness and heavenly bliss for the ancestors and oneself, depend on one's wife alone. — Guru Nanak
Happiness is the settling of the soul into its most appropriate spot. — Aristotle
Remember you're the one who can fill the world with sunshine. — Walt Disney
To experience peace does not mean that your life is always blissful. It means that you are capable of tapping into a blissful state of mind amidst the normal chaos of a hectic life. — Jill Bolte Taylor