The death and loss of a child is frequently called the ultimate tragedy. Nothing can be more devastating. Deep loss of a child quotes will challenge the way you think, and help you cope the grief after the death of a child.
If you're searching for the saddest quotes ever and powerful hate quotes that perfectly capture what you'd like to say or just want to feel inspired yourself, browse through an amazing collection of top emotional pain quotes, profound sympathy quotes and encouraging crying quotes.
Famous Death Of A Child Quotes
Don't grieve. Anything you lose comes round in another form. – Rumi
I have a son that I carry in my heart. – Unknown
There's no tragedy in life like the death of a child. Things never get back to the way they were. – Dwight D. Eisenhower
The death of a child occasions a passion of grief and frantic tears, such as your end, brother reader, will never inspire. – William Makepeace Thackeray
A flower bloomed already wilting. Beginning its life with an early ending. – R.J. Gonzales
Loss is only temporary when you believe in God! – Latoya Alston
My arms are empty without you!
My heart cries out, lonely in the darkness, but you are not here.
No tears shall bring you back into my arms again.
My mothers love was not strong enough to keep you,
but it is strong enough to follow and find you,
though all the mists of Eternity should try to come between! – Joan Walsh Anglund
Sadly enough, the most painful goodbyes are the ones that are left unsaid and never explained. – Jonathan Harnisch
The sorrow we feel when we lose a loved one is the price we pay to have had them in our lives. – Rob Liano
At sunset the little soul that had come with the dawning went away, leaving heartbreak behind it – L.M. Montgomery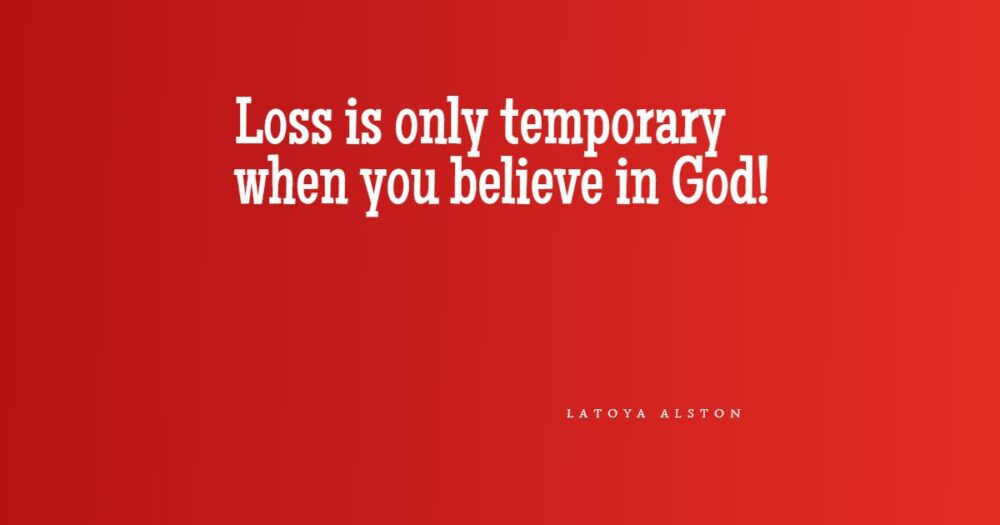 The weird, weird thing about devastating loss is that life actually goes on. When you're faced with a tragedy, a loss so huge that you have no idea how you can live through it, somehow, the world keeps turning, the seconds keep ticking. – James Patterson
We loved him a lot but God loved him more. – Unknown
I will never forget the moment your heart stopped and mine kept beating. – Angela Miller
We bereaved are not alone. We belong to the largest company in all the world — the company of those who have known suffering. – Helen Keller
The loss of a child is my greatest nightmare. – Angelina Jolie
Death may be the greatest of all human blessings. – Socrates
Grief gives me wings with which I spread love. – Unknown
Come back. Even as a shadow, even as a dream. – Euripides
It is the capacity to feel consuming grief and pain and despair that also allows me to embrace love and joy and beauty with my whole heart. I must let it all in. – Anna White
Death is tough for the people left behind on earth. – Prateeksha Malik
We do not 'get over' a death. We learn to carry the grief and integrate the loss in our lives. In our hearts, we carry those who have died. We grieve and we love. We remember. – Nathalie Himmelrich
Death is a fearful thing. – William Shakespeare
The few certainties in our existences are pain, death and bereavement. – Jane Wilson-Howarth
Life is the only thing which can never be replaced when lost. – Lailah Gifty Akita
When our children die, we drop them into the unknown, shuddering with fear. We know that they go out from us, and we stand, and pity, and wonder. – Henry Ward Beecher
Heartbreaking Death Of A Child Quotes
There is no pain like the broken heart of grieving mother. – Unknown
There is no grief like the grief that does not speak. – Henry Wordsworth
The death of a beloved is an amputation. – C. S. Lewis
Grieving is intense and it is non-stop intense. Even if things are quiet, and you're sitting there in your chair, kind of staring off into space, inside, the intensity is raging. – Lori Ennis
Tears don't bring people back. – C.J. Redwine
We never truly get over a loss, but we can move forward and evolve from it. – Elizabeth Berrien
What an awful thing then, being there in our house together with our daughter gone, trying to be equal to so many sudden orders of sorrow, any one of which alone would have wrenched us from our fragile orbits around each other. – Paul Harding
Unable are the loved to die. For love is immortality. – Emily Dickinson
The strongest person in the world is a grieving mother that wakes up and keeps going every day. – Unknown
Most women say there is no greater pain than to bear a child. I say there is no greater pain than to burry one. – Unknown
As someone who has lived the nightmare of losing a child, I know that the enormous hole left behind remains forever. – Arthur Honegger
Let your children be as so many flowers, borrowed from God.If the flowers die or wither, thank God for a summer loan of them. – Samuel Rutherford
I love you every day. And now I will miss you every day.. – Mitch Albom
Deep down a broken heart, all the sadness one can bear is misery. – Auliq Ice
I wish I could tell you the pain's not always there,but it is. always. Behind every smile, with in every tear. – Unknown
Grief is the price we pay for love. – Queen Elizabeth II
When he died, all things soft and beautiful and bright would be buried with him. – Madeline Miller
The greatest loss is the lost of life. – Lailah Gifty Akita
If tears could build a stairway, And memories a lane,I'd walk right up to Heaven And bring you home again. – Unknown
While grief is fresh, every attempt to divert only irritates. You must wait till it be digested, and then amusement will dissipate the remains of it. – Samuel Johnson
Death is never easy when you know the people doing the dying. – Oliver North
Grief, no matter how you try to cater to its wail, has a way of fading away. – V.C. Andrews
If you suppress grief too much, it can well redouble. – Moliere
Sometimes the strongest people in the morning are the people who cried all night. – Unknown
You were born a child of light's wonderful secret– you return to the beauty you have always been. – Aberjhani
Tears are the silent language of grief. – Voltaire
There is no footprint too small to leave an imprint on this world. – unknown
There is a sacredness in tears. They are not the mark of weakness, but of power. They speak more eloquently than ten thousand tongues. They are the messengers of overwhelming grief, of deep contrition, and of unspeakable love. – Washington Irving
Think of your child, then, not as dead, but as living; not as a flower that has withered, but as one that is transplanted, and touched by a Divine hand, is blooming in richer colors and sweeter shades than those of earth. – Richard Hooker
Loss is like a wind, it either carries you to a new destination or it traps you in an ocean of stagnation. You must quickly learn how to navigate the sail, for stagnation is death. – Val Uchendu
Happiness is beneficial for the body, but it is grief that develops the powers of the mind. – Marcel Proust
How frighteningly few are the persons whose death would spoil our appetite and make the world seem empty. – Eric Hoffer
God pours life into death and death into life without a drop being spilled. – Unknown
Grief is in two parts. The first is loss. The second is the remaking of life. – Anne Roiphe
Every day we do get closer to a cure. Three out of four children who are diagnosed with cancer will survive the disease, but that is not good enough. The loss of one child to this disease is too much. – Michael McCaul
He said, 'One life on this earth is all that we get, whether it is enough or not enough, and the obvious conclusion would seem to be that at the very least we are fools if we do not live it as fully and bravely and beautifully as we can. – Frederick Buechner
The hardest thing I have ever had to hear was that my child died. The hardest thing that I have ever done is to live every day since that moment. – Unknown
The loss of a child is the most terrifying place for me to go. – Nicole Kidman
Death is not the opposite of life, but a part of it. – Haruki Murakami
The death of a baby is like a stone cast into the stillness of a quiet pool; the concentric ripples of despair sweep out in all directions, affecting many, many people. – Darren DeFrain
What cannot be said will be wept. – Sappho
If we lose love and self respect for each other, this is how we finally die. – Maya Angelou
You can't forgive without loving. And I don't mean sentimentality. I don't mean mush. I mean having enough courage to stand up and say, 'I forgive. I'm finished with it.'– Maya Angelou
We weep over the graves of infants and the little ones taken from us by death; but an early grave may be the shortest way to heaven. – Tryon Edwards
We all die. The goal isn't to live forever, the goal is to create something that will. – Chuck Palahniuk
To lose a son under those circumstances – a violent death like my son went through, it just puts a burden on your heart. – Brian Jones
No one ever told me that grief felt so like fear. – C.S.Lewis
Comforting Quotes About Death Of A Child
Those we love and lose are always connected by heartstrings into infinity. – Terri Guillemets
Grief is the last act of love we have to give to those we loved. Where there is deep grief, there was great love.
Well, there's a remedy for all things but death, which will be sure to lay us flat one time or other. – Miguel De Cervantes
This is what I like about photographs. They're proof that once, even if just for a heartbeat, everything was perfect. – Jodi Picoult
What we don't need in the midst of struggle is shame for being human. – Brene Brown
Death is not the worst that can happen to men. – Plato
Just as it is impossible to explain childbirth to a woman who has never given birth, it is impossible to explain child loss to a person who has never lost a child. – Lynda Cheldelin Fell
For no soul can ever be replaced, and death claims a beauty and a magnificence that will always be missed. – Jocelyn Soriano
That it will never come again is what makes life so sweet. – Emily Dickinson
There is no coming to consciousness without pain. – Carl Jung
Death leaves a heartache no one can heal, love leaves a memory no one can steal. – unknown
His death brings new experience to my life that of a wound that will not heal. – Ernst Jünger
t's not what happens to you, but how you react to it that matters. – Epictetus
Do not weep for those who have found Death's embrace early, for they weep for us that linger on in this mortal world of pain. – Stewart Stafford
The world slides, the world goes, and death makes equal the rich and the poor – Bangambiki Habyarimana
My brother was a great favorite with everybody, and his death cast a gloom upon the whole neighborhood. – Buffalo Bill
Don't get through the day, get from the day. – Jim Rohn
I was in error when I saw him as fixed and stable and thought I would have him forever. He was never fixed, nor stable, but always just a passing, temporary energy-burst. – George Saunders
It is not length of life, but depth of life. – Ralph Waldo Emerson
The infant, on opening his eyes, ought to see his country, and to the hour of his death never lose sight of it. – Jean-Jacques Rousseau
Your task is not to seek for love, but merely to seek and find all barriers within yourself that you have built against it. – Rumi
It is still just unbelievable to us that diarrhea is one of the leading causes of child deaths in the world. – Melinda Gates
We're all just walking each other home. – Ram Dass
Individuals should embrace the absurd condition of human existence while also defiantly continuing to explore and search for meaning. – Albert Camus
People living deeply have no fear of death. – Anais Nin
Death unites as well as separates; it silences all paltry feeling. – Honore de Balzac
Tears are words that need to be written. – Paulo Coelho
Dreams, just dreams, it's all illusion – Bangambiki Habyarimana
Death is easier than a wretched life; and better never to have born than to live and fare badly. – Aeschylus
Inspirational Death Of A Child Quotes
You cannot stop the birds of sorrow from flying over your head, but you can stop them nesting in your hair. – Eva Ibbotson
You may not control all the events that happen to you, but you can decide not to be reduced by them. – Maya Angelou
An angel in the book of life wrote down my baby's birth. Then whispered as she closed the book to beautiful for earth. – unknown
The song is ended but the melody lingers on… – Irving Berlin
You were born a child of light's wonderful secret you return to the beauty you have always been. – Aberjhani
You are the sum total of everything you've ever seen, heard, eaten, smelled, been told, forgot – it's all there. Everything influences each of us, and because of that I try to make sure that my experiences are positive. – Maya Angelou
When someone shows you who they are, believe them the first time. – Maya Angelou
Love is the will to extend one's self for the purpose of nurturing one's own or another's spiritual growth. – Dr. Scott Peck
I sensed that he was dead, but wasn't sure if death was forever. It seemed best to stay nearby, in case the chance came to make everything changed. – Sonya Hartnett
She wondered how to mourn the death of a son who wasn't dead. And yet the loss of separation made that easy. The idea of pain made pain, where she knew none could possibly truly exist. – Juliet Castle
My great hope is to laugh as much as I cry; to get my work done and try to love somebody and have the courage to accept the love in return. – Maya Angelou