Is crying a weakness?
Crying is a sign of strength, not weakness. It allows us to think clearer about the problem.
What does crying do to the brain?
Crying not only releases stress, grief, and frustration from your brain and body, but also stimulates our brain's endorphin release that also act as a natural pain killer.
Crying is okay and necessary. Famous crying quotes will show that it is good for the soul and make you feel that you are alive.
If you're searching for popular quotation to share with the people you love or just want to feel inspired yourself, browse through an amazing collection of condolence message, sad quotes and sorry quotes.
Best Crying Quotes
The sorrow which has no vent in tears may make other organs weep. – Henry Maudsley
Our sweetest songs are those that tell of saddest thought. – Percy Bysshe Shelley
People cry, not because they're weak .It's because they've been strong for too long.
Crying is cleansing. There's a reason for tears, happiness or sadness. – Dionne Warwick
If you've never eaten while crying you don t know what life tastes like. – Johann Wolfgang von Goethe
Let your tears come. Let them water your soul. – Eileen Mayhew
Sometimes you just need a good cry. Even if you don't know the reason why you're crying.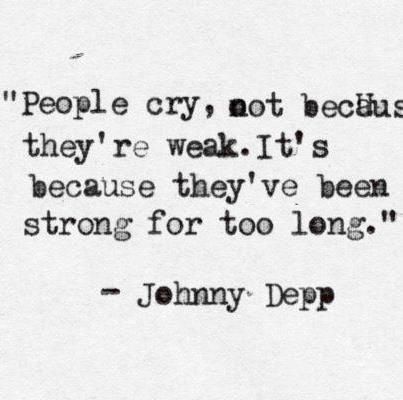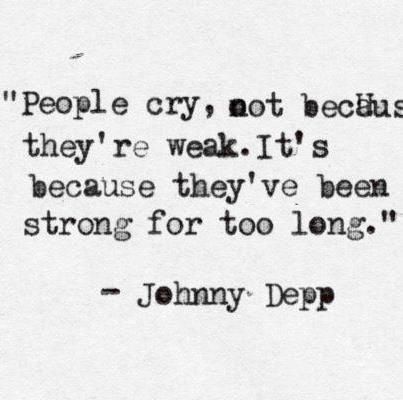 Sadness flies away on the wings of time. – Jean de La Fontaine
Heavy hearts, like heavy clouds in the sky, are best relieved by the letting of a little water. – Antoine Rivarol
Sadness is but a wall between two gardens. – Kahlil Gibran
Those who do not weep, do not see. – Victor Hugo
I'm always there for you. I was there when you cried when you were scared when you were lost. I cared about you. So tell me, where were you when I was crying?
Tearless grief bleeds inwardly. – Christian Nevell Bovee
When I cry about one thing I end up crying about everything that was wrong.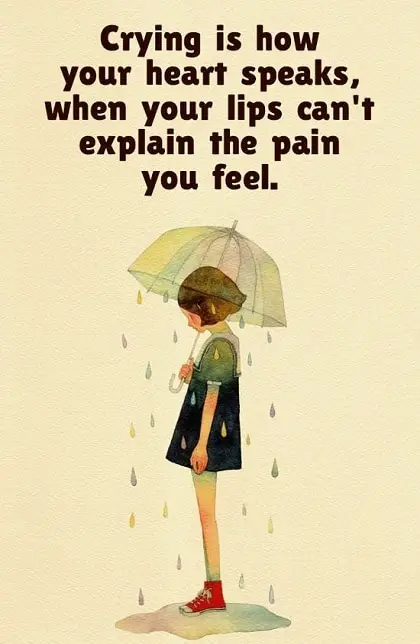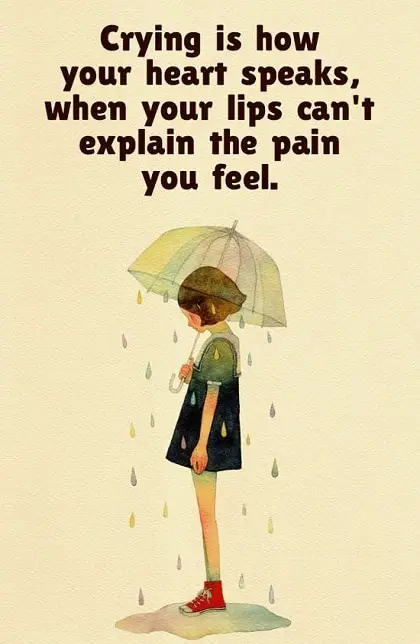 Tears are words that need to be written. – Paulo Coelho
Sometimes you almost have to laugh to keep from crying to deal with the pain associated with the 'hood. – Gucci Mane
I tried to hold it in ,but I cried my eyes out.
The soul would have no rainbow had the eyes no tears. – John Vance Cheney
We must understand that sadness is an ocean, and sometimes we drown, while other days we are forced to swim. – R.M. Drake
The girl, who laughs and talks a lot and seems very happy, is also the girl who may cry herself to sleep.
There is a certain pleasure in weeping. – Ovid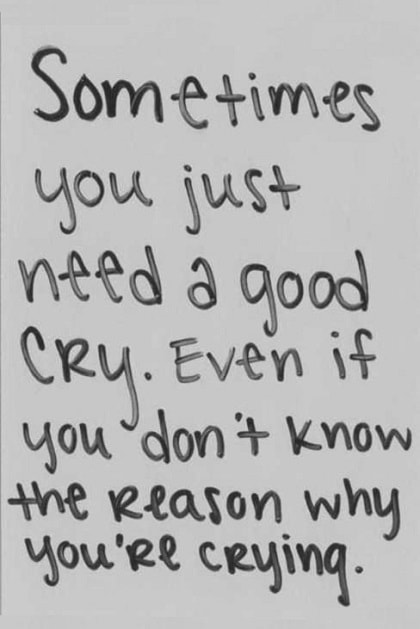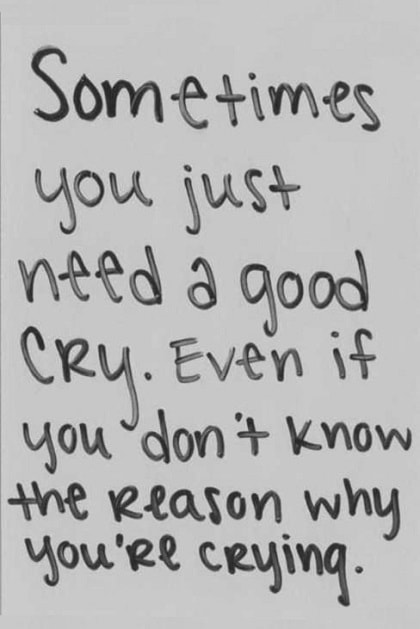 There are moments when I wish I could roll back the clock and take all the sadness away, but I have the feeling that if I did, the joy would be gone as well. – Nicholas Sparks
It is such a secret place, the land of tears. – Antoine de Saint-Exupery
That moment a song's melody talks to you ,your life, your fight so much you just… Start crying.
Experiencing sadness and anger can make you feel more creative, and by being creative you can get beyond your pain or negativity. – Yoko Ono
Work hard. Laugh when you feel like crying. Keep an open mind, open eyes and an open spirit. – Rachael Ray
Crying isn't a sign of weakness. It's a sign of having tried too hard to be strong for too long.
Heaven knows we need never be ashamed of our tears, for they are rain upon the blinding dust of earth, overlying our hard hearts. – Charles Dickens
When I am crying and someone hugs me, it makes me cry even more.
Deep Crying Quotes
Any fool can be happy. It takes a man with real heart to make beauty out of the stuff that makes us weep. – Clive Barker
When someone is crying, of course, the noble thing to do is to comfort them. But if someone is trying to hide their tears, it may also be noble to pretend you do not notice them. – Lemony Snicke
My body needs laughter as much as it needs tears. Both are cleansers of stress. – Mahogany SilverRain
Tears shed for another person are not a sign of weakness. They are a sign of a pure heart. – Jose N Harris
There is an ancient tribal proverb I once heard in India. It says that before we can see properly, we must first shed our tears to clear the way. – Libba Bray
Tears are God's gift to us. Our holy water. They heal us as they flow. – Rita Schiano
I like walking in rain because no one sees me crying.
Don't be ashamed to weep; 'tis right to grieve. Tears are only water, and flowers, trees, and fruit cannot grow without water. But there must be sunlight also. A wounded heart will heal in time, and when it does, the memory and love of our lost ones is sealed inside to comfort us. – Brian Jacques
Why is it you feel like a dope if you laugh alone, but that's usually how you end up crying? – Chuck Palahniuk
Crying is all right in its way while it lasts. But you have to stop sooner or later, and then you still have to decide what to do. – C.S. Lewis
When my eyes are sparkling and my smile is sweet only my true friends know I am about to cry.
Tears are words the mouth can't say nor can the heart bear. – Joshua Wisenbaker
Sometimes crying or laughing are the only options left and laughing feels better right now. – Veronica Roth
You know that a good, long session of weeping can often make you feel better, even if your circumstances have not changed one bit. – Lemony Snicket
Ever since I was a child, I would start crying seeing anyone in pain. – Kangana Ranaut
We need never be ashamed of our tears. – Charles Dickens
Do not apologize for crying. Without this emotion, we are only robots. – Elizabeth Gilbert
I learn from my own daughter that you don't have to be awake to cry. – Jodi Picoult
To weep is to make less the depth of grief. – William Shakespeare
Crying often leads to emotional relief for people with depression. – John Preston
When you're happy you don't always have to be laughing, and when you're sad you don't have to be crying; sometimes it's the opposite. You laugh when you're the most upset. – Freddie Highmore
Crying over what's gone won't find the present. – Edwin Louis Cole
If you haven't cried, your eyes can't be beautiful. – Sophia Loren
Invisible tears are the hardest to wipe away. Just let it out, my friend. – Terri Guillemets
Laugh till you weep. Weep till there's nothing left but to laugh at your weeping. In the end it's all one. – Frederick Buechner
Sometimes only pain can heal. – Danielle Paige
I like the snot to run a little, the tears to accumulate a bit before reaching for the handkerchief. Then I know I'm really crying. Crying just isn't crying unless it's messy. – D.H. Mondfleur
Never walk into a hospital crying. Have an attitude that you will make someone else's life better. – Jim Kelly
We must laugh at man to avoid crying for him. – Napoleon Bonaparte
Those who do not know how to weep with their whole heart don't know how to laugh either. – Golda Meir
Life damages us, every one. We can't escape that damage. But now, I am also learning this: We can be mended. We mend each other. – Veronica Roth

Crying is not a sign of weakness, and you can still get things done when you're crying. – John Preston
I knew how to die. It was the living that scared me. – Julie Murphy
Thoughtful Crying Quotes About Strength
Unless you have been very, very lucky, you have undoubtedly experienced events in your life that have made you cry. So, unless you have been very, very lucky, you know that a good, long session of weeping can often make you feel better, even if your circumstances have not changed one bit. – Lemony Snicket
The tears of the world are a constant quality. For each one who begins to weep, somewhere else another stops. The same is true of the laugh. – Samuel Beckett
Crying is the refuge of plain women but the ruin of pretty ones. – Oscar Wilde
It opens the lungs, washes the countenance, exercises the eyes, and softens down the temper; so, cry away. – Charles Dickens
There are people who laugh to show their fine teeth; and there are those who cry to show their good hearts. – Joseph Roux
I wept not, so to stone within I grew. – Dante Alighieri
Laughter through tears is my favorite emotion. – Steel Magnolias
Tears are the silent language of grief. – Voltaire
Tears are the summer showers to the soul. – Alfred Austin
What soap is for the body, tears are for the soul. – Jewish Proverb
Sometimes, crying is the only way your eyes speak when your mouth can't explain how broken your heart is.
When you are sorrowful look again in your heart, and you shall see that in truth you are weeping for that which has been your delight. – Kahlil Gibran
Laughter and tears are both responses to frustration and exhaustion. I myself prefer to laugh, since there is less cleaning up to do afterward. – Kurt Vonnegut
I have always felt comedy and tragedy are roommates. If you look up comedy and tragedy, you will find a very old picture of two masks. One mask is tragedy. It looks like it's crying. The other mask is comedy. It looks like it's laughing. Nowadays, we would say, 'How tasteless and insensitive. A comedy mask is laughing at a tragedy mask.' – Gilbert Gottfried
Time engraves our faces with all the tears we have not shed. – Natalie Clifford Barney
More grievous than tears is the sight of them. – Antonio Porchia
I suppose I've always done my share of crying, especially when there's no other way to contain my feelings. I know that men ain't supposed to cry, but I think that's wrong. Crying's always been a way for me to get things out which are buried deep, deep down. When I sing, I often cry. Crying is feeling, and feeling is being human. Oh yes, I cry. – Ray Charles
I remember secretly going off and crying. All of a sudden I'm being blocked and have to be intimate in a scene, and I'm going, 'I can't even look people in the eye very well. How am I ever going to do this?' – Cathy Rigby
Don't cry when the sun is gone, because the tears won't let you see the stars. – Violeta Parra
People are crying up the rich and variegated plumage of the peacock, and he is himself blushing at the sight of his ugly feet. – Saadi
Have a good cry, wash out your heart. If you keep it inside, it'll tear you apart. Sometimes you lose, but you're gonna win if you just hang in. – Dr. Hook
When pain brings you down, don't be silly, don't close your eyes and cry, you just might be in the best position to see the sun shine. – Alanis Morissette
The most important question in the world is, 'Why is the child crying?' – Alice Walker
If he were to put his heart in my hand, he might never find it again. And I'm not cruel enough to let him break while he tries to heal the impossible. – Courtney C. Stevens
When a person cries and the first drop of tears comes from the RIGHT eye. It's "HAPPINESS ". But when the first roll is from the LEFT ;"Its "PAIN".
A part of me will always be unflyable, stuck in the climb. – Elizabeth Wein
The loss of someone special is devastating, but quotes about losing a loved one help you heal and accept what has happened.
Famous Crying Quotes About Life
I had been taught that if I cried, to be quiet about it, so whereas I never howled, the least thing made me cry both at school and at home. Crying tends to separate a child from other children, for even children dislike a cry baby, and I had no friends in the world. – Frederick Banting
Tears are the safety valve of the heart when too much pressure is laid on it. – Albert Smith
In the household in which I was raised, the themes were pretty simple. 'Work hard. Don't quit. Be appreciative, be thankful, be grateful, be respectful. Also, never whine, never complain. And always, for crying out loud, keep a sense of humor.' – Michael Keaton
Crying is right at hand in the smothering dark, closed inside someone else, when you see how everything you can ever accomplish will end up as trash. – Chuck Palahniuk
There are a lot of things that are personally uncomfortable to show, especially me without makeup and completely bloated or crying. But I've realized that it's time for me to show my audience that you don't have to be perfect to achieve your dreams. Because nobody relates to being perfect. – Katy Perry
I heard the teardrop hit my pillow before I even knew I was crying. – Amborella Oltre
You know, you only get to live life once, so there are two things that that yields. One is that there's no point in crying over spilt milk, but secondly you hate wasting time, energy, and whatever talent you've got. – David Miliband
Promises are like crying babies in a theater, they should be carried out at once. – Norman Vincent Peale
The fine line between roaring with laughter and crying because it's a disaster is a very, very fine line. You see a chap slip on a banana skin in the street and you roar with laughter when he falls slap on his backside. If in doing so you suddenly see he's broken a leg, you very quickly stop laughing and it's not a joke anymore. – Roald Dahl
It's no good crying over spilt milk, because all the forces of the universe were bent on spilling it. – William Somerset Maugham
Life is an onion and one cries while peeling it. – French Proverb
Crying is never a symbol of weakness. For the time we are born, it has always been a sign that we are alive….
Honest honey, I feel like crying every time I sit down to write you a letter… I am so unlucky. – Eddie Slovik
We are born crying, live complaining, and die disappointed. – Thomas Fuller
He does not weep who does not see. – Victor Hugo
The way sadness works is one of the strange riddles of the world. If you are stricken with a great sadness, you may feel as if you have been set aflame, not only because of the enormous pain but also because your sadness may spread over your life, like smoke from an enormous fire. – Lemony Snicket
I'm not used to crying. It's a little difficult. All my life I've had to fight. It's just another fight I'm going to have to learn how to win, that's all. I'm just going to have to keep smiling. – Serena Williams
But grief makes a monster out of us sometimes . . . and sometimes you say and do things to the people you love that you can't forgive yourself for. – Melina Marchetta
Shining through tears, like April suns in showers, that labor to overcome the cloud that loads them. – Thomas Otway
Life is an onion and one peels it crying. – French Proverb
Cry. Forgive. Learn. Move on. Let your tears water the seeds of your future happiness. – Steve Maraboli
I was smiling yesterday, I am smiling today and I will smile tomorrow. Simply because life is too short to cry for anything. – Santosh Kalwar
Humanity will destroy itself, body and soul, before it will learn a simple lesson. – Dan Wells
Grief is forever. It doesn't go away; it becomes part of you, step for step, breath for breath. – Jandy Nelson
It's amazing how quickly the things you thought would make you happy seem small once you stumble on something true. – Hilary T. Smith
Sad Crying Quotes About Love
Saying goodbye doesn't mean anything It's the time we spent together that matters, not how we left it. – Trey Parker
You can never cross the ocean unless you have the courage to lose sight of the shore. – Christopher Columbus
No one had ever told her this basic fact: not everyone got to be loved. – Lauren Oliver
Our greatest joy and our greatest pain come in our relationships with others. – Stephen R. Covey
Don't be dismayed at good-byes. A farewell is necessary before you can meet again. – Richard Bach
If a relationship is to evolve, it must go through a series of endings. – Lisa Moriyama
Relationships are like glass. Sometimes it's better to leave them broken than try to hurt yourself putting it back together.
When one door closes, another opens; but we often look so long and so regretfully upon the closed door that we do not see the one which has opened for us. – Alexander Graham Bell
Since I can't be with you right now I will have to be content just dreaming about when we will be together again. – Susan Polis Schutz
It is sad not to love, but it is much sadder not to be able to love. – Miguel de Unamuno
You are responsible for your life. You can't keep blaming somebody else for your dysfunction. Life is really about moving on. – Oprah Winfrey
The bitterest tears shed over graves are for words left unsaid and deeds left undone. – Harriet Beecher Stowe
Some people are going to leave, but that's not the end of your story. That's the end of their part in your story. – Faraaz Kazi
How much did it hurt? It was like a million paper cuts on my heart. – Jennifer Mathieu
And ever has it been known that love knows not its own depth until the hour of separation. – Khalil Gibran
Love is the hardest habit to break, and the most difficult to satisfy. – Drew Barrymore
You can close your eyes to things you don't want to see, but you can't close your heart to things you don't want to feel. – Johnny Depp
I just wanted to tell you that I understand if you go. It's okay if you have to leave us. It's okay if you want to stop fighting. – Gayle Forman
Hearts will never be made practical until they are made unbreakable. – Tinman (The Wizard of Oz)
By forgiving and choosing to move on, one takes the power back to morph it into positive energy. – Eugenia Tripputi
I've decided that it's possible to love someone for entirely selfless reasons, for all of their flaws and weaknesses, and still not succeed in having them love you back. – Cammie McGovern
You don't get to choose if you get hurt in this world. . . but you do have some say in who hurts you. – John Green
Breaking up is never easy but breakup quotes will make you forget your past and move on to better things in life.