Feel the power of nursing through these inspirational quotes about being a nurse. Proud to be a nurse because becoming a nurse is one of the most selfless acts a person can undertake.
In a society of so many different races, cultures, customs, and beliefs, nurses are a universal gift to all, and the dedicated work that they do and kindness they deliver on a daily basis should serve as a reminder of the fundamental humanity inside us all. They make a difference and we should show our appreciation.
Nursing, as Florence Nightingale would tell you, is a noble profession. It's all about caring, self-sacrifice, and a whole lot of patience.
If you wonder "What's it really like to be a nurse?" or "How do you handle the day to day stress of it all?", here  A Nurse I Am was produced by Emmy Award-winning director David Hoffman for nurses and nursing students as a response to the alarming trend of nurses leaving the profession within their first few years in practice.
Primarily geared towards students (but enjoyable for anyone!), it features four nursing role models – nurses who are competent and compassionate and have a deep commitment to their patients and to their profession.
Self-Love: The Journey to Embrace Your Essence, Discover Intrinsic Worth, and Build Authentic Self-Esteem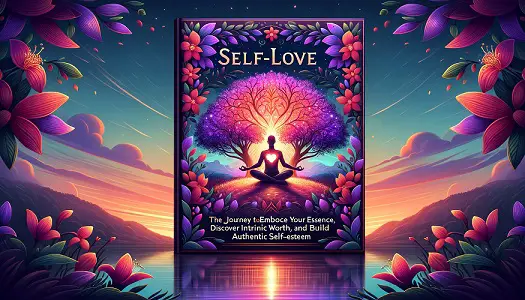 Your journey to self-discovery and enriched relationships starts here. Begin a Life-Changing Journey with this eBook to embrace your true worth and see how it reshapes every aspect of your life, from personal growth to enriching your relationships.
Get Your Copy on Amazon and Start Transforming Today!
If you're searching for best job quotes that perfectly capture what you'd like to say or just want to feel inspired yourself, browse through an amazing collection of inspiring architecture quotes, amazing farmer quotes and top astronaut quotes.
Best Nurse Quotes
Every time you smile at someone, it is an action of love, a gift to that person, a beautiful thing. – Mother Teresa
I attribute my success to this; I never gave nor took any excuse. – Florence Nightingale
Save one life, you're a hero. Save 100 lives, you're a nurse.
Nurses are a unique kind. They have this insatiable need to care for others, which is both their biggest strength and fatal flaw. – Dr. Jean Watson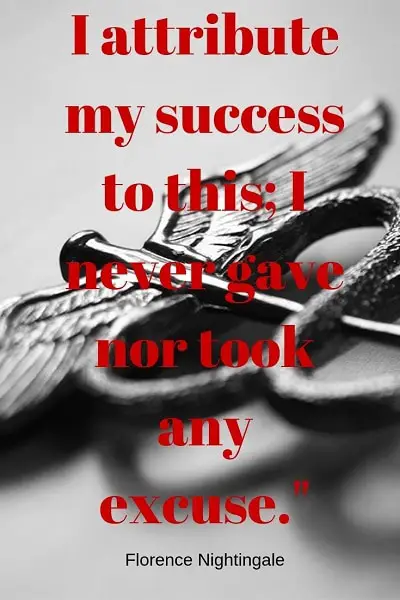 Most of the important things in the world have been accomplished by people who have kept on trying when there seemed to be no hope at all. – Dale Carnegie
To do what nobody else will do, in a way that nobody else can do, in spite of all we go through… that is what it is to be a nurse. – Rawsi Williams
Nurse — Just another word to describe a person strong enough to tolerate everything and soft enough to understand everyone.
Every nurse was drawn to nursing because of a desire to care, to serve, or to help. – Christina Feist-Heilmeier, RN
Too often we underestimate the power of a touch, a smile, a kind word, a listening ear, an honest compliment, or the smallest act of caring; all of which have the potential to turn a life around. – Leo Buscaglia
I may be compelled to face danger, but never fear it, and while our soldiers can stand and fight, I can stand and feed and nurse them. – Clara Barton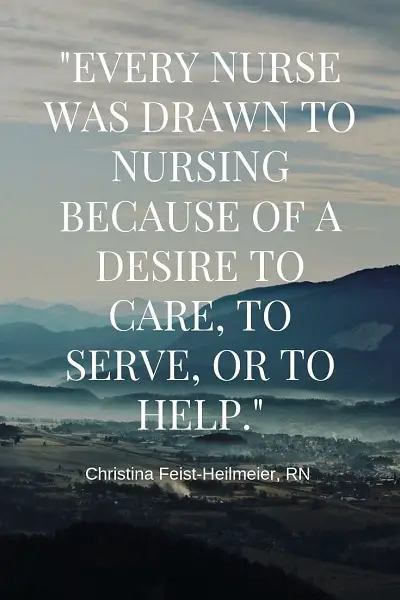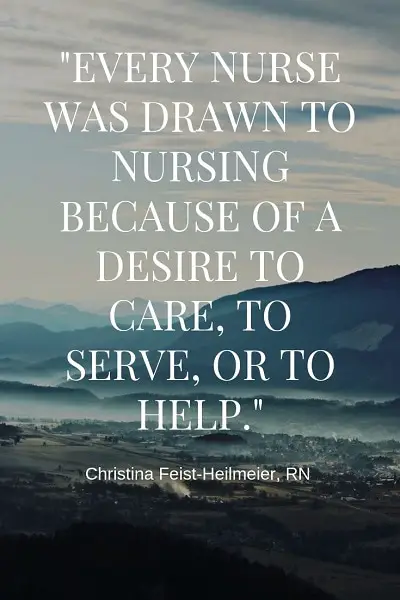 A nurse is not what you do. It is what you are… I am a nurse. It's not what I do, it's what I am.
Caring is the essence of nursing. – Jean Watson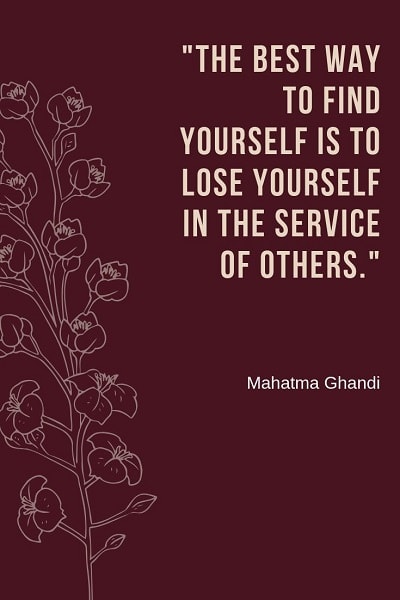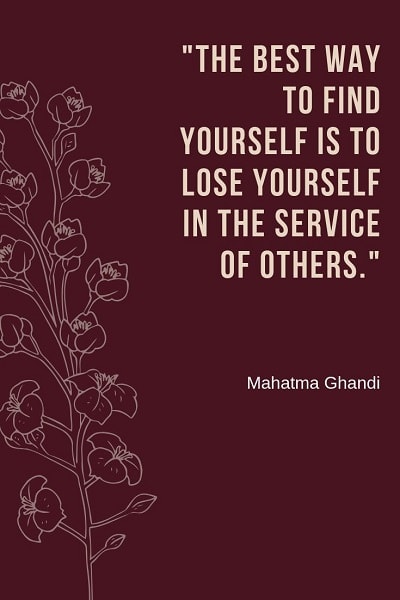 Nurses are there when the last breath is taken, and nurses are there when the first breath is taken. Although it is more enjoyable to celebrate the birth, it is just as important to comfort in death. – Christine Bell
The character of the nurse is as important as the knowledge she possesses. –Carolyn Jarvis
Nursing Quotes
Nurses dispense comfort, compassion, and caring without even a prescription. – Val Saintsbury
Self-Love: The Journey to Embrace Your Essence, Discover Intrinsic Worth, and Build Authentic Self-Esteem
Unlock Your Full Potential with Self-Love! Dive into this e-book and learn how to cultivate a deep, nurturing love for yourself that radiates outwards, improving your connections with others and bringing joy and fulfillment to your life.
Find Your Path to Self-Love on Amazon Today!
Nursing is one of the Fine Arts: I had almost said he finest of Fine Arts. – Florence Nightingale
You treat a disease: You win, you lose. You treat a person, I guarantee you win—no matter the outcome. – Patch Adams
Our job as Nurses is to cushion the sorrow and celebrate the job, everyday, while we are "just doing our jobs". – Christine Belle
Let no one ever come to you without leaving better and happier. – Mother Teresa
Not all angels have wings … some have scrubs.
Never give up on a dream just because of the time it will take to accomplish it. The time will pass anyway. – Earl Nightingale
It's a beautiful thing when a career and a passion come together.
A nurse will always give us hope, an angel with a stethoscope. – Carrie Latet
Apprehension, uncertainty, waiting, expectation, fear of surprise, do a patient more harm than any exertion. – Florence Nightingale
Be kind, for everyone you meet is fighting a battle. – Plato
The meaning of life is to find your gift. The purpose of life is to give it away. – William Shakespeare
Life is not easy for any of us. But what of that? We must have perseverance and, above all, confidence in ourselves. We must believe that we are gifted for something, and that this something, at whatever cost, must be attained. – Marie Curie
Happiness … consists of giving, and in serving others. – Henry Drummond
Have a heart that never hardens, a temper that never tires, a touch that never hurts. – Charles Dickens
It's the new nurses who aren't scared that worry me.
Just so you know, doctors are here to diagnose, not heal. We heal. – Edie Falco in Nurse Jackie
Treat the patient as a whole, not just the hole in the patient.
Self-Love: The Journey to Embrace Your Essence, Discover Intrinsic Worth, and Build Authentic Self-Esteem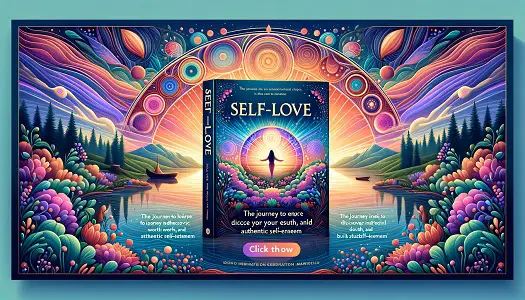 Elevate Your Relationships by Starting Within! Learn how a journey of self-love can lead to more meaningful, authentic connections. This e-book is your guide to developing a compassionate and fulfilling relationship with yourself.
Embark on Your Journey of Self-Love - Available on Amazon Now!
Famous Florence Nightingale Quotes For Nurses
Selfless and God-fearing, Ms. Nightingale left a life of luxury to care for the sick and dying during the Crimean War. Soon, she wrote the book Notes On Nursing and became the founder of modern nursing.
Let this list of the best, the greatest and most inspiring Florence Nightingale quotes make your everyday shift something to remember.
The world is put back by the death of everyone who has to sacrifice the development of his or her peculiar gifts to conventionality.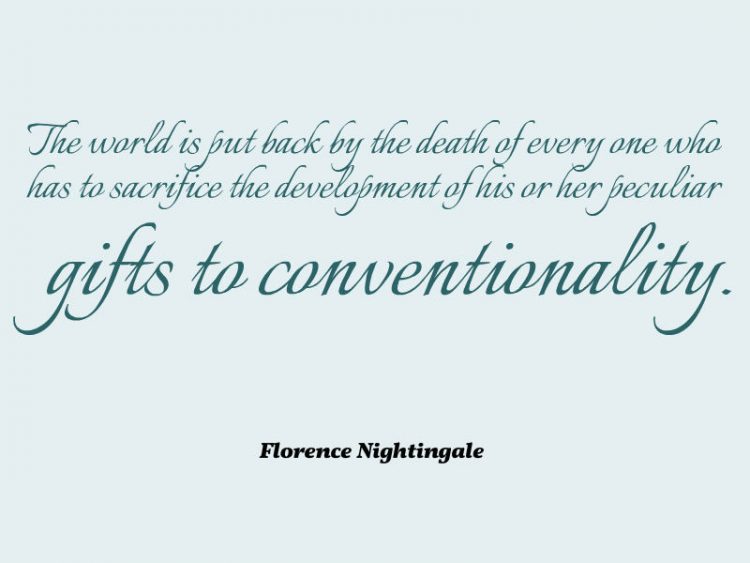 No man, not even a doctor, ever gives any other definition of what a nurse should be than this – 'devoted and obedient'. This definition would do just as well for a porter. It might even do for a horse. It would not do for a policeman.
The amount of relief and comfort experienced by the sick after the skin has been carefully washed and dried is one of the commonest observations made in a sick bed.
The only English patients I have ever known refuse tea, have been typhus cases; and the first sign of their getting better was their craving again for tea.
Women should have the true nurse-calling, the good of the sick first the second only the consideration of what is their 'place' to do – and that women who want for a housemaid to do this or the charwomen to do that, when the patient is suffering, have not the making of a nurse in them.
She said the object and color in the materials around us actually have a physical effect on us, on how we feel.
The martyr sacrifices them entirely in vain. Or rather not in vain; for they make the selfish more selfish, the lazy more lazy, the narrow narrower.
I have lived and slept in the same bed with English countesses and Prussian farm women… no woman has excited passions among women more than I have.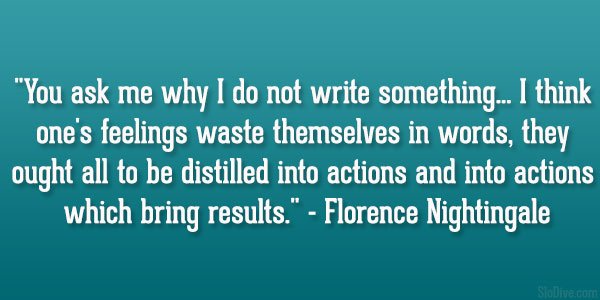 There is no part of my life, upon which I can look back without pain.
The craving for 'the return of the day', which the sick so constantly evince, is generally nothing but the desire for light.
Rather, ten times, die in the surf, heralding the way to a new world, than stand idly on the shore.
-Instead of wishing to see more doctors made by women joining what there are, I wish to see as few doctors, either male or female, as possible. For, mark you, the women have made no improvement they have only tried to be "men" and they have only succeeded in being third-rate men.
How very little can be done under the spirit of fear?
The very first requirement in a hospital is that it should do the sick no harm.
Nursing is a progressive art such that to stand still is to go backwards.
And what nursing has to do in either case is to put the patient in the best condition for nature to act upon him.
Never underestimate the healing effects of beauty.
I am of certain convinced that the greatest heroes are those who do their duty in the daily grind of domestic affairs whilst the world whirls as a maddening dreidel.
I think one's feelings waste themselves in words; they ought all to be distilled into actions which bring results.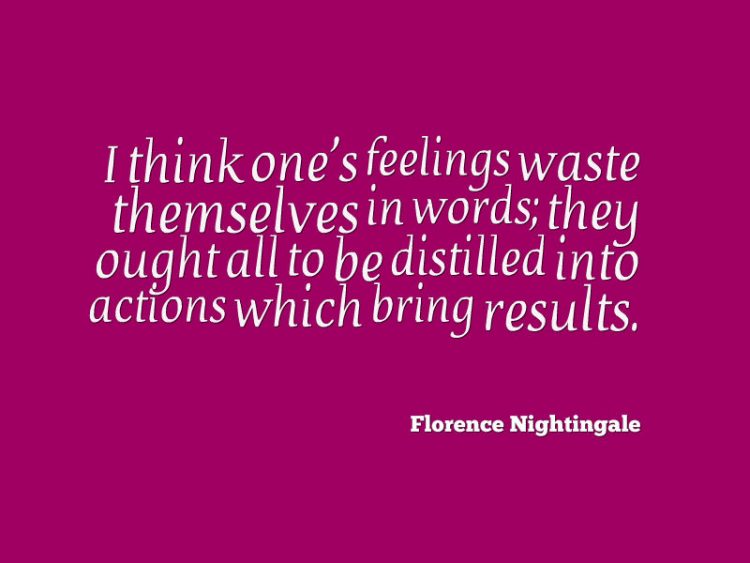 Nursing is an art: and if it is to be made an art, it requires an exclusive devotion as hard a preparation, as any painter's or sculptor's work; for what is the having to do with dead canvas or dead marble, compared with having to do with the living body, the temple of God's spirit? It is one of the Fine Arts: I had almost said, the finest of Fine Arts.
Let us never consider ourselves finished nurses….we must be learning all of our lives.
The most important practical lesson that can be given to nurses is to teach them what to observe.
If a nurse declines to do these kinds of things for her patient, "because it is not her business," I should say that nursing was not her calling. I have seen surgical "sisters," women whose hands were worth to them two or three guineas a-week, down upon their knees scouring a room or hut, because they thought it otherwise not fit for their patients to go into. I am far from wishing nurses to scour. It is a waste of power. But I do say that these women had the true nurse-calling—the good of their sick first, and second only the consideration what it was their "place" to do—and that women who wait for the housemaid to do this, or for the charwoman to do that, when their patients are suffering, have not the making of a nurse in them.
Don't forget to celebrate the incredible contributions of grandparents with Amazing Grandmother Quotes That Will Touch Your Heart.
Inspirational Proud To Be A Nurse Quotes
These quotes have all been gathered from nurses, rather than famous quotes from historical figures, in an effort to provide a personal touch, and to truly capture the sentiment and pride carried by the nurses who care for us when we need them most.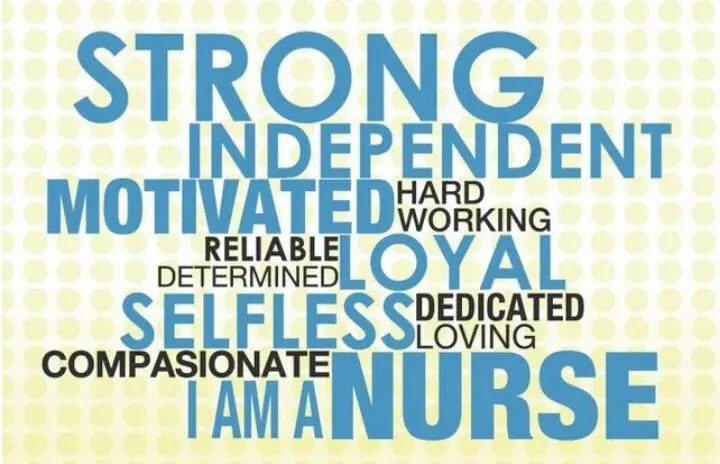 "I know I will be a good nurse, but I want to be more than that. I want to be a nurse who makes a change in my community; one that improves the lives of my patients through quality, compassionate, culturally centered patient care. That is what being a nurse means to me." –Jaime Contreras, Riverside Community College
"Nurses are the hospitality of hospital."
"When you're a nurse you know that every day you will touch a life or a life will touch yours." 
"I am a Nurse. I didn't become a nurse because I couldn't cut it in med school, or failed organic chemistry, but rather because I chose this. I work to maintain my patient's dignity through intimate moments, difficult long-term decisions, and heartbreaking situations. I share in the joy of newly born babies and miraculously cured diseases. I share in the heartbreak of a child taken too soon, a disease too powerful, a life changed forever. My patient is often an entire family. I assess and advocate. Sometimes I wipe bottoms, often I give meds, but that isn't the extent of what I do. There are people above me and people below. I work closely with both, without them, I could not do what I do well. I chose this profession and love almost every minute of it. I know I am not alone and I appreciate all of the nurses who work alongside me. Many of them have shaped me into the nurse I am. Someday I will shape others into the nurse they will be. This wasn't my plan B, it was my plan A, and I would gladly choose it again."
– Kateri Allard, RN, BSN
"Nurses are angels in comfortable shoes."
"I never dreamed about success—I worked for it." – Estée Lauder
"As a nurse, I will have many responsibilities, but I need to take the time to build relationships with patients, communicate effectively, and learn how I can best treat the person based on their personal needs and values. Nursing requires compassion, critical thinking, and communication. These qualities strengthen the trust people place in nurses, and make all proud to say, 'A nurse I am.'" – Allison Williams, Cedarville University
"As nurses we know suffering. We are fully aware of how precious each moment of life is. We learn to live well.
Nurses are grateful people. Some people only learn about these essential spiritual qualities from traditions of worship. We learn compassion, love, peace and more by performing our daily work.
Nurses are constantly reminded of the necessity of valuing the dignity and worth of every person. As a result, we become better people. Our souls are healed. We develop communication skills and open hearts which make us more loving members of our own families. We become tolerant and appreciate the diversity of all of the people on this earth. Perhaps that is the biggest benefit of being nurses. We become more caring, and honorable people."
– Patricia Bratianu, Ph.D., RN, RH-AHG
"Caring for others is demanding intellectually, physically and emotionally, and health is a continuum over the lifetime. It triples out into communities and measures quality of life. As a nurse, I will help individuals and families confront the most dynamic issues of their lives and build communities of care."–Theresa Jepsen, Mesa Community College
"'Nurses are just second to doctors, they are just assistants and can't function without doctors". Yeah, yeah. That is the common notion of the public, however, as much as we rely on doctor's orders for some interventions we need to perform such as medications and invasive procedures, we also have our INDEPENDENT roles, we also get to make our own NURSING DIAGNOSES. The negative perception is often due to some nurses acting like those: like robots waiting for a physician's order to move. Instead of confirming the perception, let us prove to them that they are not right. Like doctors, we have served years of health education and passed the boards to practice in this profession. We are professionals too, let us act like one."
– Liane Clores, RN
"Save one person, you're a hero. Save hundreds, you're a nurse."
"Nothing will work unless you do." – Maya Angelou
"Nurses are always there, you care for us from the earliest years. You look after us in our happiest and saddest times. And for many, you look after us and our families at the end of our lives. Your dedication and professionalism are awe-inspiring." – Duchess Kate Middleton
"Nurses help people. And in doing so, we receive the unmatched satisfaction of knowing that we have made a difference to patients and their families." – Dawn Marino, RN, BSN, HNB-BC
"The longer I'm in the profession, the more experiences shape my life, the more amazing colleagues influence me, the more I see the micro and macro power of nursing." – Joni Watson, MBA, MSN, RN, OCN
"Being a nurse is not all glamour and high fashion but it is always rewarding."
"Learning is a treasure that will follow its owner everywhere." – Chinese proverb
"When you are a nurse, you know that every day you will touch a life or a life will touch yours."
Also, take a moment to celebrate the family with Quotes About Family.
Famous Nursing Student Quotes to Inspire, Motivate, and Uplift
Being a nursing student is tough. These nursing quotes are just a small piece of that puzzle . . . but we think they will help you on your journey to make a difference in this world.
The trained nurse has become one of the great blessings of humanity, taking a place beside the physician and the priest. – William Osler
Nursing school. One syllabus at a time. One class at a time. One exam at a time. One clinical at a time. Keep going…
You don't build a house without its foundation. You don't build a hospital without its Nurses.
While that's correct… it's not the most correct. This is nursing school.
Develop a passion for learning. If you do, you will never cease to grow. – Anthony J. D'Angelo
It's okay to learn from every experience, and it's okay to make mistakes. – Louise Hay
When I think about all the patients and their loved ones that I have worked with over the years, I know most of them don't remember me nor I them, but I do know that I gave a little piece of myself to each of them and they to me and those threads make up the beautiful tapestry in my mind that is my career in nursing. – Donna Wilk Cardillo
How many nurses does it take to screw in a lightbulb? None! They delegate it to the nursing student.
Way back before you were born, God knew there was a need. So God picked your fertile heart and planted a caring seed. Then He waited and He watched. Knowing before too long, the desire in you to help others would continue to grow strong. – Edwin C. Hofert, The Calling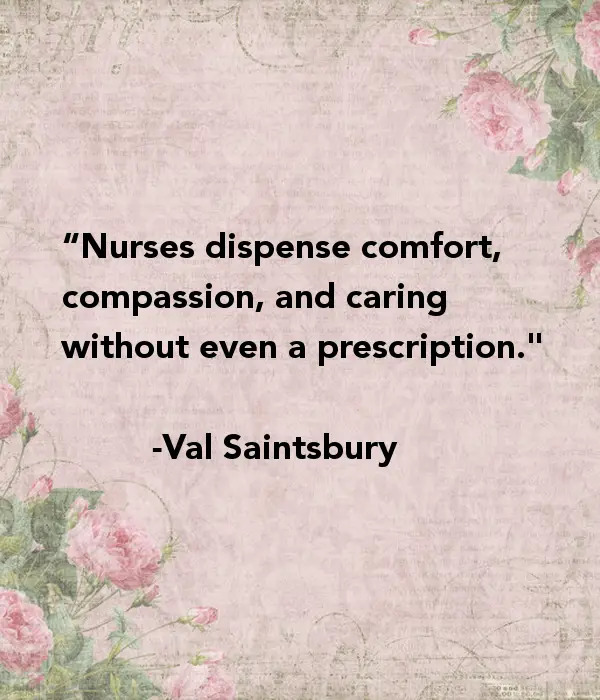 Bound by paperwork, short on hands, sleep and energy… nurses are rarely short on caring. – Sharon Hudacek
They may forget your name but they will never forget how you made them feel. – Maya Angelou
How can anybody hate nurses? Nobody hates nurses. The only time you hate a nurse is when they're giving you an enema. – Warren Beatty
Where the needs of the world and your talents cross, there lies your vocation. – Aristotle
Nurses are the hospitality of the hospital. – Anonymous
It would not be possible to praise nurses too highly. – Stephen Ambrose
As a nurse we have the opportunity to heal the mind, soul, heart, and body of our patients. They may forget your name, but they will never forget how you made them feel. – Maya Angelou
America's nurses are the beating heart of our medical system. – Barack Obama
Some people think that doctors and nurses can put scrambled eggs back in the shell. – Cass Canfield
We may encounter many defeats but we must not be defeated. – Maya Angelou
Nurses don't wait until October to celebrate Make a Difference Day — they make a difference every day! 
You're going to be there when a lot of people are born, and when a lot of people die. In most every culture, such moments are regarded as sacred and private, made special by a divine presence. No one on Earth would be welcomed, but you're personally invited. What an honor that is. – Thom Dick
Inspirational Quotes About Being A Nurse
As a nurse, we have the opportunity to heal the heart, mind, soul and body of our patients, their families and ourselves. They may forget your name, but they will never forget how you made them feel. – Maya Angelou
Who inspires me to be a nurse? Every nurse who doesn't turn their back on nursing students, or graduate nurses, every nurse who acknowledges it's okay and simply human to make foolish mistakes, every nurse who takes a moment of their time to help when you're scared, and every nurse who remembers what it's like to be a beginner. – Anonymous Nurse
Nurse: just another word to describe a person strong enough to tolerate anything and soft enough to understand anyone.
Although your educational journey may be difficult at times, you will reap the reward of utmost satisfaction when holding your nursing diploma for the first time—and nothing will ever compare to the fulfillment that improving and saving the lives of others will bring! – Mikhail Shneyder
No matter how difficult the days may get, don't forget the reason you became a nurse.
I am among those who think that science has great beauty. – Marie Curie
You know you're a nurse when your finger has gone places you never thought possible.
Every nurse has that one patient that they'll remember forever.
Nursing is not just an ART, it has a heART. Nursing is not just a SCIENCE, but it has a conSCIENCE.
Nursing is not for everyone. It takes a very strong, intelligent, and compassionate person to take on the ills of the world with passion and purpose and work to maintain the health and well-being of the planet. No wonder we're exhausted at the end of the day! – Donna Wilk Cardillo
Education is the most powerful weapon which you can use to change the world. – Nelson Mandela
If we're growing, we're always going to be out of our comfort zone. – John Maxwell
Success is not final. Failure is not fatal. It is the courage to continue that counts. – Winston Churchill
You didn't even know me, yet you treated me like family…I'll never forget that. Thank you.
Never give up on anybody. Miracles happen everyday. – H. Jackson Brown Jr.
This conflict is one thing I've been waiting for. I'm well and strong and young—young enough to go to the front. If I can't be a soldier, I'll help soldiers. – Clara Barton
Positive Nurse Quotes
It is not how much you do, but how much love you put in the doing. – Mother Teresa
Our job is to love people. When it hurts. When it's awkward. When it's uncool and embarrassing. Our job is to stand together, to carry the burdens of one another and to meet each other in our questions. – Jamie Tworkowksi
Being a nurse means to hold all your own tears and start drawing smiles on people's faces. – Dana Basem
Don't wish it were easier, wish you were better. Don't wish for fewer problems, wish for more skills. Don't wish for less challenges, wish for more wisdom. – Earl Shoaf
Every Nurse is Angel with a Key for Healthy Community! All in Caring for Patients is part of Nursing Soul! – Aleksandar Radenov
Remember: nurses are like icebergs. At any one time, you are only seeing what they are actually doing. – Ian Miller
If love can't cure it, nurses can. – Unknown
Nursing is not for the empty of heart…nor the faint of heart.
Nurses serve their patients in the most important capacities. We know that they serve as our first lines of communication when something goes wrong or when we are concerned about health. – Lois Capps
Nurses have come a long way in a few short decades. In the past, our attention focused on physical, mental and emotional healing. Now we talk of healing your life, healing the environment, and healing the planet. – Lynn Keegan
Teachers and nurses get the best seats in heaven. – Arnold Schwarzenegger
Nurses – nurses, you'm all the same. Full of cheerfulness over other people's troubles. – Agatha Christie
I'm not telling you it's going to be easy. I'm telling you it's going to be worth it. – Art Williams
If you are a nurse, then you should wear the title with pride. Not many people are capable of doing what you do, and even fewer are capable of doing it with the charisma and passion you do it with.
The nurse is temporarily the consciousness of the unconscious, the love of life for the suicidal, the leg of the amputee, the eyes of the newly blind, a means of locomotion for the infant, the knowledge and confidence of the young mother, and a voice for those too weak to speak. – Virginia Henderson
It's the new nurses who aren't scared that worry me.
Forgive yourself, you are not perfect. Show yourself grace; you are still learning. Show yourself patience; you are on a journey.
Panic plays no part in the training of a nurse. – Elizabeth Kenny
Being a nurse isn't about grades, it's about being who we are. No book can teach you how to cry with a patient. No class can teach you how to tell their family that their parents have diet or are dying. No professor can teach you how to find dignity in giving someone a bed bath. A nurse is not about the pills or charting. It's about being able to love people when they are at their weakest moments. – Anonymous
Trust yourself. You know more than you think you do. – Benjamin Spock
Whether a person is a male or female, a nurse is a nurse. – Gary Veale
Being a nurse is weird: I can keep a poker face through trauma, but have a mental breakdown over losing my favorite pen.
A nurse is one who opens the eyes of a newborn and gently closes the eyes of a dying man. It is indeed a high blessing to be the first and last to witness the beginning and end of life.
Best Quotes About Nursing
Sometimes I inspire my patients; more often they inspire me.
Constant attention by a good nurse may be just as important as a major operation by a surgeon. – Dag Hammarskjold
I'm a nurse because 'miracle worker' isn't an official title.
Hardships often prepare people for an extraordinary destiny. – C.S. Lewis
When love and skill work together, expect a masterpiece. – John Ruskin
The best way to find yourself is to lose yourself in the service of others. – Mahatma Ghandi
I am only one; but still I am one. I cannot do everything; but still I can do something. And because I cannot do everything, I will not refuse to do the something that I can do. – E.E. Hale
When someone is going through a storm, your silent presence is more powerful than a million empty words.
Hope is a thing with feathers that perches in the soul. – Emily Dickinson
Nurses are the heart of healthcare. – Donna Wilk Cardill
Remember, I'm a nurse. You're going to have to say a lot to gross me out.
When you feel like quitting, remember why you started.
I'm a nurse. What's your superpower?
It's never too late to be what you might have been. – George Eliot
Care for one…that's love. Care for hundreds…that's nursing.
I'm a nurse—nothing scares me.
Keep your face always toward the sunshine – and shadows will fall behind you. – Walt Whitman
May your scrubs be comfy, your coffee be strong, and your Monday be short.
A Nurse is compassion in scrubs. – Lexie Saige
Nurse may not be angels but they are the next best thing!
When you're a nurse, you know that everyday you will touch a life or a life will touch yours.
The bamboo that bends is stronger than the oak that resists. – Japanese proverb
Value what you do and add value by what you do.
Be the nurse you would want as a patient.
Nurses—one of the few blessings of being ill. – Sara Moss-Wolfe
Yes, I am a nurse. No, I don't want to look at it.
Every day may not be wonderful, but there is something wonderful in every day.
If you can't figure out your purpose, figure out your passion. For passion will lead you right into your purpose. – Bishop T.D. Jakes
Some Facts About Nurses:
Who was the first nurse?
Ellen Dougherty, New Zealand's and the world's first registered nurse.
Why are nurses so important?
Because when you are a patient they spend more time with you than doctors. They a moderate your healing progress. They also provide emotional support and keeping their dialogue open.
How many nurses are in the world?
There are 19.3 million nurses according to the World Health Organizastion's World Health Statistics Report, 2011.
What is the nursing motto?
Nurses can do anything, not nurses should do everything! Our opportunities are boundless. Nurses can handle a lot.