Minnie Mouse is a cartoon character created in 1928 at Walt Disney Pictures. As the longtime sweetheart of Mickey Mouse, she is an anthropomorphic mouse with white gloves, a bow, polka-dotted dress, and low-heeled shoes occasionally with ribbons on them. Profoundly inspirational Minnie Mouse quotes will encourage you to think a little deeper than you usually would and broaden your perspective.
If you're searching for best quotes from Disney that perfectly capture what you'd like to say or just want to feel inspired yourself, browse through an amazing collection of inspiring Goofy quotes, best Disneyland quotes and greatest Mulan quotes.
Famous Minnie Mouse Quotes
Too much glitter,' said no one ever. — Minnie Mouse
Remember, you're the one who can fill the world with sunshine. — Minnie Mouse
You're here! Oh, I'm so happy can could join us! My name's Minnie Mouse. And you must be… you! — Minnie Mouse
Tee-hee! That's great! Go dress yourself head to toe in polka dots, then come back and see me! Oh, I just know you'll look like an absolute dream! — Minnie Mouse
I'm all ears. — Minnie Mouse
I didn't choose the ear life. The ear life chose me. — Minnie Mouse
I love spring! After all, spring is when so many lovely flowers are in bloom! — Minnie Mouse
What's your favorite outfit? Everyone here has his or her own tastes when it comes to fashion. Wear someone's favorite outfit and they'll shower you with compliments! — Minnie Mouse
Some days, you just want to wear a bow in your hair. — Minnie Mouse
Do you know what I just did? I was just picking flowers from the flower garden. You should pick some, too! — Minnie Mouse
Having the most sparkly day ever. — Minnie Mouse
Tee hee! What do you think? Isn't it darling? — Minnie Mouse
You like my ears? — Minnie Mouse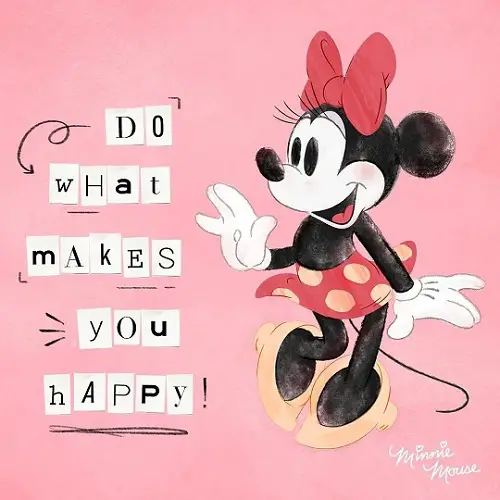 I'm a mouse, duh. — Mean Girls
Now what do I do? I told Mickey I'd make him some homemade candy, and I thought I had everything I needed for the recipe. But it turns out I don't have enough of one of the ingredients. And Mickey was really looking forward to them, too. — Minnie Mouse
Mickey Mouse: Oh a case…for my harmonica.
Minnie Mouse: Oh My! A chain for my…watch. Oh Mickey, it's beautiful. But I traded my watch to get you that case.
Mickey Mouse: And I traded my harmonica to get you chain for your watch.
Minnie Mouse: Oh Mickey! I can't believe you traded what means the most to you, for me.
Mickey Mouse: Oh Minnie, you're all the music I'll ever need.
Having the best ear ever. — Minnie Mouse
Do you have a moment? Your café is even more magnificent today — if that's even possible! You have all of my favorite things here. I get excited every time I visit! Tee-hee! We must like a lot of the same things, huh? That reminds me — I have a present for you. Thanks for bringing so much joy to all of our lives with your beautiful café. Here you go! And keep up the great work! — Minnie Mouse
I'm simply ear-esistible. — Minnie Mouse
I'll know he's the one, when he makes me laugh. — Minnie Mouse
Some days call for extra sparkle. — Minnie Mouse
Put a bow on it. — Minnie Mouse
Life is too short to wear boring clothes. — Minnie Mouse
Life needs a few more polka dots. — Minnie Mouse
This is Castleton! Folks who believe in their dreams come here from all over. Enjoy your stay! — Minnie Mouse
If I lived here, I'd be home already. — Minnie Mouse
What a fantastic café! I can't help but see all the fashionable touches you've put on the place. Just being here puts me in such a wonderful, happy mood! — Minnie Mouse
Well Daisy it's like I always say, there's no business like bow business. — Minnie Mouse
Do you have a moment? Say, I was just about to go flower-picking up on the hill. Wouldn't it be fun if we went together? C'mon, let's go! — Minnie Mouse
If it's got a bow on it, I'm sold!' — Minnie Mouse
Wow! You look gorgeous! Even better than I expected! Why, I just couldn't be happier to see you like this. Thank you so much! Oops – I almost forgot! Let's take a picture together! We need to commemorate our friendship becoming even closer than it was before! — Minnie Mouse
Yoo-hoo! I came Daisy's Boutique looking for some new clothes. She has so many nice things – how will I ever choose? — Minnie Mouse
Hi! You know, I just love clothes with polka-dot patterns. I bet they would look so beautiful on you, too! Say, how about you put some on and model them for me? C'mon, you know I have an eye for fashion! What do you say? — Minnie Mouse
I know you can do it! Have you decided on the café menu yet? Don't forget to put some sweets on there for me, okay? Tee-hee! — Minnie Mouse
There's nothing Minnie about my love for Disney. — Minnie Mouse
The problem is, he's Pinocchio's conscience, not yours. — Minnie Mouse
Hmm, maybe. Oh, Mickey Mouse! You forgot, didn't you? — Minnie Mouse
I found some darling flowers myself! Today was so much fun! Thanks for joining me. — Minnie Mouse
Ah…Mickey and Minnie Mouse Oh! Look Daisy! Mickey and I have the same last name. — Minnie Mouse
You'll bring me the last ingredient I need? Goodness! You're about the sweetest person I know! If you insist…yes, please! And thank you! Mickey's waiting, so please try to find it as quickly as you can. I'll be right here! Thank you again! — Minnie Mouse
Cute Minnie Mouse Lines
When you need, Minnie Mouse phrases and catchphrase will become perfect captions for Instagram:
Minnie Mouse is my style icon.
You're never too old to wish upon a star and wear a pair of mouse ears.
You be the Mickey, and I'll be your Minnie.
I wanna be where the Disney people are.
We got ears, say cheers! — Mickey Mouse Clubhouse
All you need is faith, trust, and pixie dust… plus a pair of Minnie ears.
I don't just like Disney… I love Disney.
Smiling from Minnie ear to ear.
Life is better at Disney.
I followed my heart, and it led me to Disneyland.
If wearing mouse ears is wrong, I don't want to be right.
Some people were just born with Disney in their veins.
Gosh, it sure is a nice sunny day.
Felt cute, might go to Disneyland together later.
Don't stop believin'.
Dinglehopper hair, don't care.
Aren't you sweet?
Cheesin' real hard for you.
I'm just a modest mouse in love with you.
It was glove at first sight.
It's always mice when you're around.
It's mice to be near you.
Just mousin' around.
Oh, Mickey! When I hear you play that harmonica, my heart sings!
Happy New Year! I hope this year is your best one yet! Here's to another year as friends!
Who needs a tiara when you have mouse ears?
Well, it must be destiny.
Oh thank you! You've brought me the last ingredient I needed for those candies! Yes, that's it, all right. Thank you so much! I'd better get right down to work then. Tee-hee! I can just picture Mickey's face once he takes that first bite!
You may also enjoy Donald Duck Instagram captions.