"I feel empty." What does it mean? When a person is feeling empty, they are plunged into an inner abyss. Inspirational feeling empty quotes will challenge the way you think, and help guide you through any life experience.
If you're searching for deep quotes about depression and quotes about loneliness that perfectly capture what you'd like to say or just want to feel inspired yourself, browse through an amazing collection of top therapy quotes, quotes about addiction and famous feeling down quotes.
Famous Feeling Empty Quotes
Moments of suffering are meant to empty us so that we may have the potential to tap into our truest depths. – Kamand Kojouri
I feel empty inside.
The beginning of love is a horror of emptiness. – Robert Bly
Not happy. Not sad. Just empty.
When you're full of yourself, God can't fill you. But when you empty yourself, God has a useful vessel. – Max Lucado
You can't cry when you're already empty.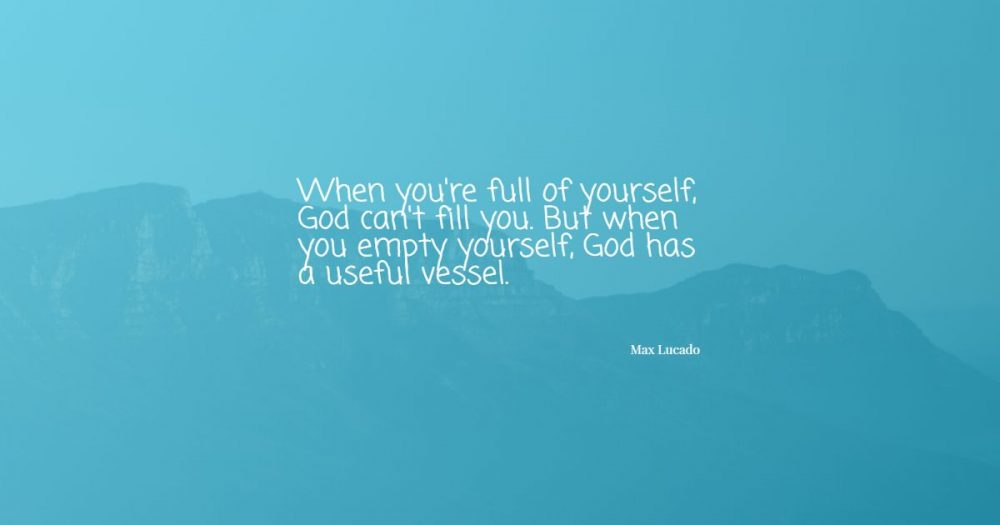 I am empty of everything. I am empty of everything but the thin, frail ghosts in my room. – Jean Rhys
Silence isn't empty; it's full of answers.
A sad soul needs an infinite horizon which can throw all his sorrow into the silence of the eternal emptiness! – Mehmet Murat ildan
How can emptiness be so heavy?
I need someone. I need to hold somebody close. And I need more than this holding. I need someone to understand how I feel at a time like now. And the understanding must be part of the holding. – Betty Smith
Why does the feeling of emptiness occupy so much space?
Become totally empty. Quiet the restlessness of the mind. Only then will you witness everything unfolding from emptiness. – Laozi
She tries to smile, to feel happy, But she feels so empty.
You are not feeling empty because you don't have much money. You are feeling empty because you have not yet encountered your real self, you have not come to your authentic individuality. – Rajneesh
To fake it is to stand guard over emptiness. – Arthur Herzog
There are so many empty people walking around on this little planet. Lonely people. Angry people. Bitter. Forgotten. – Jeyn Roberts
I swear, I end up feeling empty, like you've taken something out of me and I have to search my body for scars. – Richard Siken
We find worth in jobs, money, and performance so we can hide how worthless we feel inside. Acknowledge the pain to be healed. – LeCrae
A busy life is filled with tremendous emptiness. – Debasish Mridha
Depression isn't just being a bit sad. It's feeling nothing. It's not wanting to be alive anymore. – J. K. Rowling
But what I did sense was an emptiness like a black hole inside of him, and there was no predicting what might emerge from a place like that. – Ryu Murakami
Every word is like an unnecessary stain on silence and nothingness. – Samuel Beckett
That feeling when you are not necessarily sad, but you feel really empty.
I don't want to see anyone. I lie in the bedroom with the curtains drawn and nothingness washing over me like a sluggish wave. Whatever is happening to me is my own fault. I have done something wrong, something so huge I can't even see it, something that's drowning me. I am inadequate and stupid, without worth. I might as well be dead. – Margaret Atwood
Sad Quotes About Feeling Empty
I wanted to write down exactly what I felt but somehow the paper stays empty and I could not have described it any better.
It is beautiful, it is endless, it is full and yet seems empty. It hurts us. – Jackson Pearce
We become aware of the void as we fill it. – Antonio Porchia
Sometimes you can only feel something by its absence. By the empty spaces it leaves behind. – Gayle Forman
The artist's job is not to succumb to despair but to find an antidote for the emptiness of existence. – Woody Allen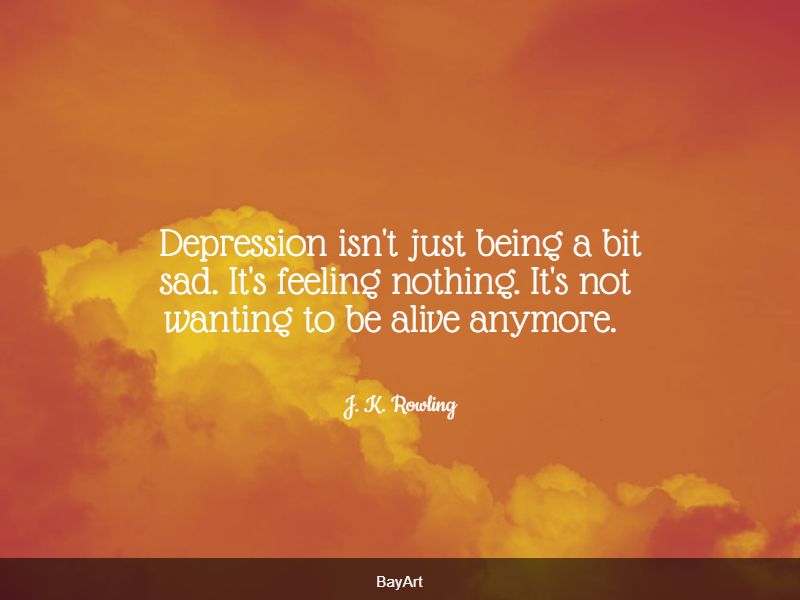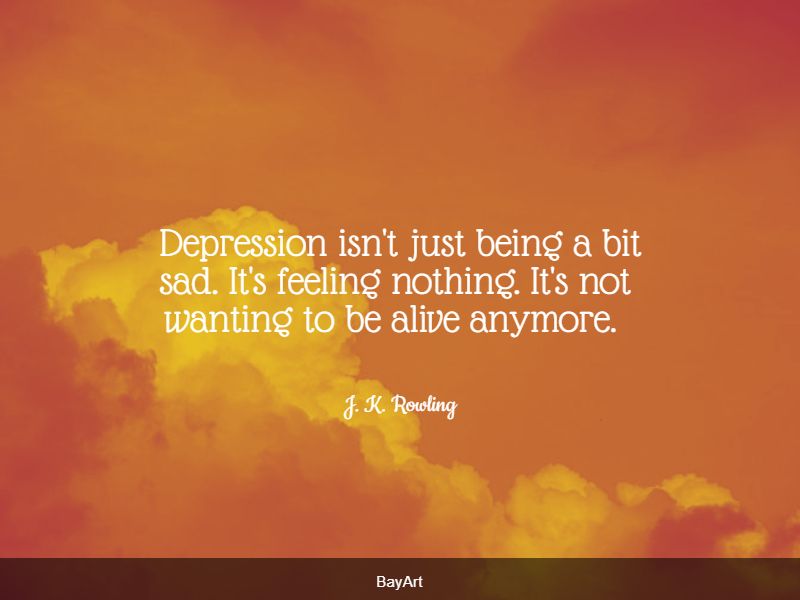 You keep running after the love of the people, but you'll never get it. And what you do get, will never be enough. The hole inside you is too big. You see, it was made by God, for God. How could anything less fill it? – Yasmin Mogahed
She was tired, with that tiredness that only emptiness brings. – Paolo Giordano
Life is an empty bottle filled with love. – Santosh Kalwar
Emptiness which is conceptually liable to be mistaken for sheer nothingness is in fact the reservoir of infinite possibilities. – D.T. Suzuki
One must know oneself. If this does not serve to discover truth, it at least serves as a rule of life and there is nothing better. – Blaise Pascal
But to me nothing, the negative, the empty, is exceedingly powerful. – Alan Watts
When I feel truly alone, with a sense of being lost, even empty inside, it is then I realize I have unknowingly moved away from God, so I move back. – David L. Weatherford
There is no such thing as an empty space or an empty time. There is always something to see, something to hear. In fact, try as we may to make a silence, we cannot. – John Cage
Pain can be vitalising; it gives intensity in the space of vagueness and emptiness. – Sebastian Horsley
The more space and emptiness you can create in yourself, then you can let the rest of the world come in and fill you up. – Jeff Bridges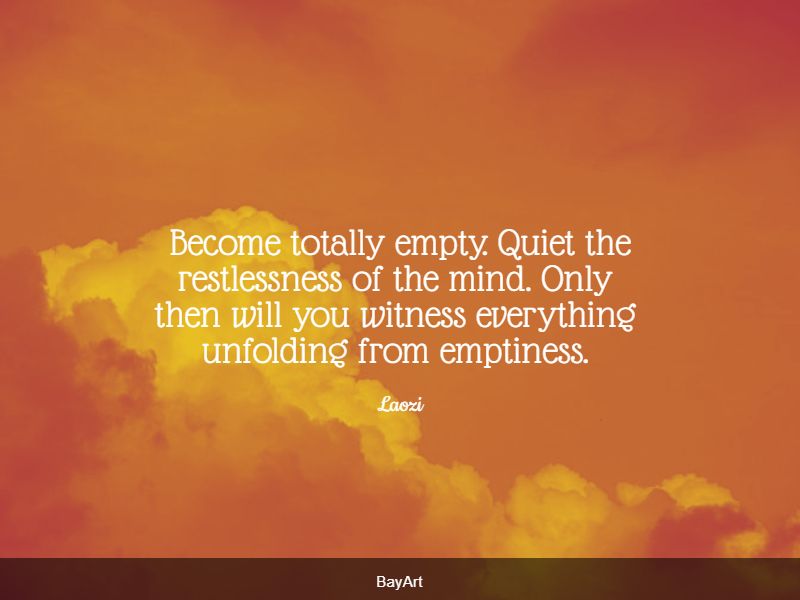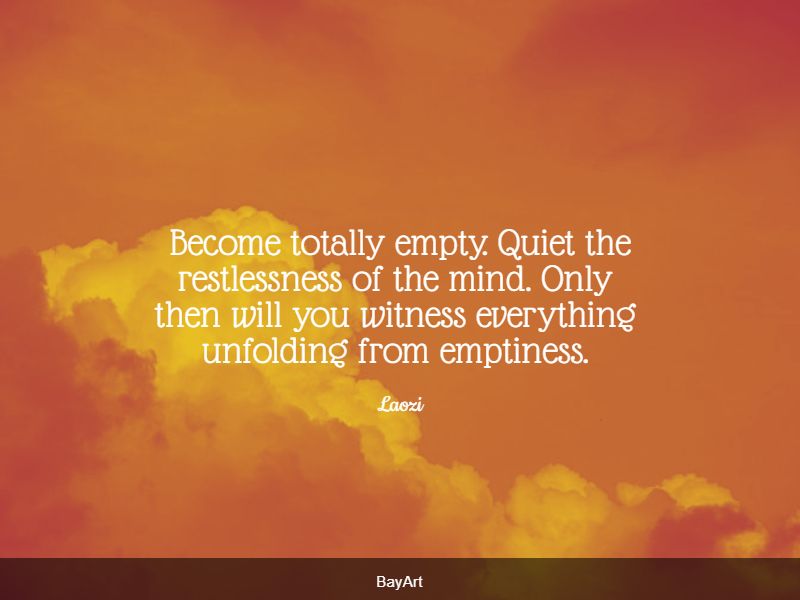 I decided I would fill the emptiness in me with God and with paint. – Kimberly Novosel
Outside of Christ, I am only a sinner, but in Christ, I am saved. Outside of Christ, I am empty; in Christ, I am full. Outside of Christ, I am weak; in Christ, I am strong. Outside of Christ, I cannot; in Christ, I am more than able. Outside of Christ, I have been defeated; in Christ, I am already victorious. How meaningful are the words, "in Christ." – Watchman Nee
This was the truth at the core of my existence: this yawning emptiness, scantily clad in rage. – Hillary Jordan
The greatest tragedies in life is not untimely death, but to live a life for emptiness. – Topsy Gift
The funny thing about having all this so-called success is that behind it is a certain horrible emptiness. – Sam Shepard
The rest of my life stretches out as an emptiness before me. – Kazuo Ishiguro
They say you don't get over someone until you find someone or something better. As humans, we don't deal well with emptiness. Any empty space must be filled. Immediately. The pain of emptiness is too strong. It compels the victim to fill that place. A single moment with that empty spot causes excruciating pain. That's why we run from distraction to distraction and from attachment to attachment. – Yasmin Mogahed
There's just something obvious about emptiness, even when you try to convince yourself otherwise. – Sarah Dessen
This world that I live in is empty and cold the loneliness cuts me and tortures my soul. – Waylon Jennings
Always show kindness and love to others. Your words might be filling the empty places in someone's heart. – Mandy Hale
There's a big difference, I discovered, between wanting to die and not wanting to live. When you want to die, you at least have a goal. When you don't want to live, you're really just empty. – Brian Hugh Warner
For years I was so busy building walls I did not see I was imprisoning myself behind them, and did not recognize this pattern as being addiction. My addictive thinking and behavior became the bars of my cell. Denying feeling empty inside, I constantly looked for new things to acquire, people to be around, substances to take, and new goals to achieve in order to feel better about myself. Over the last four decades I have focused on healing my addictive mind and helping others do the same. – Lee L Jampolsky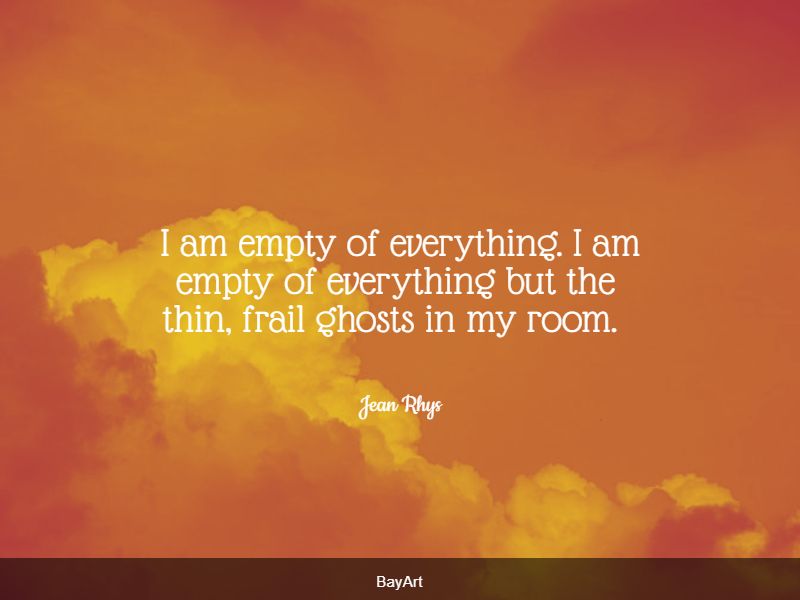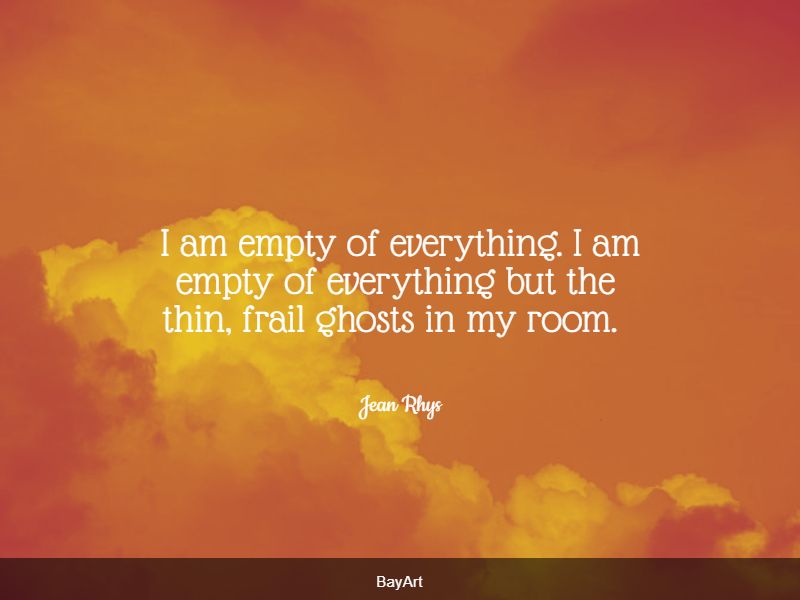 It's not the feeling of completeness I need, but the feeling of not being empty. – Jonathan Safran Foer
Everyday we used to slip away to talk. We would talk about the goodness of your heart. Now it seems I admit that never exist at all and it leaves me feeling empty with this hollow chord. – Regina Belle
Deep I Feel Empty Quotes
In all our searching, the only thing we've found that makes the emptiness bearable is each other. – Carl Sagan
Emptiness is not a great loss. It creates a great opportunity to fill yourself again and again with great love. – Debasish Mridha
Illusion is needed to disguise the emptiness within. – Arthur Erickson
For a long time now my heart has had its shutters closed, its steps deserted, formerly a tumultuous hotel, but now empty and echoing like a great empty tomb. – Gustave Flaubert
If giving leaves you feeling empty, you're giving too much to the wrong person. – Maza Dohta
Now that I've won a slam, I know something very few people on earth are permitted to know. A win doesn't feel as good as a loss feels bad, and the good feeling doesn't last long as the bad. Not even close. – Andre Agassi
Bowed by the weight of centuries he leans upon his hoe and gazes on the ground, the emptiness of ages in his face, and on his back the burden of the world. – Edwin Markham
I said nothing for a time, just ran my fingertips along the edge of the human-shaped emptiness that had been left inside me. – Haruki Murakami
The void inside me starts to fill, but my heart has holes, and whatever it holds will run out, leaving me empty once again. – Danielle Esplin
I felt myself being invaded through and through, I crumbled, disintegrated, and only emptiness remained. – Stanislaw Lem
Our conversations are never easy, but as I-we-get older, we are finding that our conversations must bespoken. A need burns inside us to share with others what we are feeling Beyond a certain age, sincerity ceases to feel pornographic. It is as though the coolness that marked out youth is itself a type of retrovirus that can only leave you feeling empty. Full of holes. – Douglas Coupland
This will be a winter so desolate, only memory can fill the emptiness. – John Geddes
You can only fit so many words in a postcard, only so many in a phone call, only so many into space before you forget that words are sometimes used for things other than filling emptiness. – Sarah Kay
The inner emptiness is the door to God. – Swami Dhyan Giten
If emptiness is endless, then everything rests in emptiness. – Dejan Stojanovic
I think I get used to, even addicted to, the feelings associated with the end of a long training run. I love feeling empty, clean, worn out, starving, and sweat-purged. I love the good ache of muscles that have done me proud. I love the way a cold beer tastes later that afternoon. I love the way my body feels light and sinewy. – Kristin Armstrong
Nothingness not being nothing, nothingness being emptiness. – Isabelle Adjani
Nothing has an unlikely quality. It is heavy. – Jeanette Winterson
What had been quiet and restful was now silent and empty. – Frederick Barthelme
We often feel proud of our knowledge even when it is filled with emptiness. – Debasish Mridha
Life is empty and meaningless because life is empty and meaningless. – Werner Erhard