Devotional is connected with the act of religious worship. Profoundly inspirational devotional quotes will encourage you to think a little deeper than you usually would and broaden your perspective.
If you're searching for inspiring religion quotes and powerful Christmas quotes that perfectly capture what you'd like to say or just want to feel inspired yourself, browse through an amazing collection of inspiring lent quotes, powerful guardian angel quotes and famous God has a plan quotes.
Famous Devotional Quotes
Whoever brings you the most peace should get the most time. — Minister Rev. Run
Whatever I am offered in devotion with a pure heart — a leaf, a flower, fruit, or water — I accept with joy. — Bhagavad Gita
The mystery of seeking God is that he is the one who finds you. — Kingsley Opuwari Manuel
You can hear a song in every word if you listen closely enough. — Christopher M. Milo
With every breath, I plant the seeds of devotion, I am a farmer of the heart. — Rumi
Be sure that you never try to work God into your schedule, but always work your schedule around him. — Joyce Meyer
To submit one's self to one's gift is to submit oneself to education and self-development and to devote enough time to improve one's gift. — Sunday Adelaja
The church is the gym of the soul. — Sylvester Stallone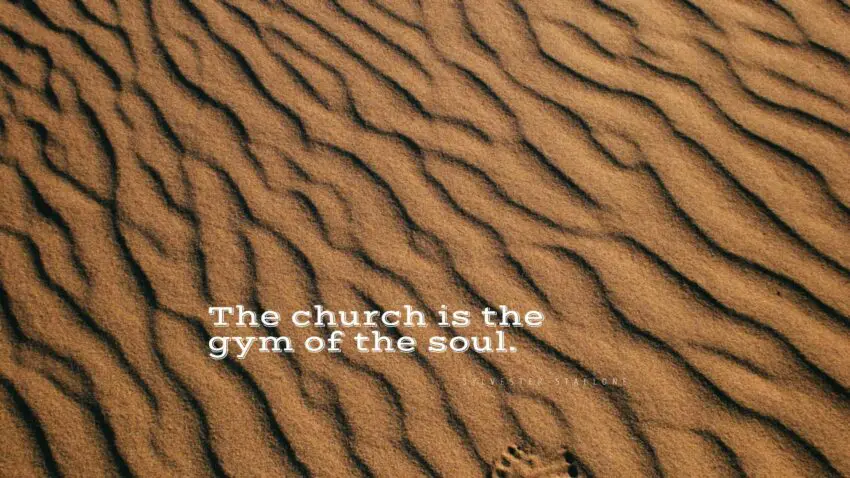 True devotion is motivated by love alone and devoid of selfish entanglements. — Rick Hocker
Devotion is a place where you do not exist; life just flows through you as a certain sweetness and beauty. — Jaggi Vasudev
We may live victoriously, not because we have any power within ourselves, but because when we give ourselves to God, He gives himself to us. — Norman Vincent Peale
The main measure of your devotion to God is not your devotional life. It is simply your life. — John Ortberg
God seeks us as eagerly as we seek God. — Forrest Church
True strength lies in submission which permits one to dedicate his life, through devotion, to something beyond himself. — Henry Miller
Our Lord's conception of discipleship is not that we work for God, but that God works through us. — Oswald Chambers
Work as if everything depends on you. Pray as if everything depends on God. — St. Ignatius Loyola
Spiritual reading is a regular, essential part of the life of prayer, and particularly is it the support of adoring prayer. — Evelyn Underhill
I would never discredit reading the Scriptures, but it is important to meditate on it. — Charles Stanley
Your devotion to God is illustrated, demonstrated, and authenticated by your love for others. — Andy Stanley
The moment you wake up each morning, all your wishes and hopes for the day rush at you like wild animals. And the first job each morning consists in shoving it all back; in listening to that other voice, taking that other point of view, letting that other, larger, stronger, quieter life come flowing in. — C. S. Lewis
You have to plan it [your devotion to God] every day. And, the best time to plan it is before your day begins. If you don't plan it, your day will plan you. And so, I make a disciplined life of the study of the scriptures, reading the word every day. — Ravi Zacharia
To place ourselves in range of God's choicest gifts, we have to walk with God, work with God, lean on God, cling to God, come to have the sense and feel of God, refer all things to God. — Cornelius Plantinga, Jr.
The limitless loving devotion to God, and the gift God makes of Himself to you, are the highest elevation of which the heart is capable; it is the highest degree of prayer. The souls that have reached this point are truly the heart of the Church. — Edith Stein
It is important to increase our sense of God's richness and wonder by reading what his great lovers have said about him. — Evelyn Underhill
Devotion is the realization that wealth, education and power are God given gifts and not the endowments of fate. — Rev. Pandurang Shashtri Athavale
Don't pray when you feel like it. Have an appointment with the Lord and keep it. — Corrie Ten Boom
The discipline of daily devotion to God undergirds decisions. — Edwin Louis Cole
Devotion is diligence without assurance. — Elizabeth Gilbert
The time you spend alone with God will transform your character and increase your devotion. Then your integrity and godly behavior in an unbelieving world will make others long to know the Lord. — Charles Stanley
With devotion at the center of your awareness, you don't have to refer to your past in order to make a choice of how to respond or react in any given situation. — Debbie Ford
Reading the Bible will help you get to know the word, but it's when you put it down and live your life that you get to know the author. — Steve Maraboli
All of life has its rhythms, and the repetition of familiar prayers can bring our interior spirits into harmony with the Divine Heartbeat and the breathing of the Divine Christ. — Stephen J. Binz
Devotion does not mean only Chanting praise and singing glory of God, nor fasting and offerings made to God. Devotion is a specific attitude towards life and existence. — Rev. Pandurang Shashtri Athavale
We can't really tell how crooked our thinking is until we line it up with the straight edge of Scripture. — Elisabeth Elliot
It is by undivided devotion that I can be known in such a form, truly seen, and entered into. — Bhagavad Gita
The important thing is not the finding, it is the seeking, it is the devotion with which one spins the wheel of prayer and scripture, discovering the truth little by little. — Ursula K. LeGuin
Often devotion to virtue arises from sated desire. — Adela Florence Nicolson
Relying on God has to begin all over again every day as if nothing had yet been done. — C. S. Lewis
There is always the danger that we may just do the work for the sake of the work. This is where the respect and the love and the devotion come in – that we do it to God, to Christ, and that's why we try to do it as beautifully as possible. — Mother Teresa
Make it a part of every day's business to read and meditate on some portion of God's Word. Private means of grace are just as needful every day for our souls as food and clothing are for our bodies. — J.C. Ryle
Our ultimate devotion is to be a reflection of a divine work that is continuously unfolding in our hearts. — Andrena Sawyer
Let the Word break over your heart and mind again and again…and imperceptibly there will come great changes in your attitude and outlook and conduct. — Geoffrey Thomas