You want to express your feelings in a way that is unique and shows her how you feel. Good morning love poems for girlfriend have always been one of the sweetest forms of expression. These good morning sweetheart poems are a perfect complement to a beautiful morning and help you to melt her heart. Morning is the time when everyone wants to have a blessed feeling for the whole day and poems have the power to brighten your day or the morning for your lover.
Also you make surprise with love poems for her and helps put a huge smile on her face.
Here are the best romantic good morning love poems for her:
Famous Good Morning Poems For Her
Throughout history, poets have been inspired to pen verses that capture the beauty and wonder of the morning, and more specifically, the joy of sharing it with someone they love. These famous good morning poems have touched hearts and inspired countless romances by conveying the warmth and affection of a new day and the love shared between two people.
'Bright Star' by John Keats
Bright star, would I were stedfast as thou art–
Not in lone splendour hung aloft the night
And watching, with eternal lids apart,
Like nature's patient, sleepless Eremite,
The moving waters at their priestlike task
Of pure ablution round earth's human shores,
Or gazing on the new soft-fallen mask
Of snow upon the mountains and the moors–
No–yet still stedfast, still unchangeable,
Pillow'd upon my fair love's ripening breast,
To feel for ever its soft fall and swell,
Awake for ever in a sweet unrest,
Still, still to hear her tender-taken breath,
And so live ever–or else swoon to death.

Self-Love: The Journey to Embrace Your Essence, Discover Intrinsic Worth, and Build Authentic Self-Esteem

Your journey to self-discovery and enriched relationships starts here. Begin a Life-Changing Journey with this eBook to embrace your true worth and see how it reshapes every aspect of your life, from personal growth to enriching your relationships.

Get Your Copy on Amazon and Start Transforming Today!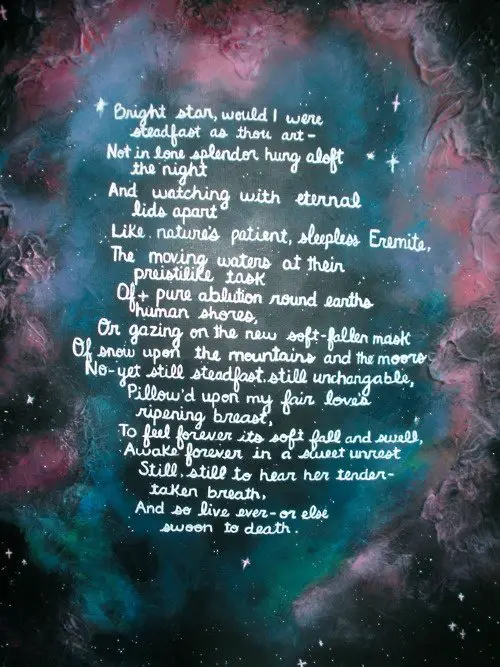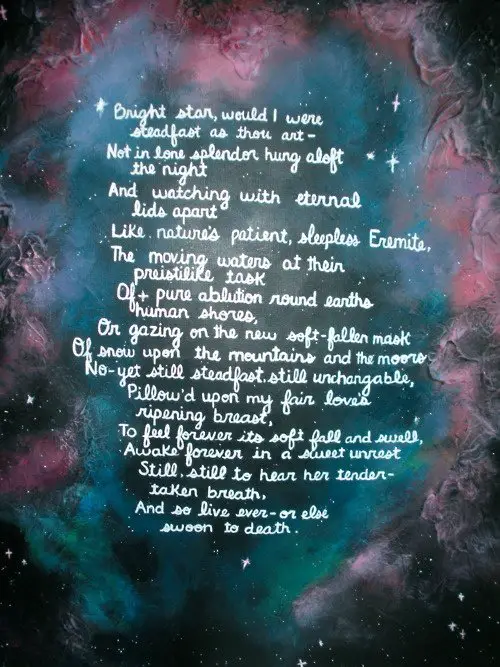 'How Do I Love Thee' by Elizabeth Barrett Browning
How do I love thee? Let me count the ways.
I love thee to the depth and breadth and height
My soul can reach, when feeling out of sight
For the ends of Being and ideal Grace.
I love thee to the level of everyday's
Most quiet need, by sun and candle-light.
I love thee freely, as men strive for Right;
I love thee purely, as they turn from Praise.
I love thee with a passion put to use
In my old griefs, and with my childhood's faith.
I love thee with a love I seemed to lose
With my lost saints, — I love thee with the breath,
Smiles, tears, of all my life! — and, if God choose,
I shall but love thee better after death.
Ah what a lovely morning sun it is
Just look out of your window and see
Feel the air and feel the positivity
Smile as you start your day with it
Your fears will go bit by bit
It's a lovely day so you do cheer
My love, have an amazing day
So that you prove to be right every way
Good morning to you
For a lovely day all new!
'Love Is' by Adrian Henri
Love is…
Love is feeling cold in the back of vans
Love is a fanclub with only two fans
Love is walking holding paintstained hands
Love is.
Love is fish and chips on winter nights
Love is blankets full of strange delights
Love is when you don't put out the light
Love is
Love is the presents in Christmas shops
Love is when you're feeling Top of the Pops
Love is what happens when the music stops
Love is
Love is white panties lying all forlorn
Love is pink nightdresses still slightly warm
Love is when you have to leave at dawn
Love is
Love is you and love is me
Love is prison and love is free
Love's what's there when you are away from me
Love is…
'Love Sonnet 130' by William Shakespeare
My mistress' eyes are nothing like the sun;
Coral is far more red than her lips' red;
If snow be white, why then her breasts are dun;
If hairs be wires, black wires grow on her head.
I have seen roses damask'd, red and white,
But no such roses see I in her cheeks;
And in some perfumes is there more delight
Than in the breath that from my mistress reeks.
I love to hear her speak, yet well I know
That music hath a far more pleasing sound;
I grant I never saw a goddess go;
My mistress, when she walks, treads on the ground:
And yet, by heaven, I think my love as rare
As any she belied with false compare.
Greet the brand new day.

The sun is up,
The sky is blue,
Today is beautiful,
And so are you!
–The Beatles
'Sonnet 33: Full many a glorious morning have I seen' by William Shakespeare
Full many a glorious morning have I seen
Flatter the mountain-tops with sovereign eye,
Kissing with golden face the meadows green,
Gilding pale streams with heavenly alchemy;
Anon permit the basest clouds to ride
With ugly rack on his celestial face
And from the forlorn world his visage hide,
Stealing unseen to west with this disgrace.
Even so my sun one early morn did shine
With all-triumphant splendour on my brow;
But out, alack! he was but one hour mine;
The region cloud hath mask'd him from me now.
Yet him for this my love no whit disdaineth;
Suns of the world may stain when heaven's sun staineth.
To bring her closer to you with the sweetest thing to say to your girlfriend in the morning, romantic good morning messages for her help you show you care and make her day.
Beautiful Good Morning Love Poems For Her
The morning sun, with its gentle rays, often serves as a perfect backdrop for expressing your love and admiration. These beautiful good morning love poems will make her day even more special with heartfelt sentiments, and their heartwarming words will convey your affection and appreciation as you wish her a beautiful morning and a wonderful day ahead.
The colors of sunrise
Seem to fade away
The hues of the morning mist
Seem less impressive everyday
In front of your beauty
None of them stands tall
Compared to your radiance
Even the sun feels so small.
Wake up the sun has risen, Wake up the birds are chirping.
You are my friend another day has come, let see what it holds.
Together we can take on the day, you are my friend, let us not waste another moment.
Good morning dear friend.
The only way
To have a jolly day
Is to be happy,
And don't forget to be snappy.
Good morning, honey.
The sun overhead is shining out bright,
The birds are chirping a lot in the light.
It is time to wave sayonara to your bed,
And 'Wake up my darling' I said!
Have a good morning!
Good morning to you, I hope you slept well
I thought I'd send this card, in hope it would make you feel swell.
I can't stop thinking of you,
I love you, it's true
So have a good morning, you're the sun and the moon
I hope to see you soon
I want you to smile this morning,
I want you to think about me,
I want you to give me a reason,
To be as what to be,
Good morning my dear as I wish you this day,
For a lovely morning today,
Have a nice day!
Good morning my love,
All night did I wait,
To tell you this moment,
You are my destiny, my fate.
Every day brings
So much more
To look forward to
Fly high and soar
Every moment brings
So much delight
Just being with you
Makes everything feel right
Good morning my love

Self-Love: The Journey to Embrace Your Essence, Discover Intrinsic Worth, and Build Authentic Self-Esteem

Unlock Your Full Potential with Self-Love! Dive into this e-book and learn how to cultivate a deep, nurturing love for yourself that radiates outwards, improving your connections with others and bringing joy and fulfillment to your life.

Find Your Path to Self-Love on Amazon Today!
I hope you know
Your beauty is beyond what words can say,
I really hope you wake up,
Read this and smile all day.
God, how I love you!
You're everything I want in this world.
And every morning, I when wake up to you,
It sets me up for the day, my dearest girl.
Good morning to my favorite night-owl.
I know you won't wake up for a while,
but I hope you know,
You're as beautiful asleep
As in the daylight's sunny glow.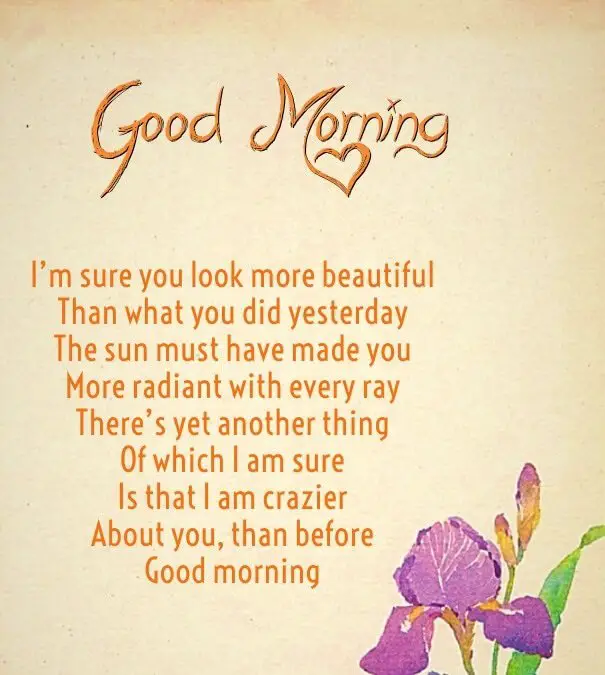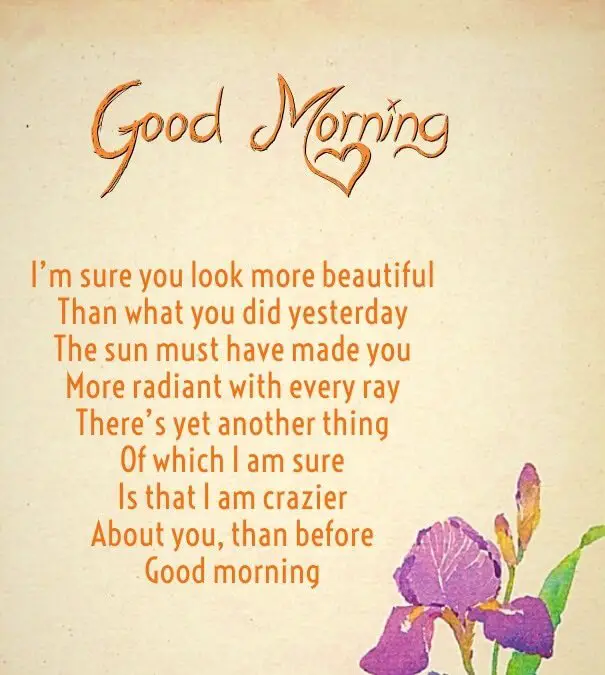 Good morning, my rose
My beautiful daisy
Without you each day
Seems dull and dreary
If not for your dewy eyes
And your lovely fragrance
There would be no
Meaning to my existence.
I never knew true happiness,
I thought dreams wouldn't come true,
I couldn't really believe in love,
Until the day I met you.

Good morning my sweetheart
Watching you sleep you look so peaceful
The joy I feel is beyond words I can say
Good morning my love my sweet angel
Thank you for waking and making my day!
Mornings begin with the sun
It stretches its rays to touch everything of the earth
the flowers to blossom
the trees to bloom
the ground to wake.
My mornings always begin with you
awake to my thoughts.
You are like the sun
shining in my life
touching my heart to smile for you
touching my lips to sing for you.
Mornings for me is another journey with you.
Love me daily and I will be your moon.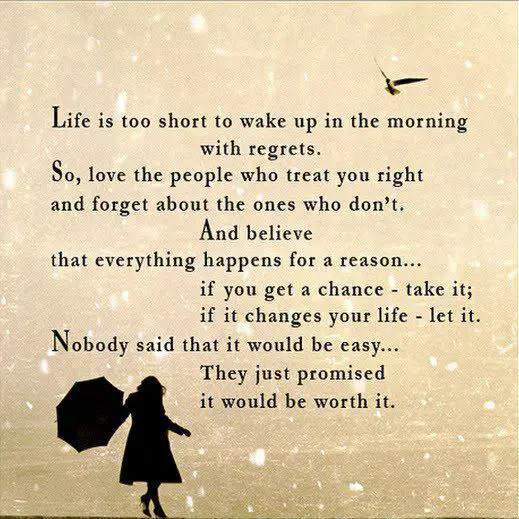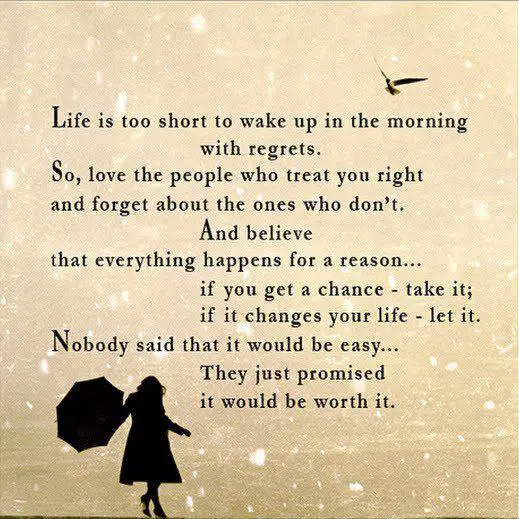 Your beautiful smiles are the reason,
Why I look forward to each day,
To making you smile again,
To deserving your smiles again.
It's amazing to be with you,
And witness your light.
I hope that today brings a lot of smiles!

Good morning love of my life
You've painted my mornings
Bright red instead of blue
My world will be colorful
As long as it has you
It will be full of swirls
Splashed with light and color
May it always be like this
Not just now, but forever
Good morning my love
I could fall in love with anyone
Instead
I fell into you
Down into something unknown
I was far gone
Playing out scenarios in my head
A love affair
Long distance
Dates through blurry cameras
Can never be clear
I can wish you good morning
And you bid me good night
A love affair
With its destination unknown
The sun is shining; the flowers are in bloom
I can't wait to see you, it can never be too soon
So happy good morning, I hope it is true,
Happy good morning, from me to you.
I love my eyes
When you look into them.
I love my name
When you whisper it
And love my heart
When you love it.
I love my life,
Because you are the part of it.
Dear Morning Star, the one up on my sky
I found you in my dreams when I lay
As I slept, your thoughts fell into my thoughts
Sunk into the bowels of my stomach.
I found crystals of you
Whenever I close my eyes, it's you on my mind
I open to see the sun, it's you I see
As your eyes have opened my morning
Know you are never asleep in my heart
Every morning I wake up knowing that I live
in the most beautiful place in the world,
because you opened your heart for me.
Good morning sweetheart!

Self-Love: The Journey to Embrace Your Essence, Discover Intrinsic Worth, and Build Authentic Self-Esteem

Elevate Your Relationships by Starting Within! Learn how a journey of self-love can lead to more meaningful, authentic connections. This e-book is your guide to developing a compassionate and fulfilling relationship with yourself.

Embark on Your Journey of Self-Love - Available on Amazon Now!
To make the relationship grow fonder, long paragraphs for her capture your deep sense of appreciation and show how passionately you value her.
Sweet Good Morning Poems for Girlfriend
For those in love, every morning is an opportunity to brighten your partner's day with sweet words and affectionate gestures. These sweet good morning poems will melt her heart and bring a smile to her face as she starts her day. Whether you're physically together or miles apart, these sweet good morning poems are a loving way to express your feelings and let her know she's on your mind.
My sun shine
When I saw the sunlight,
I thought about your smile,
When I saw the day so bright,
I thought for a while,
I am missing you this morning,
Wish you a lovely morning my dear,
Keep smiling to spread the cheer!
I think of you in this bright morning,
I can see the gleam of sunshine,
Am I remember your charming face,
And, taking you in my arms I wish I could embrace,
Wish you a very good morning my dear,
Wish you could be near!
Missing your smile early this day,
Missing your sweet talks,
Missing your endless chats,
This day is bright and will bring a hope,
You and I together make a great scope,
Wish you a lovely morning my dear,
Spread the cheer!
With you I wish to see sun rise,
For in the light I see your eyes,
And from deep within from you to me,
It is your heart and your soul that sets me free.
My sweetheart,
Always in my heart.
Nothing else matters
But you.
I rather falter
Than keep myself
From telling you,
Good morning, beautiful.
Sweet morning wishes
Mornings are filled with mist,
Mornings are delight,
Was thinking about you all night,
Coz you are not in sight,
Wishing you a lovely morning today,
Because it's just another awesome day,
Good morning my dear,
Wish you were near!
Good morning. I woke up to a pleasant glow, and that glow was you. The glow you bring to my life is much warmer and more radiant than a thousand sunrises. You have always been there for me every step of the way. I hope you have a good day, my sunshine. I love you.
If you were to wake up next to me every day,
I'm not sure I'd need the light or sunrise rays.
Let's just forget the time and stay in bed awhile.
You've got all the light and heat I need to make me smile.
It is amazing
How the night sped past.
It is soothing
How the morning looks right
For my one and only,
The girl that is so pretty
That it is impossible to deny her a lovely
Good morning my girlfriend.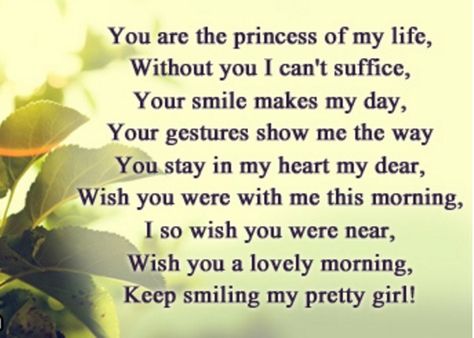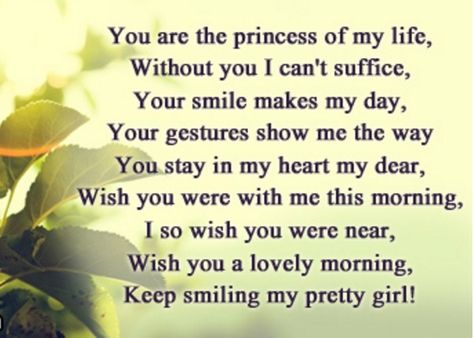 Today may have begun with the birds chirping
The cloud may have assumed its color
holding the ground to be still
to wait for the activities of the world to begin.
My love for you never travels to sleep
there is no day or night
it is only about you.
So when mornings come or they become noon
my love for you grows from room to room.
You inspire my world with your curves
you enchant my heart with your smile
always be my morning with your presence
wake me with your soothing absence
so I reach for you my star
My evermore dewdrop.
Before you came into my life
Waking up was a bore
I used to hate it so much
It almost felt like a chore
After you came into my life
Mornings have become magical
It reminds me of meeting you
And that makes my day special
Good morning my love!
Good Morning Poems For Her To Smile
There's something magical about making her smile first thing in the morning. These morning poems will bring a smile to her face with light-hearted charm, gentle humor, and affectionate words, making them the perfect way to brighten her day and set a positive tone for the hours ahead.
My days are incomplete
Without you sweetheart
Nights are painful because
With you, I never want to part
The only days that don't
Seem to be never-ending
Are the ones that I spend
With you all morning and evening
I love you!
Every morning
Brings in a new day
For me to feel your love
And have my breath taken away
Every morning of mine
Wouldn't be the same
If I didn't wake up
Chanting your sweet name
Good morning my love
My girl wish you were next to me
So that I could just see
Your smiling face early in the morning,
I just want to wish you a lovely morning
Start your day with that bright cheer
Good morning my dear!
The darkness turns to light,
It is the start of the day so bright.
As the morning takes over night,
The dawn is so bright.
Wish you a very bright good morning dear,
With lots of hugs and cheer!
To My Sweet Angel
Good morning to the most gorgeous girl in my life
Baby your smile has more radiance than the sun
Your eyes spark a lot
This is my only thought that your love will stay in my heart
Forever and ever
So have the most wonderful start
As I wish you good morning
Good morning and have a lovely day!
I wish I could jump out
Of your phone's screen
To convey what your presence
In my life really means
I wish I could run over
To your place right now
To show my love to you
And that I miss you and how
I wish I could wake up
Next to you everyday
To wish you good morning
Before the sun's first ray
Good morning my love
I wake up every day with your smile on my mind.
It's a beautiful sight to behold, so soft and so kind.
My dreams are filled with the thought of me and you.
I awake and smile, for my dreams have come true.
To express your deep love for her, cute messages for her help you show that she is the most precious thing in your life and you will never let her go.
Cute Good Morning Poems for Her To Wake Up To
Wishing your loved one a good morning to make her feel adored and cherished can be a delightful way to start the day. These cute good morning poems will bring warmth and joy to her morning routine.
Wake up this day
Wake up my dear,
To this beautiful morning dew,
Wakeup sweetheart,
As everything is so new,
Wakeup to the wonderful sun rays,
As I wish you have a beautiful day,
A very good morning to you!
Wake up from your dreams you sleepy eye,
Shining down upon is a big bright sky,
The sun is smiling down on you,
Feel the freshness of the morning dew,
My sweetheart, I just want to say,
That I love and miss you so much today,
Good morning to you
The moment I opened my eyes,
I thought about your smile,
Was missing you all this while,
What a beautiful morning it is,
Just like your pretty face,
So, just smile and grace,
The day ahead,
Have a lovely morning today,
It's a beautiful day!
I used to dream of someone like you,
To hold me close and see me through,
To gaze in my eyes and kiss my smile,
And when I'm scared hold me a while,
But now you're here and I don't know what to do,
It's takes away my breath this feeling I have for you,
When I look at you I feel my heart melt,
Each day I have love more than ever felt,
When life gets me down you are always there,
A heart like yours is so very rare,
You are my world my universe my star,
I would never change a thing I love you just as you are,
All my problems and pains disappear,
When you wrap around me I have no fear,
Now that you're awake I wish to say,
I love you more each and every day.
It's much too early, to come to your house,
I know that you're sleeping, quite as a mouse.
I thought I'd write something from me to you,
And hope that you have a good morning, too.
This morning I woke up to your lovely face and realized
That despite all the pain and sorrow life can bring,
Gazing at you makes my heart swell, and my soul sing.
Can I awaken to your sleepy smile for all our lives?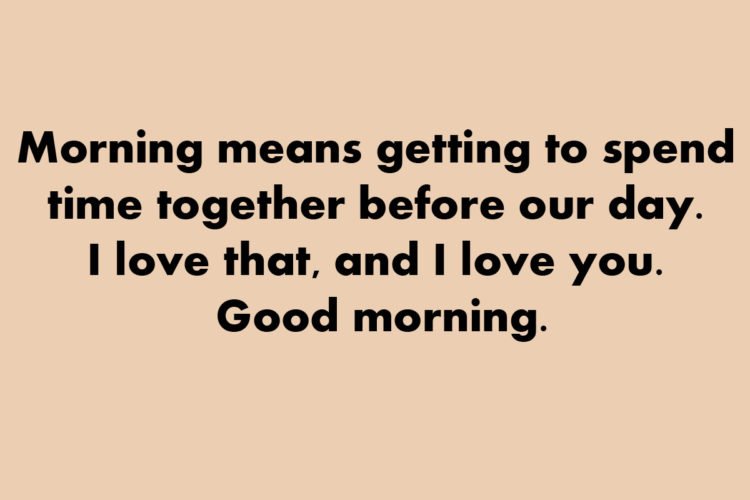 Radiant like the morning sun
Sweetheart, you are the one
Beautiful like morning dew
Baby, that girl is you
Misty like the morning skies
Darling, are your beautiful eyes
Soft like the light of daybreak
I think only of you when I'm awake
Good morning my love!
When you open your eyes and look at me
I cannot begin to describe what I see
A heart so lovely, a beauty so fine
It is like a dream, that you are mine.
Inspirational Good Morning Love Poems for Girlfriend
Sometimes, a touch of inspiration in the morning can set the tone for an amazing day. These inspirational good morning love poems that you can share with your girlfriend will motivate and uplift her spirits. Whether she's embarking on a new adventure or simply facing the day ahead, these inspirational good morning poems will be a source of strength and love.
You are my rainbow,
You brighten up my day.
And I bless the moment,
When god brought you in to my life,
You made my love.
As the day go on our love grow more deeper,
May we be as one in our hearts.
May our love always bring us to our dreams,
And keep us together.
Good morning my one and only!
Good morning beautiful
Let me begin to whisper soft words to you.
You are my morning
always making me fall like the dew to you
waking my nostrils to your cologne that slept with me
I dreamt of our lips in unison
Talking in language they alone understand
While our bodies do the rest.
you happen to be a heaven to me
your breasts are the clouds I want to drink from
I want your body to be present in my waking
your eyes to be like the sun to me
Let it glow away my sadness and pain.
Please my darling, be my morning.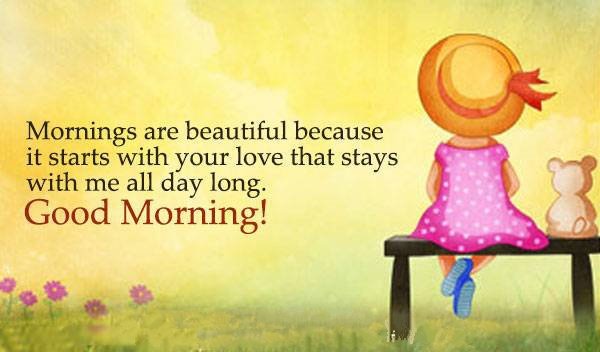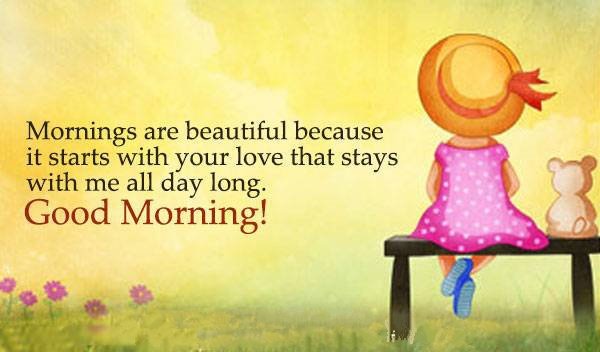 I miss you this morning,
I missed you yesterday,
Watching the sun shine,
Here is what I have to say,
For you I wish an awesome today,
Keep smiling and have an excellent day,
Good morning my sweetheart!
My dear morning star
The way you glistened in my darkness
To show me light
I want that essence daily.
Let me feel your soul in on my palms.
Let it be the rays that will heal my drowsiness
You are the daughter to the sun
Bringing light into my life.
You are the scepter of the moon
Helping to clear the path of hate.
I live you with my first breath.
The weakness that ties me
Is swallowed by the smile you make in my heart.
Whenever you sleep know you're my sunshine
Whenever you wake, know you are my breath.
Whenever you lay know I will be in your thoughts
My dear morning star.
My Princess,
Some mornings still feel
Like the night before.
Thats why, Im just waiting for the days
I don`t miss you anymore.
Good Morning beautiful!
Your love is so sweet that I can't share it,
For only my life, my heart demands it.
But only through favour, I know I deserve it…
And I want it every morning for my life depends on it.
Good morning, Good morning my Love,
I know I just woke up,
But I want to tell you something,
as I drink my morning cup.
I really love
Loving you keeps me more than lifted
Having you makes me feel more gifted
Your love is real, I won't get it twisted!
But I'll love and love you more, instead. Good morning my love.
You're my sun on a cloudy day.
You're my umbrella on a rainy day.
You're my everything, what can I say.
You're in my mind each and every day.
Good morning my love.
The sun makes me see
Life's most beautiful things
Its radiance reminds me of
The way you've given me wings
The haze of each dawn
Brings in a sense of bliss
It makes me realize how
With you, nothing seems amiss
Good morning beautiful
Romantic Good Morning Poems to Make Her Cry Tears
These romantic good morning poems are sure to stir her emotions and, perhaps, bring tears of joy and love. These poems will convey the depth of your feelings and the beauty of the connection you share. Whether you're celebrating a special occasion or simply want to make an ordinary day extraordinary, these heartfelt good morning poems will make her mornings truly memorable.
To the breaking of this day, I venerate at your love
The one who keeps me in her heart
To the breaking of this day, I savor our love
My moon and my sun
My fresh morning star
I want you to know you're the cool wrinkle of hope
That woke me up today.
Our love grows to be a bond. Something stronger than a rock
May our love find us every day in the darkness of the night
May it be the morning
Dawning with fresh moist of the dew from heaven.
I love what you are doing to me, I love your eyes
The way it stares at my heart.
This morning I pray you wake to read this
With a soft laughter echoing from your smile.
Every morning is a chance
To make you beam
Every day is an opportunity
To make you dream
Every moment is an option
To make you happy
Every minute is an occasion
To love you unconditionally
Good morning my love
As I sip my cup of coffee,
I remember you my dear,
And I want to be with you,
I want you to be near,
In my life in every way,
This is a new day,
So, good morning for today!
I love you with every part of me
I love you with every breath in me.
Doing this forever, is sure for me,
Cuz your love is true and cute for me.
Good morning my love
A warm hug for my girl to be,
In the evenings and the mornings,
When I close my eyes it's you I see,
Never imagined I'd love so much,
Simply longing for your hug and touch,
I miss you so much,
Good morning my dear,
Fill your day with smile and cheer.
I'm sure you look more beautiful
Than what you did yesterday
The sun must have made you
More radiant with every ray
There's yet another thing
Of which I am sure
Is that I am crazier
About you, than before
Good morning my sweetheart
I send them to you in a basket of warmth
My love and my dreams
They always live for you
In the waking of my morning
And in the slumber of my night.
Every morning like this is a new love from me,
Each morning of such is a heart that beats for you
You are a resemblance of golden—
Sunshine
Falling into my life—
Raindrops.
Keep still and beat my heart
Brew the cold like the dew of morning
Be like this morning you are to me
Breathe of love. Be my love.
Don't put much thoughts to the night.
All I'm after is how your day shall be today
Because the past is gone,
And the highlight of the dawn
Is its freshness.
Good morning, sunshine.
I love you with a permanence
That endures the passing years.
I love you with a joyfulness
That subdues all doubts and fears.
I love you with an honesty
That was born within my heart.
I love you with the calm belief
That we will never part. Good morning, my love.
Some say there is nothing as beautiful as a rising sun,
But I acclaim there is nothing as beautiful as your lovely smile.
Good morning! Wake up and grace my life with your presence.
Short Good Morning Poems For Her
Sometimes, the most powerful messages come in simple words. These short good morning poems that are perfect for those moments when you want to convey your love and wishes concisely and directly. These short good morning poems are a wonderful way to make her day a little brighter and let her know that she's in your thoughts..
Gone for a morning walk, I saw a beautiful dew drop.
Wasn't tired, but still, my heart wanted me to stop,
To take a look at the freshness and clarity of the dew,
Maybe because it reminded me a little too much of you…
Good Morning, my love.
Each day I have love more than ever felt,
When life gets me down you are always there,
A heart like yours is so very rare,
You are my world my universe my star,
I would never change a thing I love you just as you are,
All my problems and pains disappear,
When you wrap around me I have no fear,
Now that you're awake I wish to say,
I love you more each and every day.
You are the sunlight of my life,
You are the glow of my life.
The morning is here
I want all your qualms to disappear,
Start your day afresh my dear,
Good morning sweetheart!
Good morning my love,
If I could have all the time in the world,
I know just what I'd do,
I'd spend all my time,
With your love so sublime,
Just being here with you.
I love you more than you can imagine.
Nothing can measure our love.
No fire burns brighter than the light you emit.
I couldn't compare to lips so sweet,
Or the feel of your tongue on my neck.
Nothing can measure our heat.
I'm all yours
This morning and always.
You've got my full attention whenever you want it.
The birds are singing just for you,
Look at this day so new,
The sun is shining only for you,
So that you get a clue,
That you have to smile this day,
To make a way,
So, keep smiling and have your say,
Have a lovely day!
Good morning my love!
Good morning my love
My love my gift from god above
The one I place no one above
Except God above!
If tomorrow my life were over,
With many things yet to do,
It wouldn't matter one bit,
Because, my love, I had you.
I don't love you as if you were a rose of salt, topaz,
or arrow of carnations that propagate fire:
I love you as one loves certain obscure things,
secretly, between the shadow and the soul.
Pablo Neruda
For your morning breakfast, I'm sending your way,
A cup of warm wishes for a wonderful day,
I've sprinkled endearments upon your love-bread,
To keep you full of energy, to help you keep ahead,
With a helping of hugs to send all sadness away,
I wish you a good morning and an amazing today.
No mountain nor sea,
no thing of this world could keep us apart.
Because this is not my world…
you are
You're an ancient story to the golden ears,
An affair of epic tales and dawning beginnings.
The sun doesn't shine as bright as the light from your fingertips.
Good morning my baby
I am not a psychic
Or an astrologer
Neither do I claim
To be a fortune teller
All I can predict
For the future
Is that, with you my life
Is sure to be brighter
Good morning my love