Psalm 19:8 The precepts of the Lord are right, giving joy to the heart. The commands of the Lord are radiant, giving light to the eyes.
1 Thessalonians 5:16 Be joyful always.
Are you experiencing little joys today? The Bible commands us to be full of joy all of the time. The joy of Christian should endure through extreme hardship and pain. Joyful prayers will give you the strength to rejoice in the middle of hard times. It brings happy times and feelings of bliss.
If you're searching for powerful prayers to quickly find a prayer for your specific need or circumstance, browse through an amazing collection of beautiful morning prayers, healing prayers for a broken heart, and uplifting prayers for forgiveness.
Prayers For Joy
A Prayer for Serenity
O God, grant me the serenity to accept the things I cannot change, courage to change the things I can, and wisdom to know the difference; living one day at a time, enjoying one moment at a time; accepting hardships as a pathway to peace; taking, as Jesus did, this sinful world as it is, not as I would have it; trusting that You will make all things right if I surrender to Your will; so that I may be reasonably happy in this life and supremely happy with You forever in the next. – Reinhold Niebuhr
A Prayer for Joy and Peace
I come before you, O Lord. As the sun rises, may your hope rise up in me. As the birds sing, let your love flow out of me. As the light floods into this new day, may your joy shine through me. I come before you, O Lord And drink in this moment of peace, That I may carry something of your hope, love, and joy today in my heart. Amen.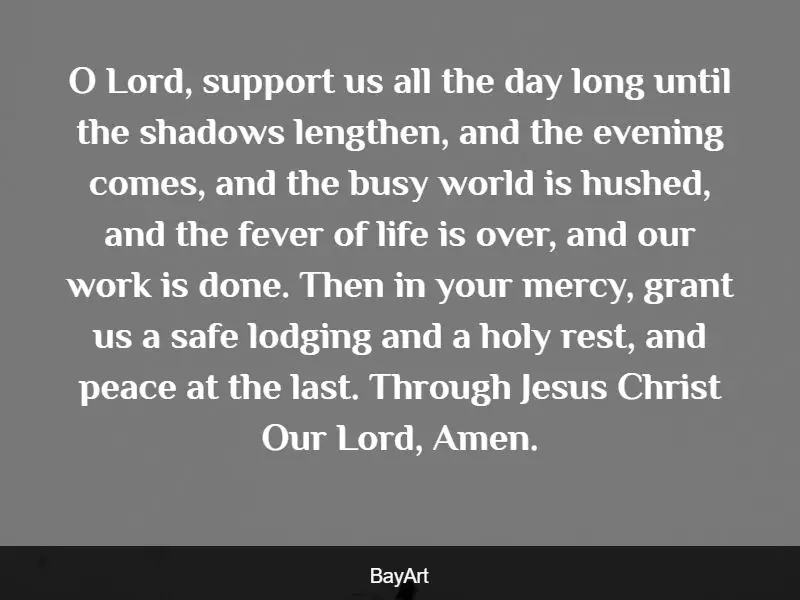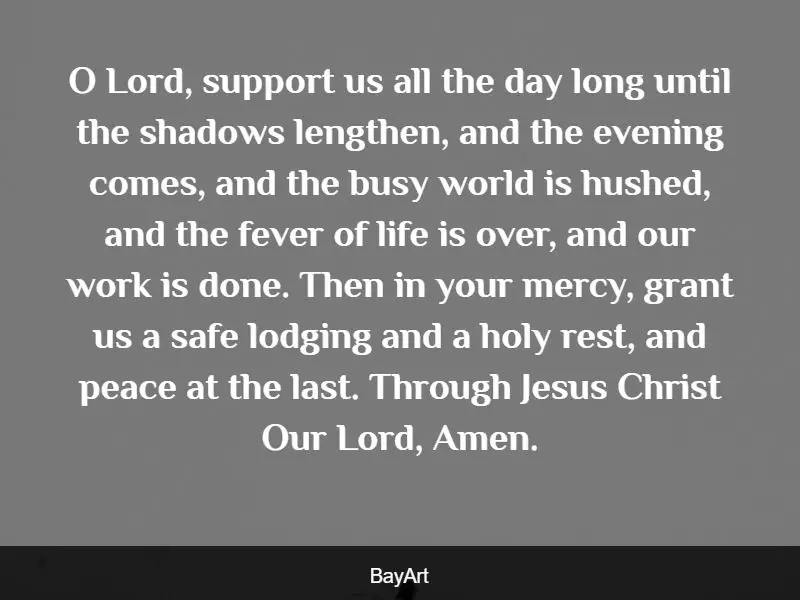 A Prayer for Calmness
Slow me down, Lord! Ease the pounding of my heart by the quieting of my mind. Steady my harried pace with a vision of the eternal reach of time.
Give me, amidst the confusions of my day, the calmness of the everlasting hills. Break the tensions of my nerves with the soothing music of the singing streams that live in my memory.
Help me to know the magical power of sleep, teach me the art of taking minute vacations; of slowing down to look at a flower; to chat with an old friend or make a new one; to pet a dog; to watch a spider build a web; to smile at a child; or to read a few lines from a good book.
Remind me each day that the race is not always won by the swift; that there is more to life than increasing its speed.
Let me look upward into the branches of the towering oak and know that it grew great and strong because it grew slowly and well.
Slow me down, Lord, and inspire me to send my roots deep into the soil of life's enduring values. That I may grow toward the stars of our greater destiny.
– Orin L. Crain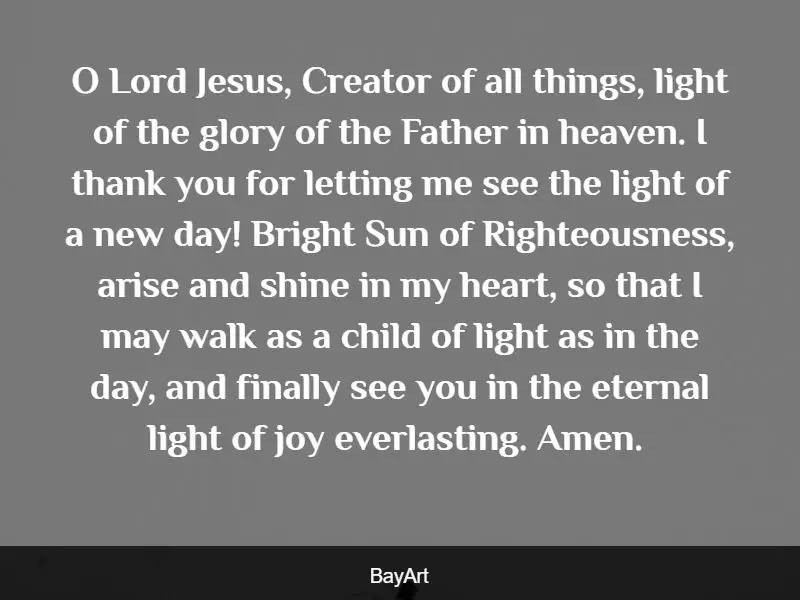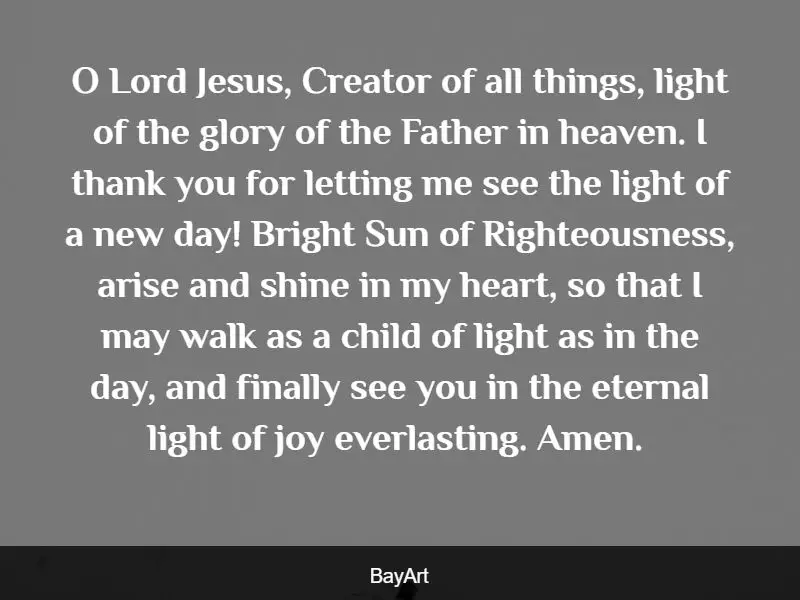 A Joyful Prayer for Thankfulness
"God, sometimes life gets me down and I find it hard to see things to be thankful for. Open my eyes to see the gifts you've given me in my life. I'm going to start by thanking you for loving me enough to come to earth and die so we can live together forever. Amen."
– Wendy van Eyck
Prayer for His Blessings
Bless this house and those within. Bless our giving and receiving. Bless our words and conversation. Bless our hands and recreation. Bless our sowing and our growing. Bless our coming and our going. Bless all who enter and depart. Bless this house, your peace impart.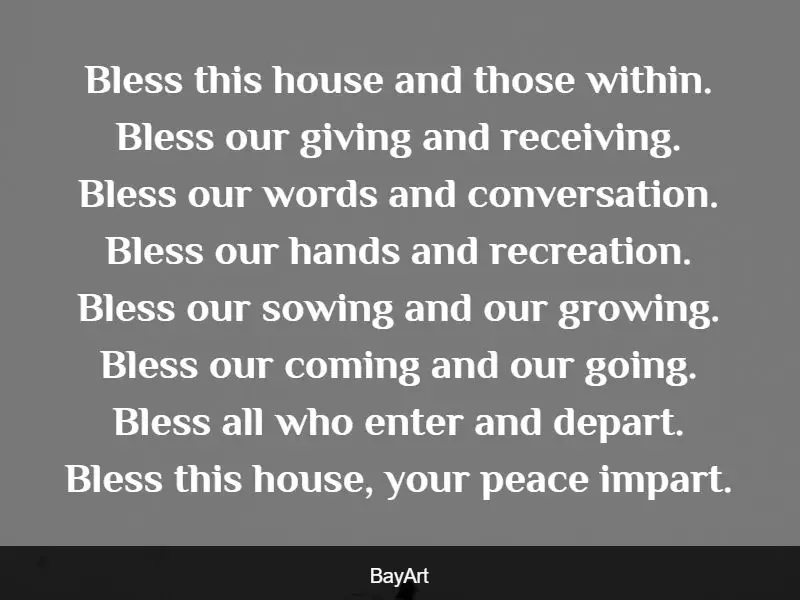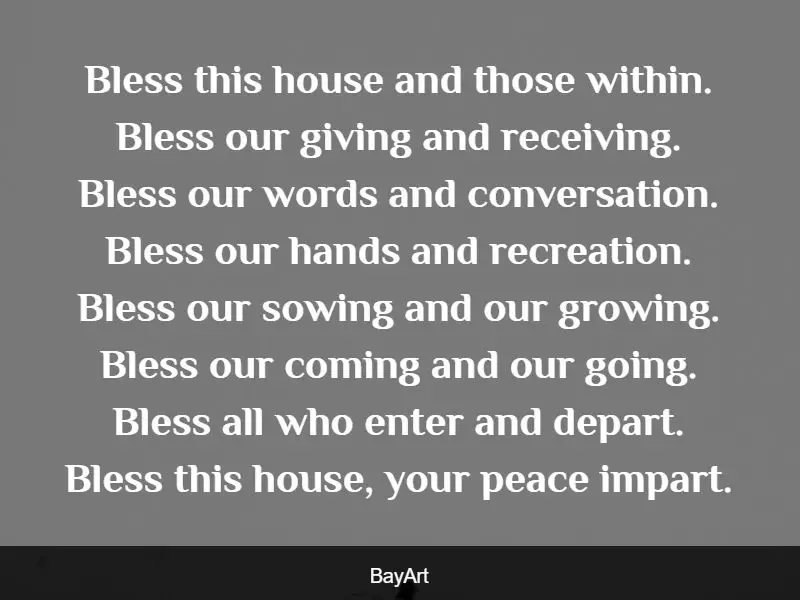 Prayer to Feel God's Love
Father, you know my worries and care for my troubles. So I give these heavy concerns to you. I lay these situations at your feet. The empty cross is a place of rest, where I can reflect upon your resurrection and the moment when love overcame. Thank you that your love in me can transform the landscape of my life. I walk with peace into the new day, and put my hope in you. Nothing is outside of your redeeming love, might I rest now in the knowledge that you will light my path and guide my life. Amen.
A Daily Prayer For Joy
"O Lord, support us all the day long until the shadows lengthen, and the evening comes, and the busy world is hushed, and the fever of life is over, and our work is done. Then in your mercy, grant us a safe lodging and a holy rest, and peace at the last. Through Jesus Christ Our Lord, Amen." – Cardinal John Henry Newman
Arise and Shine in My Heart
O Lord Jesus, Creator of all things, light of the glory of the Father in heaven. I thank you for letting me see the light of a new day! Bright Sun of Righteousness, arise and shine in my heart, so that I may walk as a child of light as in the day, and finally see you in the eternal light of joy everlasting. Amen. – Wilhelm Löhe