Mother's love for her son is something transcendent which only women, who have a child, can understand. Being a mom makes a woman discover her extraordinary capacity to love and care for another being.
There are not enough words to describe the incredibly beautiful bond which mothers and sons share, but my son quotes and family quotes aim to celebrate this profound connection.
Having a son is one of the greatest blessings in the world, and no matter the age of the son, the mother will always see in him the baby she once held in her arms. Mother and son quotes will be reminded of how much son means to mom. It is a powerful and unconditional family love connection. I love you my son quotes from mom will make you appreciate and strengthen this special bond.
Men are what their mothers made them. ― Ralph Waldo Emerson
If you're searching for good family quotes and lovely cousin quotes that perfectly capture what you'd like to say or just want to feel inspired yourself, browse through an amazing collection of cute brother and sister quotes, best father son quotes and popular sibling quotes.
Best Son Quotes from Mom with Love
There is an endearing tenderness in the love of a mother to a son that transcends all other affections of the heart. -Washington Irving
It feels like I just closed my eye for a moment, and then here are you are all grown up already. Time flies by so quickly, and I just want time to slow down a bit. I love you son, and I always will.
No one else will ever know the strength of my love for you. After all, you're the only one who knows what my heart sounds like from the inside.
I can't thank God enough for gifting you to me. You have always been the best child of mine. I love you. I have always tried to provide you with the best of everything. May you find happiness in your life!
I cannot be more grateful for the things that I have because I love my son and I have him.
My son, you are the reason that I am living today. You're my world. I have been struggling for a long in my life to provide you comfort, and I'll always be doing the same for you till my last. I love you!
Happy is the son whose faith in his mother remains unchallenged. -Louisa May Alcott
Son, you will outgrow my lap, but never my heart.
To my son, never forget that I love you. Life is filled with hard times and good times. Learn about everything you can. Be the man I know you can be.
A son doesn't need to deserve his mother's love; he doesn't need to ask for it. Mother's love for her son is always unconditional.
No matter your age, you always need your mom.
I live for my sons. I would be lost without them. -Princess Diana
I love my son and he makes me proud and brings me happy whenever he's around me.
I will be there for you all the time and be that pillar of strength that you can always rely on to support you through life. I love you, dear son.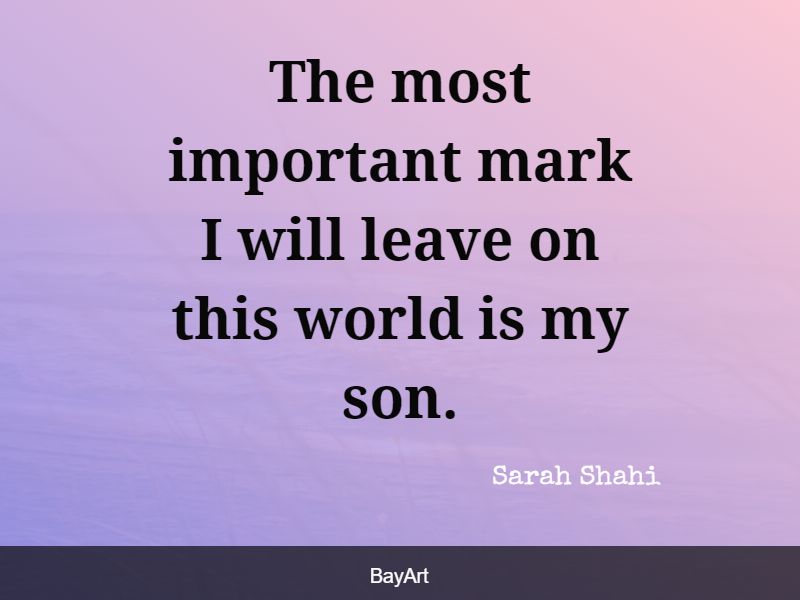 I believe in you, my son. I believe that you'll be the luckiest person in this world because I have worked my whole life in bringing the best out of you. I love you with all my heart!
The bond between mother and son lasts a lifetime. The bond between mother and son is a special one. It remains unchanged by time or distance. It is the purest love, unconditional and true. It is understanding of any situation and forgiving of any mistake.
Children, I hope I can bring you as much happiness as you bring to my life. I love you more than you can ever imagine and I'll do everything within my power to ensure you have everything you need in life because I want nothing but the best for you.
My wild, wild son, run free. Ooh, you'll know it when you're where you're supposed to be. -Armin van Buuren & Sam Martin
And she loved a little boy very, very much, even more than she loved herself. -Shel Silverstein
I pray for your happiness every day. I am proud of the man that you have become, and I know that there's nothing that you cannot do in the future. I love you, son!
A mother is always proud of her son… Not because he has achieved something, but because he has become her son.
Never forget that I love you. Life has its ups and downs, but I know you will be able to overcome them with your head held high. I believe in the man that you can be, son. I love you!
My son, live your life to the fullest. Spread your wings and fly high up in the air. You can achieve much greater things in your life because you're my son, and I have put my trust in You! I love you son.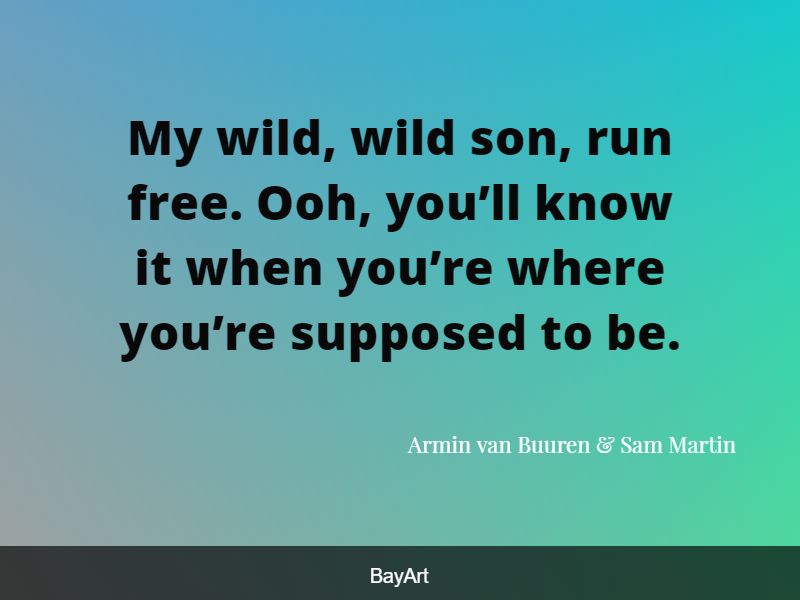 I will always be your number one supporter for I care for you the most in this life of ours.
There will be many times you will feel like you have failed. But in the eyes, heart, and mind of your child, you are supermom. -Stephanie Precourt
Sometimes a mother can think that her son could get a better mommy. But she knows for sure that she knows that there doesn't exist a better son.
I want my son to become aware that he is in charge of the choices he makes, and it's good to make thoughtful, good choices. -Karen Salmansohn
To my dearest son, never forget that I love you and that I will always have your back. Whatever will come your way, know that you will always have my guidance and support. I love you!
I think you might have been an angel sent by the heavens above to me, you make me happy.
Sons are the anchors of a mother's life. -Sophocles
I loved to watch you play in the yard and now, I like to see you tackling with every trouble firmly. I'll be there to help you, hold you up, to give you a shoulder every time you need because I love you son.
A mother is the truest friend we have, when trials, heavy and sudden, fall upon us; when adversity takes the place of prosperity; when friends who rejoice with us in our sunshine, desert us when troubles thicken around us, still will she cling to us, and endeavor by her kind precepts and counsels to dissipate the clouds of darkness, and cause peace to return to our hearts. -Washington Irving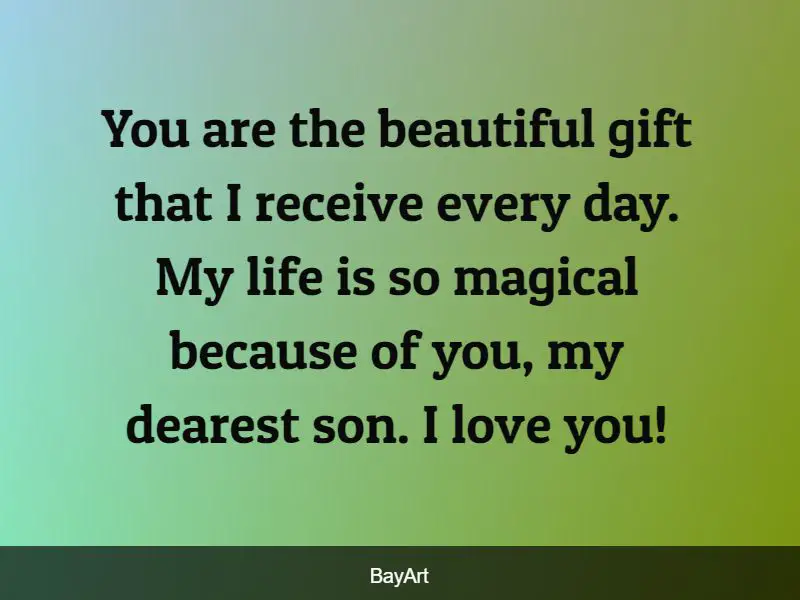 My children are the reason that I smile, that I laugh, that I cry, they are my happy place, my frustration. They are what makes my heart beat and sometimes break. My children are my everything.
I can predict your future, it's way too easy. You'll be a handsome man, very fine and classy. You will soar to new heights, not just because you are my son. But because of your heart, you are a lovely person. Your life will be perfect, just as it is now… you have no idea, that I love you and how.

I want you to know that you can share all your sorrows and grieve with me because I am the only one who can love even your darkest side. My son, I love you very much! I want you to stay strong; no matter how rough may be the storm. You are a daring soldier who knows how to fight even if the blood's bleeding because I have taught you to be a brave boy and never to give up.
The most important mark I will leave on this world is my son. -Sarah Shahi
I know that I'm not the perfect parent, but I want you to know that I try very hard to give you the life that you deserve. If I disappoint you, I want you to know that it's the last thing I want to do. I love you, my little son!
Never has it been more apparent that the days of my baby boy's childhood are fleeting.
I know that you are destined for great things. I know that you can achieve all the things that I never did because you are much braver than I could ever be. Keep flying high, my son! I love you.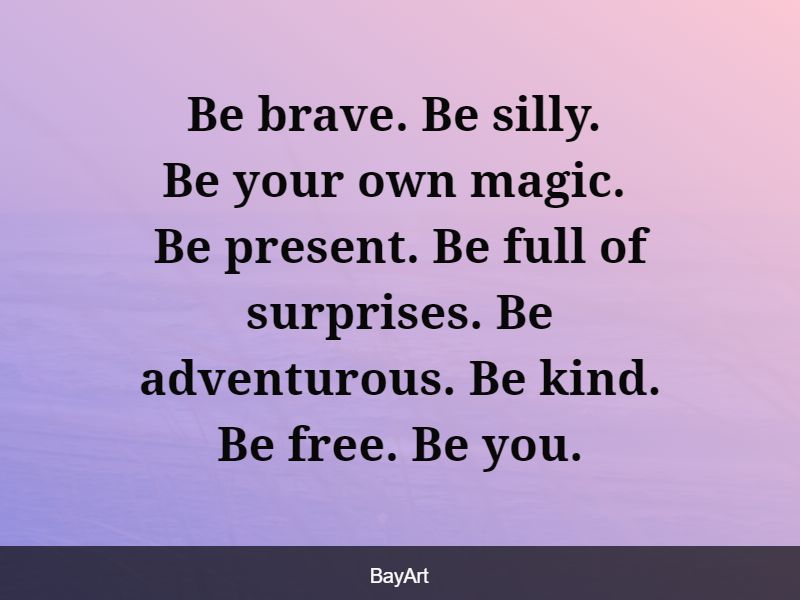 Son… I want you to remember, to never give up no matter what. I want you to keep going ahead, even if it pains a lot. I want you to understand, that life can be unfair. I want you to remember, that I will always be there.
Before you came into this world, I didn't know what my purpose in life was. And then you were born, and everything finally made sense. I was put into this world to be a good parent to you and help you become the person that you are meant to be. I love you, my great son!
Be brave. Be silly. Be your own magic. Be present. Be full of surprises. Be adventurous. Be kind. Be free. Be you.
Mothers see the angel in us because the angel is there. If it's shown to the mother, the son has got an angel to show, hasn't he? When a son cuts somebody's throat the mother only sees it's possible for a misguided angel to act like a devil – and she's entirely right about that! -Booth Tarkington
To be a mother of a son is one of the most important things you can do to change the world. Raise them to respect women, raise them to stand up for others, raise them to be kind. -Shannon L. Alder
Moms are as relentless as the tides. They don't just drive us to practice, they drive us to greatness. -Steve Rushin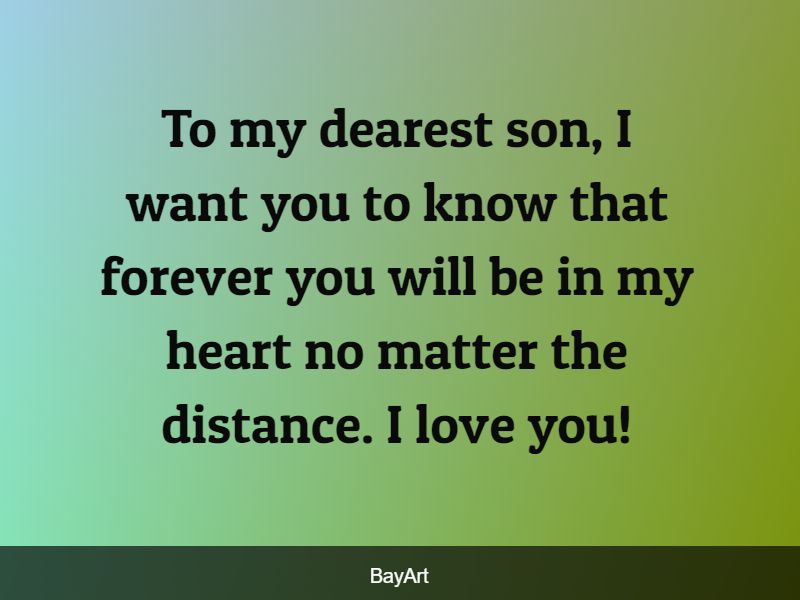 I should probably warn you that a lot of people will come and go in your life. You will lose people and you will meet new people. But I will always be here for you through all the changes. My love for you will never change.
There has never been, nor will there ever be, anything quite so special as the love between the mother and a son.
A son is a mother's most precious treasure.
A mother's arms are made of tenderness and children sleep soundly in them. -Victor Hugo
But a mother-son relationship is not a coequal one, is it? He is lonely with only you just as you are lonely with only him. -Mary Balogh
I want you to know that you can be anyone that you want to be. The world is your stage, and you have the whole world right in front of you. All you need to do is take that chance. Love you, son.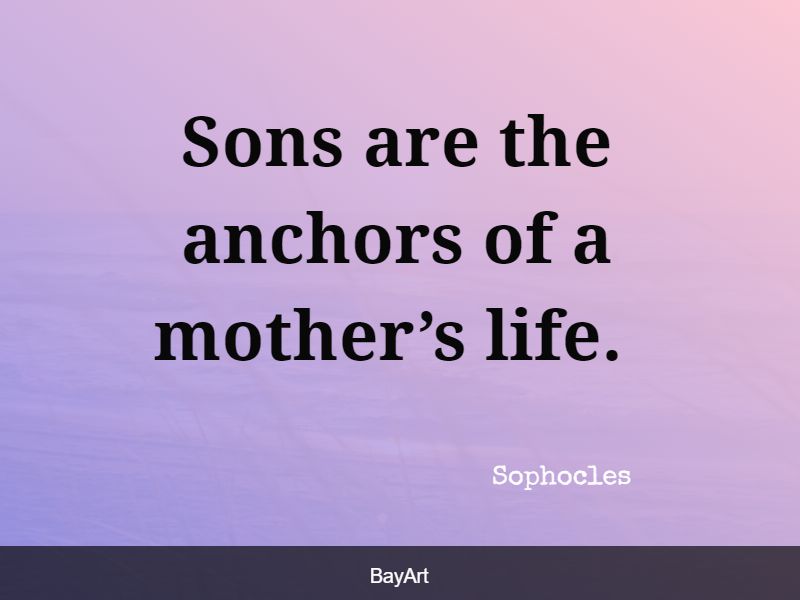 Her family had of late been exceedingly fluctuating. For many years of her life she had had two sons; but the crime and annihilation of Edward a few weeks ago, had robbed her of one; the similar annihilation of Robert had left her for a fortnight without any; and now, by the resurrection of Edward, she had one again. -Jane Austen
If a man has been his mother's undisputed darling he retains throughout life the triumphant feeling, the confidence in success, which not seldom brings actual success along with it. -Sigmund Freud
Mothers see the angel in us because the angel is there. If it's shown to the mother, the son has got an angel to show, hasn't he? When a son cuts somebody's throat the mother only sees it's possible for a misguided angel to act like a devil, and she's entirely right about that! -Booth Tarkington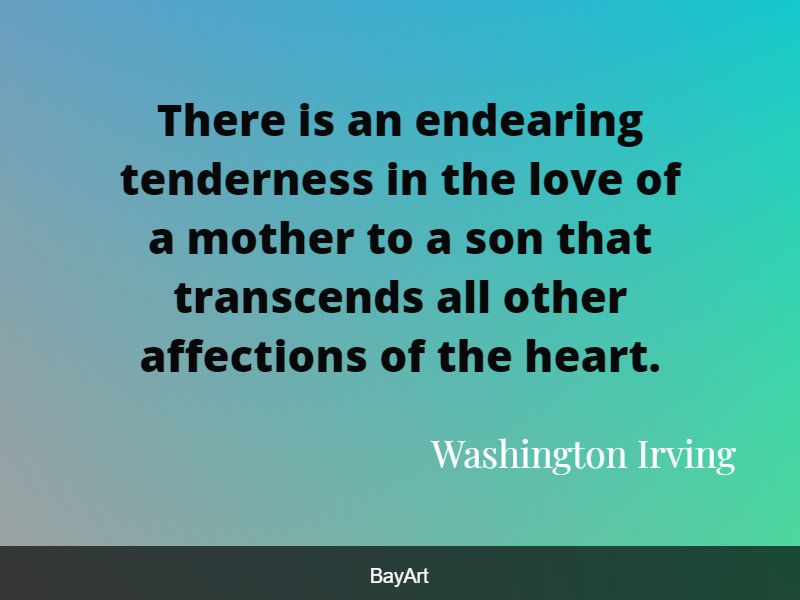 To a mother, a son is never a fully grown man; and a son is never a fully grown man until he understands and accepts this about his mother.

To my dearest son, I want you to know that forever you will be in my heart no matter the distance. I love you!
To many a mother's heart has come to the disappointment of a loss of power, a limitation of influence when early manhood takes the boy from the home, or when even before that time, in school, or where he touches the great world and begins to be bewildered with its controversies, trade and economics and politics make their imprint even while his lips are dewy with his mother's kiss. -J. Ellen Foster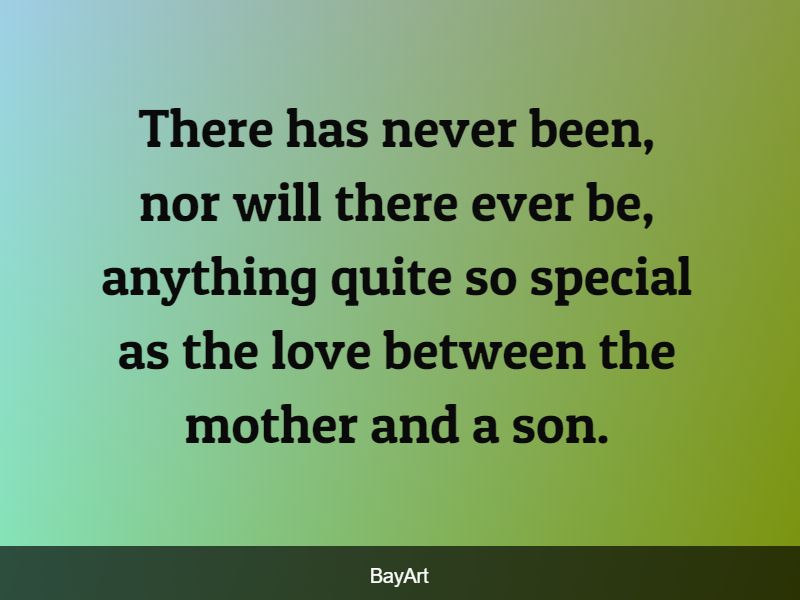 Parents always think that they'll change their children's lives in the best way they can. But little do they realize, that the love of a child and hearing the words I love you mom will eventually change and shape their lives in a way that they can never imagine. That's exactly what happened to us, we love you.
Even more, than the time when she gave birth, a mother feels her greatest joy when she hears others refer to her son as a wise learned one. -Thiruvalluvar
You are the beautiful gift that I receive every day. My life is so magical because of you, my dearest son. I love you!
For a short while, our mothers' bodies are the boundaries and personal geography which are all that we know of the world. Once we no longer live beneath our mother's heart, it's the earth with which we form the same dependent relationship. -Louise Erdrich
Famous Mother and Son Quotes
A mother's arms are more comforting than anyone else's. -Princess Diana
Motherhood is the greatest thing and the hardest thing. -Ricki Lake
You don't raise heroes, you raise sons. And if you treat them like sons, they'll turn out to be heroes, even if it's just in your own eyes. -Wally Schirra
A mother is she who can take the place of all others but whose place no one else can take. -Cardinal Meymillod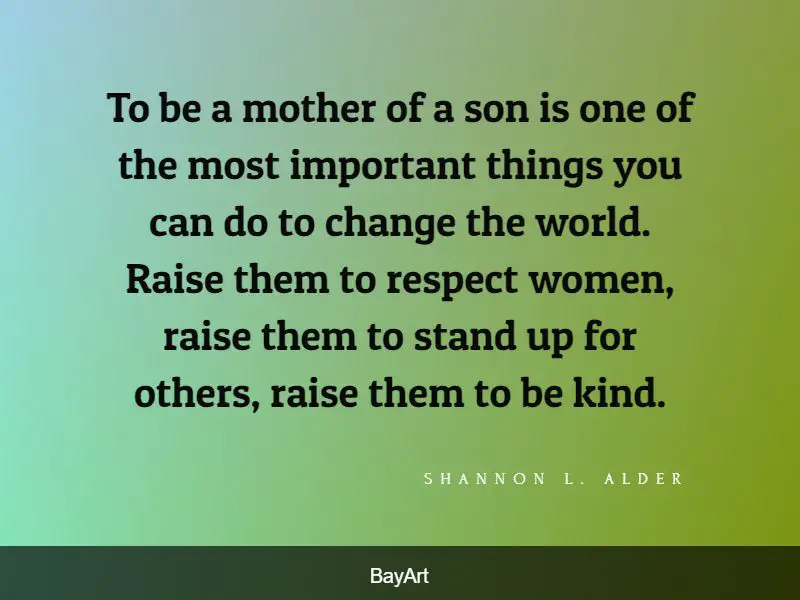 The years will rush by, and one day you will be watching your son as a man, and feeling incredibly proud that he is caring, safe, making a contribution, and hopefully going far beyond you in the scope of his life. -Steve Biddulph
My mother is my root, my foundation. She planted the seed that I base my life on, and that is the belief that the ability to achieve starts in your mind. -Michael Jordan
We are born of love; love is our mother. -Rumi
Raising boys has made me a more generous woman than I really am. -Mary Kay Blakely
If evolution really works, how come mothers only have two hands? -Milton Berle
Let your boys test their wings. They may not be eagles, but that doesn't mean they shouldn't soar free. -C. J. Milbrandt
When you look into your mother's eyes, you know that is the purest love you can find on this Earth. -Mitch Albom
Motherhood changes everything. -Adriana Trigiani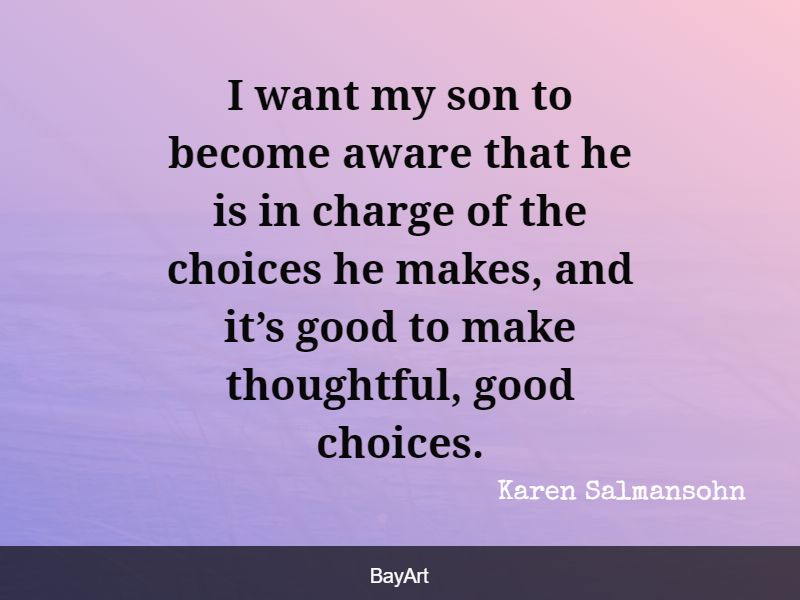 Mothers hold their children's hands for a short while, but their hearts forever.
Mothers all want their sons to grow up to be president, but they don't want them to become politicians in the process. -John F. Kennedy

Sometimes the strength of motherhood is greater than natural laws. -Barbara Kingsolver
A boy's best friend is his mother. -Joseph Stefano
As the mother of a son, I do not accept that alienation from me is necessary for his discovery of himself. As a woman, I will not cooperate in demeaning womanly things so that he can be proud to be a man. I like to think the women in my son's future are counting on me. -Letty Cottin Pogrebin
Heaven on Earth is looking at my little boy. -Jenny McCarthy
Mother is her son's first god; she must teach him the most important lesson of all, how to love. – T. F. Hodge
Mothers are inscrutable beings to their sons, always. -A.E. Coppard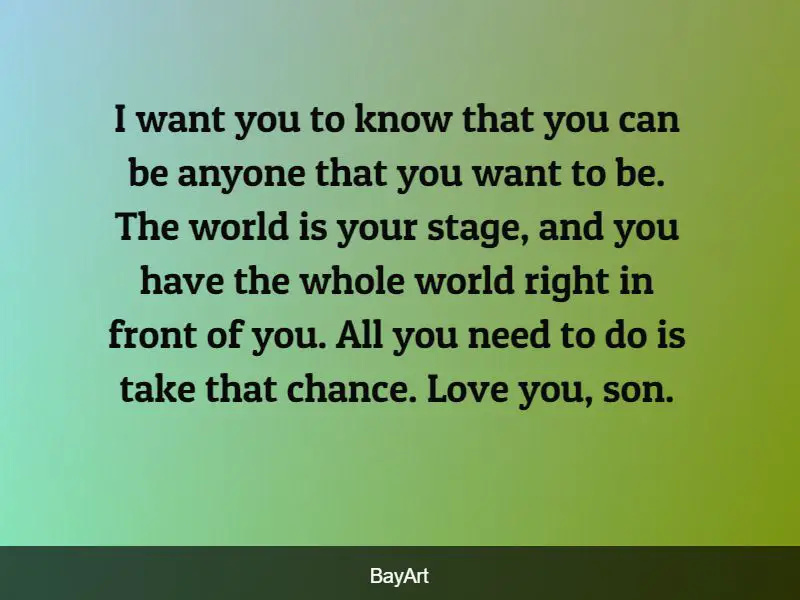 A mother's love doesn't make her son more dependent and timid; it actually makes him stronger and more independent. – Cheri Fuller
To wake up to the sound of my son saying 'Mama, mama!' It's the best sound ever. -Miranda Kerr
My mother never gave up on me. I messed up in school so much they were sending me home, but my mother sent me right back. -Denzel Washington
The heart of a mother is a deep abyss at the bottom of which you will always find forgiveness. -Honore de Balzac

If love is as sweet as a flower, then my mother is that sweet flower of love. -Stevie Wonder
All that I am, or hope to be, I owe to my angel mother. -Abraham Lincoln
You may have tangible wealth untold; Caskets of jewels and coffers of gold. Richer than I you can never be. I had a mother who read to me. -Strickland Gillilan
Mother's love is peace. It need not be acquired, it need not be deserved. -Erich Fromm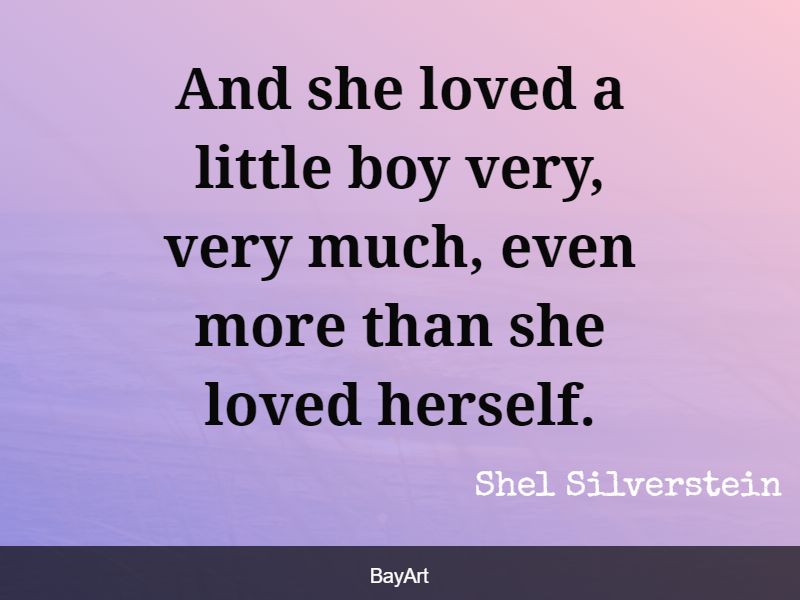 There is an enduring tenderness in the love of a mother to a son that transcends all other affections of the heart. -Washington Irving
All I am I owe to my mother. -George Washington
That strong mother doesn't tell her cub, son, stay weak so the wolves can get you. She says, toughen up, this is reality we are living in. -Lauryn Hill
What greater aspiration and challenge are there for a mother than the hope of raising a great son or daughter? -Rose Kennedy
A man loves his sweetheart the most, his wife the best, but his mother the longest. -Irish Proverb
If you have a daughter, then you should take a look at mother-daughter quotes, too!