Instead of getting stuck in the negativity, change the way you feel about life by seeing the brighter side of life. Famous positive quotes will help you to put life in perspective and remain positive no matter what.
If you're searching for top sayings that perfectly capture what you'd like to say or just want to feel inspired yourself, browse through an amazing collection of blessing quotes, quotes on explore, and light within quotes.
Top 10 Positive Quotes
Keep your face to the sunshine and you cannot see a shadow. — Helen Keller
I always like to look on the optimistic side of life, but I am realistic enough to know that life is a complex matter. — Walt Disney
Once you replace negative thoughts with positive ones, you'll start having positive results. — Willie Nelson

Grab your free copy - Self-Love: The Journey to Embrace Your Essence, Discover Intrinsic Worth, and Build Authentic Self-Esteem

Your journey to self-discovery and enriched relationships starts here. Begin a Life-Changing Journey with this eBook to embrace your true worth and see how it reshapes every aspect of your life, from personal growth to enriching your relationships.

Get Your Copy on Amazon and Start Transforming Today!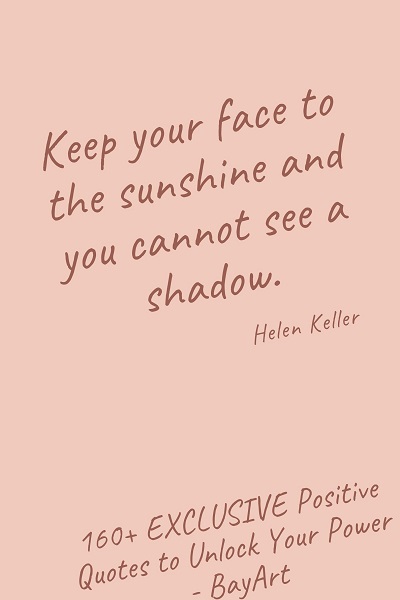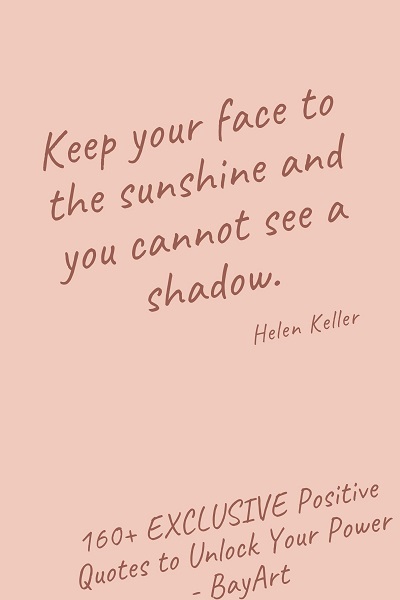 In order to carry a positive action, we must develop here a positive vision. — Dalai Lama
Positive thinking will let you do everything better than negative thinking will. — Zig Ziglar
Pessimism leads to weakness, optimism to power. — William James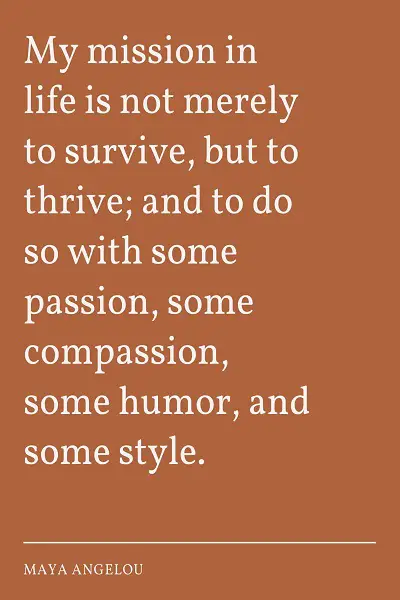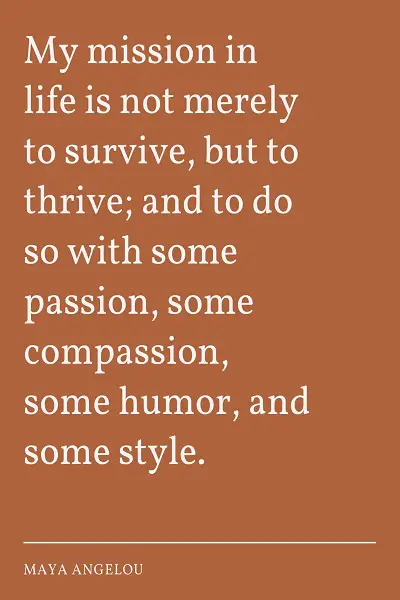 You can't make positive choices for the rest of your life without an environment that makes those choices easy, natural, and enjoyable. — Deepak Chopra
No matter what you're going through, there's a light at the end of the tunnel. — Demi Lovato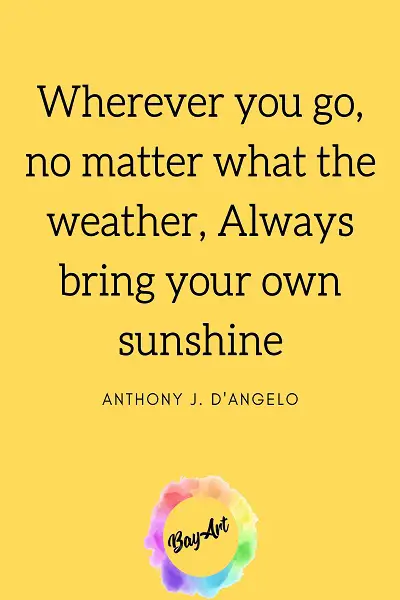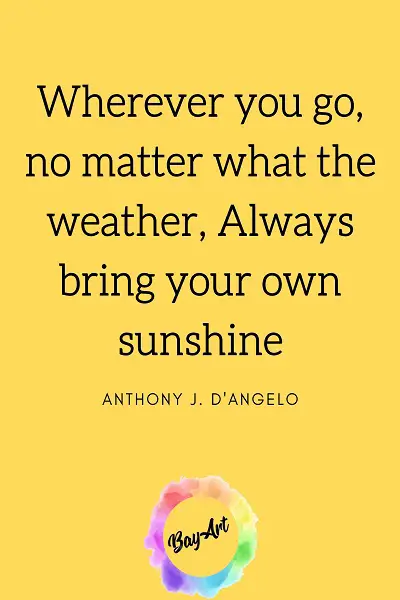 Positive anything is better than negative nothing. — Elbert Hubbard
The more you praise and celebrate your life, the more there is in life to celebrate. — Oprah Winfrey
Best Positive Quotes
Create the highest, grandest vision possible for your life, because you become what you believe.
Every day may not be good… but there's something good in every day. — Alice Morse Earle
Yesterday is not ours to recover, but tomorrow is ours to win or lose. — Lyndon B. Johnson
If you have a positive attitude and constantly strive to give your best effort, eventually you will overcome your immediate problems and find you are ready for greater challenges. — Pat Riley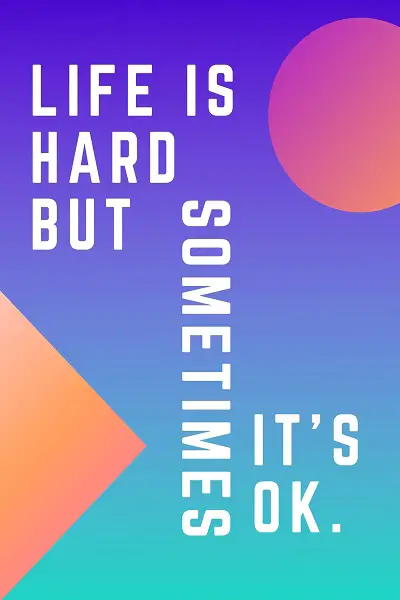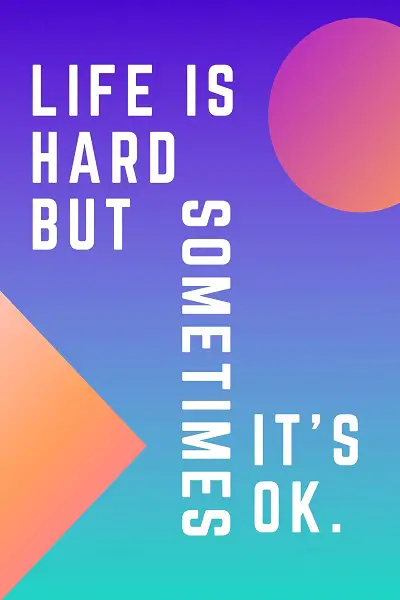 Virtually nothing is impossible in this world if you just put your mind to it and maintain a
positive attitude. — Lou Holtz
Positivity always wins…Always. — Gary Vaynerchuk
The most important decision you make is to be in a good mood. — Voltaire
Act as if what you do makes a difference. It does. — William James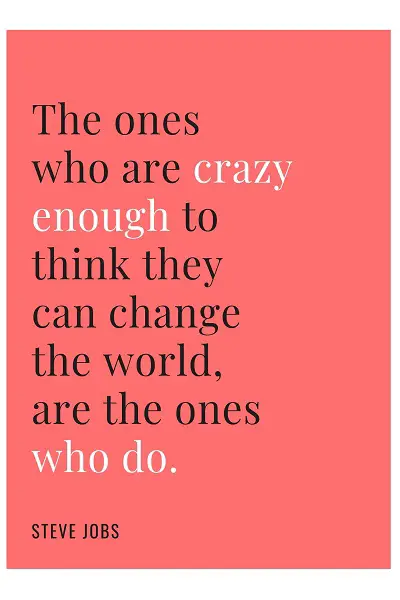 Choosing to be positive and having a grateful attitude is going to determine how you're going to live your life. — Joel Osteen
Live life to the fullest and focus on the positive. — Matt Cameron

Grab your free copy - Self-Love: The Journey to Embrace Your Essence, Discover Intrinsic Worth, and Build Authentic Self-Esteem

Unlock Your Full Potential with Self-Love! Dive into this e-book and learn how to cultivate a deep, nurturing love for yourself that radiates outwards, improving your connections with others and bringing joy and fulfillment to your life.

Find Your Path to Self-Love on Amazon Today!
I'm not going to hold my breath because life goes on. Life is too short to sit around moaning about what could have been or what was. — Tina Weymouth
Keep looking up… that's the secret of life. — Charlie Brown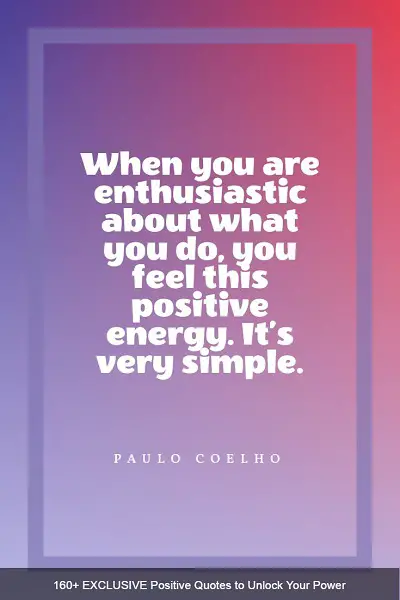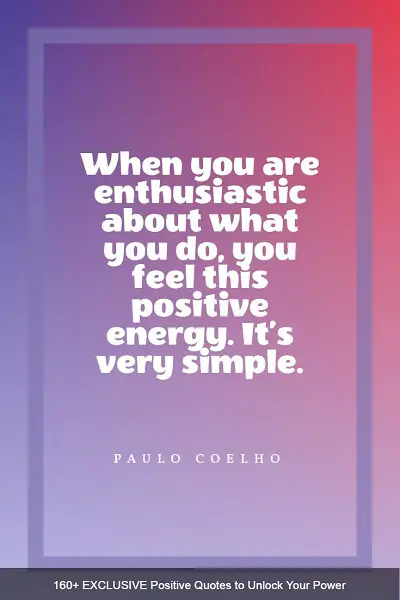 Success is not final, failure is not fatal: it is the courage to continue that counts. — Winston Churchill
Stay positive and happy. Work hard and don't give up hope. Be open to criticism and keep learning. Surround yourself with happy, warm and genuine people. — Tena Desae
Be a positive energy trampoline absorb what you need and rebound more back. — Dave Carolan
Start each day with a positive thought and a grateful heart. — Roy T. Bennett
You're off to great places, today is your day. Your mountain is waiting, so get on
your way. — Dr. Seuss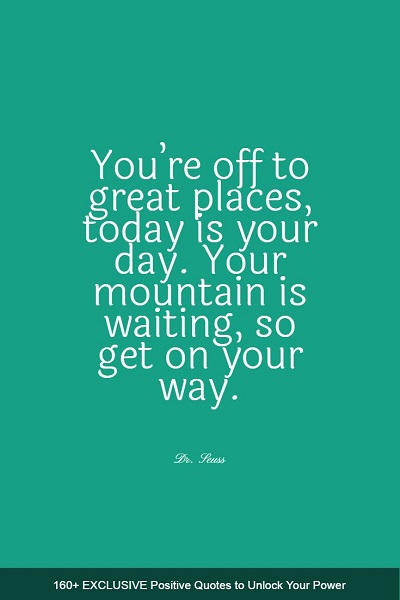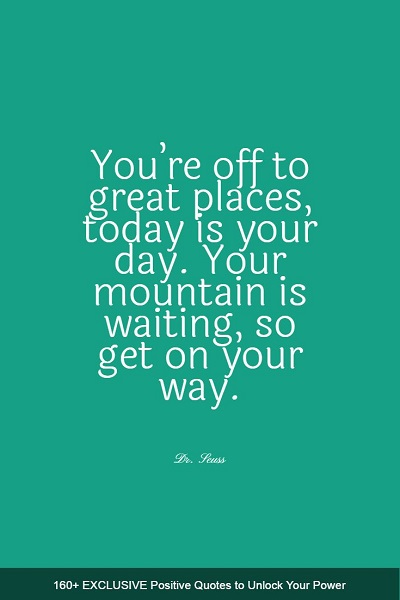 The first step is you have to say that you can. — Will Smith
Never bend your head. Always hold it high. Look the world straight in the eye. — Helen Keller
Appreciation is the highest form of prayer, for it acknowledges the presence of good wherever you shine the light of your thankful thoughts. — Alan Cohen
All I can control is myself and just keep having a positive attitude. — Rose Namajunas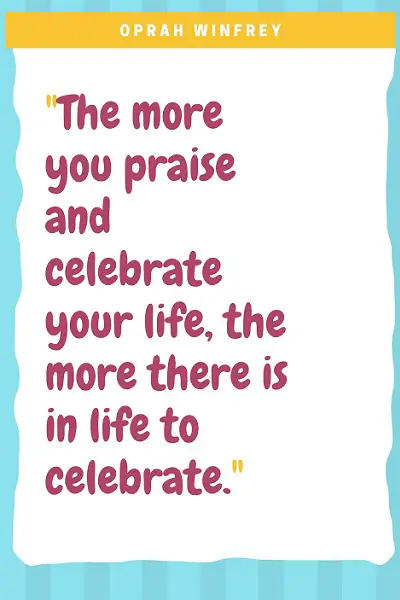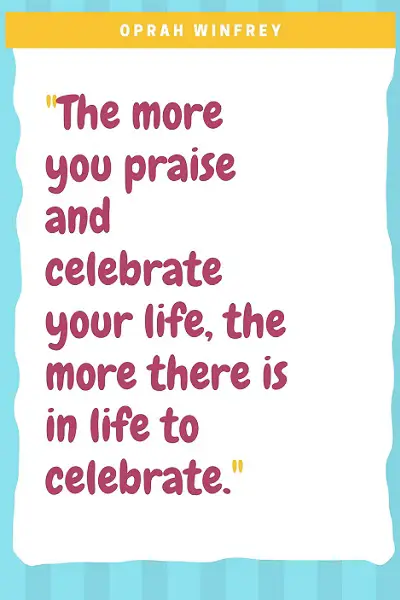 Be not afraid of life. Believe that life is worth living, and your belief will help create the fact. — William James
Sometimes a change of perspective is all it takes to see the light. — Dan Brown
Once you choose hope, anything's possible. — Christopher Reeve
I think anything is possible if you have the mindset and the will and desire to do it and put the time in. — Roger Clemens
Believe you can and you're halfway there. — Theodore Roosevelt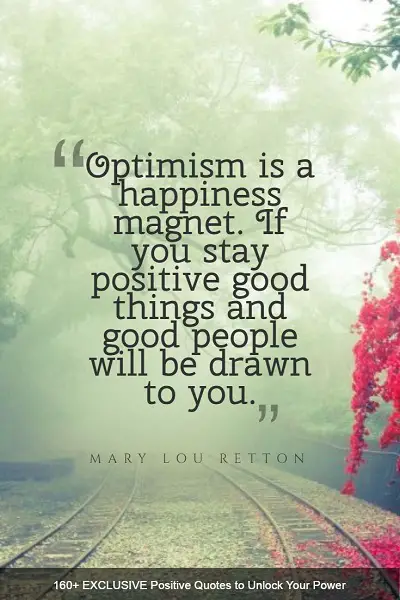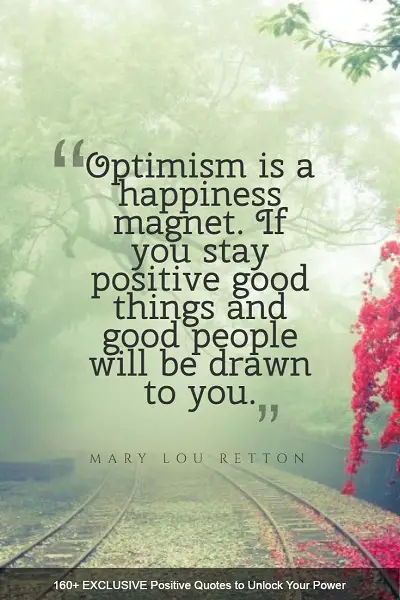 I believe if you keep your faith, you keep your trust, you keep the right attitude, if you're grateful, you'll see God open up new doors. — Joel Osteen

Grab your free copy - Self-Love: The Journey to Embrace Your Essence, Discover Intrinsic Worth, and Build Authentic Self-Esteem

Elevate Your Relationships by Starting Within! Learn how a journey of self-love can lead to more meaningful, authentic connections. This e-book is your guide to developing a compassionate and fulfilling relationship with yourself.

Embark on Your Journey of Self-Love - Available on Amazon Now!
Always remember the proverb: "This too shall pass." Your negative feelings won't last forever, there's a light at the end of every tunnel. It might not happen today or tomorrow, but you'll feel better eventually. – Paulo Coelho
You can, you should, and if you're brave enough to start, you will. — Stephen King
The thing that lies at the foundation of positive change, the way I see it, is service to a fellow human being. — Lee lacocca
I used to be frustrated about being called bohemian, but I don't really care now. If that's what you are, you should celebrate it. ― Alice Temperley
You're braver than you believe, and stronger than you seem, and smarter than you think. ― A.A. Mine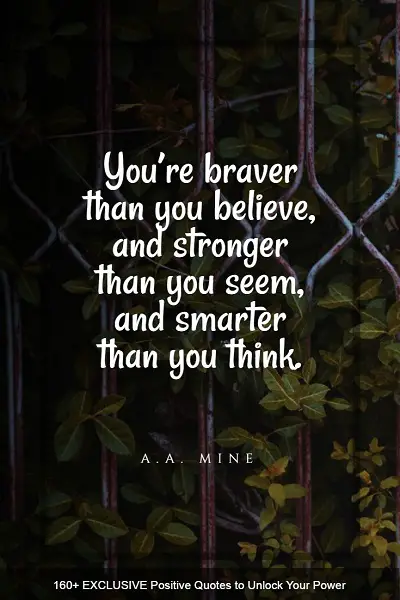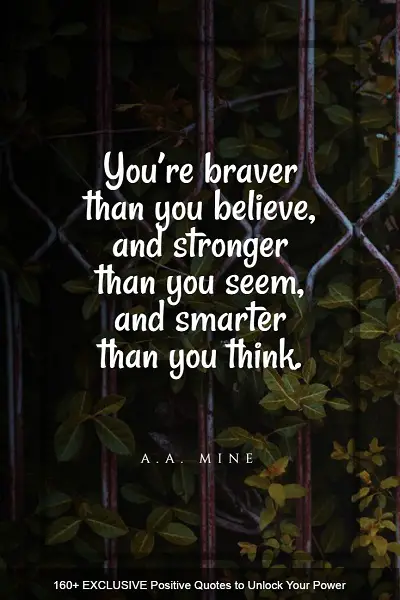 Wherever you go, no matter what the weather, always bring your own sunshine. — Anthony J. D'Angelo
Pause and remember nothing lasts forever. Better days are coming, but they will come faster with faith. — Jennifer Young
Positive Quotes For The Day
Stay positive in every situation and everything you do, never stop trying, have faith don't stop due to failure. — Anurag Prakash Ray
The best way to predict the future is to create it. — Abraham Lincoln
Sometimes all we need is a little pampering to help us feel better… — Charles M. Schulz
Remember to enjoy the journey of life. Don't be so hung up on getting to the finish line that you miss the journey of getting there. — Faith Davis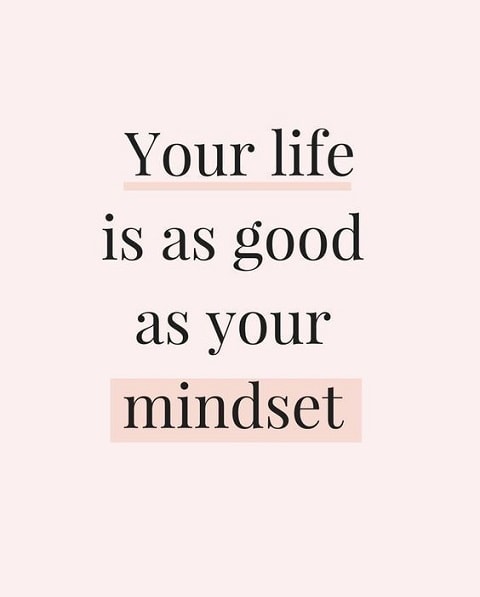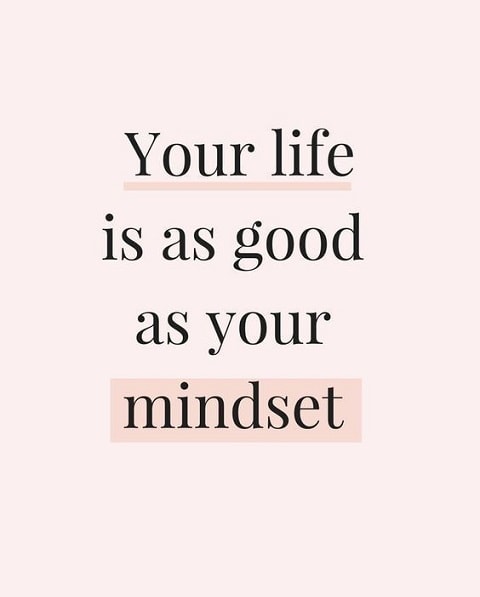 Positive thinking is more than just a tagline. It changes the way we behave. And I firmly believe that when I am positive, it not only makes me better, but it also makes those around me better. — Harvey Mackay
Be mindful. Be grateful. Be positive. Be true. Be kind. — Roy T. Bennett
The best is yet to be. — Robert Browning
All our dreams can come true if we have the courage to pursue them. — Walt Disney
I'm a very positive thinker, and I think that is what helps me the most in difficult moments. — Roger Federer
That's the thing about inner beauty: unlike physical beauty, which grabs the spotlight on itself, inner beauty shines on everyone, catching them, holding them in its embrace, making them more beautiful.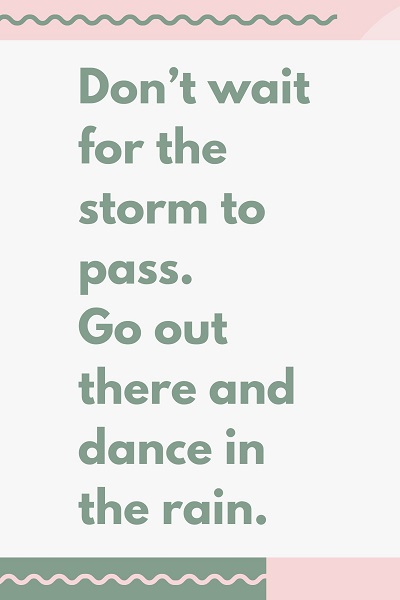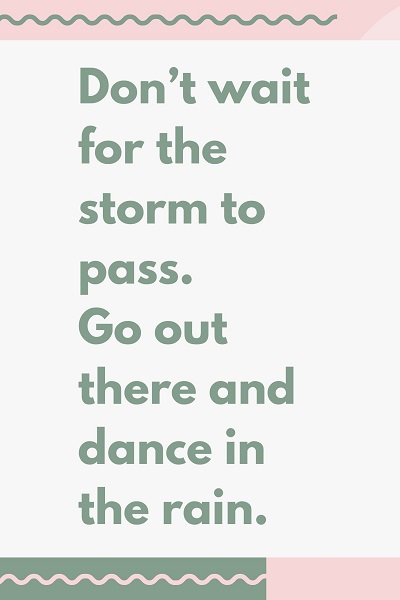 What you feel inside reflects on your face. So be happy and positive all the time. — Sridevi
People have to remain positive and believe in those dreams. It's really important. — Kirsty Coventry
Learn to recognize good luck when it's waving at you, hoping to get your attention. – Sally Koslow
We can change our lives. We can do, have, and be exactly what we wish. — Tony Robbins
Beauty is not in the face; beauty is a light in the heart. — Khalil Gibran
Perpetual optimism is a force multiplier. — Colin Powell
You always pass failure on the way to success. — Mickey Rooney
Remember to take things one day at a time. There is no need to rush the present for future's sake. Today is all you have right now – so just take it all in for everything it is.
Short Positive Quotes
No one is perfect – that's why pencils have erasers. Wolfgang Riebe
Do what you feel in your heart to be right – for you'll be criticized anyway. Eleanor Roosevelt
Overcome the notion that you must be regular. It robs you of the chance to be extraordinary. Uta Hagen
Winning doesn't always mean being first. Winning means you're doing better than you've
done before. Bonnie Blair
I don't walk away from things I think are unfinished. Arnold Schwarzenegger
The only time you fail is when you fall down and stay down. Stephen Richards
Take time to do what makes your soul happy.
Pain is temporary. Quitting lasts forever. Lance Armstrong
The best way to prepare for life is to begin to live. Elbert Hubbard
Sadness flies away on the wings of time. Jean de La Fontaine
The sun himself is weak when he first rises, and gathers strength and courage as the day gets on. Charles Dickens
Begin anywhere. John Cage
It always seems impossible until it is done. Nelson Mandela
Have faith in yourself and in the future. Ted Kennedy
And in the end, it's not the years in your life that count. It is the life in your years. Abraham Lincoln
Life is really simple, but we insist on making it complicated. Confucius
You are never too old to set another goal or dream a new dream. Les Brown
If opportunity doesn't knock, build a door. Milton Berle
Life can only be understood backwards, but it must be lived forward. Soren Kierkegaard
Happiness is an attitude. We either make ourselves miserable, or happy and strong. The amount of work is
the same. Francesca Reigler
It's not whether you get knocked down, it's whether you get up. Vince Lombardi
Inspirational Positive Quotes About Life and Struggles
Work hard for what you want because it won't come to you without a fight. You have to be strong and courageous and know that you can do anything you put your mind to. If somebody puts you down or criticizes you, just keep on believing in yourself and turn it into something positive. — Leah LaBelle
Keep calm because pain makes you stronger, fear makes you braver and heartbreak makes you wiser. — Ritu Ghatourey
I think that life is difficult. People have challenges. Family members get sick, people get older, you don't always get the job or the promotion that you want. You have conflicts in your life. And really, life is about your resilience and your ability to go through your life and all of the ups and downs with a positive attitude. — Jennifer Hyman
Love yourself. It is important to stay positive because beauty comes from the inside out. — Jenn Proske
I try to be really hippie about things. I'm uptight in all the ways that are really important, but the things my husband and family can benefit from my uptightness, I'm completely lacking. — Amanda Peet
A problem is a chance for you to do your best. — Duke Ellington
Let us rise up and be thankful, for if we didn't learn a lot today, at least we learned a little, and if we didn't learn a little, at least we didn't get sick, and if we got sick, at least we didn't die; so let us all be thankful. — Buddha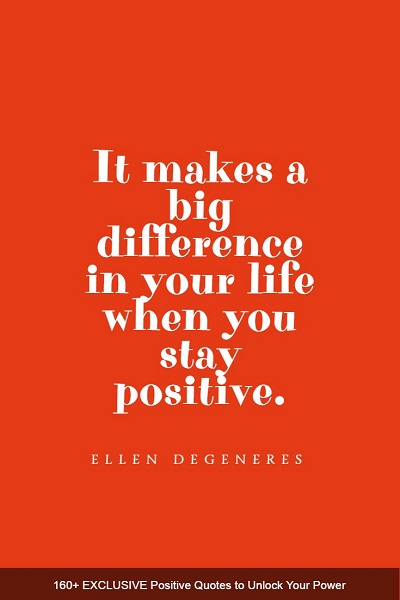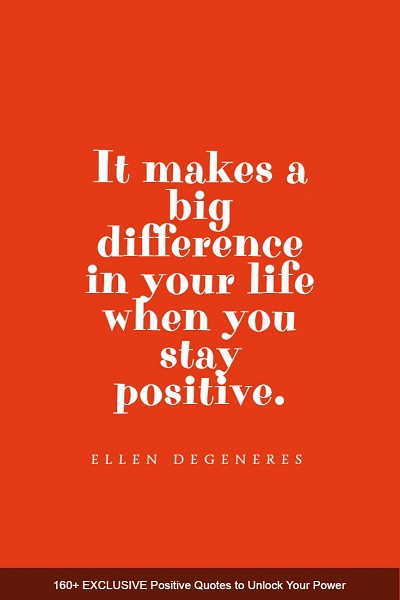 I surround myself with good people who make me feel great and give me positive energy. — Ali Krieger
The positivity in our life is a function of our thinking. So, think positive, stay positive!
When you don't see your life moving in right direction, don't worry take left :). Cheer up and keep walking.
Miracles happen to those who believe in them. — Bernhard Berenson
I will go anywhere as long as it's forward. – David Livingston
It's all about falling in love with yourself and sharing that love with someone who appreciates you, rather than looking for love to compensate for a self-love deficit. – Eartha Kitt
Keep a smile on your face. Keep a spring in your step . – Joel Osteen
Successful people maintain a positive focus in life no matter what is going on around them. They stay focused on their past successes rather than their past failures, and on the next action steps they need to take to get them closer to the fulfillment of their goals rather than all the other distractions that life presents to them. — Jack Canfield
Be the reason someone smiles. Be the reason someone feels loved and believes in the goodness in people. — Roy T. Bennett
With the new day comes new strength and new thoughts. — Eleanor Roosevelt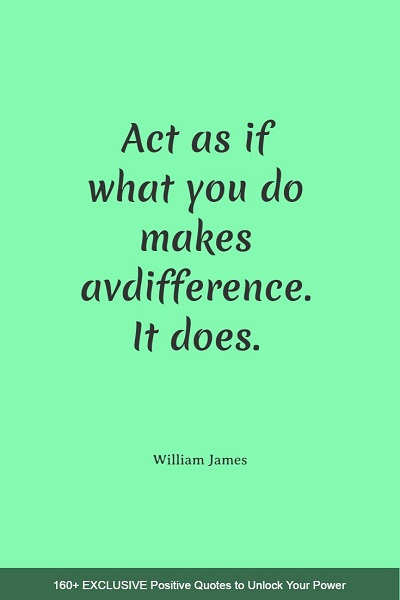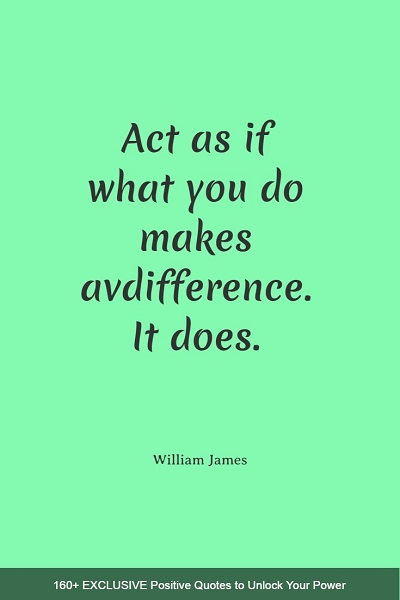 I am happy every day, because life is moving in a very positive way. — Lil Yachty
Don't forget to tell yourself positive things daily! You must love yourself internally to glow externally. — Hannah Bronfman
Optimism is a happiness magnet. If you stay positive, good things and good people will be drawn to you. — Mary Lou Retton
Wherever you are, and whatever you do, be in love. — Rumi
Your positive action combined with positive thinking results in success. — Shiv Khera
Life is like a ferris wheel. Even when you're down, just remember there's always a way back up.
Believe deep down in your heart that you're destined to do great things. — Joe Paterno
Adopting the right attitude can convert a negative stress into a positive one. — Hans Selye
In the end, everything will be okay. If it's not okay, it's not yet the end. — Fernando Sabino
You're going to go through tough times – that's life. But I say, 'Nothing happens to you, it happens for you.' See the positive in negative events. — Joel Osteen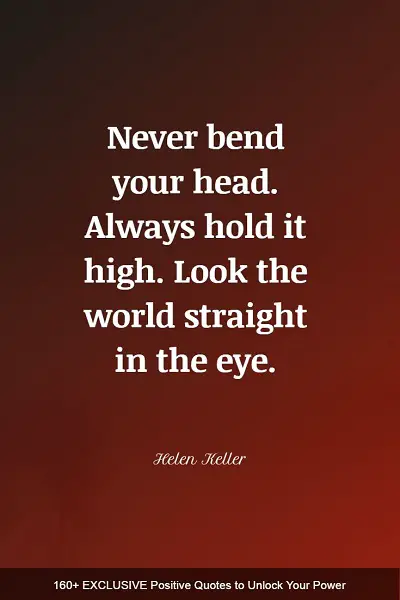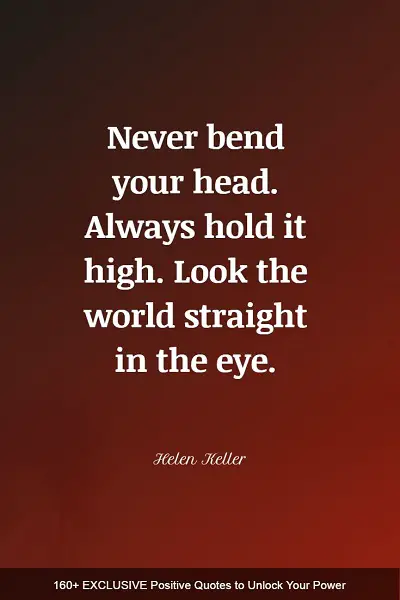 Let us be of cheer, remembering that the misfortunes hardest to bear are those which never come. — Amy Lowell
I have to think of the positive; that's how I cope. — Ingrid Newkirk
Mix a little foolishness with your serious plans. It is lovely to be silly at the right moment. — Horace
A positive attitude causes a chain reaction of positive thoughts, events and outcomes. It is a catalyst and it sparks extraordinary results. — Wade Boggs
Whenever you remove any fence, always pause long enough to ask why it was put there in the first place. — Gilbert K. Chesterton
One small positive thought can change your whole day. — Zig Ziglar
I will keep smiling, be positive and never give up! I will give 100 percent each time I play. These are always my goals and my attitude. — Yani Tseng
Come, get entwined in the dream catcher of my heart. — Melody Lee
Joy is not in things; it is in us. — Richard Wagner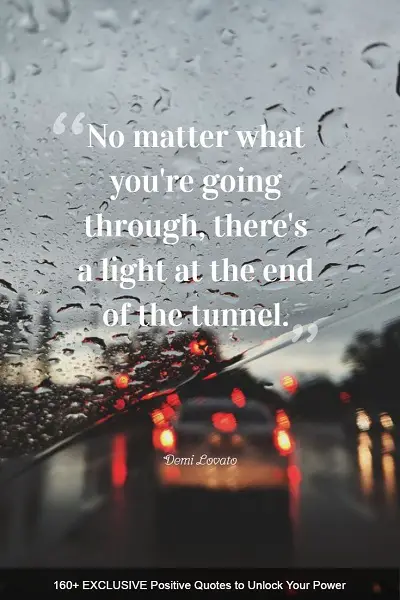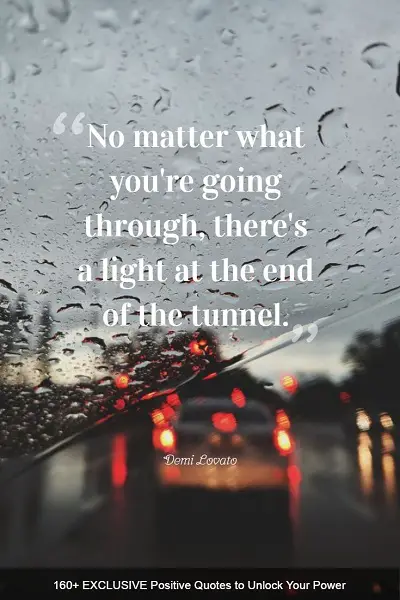 Each day, I come in with a positive attitude, trying to get better. — Stefon Diggs
One person can make a difference, and everyone should try. — John F. Kennedy
For me, singing is the most natural thing in the world. I've grown up with it and I know I've got that gift. — Stella Mccartney
Did I offer peace today? Did I bring a smile to someone's face? Did I say words of healing? Did I let go of my anger and resentment? Did I forgive? Did I love? These are the real questions. I must trust that the little bit of love that I sow now will bear many fruits, here in this world and the life to come. — Henri Nouwen
For beautiful eyes, look for the good in others; for beautiful lips, speak only words of kindness; and for poise, walk with the knowledge that you are never alone. — Audrey Hepburn
How high you fly is derived from how big you think. — Robin Sharma
Time is a circus, always packing up and moving away. — Ben Hecht
Always turn a negative situation into a positive situation. — Michael Jordan
Attitude is a little thing that makes a big difference. — Winston Churchill
Uplifting Positive Quotes Which Will Brighten Up Your Life
I'm a positive person, and I try to look at the good side of everything. — Leona Lewis
Problems are not stop signs; they are guidelines. — Robert Schuller
The sky is always there for me, while my life has been going through many, many changes. When I look up the sky, it gives me a nice feeling, like looking at an old friend. ― Yoko Ono
Positive thinking is a valuable tool that can help you overcome obstacles, deal with pain, and reach new goals. — Amy Morin
In every day, there are 1,440 minutes. That means we have 1,440 daily opportunities to make a positive impact. — Les Brown
Life is like riding a bicycle. To keep your balance, you must keep moving. — Albert Einstein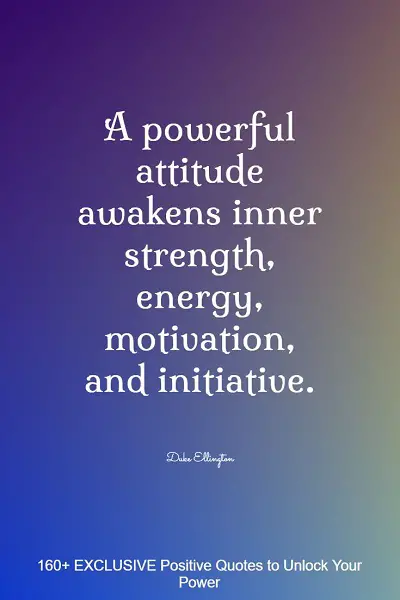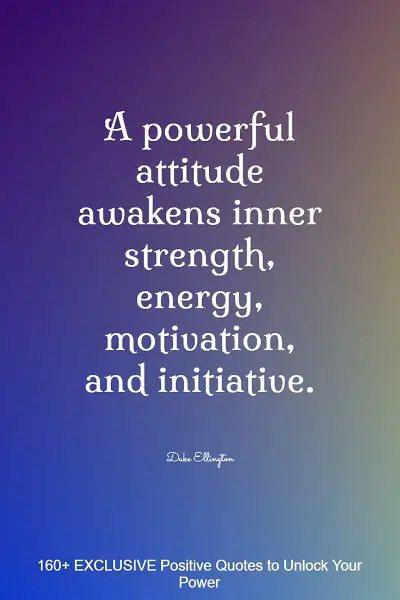 It makes a big difference in your life when you stay positive. — Ellen DeGeneres
Your attitude is like a box of crayons that color your world. Constantly color your picture gray, and your picture will always be bleak. Try adding some bright colors to the picture by including humor, and your picture begins to lighten up. — Allen Klein
As soon as you trust yourself, you will know how to live. — Johann Wolfgang von Goethe
Be positive with every idea surrounding your dreams. Think about the possibility of what you plan to do and approach it with an optimistic action. Stay positively. — Israelmore Ayivor
Live as if your prayers are to be answered.
Few things in the world are more powerful than a positive push. A smile. A world of optimism and hope. A 'you can do it' when things are tough. — Richard M. DeVos
Be the light in the dark, be the calm in the storm and be at peace while at war. — Mike Dolan
Be uniquely you. Stand out. Shine. Be colorful. The world needs your prismatic soul! — Amy Leigh Mercree
I realized that if my thoughts immediately affect my body, I should be careful about what I think. Now if I get angry, I ask myself why I feel that way. If I can find the source of my anger, I can turn that negative energy into something positive. — Yoko Ono
I ask not for a lighter burden, but for broader shoulders. — Jewish proverb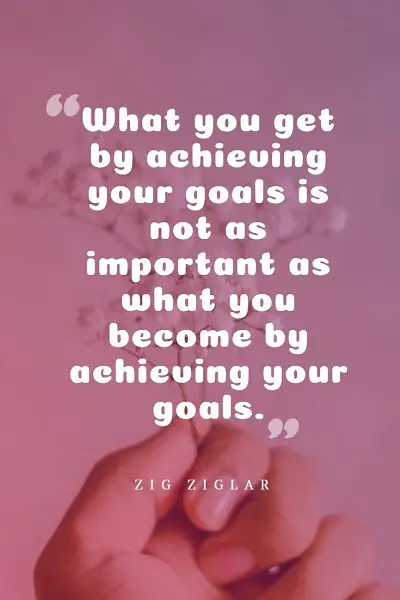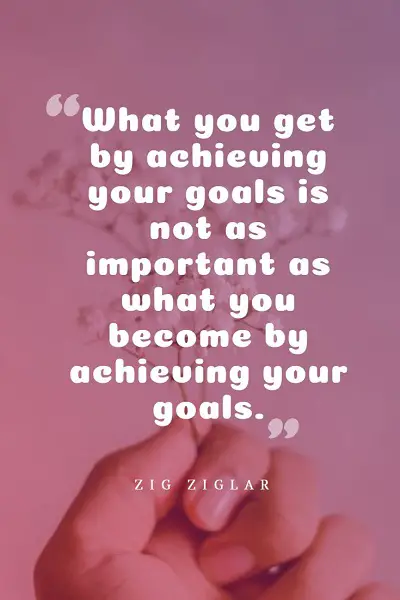 Surround yourself with positive people and situations and avoid negativity. — Doreen Virtue
Arise, awake and stop not till the goal is reached. — Swami Vivekananda
If you can learn to love yourself and all the flaws, you can love other people so much better. And that makes you so happy. – Kristin Chenoweth
Your smile will give you a positive countenance that will make people feel comfortable around you. — Les Brown
If you are positive, you'll see opportunities instead of obstacles. — Widad Akrawi
There are far, far better things ahead than anything we leave behind. — C. S. Lewis
When you are balanced and when you listen and attend to the needs of your body, mind, and spirit, your natural beauty comes out. — Christy Turlington
When you think positive, good things happen. — Matt Kemp
Life has no limitations; except the ones you make. — Les Brown
I think it's important to get your surroundings as well as yourself into a positive state – meaning surround yourself with positive people, not the kind who are negative and jealous of everything you do. — Heidi Klum
Most of the important things in the world have been accomplished by people who have kept on trying when there seemed to be no hope at all. — Dale Carnegie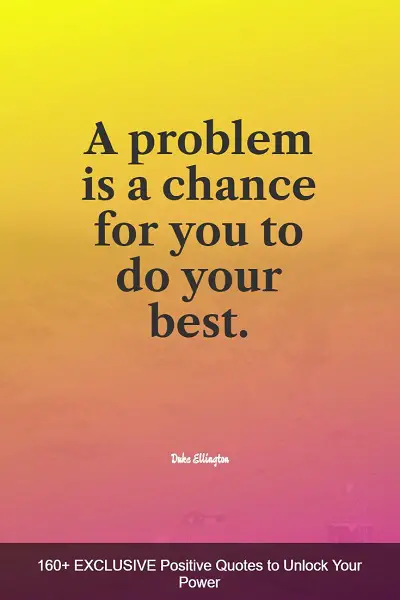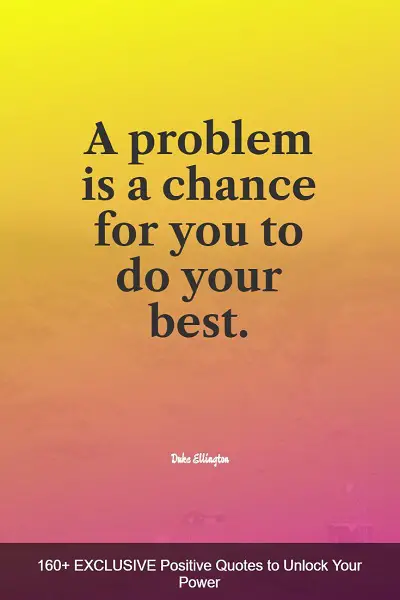 Stop saying these negative things about yourself. Look in the mirror and find something about yourself that's positive and celebrate that! — Tyra Banks
The less you respond to negative people, the more positive your life will become. — Paulo Coelho
The law of attraction states that whatever you focus on, think about, read about, and talk about intensely, you're going to attract more of into your life. — Jack Canfield
No matter what you're going through, there's a light at the end of the tunnel and it may seem hard to get to it but you can do it and just keep working towards it and you'll find the positive side of things. — Demi Lovato
Everything that irritates us about others can lead us to an understanding of ourselves. — Carl Jung
We must embrace pain and burn it as fuel for our journey. — Kenji Miyazawa
A strong positive mental attitude will create more miracles than any wonder drug. — Patricia Neal
Say and do something positive that will help the situation; it doesn't take any brains to complain. — Robert A. Cook
You swing your best when you have the fewest things to think about. — Bobby Jones
Little minds are tamed and subdued by misfortune; but great minds rise above them. — Washington Irving
You have to enjoy life. Always be surrounded by people that you like, people who have a nice conversation. There are so many positive things to think about. — Sophia Loren
Famous Positive Inspiring Sayings and Quotes
The more you are positive and say, 'I want to have a good life,' the more you build that reality for yourself by creating the life that you want. — Chris Pine
I have decided to be happy, because it's good for my health. — Voltaire
Live a life of discipline and live a life of celebration. — Sunday Adelaja
A strong, positive self-image is the best possible preparation for success. — Joyce Brothers
Think big thoughts but relish small pleasures. — H. Jackson Brown
In times of great stress or adversity, it's always best to keep busy, to plow your anger and your energy into something positive. — Lee Iacocca
My cats are really sassy and sophisticated, but most importantly, they are picky. — Jason Wu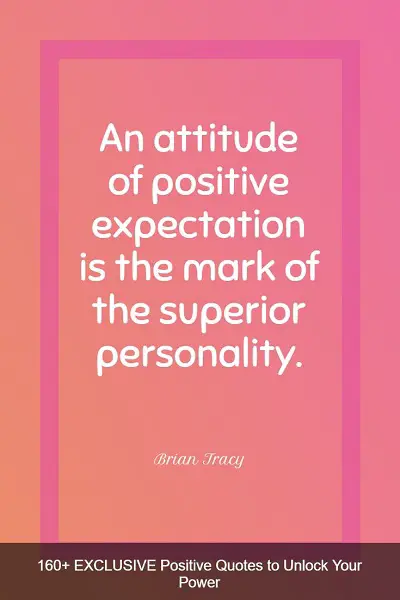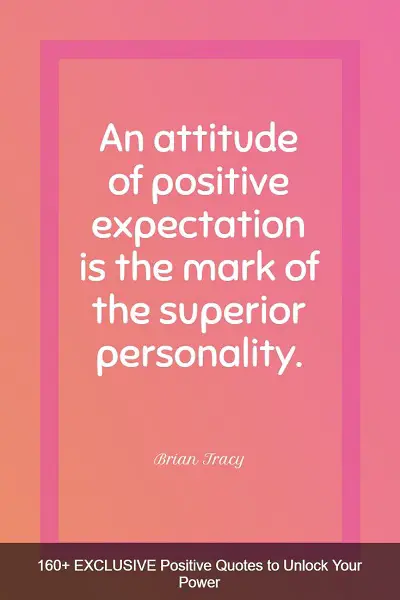 Change your thoughts and you change your world. — Norman Vincent Peale
If you have a positive attitude and constantly strive to give your best effort, eventually you will overcome your immediate problems and find you are ready for greater challenges. — Pat Riley
He who knows that enough is enough will always have enough. — Lao Tzu
Try to be a rainbow in someone's cloud. — Maya Angelou
If someone says something hurtful to you or makes you feel down on yourself, then you just gotta stay positive and keep moving forward because they might not know much about you, or they may not understand the situation. — Jazz Jennings
I find that the very things that I get criticized for, which is usually being different and just doing my own thing and just being original, is the very thing that's making me successful. — Shania Twain
Choose to be optimistic, it feels better. — Dalai Lama
You've done it before, and you can do it now. See the positive possibilities. Redirect the substantial energy of your frustration and turn it into positive, effective, unstoppable determination. — Ralph Marston
I think if you just look at life in a positive way, positive things will happen. — Jake Owen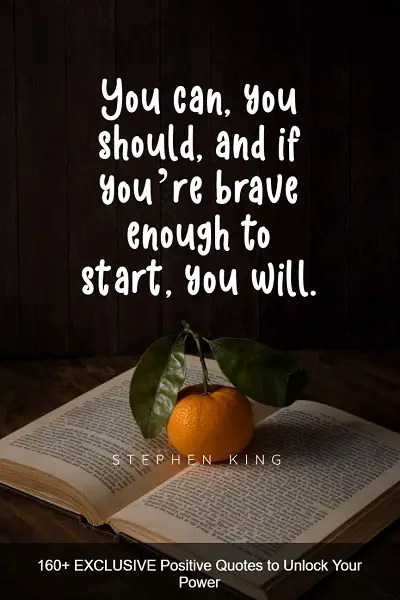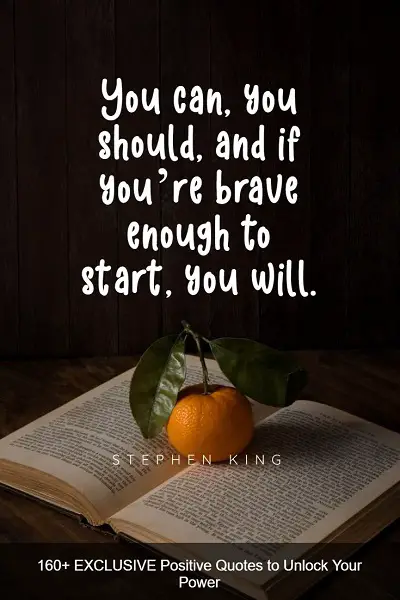 Even though you're fed up, you gotta keep your head up. — Tupac Shakur
Work hard, stay positive, and get up early. It's the best part of the day. — George Allen, Sr.
In order to keep this feather in the air – and that's what it is – my people have to stay on fire creatively. — Phil Donahue
I have never, ever focused on the negative of things. I always look at the positive. — Sonia Sotomayor
Write it on your heart that every day is the best day in the year. — Ralph Waldo Emerson
A positive atmosphere nurtures a positive attitude, which is required to take positive action. — Richard M. DeVos
I've always been able to transform happiness and pain and sorrow and tears into positive energy. — Thalia
Turn every life situation into a positive one . — Rhonda Byrne
All you need is the plan, the road map, and the courage to press on to your destination. —Earl Nightingale
The real spiritual progress of the aspirant is measured by the extent to which he achieves inner tranquility. — Swami Sivananda
Always bear in mind that your own resolution to succeed is more important than any other one thing. — Abraham Lincoln
When you are enthusiastic about what you do, you feel this positive energy. It's very simple. — Paulo Coelho
When you go through a negative situation, don't think about it. Make it positive. — Yoko Ono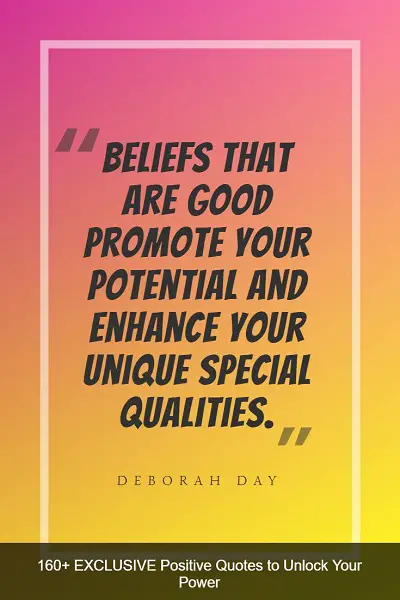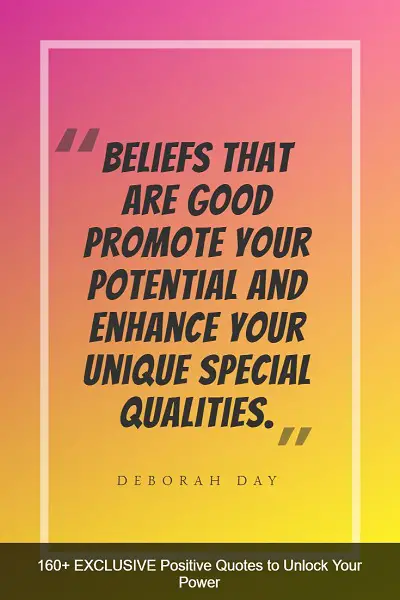 That which doesn't kill us makes us stronger. — Friedrich Nietzsche
Inspiration comes from within yourself. One has to be positive. When you're positive, good things happen. — Deep Roy
Only in the darkness can you see the stars. —Martin Luther King, Jr.
Base your relationships on the right values. —Dick Gephardt
Just for the record darling, not all positive change feels positive in the beginning. —S. C. Lourie
It's not the situation, but whether we react negative or respond positive to the situation that is important. — Zig Ziglar
When you are imagining, you might as well imagine something worth while. —Lucy Maud Montgomery
We have to collectively work together to improve the world." —Samuel StrauchWe have to collectively work together to improve the world. —Samuel Strauch
The renowned seventh-century Zen master Seng-tsan taught that true freedom is being without anxiety about imperfection. — Tara Brach
I've failed over and over and over again in my life. And that is why I succeed. — Michael Jordan
A goal is not always meant to be reached, it often serves simply as something to aim at. – Bruce Lee
Whoever is happy will make others happy too. —Anne Frank
It's easy to get negative because you get beat down. You go through a few disappointments and it's easy to stay in that negative frame of mind. Choosing to be positive and having a grateful attitude is a whole cliché, but your attitude is going to determine how you're going to live your life. — Joel Osteen
Twenty years from now you will be more disappointed by the things that you didn't do than by the ones you did do. —H.Jackson Brown Jr
I'm a living sunset, lightning in my bones. — Ben Harper
God never ends anything on a negative; God always ends on a positive. — Edwin Louis Cole
My friends, love is better than anger. Hope is better than fear. Optimism is better than despair. So let us be loving, hopeful and optimistic. And we'll change the world. —Jack Layton
'Carpe Diem' is a phrase that I try to embrace. It means seize the day, to make the most of the present and to give little thought to the past or future. In the time that I have here, I want to love and live life to the fullest while being a positive influence on others. And I want a full life for everyone. — Matt Czuchry
If I got rid of my demons, I'd lose my angels. —Tennessee Williams
Some men see things as they are and say why—I dream things that never were and say why not. —George Bernard Shaw
I am thankful to all who said no to me. It is because of them that I'm doing it myself. — Albert Einstein
Celebrate yourself… and stay positive! — Khoudia Diop
I've learned that people will forget what you said, people will forget what you did, but people will never forget how you made them feel. —Maya Angelou
Motivational Positive Quotes To Get Through Anything
The positive thinker sees the invisible, feels the intangible, and achieves the impossible. — Winston Churchill
It's amazing. Life changes very quickly, in a very positive way, if you let it. — Lindsey Vonn
I'm all about your mindset, being focused, staying positive, being optimistic, and knowing that these are all aspects of my life that I love and enjoy. — Kyla Pratt
One man's daydreaming is another man's day. — Terri Guillemets
The pessimist sees difficulty in every opportunity. The optimist sees the opportunity in every difficulty. — Winston Churchill
It takes but one positive thought when given a chance to survive and thrive to overpower an entire army of negative thoughts. — Robert H. Schuller
Dwell on the beauty of life. Watch the stars and see yourself running with them. — Marcus Aurelius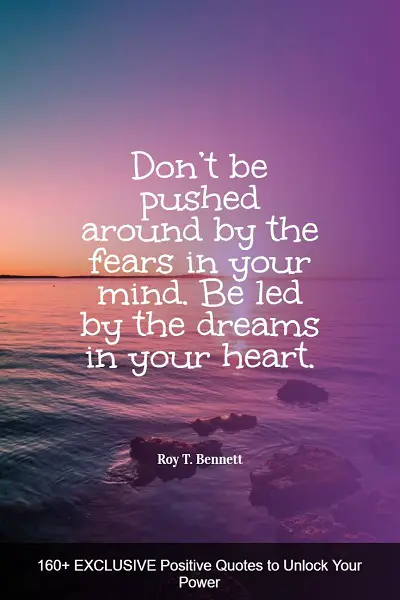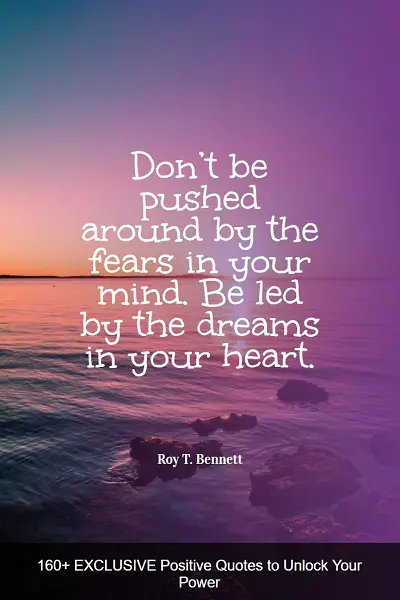 When you show deep empathy toward others, their defensive energy goes down, and positive energy replaces it. That's when you can get more creative in solving problems. — Stephen Covey
Live your days on the positive side of life, in tune with your most treasured values. And in each moment, you'll have much to live for. — Ralph Marston
It doesn't matter how slow you go, as long as you don't stop. — Confucius
Never let your head hang down. Never give up and sit down and grieve. Find another way. And don't pray when it rains if you don't pray when the sun shines. — Richard M. Nixon
We can bring positive energy into our daily lives by smiling more, talking to strangers in line, replacing handshakes with hugs, and calling our friends just to tell them we love them. — Brandon Jenner
I am a positive person. I never think of the glass as half empty. I just keep pushing forward. — Rosie Perez
Believe you can and you're halfway there. — Theodore Roosevelt
Be true to yourself and surround yourself with positive, supportive people. — Payal Kadakia
The future belongs to those who believe in the beauty of their dreams. — Eleanor Roosevelt
I do a good job of staying positive and just moving on. — Katie Taylor
If you don't like something change it. If you can't change it, change your attitude about it. Don't complain. — Maya Angelou
It's ok to love your body the way it is. — Demi Lovato
Believe that life is worth living and your belief will help create the fact. — William James
When you wake up every day, you have two choices. You can either be positive or negative; an optimist or a pessimist. I choose to be an optimist. It's all a matter of perspective. — Harvey Mackay
Be positive and laugh at everything. — Alexandra Roach
My mother taught me to be honest, to be selfless, and to touch people in a positive way. — Scott Eastwood
You need to be able to manage stress because hard times will come, and a positive outlook is what gets you through. — Marie Osmond
Our greatest weakness lies in giving up. The most certain way to succeed is always to try just one more time. — Thomas Edison
You have to make peace with yourself. The key is to find the harmony in what you have. – Naomi Watts
Being positive is like going up a mountain. Being negative is like sliding down a hill. A lot of times, people want to take the easy way out, because it's basically what they've understood throughout their lives. — Chuck D
There is a sense that things, if you keep positive and optimistic about what can be done, do work out. — Hillary Clinton
Don't focus on negative things; focus on the positive, and you will flourish. — Alek Wek
Optimism is the faith that leads to achievement. Nothing can be done without hope or confidence. — Helen Keller
Exercise, prayer, and meditation are examples of calming rituals. They have been shown to induce a happier mood and provide a positive pathway through life's daily frustrations. — Chuck Norris
We are all in the gutter, but some of us are looking at the stars. — Oscar Wilde
Life is full of ups and downs. One needs to stay positive in life, no matter what. — Shilpa Shinde
Remember: Every champion was once a contender that refused to give up. — Rocky Balboa
Perseverance is a positive, active characteristic. — Joseph B. Wirthlin
You have to train your brain to be positive just like you work out your body. — Shawn Achor