Perseverance is continued effort and determination. Inspirational quotes about perseverance will encourage your fighting spirit, help you to achieve your goals and change your life to live your dreams.
If you're searching for best quotes about strength and best courage quotes that perfectly capture what you'd like to say or just want to feel inspired yourself, browse through an amazing collection of encouraging brave quotes, inspiring hope quotes and popular hard times quotes.
Top Perseverance Quotes
A failure is not always a mistake. It may simply be the best one can do under the circumstances. The real mistake is to stop trying. – B. F. Skinner
Perseverance, secret of all triumphs. – Victor Hugo
When you come to the end of your rope, tie a knot and hang on. – Franklin D.
RooIf one dream should fall and break into a thousand pieces, never be afraid to pick one of those pieces up and begin again. – Flavia Weednsevelt
In case of doubt, push on just a little further and then keep on pushing. – General George S Patton, Jr.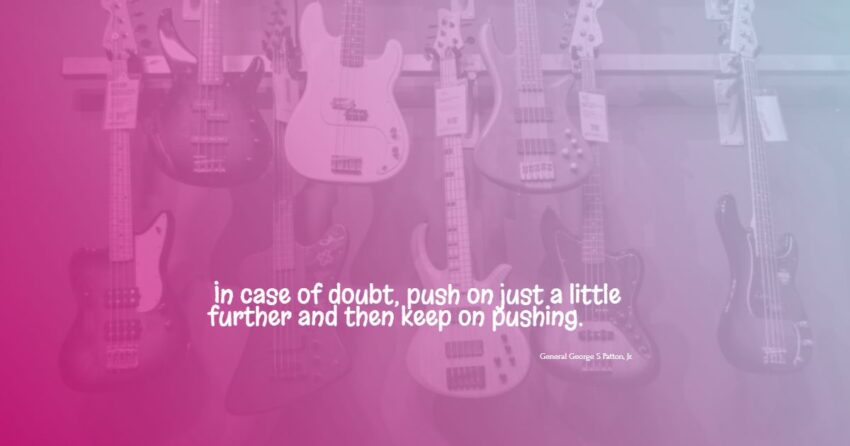 Permanence, perseverance and persistence in spite of all obstacles, discouragements and impossibilities: It is this, that in all things distinguishes the strong soul from the weak. – Thomas Carlyle
No great thing is created suddenly. – Epictetus
Develop success from failures. Discouragement and failure are two of the surest stepping stones to success. – Dale Carnegie
The world breaks everyone, and afterward, some are strong at the broken places. – Ernest Hemingway
You may encounter many defeats, but you must not be defeated. In fact, it may be necessary to encounter the defeats, so you can know who you are, what you can rise from, how you can still come out of it. – Maya Angelou
A little more persistence, a little more effort, and what seemed hopeless failure may turn to glorious success. – Elbert Hubbard
Defeat is not the worst of failures. Not to have tried is the true failure. – George Edward Woodberry
A successful person is just a novice who started and kept on going. – Maddy Malhotra
Don't be discouraged. It's often the last key in the bunch that opens the lock. – Author Unknown
Strength does not come from winning. Your struggles develop your strengths. When you go through hardships and decide not to surrender, that is strength. – Arnold Schwarzenegger
Success is no accident. It is hard work, perseverance, learning, studying, sacrifice and most of all, love of what you are doing or learning to do. – Pele
It does not matter how slowly you go as long as you do not stop. – Confucius
The key to success is action, and the essential in action is perseverance. – Sun Yat – sen
The difference between perseverance and obstinacy is that one comes from a strong will, and the other from a strong won't. – Henry Ward Beecher
I think and think for months and years. Ninety – nine times, the conclusion is false. The hundredth time I am right. – Albert Einstein
No one succeeds without effort… Those who succeed owe their success to perseverance. – Ramana Maharshi
Success seems to be largely a matter of hanging on after others have let go. – William Feather
Look at a stone cutter hammering away at his rock, perhaps a hundred times without as much as a crack showing in it. Yet at the hundred – and – first blow it will split in two, and I know it was not the last blow that did it, but all that had gone before. – Jacob A. Riis
Life is not easy for any of us. But what of that? We must have perseverance and above all confidence in ourselves. We must believe that we are gifted for something and that this thing must be attained. – Marie Curie
You aren't going to find anybody that's going to be successful without making a sacrifice and without perseverance. – Lou Holtz
If one dream should fall and break into a thousand pieces, never be afraid to pick one of those pieces up and begin again. – Flavia Weedn
Persist and persevere, and you will find most things that are attainable, possible. – Lord Chesterfield
I believe in being strong when everything seems to be going wrong. I believe that happy girls are the prettiest girls. I believe that tomorrow is another day and I believe in miracles. – Audrey Hepburn
Only those who never stand up, never fall down. – Fedor Emelianenko
Many of life's failures are people who did not realize how close they were to success when they gave up. – Thomas Edison
When life places stones in your path, be the water. A persistent drop of water will wear away even the hardest stone. – Autumn Morning Star
Life is very interesting. In the end, some of your greatest pains become your greatest strengths. – Drew Barrymore
Keep trying until you have no more chances left. – Aimee Carter
Difficulties are meant to rouse, not discourage. The human spirit is to grow strong by conflict. – William Ellery Channing
He who can have patience can have what he will. – Benjamin Franklin
When obstacles arise, you change your direction to reach your goal, you do not change your decision to get there. – Zig Ziglar
The journey to success is easy if you know the road map and have persistence and perseverance. – Debasish Mridha
It is not enough that we do our best; sometimes we must do what is required. – Winston Churchill
It's not that I'm so smart, it's just that I stay with problems longer. – Albert Einstein
I will persist until I succeed. Always will I take another step. If that is of no avail I will take another, and yet another. In truth, one step at a time is not too difficult. I know that small attempts, repeated, will complete any undertaking. – Og Mandino
Making your mark on the world is hard. If it were easy, everybody would do it. But it's not. It takes patience, it takes commitment, and it comes with plenty of failure along the way. The real test is not whether you avoid this failure, because you won't. It's whether you let it harden or shame you into inaction, or whether you learn from it; whether you choose to persevere. – Barack Obama
Our greatest weakness lies in giving up. The most certain way to succeed is always to try just one more time. – Thomas A. Edison
Success is the sum of small efforts, repeated day in and day out. – Robert Collier
A river cuts through rock, not because of its power, but because of its persistence. – Jim Watkins
Through perseverance many people win success out of what seemed destined to be certain failure. – Benjamin Disraeli
Out of suffering have emerged the strongest souls; the most massive characters are seared with scars. – Khalil Gibran
The man who can drive himself further once the effort gets painful is the man who will win. – Roger Bannister
The will to persevere is often the difference between failure and success. – David Sarnoff
We can do anything we want to do if we stick to it long enough. – Helen Keller
Keep on going, and the chances are that you will stumble on something, perhaps when you are least expecting it. I never heard of anyone ever stumbling on something sitting down. – Charles F. Kettering
Some lean back. But those who lean forward are poised to cross the finish line, first! – T.F. Hodge
Though you may hear me holler, and you may see me cry I'll be dogged, sweet baby, if you gonna see me die. – Langston Hughes
The man who moves a mountain begins by carrying away small stones. – Confucius
Perseverance is failing 19 times and succeeding the 20th. – Julie Andrews
If you wish to succeed in life, make perseverance your bosom friend, experience your wise counselor, caution your elder brother, and hope your guardian genius. – Joseph Addison
Perseverance is a great element of success. If you only knock long enough and loud enough at the gate, you are sure to wake up somebody. – Henry Wadsworth Longfellow
If you are going through hell, keep going. – Winston Churchill
When you have a great and difficult task, something perhaps almost impossible, if you only work a little at a time, every day a little, suddenly the work will finish itself. – Isak Dinesen
Nothing in this world can take the place of persistence. Talent will not; nothing is more common than unsuccessful people with talent. Genius will not; unrewarded genius is almost a proverb. Education will not; the world is full of educated derelicts. Persistence and determination alone are omnipotent. The slogan press on has solved and always will solve the problems of the human race. – Calvin Coolidge
You go on. You just go on. There's nothing more to it, and there's no trick to make it easier. You just go on. – Lois McMaster Bujold
Courage is not having the strength to go on; it is going on when you don't have the strength. – Theodore Roosevelt
Through hard work, perseverance and a faith in God, you can live your dreams. – Ben Carson
Victory is always possible for the person who refuses to stop fighting. – Napoleon Hill
At the timberline where the storms strike with the most fury, the sturdiest trees are found. – Hudson Newsletter
Listen to the people who love you. Believe that they are worth living for even when you don't believe it. Seek out the memories depression takes away and project them into the future. Be brave; be strong; take your pills. Exercise because it's good for you even if every step weighs a thousand pounds. Eat when food itself disgusts you. Reason with yourself when you have lost your reason. – Andrew Solomon
One's dignity may be assaulted, vandalized and cruelly mocked, but it can never be taken away unless it is surrendered. – Michael J. Fox
It's the climbing that makes the man. Getting to the top is an extra reward. – Robert Lipsyte
Let me tell you the secret that has led to my goal. My strength lies solely in my tenacity. – Louis Pasteur
The difference between a successful person and others is not a lack of strength, not a lack of knowledge, but rather a lack in will. – Vince Lombardi Jr.
Never, never, never, never give up. – Winston Churchill
The harder the conflict, the more glorious the triumph. – Thomas Paine
You go on. You set one foot in front of the other, and if a thin voice cries out, somewhere behind you, you pretend not to hear, and keep going. – Geraldine Brooks
Keep the faith, don't lose your perseverance and always trust your gut extinct. – Paula Abdul
There is a saying in Tibetan, 'Tragedy should be utilized as a source of strength.No matter what sort of difficulties, how painful experience is, if we lose our hope, that's our real disaster. – 14th Dalai Lama
It is good to love many things, for therein lies the true strength, and whosoever loves much performs much, and can accomplish much, and what is done in love is well done. – Vincent Van Gogh
The harder you fall, the heavier your heart; the heavier your heart, the stronger you climb; the stronger you climb, the higher your pedestal. – Criss Jami
Never stop fighting until you arrive at your destined place – that is, the unique you. Have an aim in life, continuously acquire knowledge, work hard, and have perseverance to realize the great life. – A. P. J. Abdul Kalam
It's easier to go down a hill than up it but the view is much better at the top. – Henry Ward Beecher
The Lord is my strength and my shield; my heart trusts in him, and I am helped. My heart leaps for joy and I will give thanks to him in song. – Psalm 28:7
Believe in a love that is being stored up for you like an inheritance, and have faith that in this love there is a strength and a blessing so large that you can travel as far as you wish without having to step outside it. – Rainer Maria Rilke
You may have to fight a battle more than once to win it. – Margaret Thatcher
Champions keep playing until they get it right. – Billie Jean King
Success is not final, failure is not fatal: It is the courage to continue that counts. – Winston Churchill
If you can't fly then run, if you can't run then walk, if you can't walk then crawl, but whatever you do you have to keep moving forward. – Martin Luther King, Jr.
Just remember, you can do anything you set your mind to, but it takes action, perseverance, and facing your fears. – Gillian Anderson
Our greatest glory is not in never falling, but in rising every time we fall. – Confucius
When you get into a tight place, and everything goes against you till it seems as if you couldn't hold on a minute longer, never give up then, for that's just the place and time that the tide'll turn. – Harriet Beecher Stowe
Courage and perseverance have a magical talisman, before which difficulties disappear and obstacles vanish into air. – John Quincy Adams
When you get into a tight place and everything goes against you … never give up then, for that is just the place and time that the tide will turn. – Harriet Beecher Stowe
It always seems impossible until it's done. – Nelson Mandela
If your determination is fixed, I do not counsel you to despair. Few things are impossible to diligence and skill. Great works are performed not by strength, but perseverance. – Samuel Johnson
A winner is just a loser who tried one more time. – George M. Moore Jr.