These hand-picked short romantic love quotes will definitely make him/her fall in love all over again. Sweet love quotes not only help you to easily express your feelings and touch his/her heart but also can get straight to the point and evoke the feelings of love instantly by reminding us that love is the greatest and most profound emotion.
Poets and authors have been trying for centuries to find the perfect words, but you should use your own words to express your emotions. Of course, true love quotes give us a little inspiration to express what is in our heart and communicate our feelings to our partner.
Opening your heart and saying love paragraphs often the most effective way to really touch someone's soul, and love you quotes help you to rekindle the flame in your relationship and bring back that loving feeling.
Are you looking for the sweetest short love quotes? Look no further. Here I have listed my favorite cute short love quotes and I am sure these meaningful short love quotes will explain everything you feel.
Best Short Love Quotes
I would rather spend one lifetime with you, than face all the ages of this world alone. — Lord of The Rings
If I know what love is, it is because of you. — Hermann Hesse
Love is when the other person's happiness is more important than your own. — H. Jackson Brown, Jr.
You call it madness, but I call it love. — Don Byas
True love stories never have endings. — Richard Bach
Thinking of you keeps me awake. Dreaming of you keeps me asleep. Being with you keeps me alive.
Being in love with you makes every day an interesting one.
One day, I caught myself smiling without no reason, then I realized that I was thinking of you.
I want to tell you with my last breath that I have always loved you. I would rather be a ghost, drifting by your side as a condemned soul, than enter heaven without you. Because of your love, I will never be a lonely spirit. — Crouching Tiger
I love you and that's the beginning and end of everything. — F. Scott Fitzgerald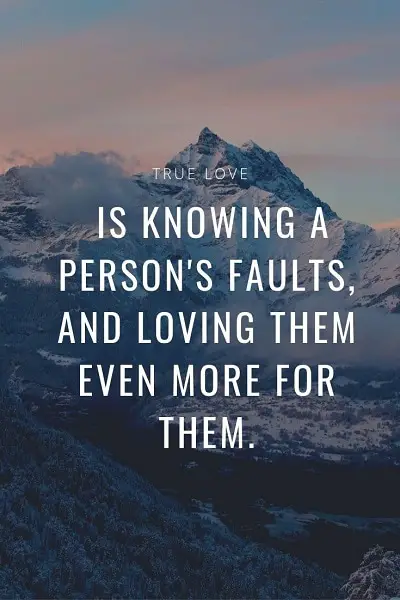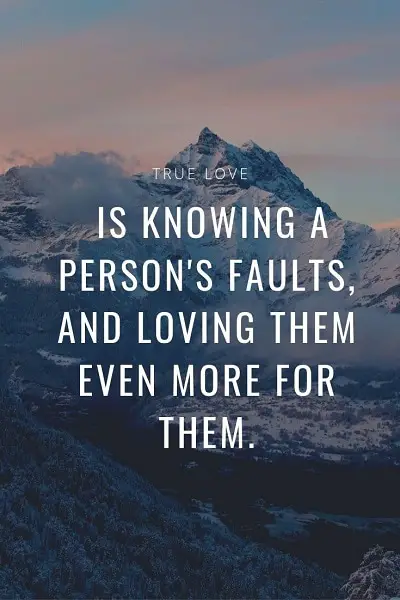 I will never stop trying. Because when you find the one, you never give up. —​ Crazy Stupid Love
I never want to stop making memories with you. — Pierre Jeanty
And in her smile I see something more beautiful than the stars. — Beth Revis
We can only learn to love by loving. — Iris Murdoch
We love the things we love for what they are. — Robert Frost
I love you more than I have ever found a way to say to you. I love you a little, it's like a little but a lot.
Every love story is beautiful but ours is my favorite.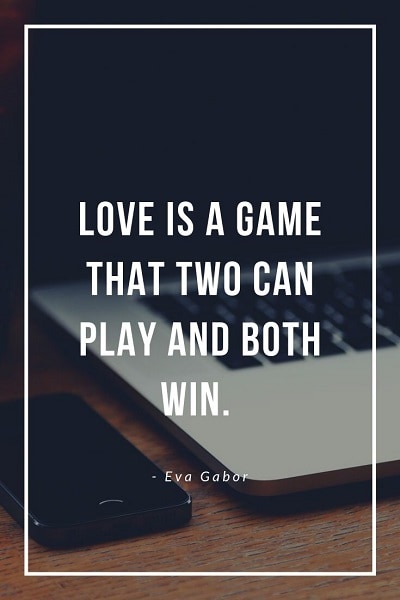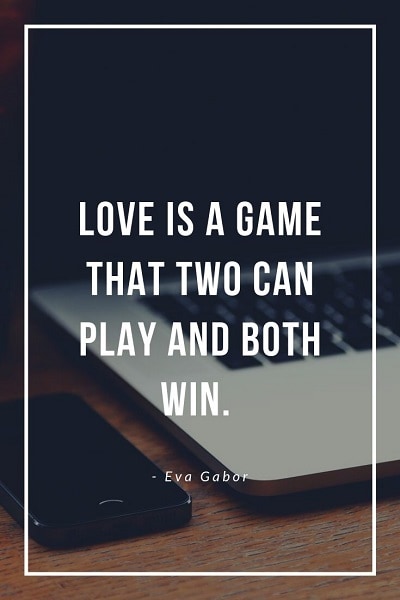 Love is the crowning grace of humanity, the holiest right of the soul, the golden link which binds us. — Petrarch
Love's greatest gift is its ability to make everything it touches sacred. — Barbara de Angelis
A life lived in love will never be dull. — Leo Buscaglia
All you need is love. — Paul McCartney
Love is like a friendship caught on fire. As love grows older, our hearts mature and our love becomes as coals, deep-burning and unquenchable. — Bruce Lee
I only want two things in this world. I want you and I want us.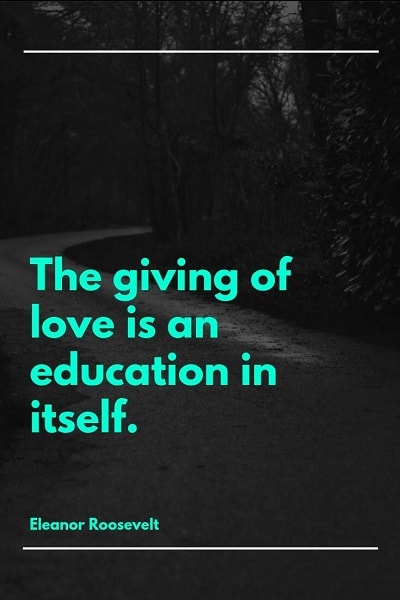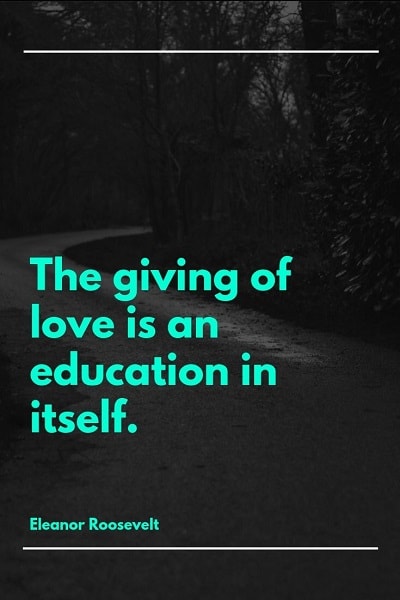 To love and be loved is to feel the sun from both sides. — David Viscott
Life is the flower for which love is the honey. — Victor Hugo
Sweet Short Love Quotes
You know you're in love when you can't fall asleep because the reality is finally better than your dreams. – Dr. Seuss
It was love at first sight, at last sight, at ever and ever sight. – Vladimir Nabokov
The best love is the kind that awakens the soul; that makes us reach for more, that plants the fire in our hearts and brings peace to our minds. That's what I hope to give you forever. – The Notebook
When we love, we see the infinite in the finite. We find the Creator in the creation. – Eliphas Levi
I look at you and see the rest of my life in front of my eyes.
My whole life I was a puzzle piece waiting to find its other half. Thank you for being my other half and completing me.
You can't blame gravity for falling in love. – Albert Einstein
I am like a flower, which cannot live without the sun: I also cannot live without your love.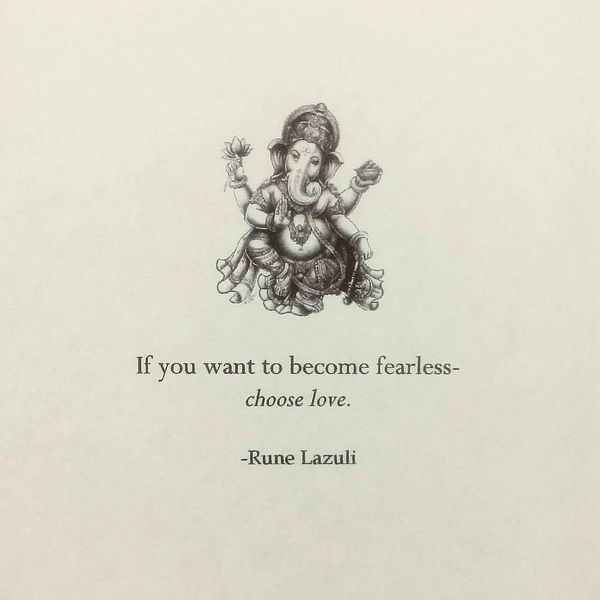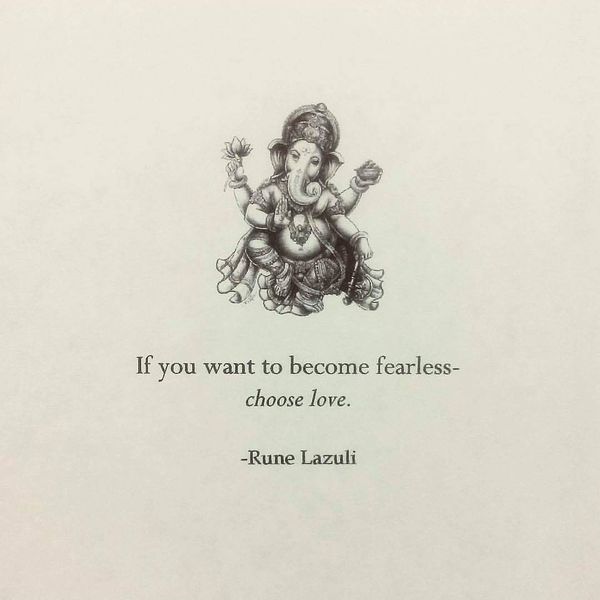 To love is to return to a home we never left, to remember who we are. – Sam Keen
The greatest happiness of life is the conviction that we are loved; loved for ourselves, or rather, loved in spite of ourselves. – Victor Hugo
Every love story is beautiful, but ours is my favorite.
We accept the love we think we deserve. – Stephen Chbosky
All, everything that I understand, I only understand because I love. – Leo Tolstoy
Tell me who you love and I'll tell you who you are. – Creole Proverb
And remember, as it was written, to love another person is to see the face of God. – Les Miserables
I will share all your sadness to make you cheerful, and all your joy to make you happy. We have one love for two.
Love harder than any pain you've ever felt.
Love is the great solvent of all difficulties, all problems, all misunderstandings. – White Eagle
I'm much more me when I'm with you.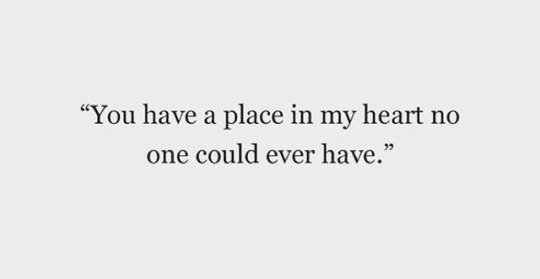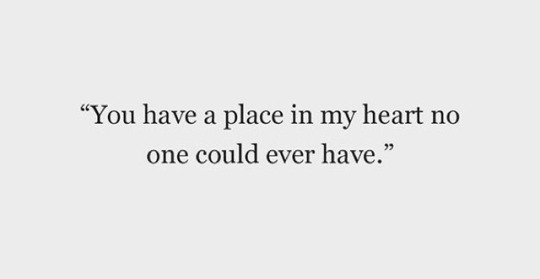 I don`t like to sleep at nights. Minutes with you are much more precious than hours of dreams.
If I know what love is, it is because of you. – Hermann Hesse
The only reward for love is the experience of loving. – John le Carré
Deep Short Love Quotes
Give me your cuddles and snuggles, sweetness and love and I will build for us a magical house of gumdrops and lollipops to live in forever.
The best and most beautiful things in this world cannot be seen or even heard but must be felt with the heart. – Helen Keller
And in the end, the love you take is equal to the love you make. – Paul McCartney
I like the game, which people call love: playing in it, we are winners together.
Love loves to love love. – James Joyce
Where there is love there is life. – Mahatma Gandhi
One word frees us of all the weight and pain of life: That word is love. – Sophocles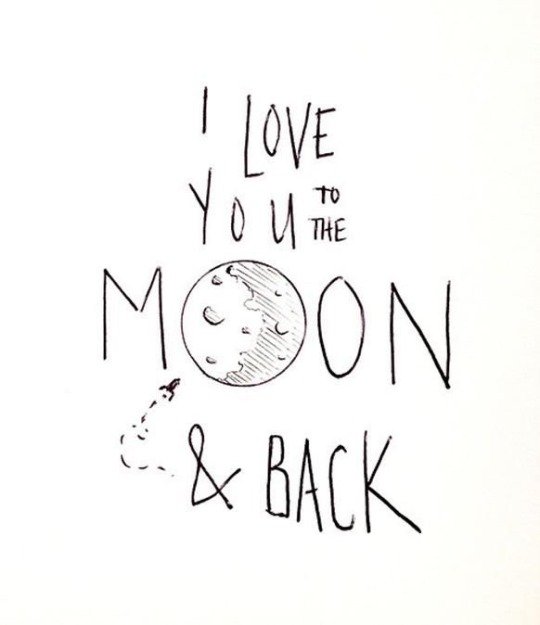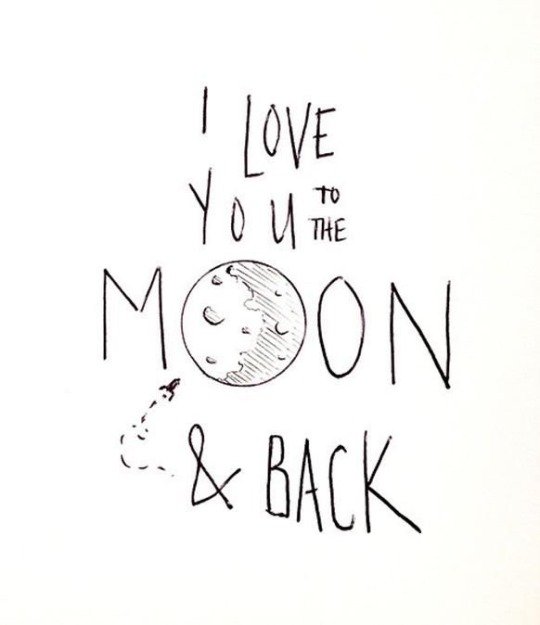 I choose you. And I'll choose you over and over and over. Without pause, without a doubt, in a heartbeat. I'll keep choosing you.
Love and magic have a great deal in common. They enrich the soul, delight the heart. And they both take practice. – Nora Roberts
When love is not madness, it is not love. – Pedro Calderon de la Barca
I love it that you make me feel like we are the only two people in the world. Perhaps that is because you truly are my world.
Love doesn't make the world go 'round. Love is what makes the ride worthwhile. – Franklin P. Jones
You turn my heart to jello, my mind to mush and my skin melts. It's amazing that I don't dissolve in your hands.
I wish I could turn back the clock. I'd find you sooner and love you longer.
Love is so short, forgetting is so long. – Pablo Neruda
There is no need to say anything. Look into my eyes and you will see my soul and it will show you my love for you.
To love is nothing. To be loved is something. But to love and be loved, that's everything. – T. Tolis
I have only one weakness and one strength: it`s my love for you. Love is friendship set on fire. – Jeremy Taylor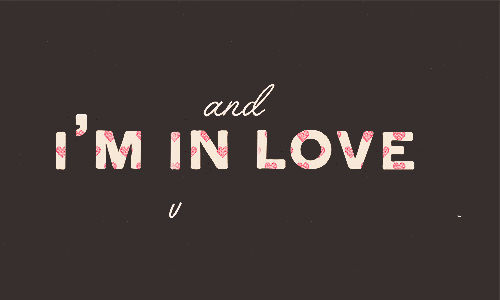 For it was not into my ear you whispered, but into my heart. It was not my lips you kissed, but my soul. – Judy Garland
You know it's love when all you want is that person to be happy, even if you're not part of their happiness. – Julia Roberts
You don't love someone for their looks, or their clothes, or for their fancy car, but because they sing a song only you can hear. – Oscar Wilde
Cute Short Love Quotes
There is no remedy for love but to love more. – Henry David Thoreau
We are shaped and fashioned by those we love. – Goethe
I saw that you were perfect, and so I loved you. Then I saw that you were not perfect and I loved you even more. – Angelita Lim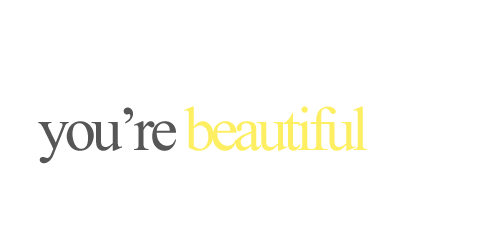 Just open your eyes, and you`ll be able to see that my love is everywhere: in the sun, clouds, air and… in you! I love you. I am at rest with you. I have come home. – Dorothy L. Sayers
When I tell you I love you, I am not saying it out of habit, I am reminding you that you are my life.
Better to have lost and loved than never to have loved at all. – Ernest Hemingway
In order to be happy oneself it is necessary to make at least one other person happy. – Theodor Reik
Love is a fire. But whether it is going to warm your heart or burn down your house, you can never tell. – Joan Crawford
When you are in love, the world around you is a paradise. When you lose your love, you hate this paradise. I have found that if you love life, life will love you back. – Arthur Rubinstein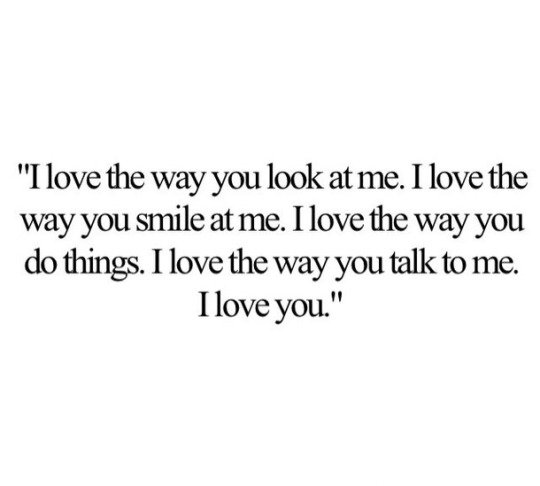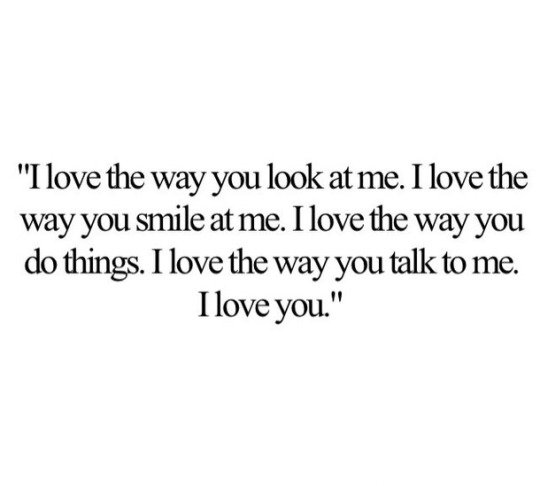 The heart wants what it wants. There's no logic to these things. You meet someone and you fall in love and that's that. – Woody Allen
You are the last thought in my mind before I drift off to sleep and the first thought when I wake up each morning.
All you need is love. But a little chocolate now and then doesn't hurt. – Charles Schulz
Do you love me because I am beautiful, or am I beautiful because you love me? – Oscar Hammerstein II
When I look into your eyes I see the mirror of my soul.
We are born of love; Love is our mother. – Rumi
Thank you for taking care of me, for inspiring me, for believing in me, for encouraging me and, above all, for loving me.
There's no substitute for a great love who says, 'No matter what's wrong with you, you're welcome at this table.' – Tom Hanks
Very Short Love Quotes
Love is the magician that pulls man out of his own hat. – Ben Hecht
There is a madness in loving you, a lack of reason that makes it feel so flawless. – Leo Christopher
Love itself is nothing. But love between two people is everything. Love is when you meet someone who tells you something new about yourself. – Andre Breton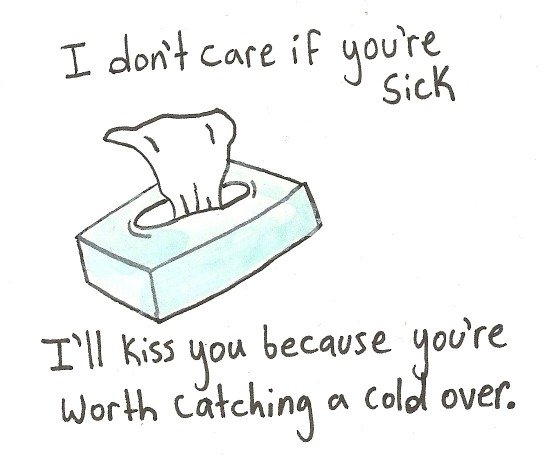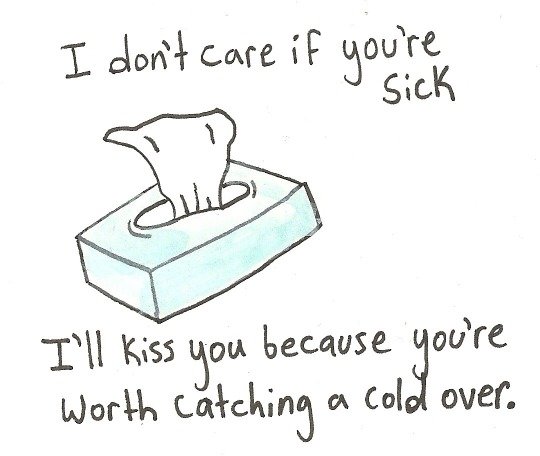 Thank you for always being my rainbow after the storm.
All of me loves all of you. – John Legend
You have bewitched me body and soul, and I love, I love, I LOVE YOU. – Pride & Prejudice
To fall in love is awfully simple, but to fall out of love is simply awful. – Bess Myerson
I love you every step of the way.
Love isn't something you find. Love is something that finds you. – Loretta Young
Take love, multiply it by infinity and take it to the depths of forever, and you still have only a glimpse of how I feel for you. – Meet Joe Black
We love but once, for once only are we perfectly equipped for loving. – Cyril Connolly
Love makes your soul crawl out from its hiding place. – Zora Neale Hurston
I swear I couldn't love you more than I do right now, and yet I know I will tomorrow. – Leo Christopher
If I could be any part of you, I'd be your tears. To be conceived in your heart, born in your eyes, live on your cheeks, and die on your lips. – Robert Sexton
I love that you are the last person I want to talk to before I go to sleep at night. – When Harry Met Sally
Love is the hardest pain in your life and the sweetest delight you can ever experience. Love is never wrong. – Melissa Etheridge
I love you as one loves certain dark things, secretly, between the shadow and the soul. – Pablo Neruda
If you live to be a hundred, I want to live to be a hundred minus one day so I never have to live without you. – A. A. Milne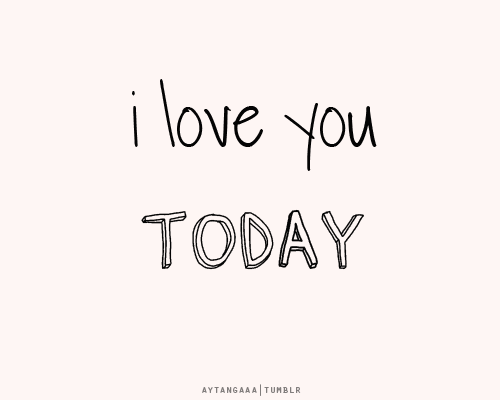 Love is the gift which you have to give somebody if you want to get it in return.
I want all of you, forever, you and me, every day. – Nicholas Sparks
Walk with me through life…and I'll have everything I'll need for the journey.
Beautiful Short Love Quotes
Love is life. And if you miss love, you miss life. – Leo Buscaglia
Where you used to be, there is a hole in the world, which I find myself constantly walking around in the daytime, and falling in at night. I miss you like hell. – Edna St. Vincent Millay.
Love is an act of endless forgiveness, a tender look which becomes a habit. – Peter Ustinov
All that you are is all that I'll ever need. – Ed Sheeran
Sometimes the heart sees what is invisible to the eye. – H. Jackson Brown, Jr.
A flower cannot blossom without sunshine, and man cannot live without love. – Max Muller
Together with you is my favorite place to be.
Immature love says: 'I love you because I need you.' Mature love says 'I need you because I love you.' – Erich Fromm
You don't love someone because they're perfect, you love them in spite of the fact that they're not. – Jodi Picoult
Grow old along with me; the best is yet to be. – Robert Browning
I want to do with you what spring does with the cherry trees. – Pablo Neruda
Do you even realize how amazing you are to me?
Love is complicated. Not all people are managed to meet this challenge of life.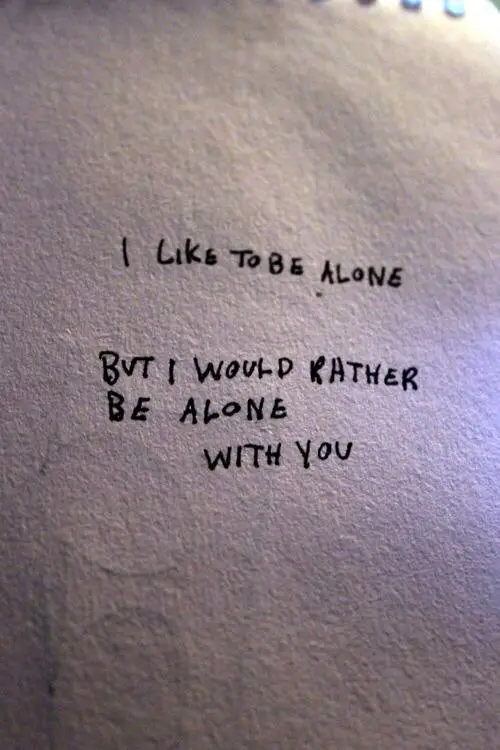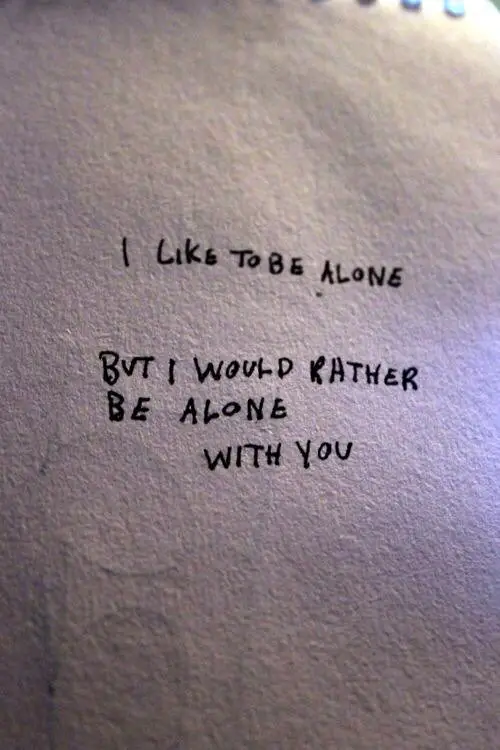 I am very indecisive and always have trouble picking my favorite anything. But, without a doubt, you are my favorite everything.
True love is knowing a person's faults, and loving them even more for them.
I knew the second I met you that there was something about you I needed. Turns out it wasn't something about you at all. It was just you. – Jamie McGuire
The giving of love is an education in itself. – Eleanor Roosevelt
I promise to be by your side forever and for always. I love you.
True love is eternal, infinite, and always like itself. – Honore de Balzac
You are forever and always the hero of my heart, the love of my life.
You smile, I smile. That's how it works. Speak low, if you speak love. – William Shakespeare
When you smile at me you brighten up my day more than the sun ever could.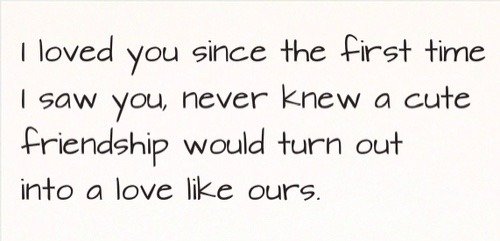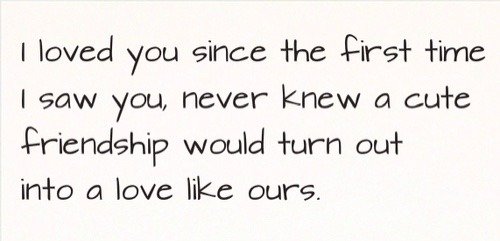 I love you more today than yesterday, but not as much as tomorrow. If you love it enough, anything will talk with you. – George Washington Carver
Suddenly we see that love costs all we are, and will ever be. Yet it is only love which sets us free. – Maya Angelou
Love is when he gives you a piece of your soul, that you never knew was missing. – Torquato Tasso
The sun is up, the sky is blue, today is beautiful and so are you.
I love every moment spent with you, your love has touched my heart.
Let us always meet each other with smile, for the smile is the beginning of love. – Mother Teresa
I promise I will love you till the end. Love comforteth like sunshine after rain. – William Shakespeare
When you realize you want to spend the rest of your life with somebody, you want the rest of your life to start as soon as possible. – When Harry Met Sally
My love for you is a journey starting at forever and ending at never.
Love is a game that two can play and both win. – Eva Gabor
When I wake up and see you lying next to me, I can't help but smile. It will be a good day simply because I started it with you.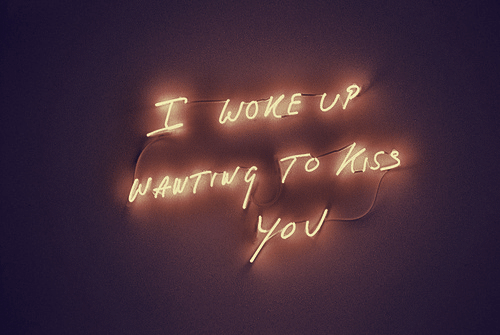 Loving you never was an option – it was the necessity.
At the touch of love, everyone becomes a poet – Plato
My love for you has no expiration date.
My night has become a sunny dawn because of you. A man is already halfway in love with any woman who listens to him. – Brendan Francis
I love you not only for what you are but for what I am when I am with you. – Ray Croft
Love is like a beautiful flower which I may not touch, but whose fragrance makes the garden a place of delight just the same. – Helen Keller
Love is like war: easy to begin but very hard to stop. – H. L. Mencken
A woman knows the face of the man she loves as a sailor knows the open sea. – Honore de Balzac
You may hold my hand for a while, but you hold my heart forever.
To the world, you may be one person, but to one person you are the world. – Bill Wilson