What can these famous author quotes teach you? Wise and beautiful quotes by authors will help you to put life in perspective with their awesomeness.
If you're searching for famous phrases about life that perfectly capture what you'd like to say or just want to feel inspired yourself, browse through an amazing collection of best movie quotes, inspirational quotes from famous actors, and top Disney movie quotes.
I am sure that you gain wisdom as you browse inspirational quotes from famous authors:
And now that you don't have to be perfect, you can be good. — John Steinbeck
Get busy living or get busy dying. — Stephen King
A writer is someone for whom writing is more difficult than it is for other people. — Thomas Mann
It is impossible to live without failing at something, unless you live so cautiously that you might as well not have lived at all – in which case, you fail by default. — J.K. Rowling
Let me live, love, and say it well in good sentences. — Sylvia Plath
When one door of happiness closes, another opens; but often we look so long at the closed door that we do not see the one which has been opened for us. — Helen Keller
I've learned that people will forget what you said, people will forget what you did, but people will never forget how you made them feel. — Maya Angelou
Judge of a man by his questions rather than by his answers. ― Voltaire
To be yourself in a world that is constantly trying to make you something else is the greatest accomplishment. — Ralph Waldo Emerson
A writer never has a vacation. For a writer life consists of either writing or thinking about writing. — Eugene Ionesco
That it will never come again is what makes life so sweet. — Emily Dickinson
It is never too late to be what you might have been. — George Eliot
Pain is inevitable. Suffering is optional. — Haruki Murakami
I try to create sympathy for my characters, then turn the monsters loose. — Stephen King
A good writer possesses not only his own spirit but also the spirit of his friends. — Friedrich Nietzsche
It is a far, far better thing that I do, than I have ever done; it is a far, far better rest I go to than I have ever known. — Charles Dickens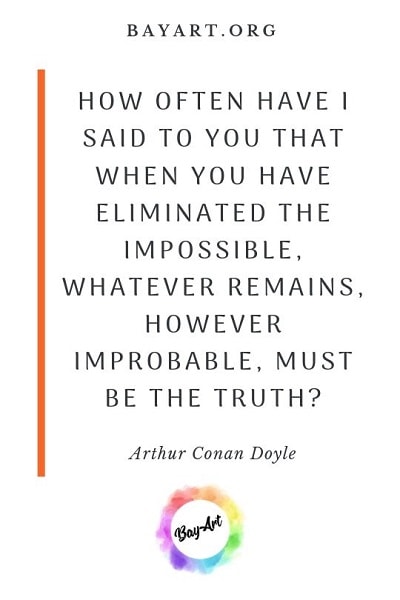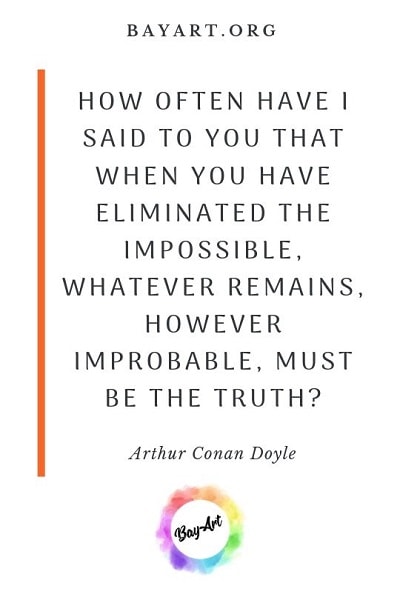 You may encounter many defeats, but you must not be defeated. In fact, it may be necessary to encounter the defeats, so you can know who you are, what you can rise from, how you can still come out of it. — Maya Angelou
Twenty years from now you will be more disappointed by the things that you didn't do than by the ones you did do. — Mark Twain
Everything is hard before it is easy. — Goethe
When I dare to be powerful – to use my strength in the service of my vision, then it becomes less and less important whether I am afraid. — Audre Lorde
ll writers are vain, selfish and lazy, and at the very bottom of their motives lies a mystery. Writing a book is a long, exhausting struggle, like a long bout of some painful illness. One would never undertake such a thing if one were not driven by some demon whom one can neither resist nor understand. — George Orwell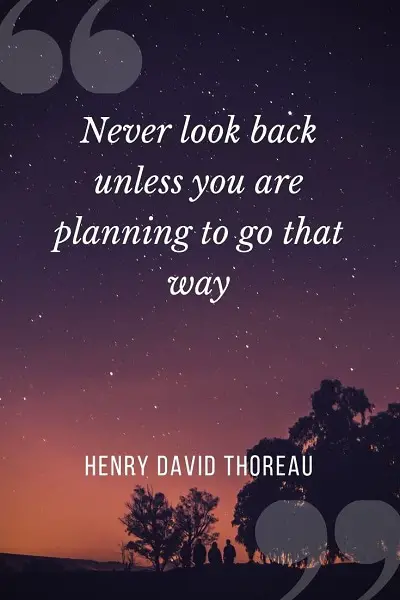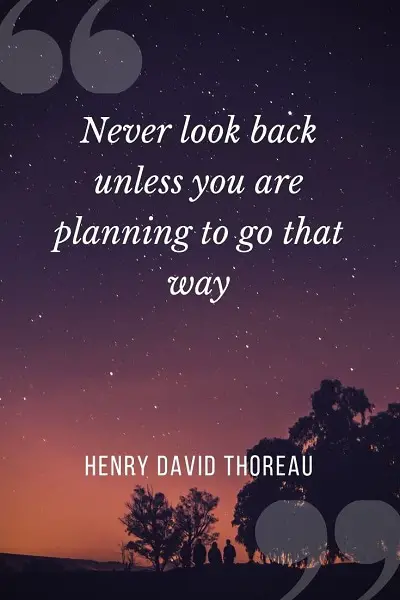 Don't let your happiness depend on something you may lose. — C.S. Lewis
Challenges are what make life interesting and overcoming them is what makes life meaningful. — Joshua J. Marine
Even if we don't have the power to choose where we come from, we can still choose where we go from there. — Stephen Chbosky
Optimism is the faith that leads to achievement. Nothing can be done without hope and confidence. — Helen Keller
Can you imagine what I would do if I could do all I can? — Sun Tzu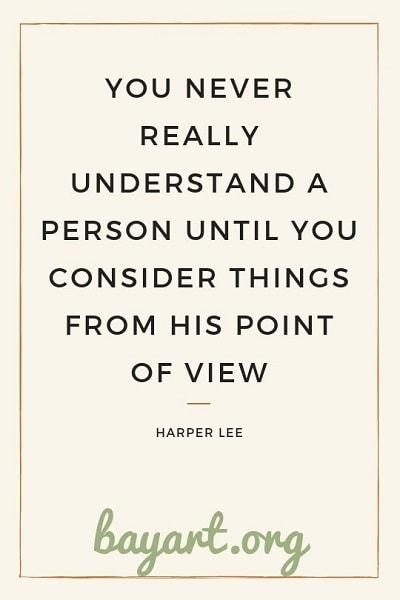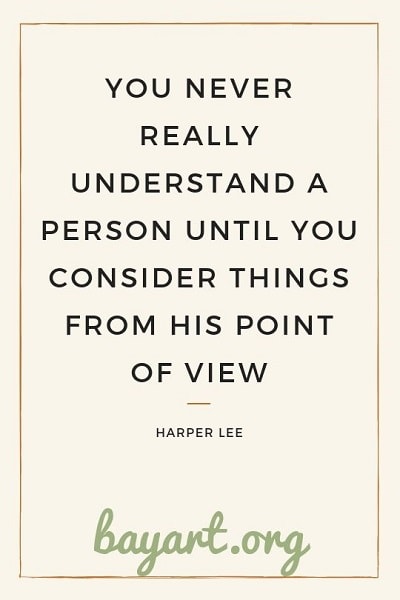 We are cups, constantly and quietly being filled. The trick is knowing how to tip ourselves over and let the beautiful stuff out. — Ray Bradbury
It is better to keep your mouth closed and let people think you are a fool than to open it and remove all doubt. — Mark Twain
Don't cry because it's over. Smile because it happened. — Dr. Seuss
No better way is there to learn to love Nature than to understand Art. It dignifies every flower of the field. And, the boy who sees the thing of beauty which a bird on the wing becomes when transferred to wood or canvas will probably not throw the customary stone. — Oscar Wilde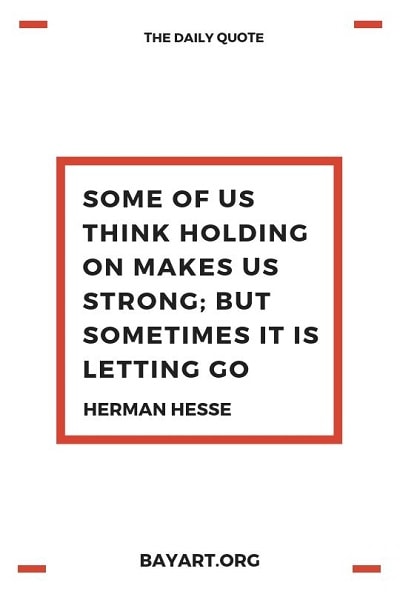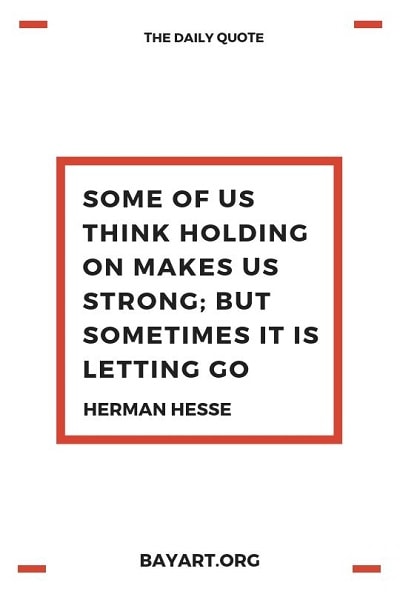 It's so hard to forget pain, but it's even harder to remember sweetness. We have no scar to show for happiness. We learn so little from peace. — Chuck Palahniuk
This life, which had been the tomb of his virtue and of his honor, is but a walking shadow; a poor player, that struts and frets his hour upon the stage, and then is heard no more: it is a tale told by an idiot, full of sound and fury, signifying nothing. — William Shakespeare
We are all broken, that's how the light gets in. — Ernest Hemingway
Monsters are real, and ghosts are real too. They live inside us, and sometimes, they win. — Stephen King
Do the difficult things while they are easy and do the great things while they are small. A journey of a thousand miles must begin with a single step. — Lao Tzu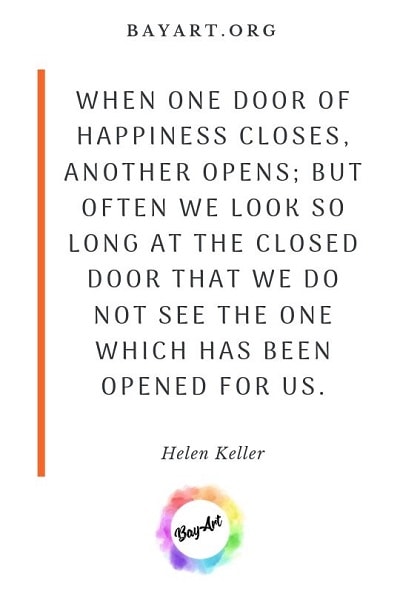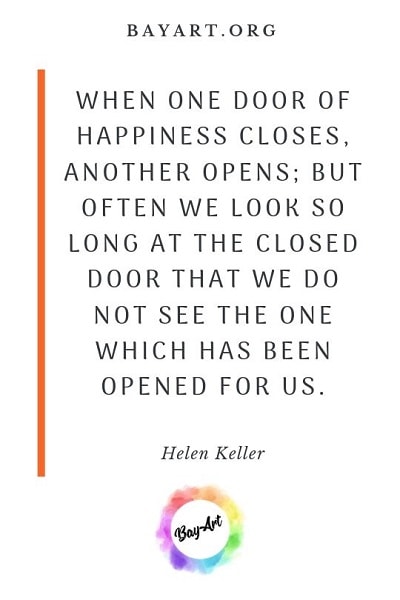 It hurt because it mattered. — John Green
The test of a first-rate intelligence is the ability to hold two opposed ideas in the mind at the same time, and still retain the ability to function. — F. Scott Fitzgerald
Some of us think holding on makes us strong; but sometimes it is letting go. — Herman Hesse
Have a heart that never hardens, and a temper that never tires, and a touch that never hurts. — Charles Dickens
Out of suffering have emerged the strongest souls; the most massive characters are seared with scars. — Kahlil Gibran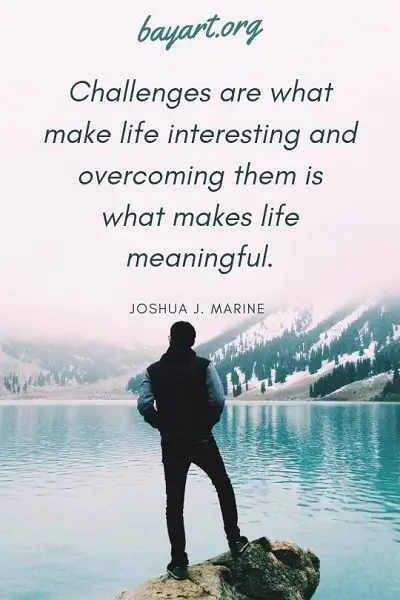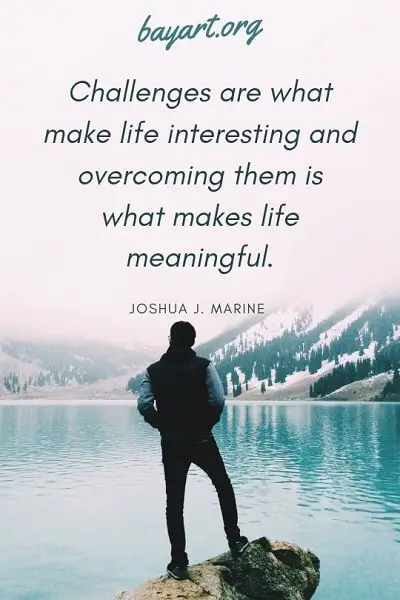 Life is never fair, and perhaps it is a good thing for most of us that it is not. — Oscar Wilde
If you do not tell the truth about yourself, you cannot tell it about other people. — Virginia Woolf
We are all ordinary. We are all boring. We are all spectacular. We are all shy. We are all bold. We are all heroes. We are all helpless. It just depends on the day. — Brad Meltzer
I urge you to please notice when you are happy, and exclaim or murmur or think at some point, "If this isn't nice, I don't know what is. — Kurt Vonnegut
Think of all the beauty still left around you and be happy. ― Anne Frank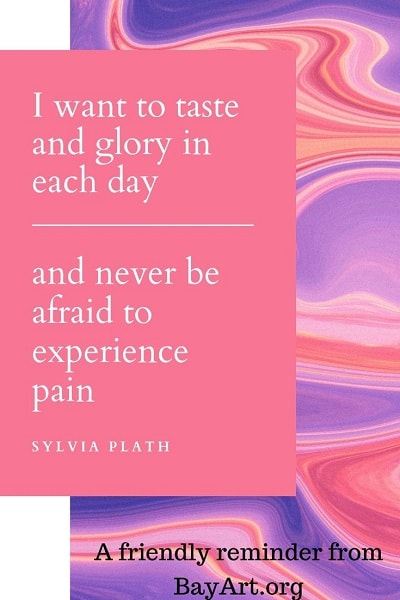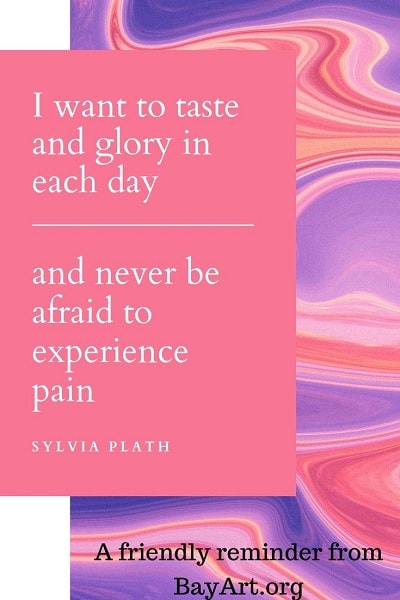 I want to taste and glory in each day, and never be afraid to experience pain. — Sylvia Plath
There is something about jumping a horse over a fence, something that makes you feel good. Perhaps it's the risk, the gamble. In any event it's a thing I need. — William Faulkner
Life's not fair; why should I be? — Margaret Atwood
The person, be it gentleman or lady, who has not pleasure in a good novel, must be intolerably stupid. — Jane Austen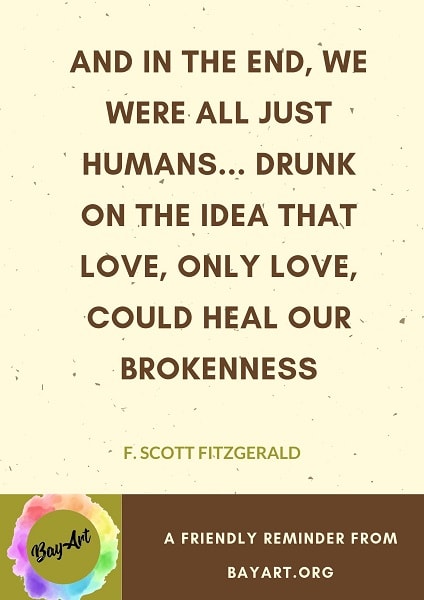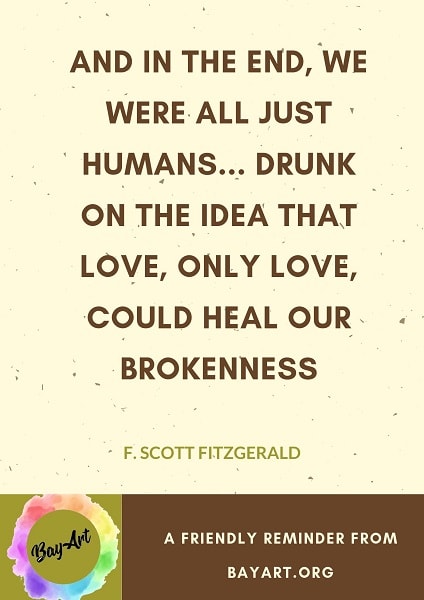 Life is a journey, not a destination. — Ralph Waldo Emerson
A man of genius makes no mistakes. His errors are volitional and are the portals of discovery. — James Joyce
And in the end, we were all just humans… drunk on the idea that love, only love, could heal our brokenness. — F. Scott Fitzgerald
Who controls the past controls the future. Who controls the present controls the past. — George Orwell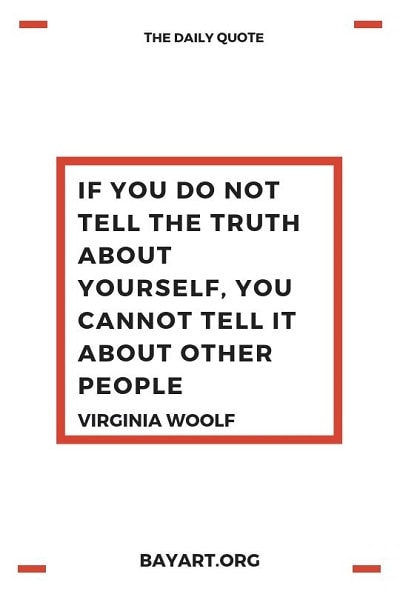 The impossible could not have happened, therefore the impossible must be possible in spite of appearances. — Agatha Christie
Never look back unless you are planning to go that way. — Henry David Thoreau
Existence is a series of footnotes to a vast, obscure, unfinished masterpiece. — Vladimir Nabokov
You will face many defeats in life, but never let yourself be defeated. — Maya Angelou
Sooner or later even the fastest runners have to stand and fight. — Stephen King
You know, Hobbes, some days even my lucky rocketship underpants don't help. — Bill Watterson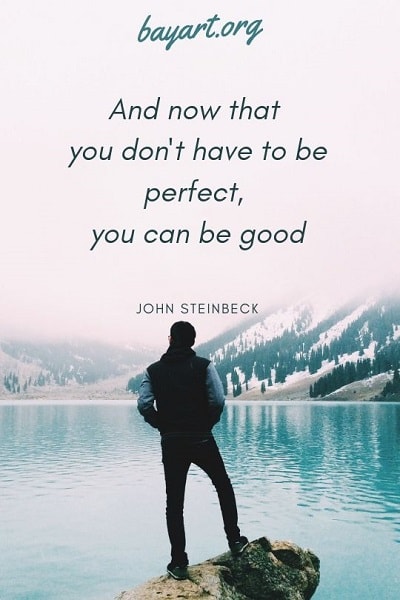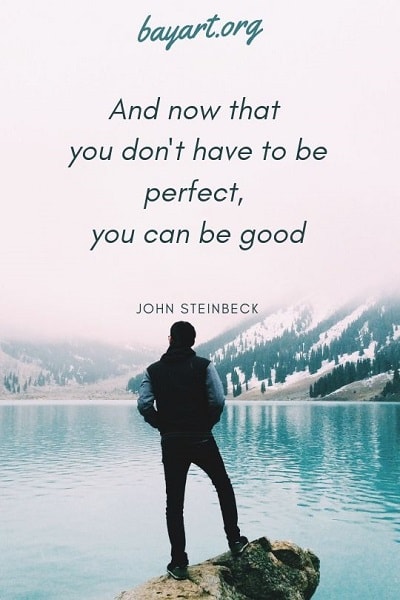 What good is the warmth of summer, without the cold of winter to give it sweetness. — John Steinbeck
We rise by lifting others. — Robert Ingersoll
He stepped down, trying not to look long at her, as if she were the sun, yet he saw her, like the sun, even without looking. — Leo Tolstoy
Nothing can dim the light that shines from within. — Maya Angelou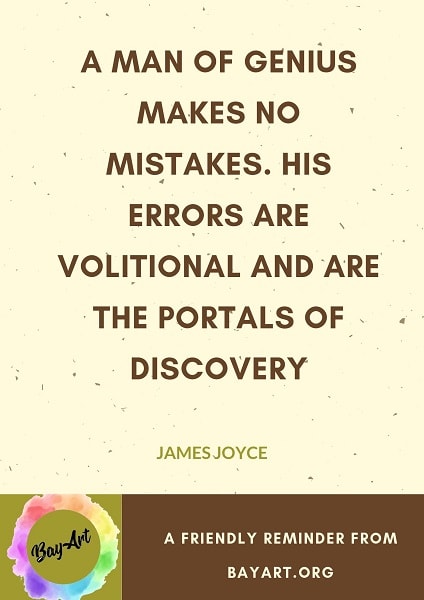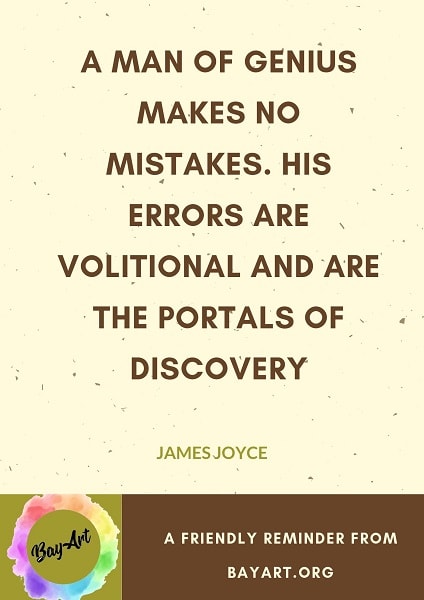 The mark of the immature man is that he wants to die nobly for a cause, while the mark of the mature man is that he wants to live humbly for one. — J. D. Salinger
I can be changed by what happens to me. But I refuse to be reduced by it. — Maya Angelou
As Gregor Samsa awoke one morning from uneasy dreams he found himself transformed in his bed into a gigantic insect. — Franz Kafka
The most common way people give up their power is by thinking they don't have any. — Alice Walker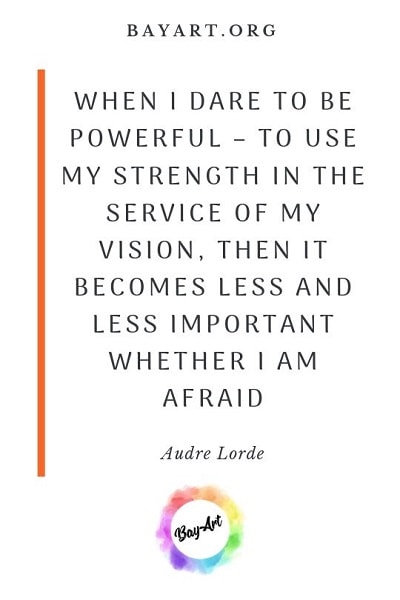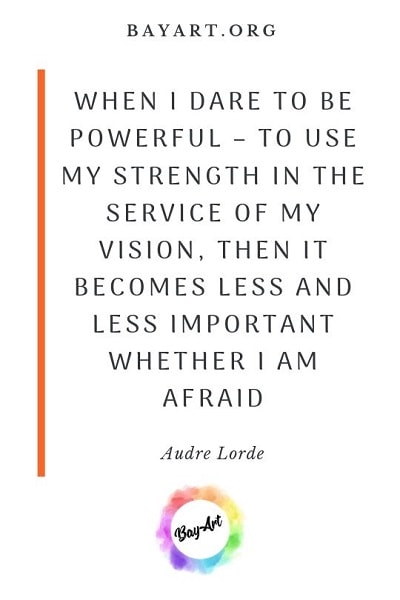 Our battered suitcases were piled on the sidewalk again; we had longer ways to go. But no matter, the road is life. — Jack Kerouac
I have come to believe that caring for myself is not self-indulgent. Caring for myself is an act of survival. — Audre Lorde
To the last, I grapple with thee; From Hell's heart, I stab at thee; For hate's sake, I spit my last breath at thee. — Herman Melville
Great works are performed not by strength but by perseverance. — Samuel Johnson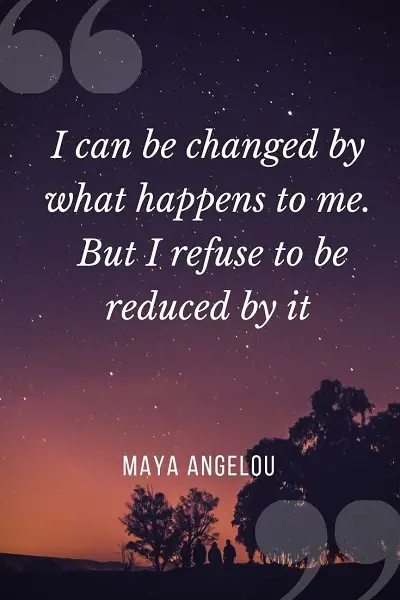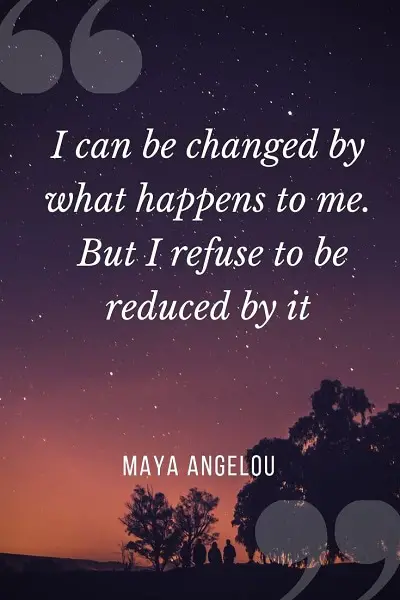 Failure is the condiment that gives success its flavor. — Truman Capote
All that is gold does not glitter, not all those who wander are lost; the old that is strong. Does not wither, deep roots are not reached by the frost. — J.R.R. Tolkien
If there is a book that you want to read, but it hasn't been written yet, you must be the one to write it. — Toni Morrison
Challenges make life interesting, however overcoming them is what makes life meaningful. — Mark Twain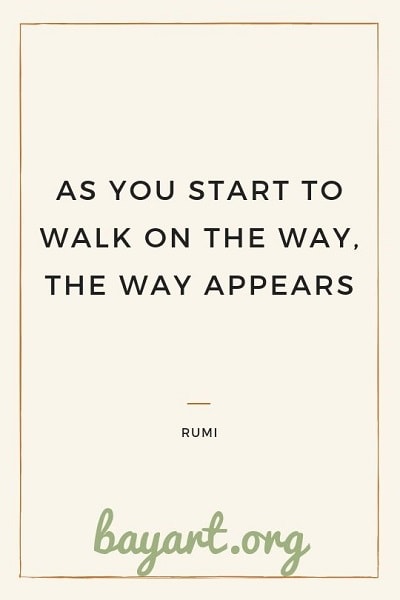 You can never get a cup of tea large enough or a book long enough to suit me. — C. S. Lewis
There are chords in the hearts of the most reckless which cannot be touched without emotion. — Edgar Allen Poe
Bran thought about it. 'Can a man still be brave if he's afraid?' 'That is the only time a man can be brave,' his father told him. — George R. R. Martin
A person is a fool to become a writer. His only compensation is absolute freedom. He has no master except his own soul, and that, I am sure, is why he does it. — Roald Dahl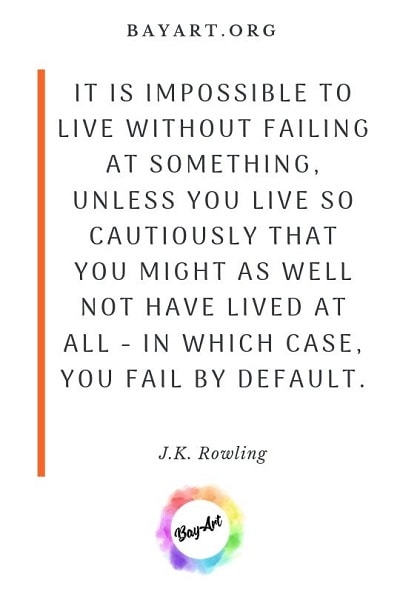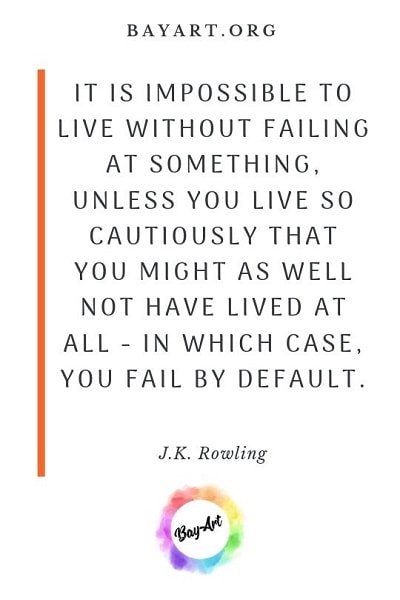 The clearest way into the universe is through a forest wilderness. — John Muir
Gods die. And when they truly die, they are unmourned and unremembered. Ideas are more difficult to kill than people, but they can be killed, in the end. — Neil Gaiman
There's no such thing as perfect writing, just like there's no such thing as perfect despair. — Haruki Murakami
As you start to walk on the way, the way appears. — Rumi
To live is the rarest thing in the world. Most people exist, that is all. — Oscar Wilde
The syntactical nature of reality, the real secret of magic, is that the world is made of words. And if you know the words that the world is made of, you can make of it whatever you wish. — Terence McKenna
It takes a great deal of courage to see the world in all its tainted glory, and still love it. — Oscar Wilde
I refuse to write the same story twice. I keep experimenting. I keep learning how to work. I've been at it pretty much 50 years, and I'm now beginning to learn how to do the job well. – Harlan Ellison
You never really understand a person until you consider things from his point of view. — Harper Lee
Keep away from people who try to belittle your ambitions. Small people always do that, but the really great make you feel that you, too, can become great. — Mark Twain
Please try to remember that what they believe, as well as what they do and cause you to endure does not testify to your inferiority but to their inhumanity. — James Baldwin
The proper function of man is to live, not to exist. I shall not waste my days in trying to prolong them. I shall use my time. — Jack London
To thine own self be true. — William Shakespeare
Progress is impossible without change, and those who cannot change their minds cannot change anything. — George Bernard Shaw
The very existence of flamethrowers proves that some time, somewhere, someone said to themselves, you know, I want to set those people over there on fire, but I'm just not close enough to get the job done. — George Carlin
Never think of pain or danger or enemies a moment longer than is necessary to fight them. — Ayn Rand
Let us be grateful to people who make us happy; they are the charming gardeners who make our souls blossom. — Marcel Proust
It is better to be young in your failures than old in your successes. – Flannery O'Connor
Straight roads do not make skillful drivers. — Paula Coelho
I believe that imagination is stronger than knowledge. That myth is more potent than history. That dreams are more powerful than facts. That hope always triumphs over experience. That laughter is the only cure for grief. And I believe that love is stronger than death. – Robert Fulghum
The moment one gives close attention to anything, even a blade of grass it becomes a mysterious, awesome, indescribably magnificent world in itself. — Henry Miller
To avoid criticism: say nothing, do nothing, be nothing. — Aristotle
Love, friendship and respect do not unite people as much as a common hatred for something. — Anton Chekhov
If no one ever took risks, Michaelangelo would have painted the Sistine floor. – Neil Simon
Dwell in possibility. — Emily Dickinson
I do novels a bit backward. I look for a situation, a milieu first, and then I wait to see who walks into it. – Tom Wolfe
A poet's work is to name the unnameable, to point at frauds, to take sides, start arguments, shape the world, and stop it going to sleep. — Salman Rushdie
Why, sometimes I've believed as many as six impossible things before breakfast. — Lewis Carroll
How often have I said to you that when you have eliminated the impossible, whatever remains, however improbable, must be the truth? — Arthur Conan Doyle
Trust our heart if the seas catch fire, live by love though the stars walk backwards. — E.E. Cummings
The best and most beautiful things in the world cannot be seen or even touched — they must be felt with the heart. — Helen Keller
Delicious autumn! My very soul is wedded to it, and if I were a bird, I would fly about the earth seeking the successive autumns. — George Eliot
When you can't change the direction of the wind- adjust your sails. — H.Jackson Brown Jr.
Life is what happens when you're busy making other plans. — John Lennon
Your time is limited, so don't waste it living someone else's life. Don't be trapped by dogma – which is living with the results of other people's thinking. — Steve Jobs
When I see an adult on a bicycle, I do not despair for the future of the human race. — H. G. Wells
Have faith have faith. When you have nothing else have faith. — Francine Rivers
Science, my lad, is made up of mistakes, but they are mistakes which it is useful to make, because they lead little by little to the truth. — Jules Verne
Rock solid became the solid foundation on which I rebuilt my life. — J.K Rowling
There are two ways of spreading light: to be the candle or the mirror that reflects it. — Edith Wharton
Let yourself be gutted. Let it open you. Start there. — Cheryl Strayed
Always remember that you are absolutely unique. Just like everyone else. — Margaret Mead
If you look at what you have in life, you'll always have more. If you look at what you don't have in life, you'll never have enough. — Oprah Winfrey
Every moment of one's existence one is growing into more or retreating into less. One is always living a little more or dying a little bit. — Norman Mailer
The greatest glory in living lies not in never falling, but in rising every time we fall. — Nelson Mandela
Of course, I talk to myself. I like a good speaker, and I appreciate an intelligent audience. — Dorothy Parker
Know what? Bitches get stuff done. — Tina Fey
I can't change overnight into a serious literary author. You can't compare apples to oranges. William Faulkner was a great literary genius. I am not. — John Grisham
Tell me and I forget. Teach me and I remember. Involve me and I learn. — Benjamin Franklin
If you set your goals ridiculously high and it's a failure, you will fail above everyone else's success. — James Cameron
Laugh loudly, laugh often, and most important, laugh at yourself. — Chelsea Handler
Life is tough my darling, but so are you. — Stephanie Bennett Henry
There is some good in this world, and it's worth fighting for. — J.R.R. Tolkien
The answers you get from literature depend on the questions you pose. — Margaret Atwood
Whatever our souls are made of, his and mine are the same. — Emily Bronte
It is only with the heart that one can see rightly; what is essential is invisible to the eye. — Antoine de Saint-Exupéry
I shall be miserable if I have not an excellent library. — Jane Austen
I wanted you to see what real courage is, instead of getting the idea that courage is a man with a gun in his hand. It's when you know you're licked before you begin but you begin anyway and you see it through no matter what. You rarely win, but sometimes you do. — Harper Lee
You are a wonderful creation. You know more than you think you know, just as you know less than you want to know. — Oscar Wilde
It matters not what someone is born, but what they grow to be. — J.K. Rowling
I am no bird; and no net ensnares me: I am a free human being with an independent will, which I now exert to leave you. — Charlotte Brontë
It was the best of times, it was the worst of times, it was the age of wisdom, it was the age of foolishness, it was the epoch of belief, it was the epoch of incredulity, it was the season of Light, it was the season of Darkness, it was the spring of hope, it was the winter of despair. — Charles Dickens
I will wear him; In my heart's core, ay, in my heart of heart. — William Shakespeare
Beware; for I am fearless, and therefore powerful. — Mary Shelley