Profoundly inspirational quotes from influential Christians will encourage you to think a little deeper than you usually would and broaden your perspective.
If you're searching for best life quotation of all time that perfectly capture what you'd like to say or just want to feel inspired yourself, browse through an amazing collection of powerful quotes by prominent activists, famous quotes by philosophers, and wise quotes from authors.
Top 10 Quotes From Famous Christians
Life is wasted if we do not grasp the glory of the cross, cherish it for the treasure that it is, and cleave to it as the highest price of every pleasure and the deepest comfort in every pain. What was once foolishness to us—a crucified God—must become our wisdom and our power and our only boast in this world. – John Piper
Relying on God has to start all over every day, as if nothing has yet been done. – C. S. Lewis
He is no fool who gives what he cannot keep, to gain what he cannot lose. – Jim Elliot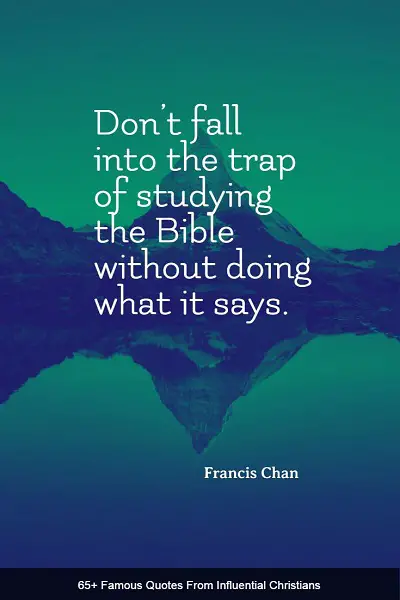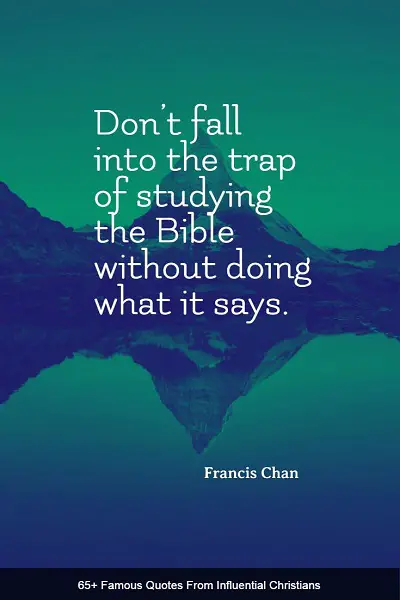 God loves each of us as if there were only one of us. – Augustine
God has a purpose behind every problem. He uses circumstances to develop our character. In fact, he depends more on circumstances to make us like Jesus than he depends on our reading the Bible. – Rick Warren
Be faithful in small things because it is in them that your strength lies. – Mother Teresa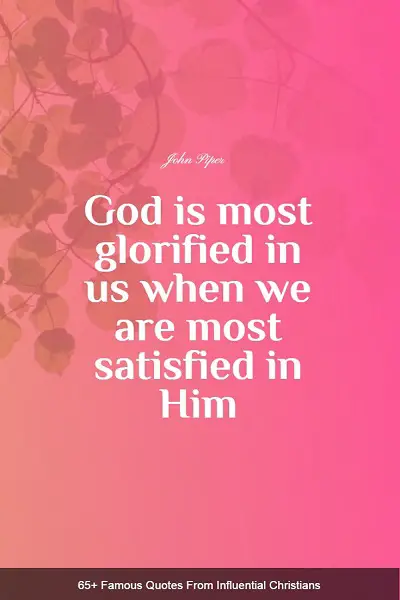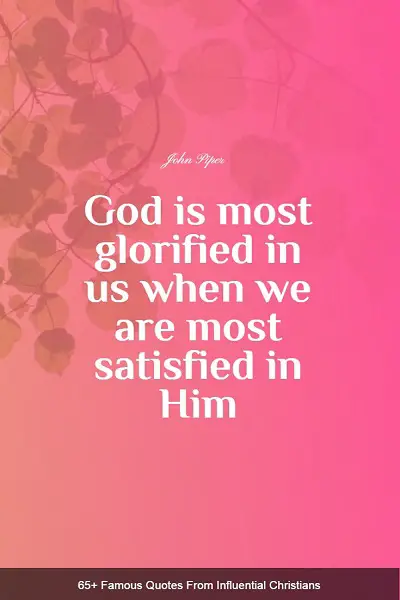 God never said that the journey would be easy, but He did say that the arrival would be worthwhile. – Max Lucado
Faith is to believe what we do not see, and the reward of this faith is to see what we believe. – Augustine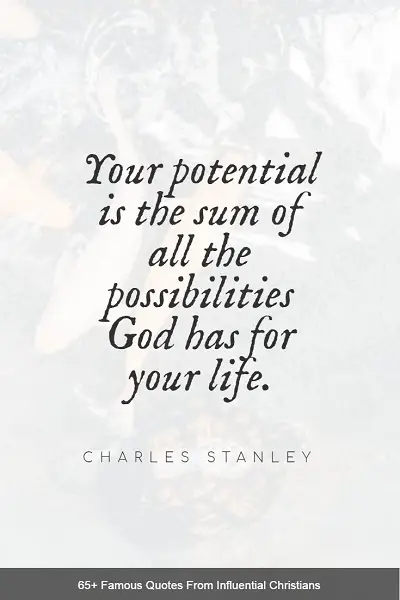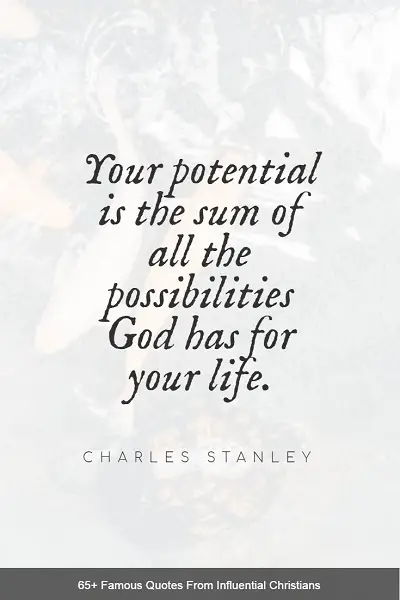 I've discovered an astonishing truth: God is attracted to weaknesses. He can't resist those who humbly and honestly admit how desperately they need Him. – Jim Cymbala
You are the only Bible some unbelievers will ever read. – John MacArthur
Best Quotes From Famous Christians
God's work done in God's way will never lack God's supplies. – Hudson Taylor
I know not the way God leads me, but well do I know my Guide. – Martin Luther King, Jr.
Beautiful is the moment in which we understand that we are no more than an instrument of God; we live only as long as God wants us to live; we can only do as much as God makes us able to do; we are only as intelligent as God would have us be. – Oscar Romero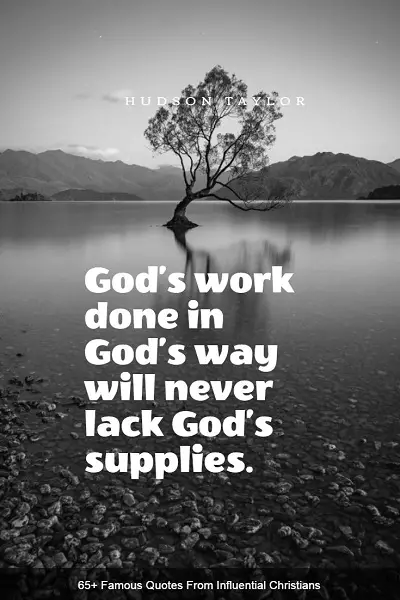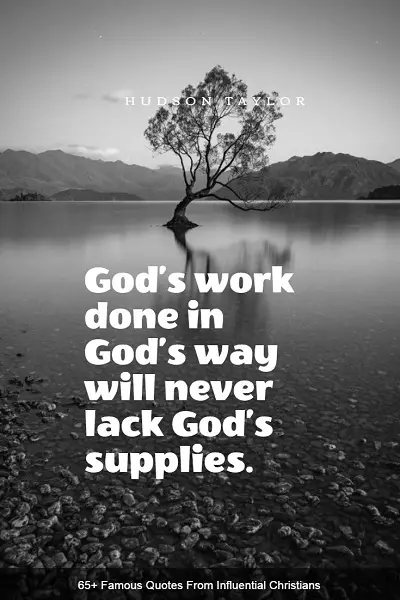 God will meet you where you are in order to take you where He wants you to go. – Tony Evans
Love is a mutual self-giving which ends in self-recovery. – Fulton J. Sheen
God is not aloof. He says continually through the centuries, I'll help you, I really will. When you're ready to throw up your hands, throw them up to Me. – Jim Cymbala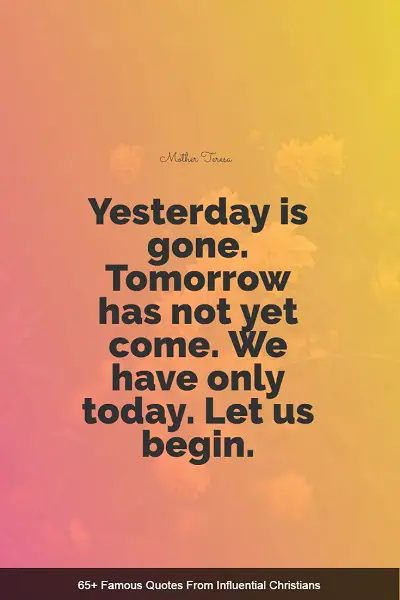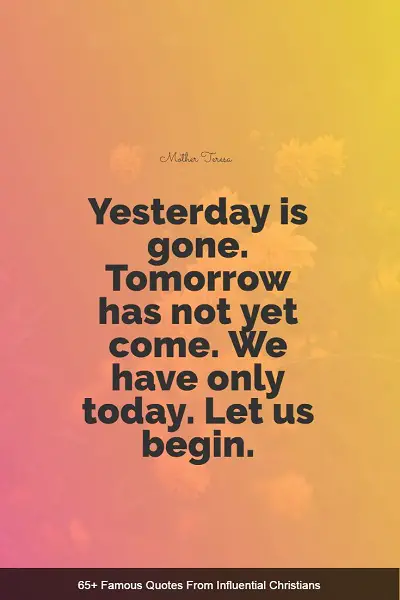 All that I am I owe to Jesus Christ, revealed to me in His divine Book. – David Livingstone
Let God's promises shine on your problems. – Corrie ten Boom
Religion says, 'I obey; therefore I am accepted.' Christianity says, 'I'm accepted, therefore I obey.' – Timothy Keller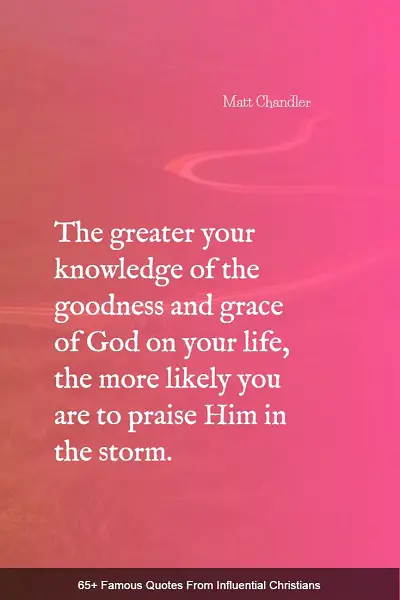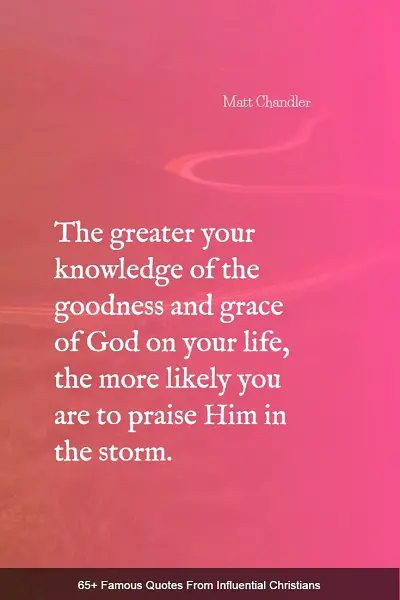 Christ held Himself in His hands when He gave His Body to His disciples saying: 'This is My Body.' No one partakes of this Flesh before he has adored it. – Saint Augustine
Faith is taking the first step even when you can't see the whole staircase. – Martin Luther King, Jr.
Christ literally walked in our shoes. – Tim Keller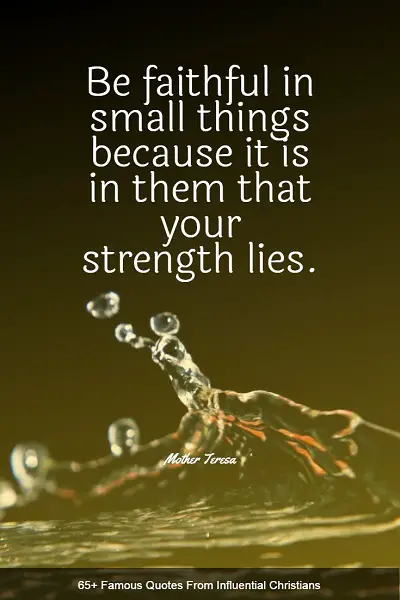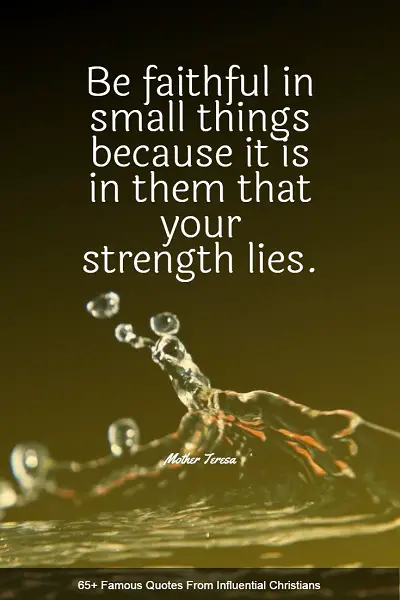 But God doesn't call us to be comfortable. He calls us to trust Him so completely that we are unafraid to put ourselves in situations where we will be in trouble if He doesn't come through. – Francis Chan
I believe in Christianity as I believe that the sun has risen: not only because I see it, but because by it I see everything else. – C.S. Lewis
Don't be gloomy. Do not dwell on unkind things. Stop seeking out the storms and enjoy more fully the sunlight. Even if you are not happy, put a smile on your face. 'Accentuate the positive.' Look a little deeper for the good. Go forward in life with a twinkle in your eye and a smile on your face, with great and strong purpose in your heart. Love life. – Gordon B. Hinckley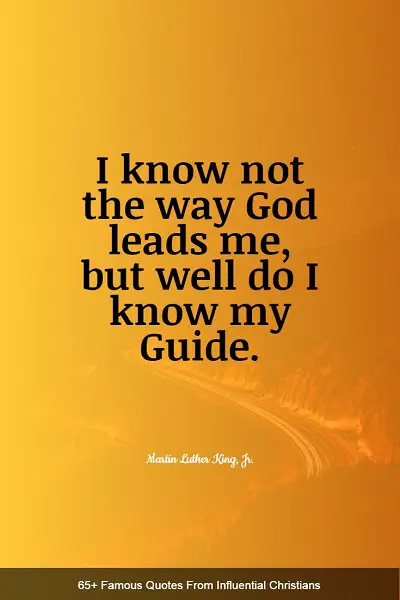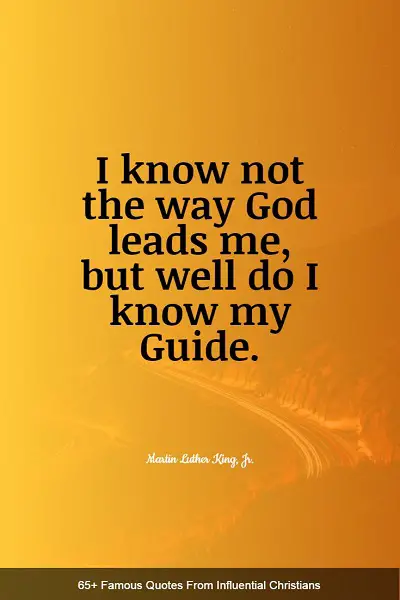 Good intentions and earnest effort are not enough. Only Jesus can make an otherwise futile life productive. – Chuck Swindoll
When people walk away from you, let them go. Your destiny is never tied to anyone who leaves you, and it doesn't mean they are bad people. It just means that their part in your story is over. – T. D. Jakes
Remember who you are. Don't compromise for anyone, for any reason. You are a child of the Almighty God. Live that truth. – Lysa Terkeurst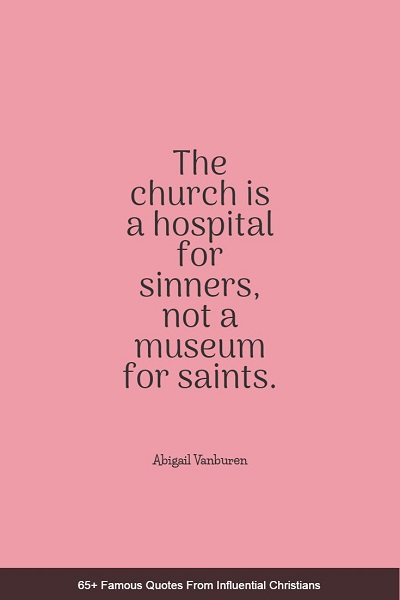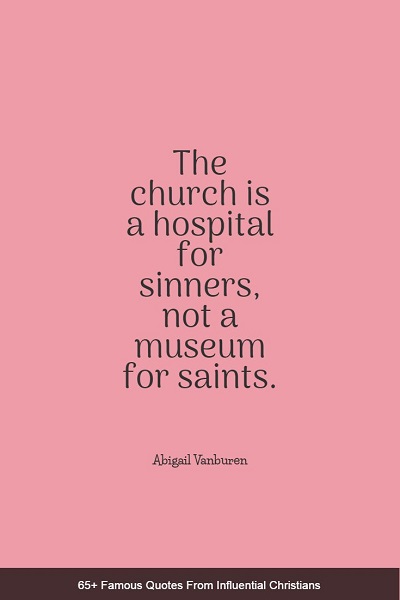 Did I offer peace today? Did I bring a smile to someone's face? Did I say words of healing? Did I let go of my anger and resentment? Did I forgive? Did I love?' These are the real questions. I must trust that the little bit of love that I sow now will be many fruits, here in this world and the life to come. – Henri Nouwen
The issue of faith is not so much whether we believe in God, but whether we believe the God we believe in. – R.C. Sproul
We are all faced with a series of great opportunities brilliantly disguised as impossible situations. – Chuck Swindoll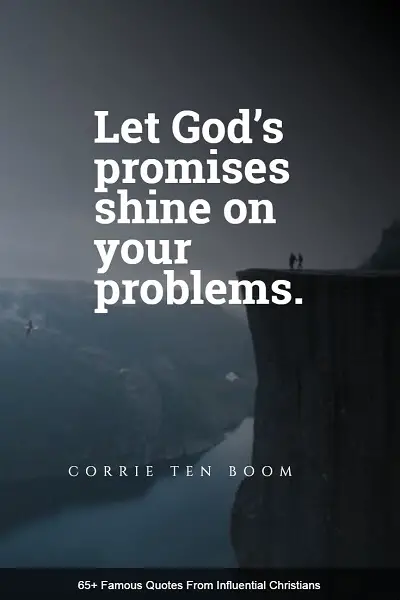 God will always bring the right people into your life, but you have to let the wrong people walk away. – Joel Osteen
If you can't fly, then run, if you can't run, then walk, if you can't walk, then crawl, but whatever you do, you have to keep moving forward. – Martin Luther King Jr.
When God gets us alone through suffering, heartbreak, temptation, disappointment, sickness, or by thwarted friendship – when He gets us absolutely alone, and we are totally speechless, unable to ask even one question, then He begins to teach us. – Oswald Chambers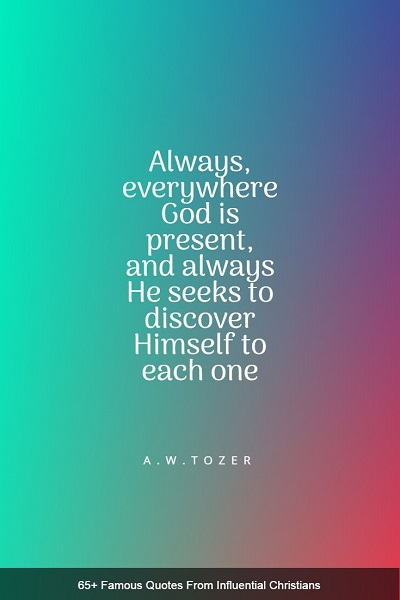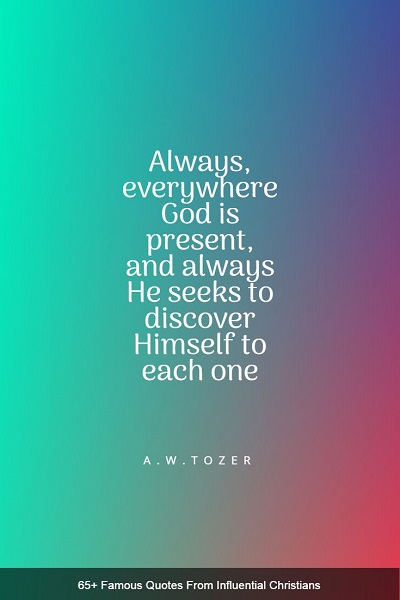 Our greatest fear should not be of failure but of succeeding at things in life that don't really matter. – Francis Chan
Wherever you are, be all there. – Jim Elliot
When you pray, rather let your heart be without words than your words without heart. – John Bunyan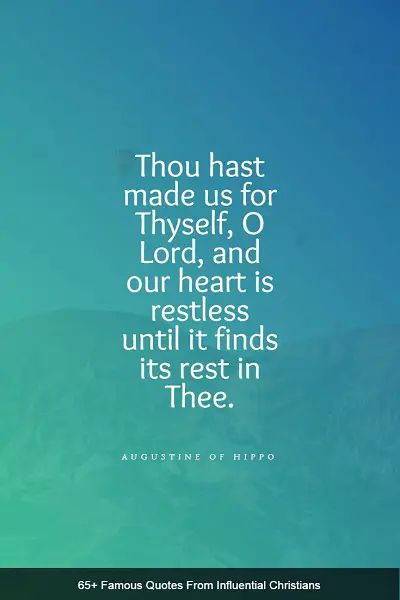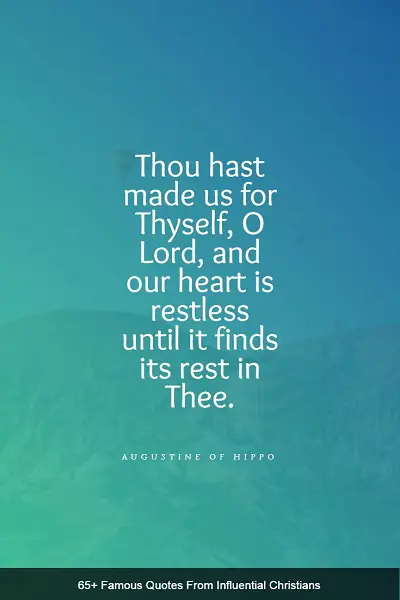 God's Will is what we would choose if we knew what God knows. – Nancy Leigh DeMoss
If God is your partner, make your plans BIG! – D.L. Moody
One of the greatest evidences of God's love to those that love him is, to send them afflictions, with grace to bear them. – John Wesley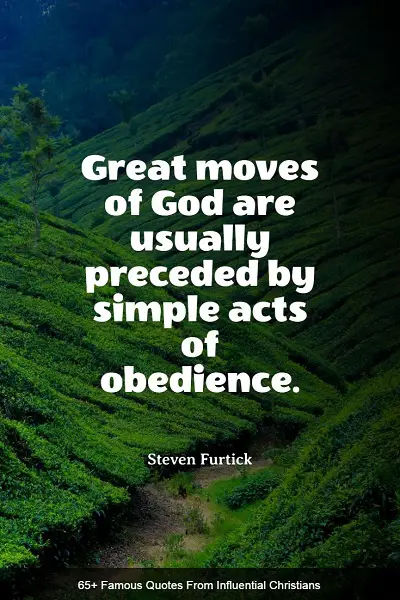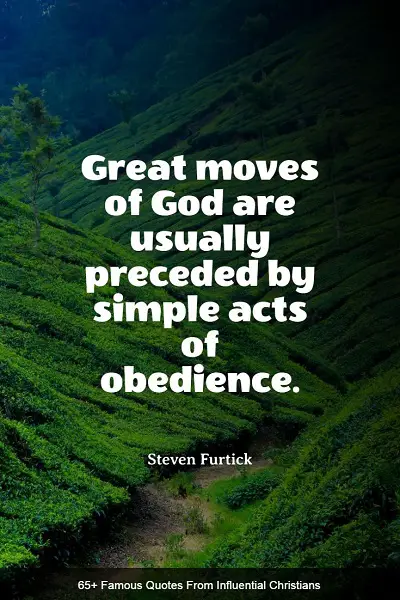 This job has been given to me to do. Therefore, it is a gift. Therefore, it is a privilege. Therefore, it is an offering I may make to God. Therefore, it is to be done gladly, if it is done for Him. Here, not somewhere else, I may learn God's way. In this job, not in some other, God looks for faithfulness. – Elisabeth Elliot
f you are a Christian, you are not a citizen of this world trying to get to heaven; you are a citizen of heaven making your way through this world. – Dr. Vance Havner
Imagine yourself as a living house. God comes in to rebuild that house. At first, perhaps, you can understand what He is doing. He is getting the drains right and stopping the leaks in the roof and so on; you knew that those jobs needed doing and so you are not surprised. But presently He starts knocking the house about in a way that hurts abominably and does not seem to make any sense. What on earth is He up to? The explanation is that He is building quite a different house from the one you thought of – throwing out a new wing here, putting on an extra floor there, running up towers, making courtyards. You thought you were being made into a decent little cottage: but He is building a palace. He intends to come and live in it Himself. – C.S. Lewis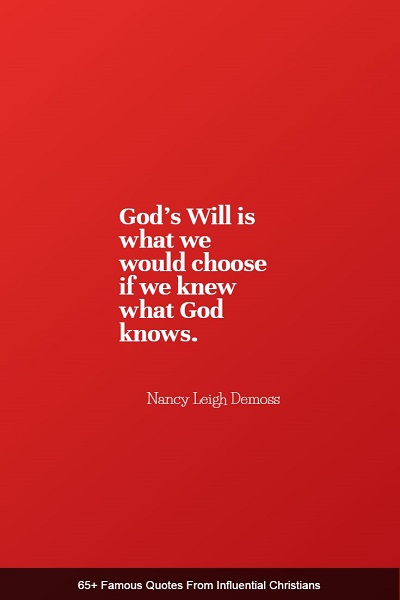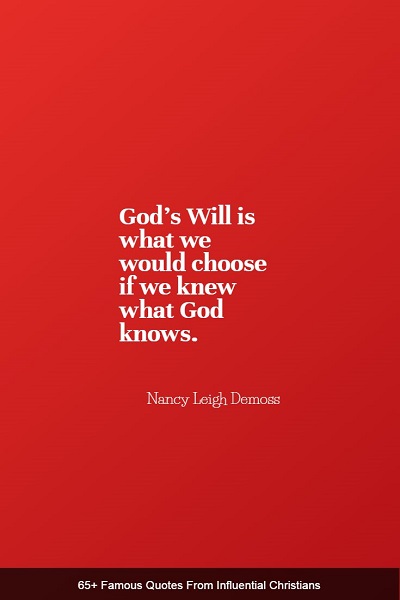 The happiness of the creature consists in rejoicing in God, by which also God is magnified and exalted. – Jonathan Edwards
The will of God is not something you add to your life. It's a course you choose. You either line yourself up with the Son of God…or you capitulate to the principle which governs the rest of the world. – Elisabeth Elliot
Whatever troubles may be before you, accept them bravely, remembering Whom you are trying to follow. Do not be afraid. Love one another, bear with one another, and let charity guide you all your life. God will reward you as only He can. – Mary MacKillop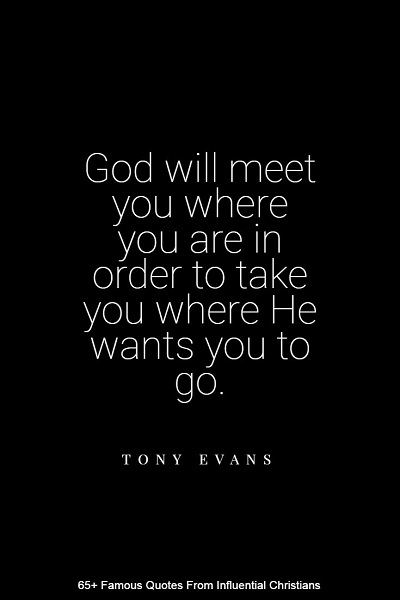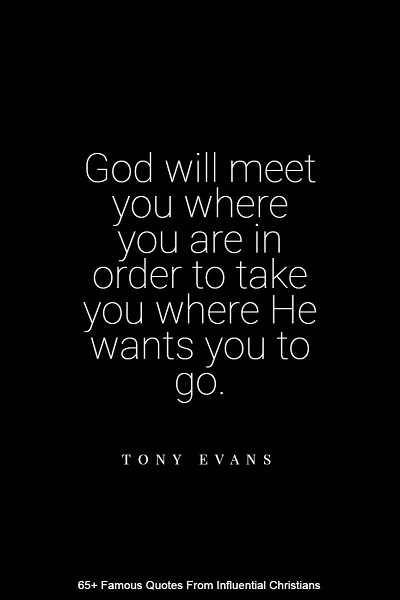 He who lays up treasures on earth spends his life backing away from his treasures. To him, death is loss. He who lays up treasures in heaven looks forward to eternity; he's moving daily toward his treasures. To him, death is gain. – Randy Alcorn
There is no greater discovery than seeing God as the author of your destiny. – Ravi Zacharias
God does not give us everything we want, but He does fulfill His promises, leading us along the best and straightest paths to Himself. – Dietrich Bonhoeffer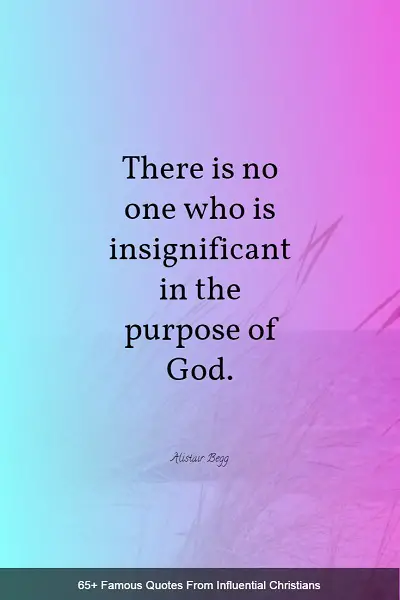 The church is a hospital for sinners, not a museum for saints. – Abigail VanBuren
The Christian life is not a constant high. I have my moments of deep discouragement. I have to go to God in prayer with tears in my eyes, and say, 'O God, forgive me,' or 'Help me.' – Billy Graham
That very church which the world likes best is sure to be that which God abhors. – Charles Haddon Spurgeon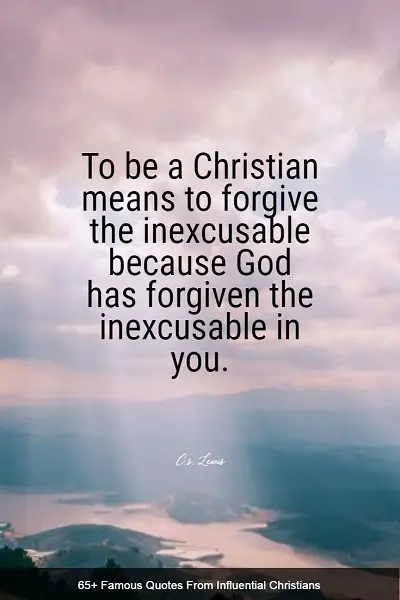 Always, everywhere God is present, and always He seeks to discover Himself to each one. – A.W.Tozer
A person who thinks only about building walls, wherever they may be, and not building bridges is not Christian. This is not in the Gospel. – Pope Francis
The church is not a theological classroom. It is a conversion, confession, repentance, reconciliation, forgiveness and sanctification center, where flawed people place their faith in Christ, gather to know and love him better, and learn to love others as he designed. – Paul David Tripp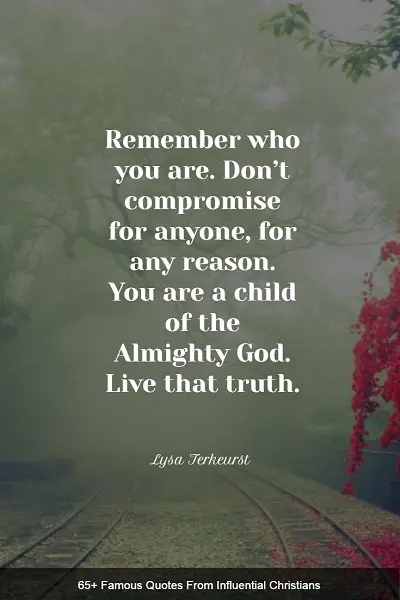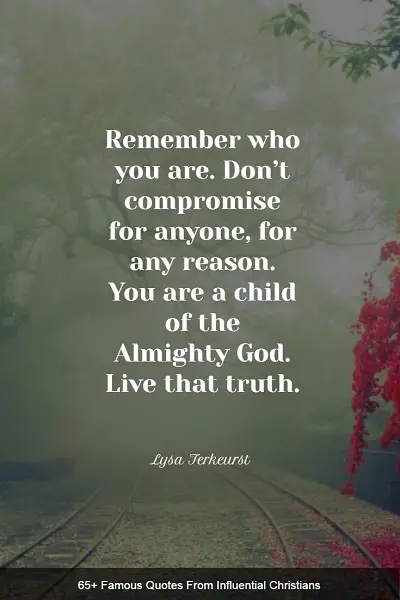 If you believe in a God who controls the big things, you have to believe in a God who controls the little things. It is we, of course, to whom things look 'little' or 'big'. – Elisabeth Elliot
Ignorance of the Scriptures is ignorance of Christ. – Saint Jerome
The day we find the perfect church, it becomes imperfect the moment we join it. – Charles Haddon Spurgeon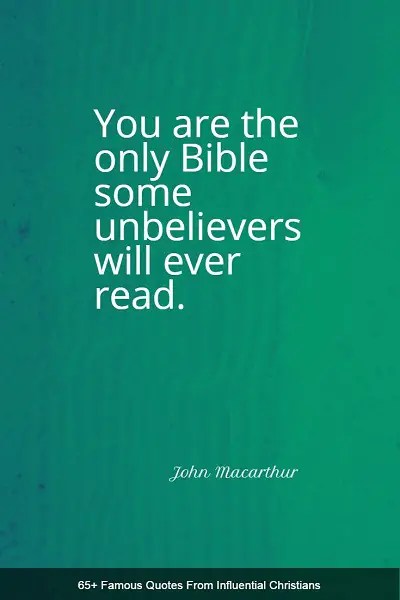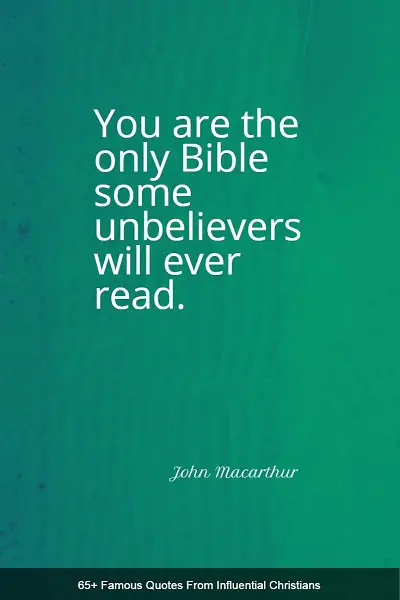 There is no one who is insignificant in the purpose of God. – Alistair Begg
If we endure all things patiently and with gladness, thinking on the sufferings of our Blessed Lord, and bearing all for the love of Him: herein is perfect joy. – Francis of Assisi
I remind you that there are churches so completely out of the hands of God that if the Holy Spirit withdrew from them, they wouldn't find it out for many months. – A.W. Tozer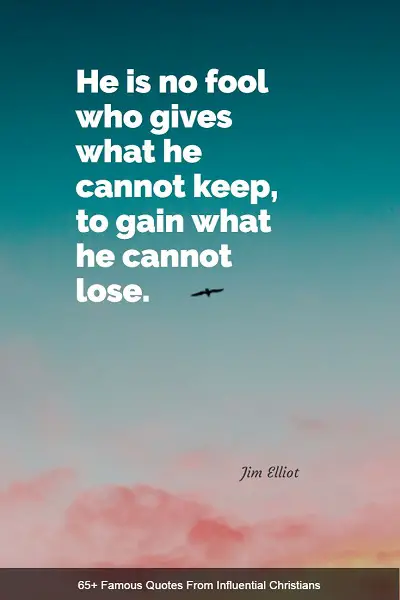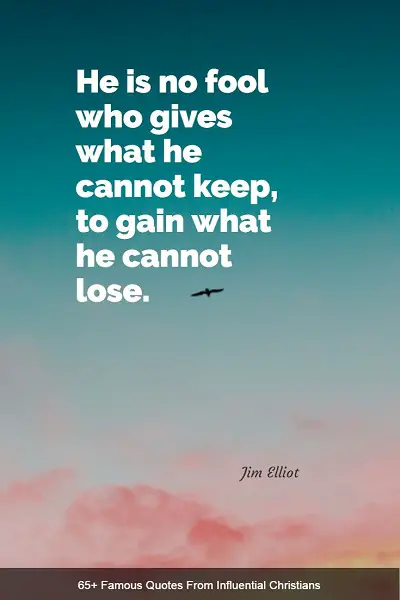 The saints have always been the source and origin of renewal in the most difficult moments in the Church's history. – Pope John Paul II
The Christian does not think God will love us because we are good, but that God will make us good because He loves us. – C.S. Lewis
It is evident that man never attains to a true self-knowledge until he has previously contemplated the face of God and come down after such contemplation to look into himself. – John Calvin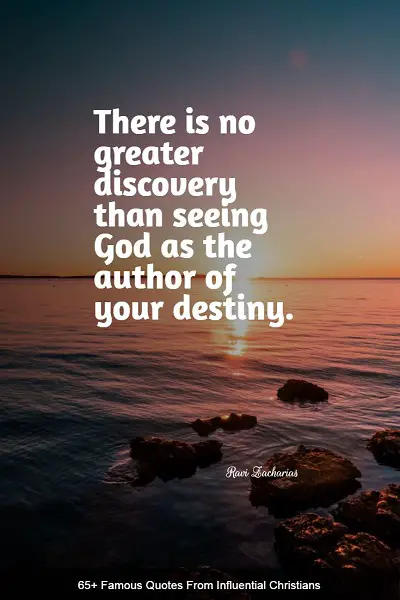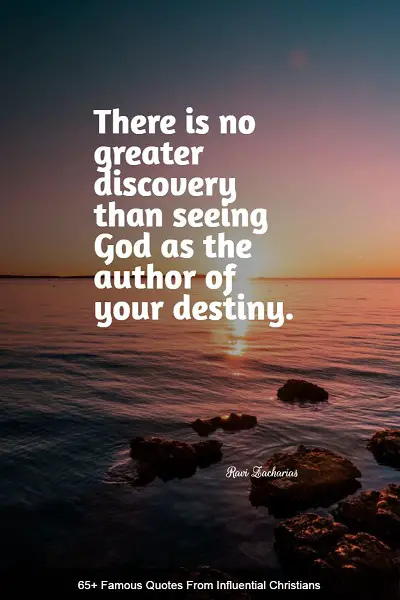 This is our time on the history line of God. This is it. What will we do with the one deep exhale of God on this earth? For we are but a vapor and we have to make it count. We're on. Direct us, Lord, and get us on our feet. – Beth Moore
Prayer is the best weapon we have; it is the key to God's heart. You must speak to Jesus not only with your lips, but with your heart. In fact, on certain occasions you should only speak to Him with your heart. – Padre Pio
The true gospel is a call to self-denial. It is not a call to self-fulfillment. – John MacArthur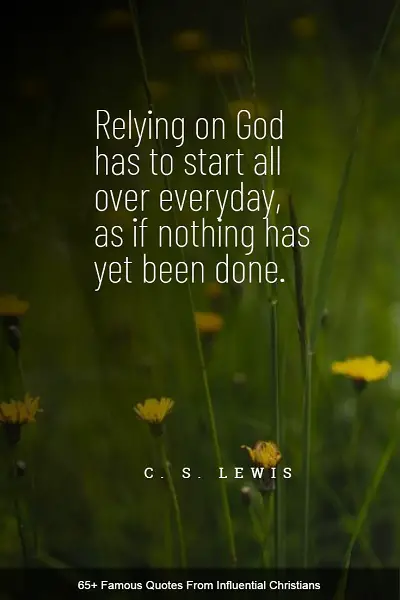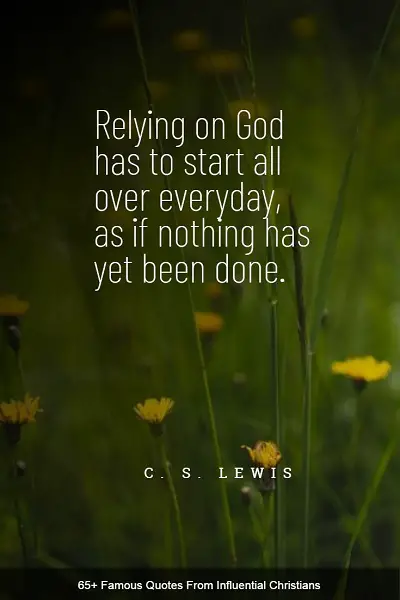 An affirmation to say everyday: The healing power of God is working in me right now. Eveyr day I get better and better in every way. – Joyce Meyer
The best thing about the future is that it comes only one day at a time. – Abraham Lincoln
When we think too lightly of sin, we think too lightly of the Savior. – Charles Spurgeon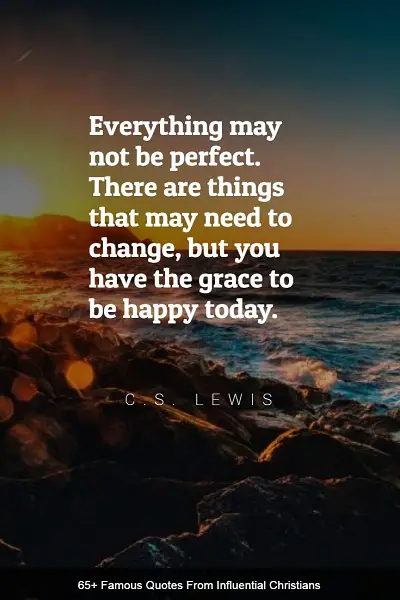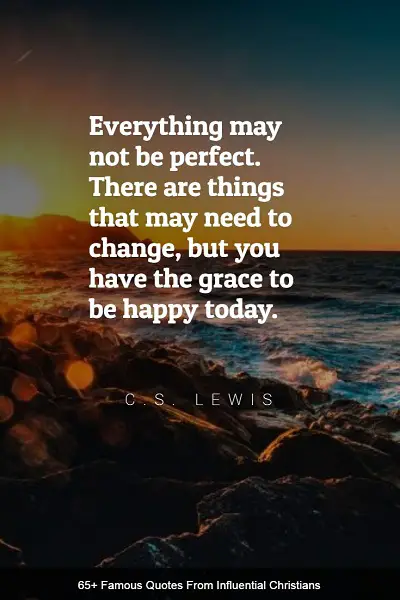 Your potential is the sum of all the possibilities God has for your life. – Charles Stanley
An affirmation to say everyday: The healing power of God is working in me right now. Every day I get better and better in every way. – Joyce Meyer
The best and most beautiful things in this world cannot be seen or even heard but must be felt with the heart. – Helen Keller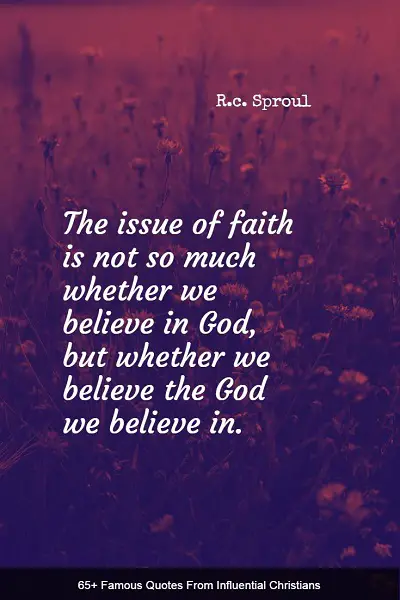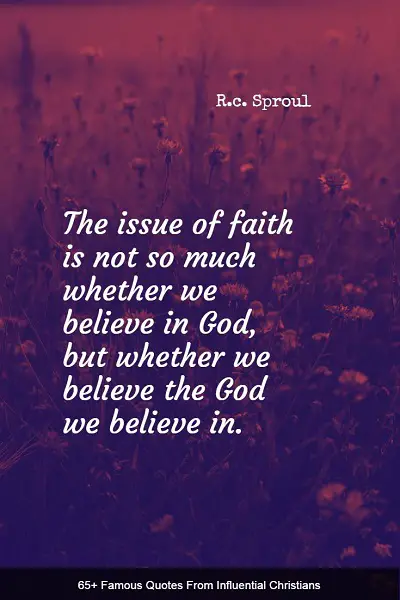 We should not be entertained by the sins for which Christ died. – John MacArthur
If we find ourselves with a desire that nothing in this world can satisfy, the most probable explanation is that we were made for another world. – C.S. Lewis
Lots of times, our main problem isn't our problem. Our biggest problem is our perspective on our problem. – Steven Furtick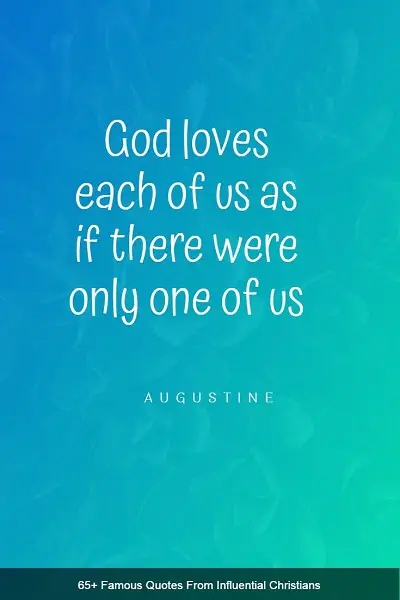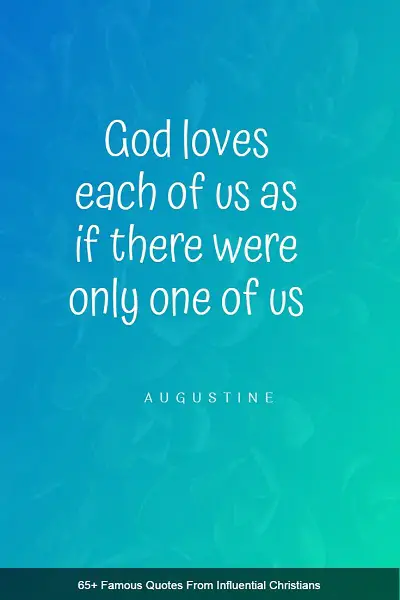 Thou hast made us for Thyself, O Lord, and our heart is restless until it finds its rest in Thee. – Augustine of Hippo
The greater your knowledge of the goodness and grace of God on your life, the more likely you are to praise Him in the storm. – Matt Chandler
God is most glorified in us when we are most satisfied in Him. – John Piper
Continuous effort — not strength nor intelligence — is the key to unlocking our potential. – Winston Churchill
We are surrounded by relationships but driven by accomplishment. God is the opposite. Though surrounded by His accomplishments, He has given Himself in relationship. Though not in need of interaction, He has chosen to pursue it. For God, relationship is the goal. —Victoria Brooks
To be a Christian means to forgive the inexcusable because God has forgiven the inexcusable in you. – C.S. Lewis