Flower is the part of a plant that is often brightly colored and has a pleasant smell, or the type of plant that produces these. Inspirational flower quotes will brighten up your day and make you feel ready to take on anything.
If you're searching for inspirational quotes on nature and cute ocean quotes that perfectly capture what you'd like to say or just want to feel inspired yourself, browse through an amazing collection of sweet stars quotes, best sunset quotes and popular sunrise quotes.
Famous Flower Quotes
Love is the flower you've got to let grow. John Lennon
A flower does not think of competing with the flower next to it. It just blooms. Zen Shin
A flower cannot blossom without sunshine, and man cannot live without love. Max
The Japanese say, if the flower is to be beautiful, it must be cultivated. Lester Cole
Life is the flower for which love is the honey. Victor Hugo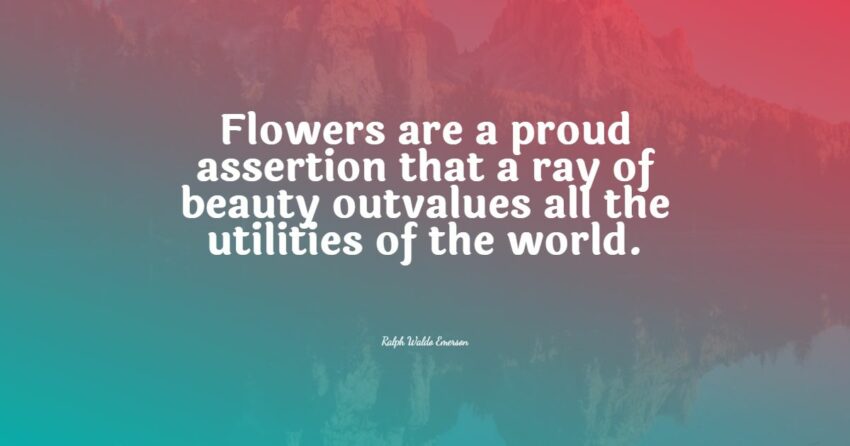 To plant a garden is to believe in tomorrow. Audrey Hepburn
If I had a single flower for every time I think about you, I could walk forever in my garden. Claudia Adrienne Grandi
Every flower must grow through dirt. Laurie Jean Sennott
Love is like a beautiful flower which I may not touch, but whose fragrance makes the garden a place of delight just the same. Helen Keller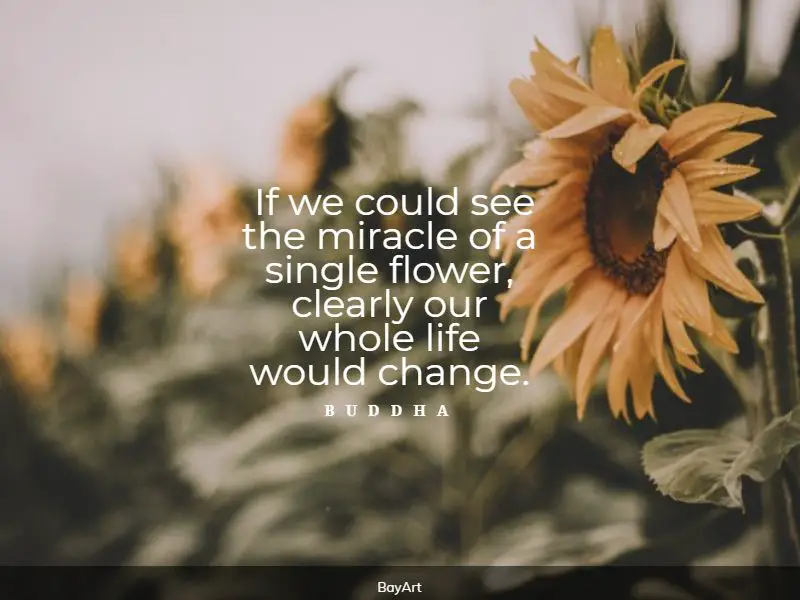 Every flower blooms in its own time. Ken Petti
If we could see the miracle of a single flower clearly our whole life would change. Buddha
The flower that follows the sun does so even in cloudy days. Robert Leighton
Minds are like flowers; they open only when the time is right. Stephen Richards
Like wildflowers; You must allow yourself to grow in all the places people thought you never would. E.V.
Flowers… are a proud assertion that a ray of beauty out values all the utilities in the world. Ralph Waldo Emerson
Don't wait for someone to bring you flowers. Plant your own garden and decorate your own soul. Luther Burbank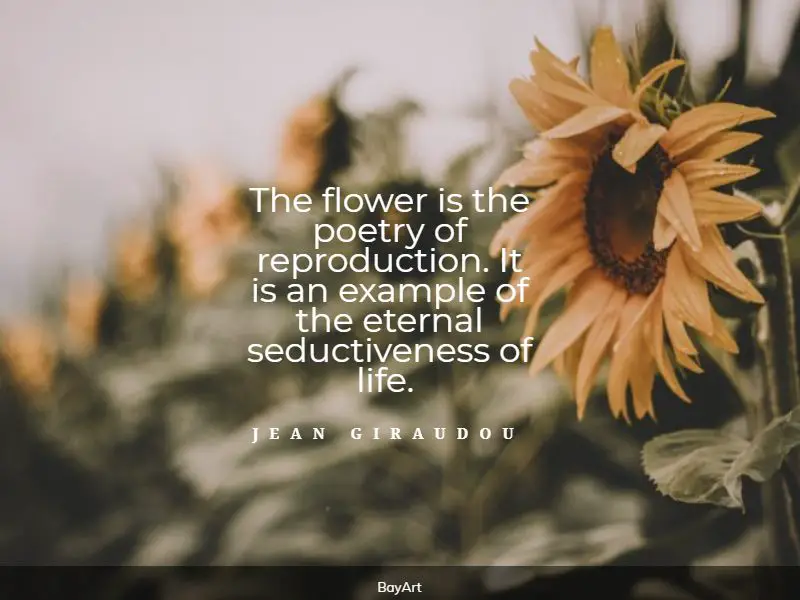 A rose can never be a sunflower, and a sunflower can never be a rose. All flowers are beautiful in their own way, and that's like women too. Miranda Kerr
Don't let the tall weeds cast a shadow on the beautiful flowers in your garden. Steve Maraboli
Love is flower like; Friendship is like a sheltering tree. Samuel Taylor Coleridge
Open the bloom of your heart and become a gift of beauty to the world. Bryant McGill
The rose is the flower and handmaiden of love – the lily, her fair associate, is the emblem of beauty and purity. Dorothea Dix
Inspirational Flower Quotes
Flowers don't worry about how they're going to bloom. They just open up and turn toward the light and that makes them beautiful. Jim Carrey
Even the tiniest of flowers can have the toughest roots. Shannon Mullen
Every flower is a soul blossoming in nature. Gerard De Nerval
A flower blooming in the desert proves to the world that adversity, no matter how great, can be overcome. Matshona Dhliwayo
Happiness held is the seed; Happiness shared is the flower. John Harrigan
A flower does not use words to announce its arrival to the world; it justs blooms. Matshona Dhliwayo
Politeness is the flower of humanity. Joseph Joubert
If you tend to a flower, it will bloom, no matter how many weeds surround it. Matshona Dhliwayo
Flowers are like friends; They bring color to your world. Unknown
Sweet April showers do spring May flowers. Thomas Tusser
If love is sweet as a flower, then my mother is that sweet flower of love. Stevie Wonder
Earth laughs in flowers. Ralph Waldo Emerson
May our heart's garden of awakening bloom with hundreds of flowers. Nhat Hanh
Flowers don't tell, they show. Stephanie Skeem
A flower cannot blossom without sunshine, and man cannot live without love. Max Muller
If you look the right way, you can see that the whole world is a garden. Frances Hodgson Burnett
Flowers seem intended for the solace of ordinary humanity. John Ruskin
Flowers are the music of the ground. From earth's lips spoken without sound. Edwin Curran
Flowers grow back, even after they are stepped on. So will I. Unknown
To plant a garden is to believe in tomorrow. Audrey Hepburn
In the spring, at the end of the day, you should smell like dirt. Margaret Atwood
The butterfly is a flying flower, the flower a tethered butterfly. Ecouchard Le Brun
Spring: A lovely reminder of how beautiful change can truly be. Unknown
Many eyes go through the meadow, but few see the flowers in it. Ralph Waldo Emerson
Where flowers bloom so does hope. Lady Bird Johnson
Don't let the tall weeds cast a shadow on the beautiful flowers in your garden. Steve Maraboli
Flowers always make people better, happier and more helpful; they are sunshine, food and medicine for the soul. Luther Burbank
Bloom Like A Flower Quotes
All beings are flowers blossoming in a blossoming universe. Soen Nakagawa
The flower that blooms in adversity is the most rare and beautiful of all. Robert D. San Souci
Bloom where you are planted and sow where you are fed. Stella Payton
Bloom as if you want to make the whole world beautiful. Debasish Mridha
We blossom under praise like flowers in sun and dew; we open, we reach, we grow. Gerhard E Frost
Everything is blooming most recklessly; if it were voices instead of colors, there would be an unbelievable shrieking into the heart of the night. Rainer Maria Rilke
The perfect blossom is a rare thing. You could spend your life looking for one and it would not be a wasted life. Ken Watanabe
Our bloom is gone. We are the fruit thereof. Wallace Stevens
Even if you don't have a whole lot of room, you can still have plenty of flowers in bloom! Bob Hathcock
Delicate Flower Quotes
Creativity is so delicate a flower that praise tends to make it bloom! Alex Faickney Osborn
I'll have you know that the most delicate flowers often produce the strongest scent when crushed. Maria V. Snyder
If the delicate flower liked to play Medusa, maybe Karina could take on the role of Perseus. It was really for the good of all womankind that she slay the gorgon. Lexi Blake
You have to work to keep love alive; you have to protect it and maintain it, just like you would a delicate flower. James Dobson
Faith is not a delicate flower which would wither away under the slightest stormy weather. Mahatma Gandhi
This planet is not terra firma. It is a delicate flower and it must be cared for. It's lonely. It's small. It's isolated, and there is no resupply. And we are mistreating it. Scott Carpenter
Competition is a tough weed, not a delicate flower. George Stigler
Roses have both petals and thorns, my dark flower. You needn't believe something weak because it appears delicate. Show the world your bravery. Kerri Maniscalco
Quotes About Flowers Blooming
Every flower blooms at a different pace. Suzy Kassem
The earth is gentle. And the earth allows the flowers to bloom. We need to be gentle. And the flowers will bloom in our life. Avijeet Das
The flower of the present rosily blossomed. Aldous Huxley
Raise your words, not voice. It is rain that grows flowers, not thunder. Rumi
And so we are like flowers; and bloom only, when the sun, kisses us. Kristian Goldmund Aumann
What a lonely place it would be to have a world without a wildflower! Roland R. Kemler
There are always flowers for those who want to see them. Henri Matisse
The bloom may be brief but the memory of its beauty will last a lifetime. Doe Zantamata
If every tiny flower wanted to be a rose, spring would lose its loveliness. Therese of Lisieux
Every flower blooms in its own time. Ken Petti
The smallest flower is a thought, a life answering to some feature of the Great Whole, of whom they have a persistent intuition. Honore de Balzac
The Japanese say, if the flower is to be beautiful, it must be cultivated. Lester Cole
The very best relationship has a gardener and a flower. The gardener nurtures and the flower blooms. Carole Radziwill
After women, flowers are the most divine creations. Christian Dior
If I were a princess, my crown would be made of flowers.
A flower blossoms for its own joy. Oscar Wilde
All the flowers of all the tomorrows are in the seeds of today. Proverb
I've never seen anyone turn down a bouquet of flowers. Just sayin.
Happiness blooms from within.
Just like a flower, I have to be where the sun shines.
When in doubt, add flowers.
Plant smiles, grow laughter, harvest love.
Wherever life plants you, bloom with grace.
You've got to let your dreams blossom.
Flowers are happiness.