A chronic illness is a long-term health condition that may not have a cure. Chronic illness is an everyday reminder of your struggle, but it can be marked by the power within and positivity. Keep in mind, your are not your disease, and use these quotes about chronic illness to motivate your warrior inside! Inspirational chronic illness quotes will comfort and motivate you during a flare up and lift you up when you're in pain.
If you're searching for encouraging health quotes that perfectly capture what you'd like to say or just want to feel inspired yourself, browse through an amazing collection of inspiring chronic pain quotes, amazing surgery quotes and top insomnia quotes.
Famous Chronic Illness Quotes
If you're going through hell, keep going. Winston Churchill
If you stumble, make it part of the dance.
Only in the darkness can you see the stars. Martin Luther King Jr
Behind every chronic illness is just a person trying to find their way in the world. We want to find love and be loved and be happy just like you. We want to be successful and do something that matters. We're just dealing with unwanted limitations in our hero's journey. Glenn Schweitzer
Those who become mentally ill often have a history of chronic pain. Gene Tierney
Every day may not be good, but there is something good in every day.
Illness is the opposite of freedom. It makes everything impossible. Francoise Sagan
One cannot live the afternoon of life according to the program of life's morning; for what was great in the morning will be of little importance in the evening, and what in the morning was true will at evening have become a lie. Carl Jung
The world is in a constant conspiracy against the brave. It's the age-old struggle the roar of the crowd on one side and the voice of your conscience on the other. Douglas MacArthur
Regret for the things we have done will be tempered by time. It is regret for the things we did not do that is inconsolable. Sydney J. Harris
Our greatest weakness lies in giving up. The most certain way to succeed is always to just try one more time. Thomas Edison
Believe in yourself and all that you are. Know that there is something inside of you that is greater than any obstacle. Christian D. Larson
Normality is a paved road. It's comfortable to walk, but no flowers grow on it. Vincent Van Gogh
She made broken look beautiful and strong look invincible. She walked with the universe on her shoulders and made it look like a pair of wings. Ariana Dancu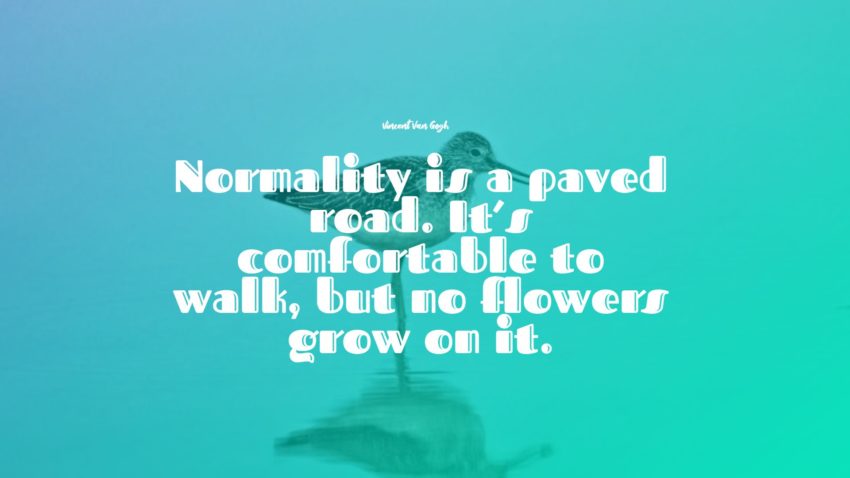 The measure of who we are is what we do with what we have. Vince Lombardi
Hope begins in the dark, the stubborn hope that if you just show up and try to do the right thing, the dawn will come. You wait and watch and work; you don't give up. Anne Lamott
You can't calm the storm, so stop trying. What you can do is calm yourself. The storm will pass. Timber Hawkeye
We must accept finite disappointment, but never lose infinite hope. Martin Luther King Jr.
You are strong when you know your weaknesses. You are beautiful when you appreciate your flaws. You are wise when you learn from your mistakes. unknown
You either get bitter or you get better. It's that simple. You either take what has been dealt to you and allow it to make you a better person, or you allow it to tear you down. The choice does not belong to fate, it belongs to you. Josh Shipp
It's when we start working together that the real healing takes place. David Hume
The truth is we're all a little bit broken. We must learn to love the broken pieces of ourselves be gentle and empathetic with ourselves, and others. Karen Salmansohn
It's not selfish to love yourself, take care of yourself, and to make your happiness a priority. Mandy Hale
Live to inspire, and one day people will say, because of you, I didn't give up unknown
Hope doesn't require a massive chain where heavy links of logic hold it together. A thin wire will do…just strong enough to get us through the night until the winds die down. Charles R. Swindoll
Nothing is more beautiful than a real smile that has struggled through tears. unknown
If you can't fly then run, if you can't run then walk, if you can't walk then crawl, but whatever you do you have to keep moving forward. Martin Luther King Jr.
So, this is my life. And I want you to know that I am both happy and sad and I'm still trying to figure out how that could be. Stephen Chbosky
Feelings are much like waves, we can't stop them from coming but we can choose which ones to surf. Jonatan Martensson
I often say now I don't have any choice whether or not I have Parkinson's, but surrounding that non-choice is a million other choices that I can make. Michael J. Fox
If opening your eyes, or getting out of bed, or holding a spoon, or combing your hair is the daunting Mount Everest you climb today, that is okay. Carmen Ambrosio
Resting is not laziness, it's medicine! Glenn Schweitzer
Part of the healing process is sharing with other people who care. Jerry Cantrell
Don't forget you're human. It's okay to have a meltdown, just don't unpack and live there. Cry it out and then refocus on where you are headed. unknown
Some days are better, some days are worse. Look for the blessing instead of the curse. Be positive, stay strong, and get enough rest. You can't do it all, but you can do your best. Doe Zantamata
I can't tell you when, but I can promise you it will get better, it will get easier, and it will all be worthwhile. Just promise me you won't ever give up. unknown
There are so many ways to heal. Arrogance may have a place in technology, but not in healing. I need to get out of my own way if I am to heal. Anne Wilson Schaef
The strongest people I've met have not been given an easier life. They've learned to create strength and happiness from dark places. Kristen Butler
Maybe life isn't about avoiding the bruises. Maybe it's about collecting the scars to prove that we showed up for it. Hannah Brencher
Please be patient with me. Sometimes when I'm quiet, it's because I need to figure myself out. It's not because I don't want to talk. Sometimes there are no words for my thoughts. Kamla Bolaños
Those you love will go through hard times. Don't give up on them. Patience + Caring + Empathy = Love. unknown
We are stronger in the places we have been broken. Ernest Hemingway
Sometimes you will be in control of your illness and other times you'll sink into despair, and that's OK! Freak out, forgive yourself, and try again tomorrow. Kelly Hemingway
I don't want my pain and struggle to make me a victim. I want my battle to make me someone else's hero. unknown
The practice of forgiveness is our most important contribution to the healing of the world. Marianne Williamson
At any given moment, you have the power to say this is not how my story is going to end. unknown
Be soft. Do not let the world make you hard. Do not let pain make you hate. Do not let the bitterness steal sweetness. Take pride that even though the rest of the world may disagree, you still believe it to be a beautiful place. Iain S. Thomas
Every adversity, every failure, every heartache carries with it the seed of an equal or greater benefit. Napoleon Hill
What would the hero of your life's movie do right now? Do that! Joe Rogan
Everybody has losses – it's unavoidable in life. Sharing our pain is very healing. Isabel Allende
Maybe it's not always about trying to fix something that is broken. Maybe it's about starting over and creating something better. unknown
Do not believe the things you tell yourself when you're sad and alone. unknown
The reason why people give up so fast is because they tend to look at how far they still have to go, instead of how far they have gotten. unknown
Inspirational Chronic Illness Quotes
Life is either a daring adventure or nothing at all. Helen Keller
Never let the things you cannot do prevent you from doing the things you can. Coach John Wooden
Look at a stone cutter hammering away at his rock, perhaps a hundred times without as much as a crack showing in it. Yet at the hundred-and-first blow it will split in two, and I know it was not the last blow that did it, but all that had gone before. Jacob A. Riis
How surely gravity's law, strong as an ocean current, takes hold of even the smallest thing and pulls it toward the heart of the world… This is what the things can teach us: to fall, patiently to trust our heaviness. Rainer Maria Rilke
Start by doing what's necessary; then do what's possible; and suddenly you are doing the impossible. Francis of Assisi
Love one another and help others to rise to the higher levels, simply by pouring out love. Love is infectious and the greatest healing energy. Sai Baba
Thank you, dear God, for this good life, and forgive us if we do not love it enough. Garrison Keillor
There must be those among whom we can sit down and weep and still be counted as warriors. Adrienne Rich
I long to accomplish a noble task, but it is my chief duty to accomplish small tasks as if they were great and noble. Helen Keller
We cannot do everything, and there is a sense of liberation in realizing that. This enables us to do something, and to do it very well. It may be incomplete, but it is a beginning, a step along the way, an opportunity for the Lord's grace to enter and do the rest. Oscar Romero
Our deepest fear is not that we are inadequate. Our deepest fear is that we are powerful beyond measure. Marianne Williamson
I'm touched by the idea that when we do things that are useful and helpful – collecting these shards of spirituality – that we may be helping to bring about a healing. Leonard Nimoy
Nothing is more destined to create deep-seated anxieties in people than the false assumption that life should be free of anxieties. Fulton Sheen
The truth that many people never understand is that the more you try to avoid suffering, the more you suffer, because smaller and more insignificant things begin to torture you, in proportion to your fear of being hurt. Thomas Merton
Consider the redwood tree. When only a stump remains, the tree can nevertheless regenerate. Little sprouts shoot up from the buds of ancient, invisible roots and actually form a circle surrounding the old stump. This is a cathedral circle, and the survival of some of the buds guarantees that the redwoods do not die. Anthony Gittins
Gracious words are a honeycomb, sweet to the soul and healing to the bones. Proverbs 16:23-25
The world is more magical, less predictable, more autonomous, less controllable, more varied, less simple, more infinite, less knowable, more wonderfully troubling than we could have imagined being able to tolerate when we were young. James Hollis
The vast knowledge we have to prevent cancer, heart disease, and other chronic illnesses is staggering. Tom Rath
As with many life-altering events, an autoimmune illness is almost guaranteed to cause you to re-evaluate your priorities. Joan Friedlander
Miraculously recover or die. That's the extent of our cultural bandwidth for chronic illness. S. Kelley Harrell
It's been an incredible odyssey to make the journey from a vibrantly healthy person to someone with a chronic illness. Karen Duffy
The place of true healing is a fierce place. It's a giant place. It's a place of monstrous beauty and endless dark and glimmering light. And you have to work really, really, really hard to get there, but you can do it. Cheryl Strayed
Chronic disease is a foodborne illness. We ate our way into this mess, and we must eat our way out. Mark Hyman, M.D.
Chronic illness is hard. Pain is hard. Isolation is hard. The financial cost is hard. Grieving is hard and necessary and sometimes takes far longer than we every imagined. Cindee Snider Re
A lot of people have so many issues like depression, obesity or chronic illness that has to do with gut health. Rachele Brooke Smith
Processed foods cause inflammation, a source of most chronic illnesses as well as stress. Kris Carr
That is what chronic illness is a disconnect between what our souls can do and what our bodies can do. Barbara Lieberman
To me, forgiveness is the cornerstone of healing. Sylvia Fraser
Nothing worked. This blazing pain seemed only to be getting worse. Jennifer Starzec
When you have lost hope, you have lost everything. And when you think all is lost, when all is dire and bleak, there is always hope. Pittacus Lore,I Am Number Four
Hope is important because it can make the present moment less difficult to bear. If we believe that tomorrow will be better, we can bear a hardship today. Thích Nhất Hạnh
Every step taken in mindfulness brings us one step closer to healing ourselves and the planet. Thich Nhat Hanh
A woman is like a tea bag: You never know how strong it is until it's in hot water. Eleanor Roosevelt
There is an alchemy in sorrow. It can be transmuted into wisdom, which, if it does not bring joy, can yet bring happiness. Pearl S. Buck
The secret of health for both mind and body is not to mourn for the past, not to worry about the future, or not to anticipate troubles, but to live the present moment wisely and earnestly. Buddha
If you wouldst live long, live well; for folly and wickedness shorten life. Benjamin Franklin
The time to relax is when you don't have time for it. Sydney J. Harris
A purpose of human life, no matter who is controlling it, is to love whoever is around to be loved. Kurt Vonnegut, The Sirens of Titan
The soul always knows what to do to heal itself. The challenge is to silence the mind. Caroline Myss
The secret of life, though, is to fall seven times and to get up eight times. Paulo Coelho, The Alchemist
Time is free, but it's priceless. You can't own it, but you can use it. You can't keep it, but you can spend it. Once you've lost it you can never get it back.
It is not length of life, but depth of life that matters. Ralph Waldo Emerson
Courage is grace under pressure. Ernest Hemingway
People ask me if I live each day like it's my last, and I don't.
I live each day like it's my first, and I can't wait for the next one. Kris Carr
Healing takes courage, and we all have courage, even if we have to dig a little to find it. Tori Amos
Healing yourself is connected with healing others. Yoko Ono
The wound is the place where the Light enters you. Jalaluddin Rumi
The most important thing is to enjoy your life to be happy it's all that matters. Audrey Hepburn