Football is a demanding sport on both the mind and the body. There is evidence that the best players are better equipped mentally, so they need a good memory to learn skills and tactics, to make split-second decisions and to plan ahead; they need to be resilient to failure, defeat and injury.
Football legends can give us many lessons about the importance of perseverance, dedication, adversity, triumph, and hard work. Inspirational and motivational football quotes will encourage growth in life, make you wiser and broaden your perspective.
If you're searching for famous sports quotes and inspiring running quotes that perfectly capture what you'd like to say or just want to feel inspired yourself, browse through an amazing collection of top baseball quotes, greatest soccer quotes and awesome workout quotes.
Most Famous Football Quotes
Leadership is a matter of having people look at you and gain confidence. If you're in control, they're in control. Tom Landry
If what you did YESTERDAY seems big, you haven't done anything TODAY. Lou Holtz
You have to perform at a consistently higher level than others. That's the mark of a true professional. Joe Paterno
A CHAMPION is simply someone who did NOT give up when they wanted to. Tom Landry
Football is like life. It requires perseverance, self-denial, hard work, sacrifice, dedication, and respect for authority. Vince Lombardi
The man who complains about the way the ball BOUNCES is likely the one who DROPPED it. Lou Holtz
Success isn't measured by money or power or social rank. Success is measured by your discipline and inner peace. Mike Ditka
Losing doesn't make me want to quit, it makes me want to FIGHT that much HARDER. Bear Bryant
Ability is what you're capable of doing. Motivation determines what you do. Attitude determines how well you do it. Lou Holtz
If it doesn't matter who WINS or loses, then why do they keep SCORE. Vince Lombardi
Self-praise is for losers. Be a winner. Stand for something. Always have class, and be humble. John Madden
The only place success comes before work is in the dictionary. Vince Lombardi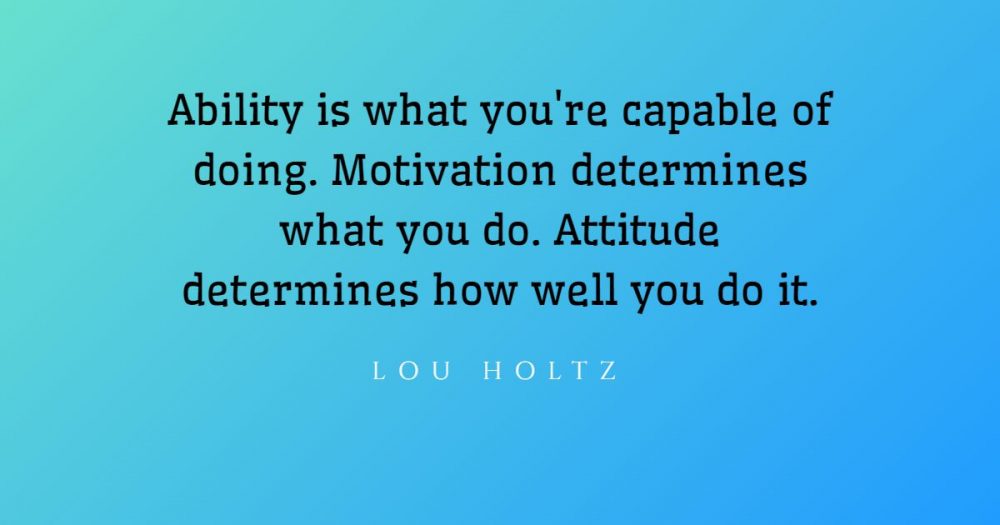 Short Football Quotes
It's not the SIZE of the dog in the fight, but the size of the FIGHT in the dog. Archie Griffin
When you're GOOD at something, you'll tell everyone. When you're GREAT at something, they'll tell you. Walter Payton
No one ever drowned in sweat. Lou Holtz
No matter the circumstances you may be going through, just push through it. Ray Lewis
WINNING is not everything but making the EFFORT to win is. Vince Lombardi
It's the name on the FRONT of the jersey that matters most, not the one on the BACK. Joe Paterno
Nobody who ever gave his best regretted it. George S. Halas
It's not the size of the dog in the fight, but the size in the fight of the dog. Archie Griffin
Your TALENT determines what you can do. Your MOTIVATION determines how much you are willing to do. Your ATTITUDE determines how well you do it. Lou Holtz
When you've got something to prove, there's nothing greater than a challenge. Terry Bradshaw
It's not whether you get knocked down, it's whether you get back up. Vince Lombardi
The harder you WORK, the harder it is to SURRENDER Marv Levy
If you want to WIN, do the ordinary things BETTER than anyone else does them day in and day out. Chuck Noll
When you don't give up, you cannot fail. Adrian Peterson
I have yet to be in a game where luck was involved. Urban Meyer
Life is TEN percent what happens to you, and NINETY percent how you respond to it. Lou Holtz
You FAIL all of the time. But you aren't a FAILURE until you start blaming someone else. Bum Phillips
I may win and I may lose, but I will never be defeated. Emmitt Smith
There is only one way to succeed in anything…and that is to give it everything. Vince Lombardi
You cannot make progress with excuses. Cam Newton
Success isn't owned, it's leased. And rent is due every day. J.J. Watt
If you're not IN the parade, you WATCH the parade. That's life. Mike Ditka
The ONLY discipline that lasts, is SELF discipline. Bum Phillips
Today I will do what other WON'T, so tomorrow I can accomplish what others CAN'T. Jerry Rice
How do you WIN? By getting average players to play good and good players to play great. That's how you WIN. Bum Phillips
You can learn a line from a win and a book from defeat. Paul Brown
Inspirational Football Quotes
It's not the will to win that matters. It's the will to prepare to win that matters. Paul Bear Bryant
The difference between a successful person and others is not a lack of strength, not a lack of knowledge, but rather in a lack of will. – Vince Lombardi
Set your goals high, and don't stop till you get there. Bo Jackson
Work isn't WORK unless you would rather be DOING something else. Don Shula
The GREATEST mistake is to continue to PRACTICE a mistake. Bobby Bowden
Coaching is not how much you KNOW. It's how much you can get players to DO. Bum Phillips
I don't expect to WIN enough games to be put on NCAA probation. I just want to WIN enough to warrant an investigation. Bob Devaney
To do things you've never done before, you have to do things you've never done before. Sean Payton
Today I will do what others won't, so tomorrow I can accomplish what others can't. Jerry Rice
The man on top of the mountain didn't fall there. Vince Lombardi
Once you LEARN to quit, it becomes a HABIT. Vince Lombardi
There is no pressure when you are making a dream come true. Neymar
In order to WIN the game, you must first not LOSE it. Chuck Noll
I learned all about life with a ball at my feet. Ronaldinho
If you're not gonna go ALL the way, why go at ALL? Joe Namath
It's not whether you get knocked DOWN, it's whether you get UP. Vince Lombardi
I once cried because I had no shoes to play soccer, but one day, I met a man who had no feet. Zinedine Zidane
I don't have time for hobbies. At the end of the day, I treat my job as a hobby. It's something I love doing.
When people succeed, it is because David Beckham
Remember, once you set a goal, it's all about how hard you're willing to work, how much you're willing to sacrifice and how badly you truly want it. J.J. Watt
The first 90 minutes are the most important.* Bobby Robson
Ability is what you're capable of doing. Motivation determines what you do. Attitude determines how well you do it. Lou Holtz
The most valuable player is the one who makes the most players valuable. Peyton Manning
If what you did yesterday seems big, you haven't done anything today. Lou Holtz
Today, you've got a DECISION to make. You're gonna get BETTER or you're gonna get worse, but you're not gonna stay the same. Which will it BE? Joe Paterno
Nobody who ever gave his best regretted it. George Halas
Leadership is a matter of having people look at you and gain confidence. If you're in control, they're in control. Tom Landry
We'll FIGHT 'em until hell freezes over, then we'll FIGHT 'em on the ice. Dutch Meyer
Football is like life. It requires perseverance, self-denial, hard work, sacrifice, dedication, and respect for authority. Vince Lombardi
The more difficult the victory, the greater the happiness in winning. Pelé
Success isn't measured by money or power or social rank. Success is measured by your discipline and inner peace. Mike Ditka
For EVERY pass I caught in a game, I caught a THOUSAND in practice. Don Hutson
Remember, TOMORROW is promised to no ONE. Walter Payton
I just hate losing and that gives you an extra determination to work harder. Wayne Rooney
Winners never quit and quitters never win. Vince Lombardi
Self-praise is for losers. Be a winner. Stand for something. Always have class, and be humble. John Madden
If you do not believe you can do it then you have no chance at allArsene Wenger
We would ACCOMPLISH many more things if we did not think of them as IMPOSSIBLE. Vince Lombardi
It takes 20 YEARS to build a reputation and 5 MINUTES to ruin it. Peyton Manning
You have to fight to reach your dream. You have to sacrifice and work hard for it. Lionel Messi
There is NO substitute for WORK. Vince Lombardi
No matter the circumstances you may be going through, just push through it. Ray Lewis
You have to perform at a consistently higher level than others. That's the mark of a true professional. Joe Paterno
Winning isn't getting ahead of OTHERS. It's getting ahead of YOURSELF. Roger Staubach
When you've got something to prove, there's nothing greater than a challenge. Terry Bradshaw
When you're good at something, you'll tell everyone. When you're great at something, they'll tell you. Walter Payton