Maya Angelou was one of America's most beloved poets and celebrated authors, with dozens of awards and over 50 honorary degrees attesting to her inspirational role at the center of American life.
She was also a journalist who worked in Africa, a historian, songwriter, dancer, stage and screen producer, director, performer, and singer. And as an influential activist, she was one of the Civil Rights Movement's most prominent women, who worked with Martin Luther King Jr. and Malcolm X, and devoted her life to being a tireless voice for women and black people — and for an open-hearted vision of humanity where all could find their place.
On May 28, 2014, the great Maya Angelou passed away at the age of 86, leaving a legacy that will surely be cherished for many decades to come.
Here are the best Maya Angelou quotes and sayings:
If you're searching for the best sayings and images from wise people to share with the people you love or just want to feel inspired yourself… look no further! From the quotes by Robin Williams, Marilyn Monroe Quotes, quotes by Bob Marley and Confucius sayings, we've got you covered.
Top 10 Maya Angelou Quotes
"I've learned that people will forget what you said, people will forget what you did, but people will never forget how you made them feel." ― Maya Angelou
"There is no greater agony than bearing an untold story inside you." ― Maya Angelou, I Know Why the Caged Bird Sings
"What you're supposed to do when you don't like a thing is change it. If you can't change it, change the way you think about it. Don't complain." ― Maya Angelou, Wouldn't Take Nothing for My Journey Now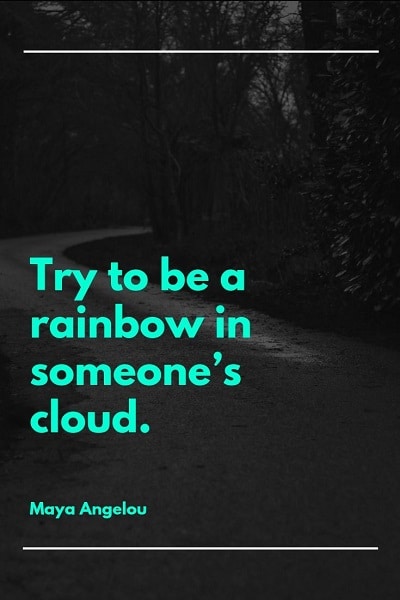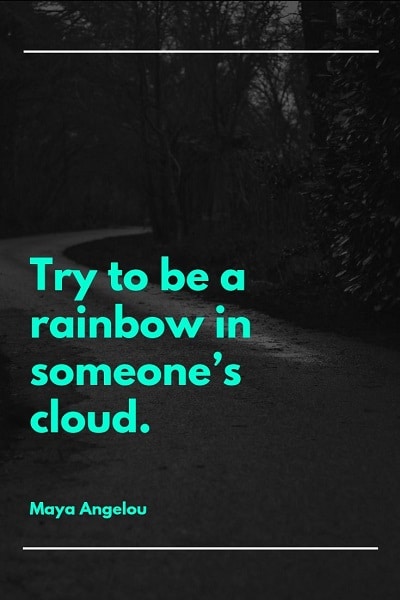 "We delight in the beauty of the butterfly, but rarely admit the changes it has gone through to achieve that beauty." ― Maya Angelou
"When you learn, teach. When you get, give." ― Maya Angelou
"You alone are enough. You have nothing to prove to anybody." ― Maya Angelou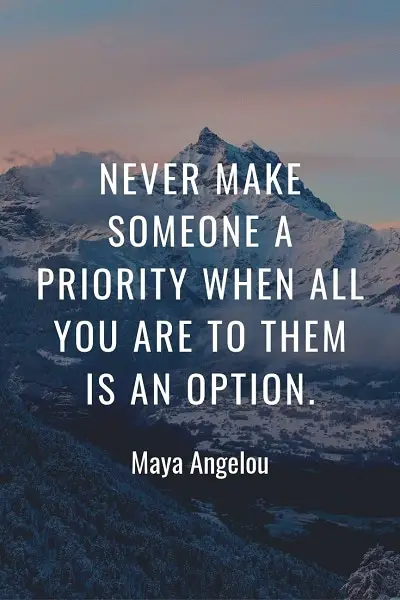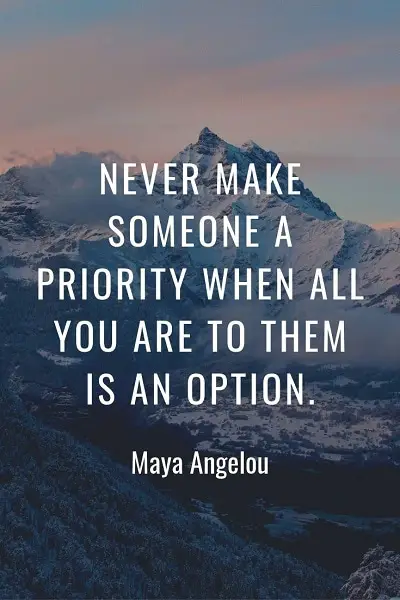 "We may encounter many defeats but we must not be defeated." ― Maya Angelou
"If you don't like something, change it. If you can't change it, change your attitude." ― Maya Angelou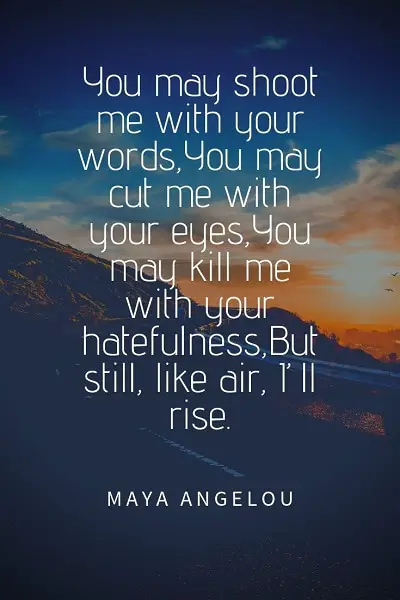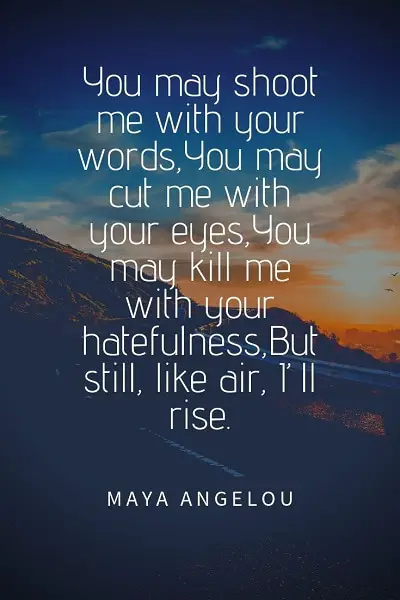 "I've learned that I still have a lot to learn." ― Maya Angelou
"Determine to live life with flair and laughter." ― Maya Angelou
Famous Maya Angelou Quotes About Life
Dr. Maya Angelou words could be compiled into a guidebook for leading a fulfilling, successful life. This is the reality that the world is less wise without her, but wisdom from Maya Angelou life quotes will continue to serve as an inspiration.
These motivational quotes by Maya Angelou are guaranteed to stir up feelings of determination, pride, and compassion.
I've learned that people will forget what you said, people will forget what you did, but people will never forget how you made them feel.
You may not control all the events that happen to you, but you can decide not to be reduced by them.
We delight in the beauty of the butterfly, but rarely admit the changes it has gone through to achieve that beauty.
Prejudice is a burden that confuses the past, threatens the future and renders the present inaccessible.
I've learned that whenever I decide something with an open heart, I usually make the right decision.
You can only become truly accomplished at something you love. Don't make money your goal. Instead, pursue the things you love doing, and then do them so well that people can't take their eyes off you.
You can't really know where you are going until you know where you have been.

If you don't like something, change it. If you can't change it, change your attitude.
We need much less than we think we need.
If I am not good to myself, how can I expect anyone else to be good to me?
Without courage, we cannot practice any other virtue with consistency. We can't be kind, true, merciful, generous, or honest.
Most people don't grow up. Most people age. They find parking spaces, honor their credit cards, get married, have children, and call that maturity. What that is, is aging.
I've learned that even when I have pains, I don't have to be one.
The children to whom we read simple stories may or may not show gratitude, but each boon we give strengthens the pillars of the world.
If you're always trying to be normal you will never know how amazing you can be.

Seek patience and passion in equal amounts. Patience alone will not build the temple. Passion alone will destroy its walls.
Never make someone a priority when all you are to them is an option.
A wise woman wishes to be no one's enemy; a wise woman refuses to be anyone's victim.
You can't use up creativity. The more you use, the more you have.
When you know you are of worth, you don't have to raise your voice, you don't have to become rude, you don't have to become vulgar; you just are. And you are like the sky is, as the air is, the same way water is wet. It doesn't have to protest.
We can be better, we can be wiser, we can be more kind. Yes we have to change. We have to grow up and stop acting like 10 years old. Yes there is much to do, much to see, much to go into.
Life is not measured by the number of breaths you take but by the moments that take your breath away.
If one is lucky, a solitary fantasy can totally transform one million realities.
I've learned that making a 'living' is not the same thing as 'making a life'.
Hate, it has caused a lot of problems in the world, but has not solved one yet.

I am grateful to be a woman. I must have done something great in another life.
No matter what happens, or how bad it seems today, life does go on, and it will be better tomorrow.
My life has been one great big joke, a dance that's walked, a song that speaks, I laugh so hard I almost choke when I think about myself.
I not only have the right to stand up for myself, but I have the responsibility. I can't ask somebody else to stand up for me if I won't stand up for myself. And once you stand up for yourself, you'd be surprised that people say, "Can I be of help?"
Open your eyes to the beauty around you, open your mind to the wonders of life, open your heart to those who love you, and always be true to yourself.
Everyone has at least one story, and each of us is funny if we admit it. You have to admit you're the funniest person you've ever heard of.

You alone are enough. You have nothing to prove to anybody.
Everything in the universe has a rhythm, everything dances.
I want all my senses engaged. Let me absorb the world's variety and uniqueness.
I've learned that making a 'living' is not the same thing as making a 'life.' I've learned that life sometimes gives you a second chance. I've learned that you shouldn't go through life with a catcher's mitt on both hands; you need to be able to throw something back.
Grace is like a lake of drinkable water right outside your door. But you stay inside and die of thirst.
Since time is the one immaterial object which we cannot influence, neither speed up nor slow down, add to nor diminish, it is an imponderably valuable gift.
I believe in living a poetic life, an art full life. Everything we do from the way we raise our children to the way we welcome our friends is part of a large canvas we are creating.
Maya Angelou Quotes On Love and Relationships
Forever inspired by her determined nature and powerful words, here are Maya Angelou quotes on love, relationships, and family. The beauty of her words is the simplicity with which she writes and her ability to deeply and authentically connect with the human experience.
Love recognizes no barriers. It jumps hurdles, leaps fences, penetrates walls to arrive at its destination full of hope.
Try to be a rainbow in someone's cloud.
If you have only one smile in you, give it to the people you love. Don't be surly at home, then go out in the street and start grinning 'Good morning' at total strangers.
Have enough courage to trust love one more time and always one more time.
My great blessing is my son, but I have daughters. I have white ones and Black ones and fat ones and thin ones and pretty ones and plain. I have gay ones and straight. I have daughters. I have Asian ones, I have Jewish ones, I have Muslim ones.
When someone shows you who they are, believe them the first time.
I was told many years ago by my grandmother who raised me: If somebody puts you on a road and you don't feel comfortable on it and you look ahead and you don't like the destination and you look behind and you don't want to return to that place, step off the road.

You can't forgive without loving. And I don't mean sentimentality. I don't mean mush. I mean having enough courage to stand up and say, 'I forgive. I'm finished with it.'
It's one of the greatest gifts you can give yourself, to forgive. Forgive everybody.

Love is like a virus. It can happen to anybody at any time.
If you find it in your heart to care for somebody else, you will have succeeded.
We can learn to see each other and see ourselves in each other and recognize that human beings are more alike than we are unalike. Whether in Paris, Texas, or Paris, France, we all want to have good jobs where we are needed and respected and paid just a little more than we deserve. We want healthy children, safe streets, to be loved and have the unmitigated gall to accept love.
Loving someone liberates the lover as well as the beloved. And that kind of love comes with age.
I respect myself and insist upon it from everybody. And because I do it, I then respect everybody, too.

My great hope is to laugh as much as I cry; to get my work done and try to love somebody and have the courage to accept the love in return.
I am grateful to have been loved and to be loved now and to be able to love because that liberates. Love liberates. It doesn't just hold—that's ego. Love liberates. It doesn't bind. Love says, 'I love you. I love you if you're in China. I love you if you're across town. I love you if you're in Harlem. I love you. I would like to be near you. I'd like to have your arms around me. I'd like to hear your voice in my ear. But that's not possible now, so I love you. Go.
The love of the family, the love of one person can heal. It heals the scars left by a larger society. A massive, powerful society.
I know for sure that love saves me and that it is here to save us all.
The greatest gift we give to each other is the telling of the truth.
I do not trust people who don't love themselves and yet tell me, 'I love you.' There is an African saying which is: Be careful when a naked person offers you a shirt.
We spend precious hours fearing the inevitable. It would be wise to use that time to adore our families, cherishing our friends and living our lives.
Inspiring Quotes From Maya Angelou on Streng, Success and More
Maya Angelou touched the lives of many through her work. In remembrance of her incredible legacy left behind, read through for some of Angelou's most inspiring and uplifting quotes. Her words are a mix of straight talk and poetry and her messages transcend race and generations, enjoy! Also, you can enjoy the wisdom from Dr. Seuss.
My mission in life is not merely to survive, but to thrive; and to do so with some passion, some compassion, some humor, and some style.
The desire to reach the stars is ambitious. The desire to reach hearts is wise and most possible.
Do the best you can until you know better. Then when you know better, do better.
Nothing will work unless you do.
Success is liking yourself, liking what you do, and liking how you do it.
If a human being dreams a great dream, dares to love somebody; if a human being dares to be Martin King, or Mahatma Gandhi, or Mother Theresa, or Malcolm X; if a human being dares to be bigger than the condition into which she or he was born – it means so can you. And so you can try to stretch, stretch, stretch yourself so you can internalize, 'Homo sum, humani nil a me alienum puto. I am a human being, nothing human can be alien to me.' That's one thing I'm learning.

Lift up your eyes upon / This day breaking for you. / Give birth again / To the dream.
While I know myself as a creation of God, I am also obligated to realize and remember that everyone else and everything else is also God's creation.
Courage is the most important of all the virtues because without courage you can't practice any other virtue consistently. You can practice any virtue erratically, but nothing consistently without courage.
You are the sum total of everything you've ever seen, heard, eaten, smelled, been told, forgot – it's all there. Everything influences each of us, and because of that, I try to make sure that my experiences are positive.
We are only as blind as we want to be.
There's a world of difference between truth and facts. Facts can obscure the truth.
We may encounter many defeats but we must not be defeated.
One isn't necessarily born with courage, but one is born with potential. Without courage, we cannot practice any other virtue with consistency. We can't be kind, true, merciful, generous, or honest.

Words mean more than what is set down on paper. It takes the human voice to infuse them with deeper meaning.
All great achievements require time.
History, despite its wrenching pain, cannot be unlived, but if faced with courage, need not be lived again.
Whatever you want to do, if you want to be great at it, you have to love it and be able to make sacrifices for it.
I'm convinced of this: Well done anywhere is well done everywhere. For a change, start by speaking to people rather than walking by them like they're stones that don't matter. As long as you're breathing, it's never too late to do some good.
I work very hard, and I play very hard. I'm grateful for life. And I live it – I believe life loves the liver of it. I live in it.
I know that when I pray, something wonderful happens. Not just to the person or persons for whom I'm praying, but also something wonderful happens to me. I'm grateful that I'm heard.
In all my work, I try to say, 'You may be given a load of sour lemons, why not try to make a dozen lemon meringue pies?'
Courage – you develop courage by doing small things like just as if you wouldn't want to pick up a 100-pound weight without preparing yourself.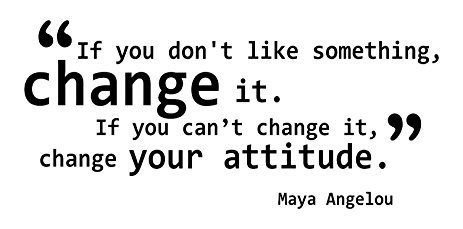 Nothing succeeds like success. Get a little success, and then just get a little more.
A bird doesn't sing because it has an answer, it sings because it has a song.
There's something which impels us to show our inner souls. The more courageous we are, the more we succeed in explaining what we know.
My wish for you is that you continue. Continue to be who and how you are, to astonish a mean world with your acts of kindness.
If we live long enough, we may even get over war. I imagine a time when somebody will mention the word war and everyone in the room will start to laugh. And what do you mean war?
You may shoot me with your words,
You may cut me with your eyes,
You may kill me with your hatefulness,
But still, like air, I'll rise.
If you are going down a road and don't like what's in front of you and look behind you and don't like what you see, get off the road. Create a new path!
Someone was hurt before you, wronged before you, hungry before you, frightened before you, beaten before you, humiliated before you, raped before you… yet, someone survived… You can do anything you choose to do.
Look what you've already come through! Don't deny it. You've already come through some things, which are very painful. If you've been alive until you're 35, you have gone through some pain. It cost you something. And you've come through it. So at least look at that. And have the sense to look at yourself and say, "Well, wait a minute. I'm stronger than I thought I was.
I've learned that you can tell a lot about a person by the way (s)he handles these three things: a rainy day, lost luggage, and tangled Christmas tree lights.
I never have written every day. When I'm writing a book, I write Monday through Friday. I always try to take Saturday and pretend to have some sanity.
I like to go back and read poems that I wrote fifty years ago, twenty years ago, and sometimes they surprise me – I didn't know I knew that then. Or maybe I didn't know it then, and I know more now.
There are those who say that poets should use her and his art to change the world. I'd agree with that, but I think everybody should do that. I think the chef and the baker and the candlestick maker – I think everybody should be hoping to make it a better world.
 Maya Angelou Facts
Why is Maya Angelou famous?
First of all, she is a civil rights activist and also an author and poet. Angelou is best known for her autobiographical writings.
Why did Maya Angelou stop talking?
When she was 8 years old her mother's boyfriend, Mr. Freeman had raped her. She believed that killed that man with her high voice. And she decided not to speak since then.
Is Maya Angelou still alive?
No. Sadly she died in May 28, 2014