Sometimes there aren't enough words in any language to express how our parents are important for us. Thankfully, mom is basically filled with infinite wisdom, so she usually knows ours without having to say anything. Anyway, mom quotes will remind how mothers are these precious people we all want to be part of our lives, and you should send a message to mom to say thank you with love.
Mothers are always special. No matter how old you get, you always love your mother as she is the one who loves you unconditionally. Do yourself a favor and don't depend on quotes, wishes, and greeting cards. Make it personal and dig deep in your heart to think of something sweet you have to say to the woman who has made unimaginable sacrifices in her own life to infuse happiness in yours.
You can get some inspiration from short family quotes but you should create your own I love you mom messages that will help you express your appreciation to your mother.
If you're searching for cute motherhood quotes and sweet parents quotes that perfectly capture what you'd like to say or just want to feel inspired yourself, browse through an amazing collection of beautiful my children quotes, top grandmother quotes and popular cousin quotes.
You may also want to read mother daughter quotes or that celebrate this strong bond.
Beautiful Words For Mother
All that I am, or ever hope to be, I owe to my angel mother. Abraham Lincoln
We are born of love; love is our mother. Rumi
When you look into your mother's eyes, you know that is the purest love you can find on this earth. Mitch Albom
A mother is she who can take the place of all others but whose place no one else can take. Cardinal Meymillod
When you are a mother, you are never really alone in your thoughts. A mother always has to think twice, once for herself and once for her child. Sophia Loren
Mom you gave me life and you filled it with love, encouragement and praise. You always believed in me even when I had doubts. I feel so blessed to have a Mom like you.
Mother is a verb. It's something you do. Not just who you are. Dorothy Canfield Fisher
By being yourself, you put something wonderful in the world that was not there before. Edwin Elliot
You are far more precious than jewels. Proverbs
Every day is special when I get to spend it with my mom.
A mother can hug you just with her smile.
Wishes are granted in a mother's heart.
Mother: the most beautiful word on the lips of mankind. Kahil Gibran
Mothers hold their children's hands for a short while, but their hearts forever.
No matter how much I say I love you, I always love you more than that.
You have my whole heart for my whole life.
Knowing my mother walks beside me gives me the strength to weather any storm.
There is nothing as powerful as mother's love, and nothing as healing as a child's soul.
A mother and daughter's love is never separated.
Happiness is seeing your mother smile.
I believe in the strength and intelligence and sensitivity of women. My mother, my sisters [they] are strong. My mum is a strong woman and I love her for it. Tom Hiddleston
A mother's love endures through all. Washington Irving
Everybody wants to save the Earth; nobody wants to help Mom do the dishes. P.J. O'Rourke
Most mothers are instinctive philosophers. Harriet Beecher Stowe
Your most valuable parenting skill is learning to manage yourself first. Dr. Laura Markham
If you're searching for the best words and images to share with your family members… look no further! From the awesome quotes about sisters, father daughter quotes, and bro quotes, we've got you covered.
Cute I Love You Mom Quotes
There is no doubt that mother's selfless and unconditional love make us speechless. Heartfelt I love my mother quotes help you show your appreciation and express your love to your mother.
Dearest mom, thank you for always pushing me to be my best. Your amazing support has always put all my worries at ease. I will always love you!
Everything I've learned that's worth knowing, I learned from my mother.
I love you, Mom, because you always stand by me. Thanks for your love and sacrifices.
I love you, mom. Thank you for inspiring me every day with your bravery, your strength, and your optimism. Everything I am today is because of you.
Not only are you my mother but also my best pal and confidante. In a world without you, I would be so lost. I love you, Mother.
You have filled my entire life with your unconditional love and sufferings. I have failed in many things, but you have always had faith in me. You are undoubtedly the most astonishing person. I love you, mom.
Moms are the most beautiful beings in the world.
I love my mother as trees love water and sunshine. She helps me grow, prosper, and reach great heights.
Mom, you are the greatest blessing from God. I am who I am today because of you. I am thankful for each and every moment with you, mom. I love you mother.
My mother is a woman like no other. She gave me life, nurtured me, taught me, dressed me, fought for me, held me, shouted at me, kissed me, but most importantly she loved me unconditionally. There are not enough words to describe just how importantly she loved me unconditionally. There are not enough words to describe just how important my mother is to me and what a powerful influence she continues to be… Mother, I Love You.
No one has loved you like your mom and no one ever will. Her love is the purest of all.
You are the sweetest and most beautiful mother in the world. I love you, dearest mama!
No matter how old I get, I'll always love you, Mom.
Mom, you are my friend, my influence and my spirit towards success. There is no replacement for you in my life. You are my one true friend, and you will forever remain my best friend. I love you, mommy dearest.
You have been the greatest gift in my life. I love you always, mom.
Mom, you are the most beautiful human I know, inside and out.
Mothers believe in us more than we believe in ourselves. Do more for us than they do for themselves. Worry about us more than we realize. Pray for us more than well ever know. Value us more than anything else in the world. Give us more than they can afford to love us more than anyone else can matter more than words can express.
I can only hope to one day become half the woman you are; strong, beautiful, and intelligent.
"As mothers and daughters, we are connected with one another. My mother is the bones of my spine, keeping me straight and true. She is my blood, making sure it runs rich and strong. She is the beating of my heart. I cannot now imagine a life without her." ―Kristin Hannah
"The heart of a mother is a deep abyss at the bottom of which you will always find forgiveness." ―Honore de Balzac
Thank you for being my heart's first home. I love you, Mom. Happy Mother's Day.
"Life began with waking up and loving my mother's face." ―George Eliot
I could spend eternity with my mom and that is still not enough time to tell my mother how much I truly love her.
A mother… sees all, says little. Sacrifices all complain little. Gives all, expects little. My dear Mom, your love makes every day of my life happy and carefree. I always love you from my heart and forever will. Thanks for everything, love you, mom.
A mother cannot be defined by words. Also, strong women quotes aren't enough. She sees everything, says something. Sacrifices everything, complains something. My dear Mom, the warmth of your love is just a magic. As a mother you are fantastic. I love you, mom. The things become more beautiful when you are with me. You always make my dream comes true.
From the moment I wake until the moment I dream is filled with my love for you, Mom.
"Sometimes, mothers say and do things that seem like they don't want their kids … but when you look more closely, you realize that they're doing those kids a favor. They're just trying to give them a better life." ―Jodi Picoult
The best medicine in the world is a mother's hug. I love you mum.
"I remember my mother's prayers and they have always followed me. They have clung to me all my life." ―Abraham Lincoln
My love for you, Mom, shines brighter than the sun.
With you, I have fought and argued with you. But you kept a calm mood. Your heart has always had an open door for me. I love you, mom.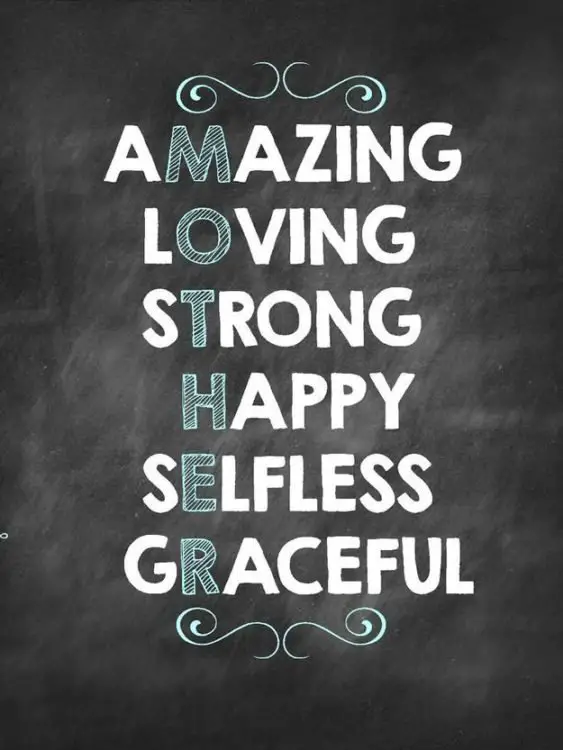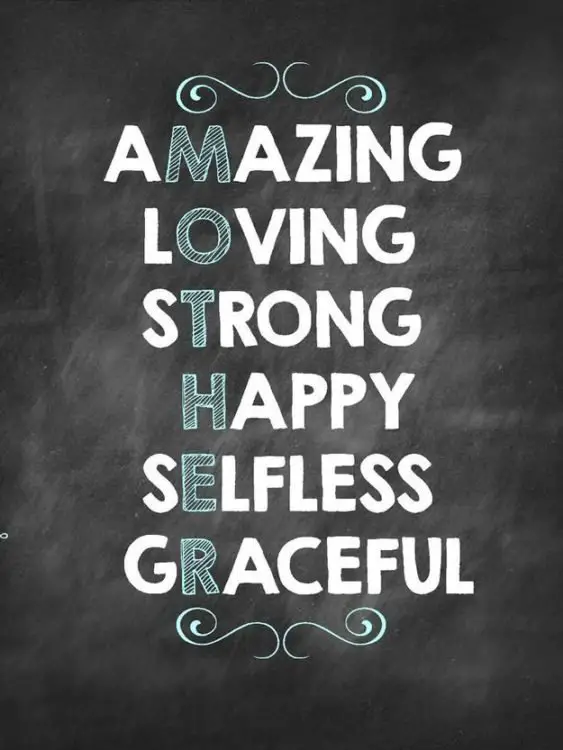 "Mothers and their children are in a category all their own. There's no bond so strong in the entire world. No love so instantaneous and forgiving." ―Gail Tsukiyama
My heart is full knowing you are always cheering for me, Mom. I love that you're my biggest fan!
If my life had to be fit in a single selfie, it would be incomplete without my mommy. I love you, mom.
"My mother… she is beautiful, softened at the edges and tempered with a spine of steel. I want to grow old and be like her." ―Jodi Picoult
No matter how old I get always want my mom when I don't feel good. I love you mummy.
I may never be able to be exactly like you, but just the thought of filling the shoes of a woman like you makes me a better person. I love you, mom.
I cherish every moment we spend together, Mom. They are the memories I hold dear to my heart. I love you, mom.
"Even as a small child, I understood that women had secrets and that some of these were only to be told to daughters. In this way, we were bound together for eternity." ―Alice Hoffman
You have done so much for me over the years. You taught me everything about life and so much more. You are my best friend and I love you mum.
As mom and son, we are connected with one another and your love is the soup for my soul. I love you mother.
"A mother's love for her child is like nothing else in the world. It knows no law, no pity, it dares all things and crushes down remorselessly all that stands in its path." ―Agatha Christie
"Motherhood is the greatest thing and the hardest thing." ―Ricki Lake
The older I grow the more I realize that my mother is the best friend that I ever had. I love you, mom.
"Motherhood is a choice you make every day, to put someone else's happiness and well-being ahead of your own, to teach the hard lessons, to do the right thing even when you're not sure what the right thing is…and to forgive yourself, over and over again, for doing everything wrong." ―Donna Ball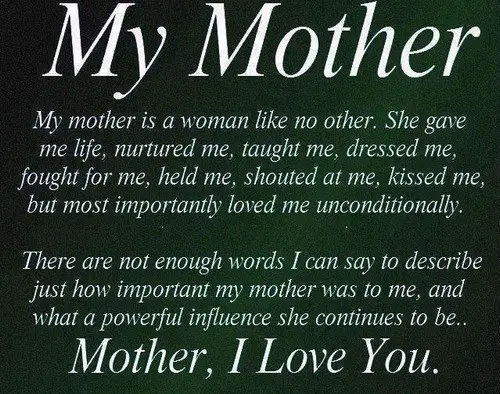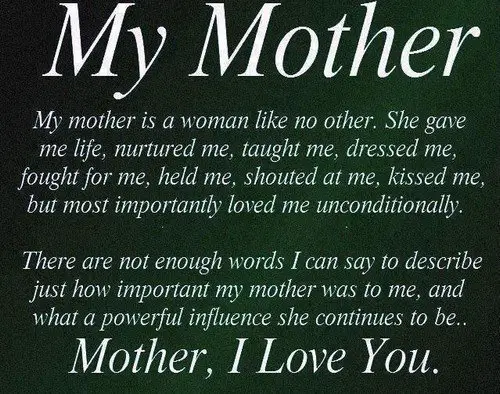 I will never be able to describe what my mom means to me. If anyone wants to know, they will have to go inside my heart to see. My mom's love is warm, sweet, caring and cute. It is all that my heart needs to beat. I love you, mom.
"'I always wondered why God was supposed to be a father,' she whispers. 'Fathers always want you to measure up to something. Mothers are the ones who love you unconditionally, don't you think?'" ―Jodi Picoult
"Sometimes the strength of motherhood is greater than natural laws." ―Barbara Kingsolver
Mom, you made my life wonderful and pushed me to be successful. I don't know what I can do for you. I love you, mom.
"For when a child is born the mother also is born again." ―Gilbert Parker
"Mama took me in her arms and held me tight. Her embrace was hot and she smelled like sweat, dust, and grease, but I wanted her. I wanted to crawl inside her mind to find that place that let her smile and sing through the worst dust storms. If I had to be crazy, I wanted my mama's kind of crazy, because she was never afraid." ―Sarah Zettel
Each time I hear your voice, I feel loved. You are the best! I love you, mom.
Heartwarming Messages to Mom
The bond between a mother and her child is so strong, so pure, and so warm. Sweet messages for mother help you show your beautiful feelings in your heart to your mom.
For all of the times, I never said thank you because I thought you knew, I thank you now more than ever, mom. I love you, mom.
You were with me in all the times on both my difficulty and success. You are incomparable to anyone in this world. I love you, mom.
You have the first place in my heart, Mom.
Mom, in my eyes, the fact that you are my mother is more precious than the purest gold on earth. I love you in a way only God can explain to you!
I cannot comprehend the kind of love I developed for you since the day I realize you are my mother. Not even a stone can resist the hotness of the words that will explain my love for you. I love you, mom!
You are my precious gift from God forever. I love you, mom. A very sweet good morning to you.
I have success because you're my Mom. I have happiness because you're my Mom. I have love because you're my Mom. I'm so glad I have you as my mother.
If I could live my life once again, I would still want you to be my mother. I love you, mom.
I love you, Mom, because you make my life joyful and blessed.
Mom, you are the only one who stays with me forever. I thank you for everything and for things you are going to do. I love you mom so much.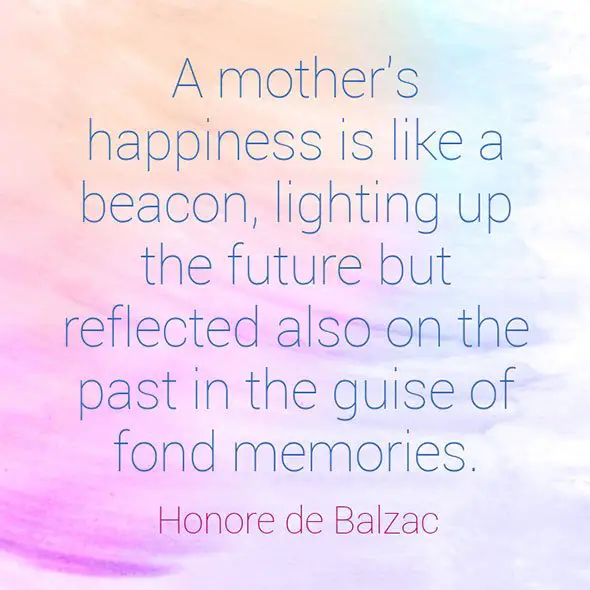 I never appreciated the things you did for me all these years. But now that I am a parent, I am in awe of the sacrifices you've made to bring me up. Better late than never. Mom, I love you!
You guide me with your loving hand and gentle wisdom. You are always with me through all my troubles. Thank you for being there. I love you, mom.
Mom, you are the only one who gives me everything without expecting anything in return. You're such a wonderful person, and I love you from the bottom of my heart. Thank you for everything you have done for me.
Through selfless services, you brought me up to this stage in life and I am happy with myself for the entire things you have done in my life, without you, my life is incomplete. I know I cannot pay you back because you have sacrificed everything for me. I love you, mom!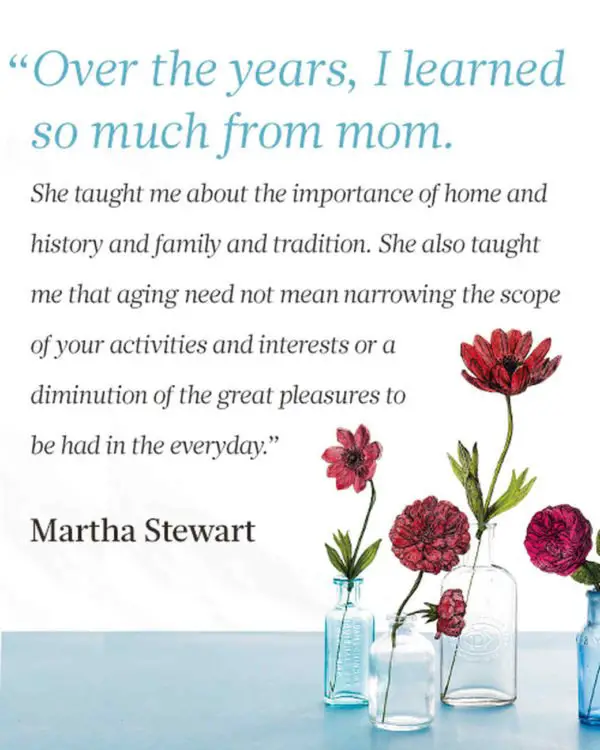 I give a tribute to a wonderful woman in this world who works very hard to raise her children and to give them a good future. She is a superwoman and yes… SHE IS MY MOM. I love you very much, mom. You are a great woman.
Even if life promises nothing, as long as the only true treasure called me, mom is here I will always be satisfied to live in this world, I am happy having understood that you are here for me. Now and for the rest of my life, I will love you, Mom!
Thank You Mom Text
There is no doubt that mothers deserve special appreciation for all that they do. Thank you messages for your mother help you show how much she means to you.
It is impossible to put into words everything I appreciate about you. From who you are as a person, to the person you raised me to be, everything about you is amazing. First of all, thank you for never giving up on our family or on me. From day one you have been my support system and my greatest fan.
All that I am, all that I do, all that I ever had, I owe it all to you. Thank You, mom.
I thank you for always holding my hand. I thank you for giving me the love you always have. I am very lucky to have you. Thank You, mother.
I just want to thank you for being my reason to look forward to the next day. Thank You, mom.
For all of the times, I never said thank you because I thought you knew, I thank you now more than ever, mom.
The love between a mother and her child last forever and I'm so lucky and thank you for loving me unconditionally, Mom.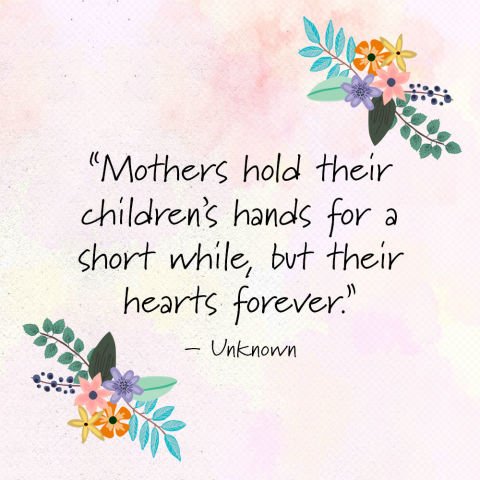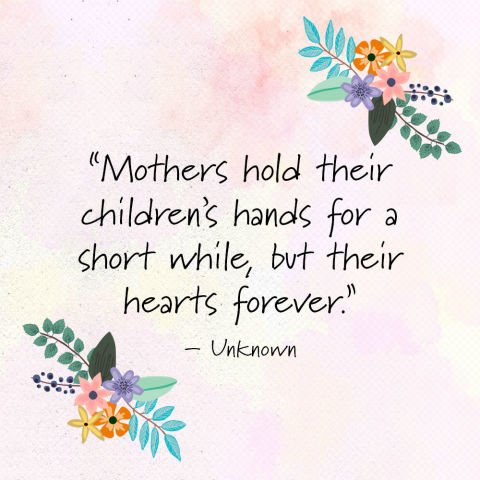 "My mom is literally a part of me. You can't say that about many people except relatives, and organ donors." – Carrie Latet
Your touch is healing, your voice is melodious and the motherly love that you shower on me is just heavenly. Thanks, mom.
The PUREST and TRUEST meaning of the word UNCONDITIONAL can only be found in a MOTHER'S LOVE. Thanks for everything mom.

Thank you, mom, for always being here for me to love me and care for me when I felt like no one else did. No one can ever take your place ever.
"A mother is not a person to lean on, but a person to make leaning unnecessary." – Dorothy Canfield Fisher
They say that you can choose friends but not family. I'm glad that's true because I have the best family ever, and you are the reason for it. Thanks, mum.
Despite failures, she stands up. Despite sorrow, she cheers up. Even in pain, she fights! No one could be as stronger as she. And that's my mom! Thank you so much, mom!
You're my sun-kissed morning, my starry night, my blissful afternoon siesta and my crackling dawn. You're the light of my life without which I cannot exist. I love you mom thank you.
With every rising day, I feel very happy as you are my source of inspiration. I thank god for giving you as my mother. Thank you, mom.
Mom, you're there with me through all my pain and gain; an uncomplaining and loving heart even in the midst of turmoil. What a wonderful mom you are. I love you so much!
Mom, you've held onto my hand for a while, but now I am growing up. But just remember, you will always hold on to my heart, forever. Forever there will be love. Thank you, mom.
Little by little I began to be used to you until now I understand how much I have been swimming in the ocean of love, as I grow up my instinct opens up to feel the impact of the love of whom a mother is then found you right before me. Thanks, mom!
No matter how hard I try, no matter what I do, I would never be able to show you how much I appreciate everything you've done for me. You are my hero, you are my strength. Thank you, mom.
Mom, because you're a woman like I am, you understand all that I go through. You lead and guide me with your loving hand and gentle wisdom. Thank you, mom. May God bless you.
A single person to take all roles in herself is my mom. Yes, she plays all her vital roles very well, role as a daughter, role as a wife, role as a daughter in law, role as a mother, role as a grandma and also the role as a good human being. She is the miraculous creation of God. Thanks so much, mom!
You are wonderful indeed and I am just sorry that I don't say this enough. As your son, I want you to know that I treasure your wise counsel and advice and you truly deserve a Ph.D. as the greatest tutor in my life. Thank you, mum and I love you!
Anyone can come and go to any part of your life, mom is the only one stays with you forever. Mom thank you so much for the way you have been to me. Thank you, my dear mom!
Special Words For My Mother
To sum up your emotions perfectly, beautiful words for mother express how much you love your mom:
Mom, your unadulterated love is what energizes me to reach for the heights I couldn't have attained on my own. I love you so much, Mom.
I cannot describe in words what you mean to me. Thanks for always being there for me.
Mom, you were my first friend and after all this years you still have been my true loyal friend. I love you now and forever. Happy Mother's Day.
My mother's love has always been a sustaining force for our family, and one of my greatest joys is seeing her integrity, her compassion, her intelligence reflected in my daughters. Michelle Obama
If at first you don't succeed, try doing it the way mom told you to in the beginning.
No one can never replace you, not now and the next million years to come. I love you, Mom.
I love you my beautiful mother, no matter what.
I am grateful for everything. You have brought me on this earth, raised me and did everything for me. I love you mom.
Growing up I should have said sorry more often, there were times I regret but I never regret having you as a Mom. Thank you Mom and sorry for the times I should have said so! You deserve so much more than I could ever give. You are an awesome Mom. Love you forever.
The best place to cry is on a mother's arms. Jodi Picoult
Thank you for being the first place my heart could call home, mom.
You are the world's best cook.
You're the sweetest mom ever. Thanks for your care and the support you do for us every day. We love you, mom.
I'll love you forever; I'll like you for always. As long as I'm living your baby, I'll be. Love you mom.
To describe my mother would be to write about a hurricane in its perfect power. Or the climbing, falling colors of a rainbow. Maya Angelou
Mother is the name for God in the lips and hearts of little children. William Makepeace Thackeray
Sweet Mother, I owe the totality of my life to you for the countless things you have sacrificed to bring me this far in life. You are the sweetest mommy ever! My love for you goes beyond the grave!
Never stop smiling, Mom. You look the prettiest when you smile. I love you.
I am glad you are my mom.
Dear Mom. You can be my friend, sister, teacher, and counselor. But none of them can be you. I love you mummy.
I believe the choice to become a mother is the choice to become one of the greatest spiritual teachers there is. Oprah
Life doesn't come with a manual, it comes with a mother.
I hope to be a wonderful mother as you were to me. Thanks for being my mother!
I love my mom because she gave me everything: she gave me love, she gave me her soul, and she gave me her time.
For your infinite love, I am always grateful, mom.
Whether your pregnancy was meticulously planned, medically coaxed, or happened by surprise, one thing is certain—your life will never be the same. Catherine Jones
Mom, you are my root, my foundation of happiness. You're a beautiful, strong lady both inside and out. I'm proud to be your son.
Mom, I wish I could tell you how much you mean to me. But there are no words to describe, how much I admire you, how much I appreciate you, how much I thank you. For everything you've done. I love you mother.
Mother, your smile is the only thing that brings complete happiness to my soul. I feel so blessed to have an angel like you by my side. I love you forever!
Every day, I thank God for blessing me with a mother like you. You're the best mother any daughter would be lucky to have.
Dear mom, I may not like you always. We may have arguments and fights sometimes. But there's one thing that you should know I love you always and forever.
He didn't realize that love as powerful as your mother's for you leaves its own mark. J.K. Rowling
A mother's arms are made of tenderness and children sleep soundly in them. Victor Hugo
Mom, I don't always take the time to tell you how much I am thankful for you and everything you have done. I love you.
You are a goddess and a fantastic mother. I feel lucky to be your son. I appreciate everything about you. Thank you for everything, mom.
Of all the gifts that life has to offer, a loving mother is the greatest of them all.
A mother's arms are more comforting than anyone else's. Princess Diana
Best Mother's Love Quotes
"A mother's happiness is like a beacon, lighting up the future but reflected also on the past in the guise of fond memories." – Honore de Balzac
"When you are looking at your mother, you are looking at the purest love you will ever know." – Charley Benetto
"Motherhood: All love begins and ends there." – Robert Browning
"Mother is the heartbeat in the home; and without her, there seems to be no heartthrob." – Leroy Brownlow
"Youth fades; love droops; the leaves of friendship fall; A mother's secret hope outlives them all." – Oliver Wendell Holmes
"There is no influence so powerful as that of the mother." – Sara Josepha Hale
"The influence of a mother in the lives of her children is beyond calculation." – James E. Faust
"God could not be everywhere, and therefore he made mothers." – Rudyard Kipling
"It may be possible to gild pure gold, but who can make his mother more beautiful?" – Mahatma Gandhi
"I want my children to have all the things I couldn't afford. Then, I want to move in with them." – Phyllis Diller
"The natural state of motherhood is unselfishness." – Jessica Lange
"There is no way to be a perfect mother, and a million ways to be a good one." – Jill Churchill
"A mother is the one who fills your heart in the first place." – Amy Tan
"There is no role in life that is more essential than that of motherhood." – Elder M. Russell Ballard
"Being a mom has made me so tired. And so happy." – Tina Fey
"Only mothers can think of the future because they give birth to it in their children." – Maxim Grosky
"Mothers can forgive anything! Tell me all, and be sure that I will never let you go, though the whole world should turn from you." – Louisa May Alcott
"My mother was my role model before I even knew what that word was." – Lisa Leslie
"A mother's love is more beautiful than any fresh flower." – Debasish Mridha
"If I have done anything in life worth attention, I feel sure that I inherited the disposition from my mother." – Booker T. Washington
"Mothers are like glue. Even when you can't see them, they're still holding the family together." – Susan Gale
"My mother is a walking miracle." – Leonardo DiCaprio
"Over the years, I learned so much from mom. She taught me about the importance of home and history and family and tradition. She also taught me that aging need not mean narrowing the scope of your activities and interests or a diminution of the great pleasures to be had in the everyday." – Martha Stewart
"The art of mothering is to teach the art of living to children." – Elaine Heffner
"Mama was my greatest teacher, a teacher of compassion, love and fearlessness. If love is sweet as a flower, then my mother is that sweet flower of love." – Stevie Wonder
"My mother was the most beautiful woman I ever saw. All I am I owe to my mother. I attribute my success in life to the moral, intellectual and physical education I received from her." – George Washington
"Being a full-time mother is one of the highest salaried jobs since the payment is pure love." – Mildred B. Vermont
"A mother's love is everything. It is what brings a child into this world. It is what molds their entire being. When a mother sees her child in danger, she is literally capable of anything. Mothers have lifted cars off of their children and destroyed entire dynasties. A mother's love is the strongest energy known to man." – Jamie McGuire
"A mother understands what a child does not say." – Jewish proverb
Mom Quotes
Mother's Day is the special time of year. It is also a great time to show your love and appreciation. Quotes for mother help you show her how much you care.
A mother is your first friend, your best friend, your forever friend.
To the world, you are a mother, but to your family, you are the world.
Motherhood is the exquisite inconvenience of being another person's everything.
Motherhood is the biggest gamble in the world. It is the glorious life force. It's huge and scary – it's an act of infinite optimism. Gilda Radner
The world needs our mothers. Liya Kebede
A mother's hug lasts long after she lets go.
There is nothing as sincere as a mother's kiss. Saleem Sharma
A mother is always the beginning. She is how things begin.
Mother is one to whom you hurry when you are troubled. Emily Dickinson
In the mother's eyes, her smile, her stroking touch, the child reads the message: 'You are there!' Adrienne Rich
We laugh, we cry, we make time fly. Best friends are we my mom and I.
As mothers and daughters, we are connected to one another. My mother is in the bones of my spine, keeping me straight and true. She is in my blood, making sure it runs rich and strong. She is in the beating of my heart. I cannot now imagine a life without her. Kristin Hannah
My mother is as strong as an oak that will never be felled.
There is no velvet so soft as a mother's lap, no rose as lovely as her smile, no path so flowery as that imprinted with her footsteps. Archibald Thompson
A mother is clothed with strength and dignity, laughs without fear of the future. When she speaks her words are wise and she gives instructions with kindness. Proverbs
A mother is a person who, seeing there are only four pieces of pie for five people, promptly announces she never did care for pie. Tenneva Jordan
Any mother could perform the jobs of several air-traffic controllers with ease. Lisa Alther
An ounce of mother is worth a ton of priest. Spanish Proverb
A mom forgives us all our faults, not to mention one or two we don't even have. Robert Brault
In the end, mothers are always right. No one else tells the truth. Randy Susan Meyers
We have a secret in our culture, and it's not that birth is painful. It's that women are strong. Laura Stavoe Harm
A mother is the person you can always call to see how long chicken lasts in the fridge.
When your mother asks, 'Do you want a piece of advice?' it's a mere formality. It doesn't matter if you answer yes or no. You're going to get it anyway. Erma Bombeck
Acceptance, tolerance, bravery, compassion. These are the things my mom taught me. Lady Gaga
The loveliest masterpiece of the heart of God is the heart of a mother. St. Therese of Lisieux
A mother's joy begins when new life is stirring inside…when a tiny heartbeat is heard for the first time, and a playful kick reminds her that she is never alone.
If evolution really works, how come mothers have only two hands? Milton Berle
There is only one pretty child in the world, and every mother has it. Chinese Proverb
Mother love is the fuel that enables a normal human being to do the impossible. Marion C. Garretty
Mom, I love you, even though I'll never accept your friend request.
Mother. You are my voice of reason. Storyteller. Advice giver. Hand holder. Partner-in-crime. Shoulder. Shopping buddy. Supporter. Broken heart healer. Teacher. Chef. Psychologist. Angel. Sunshine. Heart and soul. Problem solver. Comedian. Doctor. Peacekeeper. Cheerleader. Twin. Confident and my best friend. Love you mom.
The mother's heart is the child's school-room. Henry Ward Beecher
You can show your mom how much you value her love and strength with happy birthday wishes for mom.
Short Mom Quotes
Moms are the people who know us the best and love us the most.
A mother is a daughter's first best friend.
No matter your age, you always need your mom.
Dear god, I wanna take a minute not to ask for anything from you, but simply to say I love you my mom.
Motherhood changes everything. Adriana Trigiani
I feel lucky as I have witnessed the most beautiful relationship in this world. A mother-daughter bonding. You are my strength, my confidant and my pride. Take my love mom.
I will look after you and I will look after anybody you say needs to be looked after, any way you say. I am here. I brought my whole self to you. I am your mother. Maya Angelou
Call me crazy, but if someone said I would turn out just like you, I'd be thrilled. I love everything about you, Mom!
I am filled to the brim with love and it overflows every time I see you, Mom!
If you bungle raising your children, I don't think whatever else you do well matters very much. Jacqueline Kennedy Onassis
I always pray to God, May you live long, may you always be with me. Love you more than my life. Love you mom.
There's nothing like your mother's sympathetic voice to make you want to burst into tears. Sophie Kinsella
Mother's love is peace. It need not be acquired, it need not be deserved. Erich Fromm