Monday mornings are the most dread moment of the week, however, positive Monday quotes share enthusiasm, hope, and these sayings will help you find your perspective to start your week right. Remember that it is a day of beginnings and new starts.
If you're searching for best good morning quotes and funny Friday quotes that perfectly capture what you'd like to say or just want to feel inspired yourself, browse through an amazing collection of popular Sunday quotes, powerful good night quotes and famous Wednesday quotes.
Hey I know it's Monday but it's also a new day, a new week, and in that lies a new opportunity for something special to happen. Michael Ely
So. Monday. We meet again. We will never be friends – but maybe we can move past our mutual enmity toward a more positive partnership. Julio-Alexi Genao
Whenever you need a little Monday motivation, I am sure that these mindset Monday quotes will keep you going all week. Let start your week off on the right foot with these happy Monday quotes:
Positive Monday Quotes For Every Mood
Mondays are tough only for those people, who don't know how to spend them cheerfully. Get up and have fun today!
Monday is for people with a mission. Those who favor vacations, not weekends. Cristina Imre
Success is to wake up each morning and consciously decide that today will be the best day of your life. Ken Poirot
Every day, think as you wake up: Today I am fortunate to be alive, I have a precious human life, I am not going to waste it. Dalai Lama
Out of difficulties grow miracles. Jean de La Bruyère
The biggest thrill wasn't in winning on Sunday but in meeting the payroll on Monday. Art Rooney
If you're serious about changing your life, you'll find a way. If you're not, you'll find an excuse. Jen Sincero
Motivated, determined, and ready to slay the day.
Be a rebel – enjoy Monday. Find a reason to like it.
Mondays are for fresh starts.
It takes twice as long for me to not get anything done on Monday as it does the rest of the week.
I must break the routines and become a person who becomes productive every Monday. I must break the mindset of unhappiness and turn myself into a happy magnet for Mondays. Leggy Saul
Mondays are the start of the work week which offer new beginnings 52 times a year! David Dweck
I find that the harder I work, the more luck I seem to have. Thomas Jefferson
If you're offered a seat on a rocket ship, don't ask what seat!
The secret of success is to do the common thing uncommonly well. John D. Rockefeller Jr.
Your Monday morning thoughts set the tone for your whole week. See yourself getting stronger, and living a fulfilling, happier and healthier life. Germany Kent
You master Monday! You start winning the day! You start winning the week! Then the month! Then the year! Eric Thomas
The future depends on what you do today. Mahatma Gandhi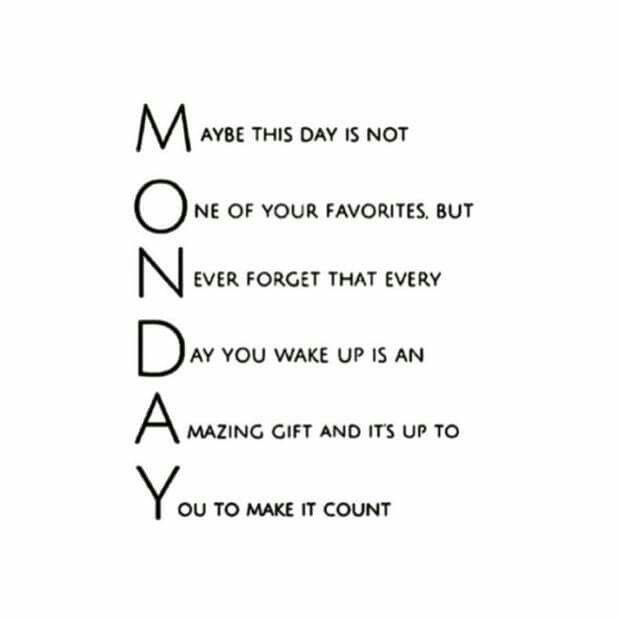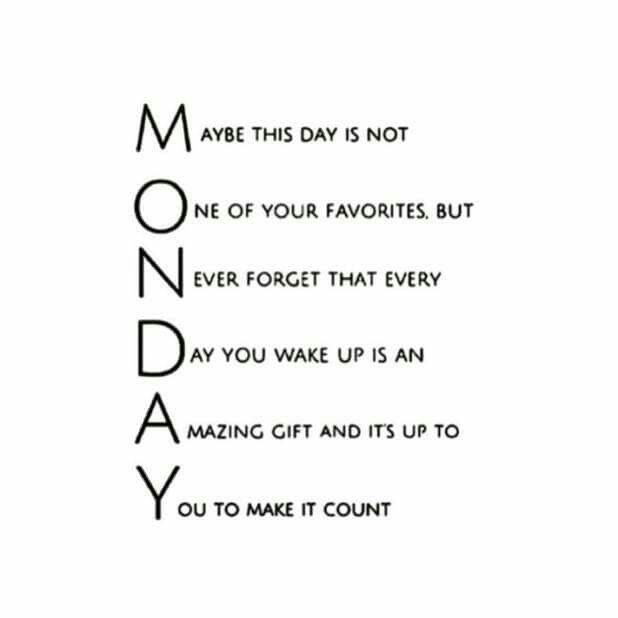 When you start to do the things that you truly love, it wouldn't matter whether it is Monday or Friday; you would be so excited to wake up each morning to work on your passions. Edmond Mbiaka
The perfect life is when you have the second half and you are in love with your work, congratulations, you have it all! Happy Monday!
Monday is great if I can spend it in bed. I'm a man of simple pleasures, really. Arthur Darvill
The critical ingredient is getting off and doing something. It's as simple as that. A lot of people have ideas, but there are few who decide to do something about them now. Not tomorrow. Not next week. But today.
Nolan Bushnell
The art of being happy incorporates the ability to see the beauty everywhere and to be able to enjoy simple things. Start your Monday with this art.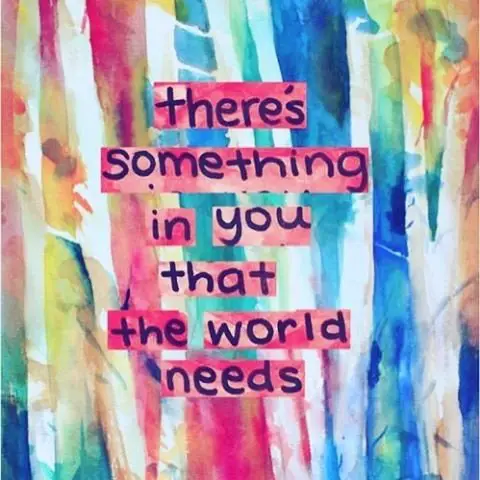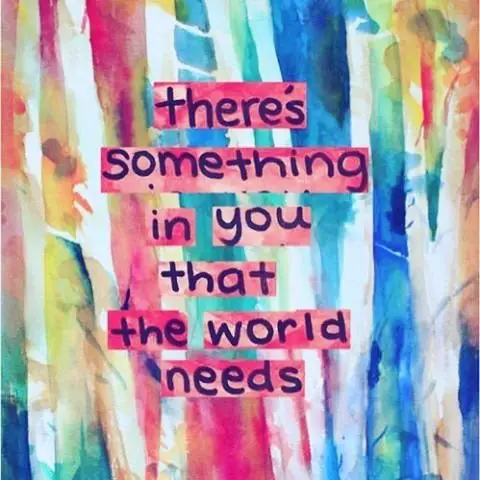 When you arise in the morning, think of what a precious privilege it is to be alive – to breathe, to think, to enjoy, to love, then make that day count! Steve Maraboli
Either you run the day or the day runs you. Jim Rohn
Have a wonderful Monday and make the deep life quotes by Dennis P. Kimbro: "Life is 10% what happens to us and 90% how we react to it" your motto.
I have to go to work on Mondays and yes everyone hates Mondays. But I look at it a little differently. I don't have to work, I GET to work. I am blessed to have a job while many don't have one. Dinky Manuel
On Monday mornings, I am dedicated to the proposition that all men have created jerks. H. Allen Smith
Even if today you need a double portion of coffee, use all your energy and imagination to make it a great one! Good morning.
This morning do something different: When you wake up in the morning, wake your forgotten and forsaken dreams up as well, wake them up like an insisting rooster! Mehmet Murat ildan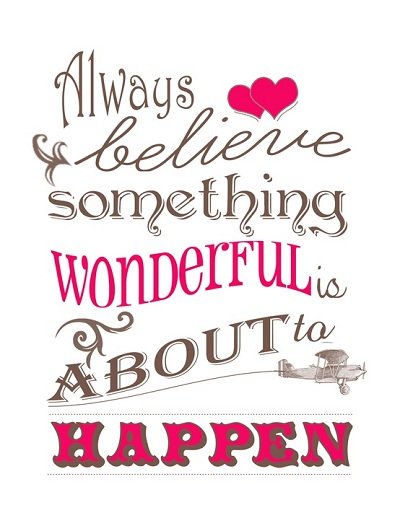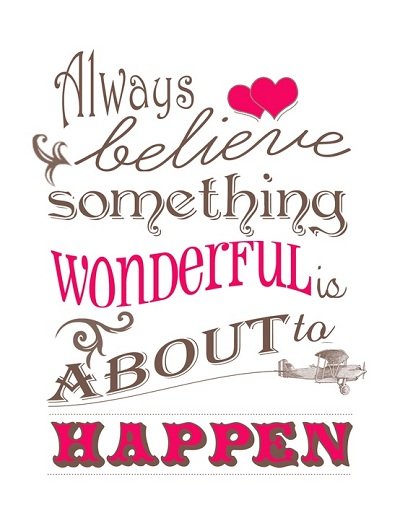 People often say that motivation doesn't last. Well, neither does bathing. That's why we recommend it daily. Zig Ziglar
Spend life with who makes you happy, not who you have to impress.
Let this Monday be kind to you: be happy with what you have and accept the things which you cannot change.
Honestly, I never really understood the glorification of Fridays and weekends. I don't want to build a life and career, where I spent five days a week waiting for the weekend. No! I want to enjoy my life, and don't wish any weekday away. I want each day to matter to me, in some way, even if it's a small tiny way. I love my life. Everyday. That's the spirit we should convey all around us. Akilnathan Logeswaran
Dear Monday, thanks for having the word "mon" in you. That's French for "mine," in case you weren't aware, Monday, but it makes me think of you more as "my day," and frankly, that sounds like a much more promising start to the week.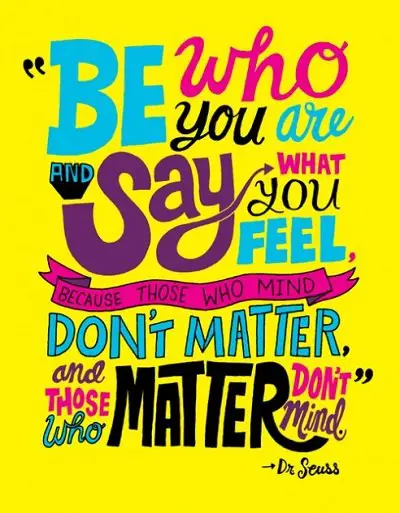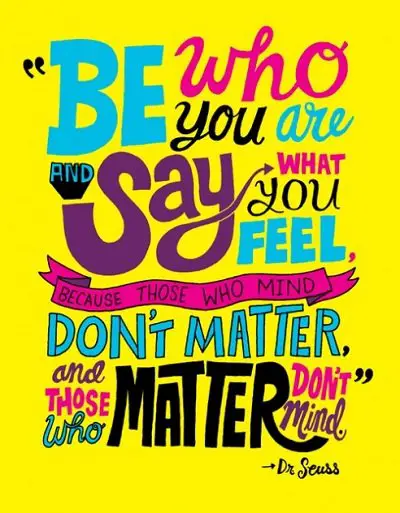 Just once, I would like to wake up, turn on the news, and hear… "Monday has been canceled, go back to sleep."
Don't wait on perfect conditions for success to happen; just go ahead and do something. Dan Miller
Our greatest glory is not in never falling but in rising every time we fall.
Morning is an important time of day because how you spend your morning can often tell you what kind of day you are going to have. By the way, this is one of my favorite new day quotes from Lemony Snicket
It's Monday. It's a new week. God is doing a new thing. New doors. New breaks. New blessings. Prepare your mind. Enlarge your vision.
There should be a holiday dedicated to all the brave people who show up to work on Mondays.
If you start the week with a positive attitude on Monday, it'll be a lot easier to fight off negativity the rest of the week.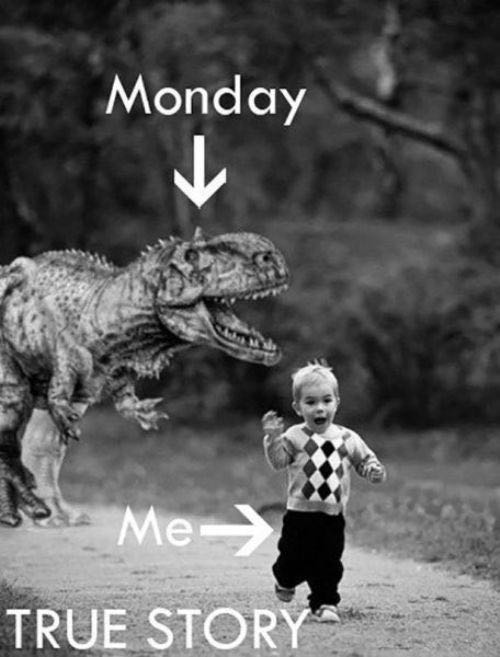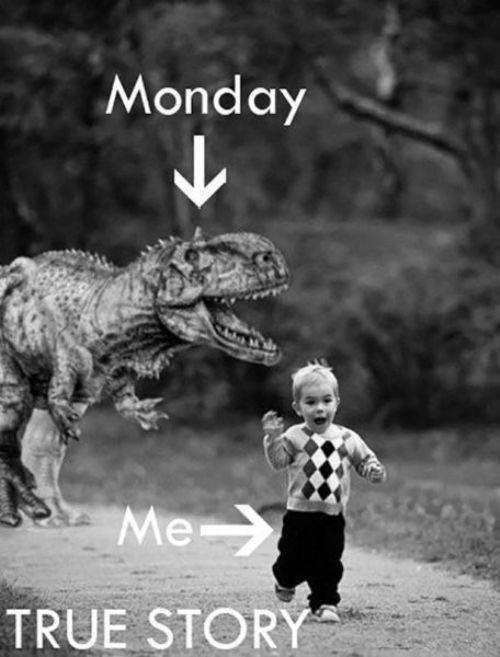 Only you have the power to determine whether your future mimics your past. Skip Prichard
It's just been a long week, that's all. It's Monday night, Jess. My point exactly. Scott Westerfeld
Only put off until tomorrow what you are willing to die having left undone. Pablo Picasso
Happy Monday Quotes
For me, Monday represents a fresh start to the week. It is the day where the slate from the previous week is wiped clean. It is a day of new beginnings.
Happy Monday morning everyone! Have a beautiful week!
Today is a new day. Don't let your history interfere with your destiny! Let today be the day you stop being a victim of your circumstances and start taking action towards the life you want. You have the power and the time to shape your life. Break free from the poisonous victim mentality and embrace the truth of your greatness. You were not meant for a mundane or mediocre life! Steve Maraboli
Some people dream of success, while other people get up every morning and make it happen. Wayne Huizenga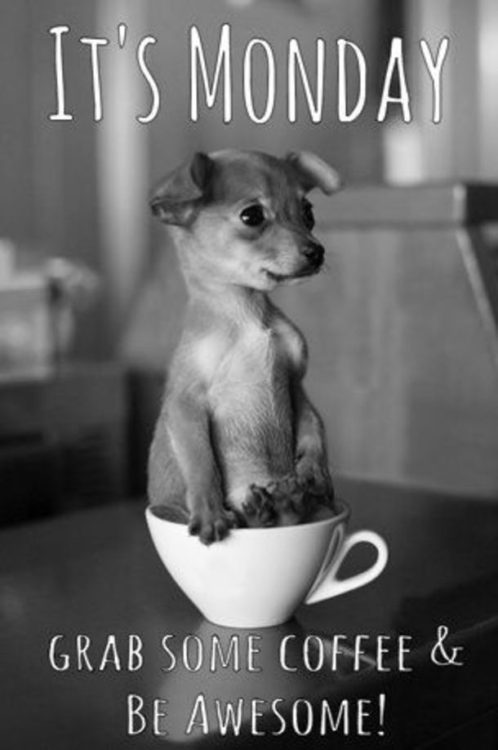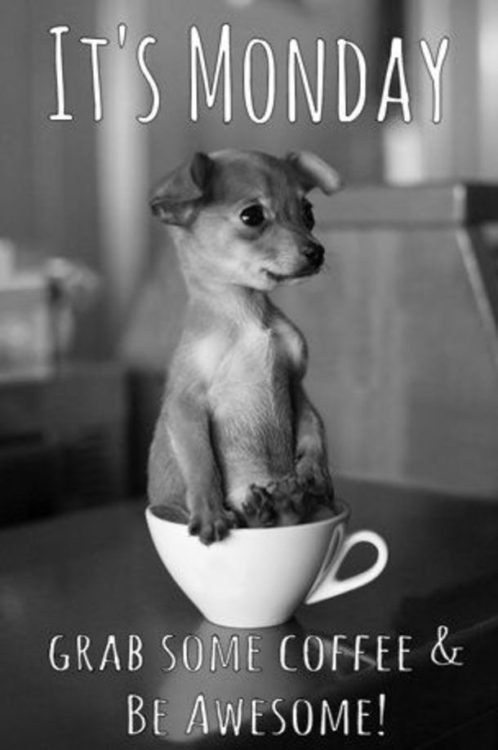 If only one of the presidential candidates would make it part of his platform to do something about making Monday part of the weekend. I think he would get a lot of votes. Thomas Wayne
Good morning! All you need is love and a little coffee. Happy Monday!
People will forget what you said. People will forget what you did, but they will never forget how you made them feel. Maya Angelou
Monday? It's not bad. Begin this day with a grateful heart and do what you love.
The sun just touched the morning; the morning, happy thing, supposed that he had come to dwell, and life would be all spring. Emily Dickinson
Monday is the hardest day of the week if you haven't finished your work on Friday, but you are a hard worker and Monday will be a relaxed day for you.
Mondays are the potholes in the road of life. Tom Wilson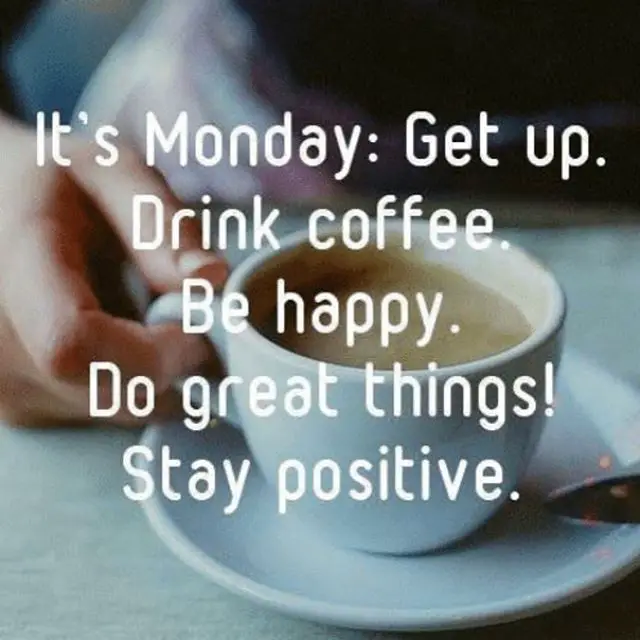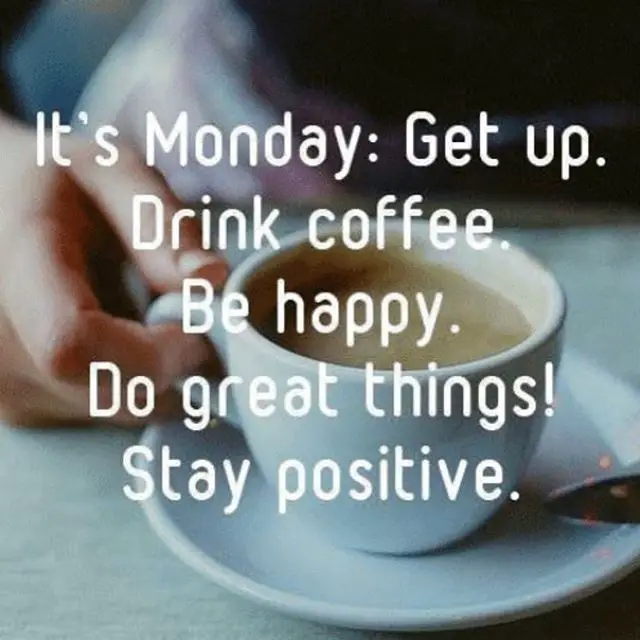 There is nothing more dreadful than having to go walking on one's own on Monday. Thomas Bernhard
Enthusiasm is the yeast that makes your hopes shine to the stars. Henry Ford
Monday is just a reminder that the weekend has past and there are only a few more days before another weekend gets here.
Renew, release, let go. Yesterday's gone. There's nothing you can do to bring it back. You can't 'should've' done something. You can only do something. Renew yourself. Release that attachment. Today is a new day! Steve Maraboli
Mondays are mundane, like Tuesdays minus 24 hours. Jarod Kintz
Nothing can be done without hope and confidence. Helen Keller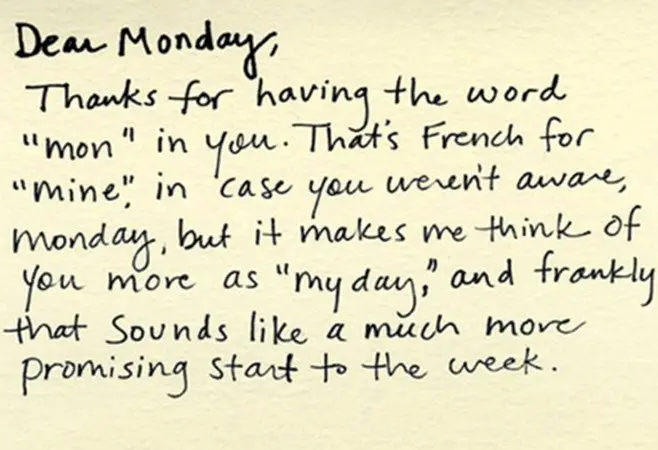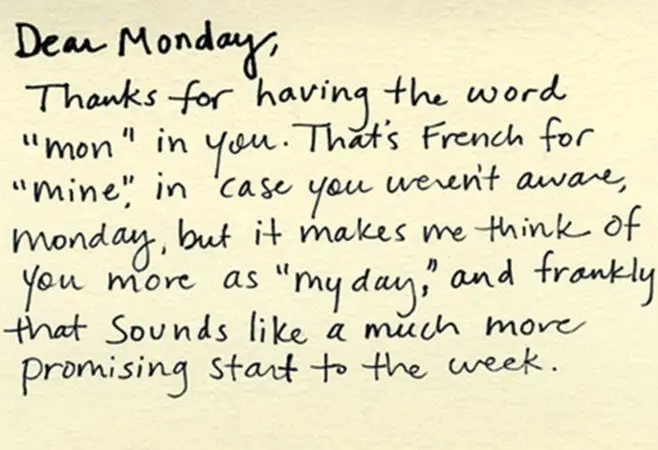 Each morning when I open my eyes I say to myself: I, not events, have the power to make me happy or unhappy today. I can choose which it shall be. Yesterday is dead, tomorrow hasn't arrived yet. I have just one day, today, and I'm going to be happy in it. Groucho Marx
A ship is always safe at the hore but that is not what it's built for. Albert Einstein
Hello, Monday. May I ask you a question? Why are you always back so quickly? Don't you have a hobby?
You are where you are and what you are because of yourself, nothing else. Nature is neutral. Nature doesn't care. If you do what other successful people do, you will enjoy the same results and rewards that they do. And if you don't, you won't. Brian Tracy
Imagine no limitations; decide what's right and desirable before you decide what's possible. Brian Tracy
The toughest activity of a week starts right from Monday morning….it is called "Waking Up"
So fine was the morning except for a streak of wind here and there that the sea and sky looked all one fabric as if sails were stuck high up in the sky, or the clouds had dropped down into the sea. Virginia Woolf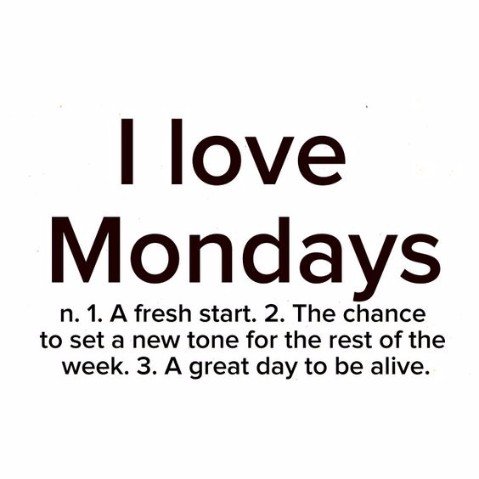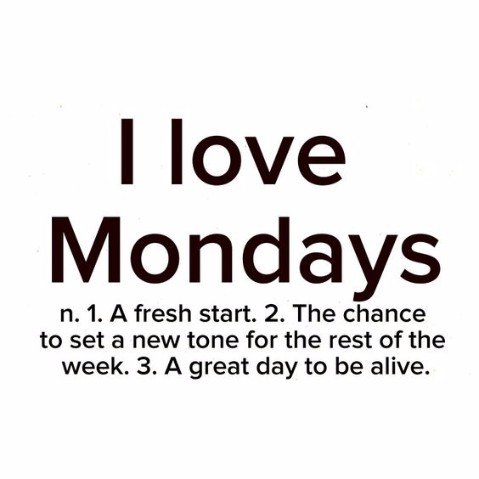 Mondays are a lot like getting fat. They make you feel sad, sometimes angry and there is not much scope for liking either fat or Mondays for any reason. Gary Moll
I never wake up in the morning and wonder why I am here. I wake up and wonder why I am not making here better. Jeffrey Fry
You're 100% responsible for your life. Stop whining and do something about it. Mathieu Fortin
Candy is nature's way of making up for Mondays. Rebecca Gober
The winners in life think constantly in terms of I can, I will, and I am. Losers, on the other hand, concentrate their waking thoughts on what they should have or would have done, or what they can't do. Dennis Waitley
To be yourself in a world that is constantly trying to make you something else is the greatest accomplishment. Ralph Waldo Emerson
Monday is one of my favorite days of the week. My 7th favorite.
Monday is great for becoming too busy to die. Roy Station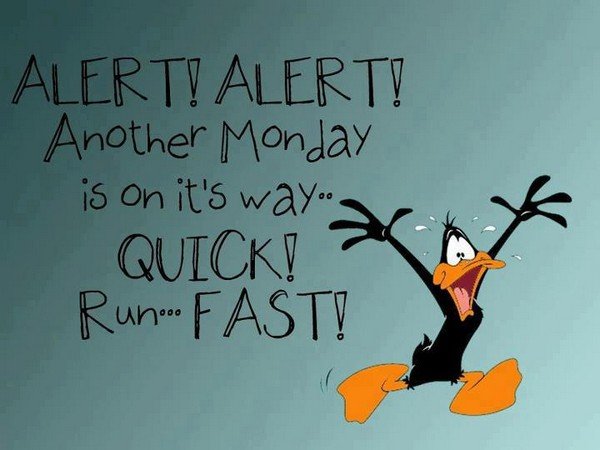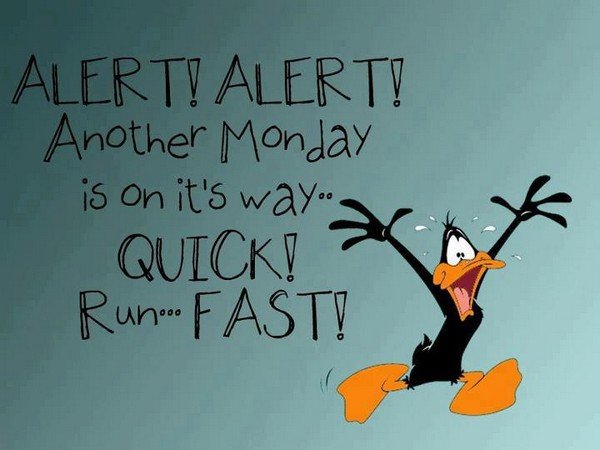 For all of its faults, it gives most hardworking people a chance to improve themselves economically, even as the deck is stacked in favor of the privileged few. Here are the choices most of us face in such a system: Get bitter or get busy. Bill O' Reilly
Imagine having Mondays as a holiday and then it would be the best thing. Will someone please assist me in making it an official holiday and solve all our Monday blues. Rolland Mars
Morning brings back the heroic ages. There was something cosmical about it; a standing advertisement, till forbidden, of the everlasting vigor and fertility of the world. The morning, which is the most memorable season of the day, is the awakening hour. Then there is the least somnolence in us; and for an hour, at least, some part of us awakes which slumbers all the rest of the day and night. Henry David Thoreau
When you talk, you are only repeating what you already know. But if you listen, you may learn something new. Dalai Lama
Just reminding everyone that it's Monday, just in case any of you were feeling overly optimistic.
There is no royal, flower-strewn path to success. And if there is, I have not found it. For if I have accomplished anything in life, it is because I have been willing to work hard. C.J. Walker
Motivational Monday Quotes
Let think think of Monday as an opportunity because it's a chance to start fresh. With thanks quotes, you can make your week filled with gratitude. Also, blessed day quotes help push you through the day!
Although some people might see Monday as the start to an exhaustive week, cute quotes about life help you make the conscious choice to have a productive week for success and more happiness. Best Monday quotes will inspire you to get up, get moving and get the life you deserve.
Okay, it's Monday but who said Mondays have to suck? Be a rebel and have a great day anyway. Kimberly Jiménez
Monday morning you sure look fine. Lindsey Buckingham
Whatever the mind of man can conceive and believe, it can achieve. Napoleon Hill
Life is a fairytale starring you. You have the power to write your own story and be the hero of it, too. Joelle Speranza
When you arise in the morning think of what a privilege it is to be alive, to think, to enjoy, to love… Marcus Aurelius
The tragedy in life doesn't lie in not reaching your goal. The tragedy lies in having no goal to reach. Benjamin Mays
You've got to get up every morning with determination if you're going to go to bed with satisfaction. George Lorimer
Believe on Monday the way you believe on Sunday. Rita Schiano
New moon on Monday
And a fire dance through the night
I stayed the cold day with a lonely satellite. Duran Duran
Life offers so many great choices, all you have to do is to see them.
Monday, Monday, so good to me; Monday morning, it was all I hoped it would be. John Phillips
It's just another manic Monday. I wish it was Sunday. 'Cause that's my fun day. My I don't have to run day. Prince Rogers Nelson
Life is full of beauty. Notice it. Notice the bumble bee, the small child, and the smiling faces. Smell the rain, and feel the wind. Live your life to the fullest potential, and fight for your dreams. Ashley Smith
Sunday morning my head is bad. But it's worth all the times I had. But I've got to go and get some rest. For Monday is a mess! Dave Bartholomew, Blue Monday
This is your Monday morning reminder that you can handle whatever this week throws at you.
Everything you want is on the other side of fear. Jack Canfield
This has been such a Monday! I wish I stayed in bed, and I wish that yesterday had never happened. Lisa Mantchev
What about Monday? That could be our one day we look at things the same way, and wear funny shoes. Kevin Dalton
If you don't design your own life plan, chances are you'll fall into someone else's plan. And guess what they have planned for you? Not much. Jim Rohn
There are no miracles on Mondays. Amy Neftzeger
I really need a day in between Sunday and Monday.
The first step toward success is taken when you refuse to be a captive of the environment in which you first find yourself. Mark Caine
It's Monday. Get a new perspective. Whatever obstacle you're facing—it's not permanent.
The sun himself is weak when he first rises; and gathers strength and courage as the day gets on. Charles Dickens
Every morning you have two choices: continue to sleep with your dreams or wake up and chase them. Kristin, Sophisticated Gal
Try not to become a person of success, but rather try to become a person of value. Albert Einstein
Excellence is an art won by training and habituation. We do not act rightly because we have virtue or excellence, but we rather have those because we have acted rightly. We are what we repeatedly do. Excellence, then, is not an act but a habit. Aristotle
This should be the spirit every Monday. Know that something good will always happen. Gabriel Garcí­a Márquez
Live today. Not yesterday. Not tomorrow. Just today. Inhabit your moments. Don't rent them out to tomorrow. Jerry Spinelli
You are in control. Never allow your Monday to be manic. Andrea L'Artiste
The only way to do great work is to love what you do. Steve Jobs
Just one small positive thought in the morning can change your whole day. Dalai Lama
To get more motivation on a Monday morning, you also take a look good morning pics and have a good day meme too.
Mindset Monday Quotes To Start Your Week
I don't like to gamble, but if there's one thing I'm willing to bet on, it's myself. Beyoncé
Life is an adventure; we get out of it what we put into it. Richard Daly
You can't use up creativity. The more you use, the more you have. Maya Angelou
The best weeks start on Monday. Nice Peter
Mondays don't have to be terrible; make them magical instead! Kate Hudson
Someday is not a day of the week. Denise Brennan-Nelson
Do the hard jobs first. The easy jobs will take care of themselves. Dale Carnegie
Monday won't be so gloomy if you believe that something good is always bound to happen.
I really think a champion is defined not by their wins but by how they can recover when they fall. Serena Williams
I said that the issue is not Monday. The issue is action without motivation. Denny Dey
Good things don't come to those who wait. Good things come to those who pursue the goals and dreams they believe in…Happy Monday! Venus Rivers
It's time to readjust your mind, Monday mornings no longer have to be a dreaded moment in your life. Funké Baffour
I didn't get there by wishing for it or hoping for it, but by working for it. Estée Lauder
Wake up on Monday and start your day with a lot of awesomeness and you will get happiness back. Jim Butcher
Monday, the start of a new work week, keep your mind open even if you feel desperate – find the opportunities that are there for you!
Don't give it five minutes if you're not going to give it five years. Meghan Markle
Sometimes it pays to stay in bed on Monday, rather than spending the rest of the week debugging Monday's code. Dan Salomon
My experiences remind me that it's those black clouds that make the blue skies even more beautiful. Kelly Clarkson
Monday is a sloppy umbrella day, which makes everybody a little blue. Giorge Leedy
Whatever it is that you think you want to do, and whatever it is that you think stands between you and that, stop making excuses. You can do anything. Katia Beauchamp
Don't let a day of the week have so much power over your happiness. Happy Monday! Andrea L'Artiste
Do whatever brings you to life, then. Follow your own fascinations, obsessions, and compulsions. Trust them. Create whatever causes a revolution in your heart. Elizabeth Gilbert
Your life goal should be to make Monday the best day of the week. Trevor Carss
The most effective way to do is to do it. Amelia Earhart
If you want to be a successful in this world, you have to follow your passion, not a paycheck. Jen Welter
Magical Monday is an amalgamation of passion, perseverance and performance. Subhashree Jena