Why is being patient good?
Patience is a virtue and essential to daily life. Being patient, you can overcome any challenging situation with more flexibility and patient people enjoy better mental health. Patience is linked to good health and helps us achieve our goals.
Famous patience quotes will make you rethink the way you react, bring peace in your life, develop the inner calmness and be patient in your journey.
If you're searching for motivating success quotes and encouraging growth quotes that perfectly capture what you'd like to say or just want to feel inspired yourself, browse through an amazing collection of inspiring failure quotes, popular goals quotes and best focus quotes.
Patience Quotes
Every great dream begins with a dreamer. Always remember, you have within you the strength, the patience, and the passion to reach for the stars to change the world. – Harriet Tubman
Patience and fortitude conquer all things. – Ralph Waldo Emerson
Adopt the pace of nature: her secret is patience. – Ralph Waldo Emerson
Patience is not the ability to wait, but the ability to keep a good attitude while waiting.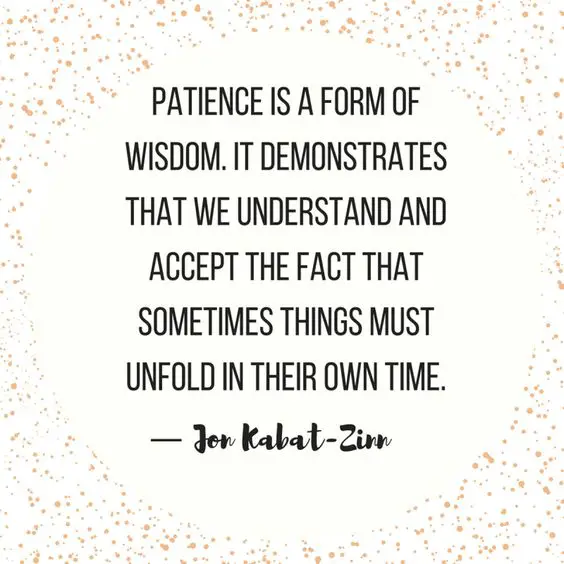 First, they ignore you. Then they laugh at you. Then they fight you. Then you win. – Mahatma Gandhi
Patience is not simply the ability to wait. It's how we behave while we're waiting. – Joyce Meyer
Trust the process. Your time is coming. Just do the work and the results will handle themselves. – Tony Gaskins
Nature does not hurry, yet everything is accomplished. – Lao Tzu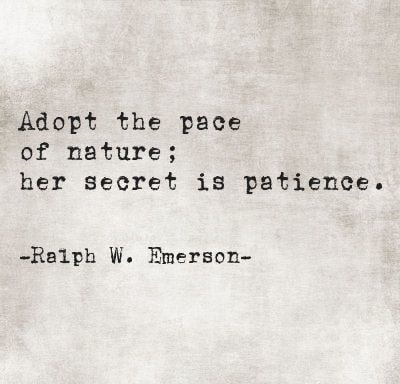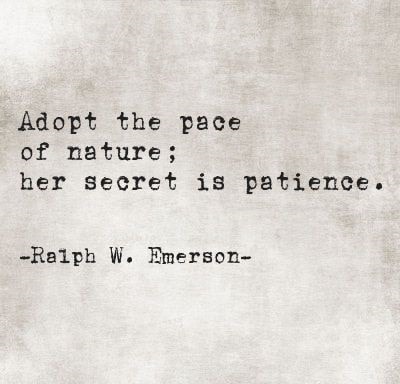 Have patience. All things are difficult before they become easy. – Saadi
God has perfect timing; never early, never late. It takes a little patience and it takes a lot of faith but it's worth the wait.
Be patient and tough; someday this pain will be useful to you. – Ovid
Patience and Diligence, like faith, remove mountains. – William Penn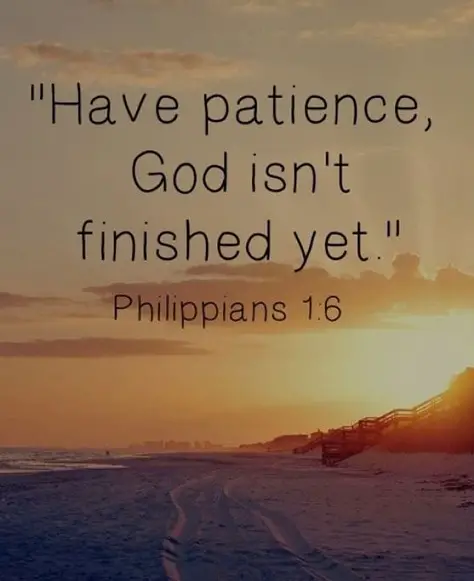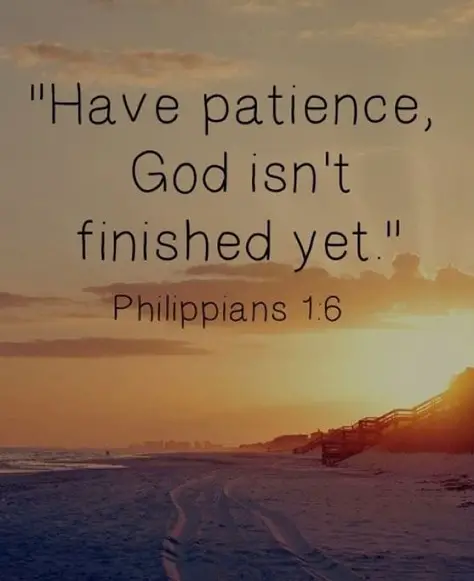 Stay patient and trust the journey.
Each life is made up of mistakes and learning, waiting and growing, practicing patience and being persistent. – Billy Graham
Great works are performed not by strength but by perseverance. – Samuel Johnson
One moment of patience may ward off great disaster. One moment of impatience may ruin a whole life. – Chinese Proverb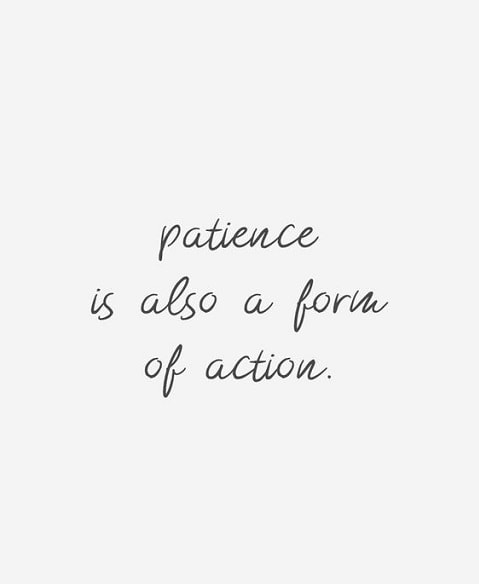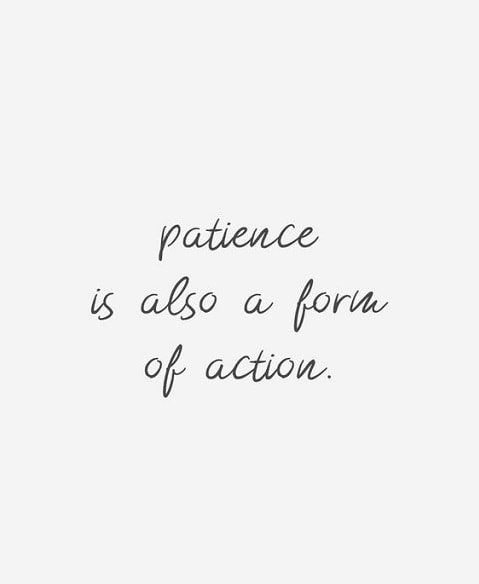 All human wisdom is summed up in two words: wait and hope. – Alexandre Dumas
Patience, persistence, and perspiration make an unbeatable combination for success. – Napoleon Hill
Be patient. Everything is coming together.
The two most powerful warriors are patience and time. – Leo Tolstoy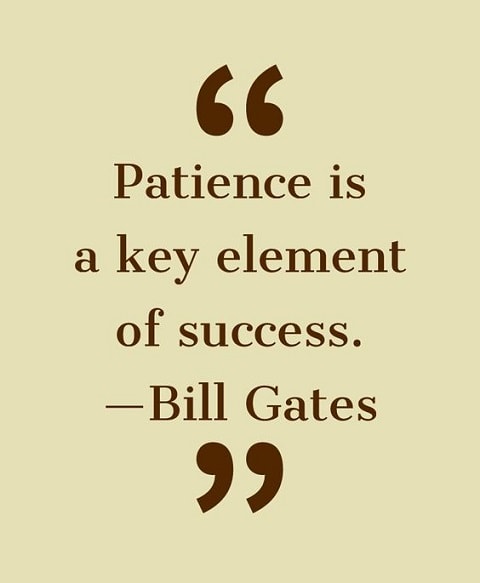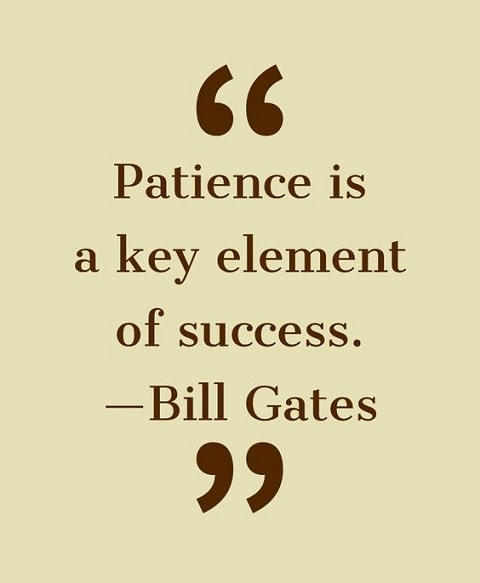 Patience is not just about waiting for something. It's about how you wait, or your attitude while waiting. – Joyce Meyer
Patience is bitter, but its fruit is sweet. – Jean-Jacques Rousseau
Two things define you: your patience when you have nothing and your attitude when you have everything.
Patience is the art of hoping. – Luc de Clapiers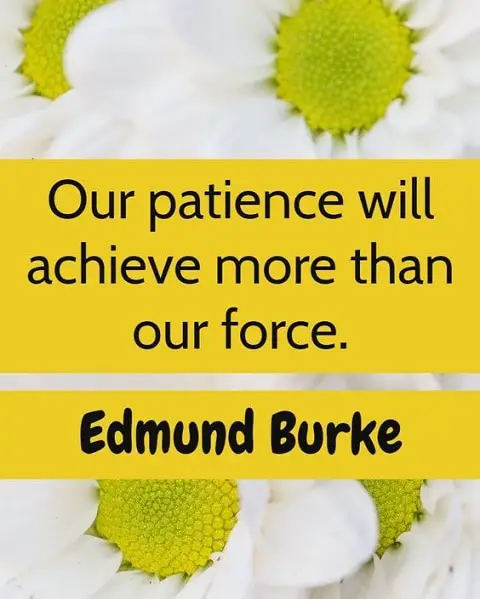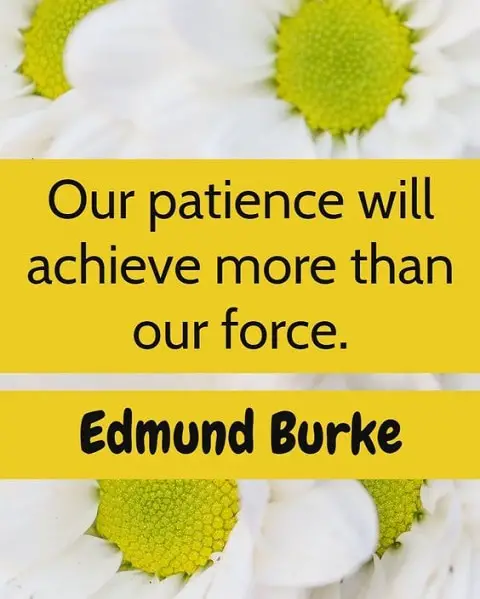 I've learned that anything in life worth having comes from patience and hard work. – Greg Behrendt
It's not that I'm so smart, it's just that I stay with problems longer. – Albert Einstein
One minute of patience, ten years of peace. – Greek proverb
A man who masters patience masters everything else.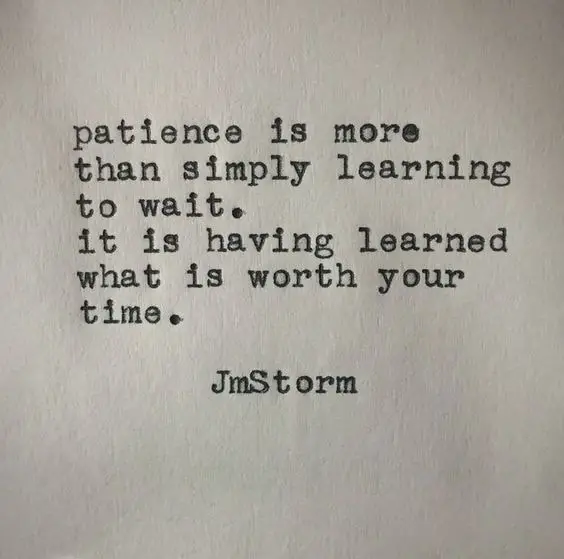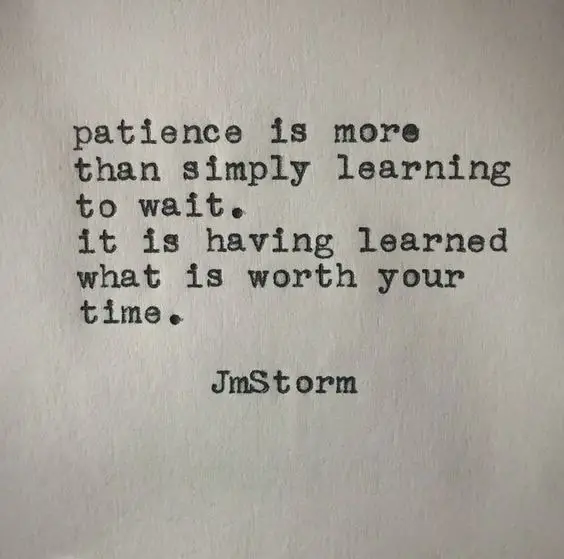 With love and patience, nothing is impossible. – Daisaku Ikeda
Patience and perseverance have a magical effect before which difficulties disappear and obstacles vanish. – John Quincy Adams
Patience is also a form of action.
You usually have to wait for that which is worth waiting for. – Craig Bruce
Top Patience Quotes
I have seen many storms in my life. Most storms have caught me by surprise, so I had to learn very quickly to look further and understand that I am not capable of controlling the weather, to exercise the art of patience and to respect the fury of nature. – Paulo Coelho
I believe that a trusting attitude and a patient attitude go hand in hand. You see, when you let go and learn to trust God, it releases joy in your life. And when you trust God, you're able to be more patient. Patience is not just about waiting for something… it's about how you wait, or your attitude while waiting. – Joyce Meyer
Never cut a tree down in the wintertime. Never make a negative decision in the low time. Never make your most important decisions when you are in your worst moods. Wait. Be patient. The storm will pass. The spring will come. – Robert H. Schuller

Sometimes we may ask God for success, and He gives us physical and mental stamina. We might plead for prosperity, and we receive enlarged perspective and increased patience, or we petition for growth and are blessed with the gift of grace. He may bestow upon us conviction and confidence as we strive to achieve worthy goals. – David A. Bednar
It is easier to find men who will volunteer to die, than to find those who are willing to endure pain with patience. – Julius Caesar
Patience is the calm acceptance that things can happen in a different order than the one you have in your mind. – David G. Allen
Patience is poultice for all wounds. – Irish Proverb
Don't cross the bridge until you come to it. – Henry Wadsworth Longfellow
Be patient and understanding. Life is too short to be vengeful or malicious. – Phillips Brooks
All good things come to he who waits. – Proverb
Endurance is nobler than strength, and patience than beauty. – John Ruskin
Make your ego porous. Will is of little importance, complaining is nothing, fame is nothing. Openness, patience, receptivity, solitude is everything. – Rainer Maria Rilke
The test of good manners is to be patient with the bad ones. – Solomon Ibn Gabirol
Our patience will achieve more than our force. – Edmund Burke
Patience is the best remedy for every trouble. – Plautus
Our real blessings often appear to us in the shape of pains, losses and disappointments; but let us have patience and we soon shall see them in their proper figures. – Joseph Addison
Slow and steady wins the race. – Aesop
When it comes to increasing motivation and self-control, you have to remain patient and allow your mind to adapt to the new changes. – Jill Hesson
Patience is a conquering virtue. – Geoffrey Chaucer
Do not pray for an easy life, pray for the strength to endure a difficult one. – Bruce Lee
Struggles often serve to release the wisdom, patience, and strength we all possess but too seldom demonstrate. – Jim Stovall
Patience is when you're supposed to get mad, but you choose to understand.
Patience is not passive, on the contrary, it is concentrated strength. – Bruce Lee
Inspirational Quotes On Patience To Make You Tougher
Rivers know this: there is no hurry. We shall get there some day. – A.A. Milne
Be patient, good things take time.
Patience is the key to paradise. – Turkish Proverb
Everything that slows us down and forces patience, everything that sets us back into the slow circles of nature, is a help. – May Sarton
Trees that are slow to grow bear the best fruit. – Molière
Tolerance and patience should not be read as signs of weakness, they are signs of strength.
Come what may, all bad fortune is to be conquered by endurance. – Virgil
He that can have patience can have what he will. – Benjamin Franklin
Have patience with all things, But, first of all with yourself. – Saint Francis de Sales
Even a happy life cannot be without a measure of darkness, and the word happy would lose its meaning if it were not balanced by sadness. It is far better take things as they come along with patience and equanimity. – Carl Jung
Sometimes things aren't clear right away. That's where you need to be patient and persevere and see where things lead. – Mary Pierce
I am extraordinarily patient, provided I get my own way in the end. – Margaret Thatcher
If you would know strength and patience, welcome the company of trees. – Hal Borland
A man who is a master of patience is master of everything else. – George Savile

The secret of patience is to do something else in the meantime. – Croft M. Pentz
Genius is nothing but a great aptitude for patience. – George-Louis de Buffon
Patience is not sitting and waiting, it is foreseeing. It is looking at the thorn and seeing the rose, looking at the night and seeing the day. Lovers are patient and know that the moon needs time to become full. – Rumi
How poor are they that have not patience! What wound did ever heal but by degrees? – William Shakespeare
A wise man is superior to any insults which can be put upon him, and the best reply to unseemly behavior is patience and moderation. – Molière
If you have patience, then you'll also have love. Patience leads to love. – Mata Amritanandamayi
When you encounter various trials, big or small, be full of joy. They're opportunities to learn patience. – Scott Curran
At the gate of patience there is no crowding. – Moroccan
Patience serves as a protection against wrongs as clothes do against cold. For if you put on more clothes as the cold increases, it will have no power to hurt you. So in like manner you must grow in patience when you meet with great wrongs, and they. – Leonardo da Vinci
For anything worth having one must pay the price; and the price is always work, patience, love, self-sacrifice – no paper currency, no promises to pay, but the gold of real service. – John Burroughs
Be strong enough to let go and wise enough to wait for what you deserve.
Have patience, my friend, have patience; For Rome wasn't built in a day! You wear yourself out for nothing In many and many a way! Why are you nervous and fretty When things do not move along fast; Why let yourself get excited Over things that will soon be past? – Gertrude Tooley Buckingham
Best Patience Quotes on Life, Love and Success
There is something good in all seeming failures. You are not to see that now. Time will reveal it. Be patient. – Sivananda Saraswati
If we could look into each other's hearts and understand the unique challenges each of us faces, I think we would treat each other much more gently, with more love, patience, tolerance, and care. – Marvin J. Ashton
Patience is the support of weakness; impatience the ruin of strength. – Charles Caleb Colton
Teach us, O Lord, the disciplines of patience, for to wait is often harder than to work. – Peter Marshall
No one has patience for love except their own. – Marjorie Celona
To lose patience is to lose the battle. – Mahatma Gandhi

The keys to patience are acceptance and faith. Accept things as they are and look realistically at the world around you. Have faith in yourself and in the direction you have chosen. – Ralph Marston
Indeed, this life is a test. It is a test of many things – of our convictions and priorities, our faith and our faithfulness, our patience and our resilience, and in the end, our ultimate desires. – Sheri L. Dew
Love, patience, and meekness can be just as contagious as rudeness and crudeness. – Neal A. Maxwell
Patience is the key to contentment. – The Prophet Muhammad (Peace Be Upon Him)
Change is slow and gradual. It requires hard work, a bit of luck, a fair amount of self-sacrifice, and a lot of patience. – Robert Greene
An alternative to love is not hate but patience. – Santosh Kalwar
Grain by grain a loaf, stone by stone, a castle. – Yugoslavian Proverb
Patience has its limits. Take it too far, and it's cowardice. – George Jackson
When it comes to work, I have a lot of patience, but otherwise, I am quite impatient. – Kratika Sengar
Maybe that's why life is so precious. No rewind or fast forward… just patience and faith. – Cristina Marrero
There are three secrets to managing. The first secret is have patience. The second is be patient. And the third most important secret is patience. – Chuck Tanner
God did not create hurry. – Finnish Proverb
I will not be distracted by noise, chatter, or setbacks. Patience, commitment, grace, and purpose will guide me. – Louise Hay
Be patient. Patience is the mother of all virtues. – Hrithik Roshan
Who ever is out of patience is out of possession of their soul. – Francis Bacon
Patience is the companion of wisdom. – Saint Augustine
Patience is a key element of success. – Bill Gates

Learn the art of patience. Apply discipline to your thoughts when they become anxious over the outcome of a goal. Impatience breeds anxiety, fear, discouragement and failure. Patience creates confidence, decisiveness, and a rational outlook, which eventually leads to success. – Brian Adams
If patience is worth anything, it must endure to the end of time. And a living faith will last in the midst of the blackest storm. – Mahatma Gandhi
Patience can't be acquired overnight. It is just like building up a muscle. Every day you need to work on it. – Eknath Easwaran
Patience attracts happiness; it brings near that which is far. – Swahili Proverb
Trying to understand is like straining through muddy water. Have the patience to wait! Be still and allow the mud to settle. – Lao Tzu
Greatest Patience Sayings That Will Make You Wiser
Patience and the passage of time do more than strength and fury. – Jean de La Fontaine
Patience is the road to wisdom. – Kao Kalia Yang
An impatient person plays differently than a more patient person. – Vladimir Kramnik
Genius is eternal patience. – Michelangelo
Be patient with yourself. Self-growth is tender; it's holy ground. There's no greater investment. – Stephen Covey
A waiting person is a patient person. The word patience means the willingness to stay where we are and live the situation out to the full in the belief that something hidden there will manifest itself to us. – Henri J.M. Nouwen
I saw the angel in the marble and carved until I set him free. – Michelangelo
Patience teaches us to turn provocations into invocations, to transform frustrations into celebrations. – William Arthur Ward
All great achievements require time. – Maya Angelou
A wise man does not try to hurry history. Many wars have been avoided by patience, and many have been precipitated by reckless haste. – Adlai Stevenson
I have been impressed with the urgency of doing. Knowing is not enough; we must apply. Being willing is not enough; we must do. – Leonardo da Vinci
Patience is the virtue of an ass that trots beneath his burden and is quiet. – George Granville
Never change horses in midstream. – Abraham Lincoln

It takes patience to listen. It takes skill to pretend you're listening. – Harmon Okinyo
All men commend patience, although few are willing to practice it. – Thomas a Kempis
Never cut what can be untied. – – Portuguese Proverb
We could never learn to be brave and patient, if there were only joy in the world. – Helen Keller
Patience is waiting. Not passively waiting. That is laziness. But to keep going when the going is hard and slow that is patience. – Leo Tolstoy
The two hardest tests on the spiritual road are the patience to wait for the right moment and the courage not to be disappointed with what we encounter. – Paulo Coelho
Everything comes to him who hustles while he waits. – Thomas Edison
Take up an idea, devote yourself to it, struggle on in patience, and the sun will rise for you. – Swami Vivekananda
Be a lamp for yourselves. Be your own refuge. Seek for no other. All things must pass. Strive on diligently. Don't give up. – Buddha
Great things are not accomplished by idle dreams, but by years of patient study. – James H. Aughey
There is no road too long to the man who advances deliberately and without undue haste; there are no honors too distant to the man who prepares himself for them with patience. – Jean de la Bruyere
At the bottom of patience, one finds heaven. – Kanuri
Experience has taught me this, that we undo ourselves by impatience. Misfortunes have their life and their limits, their sickness and their health. – Michel de Montaigne
By diligence and patience, the mouse bit in two the cable. – Ben Franklin
Your mastery depends on focus, patience and practice. Not on luck. – Robin Sharma
Patience is necessary, and one cannot reap immediately where one has sown. – Soren Kierkegaard
Anyone can hold the helm when the sea is calm. – Publilius Syrus