Sportmanship is behaviour in sport that is fair and shows respect to the other players. Profoundly inspirational sportsmanship quotes will fire up your brain and encourage you to look at life differently while making you laugh.
If you're searching for best sports quotes of all time and greatest running quotes that perfectly capture what you'd like to say or just want to feel inspired yourself, browse through an amazing collection of significant marathon quotes, best gym quotes and greatest bicycle quotes.
Famous Sportsmanship Quotes
Sometimes I think sportsmanship is a little bit forgotten in place of the individual attention. — Cal Ripken, Jr.
I got a lot of the greatest values in life from playing sports, from playing football – teamwork, sportsmanship, my work ethic, resiliency, dedication – I got it all by being on a team. — Jon Gruden
One man practicing sportsmanship is far better than a hundred teaching it. — Knute Rockne
Golf is game of respect and sportsmanship; we have to respect its traditions and its rules. — Jack Nicklaus
Sportsmanship and easygoing methods are all right, but it is the prospect of a hot fight that brings out the crowds. — John McGraw
I've always seen the Olympics as a place where you could act out your differences on the athletic field with a sense of sportsmanship and fairness and mutual respect. — Andrew Young
The Boys and Girls Club taught me a lot about sportsmanship, humility, self-respect. — Junior Seau
Aside from being bad sportsmanship – Romney basically said Obama won by cheating – he was displaying the same obtuseness about the wants and needs of ordinary people that did more to torpedo his campaign than any goodies Obama might have had to dole out. — John Podhoretz
It's good sportsmanship to not pick up lost golf balls while they are still rolling. — Mark Twain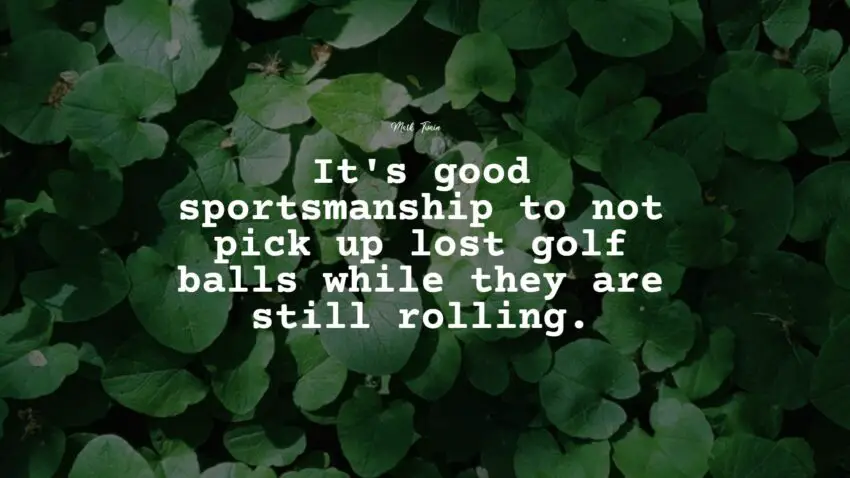 NBA players are intense competitors, and it is truly humbling to know that my peers see me as someone who exhibits sportsmanship and respect on the court. — Kemba Walker
The All-Star Game represents everything we as a nation love about basketball on and off the court – diversity, sportsmanship and, most of all, a commitment to unite fans. — Casey Wasserman
A lot of young players don't really know much about the history of the game and a lot of them are missing out on what the game is all about, especially the whole concept of sportsmanship and teamwork. — Kareem Abdul-Jabbar
I think sportsmanship is knowing that it is a game, that we are only as a good as our opponents, and whether you win or lose, to always give 100 percent. — Sue Wicks
It's nearly impossible to enforce actual consequences in video games at the moment, but at a table, sitting face-to-face across a tabletop game, or even playing at a LAN party, sportsmanship matters. — Wil Wheaton
There is no such thing as sportsmanship. — Terrell Davis
If the Olympic Games ever served a true altruistic purpose, they have long since outlived it. Yeah, the pursuit of athletic excellence, sportsmanship and international goodwill is plenty noble. But the modern Olympics are at best a vehicle for agitprop; at worst, a scandal magnet. — John Ridley
Sportsmanship is definitely an important thing in all sports. In soccer, we all respect each other on such a high level, between Sweden and Brazil and Japan or whatever team it is. — Alex Morgan
I would advise all youths aspiring to athletic fame or a professional career to practice clean living, fair play and good sportsmanship. — Major Taylor
Tactics, fitness, stroke ability, adaptability, experience, and sportsmanship are all necessary for winning. — Fred Perry
Professionalism is not sportsmanship. If you don't succeed, you won't be in your profession for long. In our society, it's not about good or bad. It's about who's on top. — Chili Davis
Contrary to the royal and uptight image of polo, I want to bring it to a younger generation. This is a great sport that can have a larger audience and appeal to more people. Sportsmanship is lacking in many other sports that I don't want to name. — Randeep Hooda
I'll fight you, and I'll have respect at the end. If you win, I have respect; if I win, I expect respect, Ray Mercer, man, I don't want to mention this guy's name anymore. He gets no respect from me. He was not professional, and he showed poor sportsmanship. — Kimbo Slice
Hockey historians say the handshake dates to English settlers in Canada, who preached an upper-class version of sportsmanship in the 19th century. Soon, tough kids in urban and prairie rinks began imitating imagined dukes and earls of the old country. — George Vecsey
I think it's safe to say that 'manliness' was a common theme in my upbringing. It was an assumed status, but – and here's the important bit – it was the Rudyard Kipling kind. The emphasis was on gentlemanly conduct, sportsmanship, fairness and stoicism. — Ian Watson