Excitement is important because it moves us to act like nothing else. It is also about nurturing our own curiosity, passion, and awe. Best excited quotes will allow for momentum to be built and give you an amazing feeling of happiness and simultaneous fulfillment.
If you're searching for popular quotation of all time that perfectly capture what you'd like to say or just want to feel inspired yourself, browse through an amazing collection of thought for the day, inspirational quotes on exploration, and quotes on growth.
Best Excited Quotes
Seize the moment of excited curiosity on any subject to solve your doubts; for if you let it pass, the desire may never return, and you may remain in ignorance. ― William Wirt
Dear world, I am excited to be alive in you, and I am thankful for another year. ― Charlotte Eriksson
Everything in a wide sense is a kind of a self-portrait. It's just the way you see things and you're curious about certain things and just excited about them. ― Jurgen Teller
Your life should be a story you are excited to tell. ― Adam Braun
I am so excited for my future and my life!
Attitude and enthusiasm play a big part in my life. I get excited about the things that inspire me. I also believe in laughing and having a good time. ― Dwayne Johnson
Without leaps of imagination or dreaming, we lose the excitement of possibilities. Dreaming, after all is a form of planning. ― Gloria Steinem
I pursued my ambitions. Finally, find what excites you and pursue it.
I'm really excited about what the future holds and to grow as an individual and as an artist. ― Khalid
I'm really excited to see what the future hold for me in terms of work. It's going to be hard, but it's going to be good hard work, and I'm really excited for the challenge that awaits me. ― Amybeth McNulty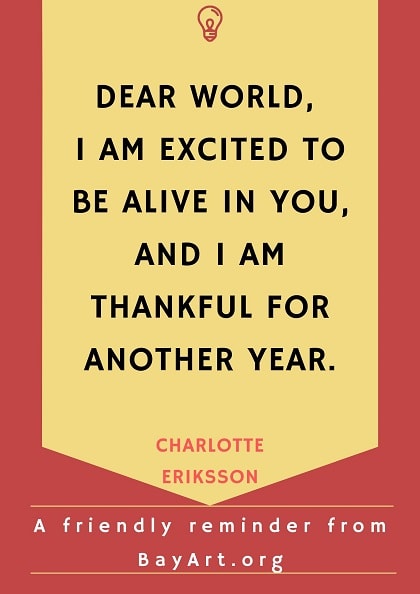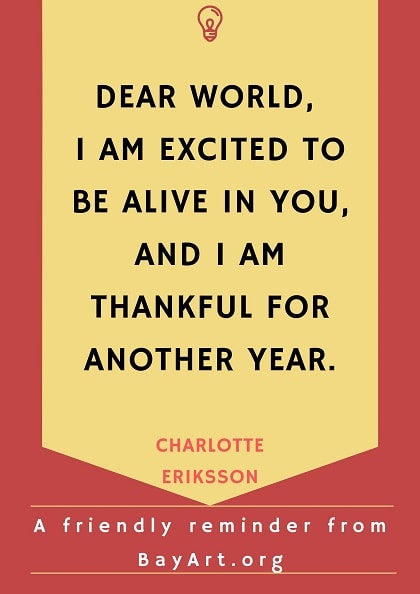 To be excited is still to be unsatisfied. ― Aldous Huxley
I believe that education is all about being excited about something. Seeing passion and enthusiasm helps push an educational message. ― Steve Irwin
You see, when you're excited, your body has trouble telling the difference between pain and pleasure. ― Cherise Sinclair
When I'm inspired, I get excited because I can't wait to see what I'll come up with next. ― Dolly Parton
Endings are always tough, but I believe when something ends, there are new beginnings, new opportunities and new things to be excited for, too. ― Mike Fisher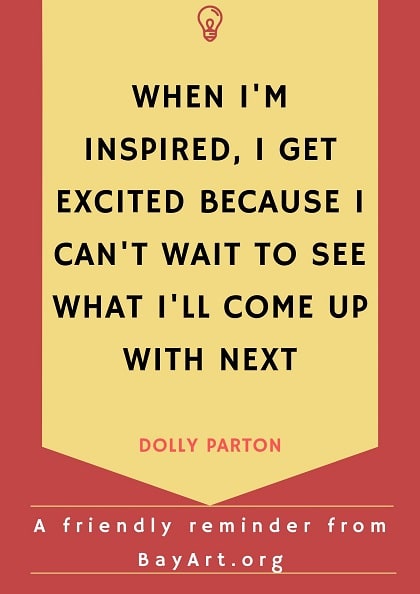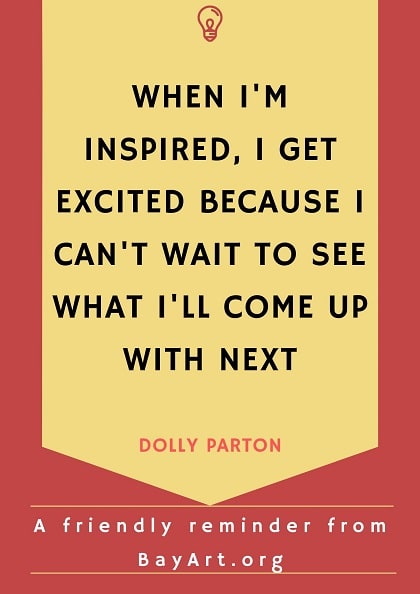 Life is meant to be joyful, fun, adventurous, meaningful and exciting. Having people you cherish come along for the ride is truly a blessing. Cultivating and maintaining these meaningful relationships is such an important part of life. ― Anil Sinha
Wellness is associated with happiness. When you're happy, you're feeling good in your mind and body. That ties into being healthy, eating well, and exercising regularly. It also ties into being excited about things – like getting up in the morning and having a healthy breakfast. ― Stella Maxwell
I like it when somebody gets excited about something. ― J.D. Salinger
Get excited and enthusiastic about your own dream. This excitement is like a forest fire – you can smell it, taste it, and see it from a mile away. ― Denis Waitley
No matter what you achieve, what you want to aspire to be, or how famous and powerful you become, the most important thing is whether you are excited about each and every moment of your life because of your work and people around you. ― Sushant Singh Rajput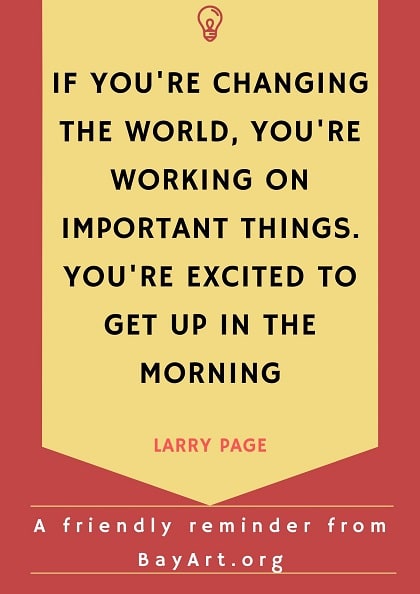 Doing what we were meant to do creates fun, excitement and contentment in our lives, and invariably, in the lives of the people around us. When you're excited about something it's contagious. ― Mark Victor Hansen
If you're changing the world, you're working on important things. You're excited to get up in the morning. ― Larry Page
I'm excited about what the future will bring, and I think the best is yet to come. ― Alonzo Mourning
I'm real excited. I'm so blessed to have so much peace and joy inside. I just can't keep quiet about it. ― Brian Welch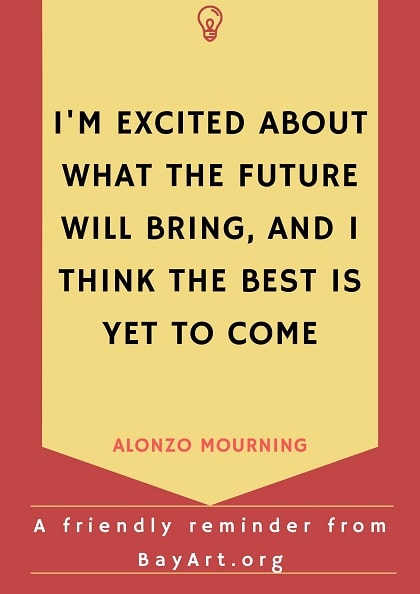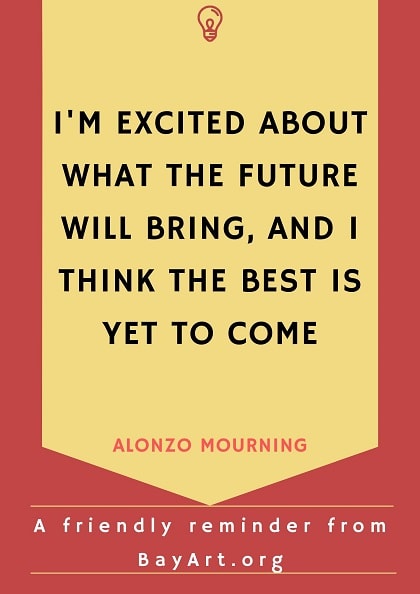 The idea of waiting for something makes it more exciting. ― Andy Warhol
Having a bunch of cats around is good. If you're feeling bad, you just look at the cats, you'll feel better because they know that everything is just as it is. There's nothing to get excited about. They just know. They're saviors. ― Charles Bukowski
Dreams keep us motivated and goals keep us going. But we gotta take action to achieve our goals, to make our dreams come true. ― Abhishek Kumar
A few minutes ago, every tree was excited, bowing to the roaring storm, waving, swirling, tossing their branches in glorious enthusiasm like worship. But though to the outer ear these trees are now silent, their songs never cease. ― John Muir
Excitement Quotes To Inspire Growth In Life
Think excitement, talk excitement, act out excitement, and you are bound to become an excited person. ― Norman Vincent Peale
You know that feeling when you wake up in the morning and you're excited for the day? That's one of my main goals in life. ― Kirsten Dunst
If you want to keep growing as a person then you'll need to "Feel the Excitement… And Do it Anyway!" ― Margaux Joy DeNador
If you are cold, tea will warm you; if you are too heated, it will cool you; If you are depressed, it will cheer you; If you are excited, it will calm you. ― William E. Gladstone
Cherish your excitement while you have it. ― Lucy Varna
We don't always know what we're doing. We often just get excited, put something down, and say, 'Oh, neat'. ― Tina Weymouth
You feel the excitement and energy course through your body. You feel amazing. You want to jump up and hi-five someone. You did it!
Choose thoughts that give you the emotions of being alive and excited about life. ― Bryant McGill
No one can deny the excitement of visiting another world. ― Barney Oliver
Live the full life of the mind, exhilarated by new ideas, intoxicated by the romance of the unusual. ― Ernest Hemingway
I cook, I create, I'm incredibly excited by what I do, I've still got a lot to achieve. ― Gordon Ramsay
The way to find out about your happiness is to keep your mind on those moments when you feel most happy, when you really are happy-not excited, not just thrilled, but deeply happy. This requires a little bit of self-analysis. What is it that makes you happy? Stay with it, no matter what people tell you. This is what I call "following your bliss." ― Joseph Campbell
I was excited at something new, always liked something new, but give credit to everybody who helped. I didn't do anything alone but try to go to the root of the question and succeeded there. ― Katherine Johnson
I feel sorry for the person who can't get genuinely excited about his work. Not only will he never be satisfied, but he will never achieve anything worthwhile. ― Walter Chrysler
Action scenes get me so excited, and my adrenaline starts pumping. ― Jodi Lyn O'Keefe
I feel like as you blossom more, you become more mature, and I'm definitely excited for whatever life has to throw at me, and knowing me, I'm definitely going to be sharing it all. ― Hannah Bronfman
It's hard not to be excited when you're going to find a way to land on the moon. ― Alan Bean
I wanted change and excitement and to shoot off in all directions myself, like the colored arrows from a Fourth of July rocket. ― Sylvia Plath
Excitement, then, is a defense against anxiety, a transformation of anxiety into something more bearable, a melodrama. ― Robert Stoller
I think I'm a big kid at heart, so I get very excited around the holidays. ― Bobby Moynihan
If we live our lives looking for the excitement and exhilaration that change can bring, we will be much happier than when we are eventually forced to accept it anyways. ― Daniel Willey
Think excitement, talk excitement, act out excitement, and you are bound to become an excited person. Life will take on a new nest, deeper interest and greater meaning. You can think, talk and act yourself into dullness or into monotony or into unhappiness. By the same process you can build up inspiration, excitement and surging depth of joy. ― Norman Vincent Peale
Famous Excited Quotes That Are So True
Enthusiasm is not the same as just being excited. One gets excited about going on a roller coaster. One becomes enthusiastic about creating and building a roller coaster. ― Bo Bennett
Before I ever start a job that I'm really excited about, I usually have some sleepless nights or weeks or months. But that anticipation for a person like me… I don't do so well with a lot of time off. ― Lily Rabe
Not a visible enthusiasm but a hidden one, an excitement burning with a cold flame. ― Patrick Süskind
Turn your fears into excitement. Your anxieties into enthusiasm. Your passion into energy. ― Sanober Khan
I was just excited to have challenging work to do and smart people to work with. ― Katherine Johnson
You can get excited and feel unstoppable, but every week presents a new challenge. Each week, you have to work and get better. ― Antonio Brown
Most empty promises are a result of excitement. ― Cyc Jouzy
This idea of, there's a locked door; how do you open it? You don't necessarily care what's behind it; you're just more excited about opening the lock… It's not about finding the treasure; it's more about defeating the puzzle. ― Harper Reed
Excitement is a crossroad which runs in all directions. No man lacks personality; he just never connected with you at the intersection. ― Criss Jami
It doesn't matter how old I get; I always act like an excited five-year-old kid with severe ADD and a waddle at Disneyland. ― Chris Colfer
The excitement of dreams coming true is beyond the description of words. ― Lailah Gifty Akita
I read novels but I also read the Bible. And study it, you know? And the more I learn, the more excited I get. ― Johnny Cash
The only difference between fear and excitement is your attitude about it.
I'm always so excited about what I do that I try to get everyone to feel that way. ― Missy Franklin
Be just as enthusiastic about the success of others as you are about your own. ― Christian D. Larson
I'm just really excited to expose people to different identities, different conversations but also to kind of reframe how they think about black women just by being myself. ― Franchesca Ramsey
I don't like to think that maybe I'm just getting old. I'm not too excited about watching a huge explosion. I'm more interested in people and characters. ― Norman Jewison
You have to lead people to get excited and be passionate and be activated by what you do. ― Taylor Hanson
The one thing that I would say that defines me is I love to learn. I get excited about new things. I buy more books than I read or finish. ― Satya Nadella
You can get excited about the future. The past won't mind. ― Hillary DePiano
I retire with a smile on my face, in good health, and ready to spend autumns at my kids' games instead of my own. I'm excited to start the next chapter of my life. ― Drew Bledsoe
If we have an atom that is in an excited state and so is going to emit a photon, we cannot say when it will emit the photon. It has a certain amplitude to emit the photon at any time, and we can predict only a probability for emission; we cannot predict the future exactly. ― Richard P. Feynman
Top Feeling Excited Quotes That Will Guide You
Be active, be energetic, be enthusiastic and you will accomplish your object. ― Harvey Mackay
I'm excited about seeing things, and I'm interested in the way I think other people saw things. ― Roy Lichtenstein
I was really excited to get to shave my head – it's something I'd wanted to do for a while and now I had a good excuse. It was nice to shed that level of vanity. ― Natalie Portman
Always try not to be excited about something, because the more you get excited, the more you become disappointed. ― Abhishek Tiwari
The sky is honestly the limit, so I'm excited to see what the future holds. ― Carmella
Don't you long for something different to happen, something so exciting and new it carries you along with it like a great tide, something that lets your life blaze and burn so the whole world can see it? ― Juliet Marillier
The secret to excitement is discovering new paths and having the courage to take them. ― Lawren Leo
If you're scared to lose rather than excited to win, then that's the wrong way to approach a race. ― Cate Campbell
If you're not excited about it, it's not the right path. ― Abraham Hicks
I'm constantly doing new stuff. I'm always excited. I'm a one-man tornado. ― Kenny Scharf
Excitement is a state of being in which our cells of body, mind and heart are engaged by the orchestration of our spirit. ― Linda Chandler
We were excited to win, staying undefeated is just the icing. ― Steve Nash
Life is a journey; let's enjoy it, seeing some exciting things, and having fun along the way. ― Ellen J. Barrier
I'm really excited for people to be able to see what else I can do besides high heels and magic powers. ― Serinda Swan
Be happy with what you have. Be excited about what you want. ― Alan Cohen
I tell people: 'Do what you love, but it can also be hard to know what you love early on. But when you think about it and you describe the options, which one gets you a little more excited?' ― Brad D. Smith
There is an excitement in creating a life, rather than maintaining a life you are not excited about living. ― Shannon L. Alder
I enjoy stand up so much because I take time off, and then I'll be excited to go back to it. ― Bo Burnham
Every time we get what we thought we wanted we realize that we want more.
I'm always excited by the unlikely, never by ordinary things. ― David Hockney
All we need to make us really happy is something to be enthusiastic about. ― Charles Kingsley
I think it's most important to, rather than just do what everybody else is doing, like tons of selfies, find out what makes you excited. You know, is it taking pictures and doing cool makeup and making yourself look great? If so, wonderful. Is it music? Is it teaching something? Are you great at teaching? ― Lindsey Stirling
I'm really excited to educate the world about what deaf people can do. ― Nyle DiMarco
As long as you're excited about what you're playing, and as long as it comes from your heart, it's going to be great. ― John Frusciante
Actions speak louder than words. There is a big difference between what people say and what they do. People might tell you they are excited about your new product, but when they are in a buying situation their behavior might be totally different. ― Alexander Osterwalder
It is always exciting when you find someone who is really enthusiastic about being half of a comedy team. ― Seth Rogen
Inspiring Quotes About Excitement
Enthusiasm is excitement with inspiration, motivation, and a pinch of creativity. ― Bo Bennett
Don't let the fear of losing be greater than the excitement of winning. ― Robert Kiyosaki
The language of excitement is at best picturesque merely. You must be calm before you can utter oracles. ― Henry David Thoreau
Nothing great was ever achieved without enthusiasm. ― Ralph Waldo Emerson
To look back all the time is boring. Excitement lies in tomorrow. ― Natalia Makarova
Success breeds the excitement to continue going. ― Annie Lennox
I feel the need to endanger myself every so often. ― Tim Daly
Learning should be a joy and full of excitement. It is life's greatest adventure; it is an illustrated excursion into the minds of the noble and the learned. ― Taylor Caldwell
If excitement is a mechanism our Creator uses for His own amusement, love is something that belongs to us alone and enables us to flee the Creator. Love is our freedom. Love lies beyond "Es Muss sein! ― Milan Kundera
Happiness is excitement that has found a settling down place, but there is always a little corner that keeps flapping around. ― E. L. Konigsburg
The key that unlocks energy is desire. It's also the key to a long and interesting life. If we expect to create any drive, any real force within ourselves, we have to get excited. ― Earl Nightingale
There are two basic motivating forces: fear and love. When we are afraid, we pull back from life. When we are in love, we open to all that life has to offer with passion, excitement, and acceptance. ― John Lennon
The desire for excitement is very deep-seated in human beings. ― Bertrand Russell
I do not think there is any thrill that can go through the human heart like that felt by the inventor as he sees some creation of the brain unfolding to success … Such emotions make a man forget food, sleep, friends, love, everything. ― Nikola Tesla
The human mind is capable of excitement without the application of gross and violent stimulants; and he must have a very faint perception of its beauty and dignity who does not know this. ― William Wordsworth
At the end, excitement maintained its hysteria. ― Jerry Coleman
Faith is an excitement and an enthusiasm: it is a condition of intellectual magnificence to which we must cling as to a treasure, and not squander on our way through life in the small coin of empty words, or in exact and priggish argument. ― George Sand
Quotes About Being Excited
Stay excited and stay humble and good things will come. ― Mark McMorris
Life becomes precious and more special to us when we look for the little everyday miracles and get excited about the privileges of simply being human. ― Tim Hansel
When you know clearly what you want, you'll wake up every morning excited about life. ― Mark Victor Hansen
Leaders must wake people out of inertia. They must get people excited about something they've never seen before, something that does not yet exist. ― Rosabeth Moss Kanter
I remember being excited about seeing snow for the very first time. ― Thi Bui
I find it hard to get excited by just a sound. I have to have a song there, then I'll find what used I can make of that sound within the song. ― Christine McVie
Many people think excitement is happiness…. But when you are excited you are not peaceful. True happiness is based on peace. ― Nhat Hanh
I like people who are enthused about things they do, like travel, sports, work. I like being with people who have things they're excited about. ― Parker Stevenson
For here, I hope, begins our lasting joy. ― William Shakespeare
Every man can transform the world from one of monotony and drabness to one of excitement and adventure. ― Irving Wallace
With time, many of the facts I learned were forgotten but I never lost the excitement of discovery. ― Paul Berg
In motivating people, you've got to engage their minds and their hearts. I motivate people, I hope, by example – and perhaps by excitement, by having productive ideas to make others feel involved. ― Rupert Murdoch
Excitement must lead to immediate action or you will lose the power of momentum. More dreams die because we fail to seize the moment. Do it now! ― Tony Robbins
The excitement of learning separates youth from old age. As long as you're learning you're not old. ― Rosalyn Sussman Yalow
If a child is to keep alive his inborn sense of wonder, he needs the companionship of at least one adult who can share it, rediscovering with him the joy, excitement, and mystery of the world we live in. ― Rachel Carson
Excitement is an emotion that is very similar to joy or happiness.
I didn't get to see Predator until halfway through shooting. It was great to get an education while I was shooting because it made me excited to be part of this legacy. ― Sanaa Lathan
"Well, you're right. I'm a Freak."
"Huh?"
"I love being bullied. Being hit and kicked by others gets me totally excited. That's what kind of freak I am.
Sorry if that bothers you." ― Yuna Kagesaki
It is never a good idea to meet your heroes.
One feels the excitement of hearing an untold story. ― John Hope Franklin
I decide the vibe.
Discover day-to-day excitement. ― Marley Baudelaire
Be your own reason for your happiness.
Follow your excitement and it will never let you down.
Excitement is the drunkenness of the spirits. Only calm waters reflect heaven in their bosom. ― Marguerite de Valois
Be happy with what you have, and be excited about what you want.
Focus on the excitement and it will lead you through the obstacles. ― Piya Sorcar
Keep smiling because life is a beautiful thing and there's so much to smile about.
Expect little, enjoy more.
Escape the ordinary.
We see the brightness of a new page where everything yet can happen. ― Rainer Maria Rilke
Fear is excitement without breath. ― Robert Heller
Excitement is not enjoyment: in calmness lies true pleasure. The most precious wines are sipped, not bolted at a swallow. ― Victor Hugo
Nothing is so good as it seems beforehand. ― George Eliot